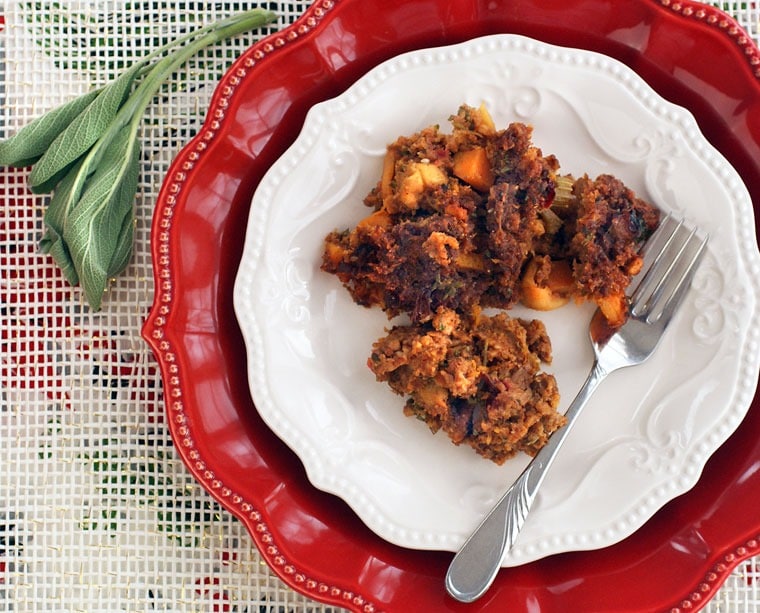 I made this spicy chorizo stuffing this year for Thanksgiving. Spicy Chorizo, Butternut Squash & Apple Stuffing would be terrific with a smoked turkey, Cornish game hens, goose or chicken and is perfect for changing it up a bit during the Christmas and New Year's holiday meals.
Spicy Chorizo, Butternut Squash & Apple Stuffing also a terrific way to use up leftovers. My kids refuse to use the heels of bread loaves in their sandwiches, so I freeze and use them in stuffing or bread pudding. I always have leftover butternut squash, cranberries, celery, sage, and parsley from other dishes at the holiday feast. So this was my solution to use those all up. If you have some extra carrots, sweet potatoes, or what have you, add it! Some extra vegetables can only enhance the Spicy Chorizo, Butternut Squash & Apple Stuffing!
If you're gluten free, either make your own chicken broth, use a gluten free brand, or read labels carefully. Not all brands of chicken broth are gluten free!
If you can't find chorizo at your supermarket, make your own using my homemade chorizo recipe.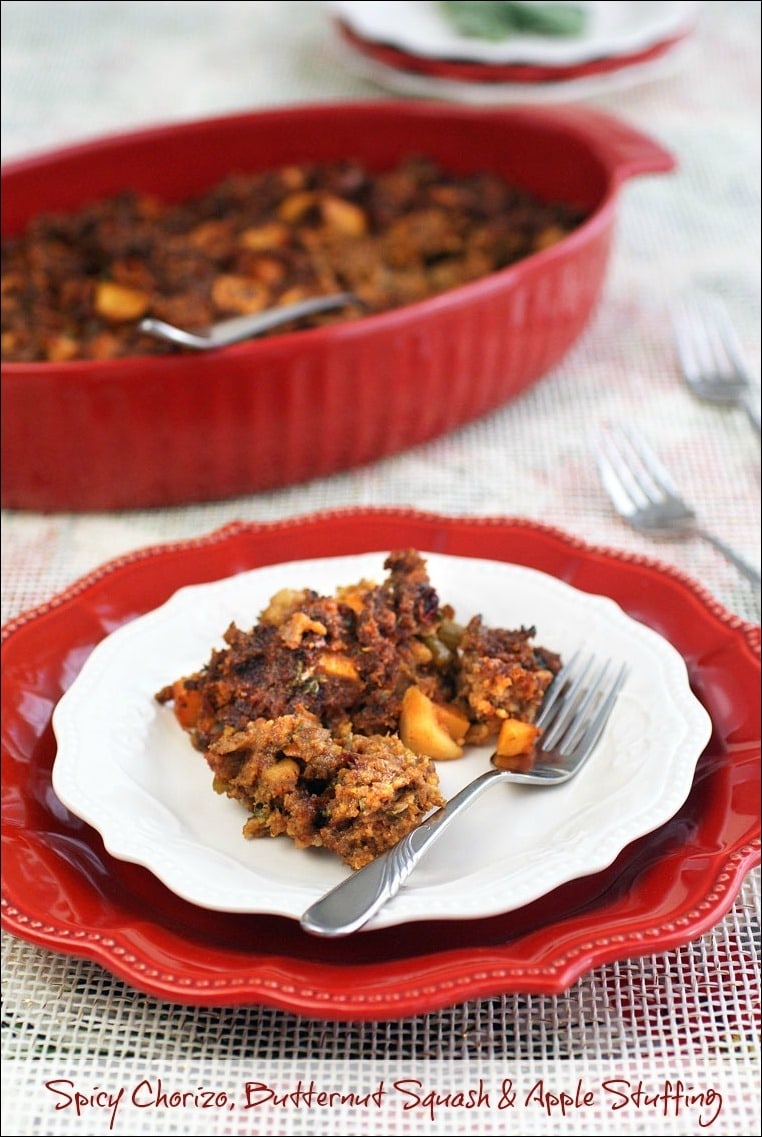 You can also make Spicy Chorizo, Butternut Squash & Apple Stuffing gluten free by using gluten free bread or a gluten free corn bread. I have a terrific recipe for Gluten Free Skillet Cornbread here at This Mama Cooks! On a Diet. However, I also like several gluten free cornbread mixes on the market such as:
Most of these you can find at your grocery store or discount stores like Walmart as well as online like at Amazon. Look both in the regular baking aisle as well as the gluten free and health food aisles to find these mixes.
Make Spicy Chorizo, Butternut Squash & Apple Stuffing up to one day ahead, up to step 5. Then cover and refrigerate. Remove the stuffing from refrigerator, uncover, and bake in a preheated oven for 1 hour at 350 degrees F.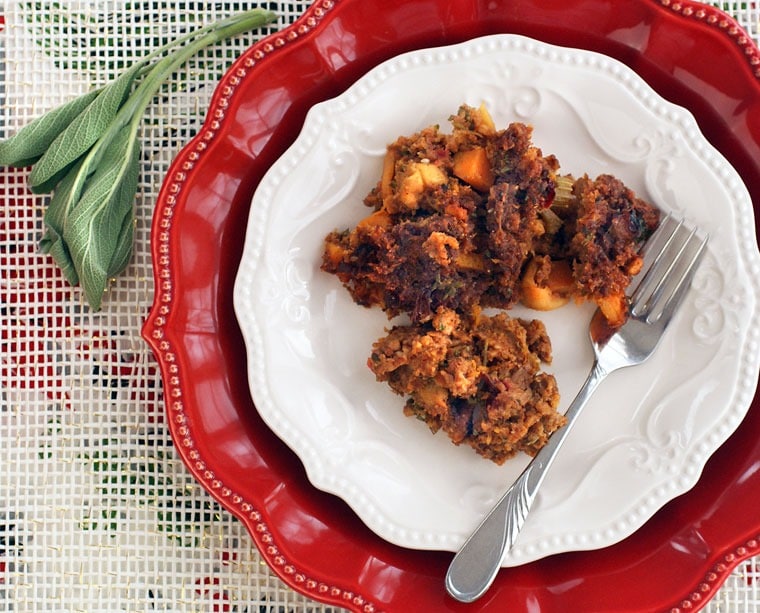 Spicy Chorizo, Butternut Squash & Apple Stuffing
Ingredients
1 pound

chorizo sausage, squeezed from casings

1 cup

butternut squash, diced

1 cup

fresh cranberries

2

large celery stalks, thinly sliced

1

large onion, chopped

5

large garlic cloves, minced

10 leaves

fresh sage, minced

2 tablespoons

dried oregano

2

apples, peeled and thinly sliced crosswise

2 cups

reduced-sodium chicken broth

1/2 cup

chopped flat-leaf parsley

1 1/2 pounds

bread (gluten free or regular), cut or torn into 1-inch pieces

Cooking spray
Directions
Preheat oven to 350 degrees F.
Cook chorizo in a large sauté pan over medium-high heat until it starts to brown, stirring often and breaking meat into small chunks, about 5 minutes. Add butternut squash, cranberries, celery, onion, garlic, sage, and oregano. Cook until softened, about 10 to 15 minutes. Add apples, stir to mix in, and cook for another 5 minutes.
Transfer meat, vegetable and apple mixture to a very large bowl.
Add broth to pan and stir to loosen any browned bits. Pour liquid into bowl. Stir in parsley and bread and mix thoroughly.
Coat a 9x13 inch baking dish with cooking spray. Spoon stuffing into baking dish, mounding it.
Bake stuffing until browned and center reaches at least 160 degrees F - 50 to 60 minutes. Drape pan with foil if dressing starts to get dark.
Serving size:

1/16 of recipe