Last Updated on January 16, 2023 by Anne-Marie
Leftover Turkey Soup is a great way to use up leftover turkey after the holidays.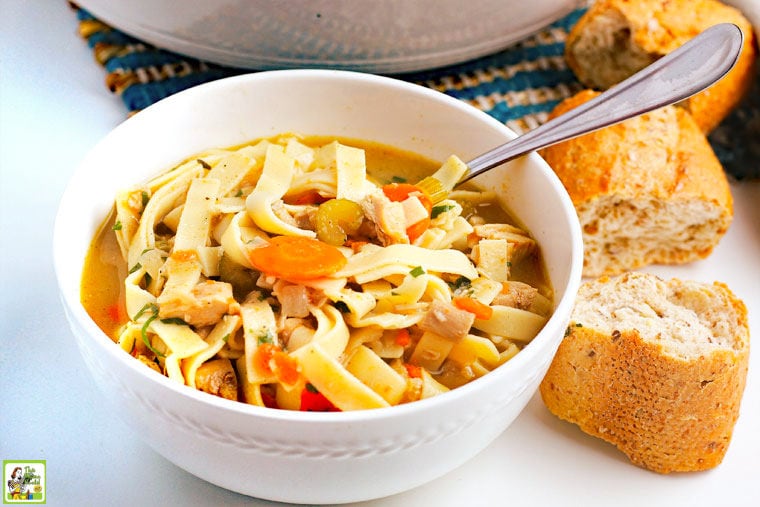 Why this recipe works
Make this turkey leftovers soup with regular or gluten free egg noodles. (You can also make this turkey soup leftover recipe with rice if you like.)
Never wonder what you're going to do with all that leftover turkey again. This easy and delicious turkey soup is sure to be a favorite comfort food.
What equipment do I need to make leftover turkey soup?
Slow cooker: If you're making homemade turkey stock (see below), you'll need a big enough slow cooker to fit your turkey carcass – a 6-quart slow cooker should work fine.
I like using slow cooker liners for easy cleanup, too.
To make a big portion of turkey soup, I like to use a large Dutch oven or stockpot.
Dutch oven: For you're fans of traditional French cooking, indulge yourself in a Le Creuset Round French (Dutch) Oven if you have the funds!
Otherwise, I recommend Lodge Cast Iron Dutch Ovens, which are made in the USA and are reasonably priced.
Both brands of Dutch ovens are fantastic and will work on any stove including induction cooktop stoves.
Stockpot: If you brined a turkey breast using my Easy Brined and Smoked Turkey Breast Recipe, you already have a large 12-quart covered stockpot.
Something similar should work for this turkey soup recipe, too.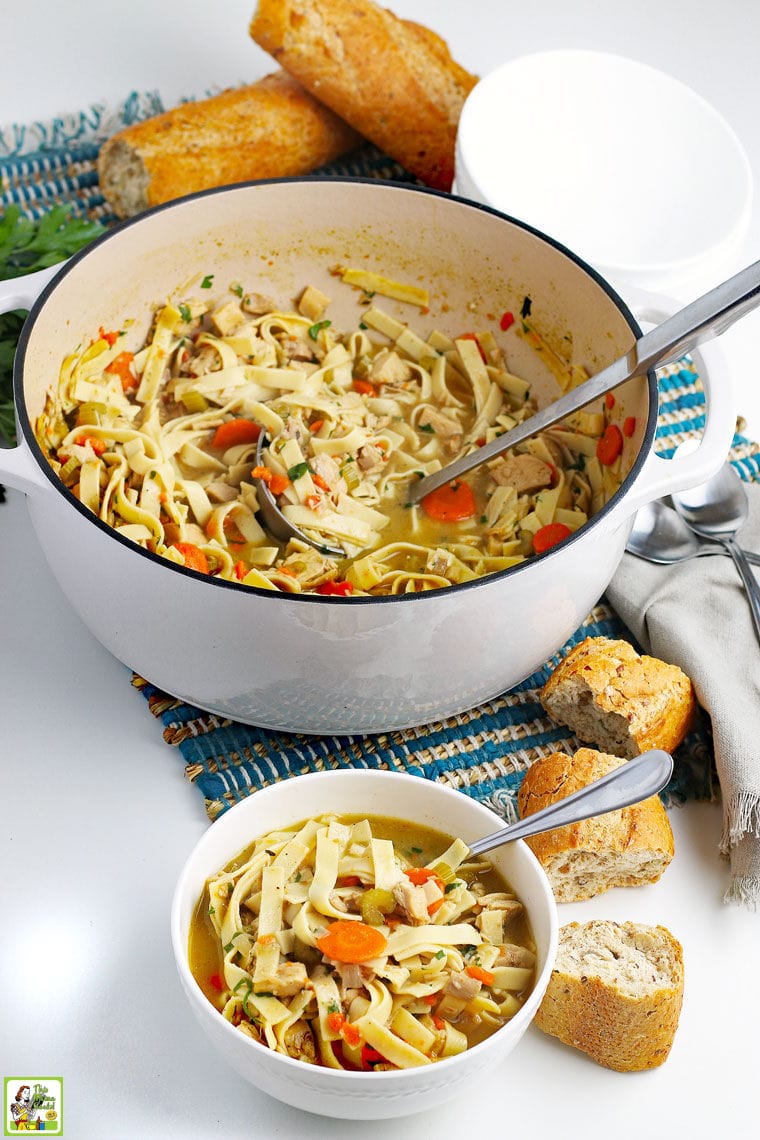 How to make slow cooker turkey stock
If you're super thrifty, take that leftover turkey carcass and turn it into an easy to make turkey broth to use in this Thanksgiving leftovers turkey soup.
Here's how:
1. Place the cooked leftover turkey carcass in a large crock-pot. (First, line it with slow cooker liners for easy cleanup.)
2. Add chopped celery, carrots, onions, and any leftover vegetables like squash and parsnips from your holiday meal prep. Don't worry about amounts, though I'd lean more towards celery, carrots, and onion.
3. Add a few cloves of garlic, and any leftover herbs (like thyme, parsley, or sage) from making your turkey. Add salt and pepper to taste.
4. If you saved the turkey giblets and neck from cooking your turkey (and didn't use it when making gravy) add it to the slow cooker.
You can also add any cooked turkey skin that you may have pulled off the turkey meat before serving it. (I know you're trying to be a healthy person and not to eat all the fatty, yummy stuff – ha!)
All that leftover stuff – bones, funky bits of turkey meat, skin, innards, herbs, and even vegetable peels (as long as everything is clean and fresh) is terrific to use when making turkey stock.
5. Add enough water to cover. Cover and cook on low for a total time of 8 hours or so.
6. Remove large pieces of bones and vegetables from the slow cooker and strain the liquid through a fine-mesh sieve into food storage containers. (Use some now. Freeze some for later.)
7. If you want, you can pour some stock into a couple of ice cube trays. Freeze and store cubes in Ziploc bags to use when you just need a little stock in your cooking.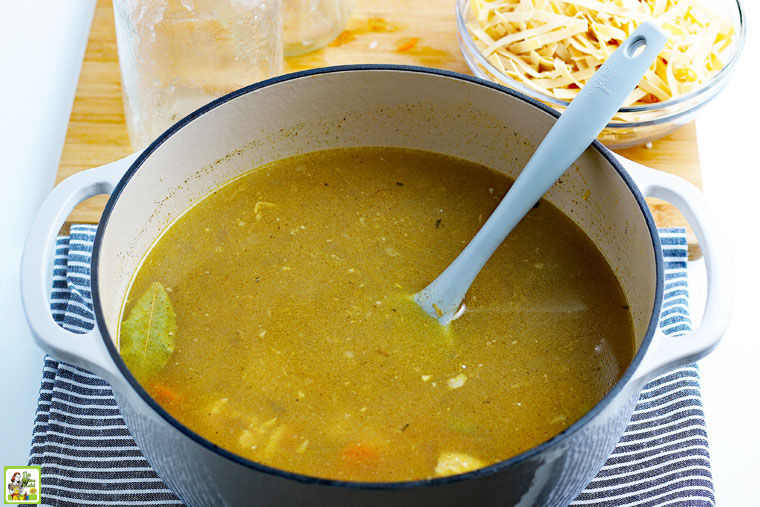 Can I use chicken stock?
You can make leftover turkey soup recipes with store-bought stock if you like. Chicken broth or vegetable broth are both fine to use in recipes for leftover turkey soup.
However, if you're cooking gluten free make sure the vegetable or chicken broth you're using is certified on the label as a gluten free broth.
What to put in the soup with leftover turkey?
To start with, this soup recipe calls for the following vegetables:
diced onion
diced carrots
diced celery
But you can also use:
diced squash
diced sweet potato
diced parsnips
Get creative!
Do the vegetables have to be diced?
Well, they're easier to cook up if they're in smaller pieces.
You can also use a frozen soup starter mix if you don't feel like chopping any more vegetables after the busy holiday prep.
However, if you have leftover roasted vegetables, like sweet potatoes, regular potatoes, Brussels sprouts, etc. that you think would be tasty in this soup, add them at the very end so they have enough time to heat up.
For seasoning, use:
bay leaf
poultry seasoning (you can substitute half sage and half thyme with a pinch of rosemary and a pinch of nutmeg)
salt
pepper
Other herbs that would work well with turkey are sage, thyme, rosemary, and dill.
You can use either fresh or dried herbs. For cooking, the correct ratio is one tablespoon of fresh herbs to one teaspoon of dried herbs.
Remember this is a Thanksgiving leftover turkey soup, so use whatever you have leftover from the holiday meal prep or any little bits leftover from your cooked holiday side dishes.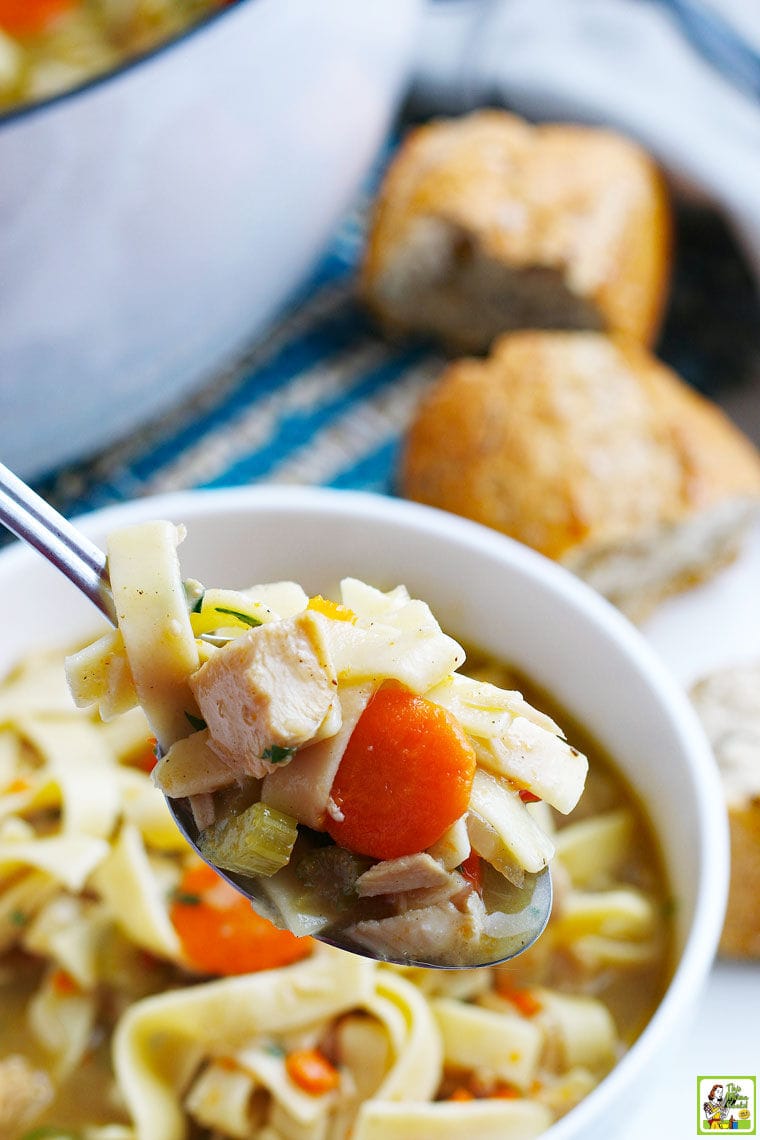 How to make leftover Thanksgiving turkey soup
1. Chop up your leftover cooked turkey. Set aside.
2. Dice or chop up the onions, carrots, and celery. (Don't worry about making a perfect dice. Just cut the vegetable pieces small enough so they cook quickly and are easy to eat in a soup.)
3. Heat the olive oil in a large stockpot or Dutch oven over medium-high heat.
4. Add the diced onion to the pot. Cook 3-4 minutes until tender.
5. Add the diced carrots and celery to the pot. Cooking 2-3 minutes more until tender.
6. Stir in the bay leaf, poultry seasoning, salt, and pepper. Cook for another minute.
7. Stir in the diced cooked turkey and whatever type of stock you're using (turkey, chicken, or vegetable.)
8. Bring to a boil. Boil for 5 minutes.
9. Reduce heat and simmer for 15-20 minutes.
10. Increase the heat and bring the turkey soup recipe back to boil.
11. Add noodles and cook according to package directions.
12. While noodles are cooking, chop parsley (if using).
13. Add parsley and serve turkey leftover soup.
14. Store any leftover turkey soup recipe in the refrigerator.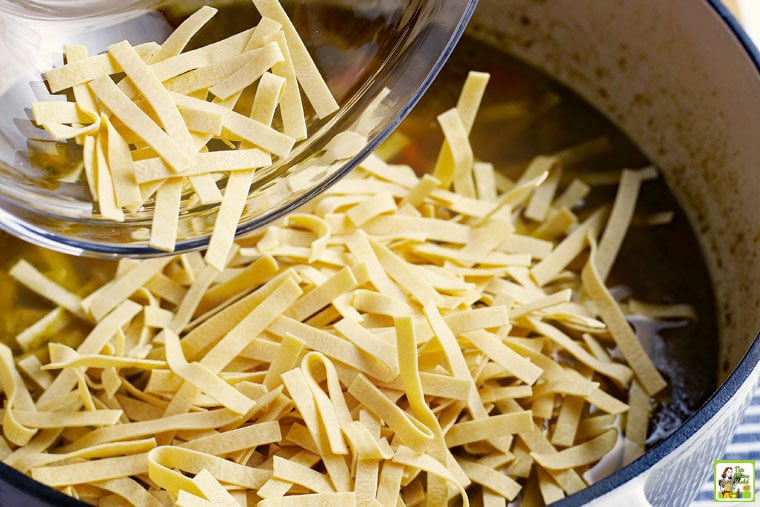 Do I have to use egg noodles in this turkey soup?
Egg noodles are delicious, but if you're allergic to eggs you can also try No Yolks Noodles in this soup recipe with leftover turkey. No Yolks Noodles will make a wonderful egg-free noodle soup.
However, No Yolks isn't a gluten free pasta. Instead, you'll have to find a GF pasta like Gluten Free Amish Wedding Foods Double Yolk Egg Noodles (or something similar) for this turkey soup recipe.
My recommendation is to cook the gluten free noodles separately and then add them to the turkey soup at the very end since cooking GF pasta can be tricky.
Whatever you do, make sure to cook the gluten free noodles al dente so they don't get mushy when cooked more in the turkey soup.
How to freeze leftover turkey soup
Now I know not everyone will want to dig into a bowl of turkey soup from leftovers right after the holidays. Talk about turkey overload!
That's why you'll want to freeze some of this leftover turkey soup recipe to enjoy a few months down the road.
However, I would leave out the noodles if you're planning to freeze this turkey soup recipe. The noodles just don't hold up to freezing and reheating.
(I'm not sure rice would either. Maybe wild rice would since it's a tougher grain.)
Instead, make the turkey soup without the noodles. Store in freezer safe food storage containers. (Remember to label and date the containers.) The soup should remain good for at least three months.
To thaw, you can defrost the containers overnight in the refrigerator.
Another way to thaw the frozen turkey soup is to place the container in a large bowl full of water. The soup should thaw in a few hours.
Then you can warm the soup up on the stovetop and add the noodles per the recipe directions.
(See notes below about adding rice instead of noodles.)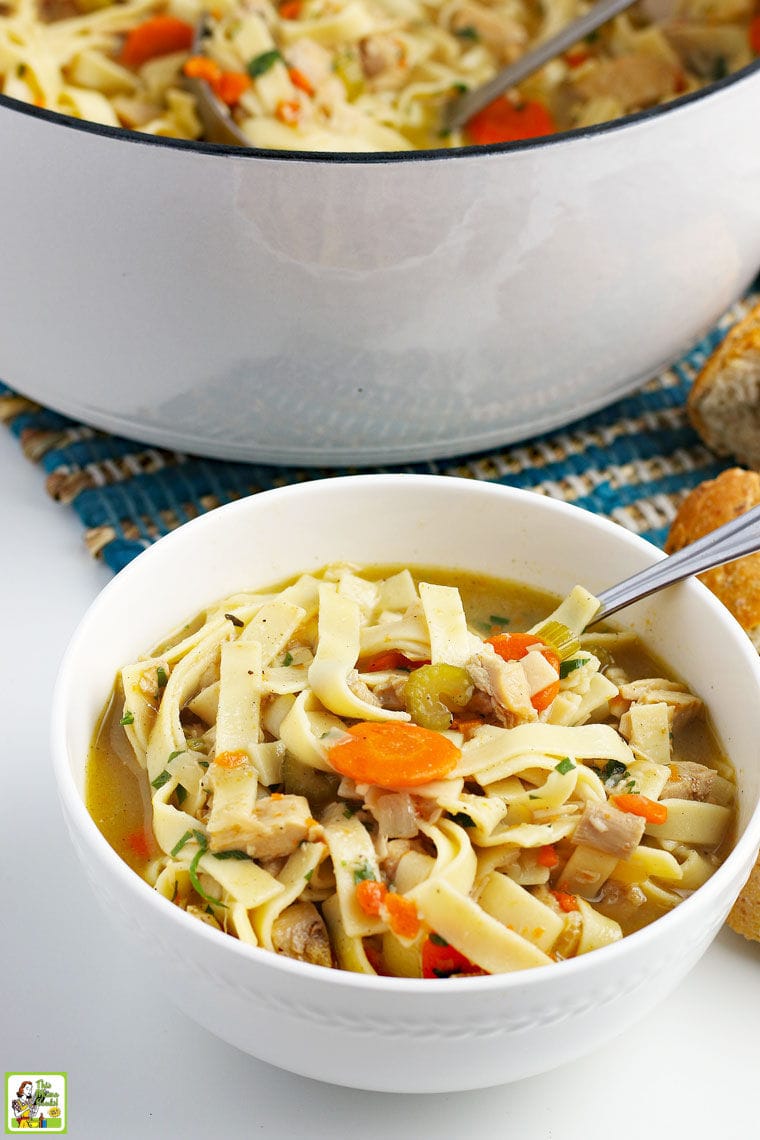 How long is turkey soup good for?
If you have leftovers of this homemade turkey soup, you can store it in the refrigerator for up to a week in a sealed container.
Leftover turkey soup can be heated on the stovetop or heated in the microwave.
Can I make turkey rice soup instead of making a noodle soup?
Yes! Instead of egg noodles, add already cooked rice when you're supposed to add the egg noodles.
There's no need to bring the soup to a boil again. Just heat the soup long enough to soften and warm the already cooked rice if it was cold.
Using rice is a terrific gluten free substitution for those people who don't want to buy gluten free pasta or are worried that GF noodles won't work out.
Rice is also a good swap for those of you who are allergic to eggs and don't want to use egg noodles or don't like noodle soup.
What kind of rice should I use?
You can use white rice, brown rice, or the wild rice you used to stuff the Thanksgiving turkey.
This is also a terrific way to use leftover rice from your holiday feast.
Can I use instant rice?
Sure! Cook it according to the box directions (add the rice when it's time to add the noodles in the recipe below). Adjust the recipe cook times accordingly.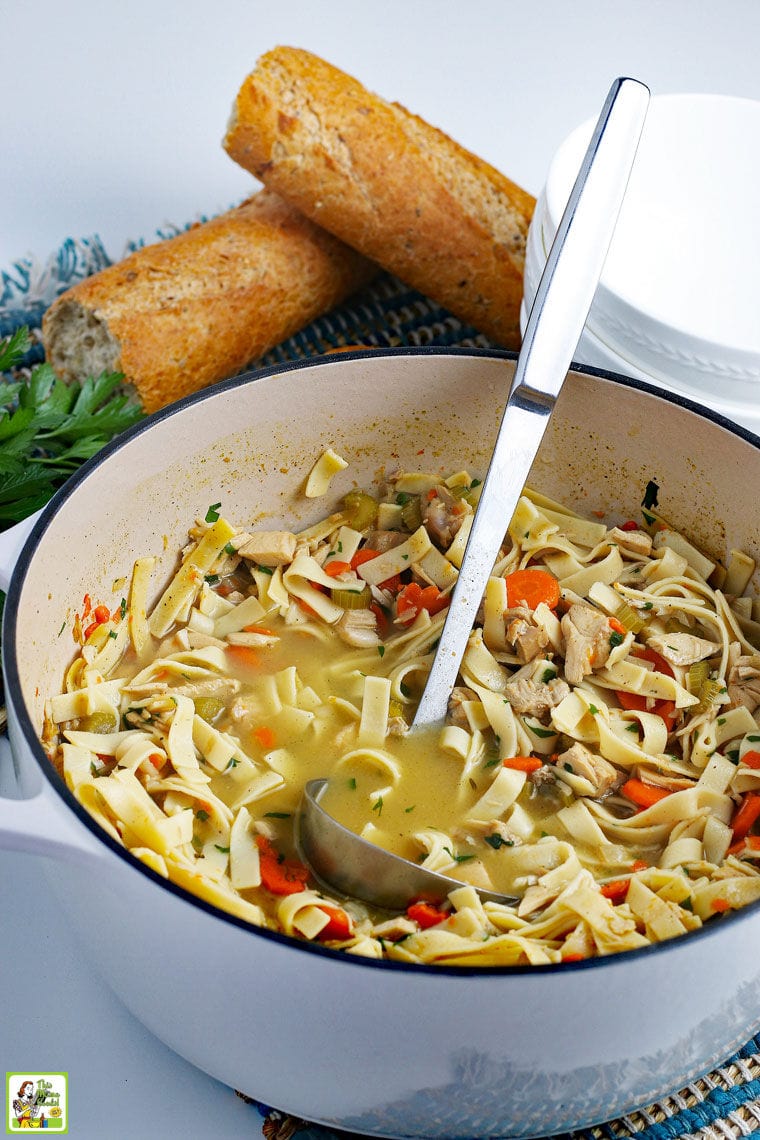 What to serve with leftover turkey soup
There's nothing more perfect than a bowl of homemade turkey soup, a side salad, and a piece of bread for sopping up the soup in your bowl. So good!
I recommend a nice Cucumber Onion Salad and some homemade fruit iced tea followed by a terrific dessert, like Gluten Free Peanut Butter Cookies.
More soup recipes
Make 30-Minute Pozole, which is a Southwestern/Mexican style soup that's made with hominy. In this soup recipe, you can use leftover turkey instead of pork or chicken.
(If you're worried that the leftover turkey for soup isn't spicy enough, you can sauté it in some hot sauce, salsa, or chile seasonings for a few minutes.)
Otherwise, enjoy these easy soup recipes: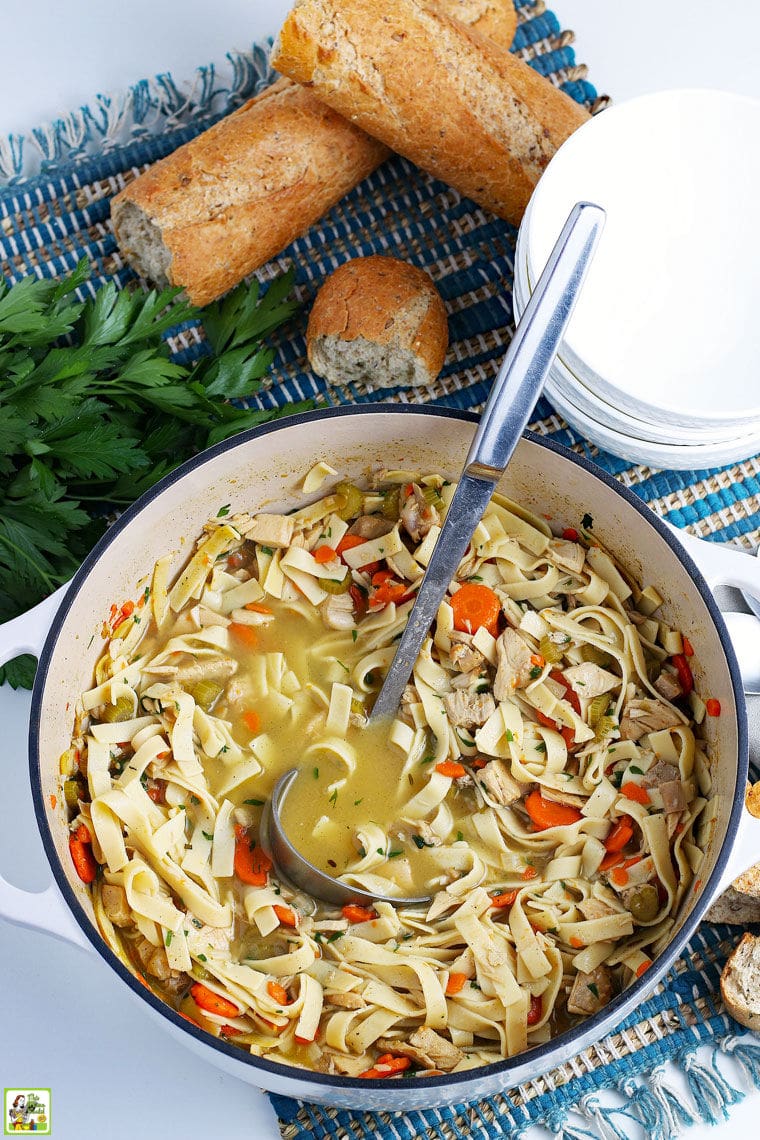 More leftover turkey recipes
Still have leftover turkey? You can use it to make:
Check out the Best Gluten Free Thanksgiving Desserts Recipes and the Best Keto Thanksgiving Recipes for more delicious recipes for your holiday table.
Yield: 6 SERVINGS
Leftover Turkey Soup Recipe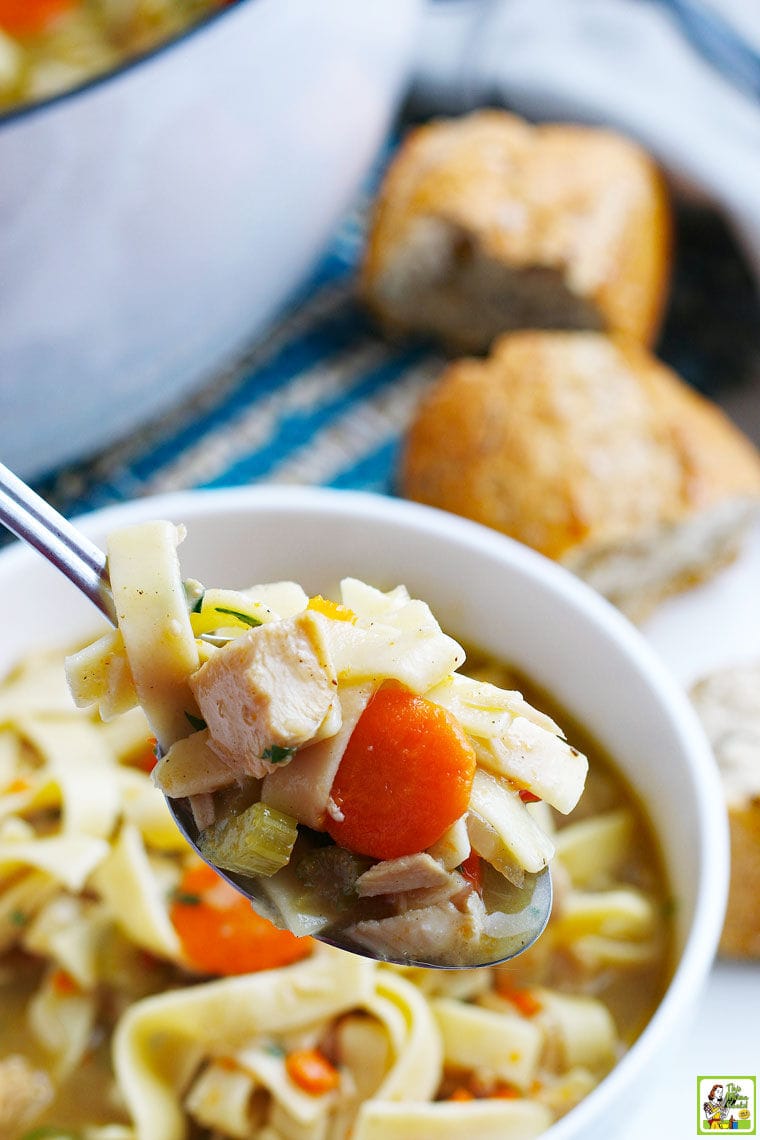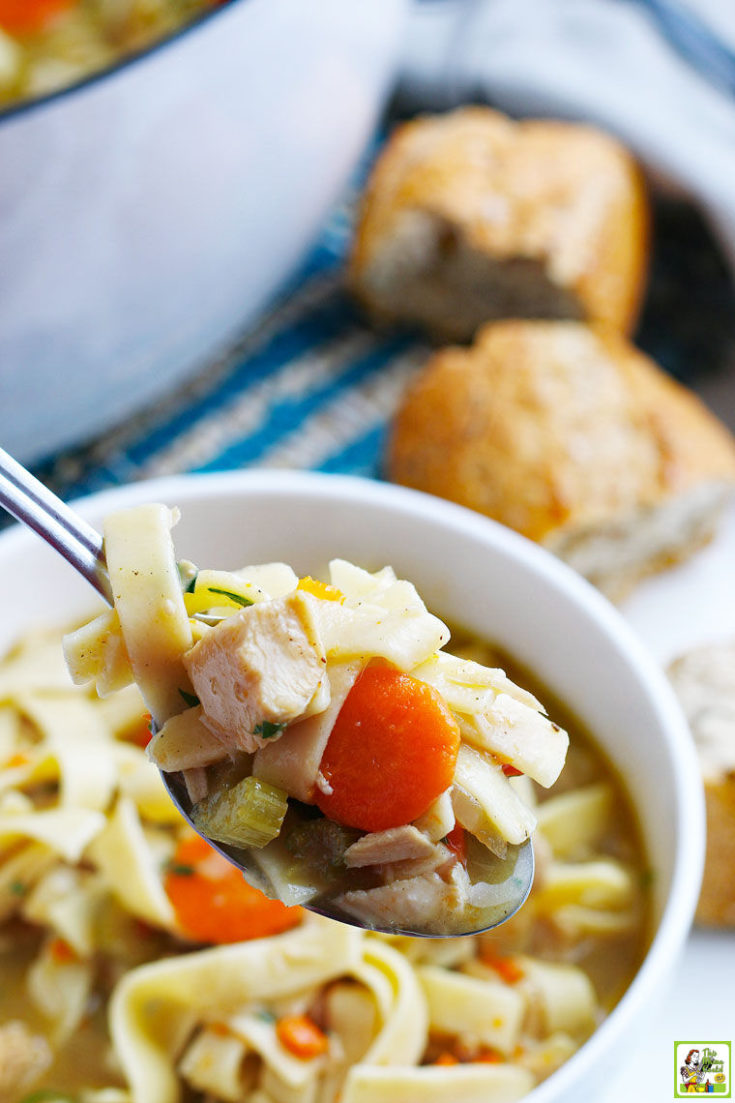 Leftover Turkey Soup is easy to make with leftover turkey and vegetables. Make this turkey leftovers soup recipe with gluten free egg noodles or rice.
Ingredients
2 tablespoons olive oil
1 medium onion, diced
4 large carrots, peeled and diced
3 stalks celery, cleaned and diced
1 bay leaf
1 teaspoon poultry seasoning
1 teaspoon salt
1/2 teaspoon ground pepper
3 cups diced leftover turkey
8 cups turkey, chicken, or vegetable stock
1 (12 ounce) bag noodles (egg, regular or gluten free)
2 tablespoons fresh parsley, chopped, optional
Instructions
Cut onions, carrots, and celery.
Add oil to a Dutch oven or large soup pan and heat.
Add onions and cook until tender, about 3-4 minutes.
Add carrots and celery and continue cooking 2-3 minutes until tender.
Add seasonings and bay leaf and cook about 1 minute.
Stir in the diced turkey and stock.
Cover and bring to boil, boil 5 minutes.
Reduce heat and simmer for 15-20 minutes.
Increase heat and bring back to boil.
Add noodles and cook according to package directions.
While noodles are cooking, chop parsley, if adding.
Serve immediately.
Recommended Products
As an Amazon Associate Affiliate and member of other affiliate programs, I earn from qualifying purchases.
Nutrition Information:
Yield:
6
Serving Size:
1
Amount Per Serving:
Calories:

596
Total Fat:

25g
Saturated Fat:

7g
Trans Fat:

0g
Unsaturated Fat:

17g
Cholesterol:

283mg
Sodium:

764mg
Carbohydrates:

12g
Fiber:

2g
Sugar:

2g
Protein:

76g
Nutritional information is automatically calculated per the ingredients list. Serving size may not be accurate. Please double-check with your preferred nutritional app for the most accurate information.