Last Updated on April 19, 2022 by Anne-Marie
Looking for the best keto Thanksgiving recipes? Then check out these delicious low-carb keto recipes! Perfect for your holiday table, these keto-friendly recipes are low in carbs and high in protein.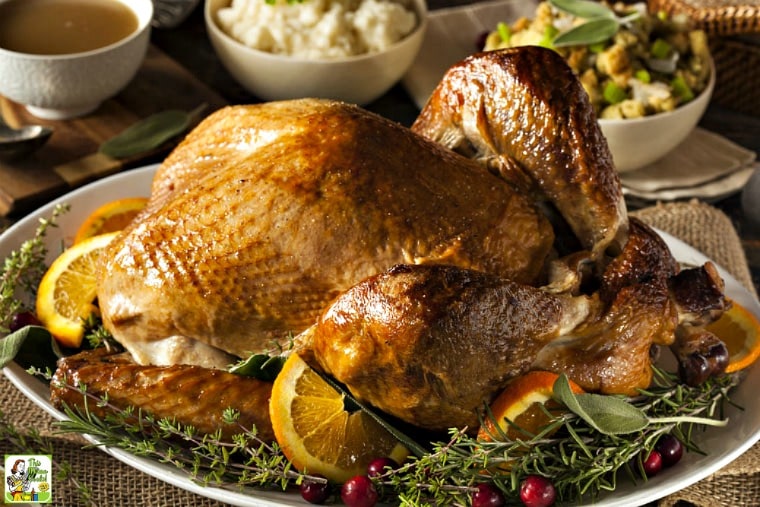 Why you should try these delicious keto Thanksgiving recipes
Thanksgiving is a special holiday that brings families together. It's also a time where people eat too much food.
So if you're looking for ways to cut back on carbs without sacrificing flavor, then these keto Thanksgiving recipes are perfect for you or anyone following low-carb diets.
In this article, I'm sharing some of my favorite keto Thanksgiving recipes. I hope these delicious recipes will inspire you to try out some new dishes at your next holiday meal.
And they're not just for people on a ketogenic diet. Everyone can enjoy these low carb keto Thanksgiving recipes this holiday season.
You'll find everything you want for the main meal:
keto appetizers,
easy keto recipes for main dishes like pork tenderloin and turkey
not just one turkey recipe but many variations: roasting, grilling, smoking, Instant Pot, even air fryer!
all kinds of side dishes, soups, and salads, including keto mashed cauliflower and Brussels sprouts,
low carb stuffing,
keto rolls that taste like the real deal,
keto desserts including the best keto cheesecakes recipes and Thanksgiving staples like pumpkin pie
and more of your favorite foods for your holiday dinner and fall season meal plans.
I hope you enjoy the best keto Thanksgiving dinner ever with these fabulous holiday recipes.
Check out the Best Gluten Free Thanksgiving Desserts Recipes for more keto-friendly dessert recipes.
What holiday cooking tips help you maintain your low carb lifestyle? Share them below!
30+ Best Keto Thanksgiving Recipes
If you're looking for the best keto Thanksgiving recipes, then look no further than these delicious low-carb Thanksgiving recipes.