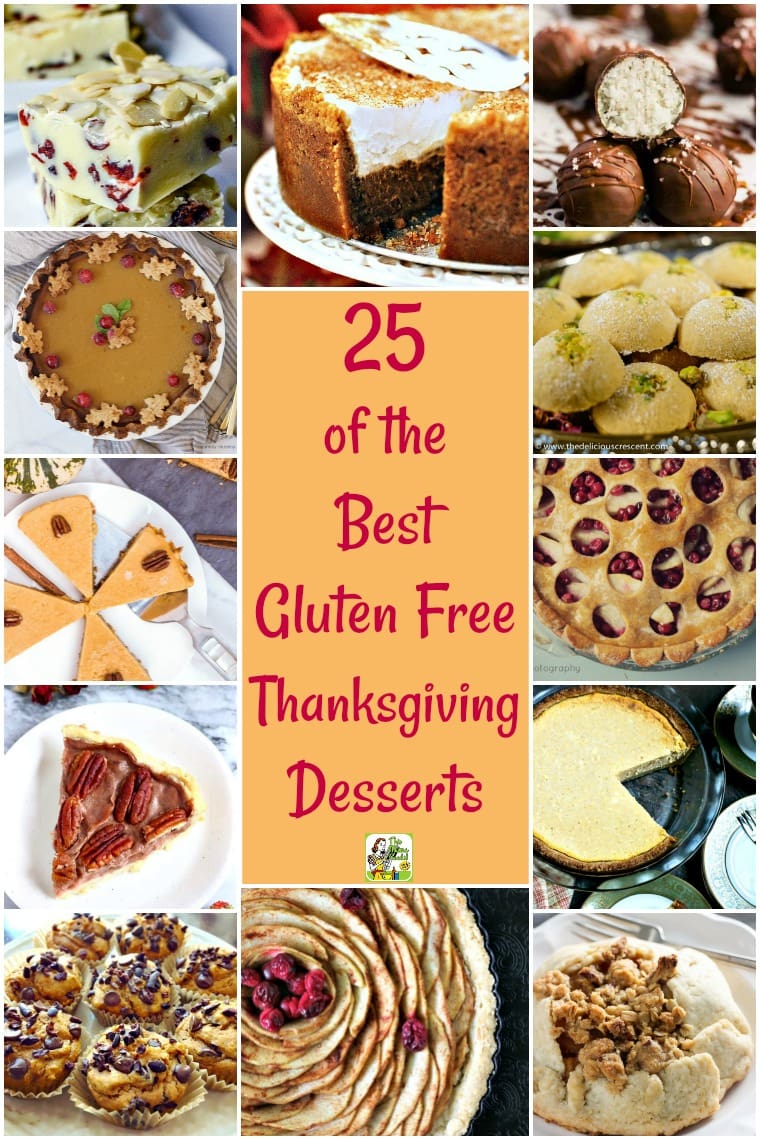 Looking for some unique gluten free Thanksgiving desserts recipes to serve your guests this year?
Here are 25 of the Best Gluten Free Thanksgiving Desserts that aim to please!
Each of these gluten free Thanksgiving recipes will certainly please everyone at your table, even if they aren't gluten free.
Many these treats are perfect for bringing to relatives homes when you don't know if they'll have any gf Thanksgiving desserts you can enjoy after the big meal.
Click on the links below to discover best gluten free Thanksgiving desserts such as:
● cheesecake
● chocolates
● cupcakes
● muffins
● cookies
● fudge
● and of course, gluten free pie. (What's Thanksgiving without pie?)
Some of these desserts are also keto, paleo, low carb, vegan, sugar free, and dairy free, so check them out!
Find more gluten free desserts recipes at This Mama Cooks! On a Diet, too.
Enjoy!
Gluten Free Dairy Free Pumpkin Pie from This Mama Cooks! On a Diet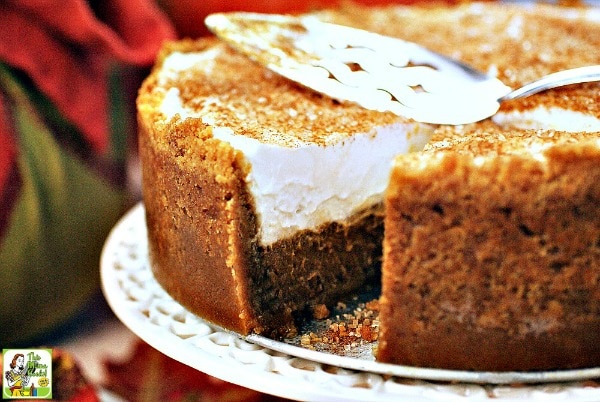 This Gluten Free Dairy Free Pumpkin Pie is a must serve treat for your gluten free Thanksgiving. This dairy free pumpkin pie is made with coconut cream and made with a gluten free cookie crust.
Gluten-Free Apple Pear Tart from My Gluten Free Kitchen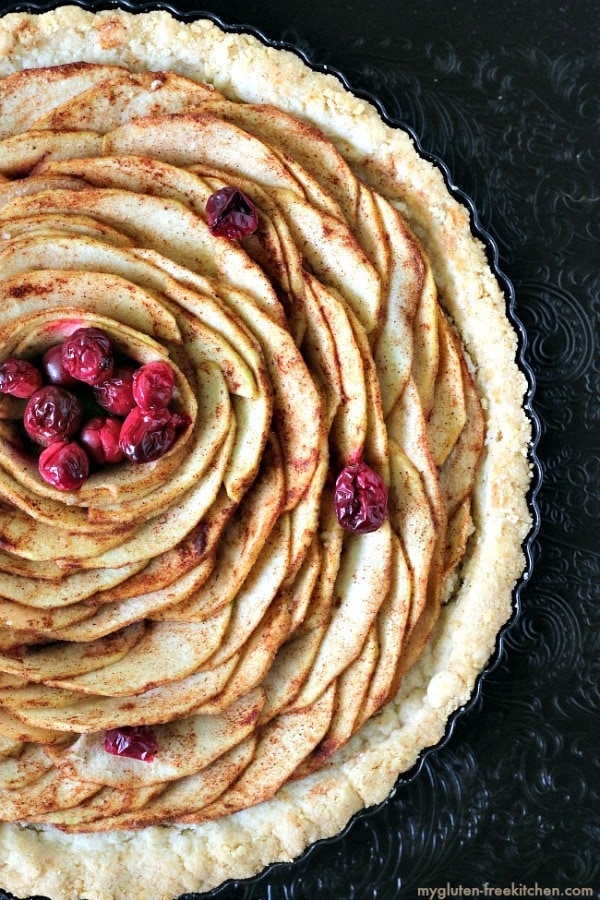 So much easier than making apple pie, this gluten-free apple crisp is a go-to fall dessert when buying a box of apples from the orchard!
Low Carb Pumpkin Cheesecake Bars from Savory Tooth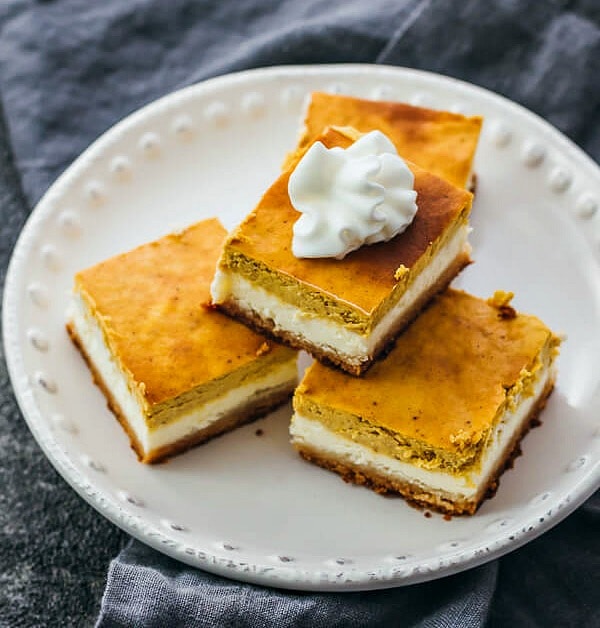 A healthy Instant Pot recipe for making a 6-inch pumpkin cheesecake with an almond flour crust. Keto, low carb, and gluten free.
Vegan Pumpkin Pie from Avocado Pesto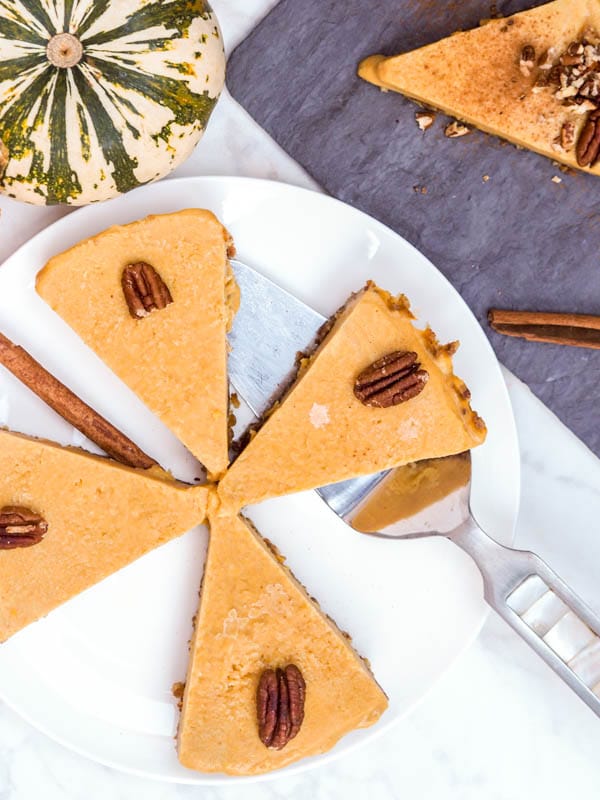 A no bake vegan pumpkin pie that is gluten-free and refined sugar free. Loaded with pumpkin flavor and fall spices.
Gluten-Free Vegan Pecan Pie from Rhian's Recipes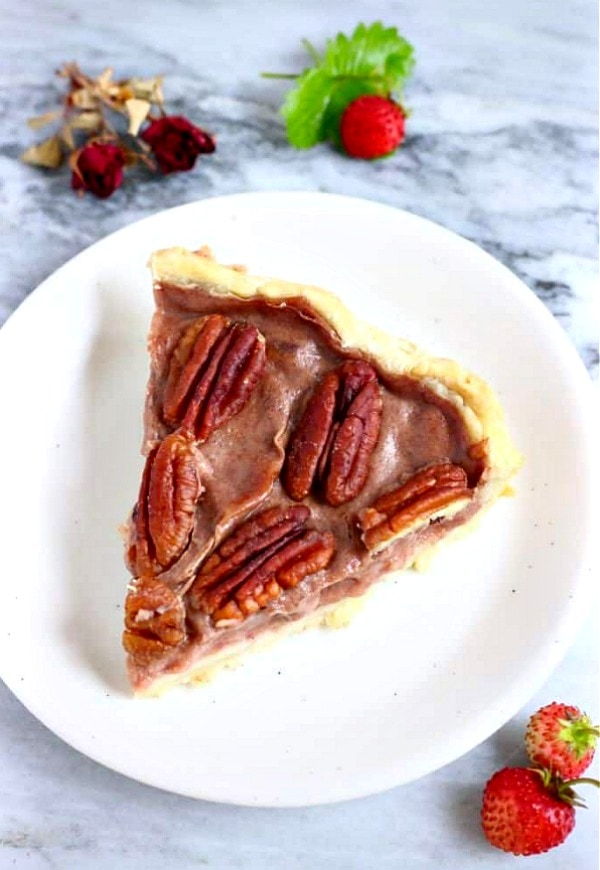 This Gluten-Free Vegan Pecan Pie is crispy, buttery and flaky, loaded with toasty pecans, super fudgy and tastes like caramel!
White Chocolate Cranberry Fudge from Dancing Through the Rain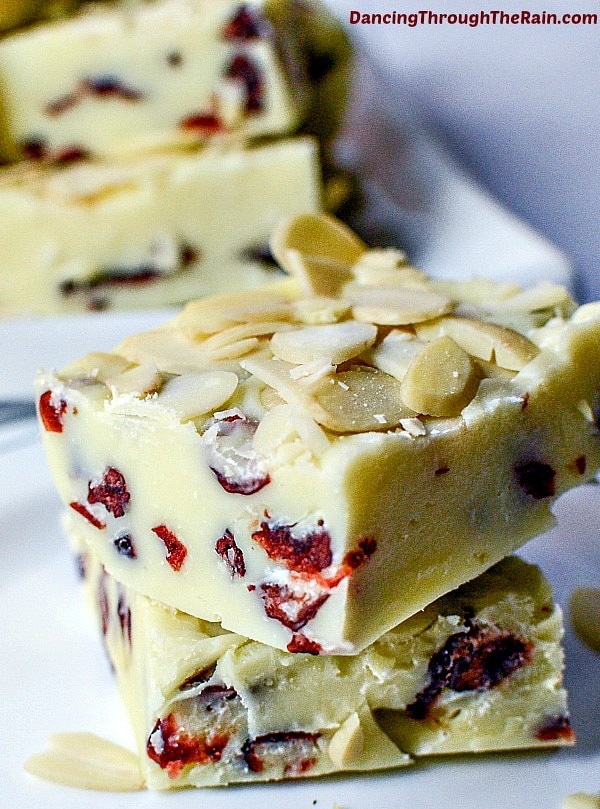 One of the easiest and tastiest dessert recipes to make is this recipe for White Chocolate Cranberry Fudge. It will take you only minutes to prepare and will be a total hit at your next Thanksgiving party.
Chocolate Chip Cake from Penny Pincher Jenny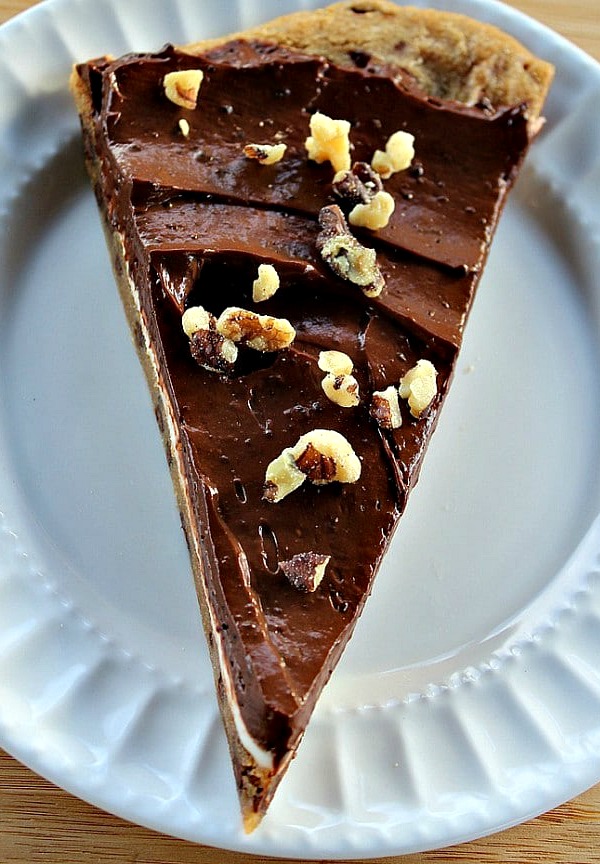 This Easy Chocolate Chip Cake Recipe is perfect to make for holiday dinners. As long as you use a gluten-free pudding this is a great gluten-free Thanksgiving dessert.
The Healthiest Crustless Pumpkin Pie from Strength & Sunshine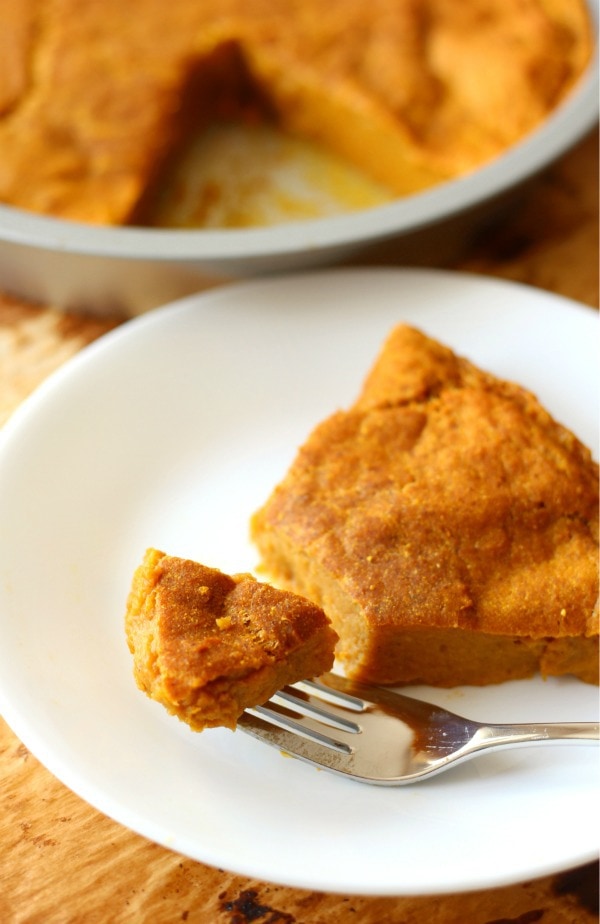 Everything you love about pumpkin pie, but gluten-free, vegan, allergy-free, and none of the work! This is the Healthiest Crustless Pumpkin Pie around!
Pumpkin Pie Bars from Hungry Hobby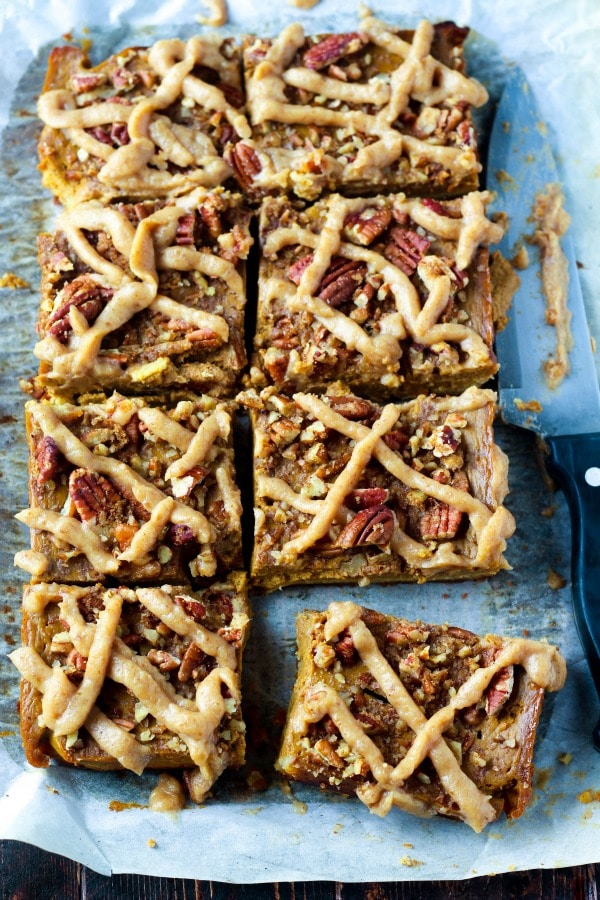 Pumpkin Pie bars are an irresistible slightly healthier spin on a classic treat.  Traditional pumpkin pie baked on top of an almond flour crust and topped with a date caramel sauce.
Low Carb Pumpkin Cheesecake Pie from Low Carb Yum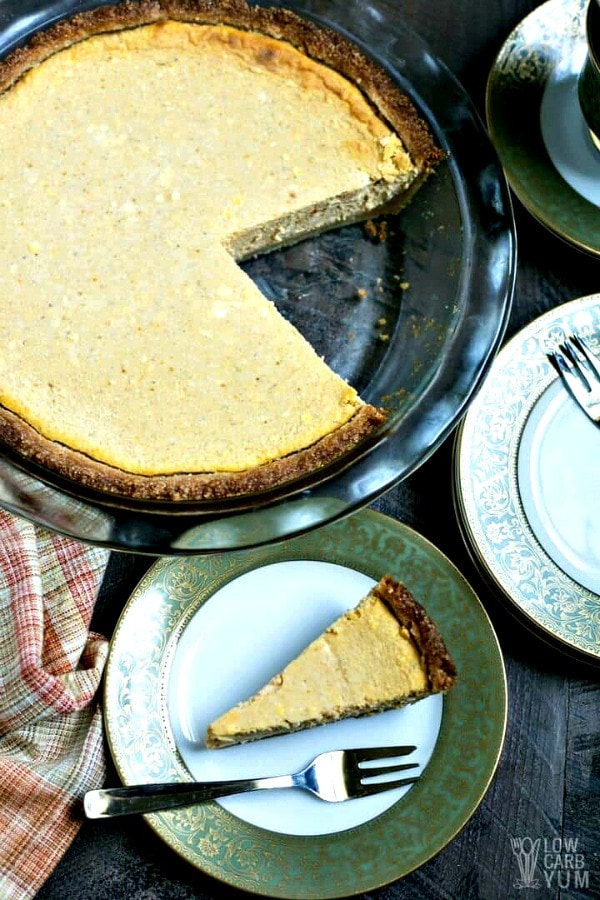 There's no need for a special occasion to enjoy a rich and creamy low carb pumpkin cheesecake pie. It's a simple dessert that can be served year round.
Gluten-Free Pumpkin Maple Cheesecake from All She Cooks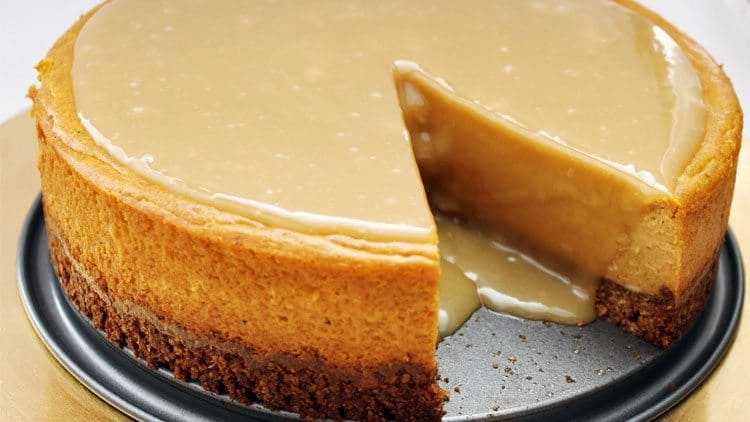 With a buttery pecan oat crust and sweet maple glaze, this warm pumpkin infused cheesecake is the perfect addition to any Thanksgiving menu. This cheesecake features an easy prep gluten-free crust.
Paleo Pumpkin Cupcakes with Cinnamon Meringue Frosting from Paleo Scaleo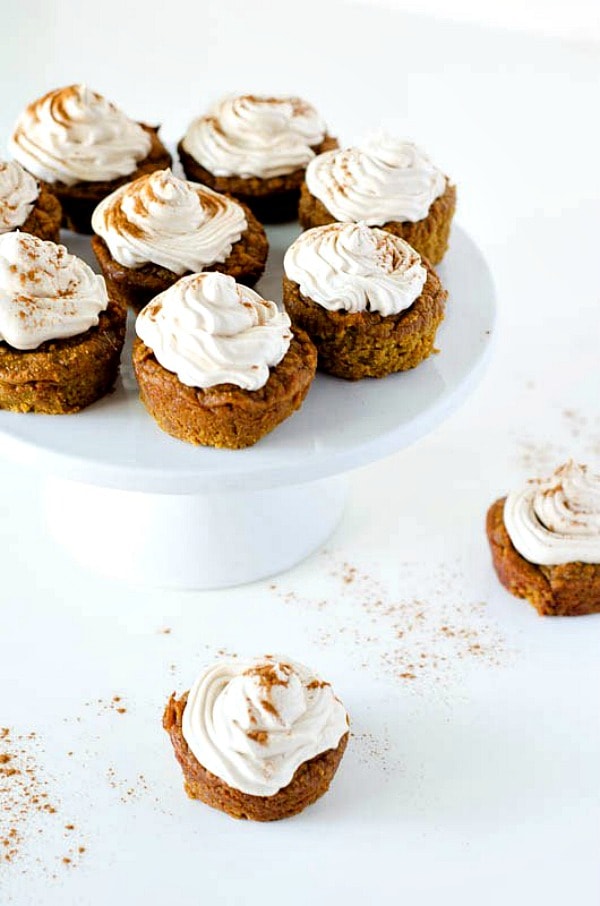 These paleo friendly, gluten free cupcakes have the consistency of a dense pumpkin pie. Plus, the icing is so light and fluffy, that you just want to keep eating them.
Coconut Protein Bounty Balls from One Clever Chef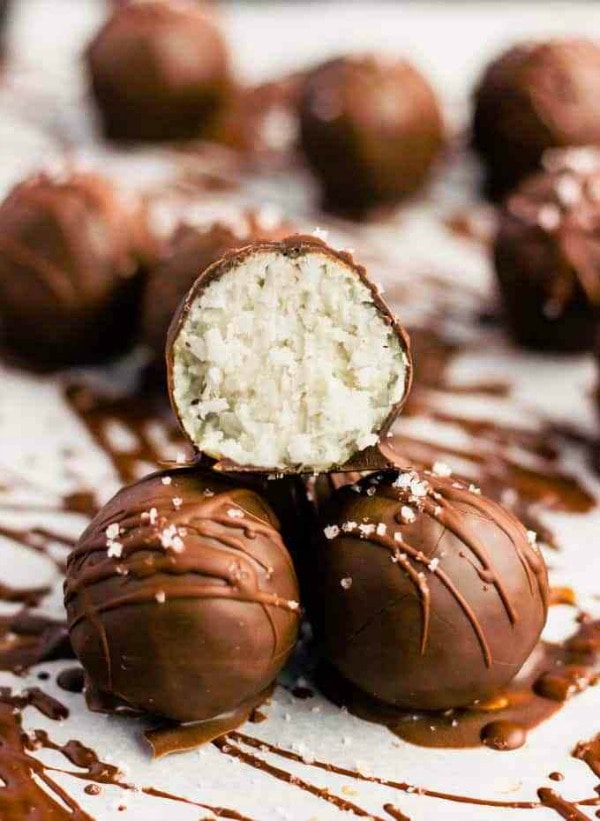 These chocolate covered protein bounty balls are a healthy, homemade version of the classic candy bar. A perfect party treat made with only six simple ingredients, this no-bake recipe is also paleo, vegan, gluten-free, flourless, and dairy-free.
Paleo Pumpkin Pie Flan with Coconut Whipped Cream from This Seasons Table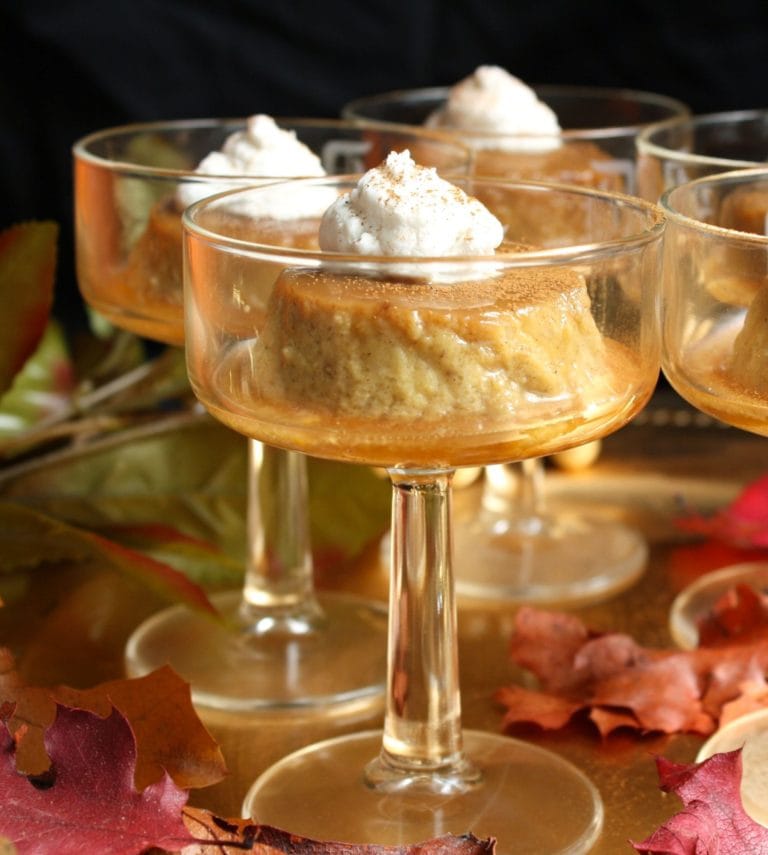 Looking for an alternative to the same old pumpkin pie for Thanksgiving? Check out these amazing Pumpkin Flans - paleo with no dairy or refined sugar!
Apple & Pear Galettes with Pecan Streusel from Pass Me Some Tasty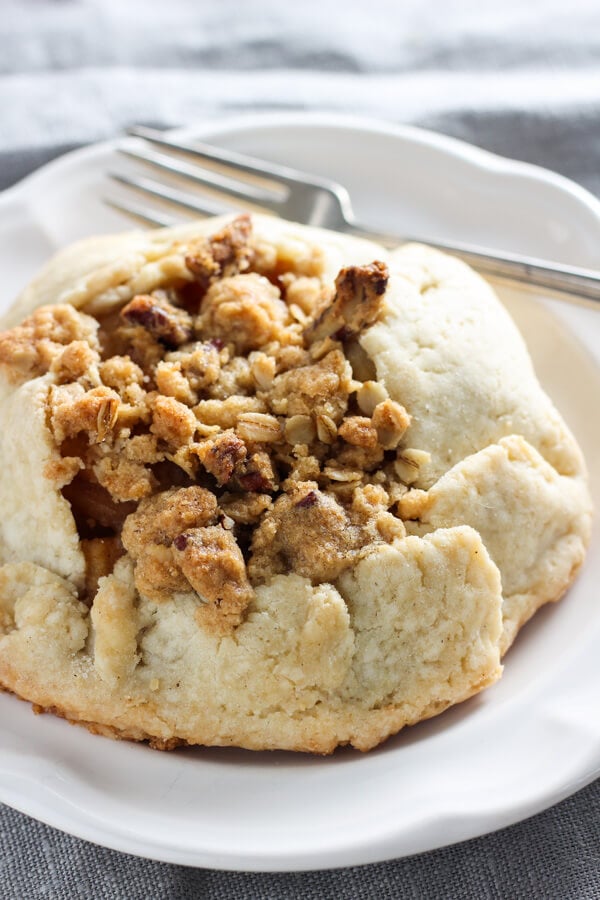 This gluten free apple and pear galette with pecan streusel recipe makes enough for 8 mini galettes. Serve with a scoop of ice cream.
Dark Chocolate and Pumpkin Swirl Cake from Uncommon Designs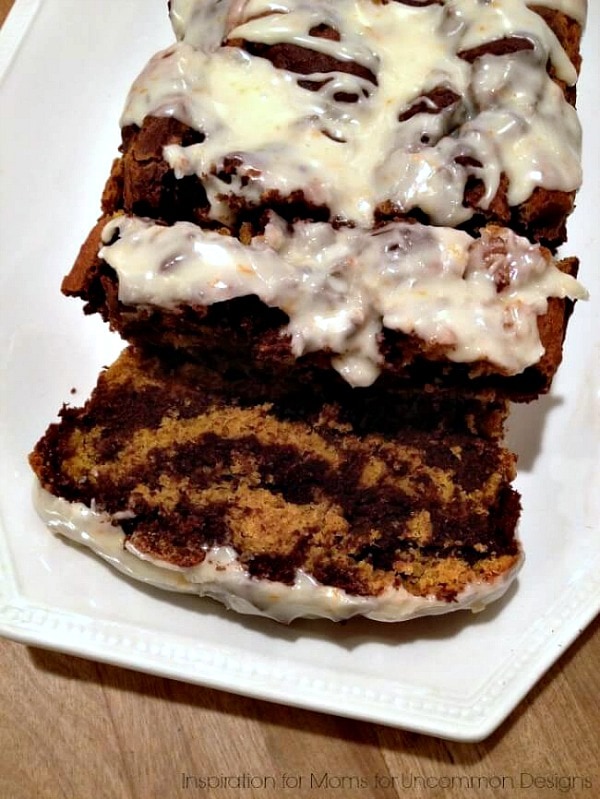 Dark Chocolate and Pumpkin Swirl Cake is a delightful mixture of chocolate, pumpkin, and orange. But people swear the best part is the glaze on this sweet gluten free cake.
Cardamom Chickpea Cookies with Pistachios from the Delicious Crescent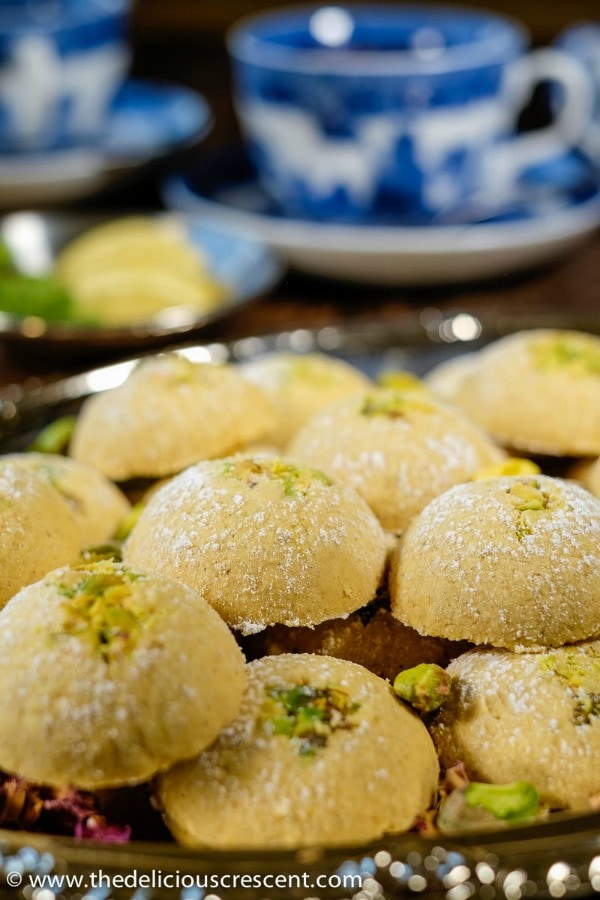 Persian Chickpea Cookies are buttery soft, melt-in-your-mouth, gluten free cookies that are flavored with cardamom and taste fantastic. They are so easy to make and will absolutely win you over!
Paleo Chocolate Brownies that Blew Me Away from Eat Drink Paleo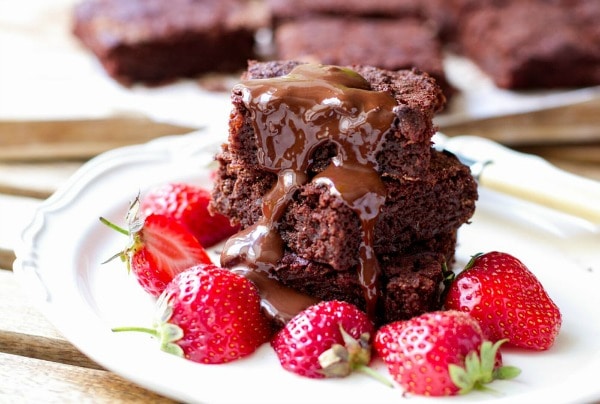 These super moist and rich sweet potato brownies are paleo-friendly, gluten-free, grain-free, and dairy-free. They make a delectable gluten free Thanksgiving desserts recipe.
Pumpkin Roll from Blessed Beyond Crazy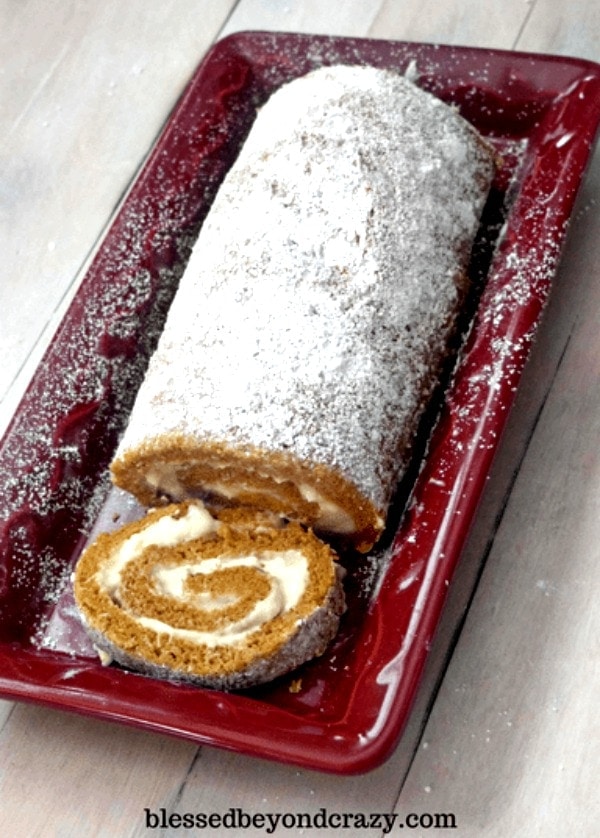 It just isn't Thanksgiving without a Pumpkin Roll. It's so heavenly, you won't believe it's gluten free.
Salted Caramel Pecan Cookies from The Movement Menu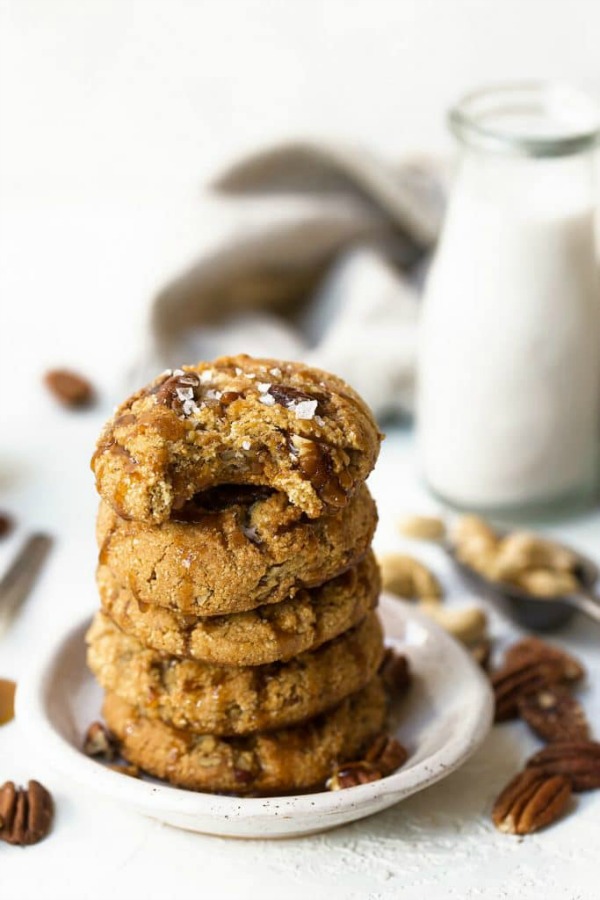 These salted caramel pecan cookies come with all of the deliciousness: raw cashews make up the base, and a vegan caramel sauce is drizzled on top. Soft and chewy, gluten free and paleo.
Swedish Apple Pie from Texanerin Baking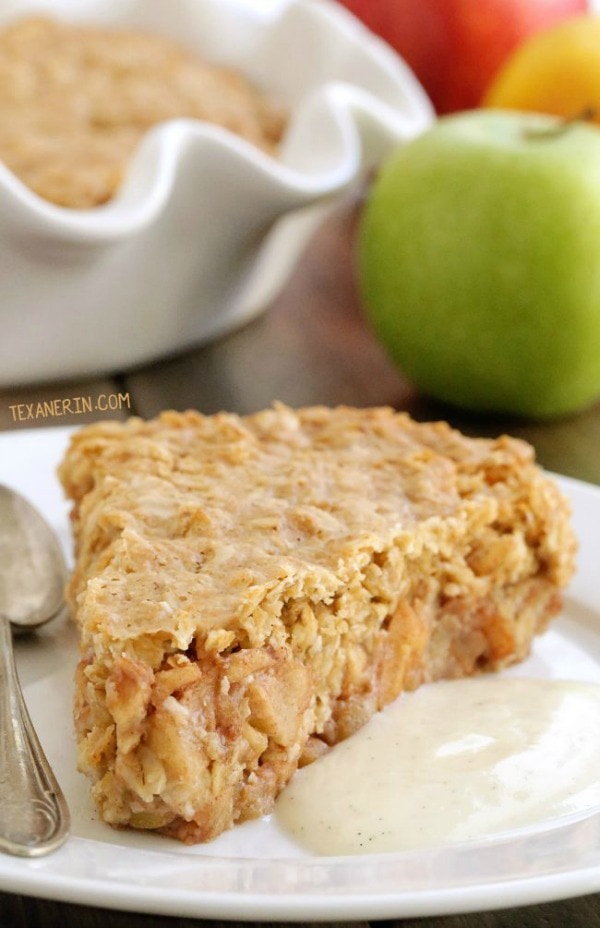 This Swedish apple pie is similar to a crisp and is naturally gluten-free, vegan, dairy-free and 100% whole grain.
Pumpkin Mousse Cake from Divalicious Recipes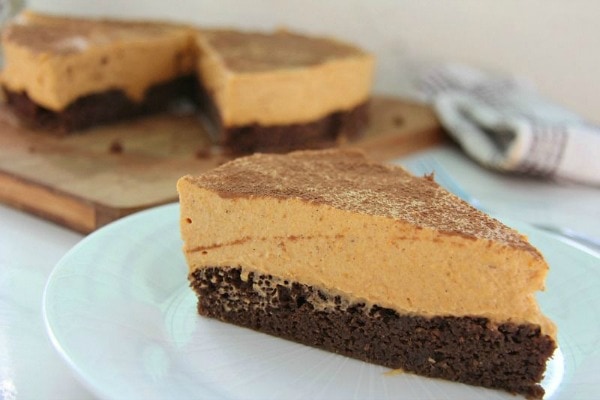 This pumpkin mousse cake is a light, delicious gluten free Thanksgiving dessert. It's a combination of a chocolate cake base topped with a light pumpkin mousse.
The Most Awesome Paleo Apple Crisp! from 24 Carrot Kitchen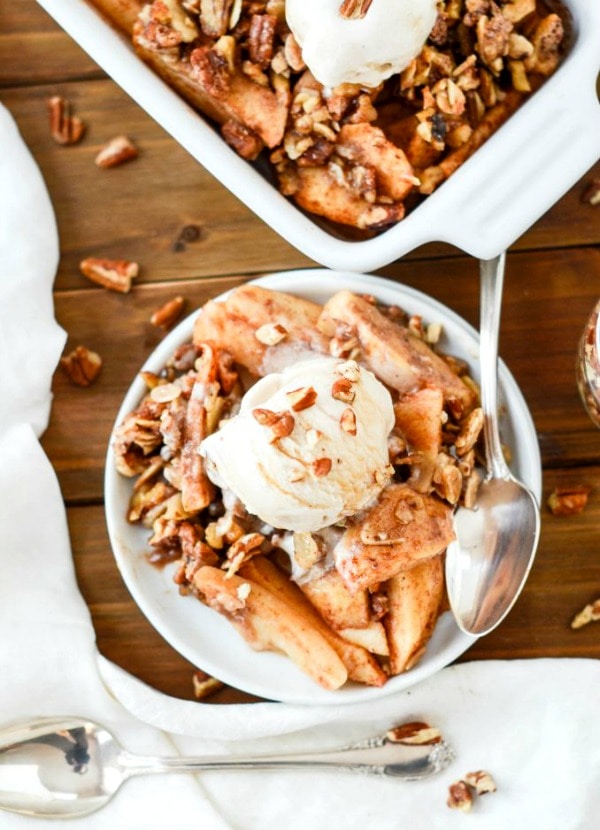 This apple crisp recipe combines fresh apples with nuts, cinnamon, tapioca starch/flour, coconut sugar, maple syrup, lemon and orange juice, and almond flour to make an easy gluten free Thanksgiving dessert and breakfast bake.
Vegan Pumpkin Pie from Yummy Mummy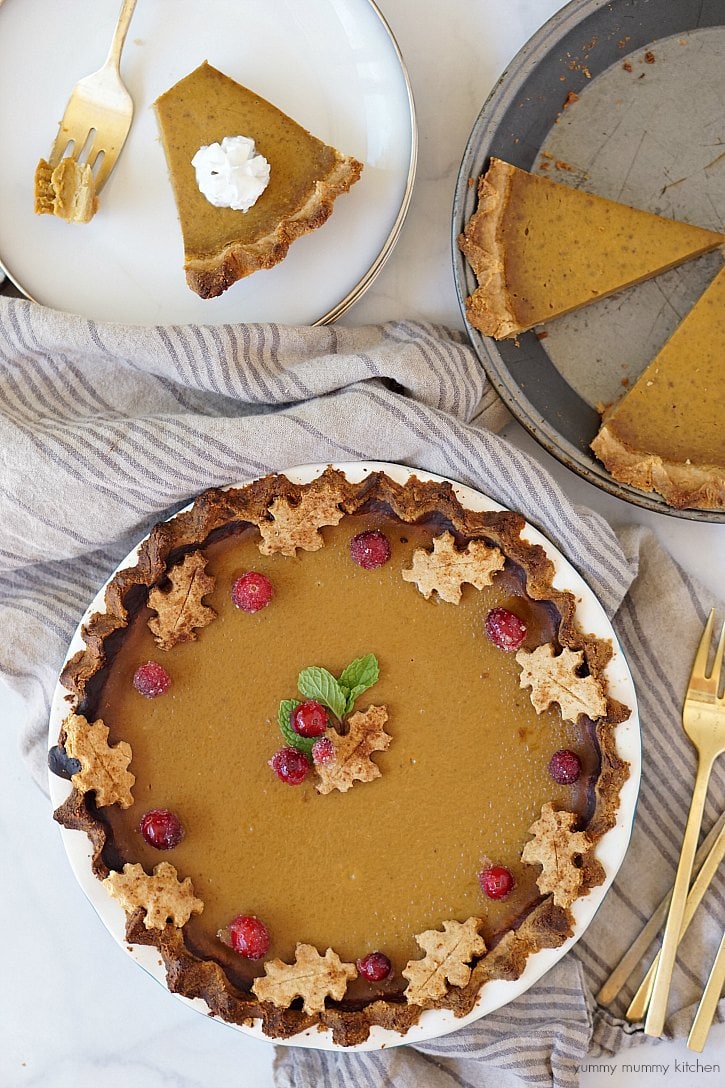 This gluten free pumpkin pie is also vegan. It's made with a dairy free, egg free, coconut milk filling and almond flour crust.
Do you have any favorite easy gluten free Thanksgiving desserts that you make every year? Share below!
Originally published on November 13, 2017. Updated with new information.