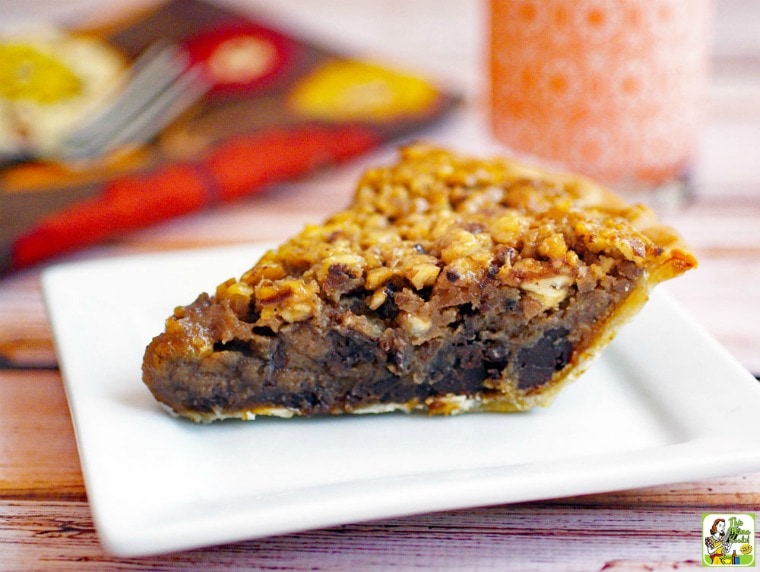 This Gluten Free Chocolate Pecan Pie is a classic Thanksgiving dessert made better with the addition of chocolate, bourbon and sorghum.
In my humble opinion, there's nothing better than a chocolate bourbon pecan pie for the holidays.
There's something about the combination of all those flavors that makes me a happy camper.
What's so wonderful is that it's so easy to make it gluten free pecan pie recipe for any of your guests or family members who are gluten free.
These days it's so easy to find terrific GF flours and premade gluten free crusts right at the grocery store.
You don't even have to make a gluten free crust from scratch! (Big timesaver on such a busy holiday, too.)
This chocolate chip pecan pie is so versatile, that I'll also give you tips on how to make it a vegan and dairy free pecan pie.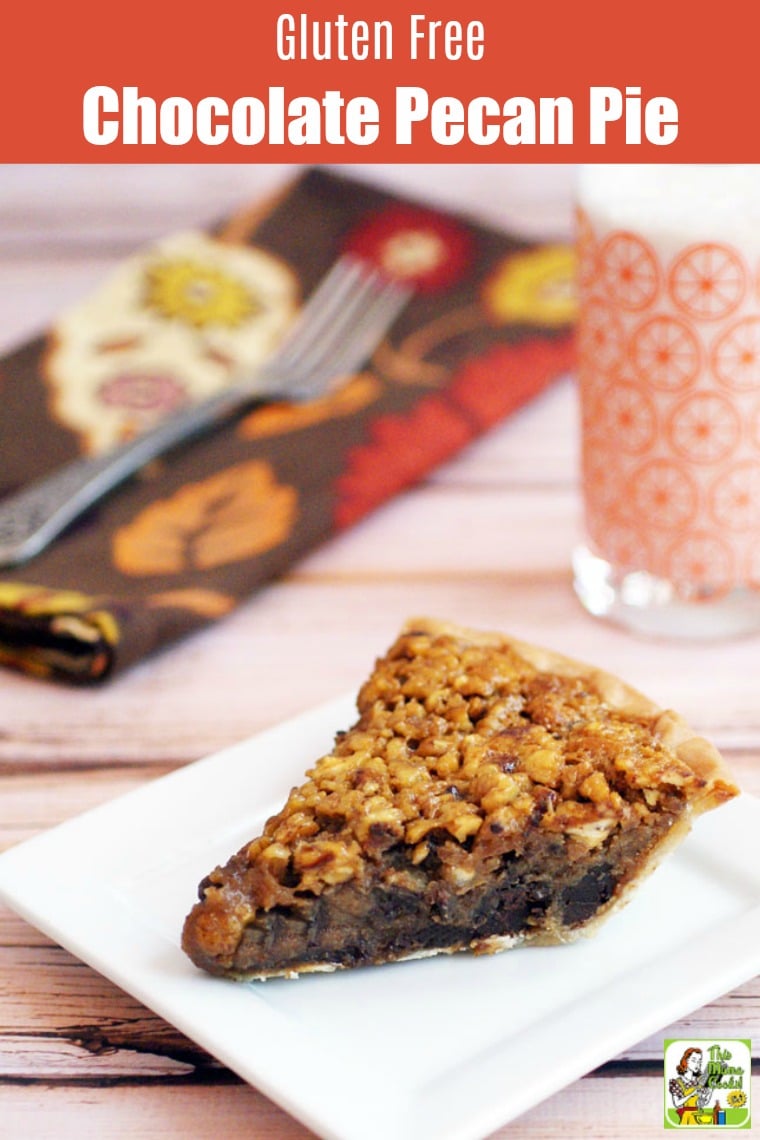 Plan ahead for a successful gluten free chocolate pecan pie
This chocolate pecan pie recipe is super easy to make a day or two ahead of the big holiday.
Take time to read all the tips and instructions ahead of time.
Then take the time to buy all your ingredients way in advance.
This is especially true of the gluten free pecan pie crust, sorghum syrup, and dairy free chocolate chips, which may not be available at your usual grocery store.
Since you're cooking for people with special dietary needs – gluten free, dairy free, even vegan –  you may need to drive to several stores, a health food store, or even order supplies online.
Just know this Gluten Free Chocolate Pecan Pie is so heavenly that your efforts will be worth it!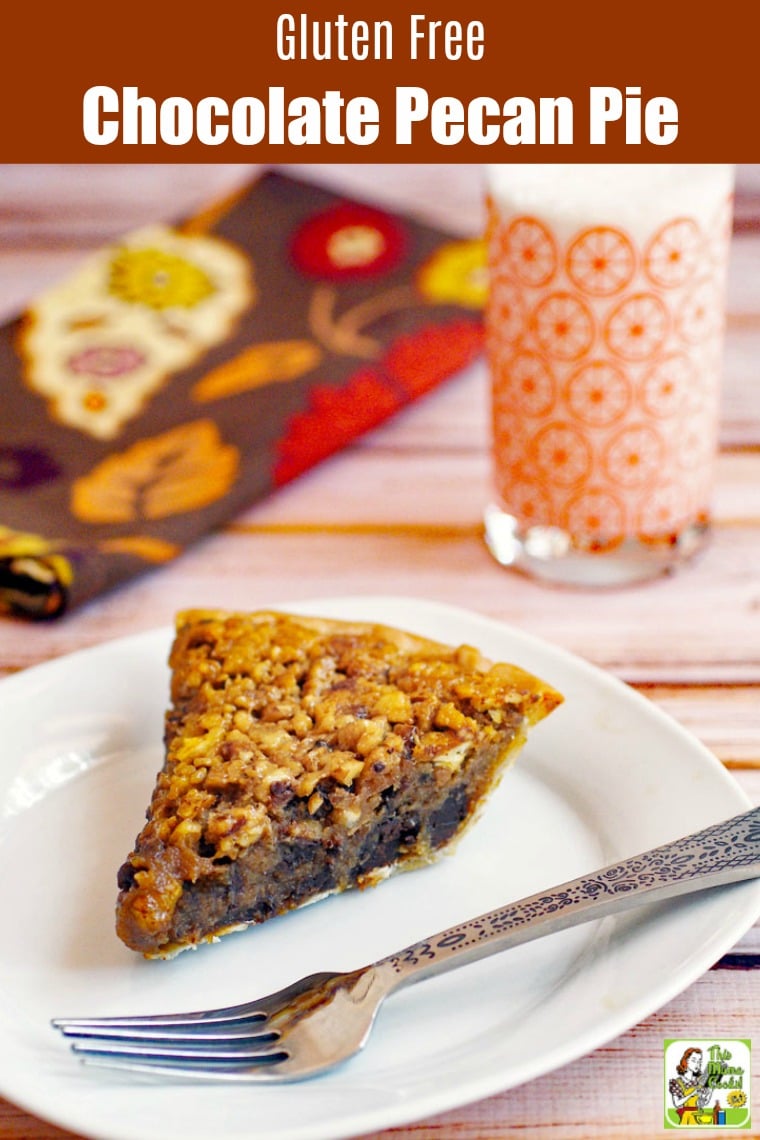 How to make a gluten free pecan pie
Here are tips on how to make the pecan pie.
Gluten free pie crust: I used a premade gluten free dairy free pie crust from Wholly Wholesome. I usually can find these in the freezer section at my grocery store. If yours doesn't sell it, try your local health food store.
I recommend that you don't prebake the crust. Otherwise the crust ends up being too hard to cut.
You can buy a Wholly Wholesome crust weeks in advance since it's frozen. Just make sure to place it in an out of the way part of your freezer so it doesn't get crushed and broken.
I like using their gluten free pie crusts for a Quick Quiche Recipe, too.
(My Gluten Free Raspberry Pecan Pie uses a gluten free crust made with crushed cookies.)
Gluten free flour: I recommend using an all purpose gluten free flour like Bob's Red Mill Gluten-Free 1-to-1 Baking Flour. I love this product because it cooks up just like regular flour in my gluten free recipes.
Here's the best way to measure gluten free flour: Believe it or not, you shouldn't scoop gluten free flour directly out of the bag with a measuring cup. It packs down the flour and you end up with a bit too much in your cup.
Instead, spoon the flour from the bag (or the container you keep your flour in) into your measuring cup. Then use the back of a spatula or knife to level off the top of the cup.
That way the gluten free flour is given a mini-sift and isn't packed down.
Check out my Best Gluten Free Products List to find more of my favorite gluten free baking products!
Sugar: You can use regular white sugar if you like. (I buy the organic kind in the gigantic bags at my warehouse store.)
If you're trying to cut back on sugar, I recommend either powdered monk fruit sweetener or Swerve Sweetener.
Both are natural, no calorie sweeteners. They can be used 1:1 in baking just like regular sugar and have no weird aftertaste like stevia.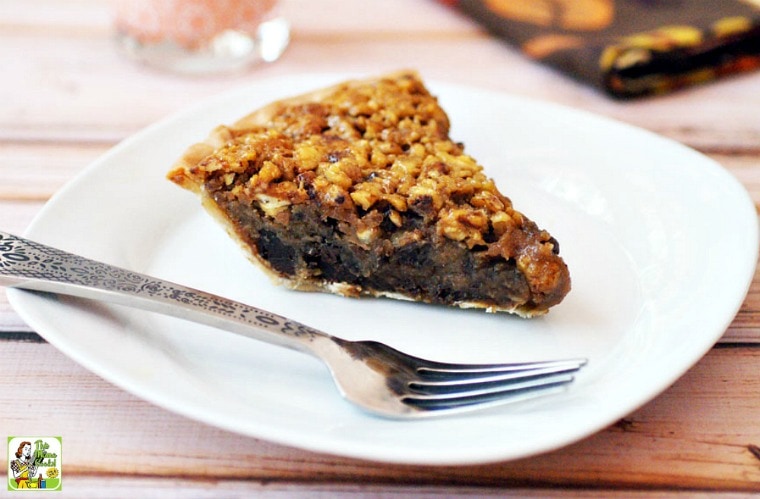 Bourbon: Many people love a good Maker's Mark pecan pie, but you can use any brand of bourbon (or even rye) in this bourbon pecan pie recipe.
If you don't imbibe, you can substitute cider for the bourbon.
Sorghum syrup: I fell in love with sorghum when I lived in the South. It's sort of like a cross between rice and maple syrup. Some gluten free beers are made with sorghum.
You can find sorghum syrup online and at beer and wine making stores. (If you live in the South, you can usually find it at the grocery store.)
If don't want to order sorghum online, feel free to substitute maple syrup and turn this into a bourbon maple pecan pie. Tasty!
How to toast pecans: Spray a skillet with a little cooking spray, then add pecans. Toast over medium-heat until browned and fragrant. (They should be about a shade darker than they originally were.)
Remove the toasted pecans from the skillet to cool. Then chop them up.
I buy a big bag of pecans at my warehouse store because I love to snack on them and use pecans in everything from sprinkling on my morning oatmeal to using them in baked goods.
Buying a big bag also is a good insurance policy in case you burn the pecans when toasting them.
I can't tell you how many times I've done that because I've walked away to do something else and then forgot they were on the stove. Then I had to run to the store to buy more.
So the rule is…DON'T WALK AWAY.
Chocolate: I recommend using Enjoy Life Mini Chips, Mega Chunks, or Morsels in this chocolate chip pecan pie recipe. You can use either the semi-sweet or dark chocolate varieties.
Enjoy Life Chocolate is gluten free, dairy free, and vegan.
Buttery spread: Since I want to keep this a gluten free dairy free pecan pie, I recommend using a good vegan buttery like Earth Balance.
I wouldn't use coconut butter in this easy gluten free pecan pie as you want that buttery flavor.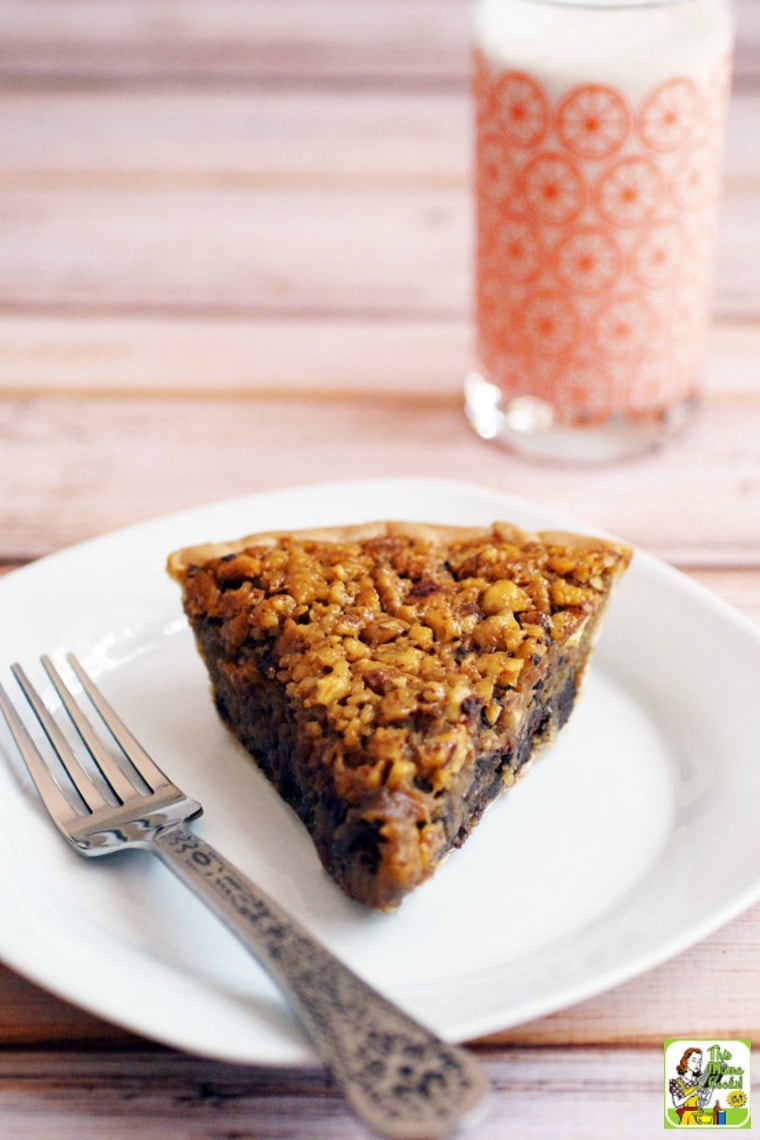 Making a vegan gluten free pecan pie
During the holidays, we want to welcome everyone to the table, no matter what their dietary needs. So I wanted to include how to make this an easy vegan pecan pie.
If you're using the gluten free dairy free pie crust from Wholly Wholesome, Enjoy Life Mini Chips, Mega Chunks, or Morsels, and a vegan buttery spread like Earth Balance, you're almost there.
All you need to do is find a vegan egg substitute, like VeganEgg or a powdered, vegan egg replacer. (There are several brands like Energ-G and Bob's Red Mill Egg Replacer.)
Or try cornstarch: You can use 2 tablespoons of cornstarch plus 3 tablespoons of water for every egg.
Since this chocolate pecan pie calls for 2 eggs, you'd use 4 tablespoons cornstarch and 6 tablespoons water. Mix this into a slurry and then add it when you'd normally add the egg.
Keep an eye on baking time. Check the pie early, but don't be alarmed if it needs more baking time if you're using a vegan egg substitute.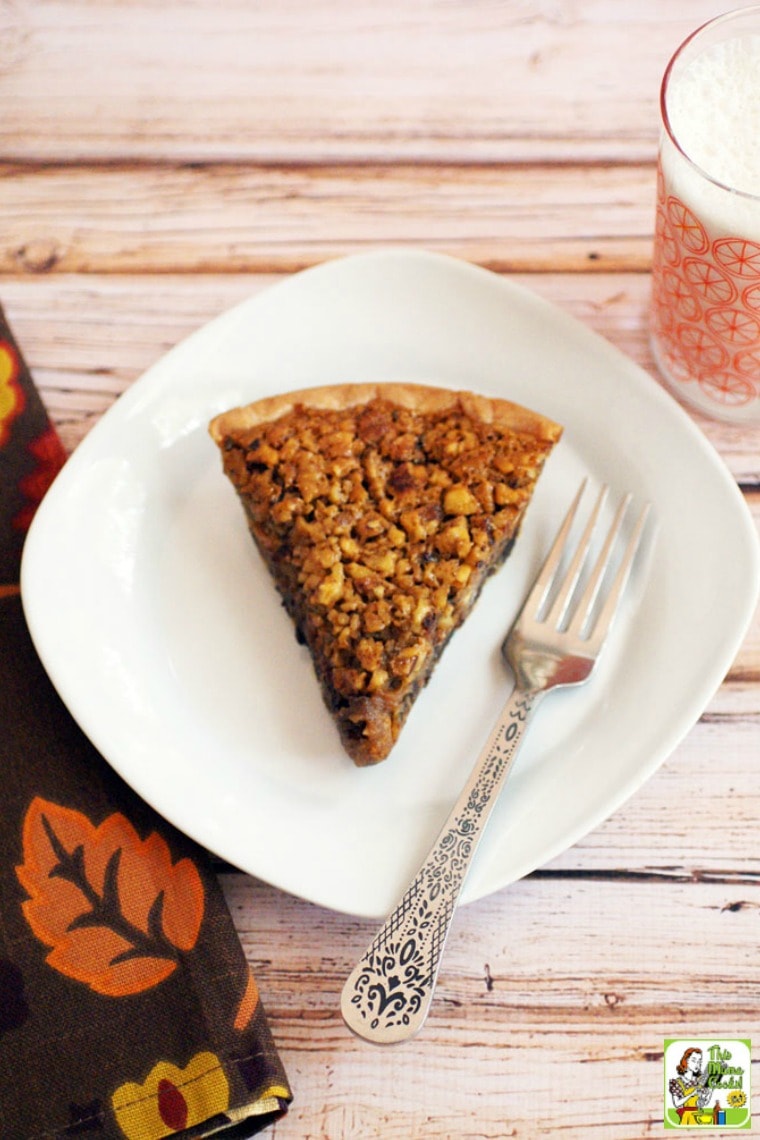 More vegan, dairy free, and gluten free desserts
● Keto Pumpkin Mousse (vegan, dairy free, gluten free)
● Dairy Free Pumpkin Fudge (dairy free, gluten free, vegan)
● Gluten Free Pumpkin Bread (gluten free, dairy free, with vegan option)
● Eggless Chocolate Chip Cookies with Pumpkin (dairy free, vegan)
● Vegan Key Lime Mousse (vegan, dairy free, gluten free)
Yield: 8 SERVINGS
Gluten Free Chocolate Pecan Pie Recipe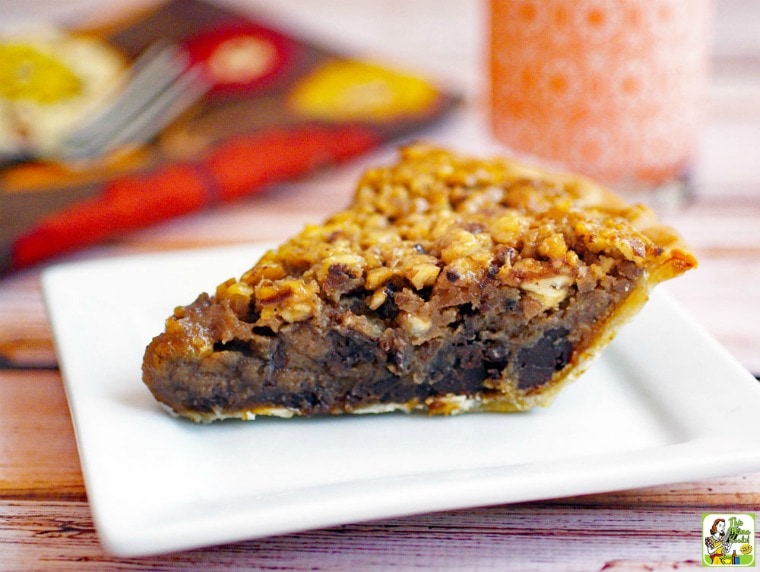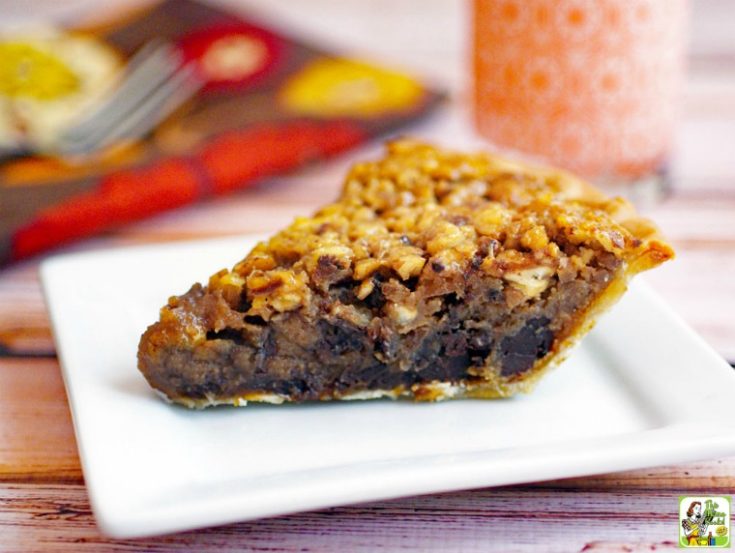 This Gluten Free Chocolate Pecan Pie is a Thanksgiving dessert made even better. This gluten free pecan pie is made with chocolate and bourbon.
Ingredients
1 gluten free pie shell
1/3 cup gluten free all-purpose flour
1/2 cup organic sugar, monk fruit sugar, or Swerve Sweetener
Pinch sea salt
2 eggs, lightly beaten
3 tablespoons bourbon
1/2 cup sorghum syrup or maple syrup
1 cup pecans, toasted and roughly chopped
4 ounces dark chocolate chips (gluten free, dairy free)
1/2 cup vegan buttery spread, melted
Instructions
Preheat oven to 350 degrees.
In a large bowl, whisk together gluten free all-purpose baking flour, sugar or sugar substitute, and salt.
Stir in eggs just enough to combine all the ingredients.
Stir in bourbon, sorghum or maple syrup, pecans, and chocolate.
Pour melted buttery spread into a bowl and stir until thoroughly combined.
Place the pie shell on a baking sheet.
Pour pie filling into shell and bake for 35 minutes. The top should be set but the center may be slightly gooey. (Test by jiggling the pan. The center may move a bit, but the sides won't.)
Cool completely on a wire rack.
Serve at room temperature. Store leftovers in the refrigerator.
Recommended Products
As an Amazon Associate and member of other affiliate programs, I earn from qualifying purchases.
Nutrition Information:
Yield:
8
Serving Size:
1 slice
Amount Per Serving:
Calories:

482
Total Fat:

26g
Saturated Fat:

7g
Trans Fat:

0g
Unsaturated Fat:

18g
Cholesterol:

48mg
Sodium:

162mg
Carbohydrates:

57g
Fiber:

3g
Sugar:

42g
Protein:

5g
Nutritional information is automatically calculated per the ingredients list. Serving size may not be accurate. Please double-check with your preferred nutritional app for the most accurate information.
Originally published on June 12, 2013. Updated with new pictures and information.