Last Updated on November 5, 2021 by Anne-Marie
This vegan rice stuffing is cooked with cranberries, butternut squash, and dates. This vegan, gluten-free stuffing is made with jasmine rice.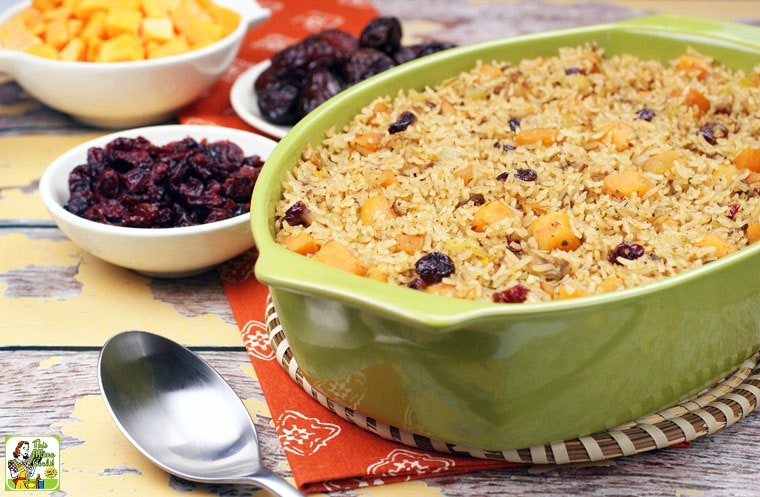 Why this recipe works
This Vegan Rice Stuffing Recipe with Cranberries, Squash & Dates is perfect for your guests who don't eat meat or are gluten free.
When I was coming up with my vegan stuffing recipe, I wanted a stuffing that didn't rely on bread.
Finding vegan bread can be a challenge and I didn't want to make one from scratch.
Plus, finding a bread that's both vegan and gluten free can be impossible.
That's why this rice stuffing recipe works out so well – vegan, vegetarian, gluten free, dairy free, and super scrumptious!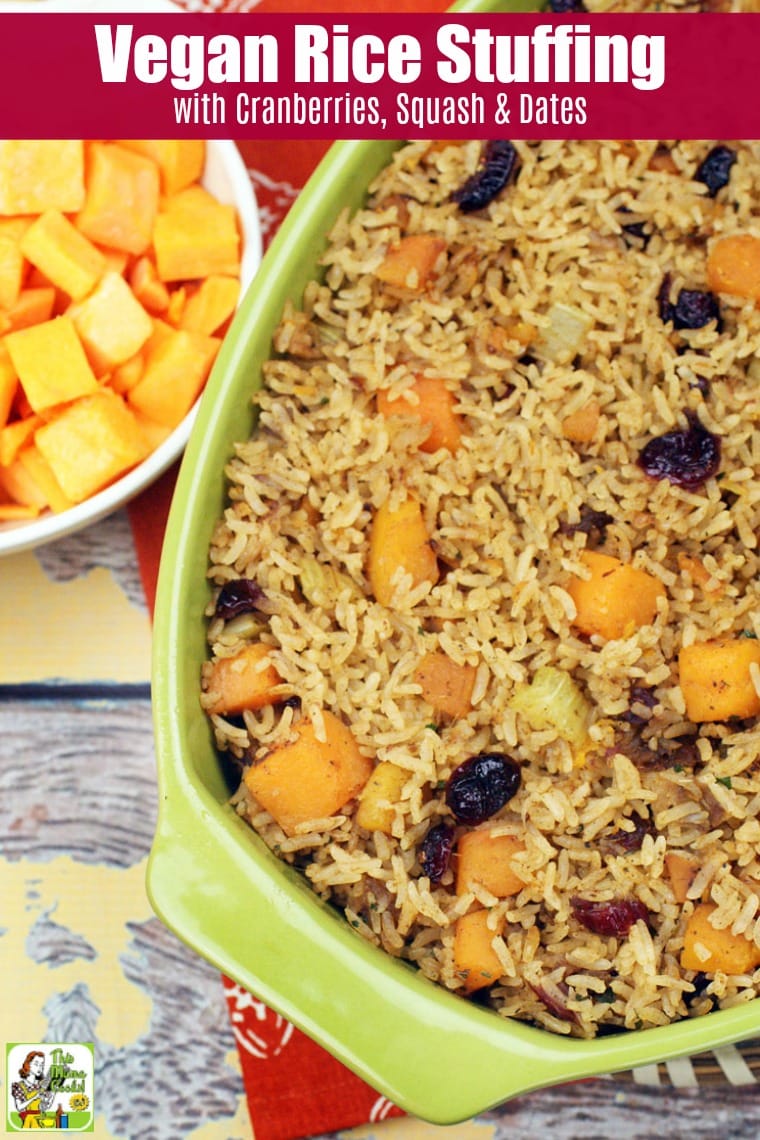 Making jasmine rice stuffing for Thanksgiving
Most rice stuffing for Thanksgiving call for wild rice.
For some crazy reason, my kids don't like wild rice, and it can be expensive.
Instead, why not make a basmati rice stuffing or a jasmine one? I decided to go with jasmine since it's a long grained rice, but a bit stickier than wild rice.
To make less sticky and a bit drier, I cooked it with less water per the package instructions.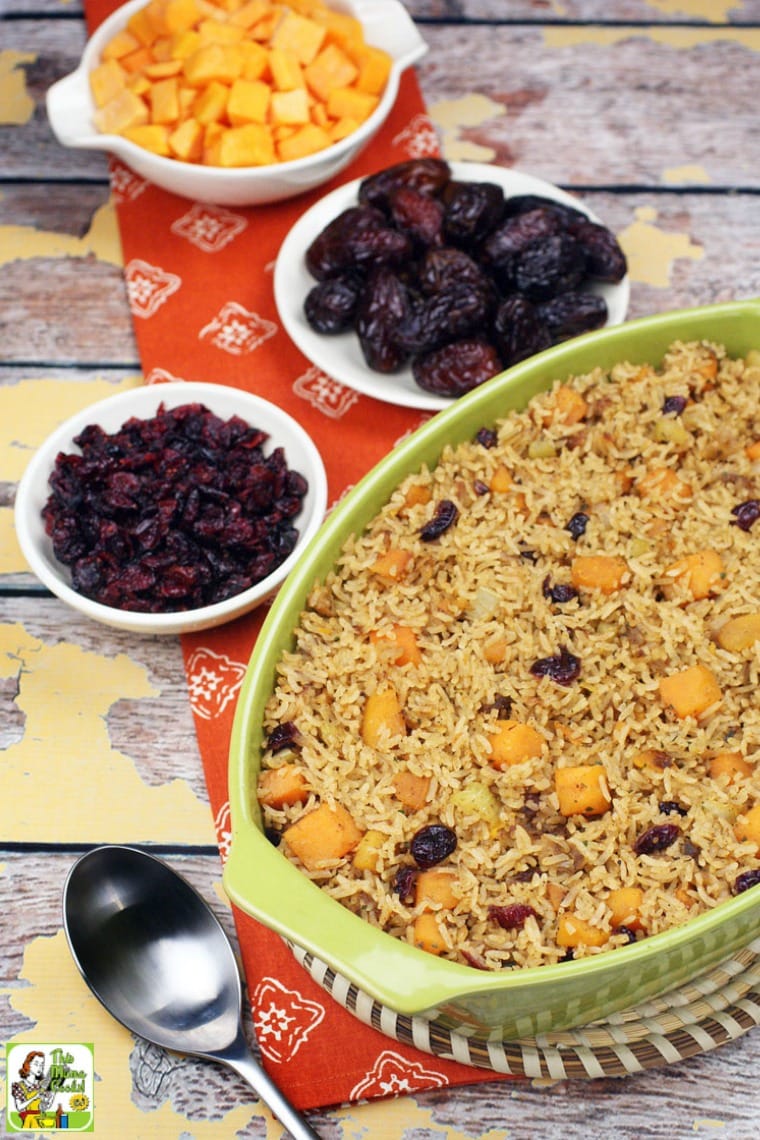 What else goes into a vegan, gluten free stuffing?
I believe that you must have certain things in a good Thanksgiving stuffing.
First, dried fruit. Thanksgiving isn't Thanksgiving without cranberries. Not only do they add great flavor to this gluten free rice stuffing , but some gorgeous color, too.
I also love Medjool dates and can eat them all day long. Cranberry and dates combine well with the jasmine rice.
Second, a vegetable. Butternut squash always says fall time to me. However, it's a pain in the neck to peel and cut up a butternut squash. It seems to take forever.
Luckily, you can now buy it already cut up at most grocery stores. It's worth paying extra to buy the already cut up butternut squash. This is my idea of convenience food!
Third, broth. Use vegan and gluten free certified vegetable broth. (Carefully read those labels!) Or make your own.
You can also use vegetable broth instead of water when cooking up the jasmine rice. The stock will make the fragrant jasmine rice even more delectable and the vegetarian stuffing even better.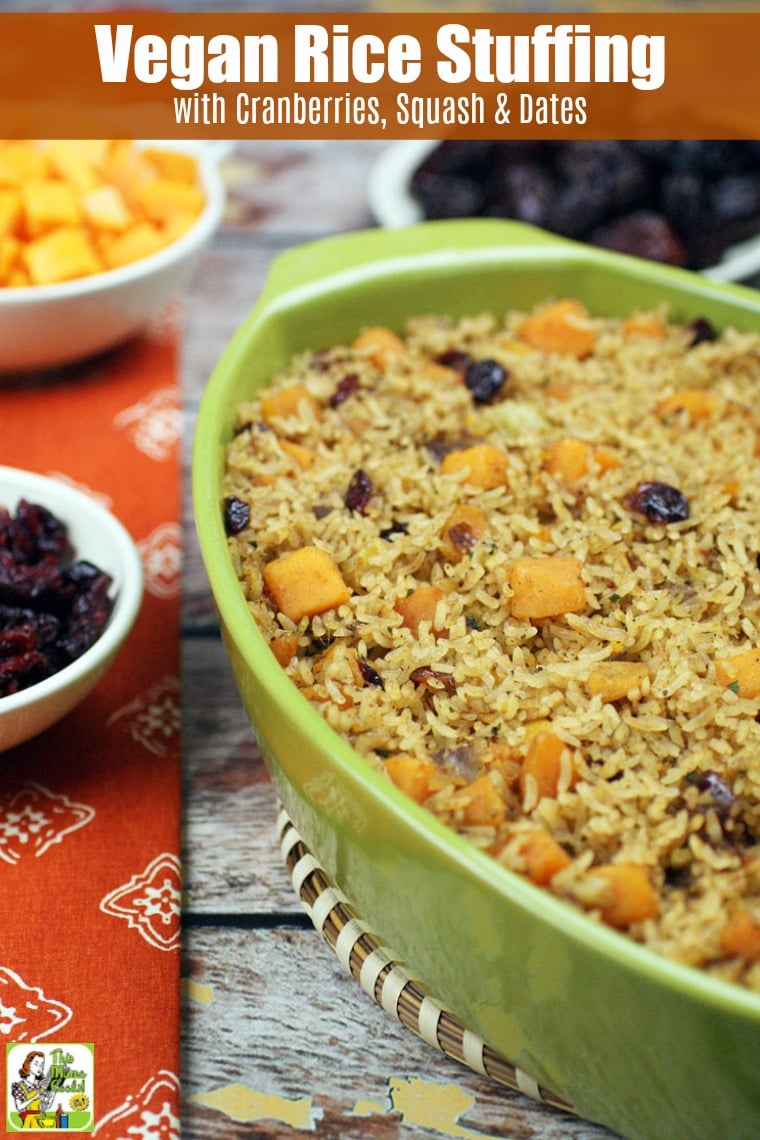 Tips on how to make rice stuffing
Cooking the rice: I used a rice cooker to cook up the jasmine rice. I love using rice cookers since you get perfect rice every time. If you cook rice frequently, invest in the best rice cooker you can afford.
Buttery spread: Make sure to use a certified vegan buttery spread like Earth Balance. This will also assure that this remains a dairy free stuffing for anyone who cannot tolerate dairy in their diet.
Poultry seasoning: If you don't have poultry seasoning in your spice rack, you can make your own for this vegetarian stuffing recipe.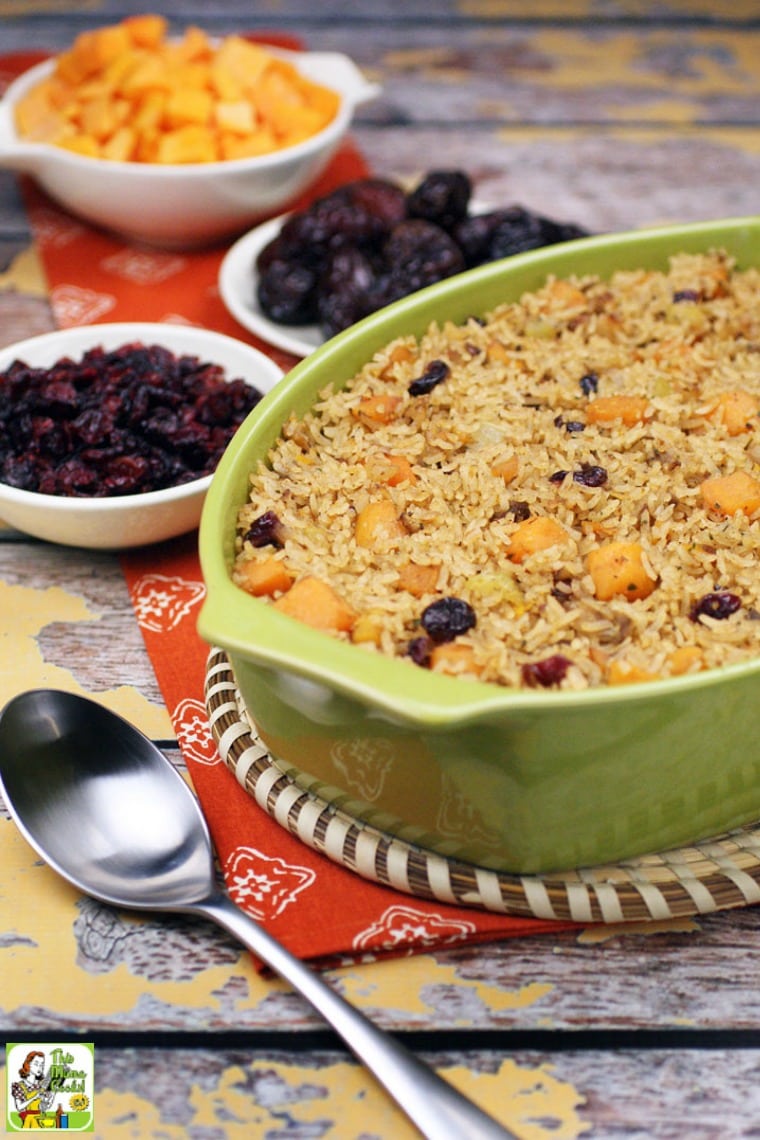 How about sausage? We all have that one family member who's going to complain that the stuffing doesn't have any sausage in it. 
Well, you can add some veggie crumbles or vegan sausage and still keep it vegan or vegetarian.
Or you can make a second non-vegan batch of cranberry rice stuffing with some Italian or spicy chorizo sausage just to keep the peace.
(Get my recipes for How to Make Homemade Chorizo and How to Make Homemade Italian Sausage.)
In either case, just cook up the sausage, crumble or chop it up, and add it to the rice, vegetables, and dried fruit before it goes into the oven.
Nuts anyone? If you love nuts in your stuffing, you may also wish to add some chopped pecans or slivered almonds to this gluten free stuffing. There are nut allergies in my family, so I skipped it.
If you have nut allergies, pine nuts are a good choice, but beware of potential cross contamination issues during handling.
You can try to eliminate that by rinsing the pine nuts, and dabbing them dry with a paper towel. Then pan roasting the pine nuts to give them a nice nutty flavor.
Check out the Best Gluten Free Thanksgiving Desserts Recipes and the Best Keto Thanksgiving Recipes for more delicious recipes for your holiday table.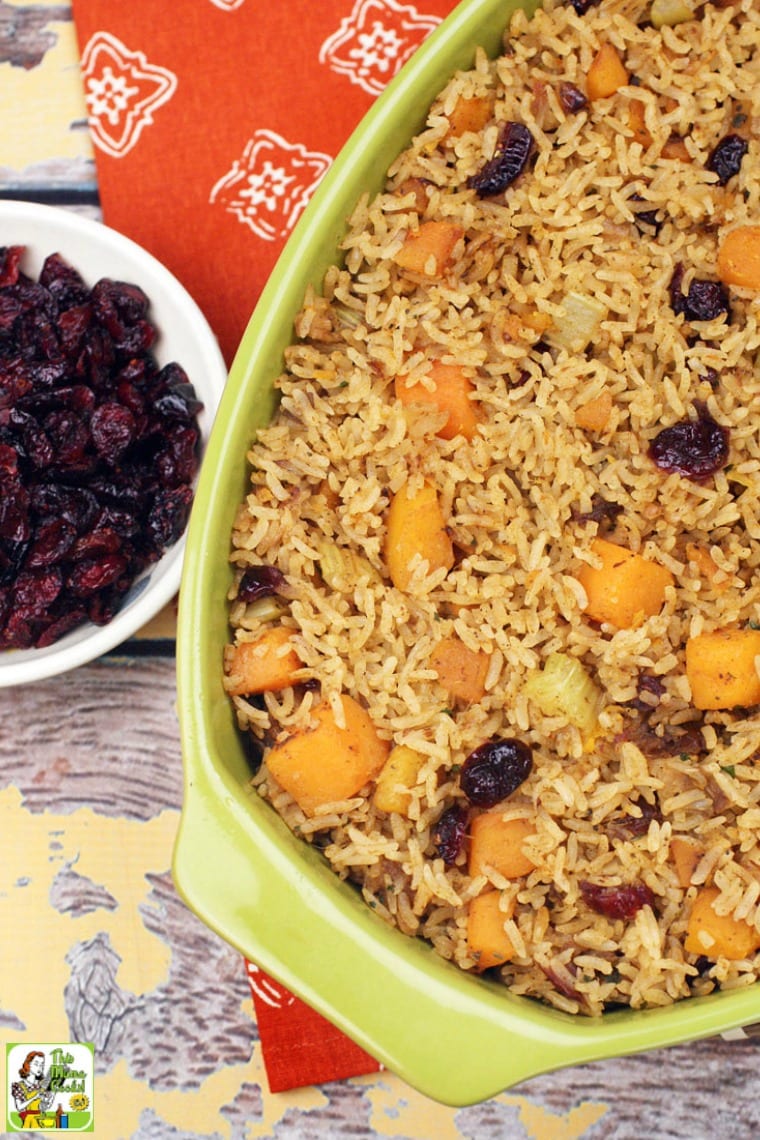 More easy rice dishes
● Wild Mushroom Risotto (vegetarian)
● Easy Mexican Rice (vegetarian)
● Gluten Free Tabbouleh Recipe (vegetarian/vegan)
● Miso Soup with Rice (vegetarian)
● Seafood Risotto (dairy free)
Yield: 8 SERVINGS
Vegan Rice Stuffing Recipe with Cranberries, Squash & Dates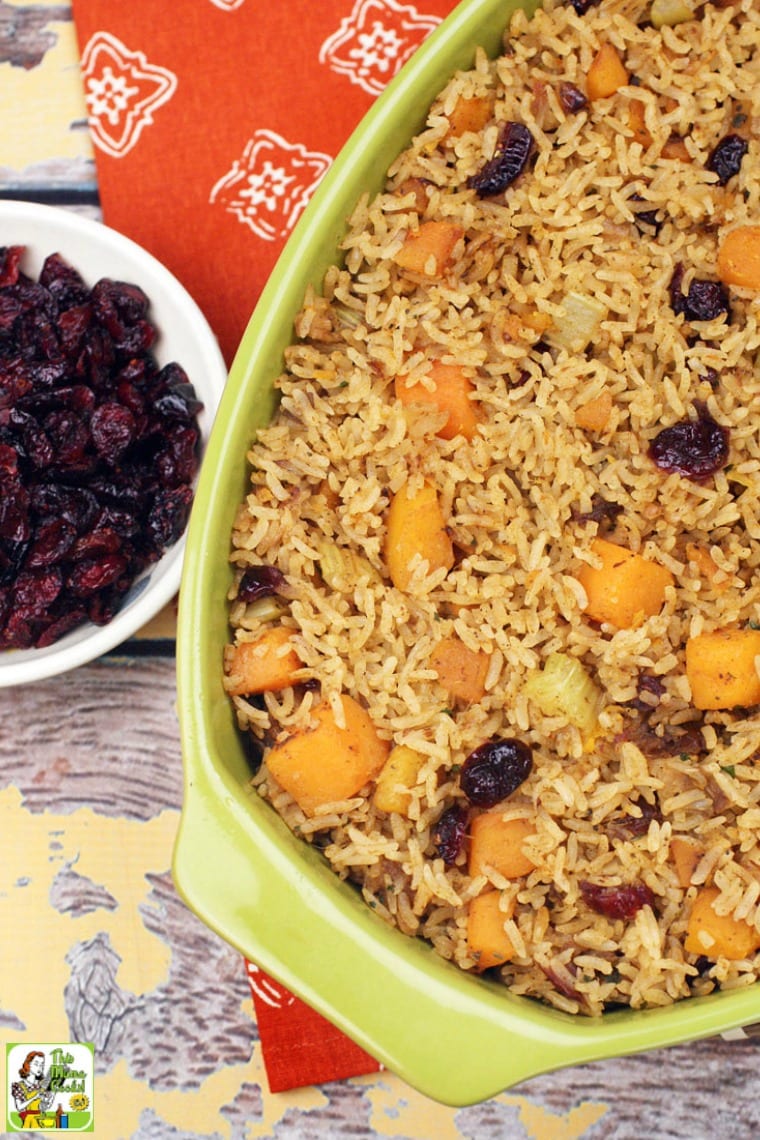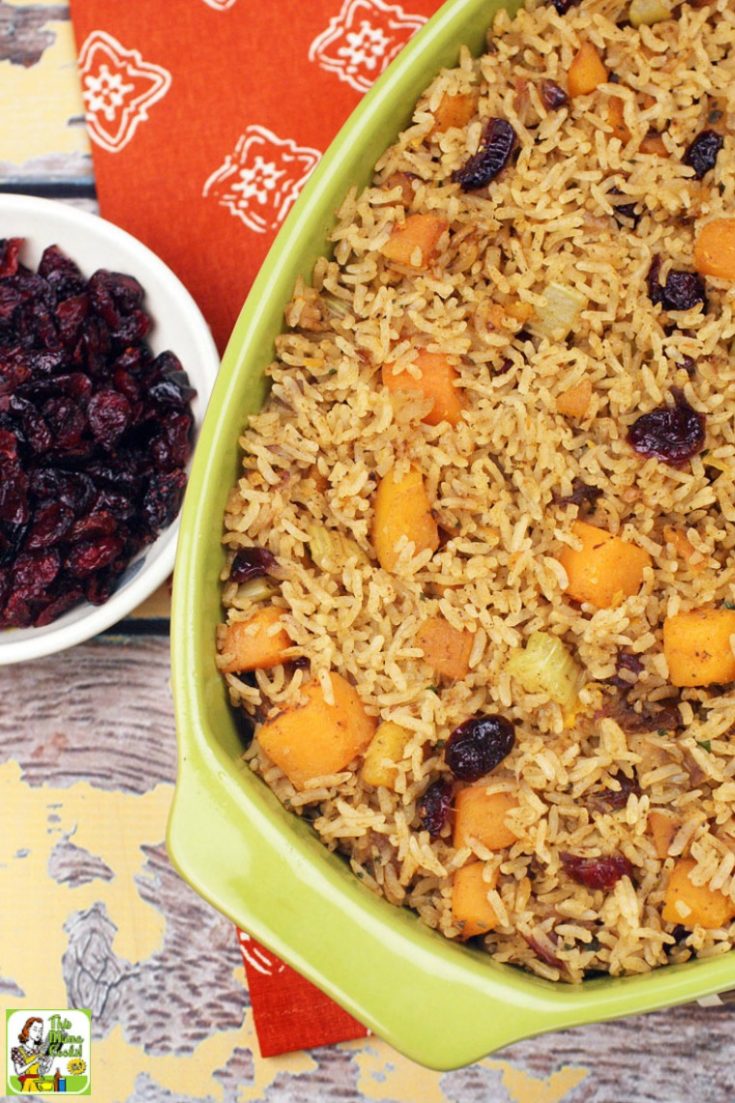 This vegan rice stuffing is cooked with cranberries, butternut squash, and dates. This vegan, gluten-free stuffing is made with jasmine rice.
Total Time
1 hour
10 minutes
Ingredients
Cooking spray (vegan)
2 cups jasmine rice (uncooked)
3 1/2 cups vegetable broth, divided
2 tablespoons vegan buttery spread
2 tablespoons olive oil
4 cups cubed butternut squash
1 cup chopped celery
1 cup chopped onion
1/2 cup chopped Medjool dates
1/2 cup dried cranberries
1 tablespoon finely chopped fresh parsley
2 teaspoons poultry seasoning
1 teaspoon dried rubbed sage
1/4 teaspoon ground black pepper
Instructions
Preheat oven to 350 degrees F. Coat a 13x9inch baking dish with cooking spray and set aside.
Cook jasmine rice with 2 cups vegetable broth according to package directions. Set aside when done.
Put olive oil and buttery spread in large skillet on medium heat. When butter is melted, add squash, celery, and onion. Stirring frequently, cook for 15 to 20 minutes until squash is fork-tender and starting to brown.
While squash is cooking, place chopped dates and cranberries in a small bowl. Pour hot water over dried fruit until covered. Soak for 15 minutes then drain in a fine mesh colander.
Add soaked fruit, parsley, and seasonings to skillet. Mix thoroughly and turn off the heat.
Place cooked rice in a large bowl. Stir in vegetable mixture.
Add remaining stock (1 1/2 cups) to skillet and turn heat to high. Using a spatula, deglaze the skillet by scraping any brown bits so they dissolve into the stock. Turn off heat and add deglazed stock to rice and vegetable mixture.
Toss rice and vegetables until well mixed. Spoon into your baking dish and cover with aluminum foil.
Bake 30 minutes and keep warm and covered until serving time.
Nutrition Information:
Yield:
8
Serving Size:
1
Amount Per Serving:
Calories:

236
Total Fat:

6g
Saturated Fat:

1g
Trans Fat:

0g
Unsaturated Fat:

5g
Cholesterol:

0mg
Sodium:

338mg
Carbohydrates:

46g
Fiber:

6g
Sugar:

21g
Protein:

3g
Nutritional information is automatically calculated per the ingredients list. Serving size may not be accurate. Please double-check with your preferred nutritional app for the most accurate information.
Originally published on November 2, 2015. Updated with new photos and information.