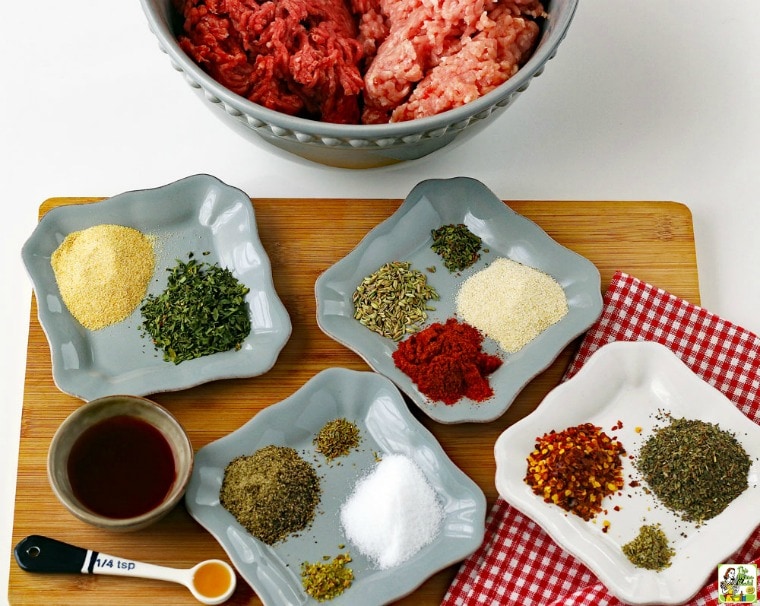 Homemade Italian sausage is extremely easy to make.
Add it to your favorite Italian recipes like pizzas, lasagna, and spaghetti sauce for weeknight dinners.
You can adjust the Italian seasonings to be as mild or spicy as you like.
How to make homemade Italian sausage
So simple you may never buy store-bought sausage again!
1. Place all the ingredients in a large bowl.
2. Take an old-fashioned potato masher and mix ingredients until well combined. Better yet, use your hands!
3. Weigh out the Italian sausage into one-pound portions.
4. Wrap in freezer paper, label, and freeze the homemade Italian sausage until needed.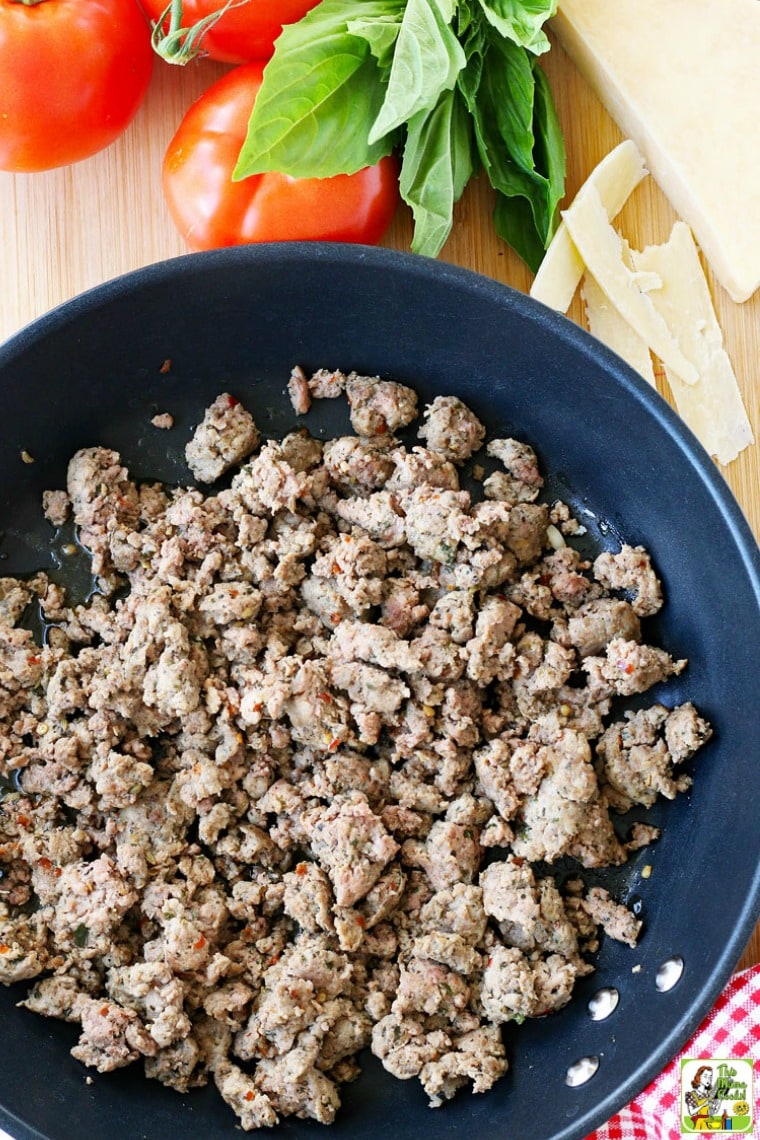 What type of meat do you use?
You can use the following types of meat:
ground pork,
ground venison,
ground chicken,
ground turkey,
ground beef,
or a combination of any of the above meats.
In my favorite version of Italian sausage, like 1 pound pork and 2 pounds lean ground beef.
Pick whatever quality of meat and leanness you prefer for your ideal homemade sausage recipe.
How much ground meat do you use?
I use 3 pounds of ground meat to my tasty mix of Italian seasoning.
If you don't want to make that much sausage, you can cut the recipe in half.
For ingredients like dried oregano and dried thyme that use 1/8 teaspoon, use a pinch as a half.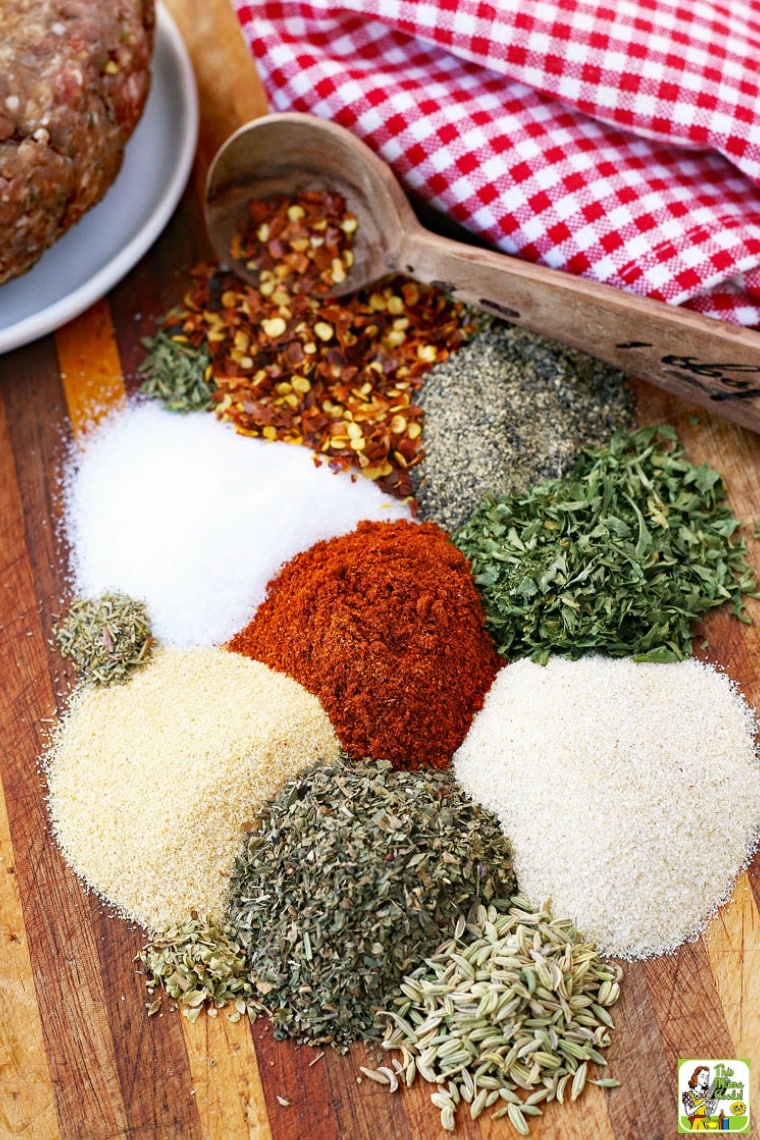 What recipes do you make with Italian sausage?
Make homemade spaghetti sauce: This is a family favorite and quick and easy to do. I usually made a half portion of the sausage right in the spaghetti saucepan.
While I'm browning the sausage, I add a couple of teaspoons of minced garlic.
Then I add several cans of tomato sauce, a couple of cans of diced tomatoes, and a dash of wine.
While I'm making this, I boil water for pasta. Then in a few minutes, a tasty dinner is ready!
Other dinner recipes: Besides spaghetti sauce, you can add it to pizza, in calzones, in baked ziti, and more.
You can also use it in this Instant Pot Spaghetti Recipe, Instant Pot Lasagna, or Instant Pot Meatballs.
Use it in your Thanksgiving stuffing!
Keto recipes: Use this savory sausage in any keto recipes.
Just use a keto-friendly, no-calorie sugar like Swerve Sweetener instead of the sorghum. Or leave it out completely.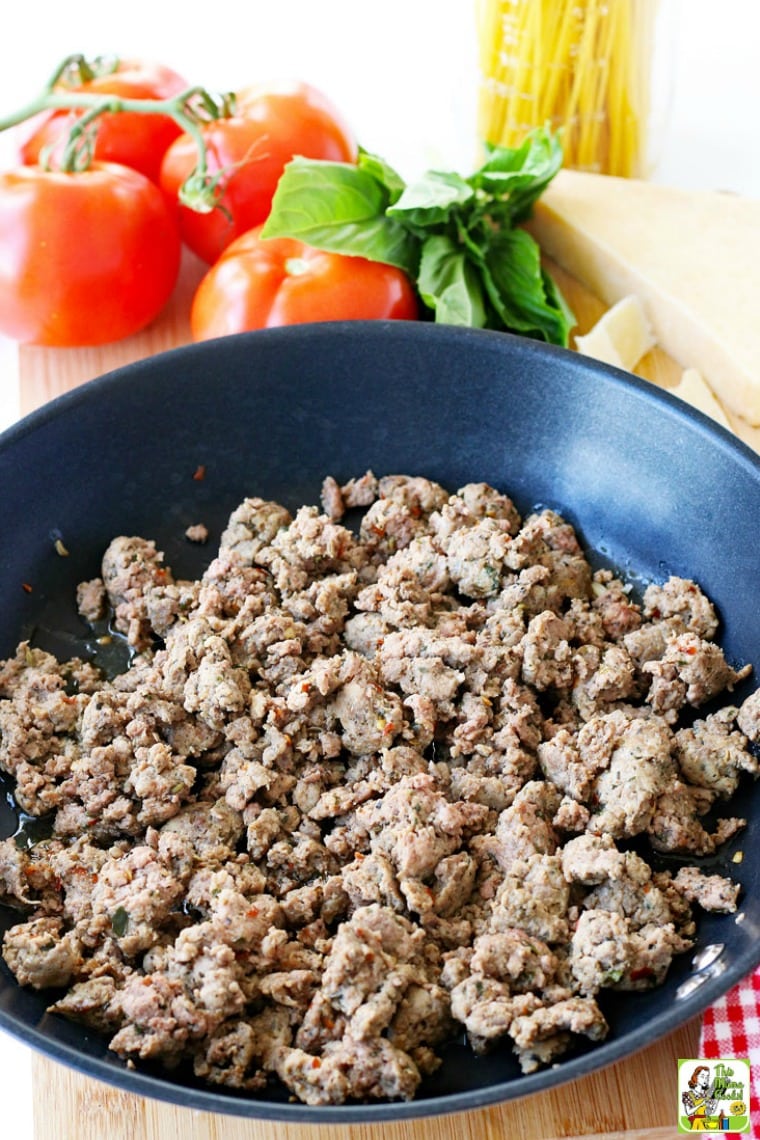 Can I freeze Italian sausage?
You sure can! There are several ways to do it.
Blocks: I like to weigh the uncooked sausage into 1 pound blocks. Then I wrap it in freezer paper to use later in my cooking.
Patties: Some folks make homemade breakfast sausage patties. Then they freeze the sausage patties for their weekend breakfasts.
Links: If you're ambitious, you can put the sausage mixture into casings and freeze those. (Making Italian sausage links with the attachment on your KitchenAid is fun, but a lot of work.)
Cook and freeze: My neighbor back in Colorado liked to cook and brown her sausage meat before freezing. That way she saved time when making her sauces and casseroles.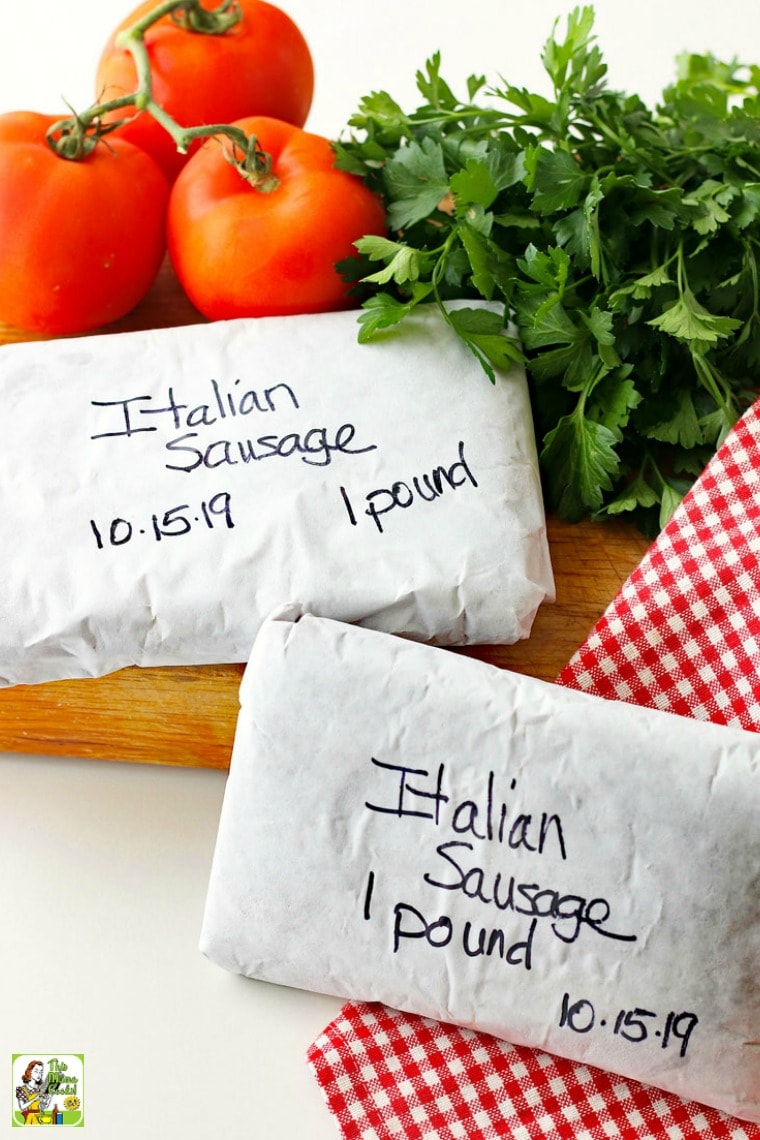 Tips when making the Italian sausage seasoning
Salt
If you need to reduce sodium intake, it's ok to cut back the salt in this recipe. Add a little more of the other seasonings or spiciness to compensate if you feel the sausage is lacking flavor.
Spicy or not?
Feel free to cut back or add more of your favorite spices and seasonings. My son and husband love spicy sausage. Me, not so much, so I make several batches.
Vinegar
Red wine vinegar adds a special flavor to this recipe. If you don't have any, you can use cider or balsamic vinegar.
Sorghum
You can use maple syrup, honey, agave nectar, or even molasses instead of sorghum.
If you're avoiding sugar, use a natural sugar substitute like powdered monk fruit sweetener or Swerve Sweetener instead.
Yield: 12 SERVINGS
Homemade Italian Sausage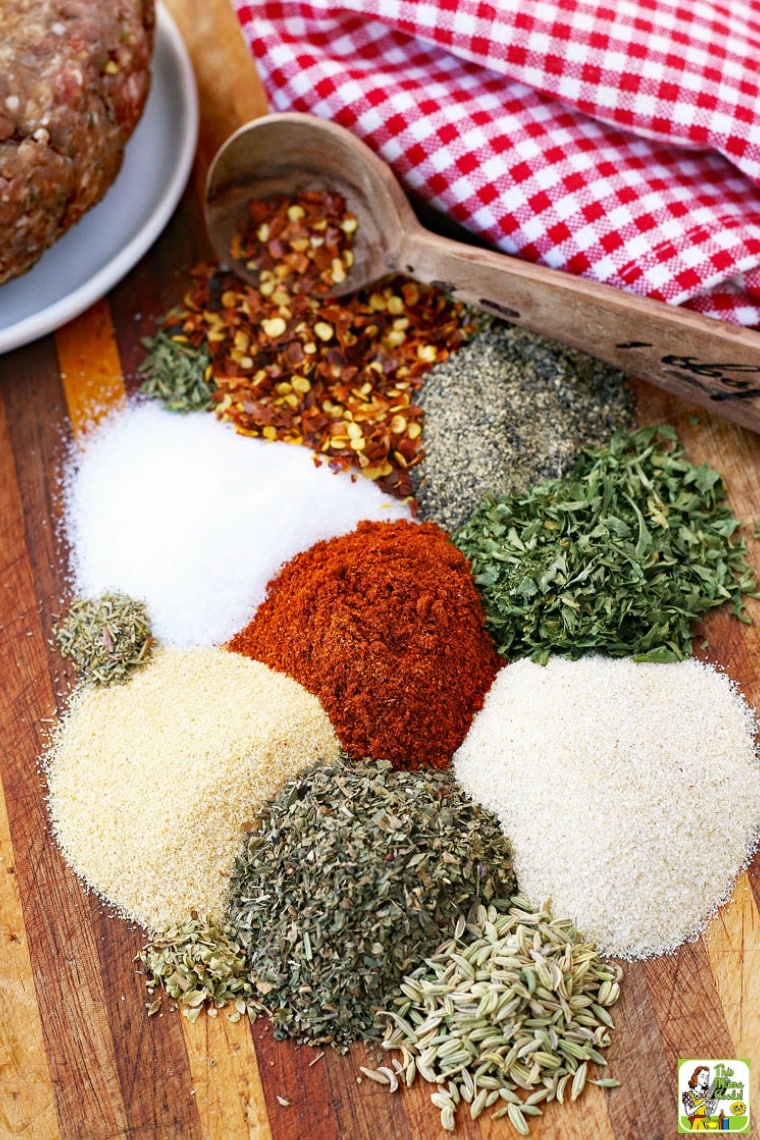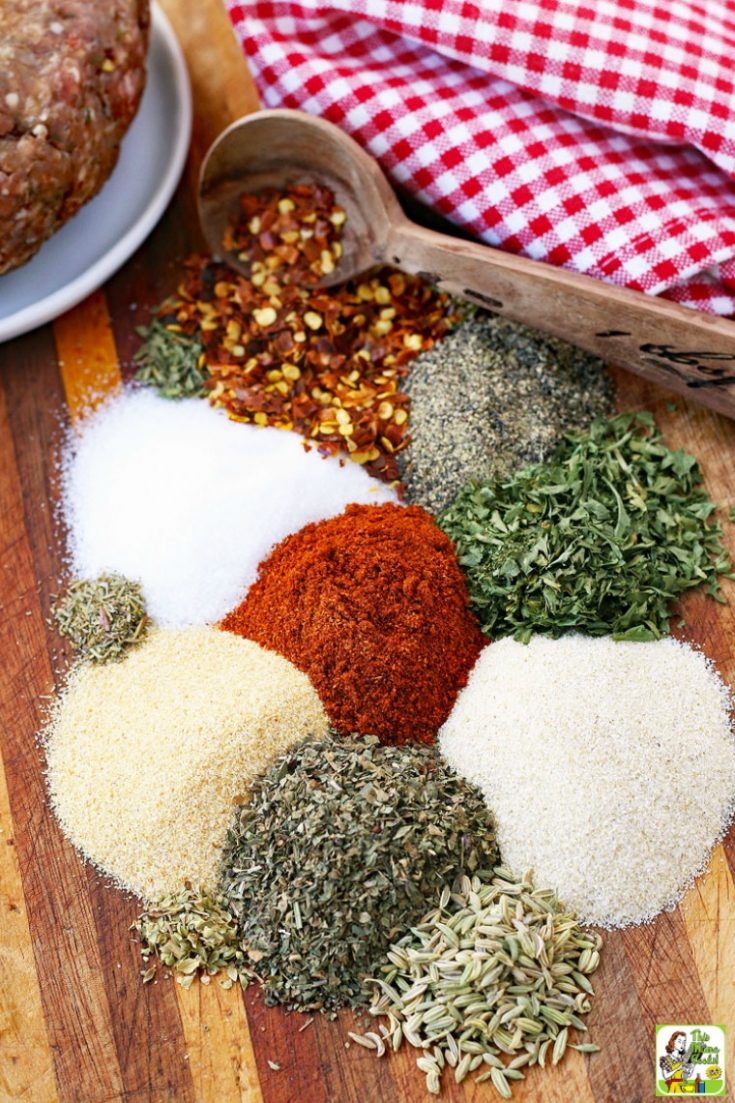 Use homemade Italian sausage in many dinner recipes. Adjust the Italian sausage seasoning so this Italian sausage recipe is mild or spicy.
Ingredients
3 pounds ground meat – pork, turkey, beef, chicken, venison or a combination
3 tablespoons red wine vinegar
1 tablespoon sea salt
1 tablespoon freshly ground pepper
1 1/4 tablespoon dried parsley
1 tablespoon garlic powder
1 tablespoon onion powder
1 tablespoon dried basil
2 teaspoons smoked paprika
2 teaspoons red pepper flakes
1 teaspoon fennel seeds
1/4 teaspoon sorghum syrup
1/8 teaspoon dried oregano
1/8 teaspoon dried thyme (whole, not ground)
1/8 teaspoon tarragon
1/8 teaspoon marjoram
Instructions
Place all the Italian sausage recipe ingredients in a large bowl.
Take an old fashioned potato masher and mix ingredients until well combined. Better yet, use your hands!
Weigh out the Italian sausage into one-pound portions. Wrap in freezer paper, label, and freeze until needed.
Nutrition Information:
Yield:
12
Serving Size:
4 ounces
Amount Per Serving:
Calories:

401
Total Fat:

24g
Saturated Fat:

9g
Trans Fat:

1g
Unsaturated Fat:

12g
Cholesterol:

136mg
Sodium:

662mg
Carbohydrates:

2g
Fiber:

1g
Sugar:

0g
Protein:

41g
Nutritional information is automatically calculated per the ingredients list. Serving size may not be accurate. Please double-check with your preferred nutritional app for the most accurate information.
Originally published on November 8, 2013. Updated with new pictures and information.