Last Updated on July 21, 2022 by Anne-Marie
You'll love how easy it is to make Instant Pot Meatballs. Super flavorful, simple to make, these pressure cooker meatballs taste like they've been cooking all day!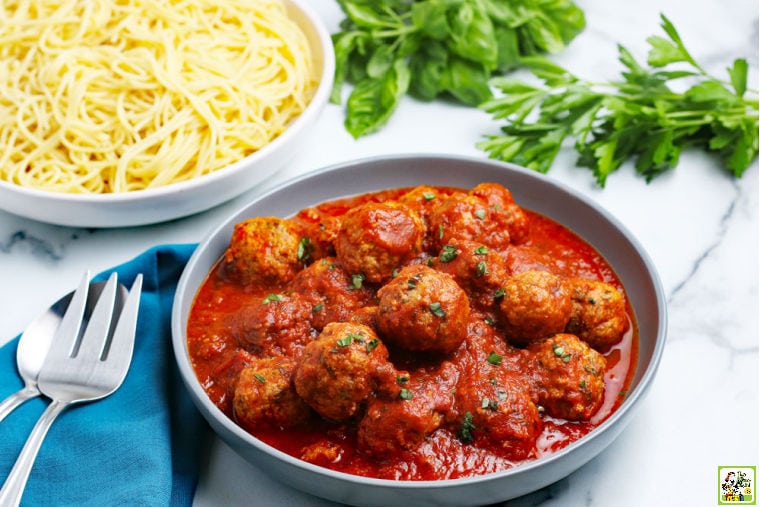 How to make Instant Pot Meatballs
The time-saving trick to this Instant Pot recipe? You don't have to brown or bake the meatballs before simmering them in the sauce!
But there are a few tricks to keep in mind.
What type of ground meat?
Use 1 pound of ground meat, like ground lean turkey.
Or you can use a combination of ground meat, like half beef and half pork.
You could mix in some homemade Italian sausage with the ground meat.
Since Italian sausage is already seasoned, cut back on herbs, black pepper, and salt.

What kind of breadcrumbs?
You can use plain or flavored breadcrumbs.
If you're gluten free, use gluten free panko or gluten free bread crumbs. I also use these in my Easy Fried Air Fryer Ravioli Recipe.
Make homemade crumbs by toasting gluten free bread. Then chop it up in a blender or food processor until finely ground.
You can also use gluten free oats instead of bread crumbs. Chop these up in a blender or food processor until finely ground.
What kind of herbs?
You can use a combination of finely chopped fresh herbs like oregano, basil, and parsley. You'll need 2 tablespoons.
If you don't have any in your garden, you can use 2 teaspoons of dried herbs. Use a variety (oregano, basil, parsley, thyme, etc.) or 2 teaspoons of Italian seasoning.
What type of sauces?
You can use your favorite jarred sauce from the store, like a marinara sauce.
You can also use a homemade recipe. Or try my version of Alton Brown's Tomato Sauce if you have too many tomatoes in your garden.
Or make Crockpot Spaghetti Sauce. This makes enough sauce for meatballs and oodles of spaghetti (or another type of pasta. So don't worry about not having enough sauce.
Forming the meatballs
You can make the meatballs using your hands or a small ice cream scoop. You want them to be slightly smaller than a golf ball.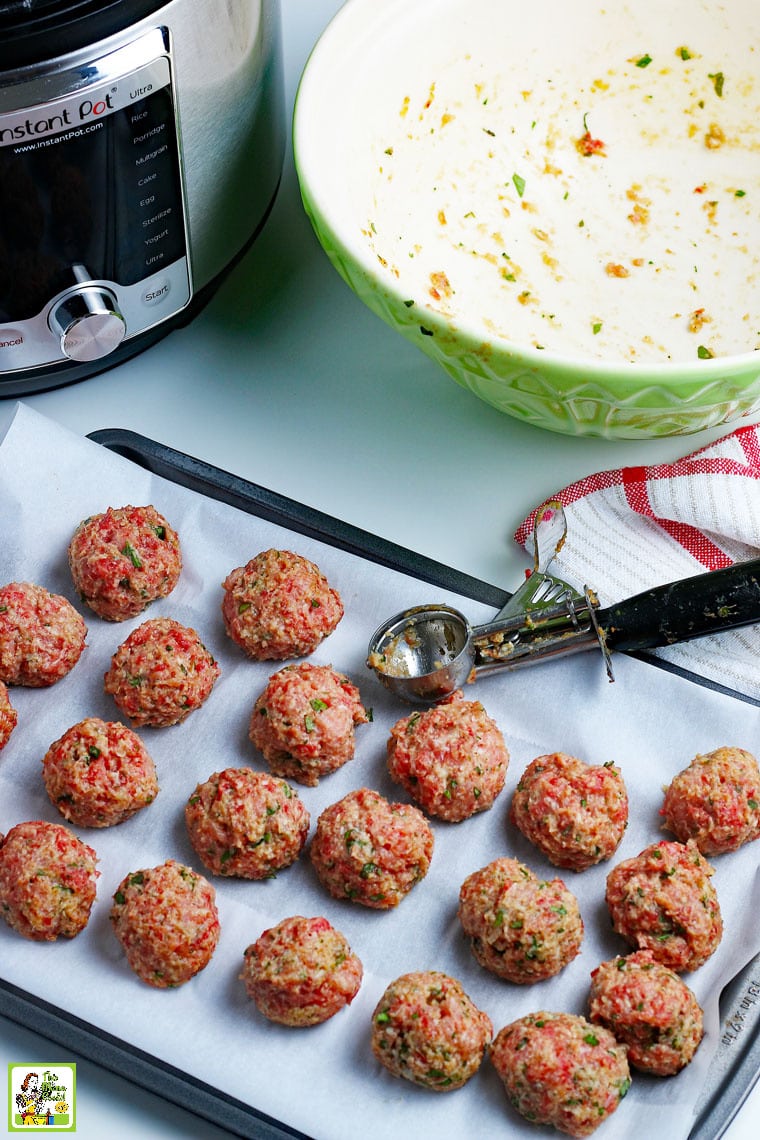 How to cook meatballs in the Instant Pot
You can use any electric pressure cooker for this recipe, not just the Instant Pot brand.
However, if you use a bigger size it will take longer to come to pressure.
I have a large 8 Quart Instant Pot Duo 7-in-1 Electric Pressure Cooker since I double my recipes so I can have leftovers.
But the 6 Quart Instant Pot Duo Pressure Cooker 7-in-1 is perfect for most recipes.
1. Prepare the pressure cooker. Make sure to place the trivet that came with your Instant Pot on the bottom of your pressure cooker.
2. Then add the spaghetti sauce.
3. Place meatballs in the sauce, close together.
4. Cover the pressure cooker. Then cook on High Pressure for 8 minutes cooking time.
5. Then perform a 10-minute Natural Release. Then do a Quick Release to vent any remaining pressure.
6. When cooking the performing the natural release, start cooking your pasta.
7. Serve up your Instant Pot spaghetti and meatballs.
8. Leftovers can be stored in the refrigerator and reheated the next day.
Get more Instant Pot Tips at When is it Safe to Open my Instant Pot?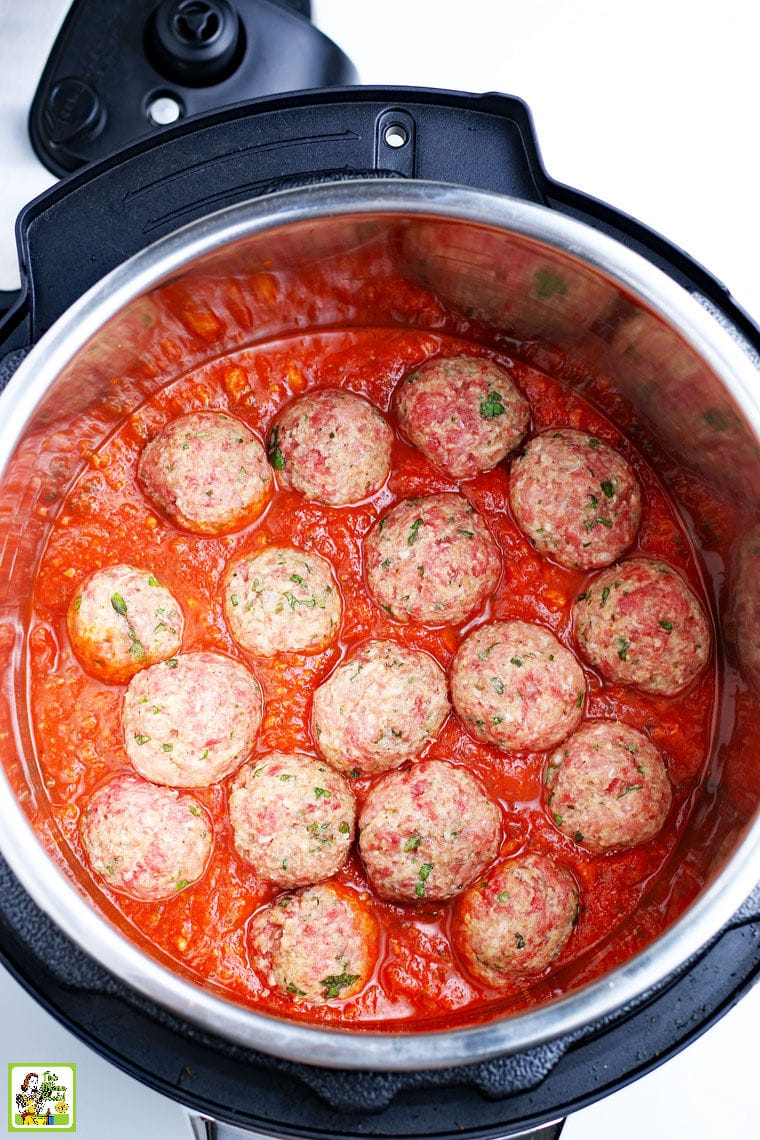 Won't the meatballs fall apart?
Even though you don't brown or bake the meatballs before you put them in the Instant Pot to cook, they don't fall apart.
When I first cooked them, I was sure I was going to end up with a pot of meat sauce. But I didn't. It was AWESOME!
When do you cook the pasta?
While your meatballs are cooking, prepare your pasta! You can serve this with regular spaghetti or other types of pasta.
If you're gluten free, try GF pasta or zucchini, or squash zoodles as a wholesome and gluten free alternative.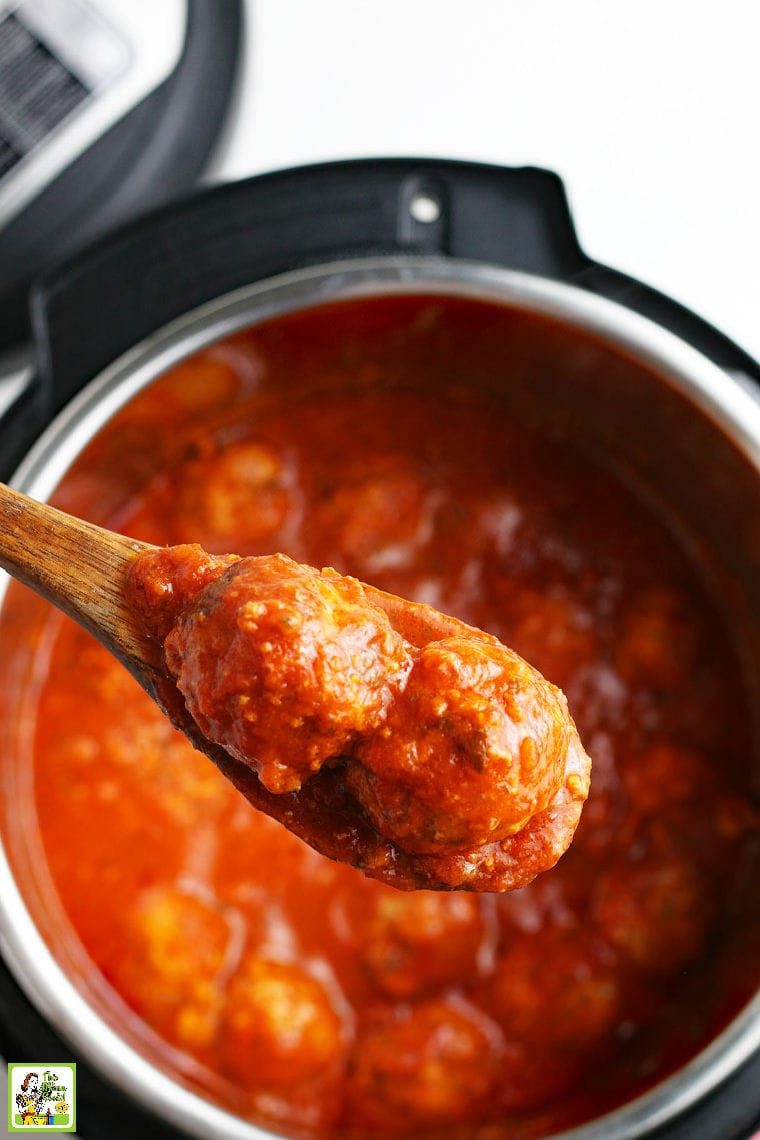 Can you freeze the meatballs?
Of course! Here's how to freeze the meatballs and sauce:
1. Allow the meatballs to cool completely.
2. Place in a freezer-safe Ziploc bag or plastic container.
3. Label and date. Frozen meatballs will keep for up to three months.
How to reheat frozen meatballs
1. Let the meatballs defrost in the refrigerator overnight. (Or in a pan of water if you're in a hurry.)
2. You can reheat on the stovetop or in the microwave with fresh cooked pasta or zoodles.
You may prefer to just reheat individual portions rather than the entire recipe depending on your needs.
Serve these with leftover Instant Pot Lasagna!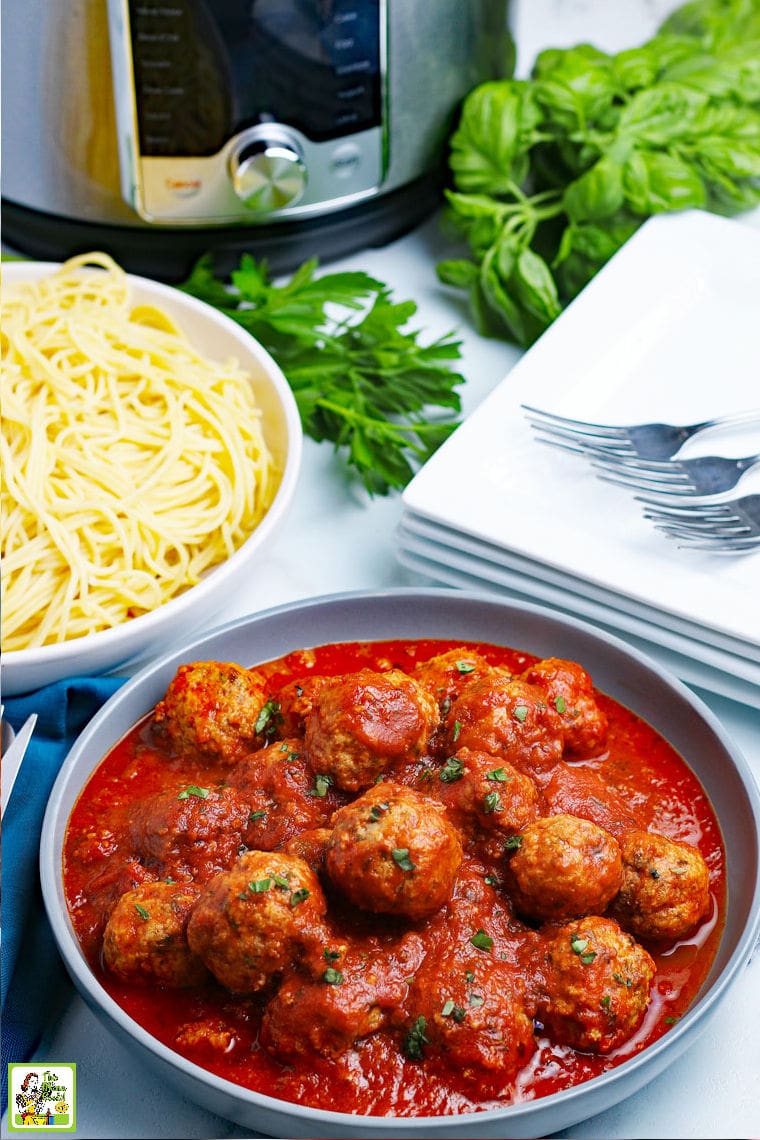 More tips for making pressure cooker meatballs
Here are some tips for those of you who may have some food allergies:
Egg substitutes
For years my family had to avoid meatballs and meatloaf due to my daughter's egg allergies.
If you have the same situation at your house, you can substitute the following for the egg:
2 tablespoons buttermilk
3 tablespoons plain yogurt
1/4 cup ricotta cheese
3 tablespoons unsweetened applesauce
Dairy free?
If you're dairy free, use your favorite milk substitute instead of cow's milk.
Use a vegan Parmesan cheese. There are several brands on the market, which you should be able to find at your grocery store or local health food store.
If you can't have both eggs and dairy, you can use the applesauce substitution for the egg or non-dairy yogurt.
Worcestershire sauce
If you have a shellfish allergy, you should avoid Worcestershire sauce. You can substitute soy sauce instead.
Garlic
If you can't tolerate garlic, try finely chopped celery. I use it as a terrific substitute for onion.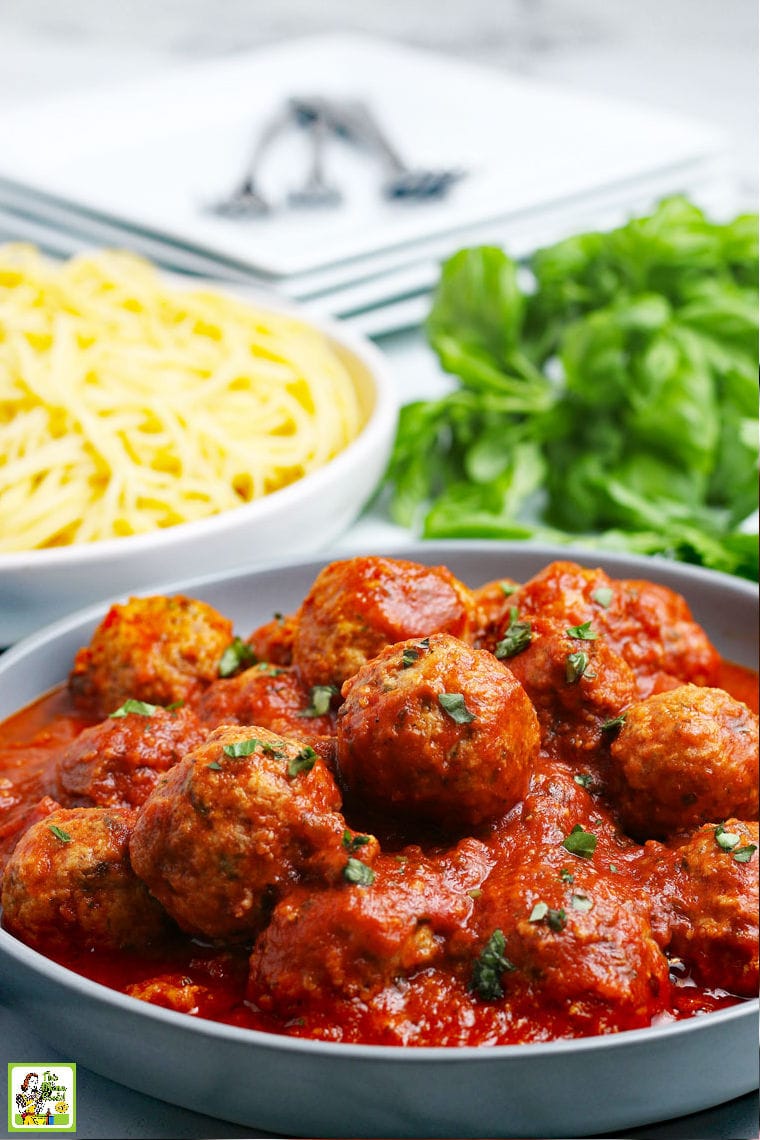 More easy meatball recipes
Who doesn't love meatballs? Here are some recipes you'll love:
● This Zesty Slow Cooker Porcupine Meatballs recipe is made with red beans and rice.
● These Gluten Free Asian Meatballs with Hoisin Sauce can be served on rice noodles.
● This Asian Style Gluten Free Meatballs Recipe makes an awesome appetizer.
● Finally, these Slow Cooker Turkey Meatballs are gluten free and super tasty.
Yield: 4 SERVINGS
Instant Pot Meatballs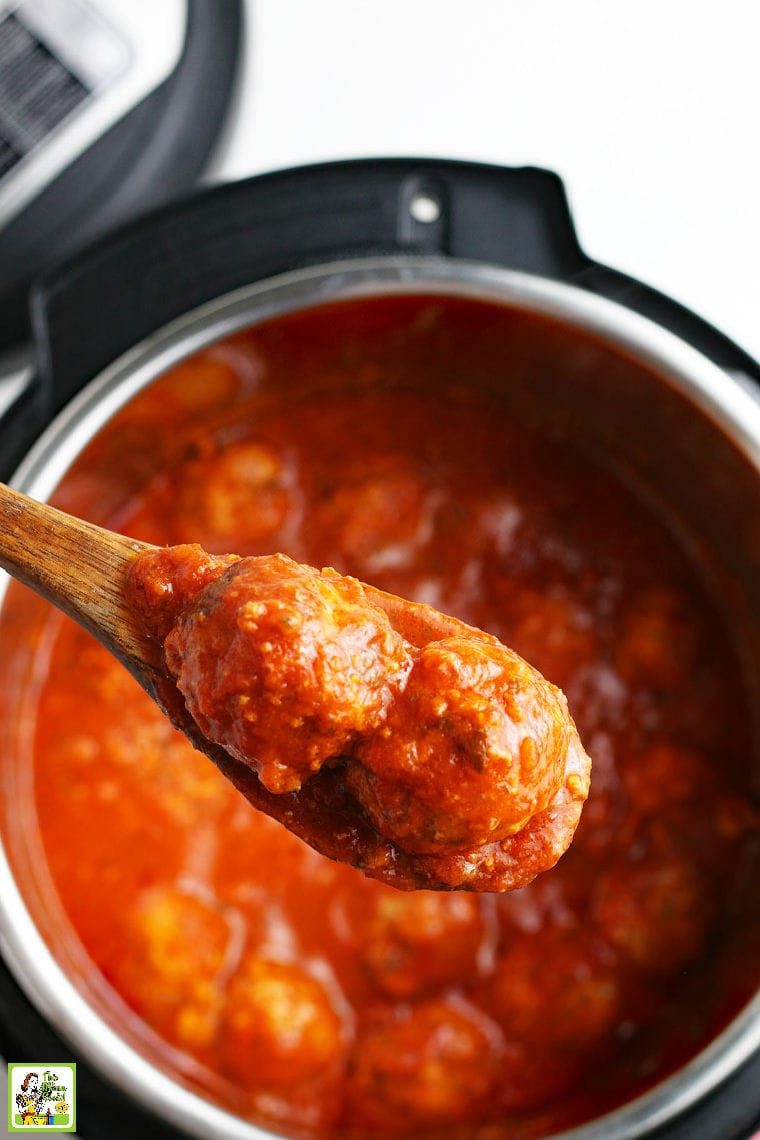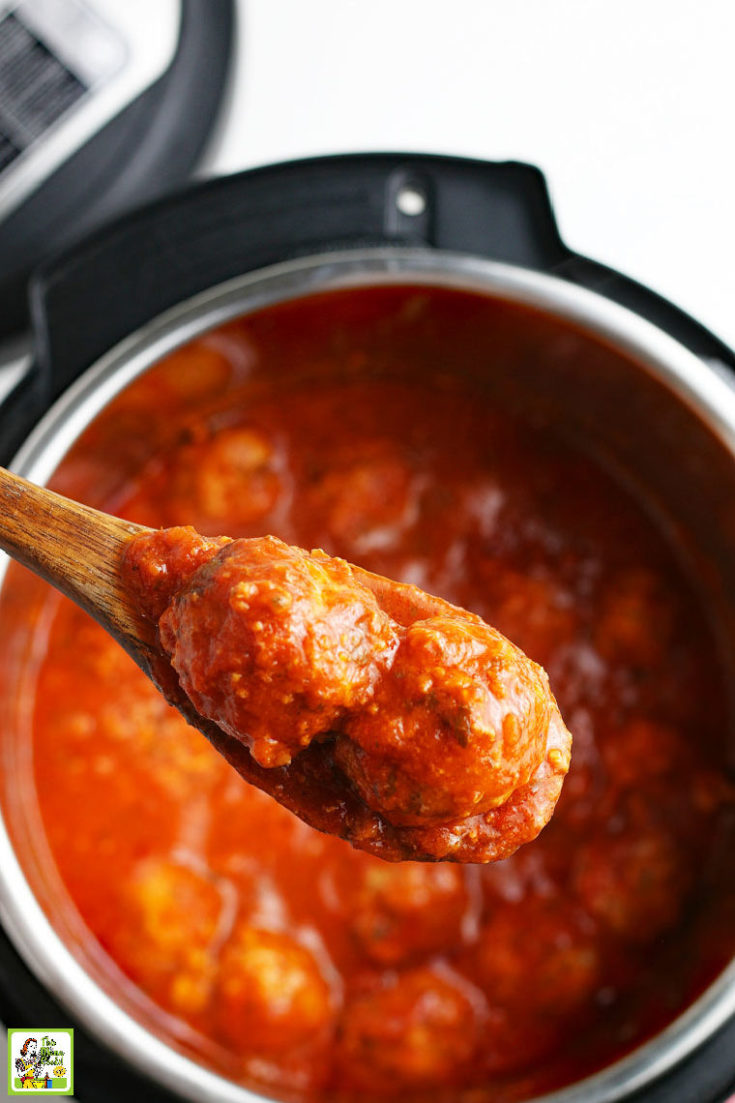 Instant Pot Meatballs are an easy weeknight dinner. This Instant Pot Meatballs recipe uses lean ground meat and spaghetti sauce. 
Ingredients
1 pound lean ground beef, ground pork, or ground turkey – or a blend
1/2 cup breadcrumbs (gluten free, plain, or seasoned)
1 large egg
1/2 cup milk (or milk substitute)
1 teaspoon Worcestershire sauce
2 garlic cloves, pressed
1/4 cup fresh parmesan cheese, finely grated
2 tablespoons fresh herbs, finely chopped – oregano, basil, parsley (or 2 teaspoons dried)
1/2 teaspoon onion powder
1/2 teaspoon sea salt
1/4 teaspoon black pepper
Instructions
In a large bowl, mix together the combination of meat, if using.
Add all other ingredients and gently mix them together, but do not overwork.
Form into meatballs using your hands or a small ice cream scoop. Meatballs should be the size of a small golf ball.
Place trivet at the bottom of the Instant Pot.
Then add jarred or homemade spaghetti sauce to the Instant Pot.
Carefully place meatballs close together in the sauce.
Cover and cook on High Pressure for 8 minutes with a 10-minute natural release.
While meatballs are cooking, prepare spaghetti or other pasta noodles.
Serve Instant Pot meatballs immediately with spaghetti or other noodles.
Store leftovers in the refrigerator.
Recommended Products
As an Amazon Associate Affiliate and member of other affiliate programs, I earn from qualifying purchases.
Nutrition Information:
Yield:
4
Serving Size:
1
Amount Per Serving:
Calories:

498
Total Fat:

26g
Saturated Fat:

10g
Trans Fat:

1g
Unsaturated Fat:

13g
Cholesterol:

198mg
Sodium:

657mg
Carbohydrates:

14g
Fiber:

1g
Sugar:

1g
Protein:

50g
Nutritional information is automatically calculated per the ingredients list. Serving size may not be accurate. Please double-check with your preferred nutritional app for the most accurate information.