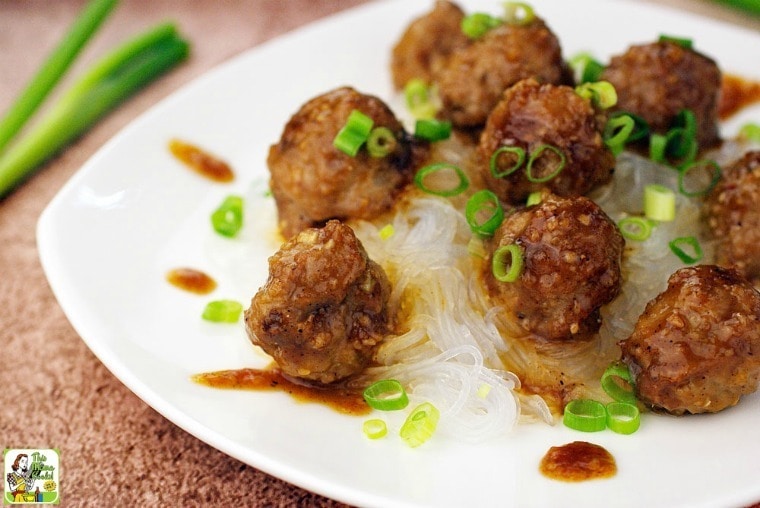 Do you love Asian food but never go out for it because you're gluten free? Well, here's a gluten free recipe for Asian Meatballs with Hoisin Sauce that's so easy to make that you won't mind staying home and cooking!
My whole family loves hoisin sauce recipes like moo shu pork. Unfortunately, I have to avoid them because of all the gluten from the soy and hoisin sauces. So I knew I needed to come up with a safe hoisin sauce recipe that we all could enjoy.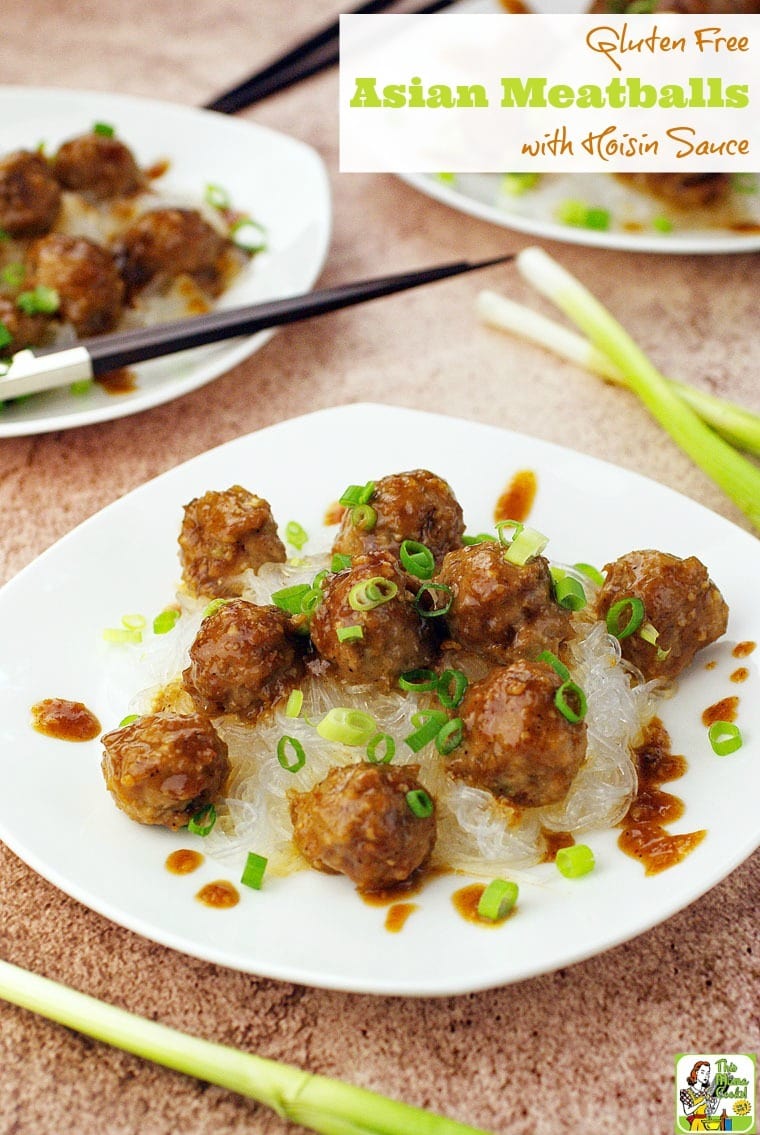 How to make a gluten free hoisin sauce recipe
The problem with making a hoisin sauce from scratch is that you have to find miso paste. Most Asian markets and health food stores have it in stock. However, I recently found out that Kroger now carries their own house brand of hoisin sauce – and the ingredients seem to be gluten free. (It's not certified as gluten free, however.)
I still make my own gluten free hoisin sauce, since I two containers of miso paste taking up room in my refrigerator. You may want to, too, since you can make hoisin sauce as sweet or spicy as you like it. For example, I usually use agave nectar, but you may want to use maple syrup or honey instead.
I serve Gluten Free Asian Meatballs with Hoisin Sauce on gluten free Thai rice noodles. You could try your gluten free turkey meatballs on gluten free vermicelli noodles or on rice with a side of stir fry veggies for a complete meal.
Don't forget to serve them with plenty of gluten free hoisin sauce – the more the better!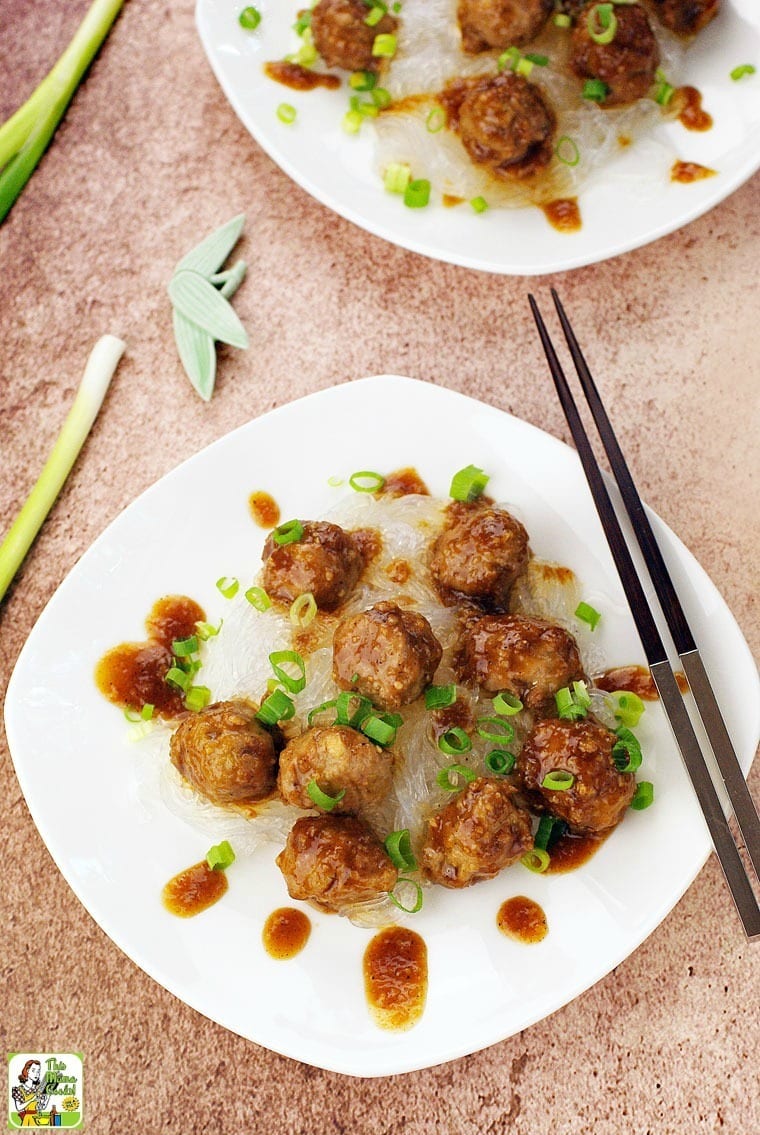 Gluten Free Asian Meatballs with Hoisin Sauce aren't just for dinner
This recipe would also make a terrific Asian meatball appetizer at your next party. Serve hoisin Asian meatballs to your guests with toothpicks or small bamboo skewers and some extra hoisin dipping sauce on the side. Or put four or five meatballs on bamboo skewers as a fun presentation!
Dish up some crunchy pea pods, carrot sticks, and slices of sweet peppers with these healthy Asian meatballs. It'll make a colorful – and gluten free – party platter!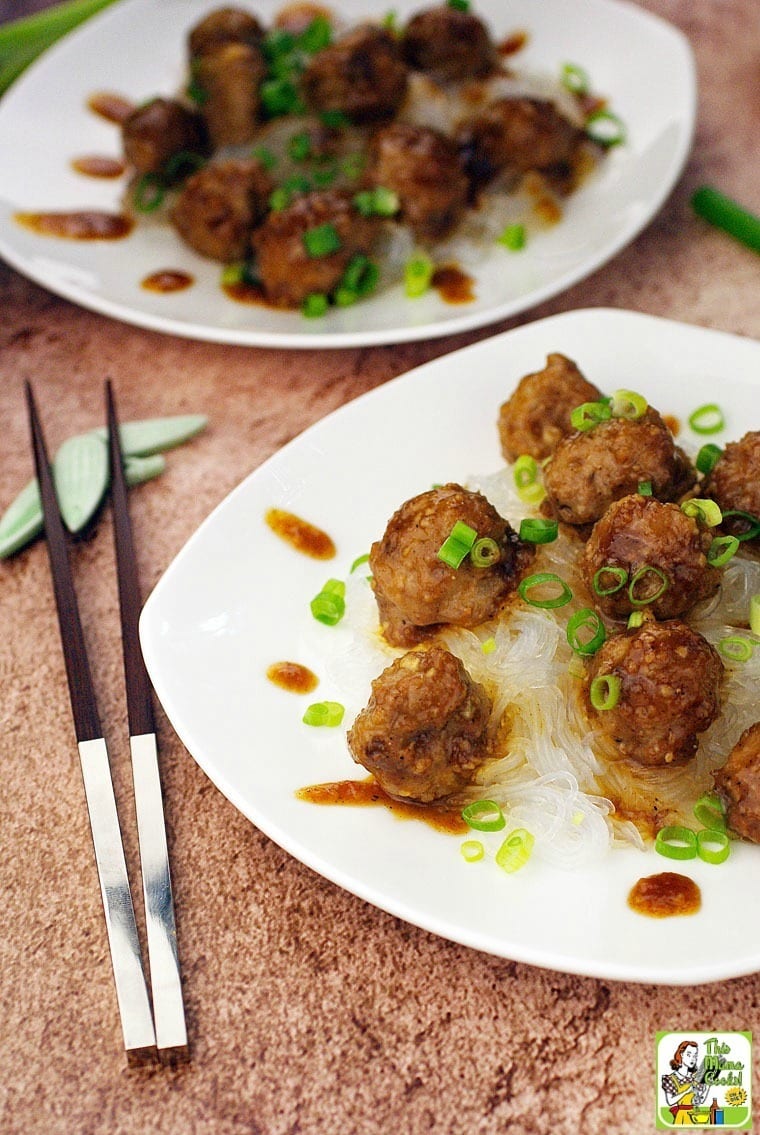 Get your Kroger shopping done quickly with the Board to Table app!
Do you get your recipe inspiration from Pinterest like me? Then you must to check out Kroger's new Board to Table iPhone app that's currently in customer trial mode. Only a limited number of customers will be able to download it, so act now!
It's an AMAZING app because it creates a grocery shopping list directly to your Kroger shopping app from a chosen Pinterest pin. Here's how it works.
First, download the Board to Table to your iPhone. (You'll also need to have the Kroger and Pinterest apps on your phone.)
Make sure to login to both the Board to Table and Kroger apps using your Kroger online login.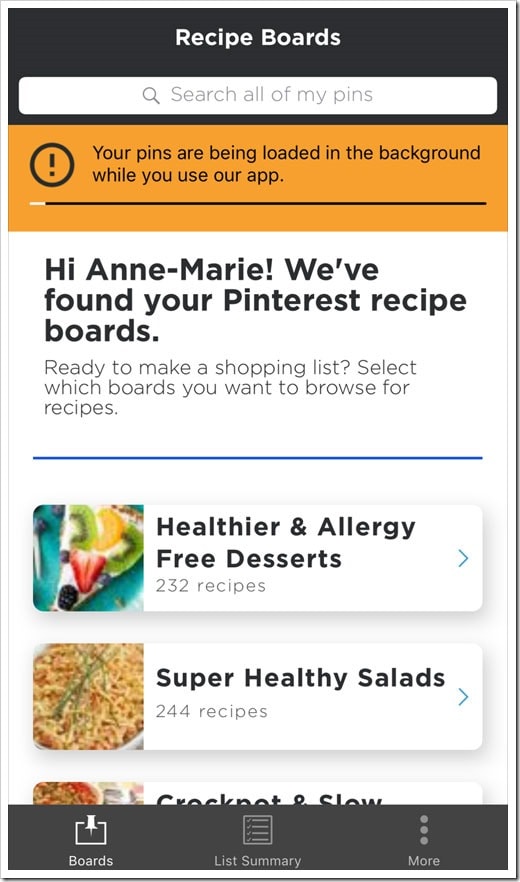 The first time you use the app, it will load your pins in the background. If you have a lot of Pinterest pins, it might take a few minutes for all of them to load. Not to worry as you can still use it while it's loading.
Now find a recipe pin you want to make on one of your Pinterest boards. (Or you can go into the Pinterest app, find a recipe, and pin it to one of your boards. Then go into Board to Table and find the board you pinned it to, then find the pinned recipe.)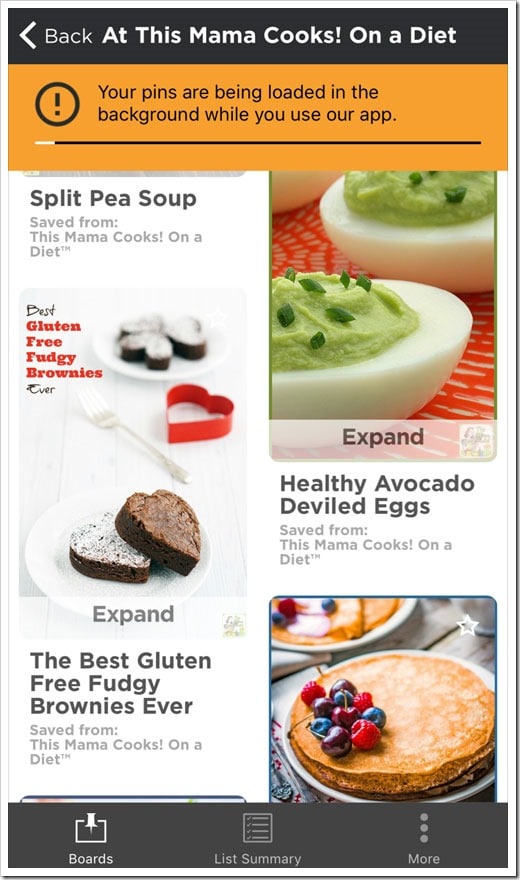 For this example, I've chosen My Best Gluten Free Brownies Ever recipe from my At This Mama Cooks! On a Diet Pinterest board.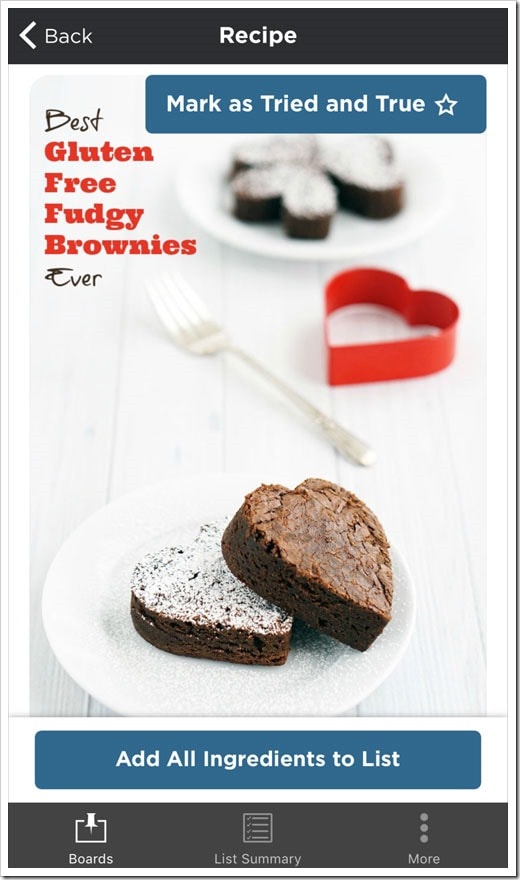 I tapped on the gluten free brownies pin to choose it. The app then gave me an option of marking it as "Tried and True" (a recipe you've already made) if I wished.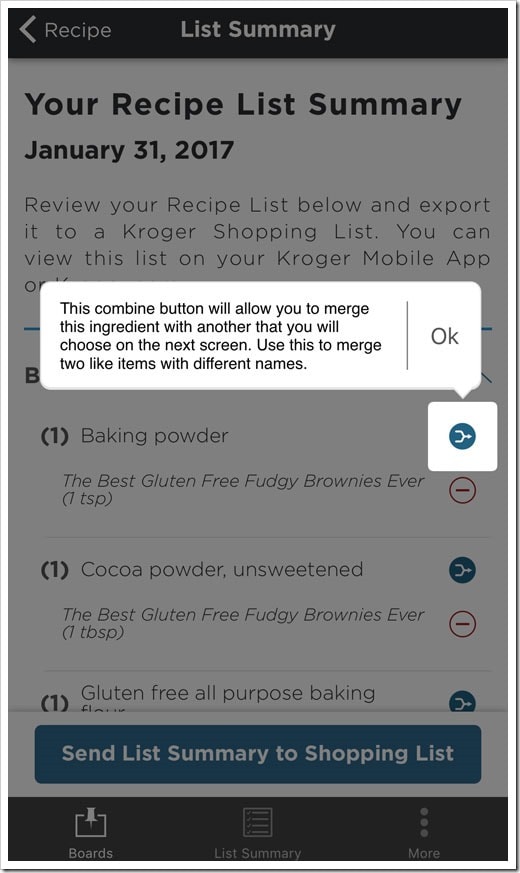 The next step is to make Your Recipe List Summary. The first time you try the app, you'll get all sorts of tips. Try the tips to learn how to use the features of the recipe list.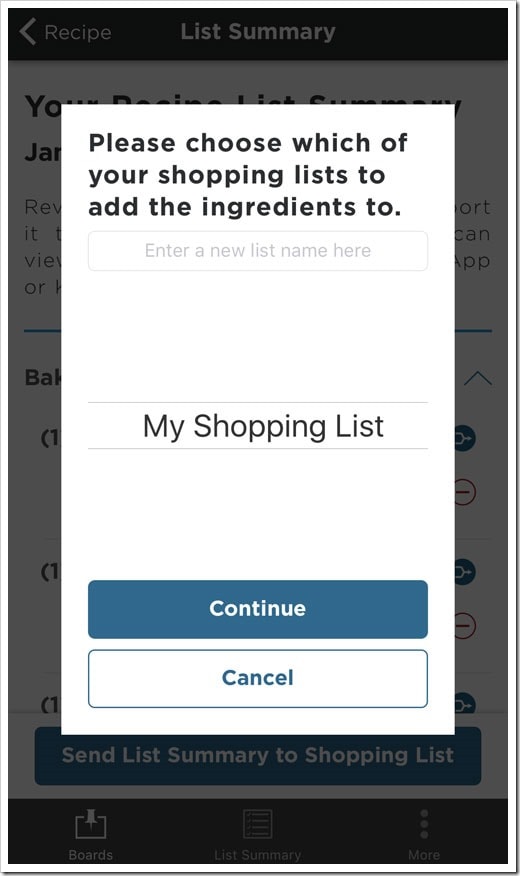 Next you're given the option of which shopping list to add the ingredients to. Love this feature because you may have an everyday day shopping list and special lists for parties or special events such as making cupcakes for the school bake sale.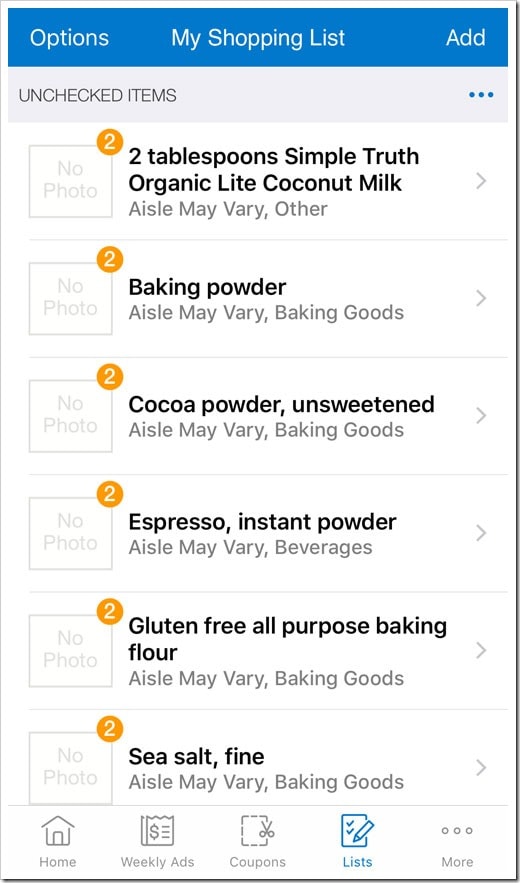 Finally, when you click on Continue, you'll be taken to your Kroger shopping app. Just click on Lists to view the items from your Pinterest recipe in your Kroger shopping list.
Wasn't that easy? No printing out recipes! No writing down lists! And you can combine it with cool features of the Kroger shopping app, like checking off items as you shop or finding coupons. What could be easier?
Download the Board to Table and Kroger phone apps. Then pin my Gluten Free Asian Meatballs with Hoisin Sauce recipe, and put this easy gluten free dinner recipe on your Kroger shopping list!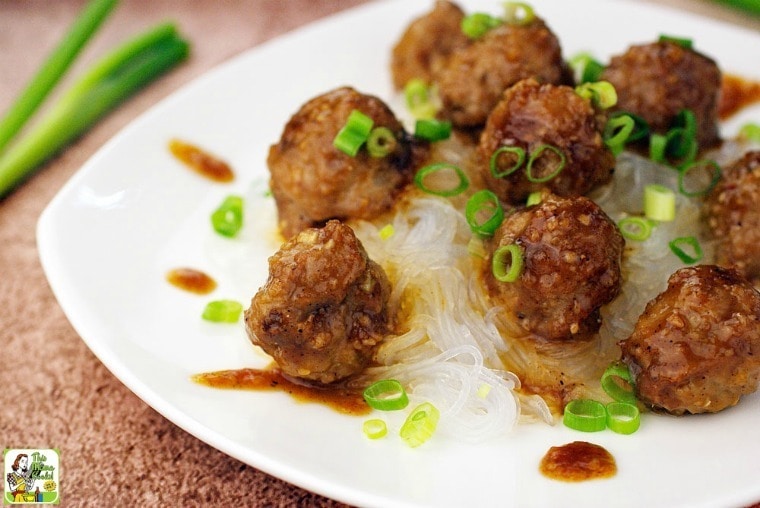 Ingredients
For the Gluten Free Asian Meatballs:
4 tablespoons

Simple Truth Organic Tamari Sauce

2 tablespoons

toasted sesame oil

4 teaspoons

fresh ginger, grated

1 teaspoon

crushed red pepper

2 teaspoons

Stevia or Monk Fruit in the Raw

2 tablespoons

Corn starch

8

scallions (green onions) 4 minced plus 4 more, thinly sliced for a garnish

1 (8 ounce) can

drained, finely chopped water chestnuts

2 pounds

lean ground turkey

Simple Truth Organic Canola Cooking Spray

1 cup

Kroger Hoisin Sauce or homemade gluten free hoisin sauce (see recipe below)
For the Homemade Gluten Free Hoisin Sauce:
1 tablespoon

grapeseed oil

1

large garlic clove, minced

1/2 teaspoon

Chinese five-spice powder

1/2 cup

red miso paste

1/2 cup

agave nectar

2 tablespoons

rice vinegar
Directions
For the Gluten Free Asian Meatballs:
Preheat oven to 400 degrees. Line 2 to 3 baking sheets with parchment paper and set aside.
In a large bowl, combine the tamari sauce, sesame oil, grated ginger, red pepper flakes, and sugar substitute. Stir in the corn starch until smooth.
Stir in the 4 minced scallions and chopped water chestnuts, then add the ground turkey. Mix until all ingredients are thoroughly combined.
Using a tablespoon sized ice cream scoop, drop the turkey mixture in rounded tablespoons onto the prepared baking sheet.
Lightly coat the meatballs with cooking spray and transfer to the oven.
Bake until the meatballs are completely cooked through, approximately 15-20 minutes until they start to turn gold and brown on the edges.
While the meatballs are cooking, make the hoisin sauce.
Add the cooked hot meatballs to the hoisin sauce. (You may need to do this in batches.) Gently stir to coat.
Serve meatballs over gluten free Thai rice noodles or rice. Sprinkle the remaining sliced scallions over the top.
For the Homemade Gluten Free Hoisin Sauce:
In a medium saucepan, heat the oil over medium heat. Add the garlic and Chinese five-spice powder. Stir and cook for 15-20 seconds, until fragrant.
Add the remaining ingredients. Stir miso paste until it dissolves and the sauce is smooth.
Turn heat up to medium high. Stirring constantly, bring to a slow boil, and cook for 3 to 4 minutes until the hoisin sauce has thickened. Remove from heat.
Servings
:
Serves 8. Makes approximately 70 meatballs and 1 cup of gluten free hoisin sauce
Serving size:

8-9 meatballs per person
This is a sponsored conversation written by me on behalf of Kroger. The opinions and text are all mine.