Last Updated on October 12, 2021 by Anne-Marie
A review of Starbucks Bistro Boxes including nutrition and pricing information.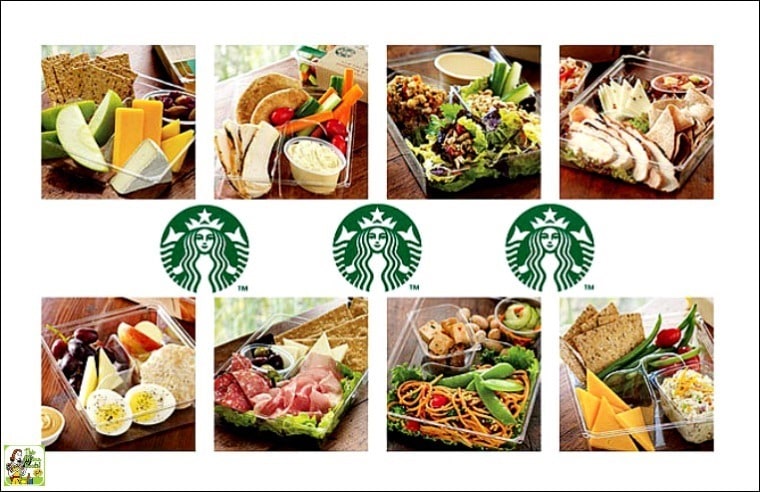 When I was given the opportunity to to try out Starbucks Bistro Boxes, it couldn't have been better timing. School had just started, which meant stopping off for a healthy snack before karate classes. While we loved stopping at a local sandwich shop, we were up for something different.
Note: this review was originally written on August 29, 2011. Bistro Boxes at Starbucks are now called Protein Boxes. Pricing and varities have changed and will vary depend on where they're purchased.
Why I was intrigued Starbucks Bistro Boxes
I checked out the Starbucks website and looked over the eight different choices of Starbucks Boxes. It looked like there was something for everyone, whether you were on a low carb or vegetarian. I especially liked Starbucks Protein Bistro Box.
I was disappointed that there wasn't a gluten free Starbucks Bistro Box and that many of the boxes contained nuts. (My daughter Lucie is allergic to peanuts and tree nuts.) But it looked like there was enough variety to appeal to both my kids and myself.
I also liked the ingredients – things like fruit and vegetables, whole grain breads, cage free eggs, and even dark chocolate. Check out the Starbucks bistro box nutrition: most featured a good amount of protein and fiber. However, all were high in carbs and many were very high in fat.
| | | | | | |
| --- | --- | --- | --- | --- | --- |
|   | Calories | Fat (g) | Carb (g) | Fiber (g) | Protein |
| Chicken & Hummus Bistro Box | 270 | 8 | 29 | 6 | 16 |
| Sesame Noodles Bistro Box | 350 | 11 | 50 | 6 | 15 |
| Chicken Lettuce Wraps Bistro Box | 360 | 19 | 32 | 4 | 17 |
| Chipotle Chicken Wraps Bistro Box | 380 | 15 | 35 | 6 | 26 |
| Protein Bistro Box | 380 | 19 | 37 | 5 | 13 |
| Tuna Salad Bistro Box | 380 | 21 | 24 | 5 | 23 |
| Salumi & Cheese Bistro Box | 420 | 26 | 22 | 3 | 25 |
| Cheese & Fruit Bistro Box | 480 | 28 | 39 | 6 | 18 |
Bistro Boxes at Starbucks can be hard to find
Off we went after school in search of Bistro Boxes. The first Starbucks we went to only had one Bistro Box left – and I had two kids to feed. We got back in the car and drove to another Starbucks nearby.
They only had three boxes left. Unfortunately, the two varieties didn't appeal to the kids. They were bummed as they'd been looking forward to having a meal at Starbucks, a special treat for them.
The next day (Saturday), I four varieties of Bistro Boxes at a Starbucks on my way home from a meeting. The grand total without any drinks for four Bistro Boxes – $27.06 including tax. The Starbucks Bistro Box price for the three meals were $6.95 each, and the one snack was $4.95.
(Update: according to my research, the Starbucks bistro box price in 2015 is around the same as it was in 2011. However, if you're traveling and picking up a Bistro Box at an airport or convention center, expect the price to be more.)
Impressed with the taste of the Starbucks boxes
I took them home and my husband and I tried two – the Sesame Noodles and the Chicken Lettuce Wraps. The Starbucks Bistro Boxes were delicious and surprisingly filling even though they were small.
The packaging was clever and the flavors were excellent. I especially liked the teeny piece of dark chocolate included – a terrific way to end the meal.
The next day I had the Cheese & Fruit Bistro Box for Sunday brunch. Cheese for breakfast – decadent!
My daughter, Lucie had the Chipotle Chicken Wraps for lunch, one of the few boxes without nuts. She told me she liked it very much.
I think the idea of making little wraps with the chicken strips, tortillas and cheese appealed to her. I tried the salsa and coleslaw and we agreed that both were very flavorful.
My one Starbucks Bistro Box suggestion
If you're going to recommend Bistro Boxes to moms looking for a quick snack for themselves or their kids, you have to have enough Bistro Boxes in stock in the late afternoon between the time school gets out and afterschool sports begin.
Until you do, moms will go to somewhere else to get a portable and healthy snack for themselves or their children.
Having enough food on hand always seems to be a problem at Starbucks. Several times, I'd arrive early in the morning just to find out they were out of the egg wraps. This seems to be a problem at all the Starbucks I've visited across the US. I don't understand why they can't fix this.
Until they do, I'll not rely on Starbucks Bistro Boxes as a way of feeding my kids after school.
Originally published on August 29, 2011. Updated with new pictures and information.