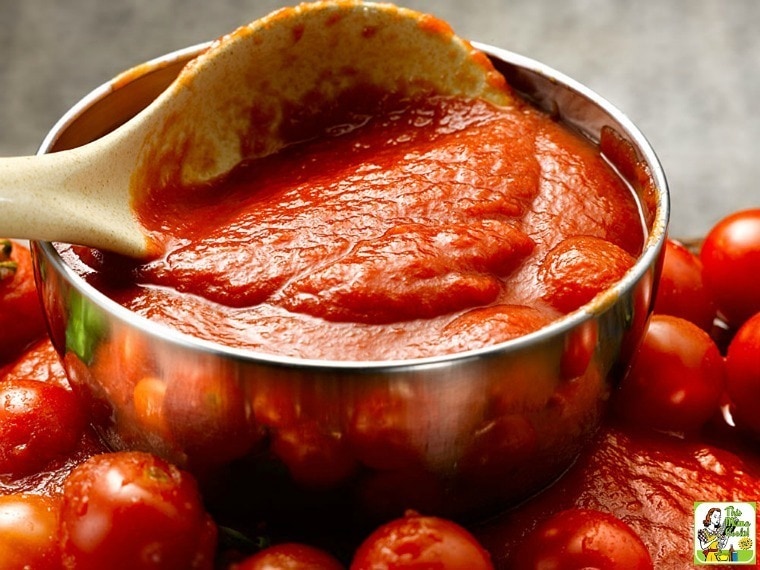 When I came up with my version of Alton Brown's Tomato Sauce recipe, it was because I was overwhelmed by all the tomatoes that were growing in our garden.
I knew there was no way I could use all those tomatoes in a salad!
This recipe is for anyone who is a fan of Alton Brown's spaghetti sauce!
So if you're looking for an easy tomato sauce recipe made from tomatoes in your garden. Or that you couldn't resist buying at your farmer's market or supermarket.
I hope you like My Version of Alton Brown's Tomato Sauce Recipe!
Why use this recipe for Alton Brown's Tomato Sauce?
When you have an abundance of tomatoes, making homemade tomato sauce recipes is the most logical idea.
Yet until I saw Alton Brown's Good Eats Tomato Sauce episode, I never came across a tomato sauce recipe I liked, especially one that was this easy and tasty.
Usually, tomato sauce recipes have you slow roasting or baking the tomatoes for a full day. And you have to use a huge amount of tomatoes just to get a pot of sauce.
My feeling is that other recipes have you cook the tomatoes too long, which is why you have to use so many of them. Instead, Alton has you bake the tomatoes for only 2 hours.
To puree the tomatoes and to get rid of the skins, Alton Brown uses a food mill in his tomato sauce recipe.
Since I don't own a food mill and don't mind the skins staying in the tomato sauce, I pureed the tomatoes in my food processor.
However, if you want super silky homemade sauce, use one of the best food mills, the highly recommended OXO food mill.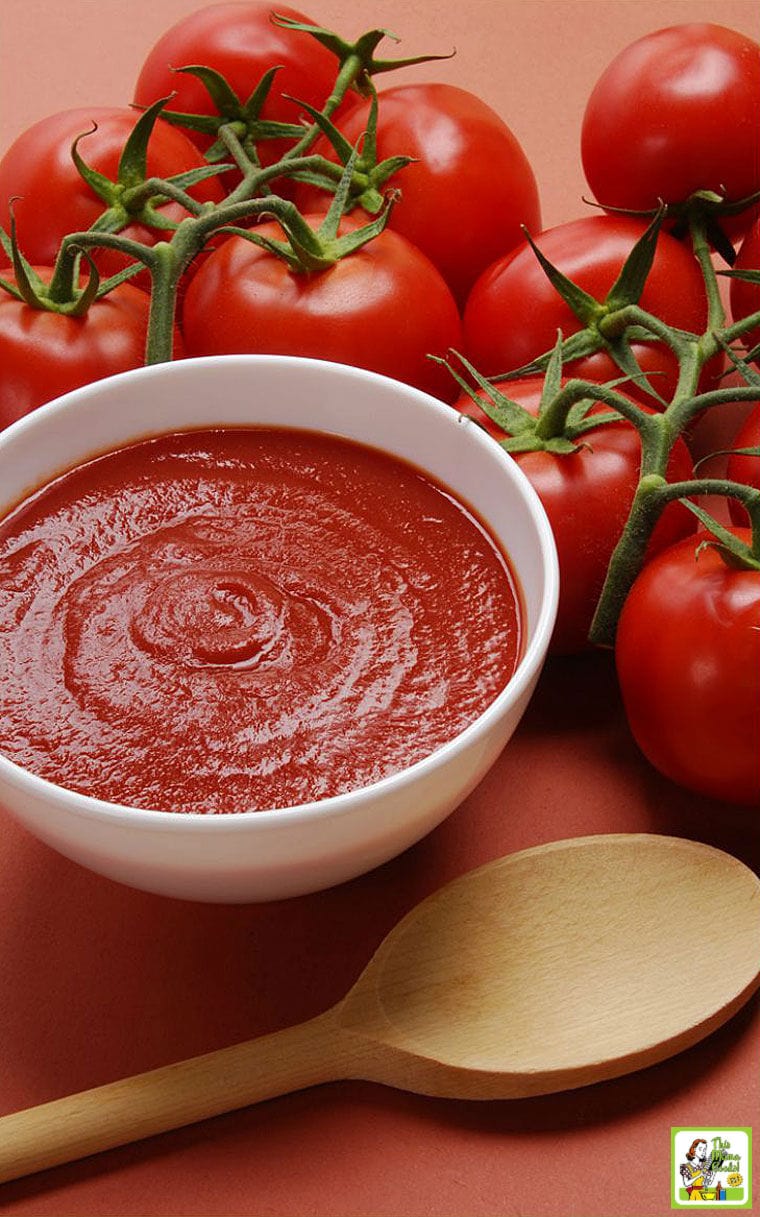 Tips for Making My Version of Alton Brown's Tomato Sauce
I've made my version Alton Brown's recipe for easy spaghetti sauce ideal for doubling.
I use half right away and then freeze the rest of the pasta sauce for later to use in Slow Cooker Baked Ziti or 7 Can Taco Soup.
I freeze my spaghetti sauce in Glad Freezerware storage containers.
Alton uses Roma tomatoes, but you can use any tomatoes you wish from your garden. After all, the point is to use up the tomatoes you have on hand, right?
If you wish, add some hot sauce to your tomato sauce while cooking. My husband and son love adding hot sauce when he make spaghetti sauce from scratch.
I don't, so I have them add it to their individual bowls after they serve themselves.
But if your whole family loves spicy spaghetti sauce, you can add a pinch or two of pepper flakes.
For you meat eaters, I like adding some Homemade Italian Sausage to this recipe to turn it into a tasty meat sauce.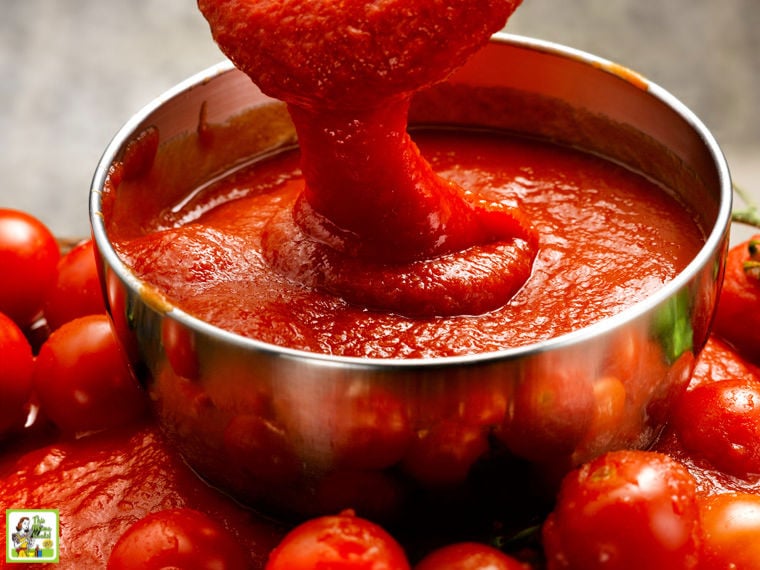 What to do with your green tomatoes?
If you have a lot of green tomatoes left in your garden, learn how to make green tomato ketchup.
Or you can make Ham & Pimento Cheese Sandwiches with Green Tomatoes.
I also put my green tomatoes on trays and put them where the sun will hit them indoors. This will help ripen a few of them slowly.
I also like dicing up my green tomatoes and adding them to curries and stews.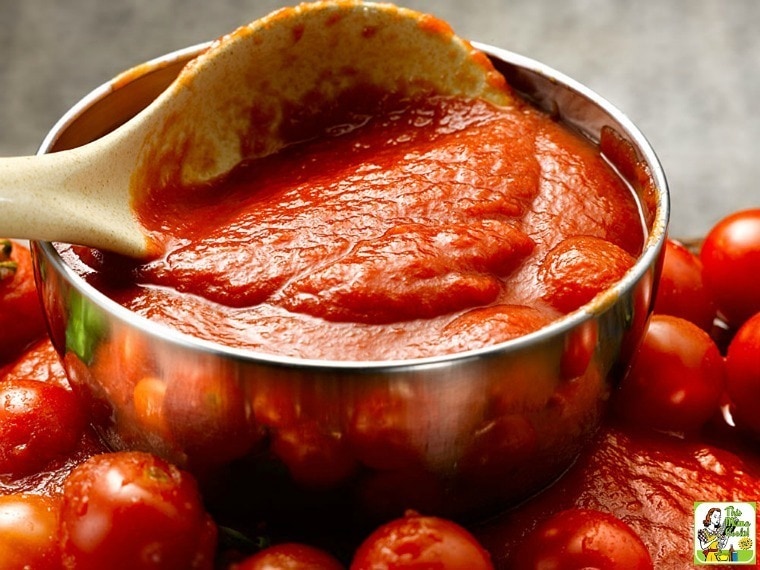 My Version of Alton Brown's Tomato Sauce Recipe
Ingredients
20

homegrown tomatoes, halved and seeded

1/4 cup

olive oil

1/2 teaspoon

sea salt

1 teaspoon

ground pepper

1 cup

finely diced red onion

2 teaspoons

minced garlic

1 teaspoon

dried oregano

1 teaspoon

dried thyme

1 teaspoon

dried basil

1 cup

red wine
Directions
Preheat oven to 325 degrees F.
In two 13x9-inch cookie sheets, place tomato halves cut side up. Sprinkle the tomatoes with oil, salt and pepper, onion, garlic, and herbs.
Bake tomatoes for 2 hours. Check the tomatoes after 1 hour and turn down the heat if they seem to be cooking too quickly. Then turn the oven to 400 degrees and bake another 30 minutes.
Remove from the oven and process tomatoes through a food mill on medium dye setting over a saucepan. If you don't have a food mill, you can puree the tomatoes in a blender or food processor then add them to the sauce pan.
Add the red wine to the tomatoes, then bring sauce to a boil. Quickly reduce heat to low and cook for 5 minutes.
Cook Time:
2 Hours 30 Minutes
Total Time:
2 Hours 55 Minutes
Originally published on November 2, 2004 and June 3, 2016.
Updated with new pictures and information.