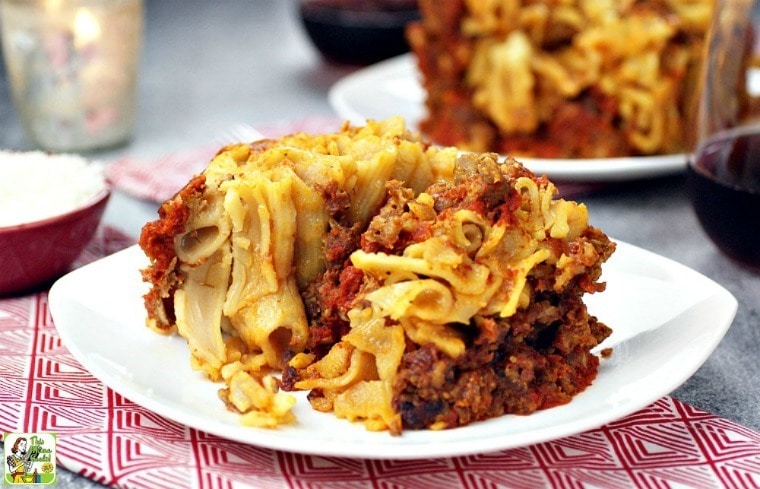 Try this Baked Ziti in a Crock-Pot if you love baked ziti but don't eat it because you're gluten free or find it too time consuming to make.
This gluten free baked ziti in a crock-pot recipe is super easy to make, too. 
Plus, it's so delicious that your non-gluten free family members won't notice that this crock-pot ziti recipe is gluten free!
Why make baked ziti in a crock-pot?
When I think of baked ziti, I always think of my husband's best friend, Jimmy. He's from Long Island and like many New Yorkers, he loves Italian food, especially baked ziti.
Often when we're over his house for dinner, his wife, Sheela, makes baked ziti. I just have a taste since she's not making gluten free baked ziti for just me.
So I thought, why not come up with a gluten free baked ziti recipe that would be so delicious that even a die hard baked ziti lover wouldn't notice that it's gluten free?
Even better, why not make it a slow cooker baked ziti recipe, so it's even easier to make?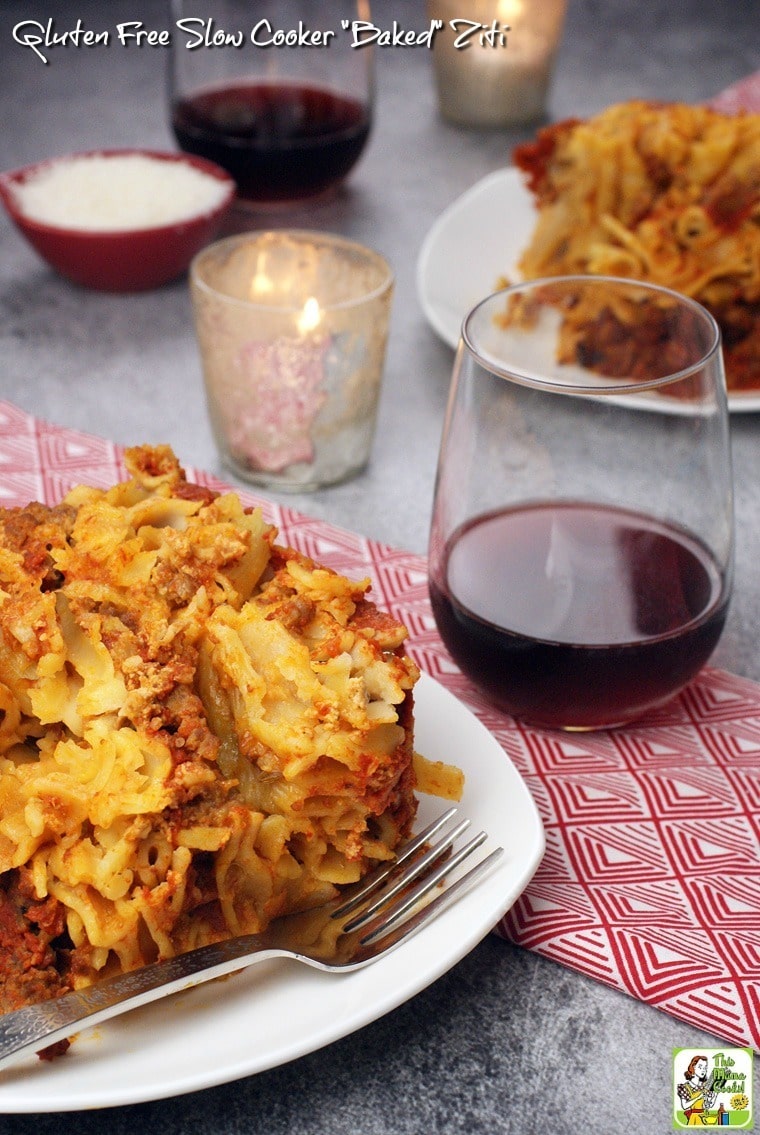 Some recipe inspiration for baked ziti in a crock-pot
While I was shopping for slow cooker baked ziti ingredients, I saw that my local grocery store had two kinds of Italian sausage – spicy and mild. Perfect!
Then I saw that slow cookers were on sale, which inspired me to try this gluten free baked ziti recipe in a Crock-Pot. I'd rather do that than buy one of those large disposable aluminum pans just to throw it away.
You'll need a six-quart Crock-Pot for this slow cooker baked ziti recipe.
I especially like Crock-Pot's 6-Quart Programmable Cook and Carry Oval Slow Cooker with a digital timer. Cook and carry slow cookers make bringing a slowed cooked dish to a potluck party so much more convenient.
If you're thinking of bringing gluten free baked ziti to a party, make sure to get a Crock-Pot carrying case. I have one and use it all the time.
Ingredients for a gluten free crock-pot ziti
Homemade vs. store bought tomato sauce
To make this slow cooker baked ziti recipe even easier, I used a store brand tomato & basil sauce.
I usually make my own sauce, but the whole point of my Slow Cooker Baked Ziti recipe is that it's convenient with minimal prep time and made with quality ingredients.
But you can use your own homemade sauce if you want.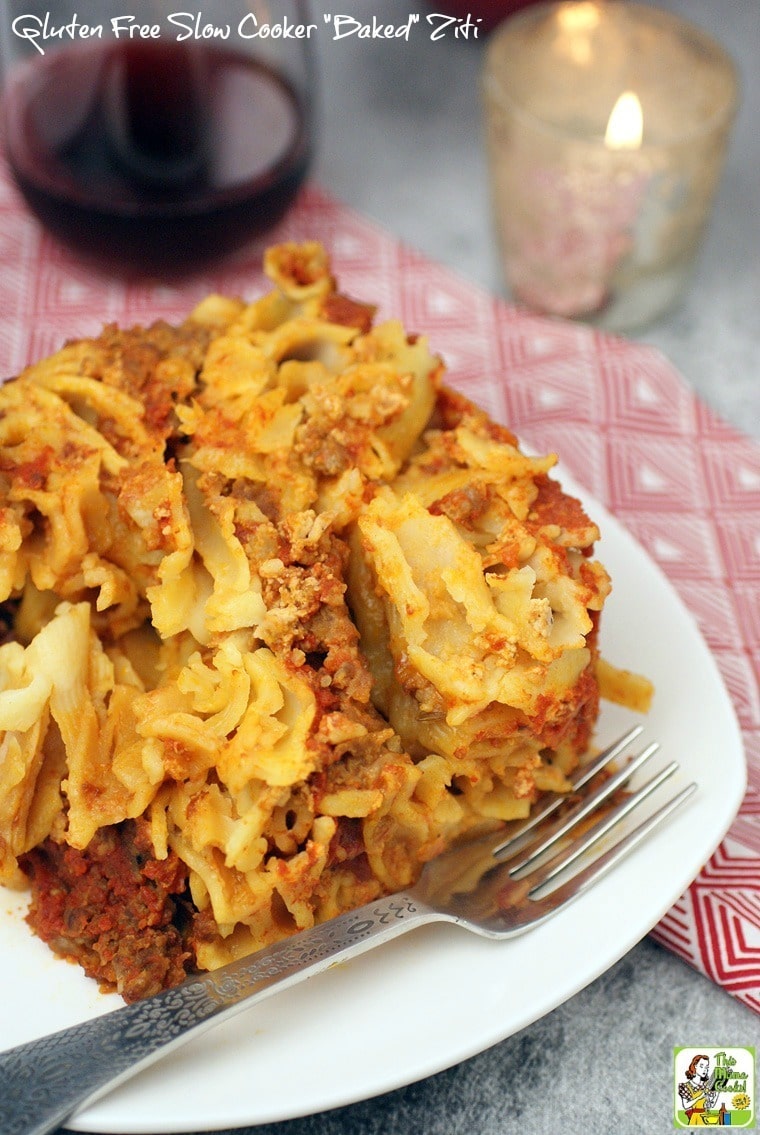 What kind of gluten free pasta?
Then I went over to the pasta section and got the store brand gluten free penne rigate, which is fairly close to ziti.
I love my grocery store's gluten free corn and rice pasta since it tastes just as good as regular pasta.
This way I don't have to prepare a gluten free baked ziti in my crock-pot for me and regular baked ziti for the rest of my family.
While I chose gluten free store brand penne, Barilla Gluten Free Penne works just as well. I usually choose which ever one is cheaper the week when I'm making this gluten free baked ziti recipe.
Gluten free? Double check your lables!
If you're cooking this for someone who has celiacs or a gluten sensitivity, make sure to read the labels of all the ingredients – the sausage, the cheeses, etc. – for any hidden sources of flour or gluten.
Don't assume that because there wasn't any last time you bought Italian sausage, there won't this time. Always check the labels!
Tips on making slow cooker baked ziti
Here's how to make the layers in this gluten free baked ziti recipe. If you goof up the layers, don't worry. You can stir up the whole thing and top it off with 1/2 to 1 cup of the shredded cheese.
I've done this and it turned out fantastic! It's more like a casserole than baked ziti, but it still tasted heavenly.
Don't overcook or the edges will get scorched.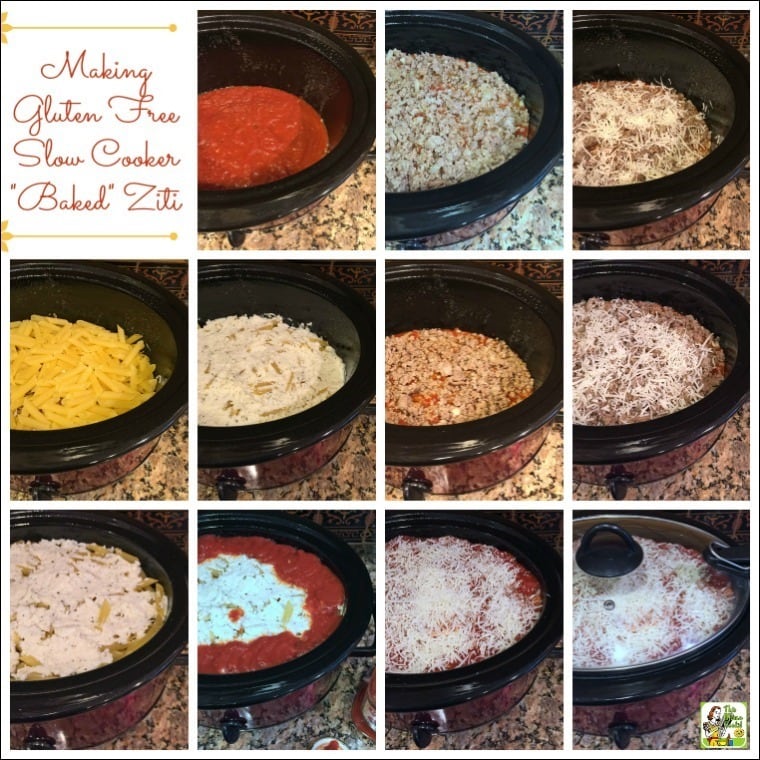 What can you add to baked ziti?
Sausage: If you like spicy, go ahead and use only spicy Italian sausage. If you don't like spicy, just use mild Italian sausage.
Vegetables: If you want to sneak some vegetables into one of the layers, like some diced zucchini or summer squash, I won't tell the kids. I swear!
Different pasta: Baked ziti works just as well with regular or whole wheat pasta if you don't eat a gluten free diet.
Slow cooker liners are a time saver!
For easy crock-pot cleanup, use slow cooker liners. They're WONDERFUL. Now that I use them, I no longer have to soak my crock-pot overnight and scrub it using Bar Keepers Friend Cleanser and a scouring pad.
The verdict on slow cooker ziti
My family were crazy for this slow cooker baked ziti recipe! 
My husband went back for thirds. My son ate leftovers for breakfast and took some to school for lunch the next day. My kids fought over the last plate.
Even the dog gave Slow Cooker Baked Ziti two paws up when we accidentally dropped a few pieces on the floor!
Yield: 8 SERVINGS
Baked Ziti in a Crock-Pot Recipe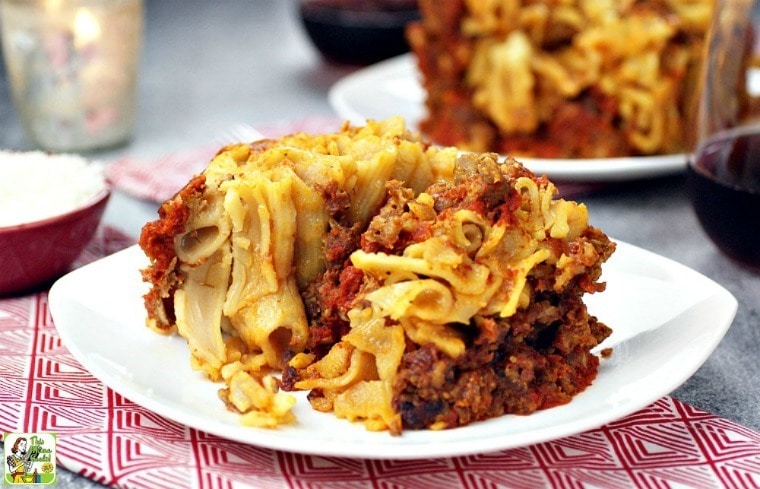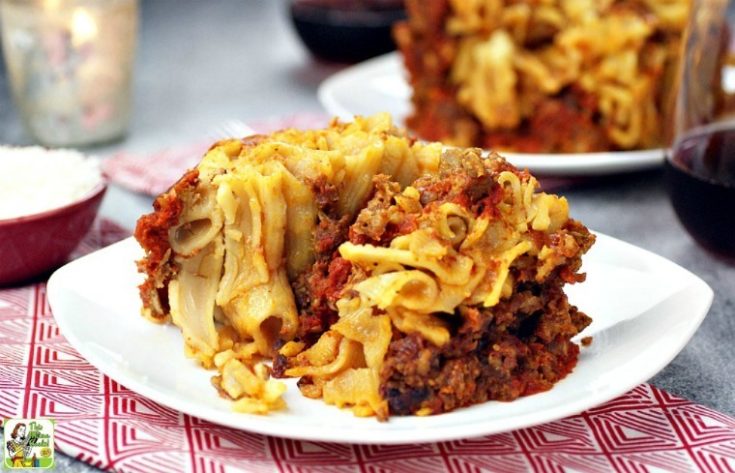 A gluten free baked zit in a crock-pot recipe. This easy slow cooker baked ziti will have everyone asking for more!
Total Time
5 hours
20 minutes
Ingredients
Cooking spray
1 onion, chopped
2 garlic cloves, minced
1 (15-ounce) container ricotta cheese
1/2 cup liquid egg whites
3 cups finely shredded Italian blend cheese, divided
1/2 teaspoon dried basil
1/2 teaspoon dried oregano
3 26-ounce jars store-brand tomato & basil sauce
2 12-ounce packages uncooked gluten free penne rigate pasta
Instructions
Coat a six-quart slow cooker with cooking spray. Set aside.
Remove sausage from its casings. In a large skillet over medium-high heat, cook sausage, onion, and garlic 6 to 8 minutes, or until browned. Break up sausage with the back of your spoon as it cooks. Drain and set aside.
In a medium bowl, combine ricotta cheese, egg whites, basil, oregano, and 1 cup shredded Italian blend cheese. Mix until thoroughly combined.
In the slow cooker, layer 1 jar of Bertolli sauce. Then add half the sausage mixture, 1/2 cup Italian blend cheese, one package of the gluten free penne rigate pasta, and half the ricotta mixture. Evenly distribute each layer.
Repeat. Then top with the remaining jar of sauce. Then evenly sprinkle 1 cup of Italian blend cheese over top.
Cover and cook on low for 5 hours or until pasta is tender.
Recommended Products
As an Amazon Associate and member of other affiliate programs, I earn from qualifying purchases.
Nutrition Information:
Yield:
8
Serving Size:
1
Amount Per Serving:
Calories:

804
Total Fat:

49g
Saturated Fat:

21g
Trans Fat:

0g
Unsaturated Fat:

30g
Cholesterol:

115mg
Sodium:

1270mg
Carbohydrates:

47g
Fiber:

6g
Sugar:

12g
Protein:

43g
Nutritional information is automatically calculated per the ingredients list. Serving size may not be accurate. Please double-check with your preferred nutritional app for the most accurate information.
Originally published on October 8, 2015. Updated with new pictures and information.