Last Updated on October 9, 2021 by Anne-Marie
This gluten free mac & cheese casserole can be made in 30 minutes. This easy baked macaroni and cheese recipe will become a family favorite.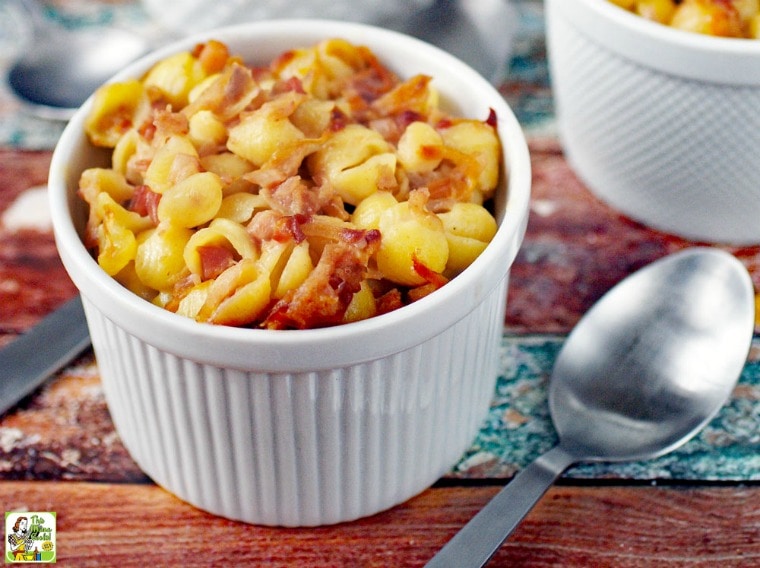 Why this recipe works
This Gluten Free Mac & Cheese Casserole is for the whole family to enjoy. It's so tasty that it's not just for those family members who've gone gluten free.
Plus, it's so easy to make and takes less than 30 minutes to prepare. That's because this easy baked mac and cheese is made with your favorite gluten free boxed mac n cheese.
Now before you think, well, that's not real cooking, let me tell you a little story.
I'll never forget during a trip we took North Carolina, we stopped for dinner at a cool brew pub that offered a variety of gourmet mac and cheese casserole dishes.
My husband was surprised that neither of the kids ordered the casseroles. Instead, they decided to have burgers. (I was the one who ordered the mac and cheese with apples and ham. So good!)
I wasn't surprised as I had tried to entice the kids with homemade mac and cheese at home and they told me, "Never again, mom. We want the mac and cheese you make from a box!"
(Their favorite is either Horizon or Annie's Mac & Cheese. We make it when daddy isn't coming home for dinner.)
Nathan and Lucie are old enough to make it on their own now, so I always make sure that there's a big supply in the pantry and stock up when it goes on sale.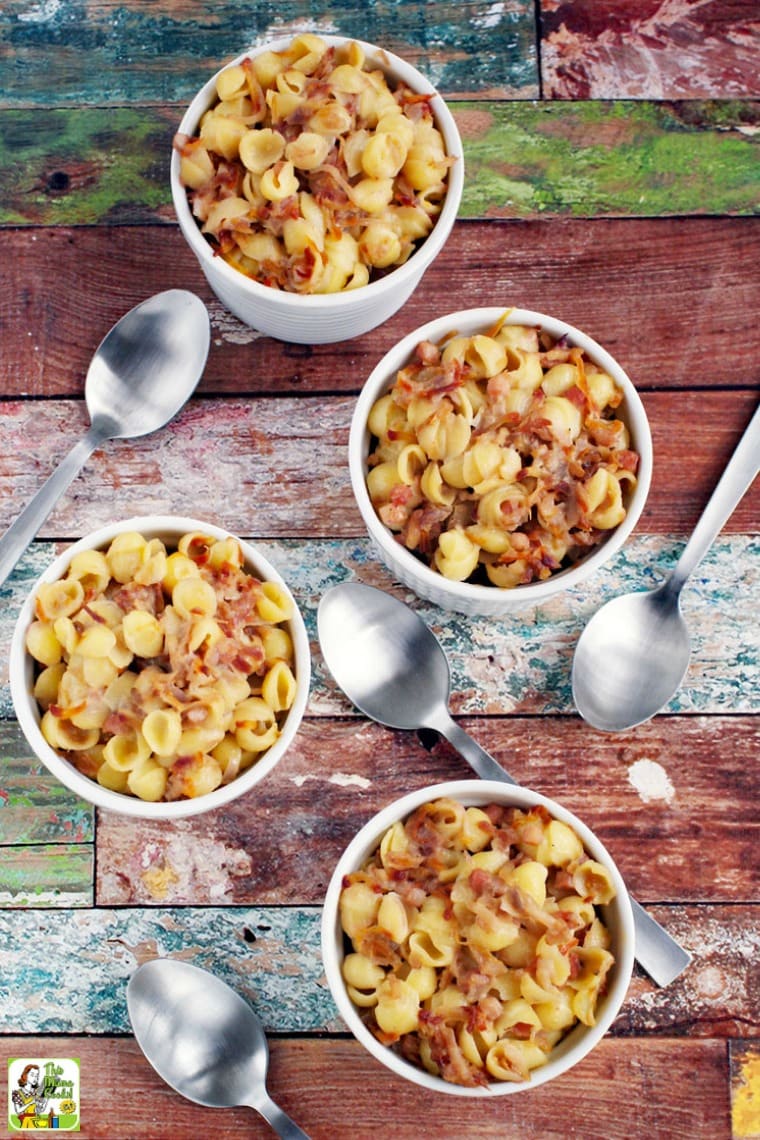 Making a mac and cheese casserole
Those intriguing restaurant dishes gave me the idea to start making this mac and cheese casserole recipe a regular part of family dinners.
I really don't want to slave over the stove making a three-cheese sauce from scratch knowing my kids would hate it.
So, I'm fine using something they already liked – Annie's Mac & Cheese out of the box – and dressing it up to my more adult standards.
Since this was a weeknight family dinner recipe, I wanted to make this gluten free mac and cheese with some additions, like vegetables since my kids don't eat enough of them!
I also wanted to make sure this simple mac and cheese recipe was done in under 30 minutes making it the perfect weeknight dinner recipe for busy families.
Vegetables: For this easy mac and cheese recipe, I chose root vegetables such as red onions, parsnips and carrots, things you can get year round.
While I used yellow and purple carrots in these pictures, you can use regular orange carrots.
Making this recipe even easier: I bought precut pancetta and grated shredded cheese. You can buy shredded carrots and diced onions from the store to save you time in the kitchen, if you like.
Grating the parsnips and carrots with a food processor, and mincing the onions with a food chopper will save time and labor, too.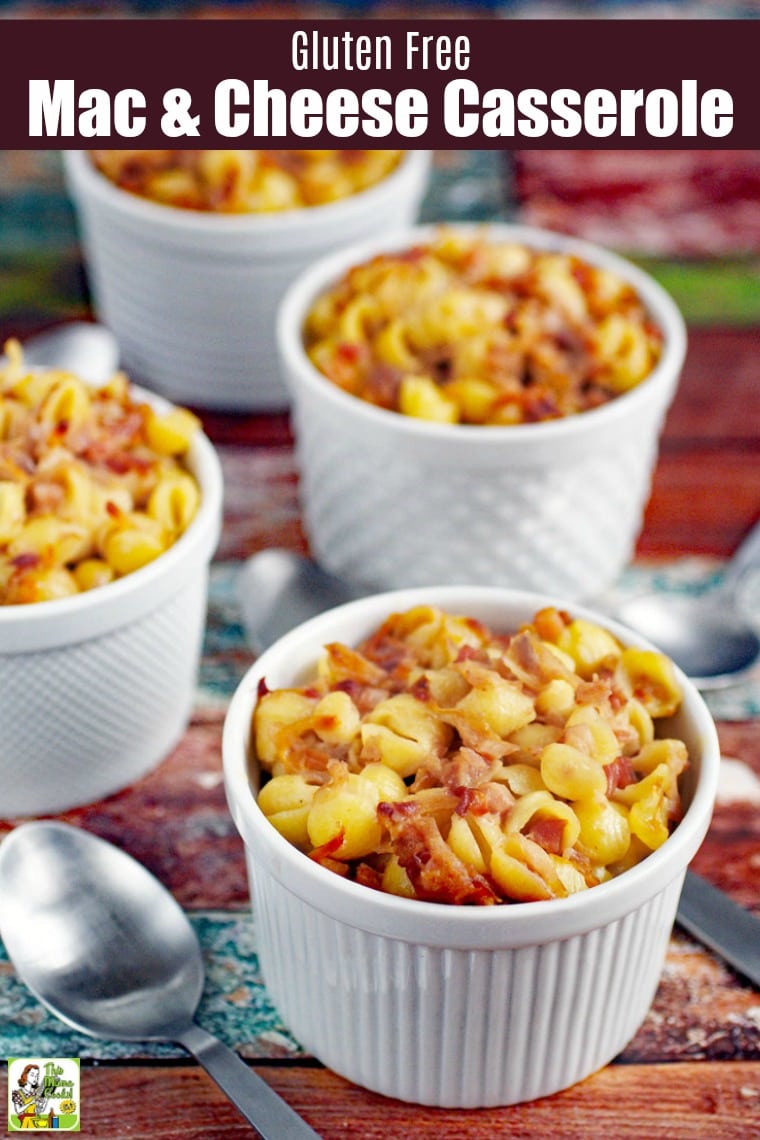 A gluten free macaroni and cheese casserole recipe
To make sure you have a gluten free baked mac and cheese, start with a boxed mac and cheese that's certified as gluten free.
For this recipe, I used Annie's Macaroni & Cheese, Gluten Free Rice Shell Pasta & Creamy White Cheddar.
I liked how the white cheddar cheese sauce blended nicely with the sweetness of the red onions, carrots, and parsnips and complimented the pancetta.
I've also used Annie's Gluten Free Macaroni and Cheese, Rice Pasta & Cheddar, like I use in my Mac & Cheese Casserole with Peas, Carrots & Ham recipe.
If you prefer another brand of gluten free mac and cheese instead, go ahead and use that.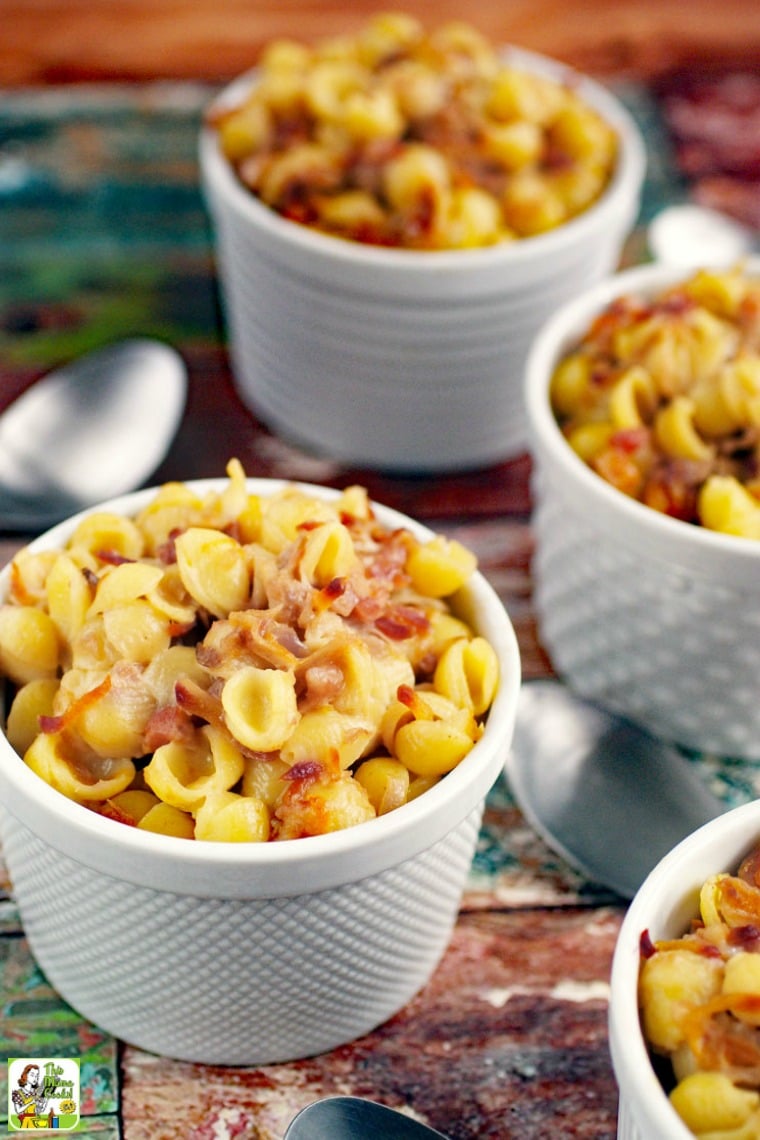 Is shredded cheese gluten free? People who are gluten free may have concerns about store bought shredded cheese.
According to this article at Very Well Fit, which is reviewed by a board-certified physician, both Kraft and Sargento consider their shredded cheeses to be gluten-free.
Sargento notes that the powdered cellulose it uses in its shredded cheese is not derived from a gluten grain.
In addition, if anti-clumping agents used by cheese manufacturers include powdered cellulose made from a gluten grain, the manufacturer should list it on the product's label.
So, if you have concerns or if you react to very low levels of gluten, you may want to shred your own cheese.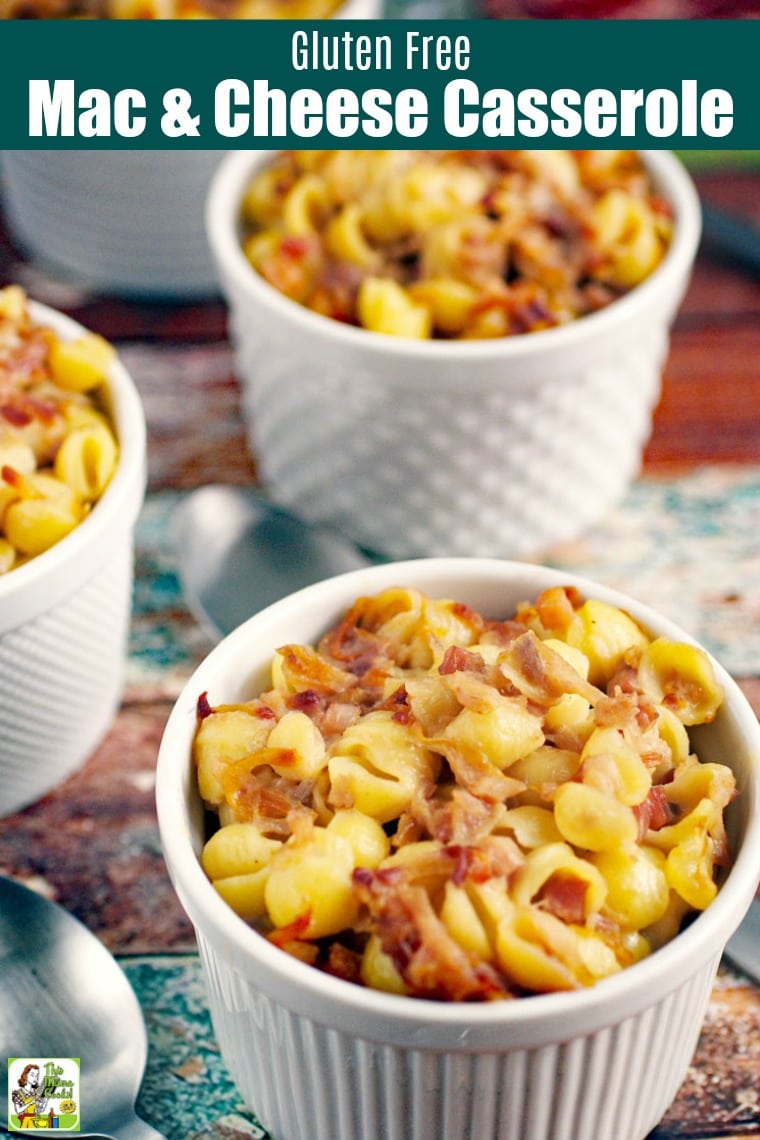 More tips for making an easy baked macaroni and cheese
Can this be prepared in advance? Yes, this can be prepped a day early. Just cover and place in the refrigerator. Then reheat the macaroni and cheese casserole in a microwave until warm.
Then bake as directed in the oven to make the top of the casserole a bit crispy.
Breadcrumbs: Sprinkling breadcrumbs on the top of the casserole before would be super special and scrumptious if that's how you like your mac & cheese.
You can make gluten free breadcrumbs by toasting GF bread, then grinding up the toast in a blender, and adding a bit of salt and Italian seasoning to it.
Not just gluten free: This recipe also works just as well with any type of regular boxed mac and cheese for those non-gluten free folks out there.
Ramekins are fun! I love making this baked mac and cheese in individual ramekins for parties or special occasions.
No pancetta? If you find pancetta too expensive or you have trouble locating some in your grocery store, you can use ham instead. Very lean bacon or turkey bacon will also work.
(Make sure the bacon is lean and well blotted as you don't want your mac and cheese to get too greasy.)
More cheese please! Can you add more cheese? Sure! I won't tell.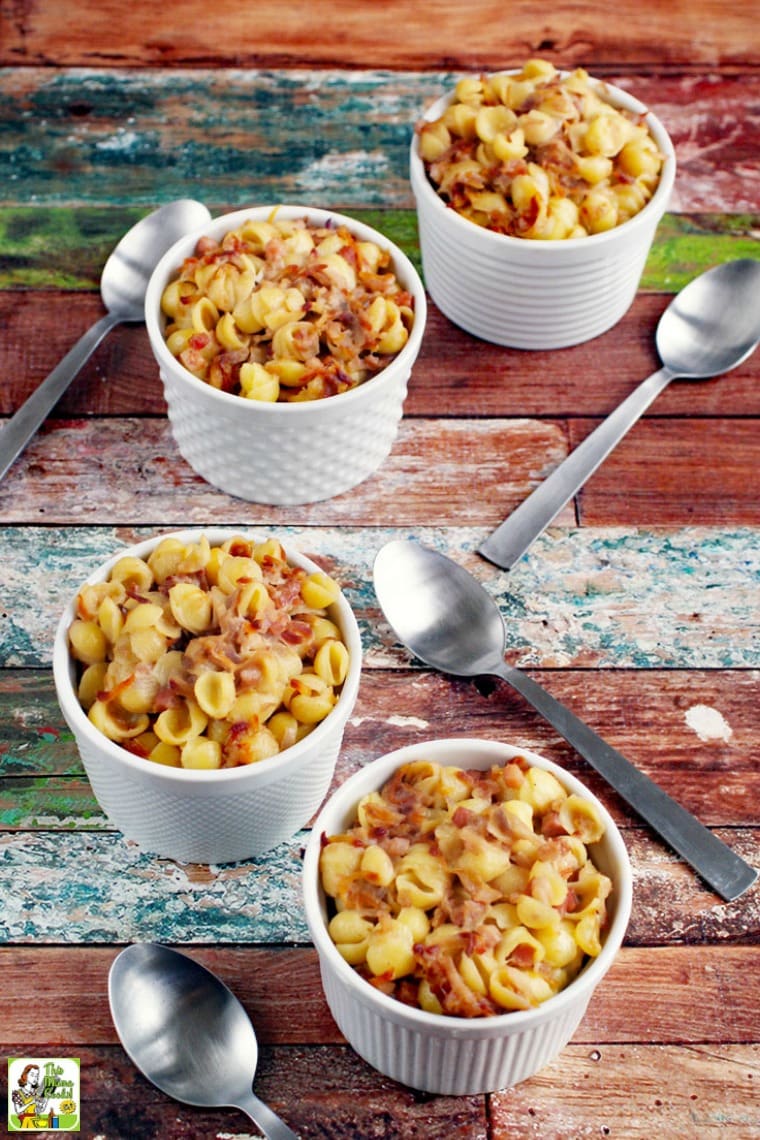 More gluten free pasta dishes
Who says you can't enjoy pasta if you're gluten free? Here are some wonderful gluten free pasta dishes:
Try this Best Smoked Mac and Cheese Recipe on your smoker.
These super easy Instant Pot Spaghetti and Instant Pot Lasagna can be made with gluten free pasta.
Spicy Pasta with Cauliflower is a terrific way to sneak in some healthy veggies into your kids' diet.
Lemon Pasta can be made dairy free and vegan.
Seafood Pasta Salad is a terrific side dish to bring to a cookout or potluck.
Crab Pasta with Pesto, Mushrooms & Tomatoes is a family favorite at my house.
Pasta Salad with Roasted Vegetables is filled with healthy grilled vegetables.
Yield: 6 SERVINGS
Gluten Free Mac & Cheese Casserole Recipe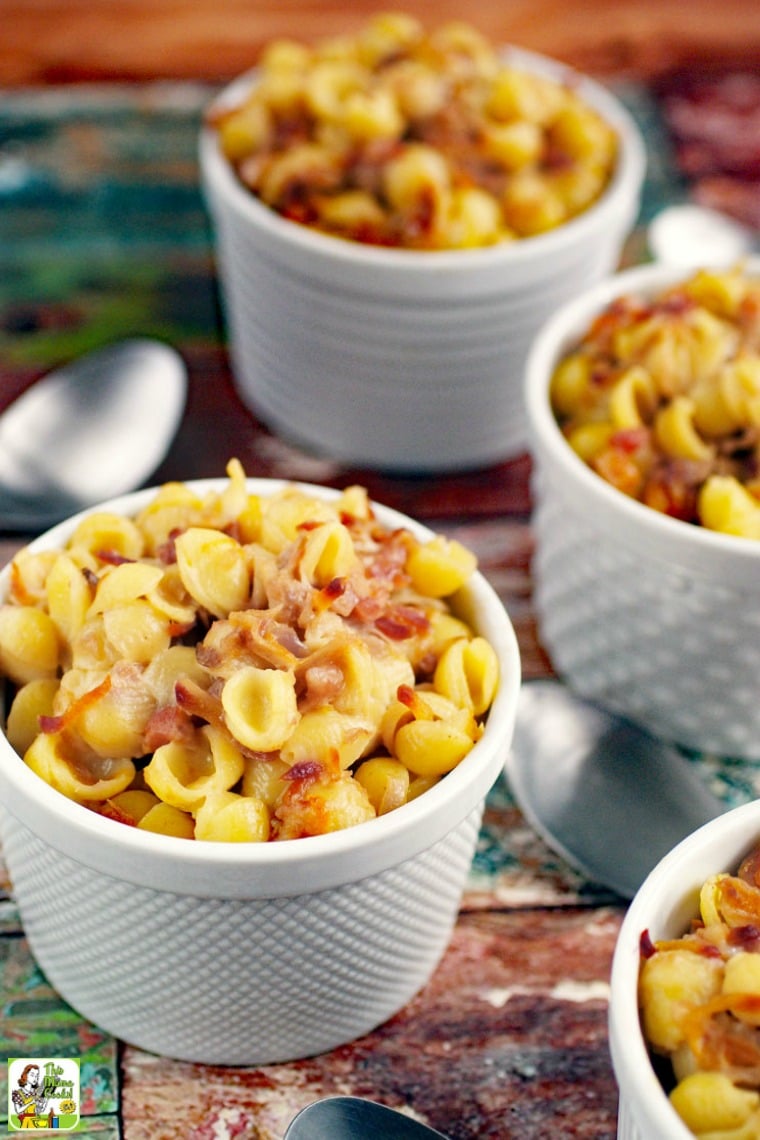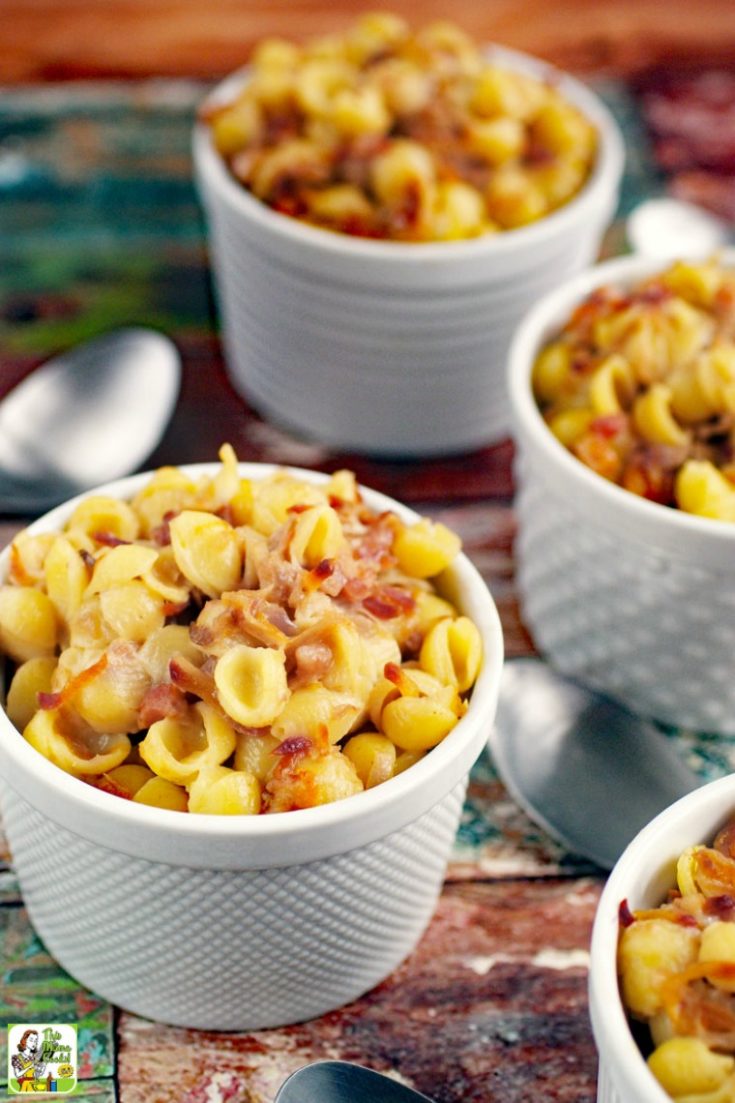 This Gluten Free Mac & Cheese Casserole can be made in 30 minutes. This easy baked macaroni and cheese recipe will become a family favorite.
Ingredients
2 boxes your favorite gluten free boxed mac and cheese
1/2 cup reduced-fat milk
4 tablespoons butter
1 tablespoon olive oil
1 cup grated parsnips
1 cup grated carrots
1/2 cup minced red onion
2 ounces (approximately 1/2 cup) diced pancetta
1/2 cup shredded cheddar cheese
Instructions
Preheat oven to 350 degrees F.
Cook two boxes of mac and cheese according to the instructions on the side of the box. Cook pasta to the al dente (firm) stage. Do not overcook!
While pasta is cooking, grate and mince vegetables. Set aside.
Once mac and cheese is cooked, set it aside.
On the stovetop, heat a large skillet over medium-high heat. Place olive oil in a skillet. Then add parsnips, carrots, and onions. Stirring occasionally, sauté for 3 minutes until vegetables have softened.
Add pancetta to skillet and stir. Cook for 1 minute.
Add cheese to skillet. Cook until cheese has melted.
Then spoon mac and cheese into a large ovenproof casserole dish or into four large soufflé ramekins. (Ramekins can be placed on a cookie sheet.)
Bake in the oven for 10 minutes. Remove and serve.
Nutrition Information:
Yield:
6
Serving Size:
1
Amount Per Serving:
Calories:

285
Total Fat:

21g
Saturated Fat:

10g
Trans Fat:

1g
Unsaturated Fat:

10g
Cholesterol:

39mg
Sodium:

263mg
Carbohydrates:

18g
Fiber:

2g
Sugar:

6g
Protein:

6g
Nutritional information is automatically calculated per the ingredients list. Serving size may not be accurate. Please double-check with your preferred nutritional app for the most accurate information.
Originally published on March 18, 2015. Updated with new photos and information.