Last Updated on October 9, 2021 by Anne-Marie
Spicy pasta with cauliflower is a vegetarian recipe. This pasta with cauliflower dish is perfect for dinner.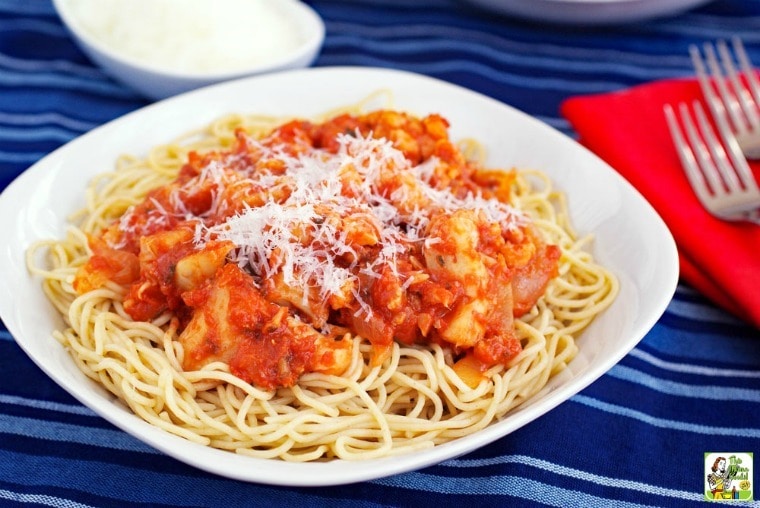 Why this recipe works
Spicy pasta with cauliflower is just the type of recipe you should make when you want to eat a little lighter.
Or when cauliflower's on sale and you're wondering what to do with the two large heads you just bought.
Spicy pasta cauliflower sauce is also a nice vegetarian alternative to your usual meat spaghetti sauce.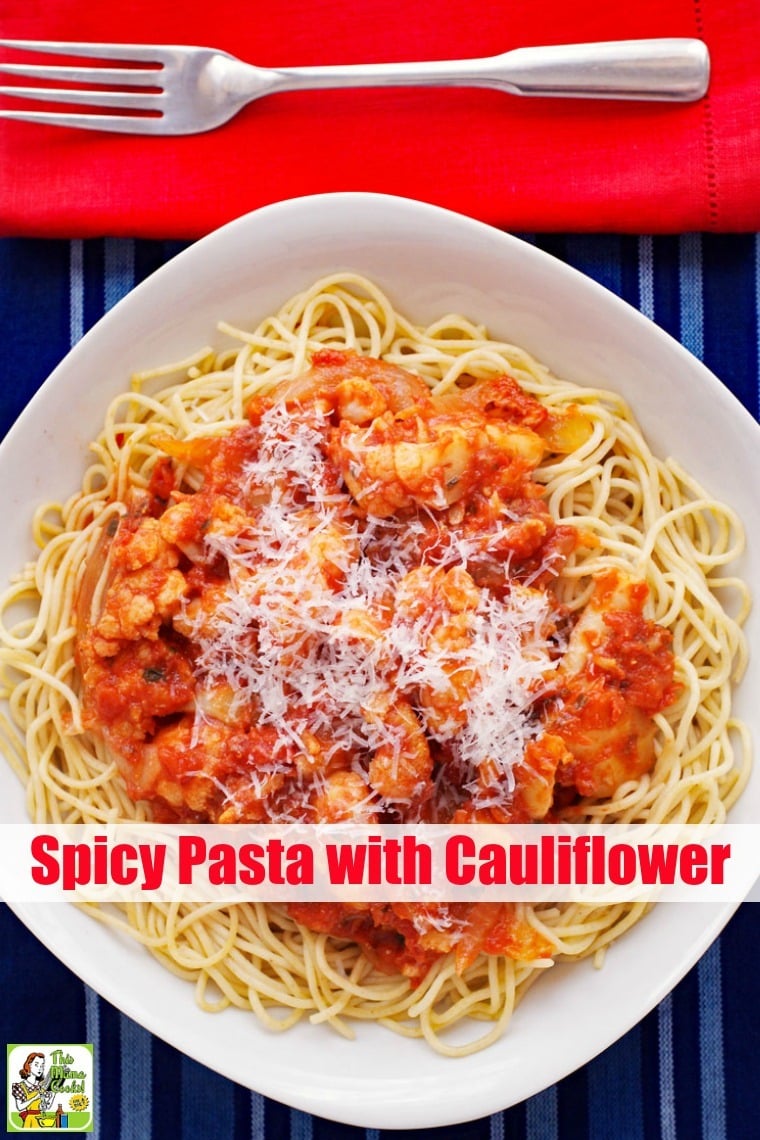 The origins of pasta with cauliflower
Many years ago, I used to participate in a food blogger challenge where we'd remake other blogger's recipes.
I was assigned Melissa from Savored Grace and chose her Spaghetti with Spicy Cauliflower Sauce.
I liked her take on spaghetti with cauliflower for several reasons.
First, it's a terrific vegetarian dish, even if my husband thought I should have added some sausage to it. (Not a bad idea, frankly.)
And second, because my daughter, Lucie, loves cauliflower. Who knew that kid likes a vegetable?
Best of all you can make this easy pasta dish gluten-free.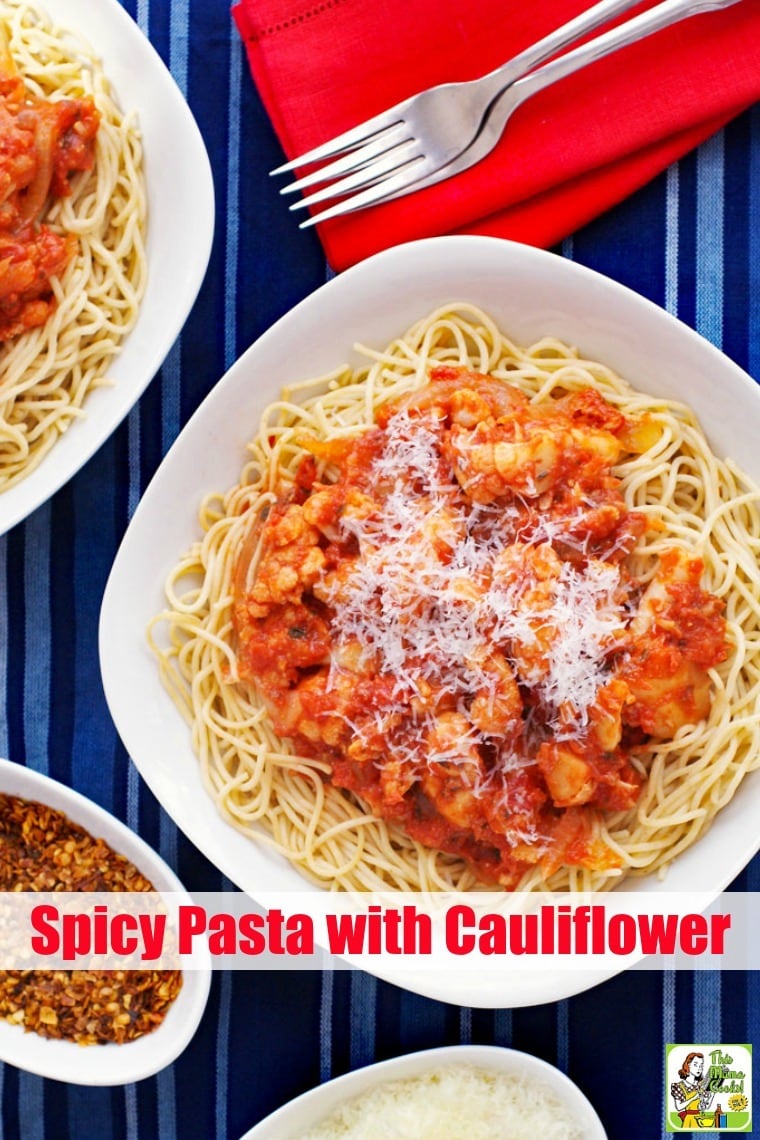 Changes  to the pasta cauliflower sauce
I didn't change too much in Melissa's Spaghetti with Spicy Cauliflower Sauce recipe, except for the way I cooked it.
For example, I left the garlic in the pan instead of crushing the cloves and removing them later.
I also partially cooked the cauliflower, then added the onion. I then cooked both together instead of cooking them separately.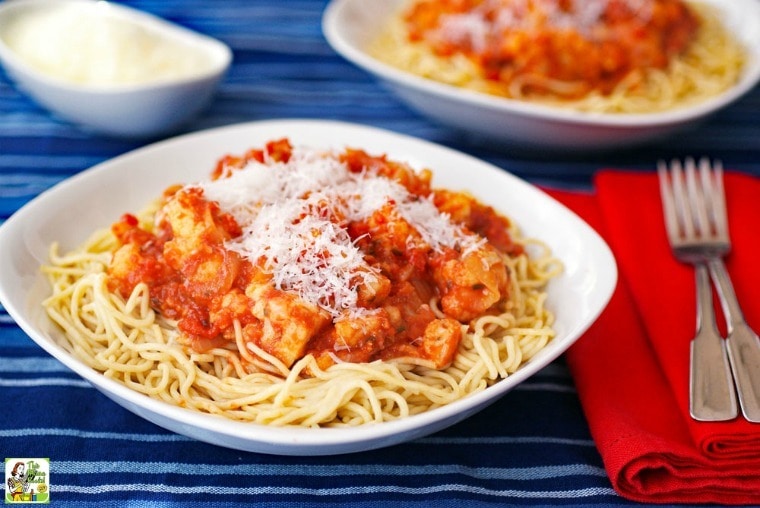 How to cut cauliflower
I don't like tossing the cauliflower stems. And just using the florets seems like such a waste.
Instead, I sliced the cauliflower head into 1-inch slices, then broke them apart with my hands into bite sized pieces.
Yes, there's a mixture of pretty and not-so-pretty pieces of cauliflower, but it all tastes good to me!
Waste not, want not, right?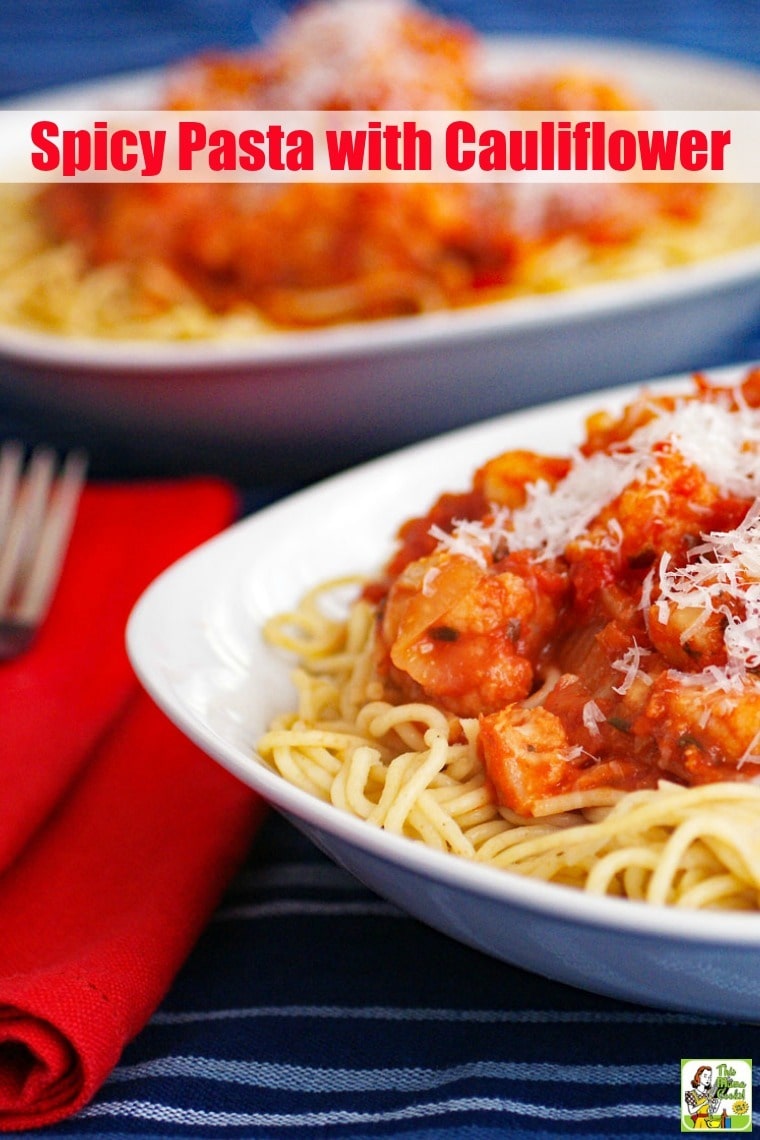 Tips to make Spicy Pasta with Cauliflower
Salt your water: Finally, don't forget to liberally salt your pasta cooking water. In my opinion, this practically eliminates the need to add extra salt to your pasta sauce.
The convenience of Gourmet Garden herbs: Instead of fresh parsley, I sometimes use Gourmet Garden Stir-In Paste parsley instead.
I've had fun experimenting with Gourmet Garden's products, and love the convenience of squeezing out just enough for a recipe without having to buy a whole bunch of herbs.
(There's nothing worse than throwing rotten parsley, mint or cilantro into the compost bin because you didn't have another use for it before it went bad, which is why I love Gourmet Garden products.)
If you wish, use the same amount of fresh parsley instead as stated in my recipe below.
Type of cheese: Any freshly grated Romano style cheese is perfect with Spaghetti with Spicy Cauliflower Sauce. I used a Romano-Pecorino cheese that's super tasty. Feel free to experiment! If you're dairy free, omit the cheese.
What type of pasta?: You can used gluten free pasta, high protein, whole wheat, or regular pasta.
Serving the sauce: Since I usually make two kinds of pasta (gluten free for me and regular for the kids), I served the sauce on top of it instead of dumping all the pasta into the sauce pot.
This also is a better way to do things if you plan to have leftovers as the sauce will soften the pasta, so by the time you reheat it, it's sort of mushy.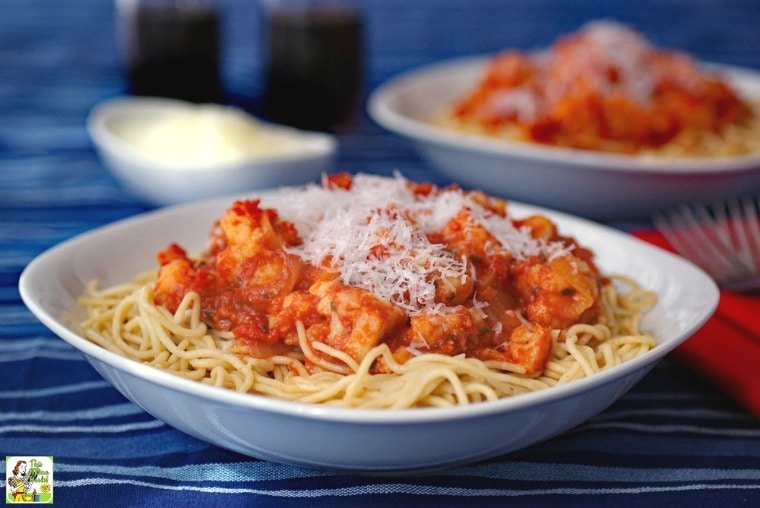 Drinks to serve with your pasta
Give these drink recipes a try!
● Lemonade Sangria (no alcohol)
● Iced Tea Sangria (no alcohol)
● Orange Blossom Mocktail (no alcohol)
● Peach & Cherry Beer Margarita
Yield: 4 SERVINGS
Spicy Pasta with Cauliflower Recipe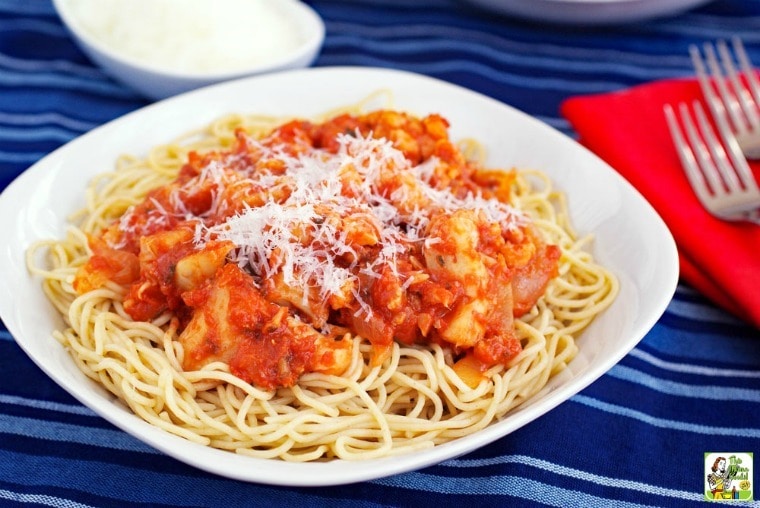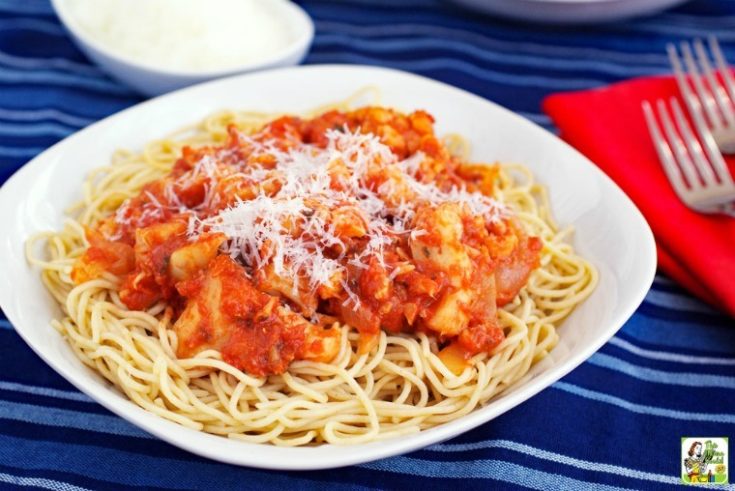 Spicy pasta with cauliflower is a vegetarian recipe. This pasta with cauliflower dish is perfect for dinner.
Ingredients
1/4 cup olive oil, divided
1 medium head cauliflower, trimmed and cut into bite-sized pieces
3 large cloves garlic, minced
1 large yellow onion, thinly sliced
1 28-ounce can crushed tomatoes
1 teaspoon crushed red pepper
2 tablespoons fresh flat-leaf parsley, minced
1 pound pasta (any type, regular or gluten free)
1/2 to 1 cup freshly grated Romano-Pecorino cheese
Instructions
Start cooking the pasta according to package directions while you make the sauce. Drain and return the pasta to the pot.
Heat 3 tablespoons oil over medium heat in a large, heavy-bottomed skillet.
Add the cauliflower and minced garlic. Sauté, stirring occasionally for 10 minutes.
Add the remaining 1 tablespoon olive oil and the sliced onion to the pan and cook until golden brown – about 10 minutes.
Add the tomatoes and red pepper to the onion and cook until slightly thickened, about 2 to 3 minutes.
Then stir in the parsley and 1/4 cup of the grated cheese.
Place one serving of pasta in a bowl or plate and liberally top with sauce. Serve immediately with extra cheese and crushed red pepper.
Nutrition Information:
Yield:
4
Serving Size:
1
Amount Per Serving:
Calories:

519
Total Fat:

23g
Saturated Fat:

7g
Trans Fat:

0g
Unsaturated Fat:

15g
Cholesterol:

28mg
Sodium:

782mg
Carbohydrates:

61g
Fiber:

10g
Sugar:

14g
Protein:

22g
Nutritional information is automatically calculated per the ingredients list. Serving size may not be accurate. Please double-check with your preferred nutritional app for the most accurate information.
Originally published on March 11, 2013. Updated with new pictures and information.