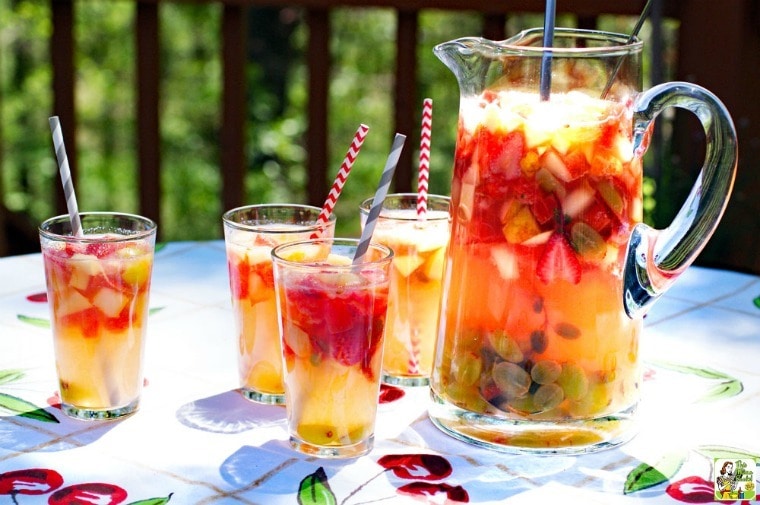 Serve up a pitcher of Lemonade Sangria as an alternative to beer or other alcoholic drinks at your next backyard party. It's kid friendly and a better-for-you alternative to sugary sodas.
The reason I love this mock sangria recipe is the combination of fruit, lemonade and limeade juices, and sparkling apple juice. Plus, you have fruit to snack on.
This mock sangria is so flavorful and refreshing, you won't miss the wine at all!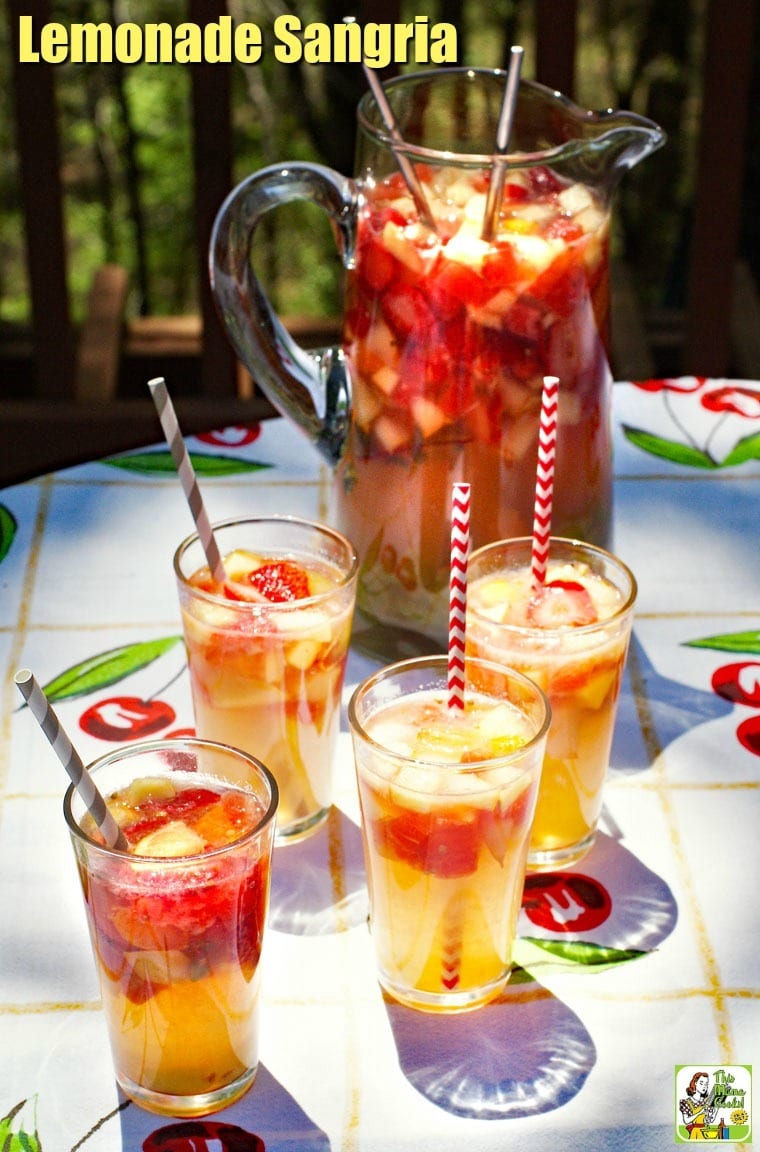 Lemonade sangria is easy to make
While you can use fresh fruit, if you're in a rush, frozen fruit is a terrific time saver since it's already cleaned and cut up. Plus there's no need to defrost the fruit for the sangria either.
Most grocery stores offer a terrific selection of frozen cherries, berries, peaches and tropical fruit mixes for your sangria fruit blend.
Just place the frozen fruit right the sangria pitcher where it will thaw and be ready to go after sitting overnight in your refrigerator or on your serving table.
You can add extra frozen sangria fruit to the pitcher after you've emptied the first batch of non-alcoholic sangria. The frozen fruit will keep the sangria nice and cool, too!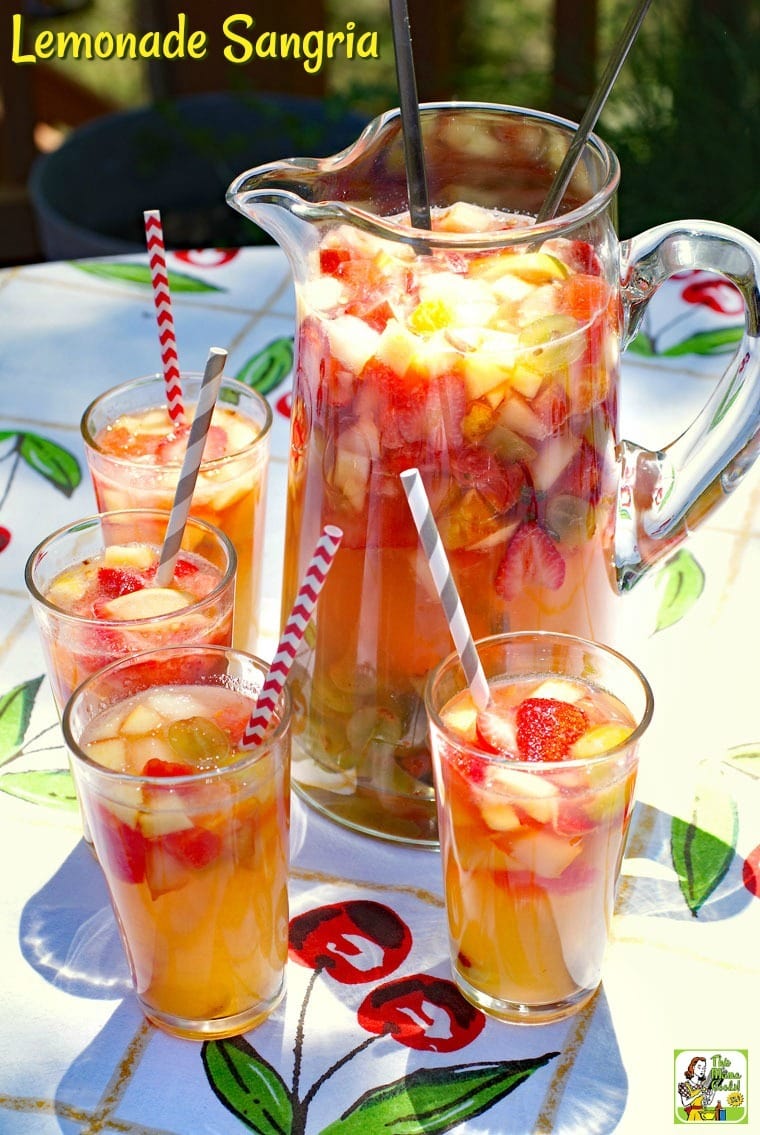 How to serve up refreshing lemonade sangria
Invest in a sangria pitcher set if you love to serve homemade sangria. I own the tall and skinny Libbey 7 Piece Sangria Set, which holds 76 ounces.
I also love the San Vicente Sangria Pitcher Set, since the round pitcher holds a whopping 96 ounces.
Don't want to go to the expense of buying a drink pitcher set? Maybe you have a punch bowl set or an ice tea pitcher you can use instead.
For a festive touch, serve your Lemonade Sangria with drinking straws. I love all the environmentally safe paper straws available now. Super cute!
Another option for big parties is making up your mock sangria recipe in a drink dispenser with a built in spigot.
A Nantucket Drink Dispenser would be perfect for serving any type of sangria at a backyard barbecue party, don't you think?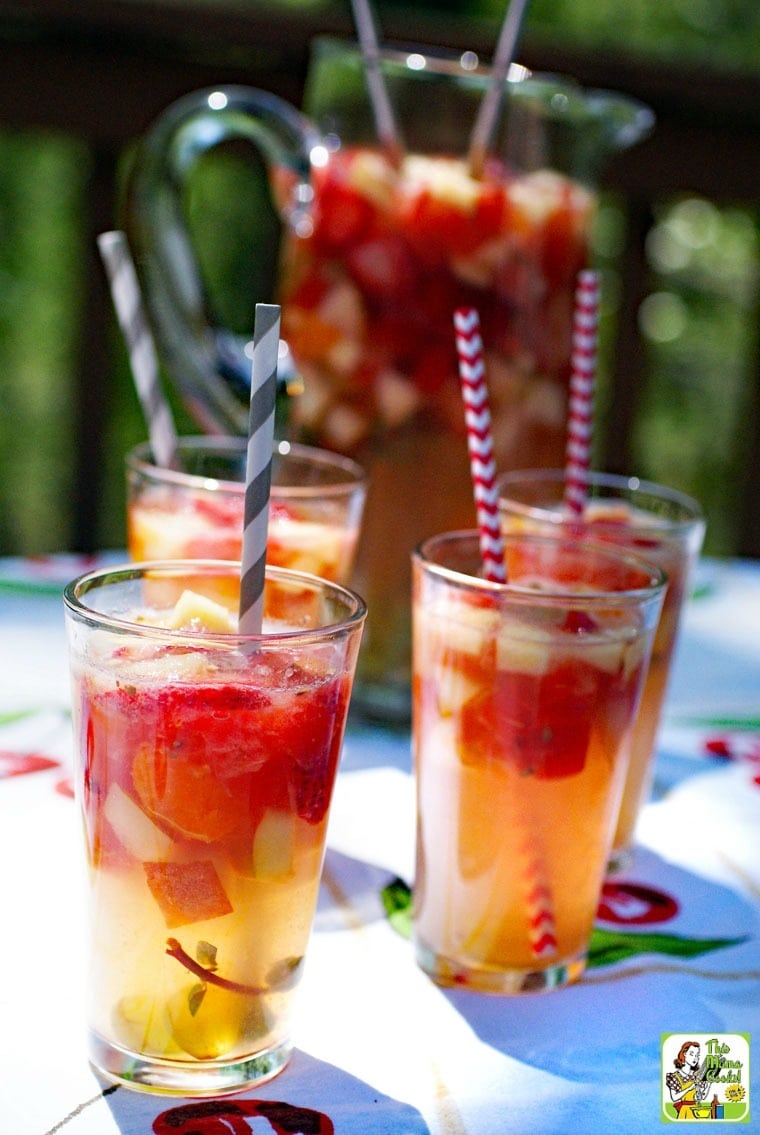 More tips for making mock sangria
Want to lighten up your Lemonade Sangria and lessen the calories?
Add some plain or flavored seltzer to it! I think adding up to a fourth of the pitcher with seltzer would be just right.
Make sure the seltzer you're using is no calorie and not a frizzy fruit drink filled with sugar!
Another way to lighten up your sangria is to serve it over ice or to add ice cubes to the pitcher. It's a good way to keep everyone's sangria nice and cool, too.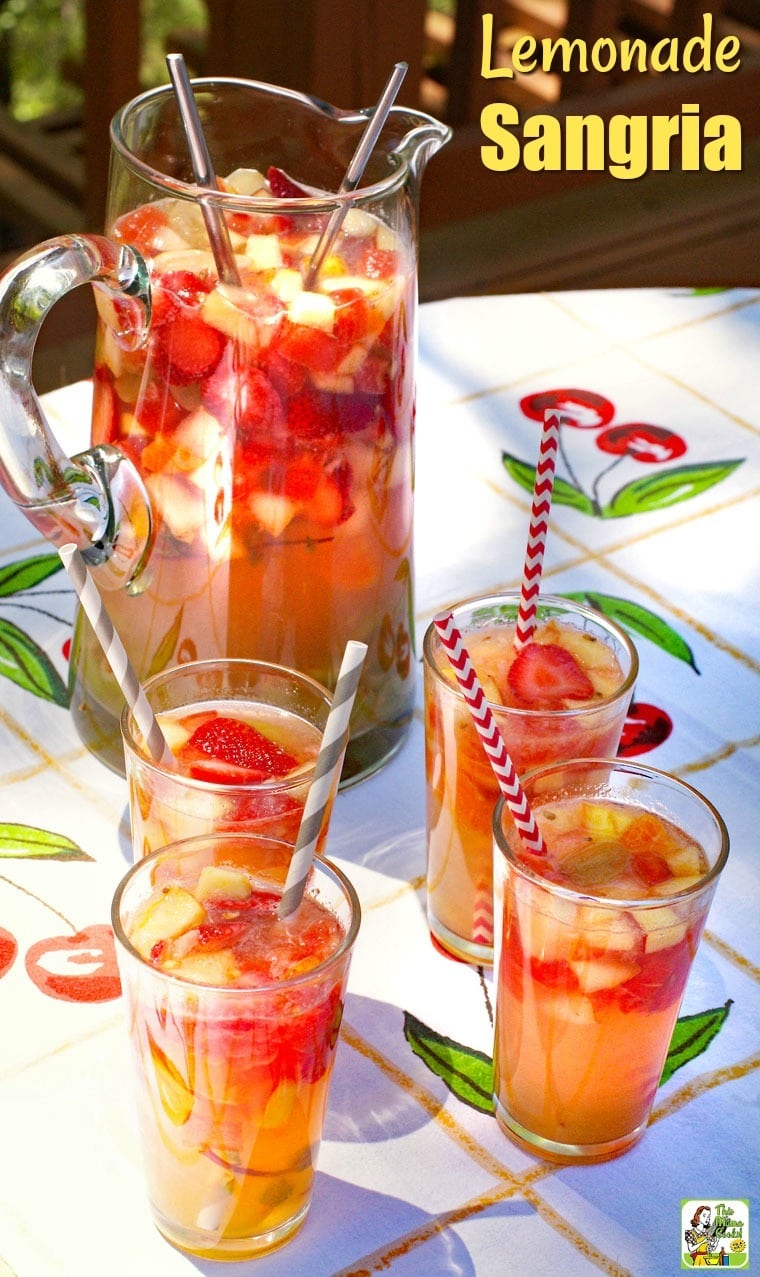 What to serve with a fruity non alcoholic sangria
There's lots of delicious, gluten free, and good for you party food here at This Mama Cooks! On a Diet that pair well with Lemonade Sangria.
How about:
● Slow Cooker Buffalo Chicken Sliders
● Slow Cooker Pulled Pork Tacos
All would be a big hit at your next party with a glass of Lemonade Sangria.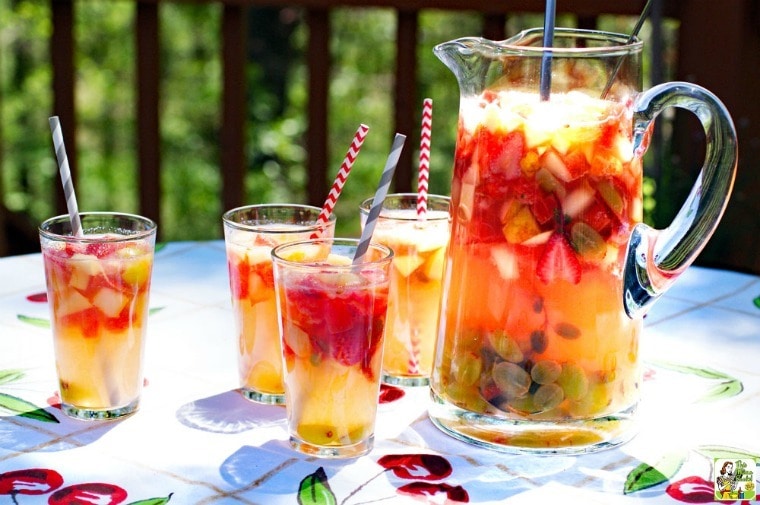 Ingredients
Enough fruit to fill one large sangria or lemonade pitcher – strawberries, grapes, pears, watermelon, apples, oranges, etc.

Wedges of lime

Sprigs of mint

1 (1.75 liter) bottle

natural limeade

1 (1.75 liter) bottle

natural lemonade

2 (750 liter) bottles

sparkling apple juice
Directions
Cut fruit into small bite sized pieces. Fill pitcher completely to top.
Measure one part limeade and one part lemonade – enough to fill pitcher and completely cover fruit.
Cover top of pitcher with plastic wrap and place in refrigerator overnight so fruit can be infused with lemonade and limeade. Do this the evening before your party.
The day of your party, just before guests arrive, remove pitcher from refrigerator. Stir fruit with a long spoon.
Fill glasses with fruit until half of the fruit is removed from the pitcher.
Take sparkling apple juice and slowly fill the pitcher to the top. Stir juice and fruit.
Serve mock sangria in the fruit-filled glasses.
To replenish the lemonade sangria pitcher, refill halfway with two parts limeade one part lemonade, and then the rest of the way with sparkling apple cider. Stir to combine.
To serve, again remove fruit from pitcher and place in glasses. Pour sangria over fruit. Enjoy!
Servings
:
Serves two full pitchers of mock sangrias. The number of glasses depends on size of your pitcher and glasses!
Originally published on September 4, 2014. Updated with new pictures and information.