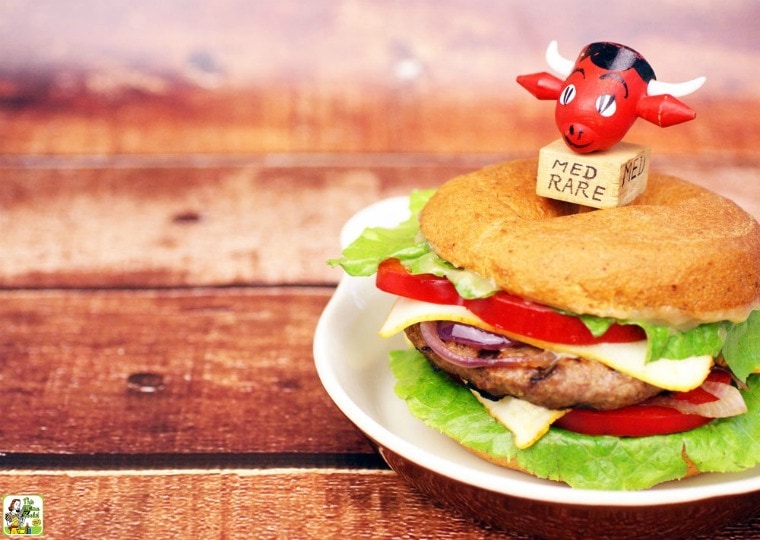 A Bagel Burger with Miso Sauce is for anyone who loves grilling gourmet burgers at home.
If you're up for trying something different, you'll love this burger.
This burger served on a bagel. How fun is that?
It's also slathered in a special Asian-inspired miso sauce that's both salty and sweet.
Can you believe this enticingly delicious burger is also gluten free? Yes indeed!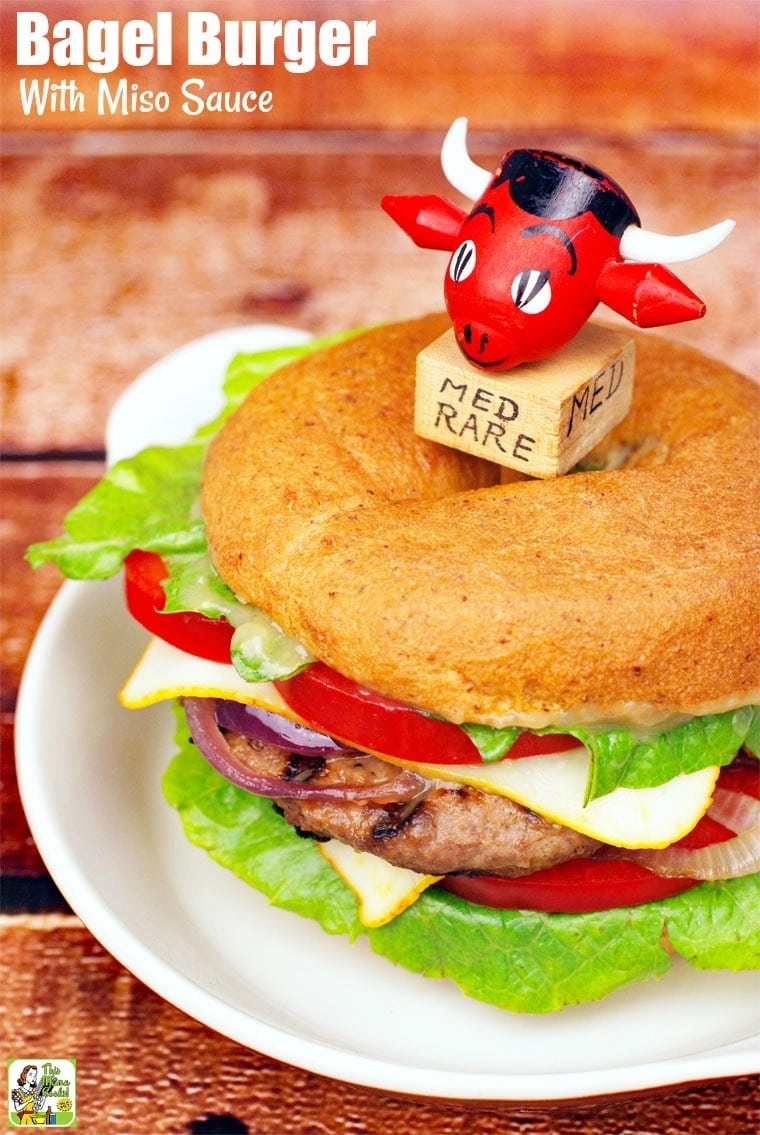 Making your bagel burger gluten free
It's wonderful to see that many restaurants are offering their customers gluten free burgers because of the availability of gluten free hamburger buns.
However, I have a beef (pun intended) with most burger buns – regular or gluten free. They're too small, they fall apart, and they're usually tasteless.
If you buy them from the store for a party, you're usually stuck with a few leftover buns that quickly get moldy or stale.
That's why I came up with the idea of making this bagel burger recipe with Udi's Gluten Free Bagels. So, if you have leftover bagels, you can eat them for breakfast or use them for sandwiches the rest of the week. No waste!
For this bagel burger recipe, use Udi's Plain, Whole Grain or Super Soft and Chewy gluten free bagels.
If you have another gluten free bagel brand that you prefer, terrific! Udi's is just the one I usually find at grocery stores, so they're ideal for this gluten free burger recipe since you can easily find a package.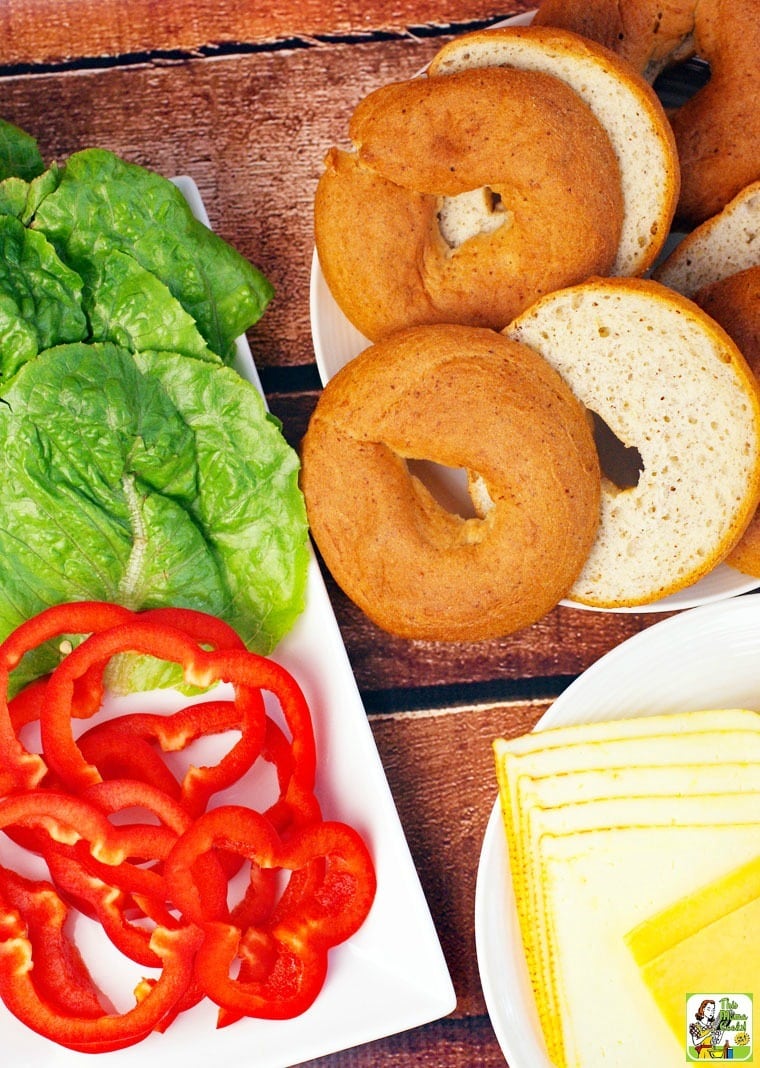 Why miso sauce is terrific on bagel burgers!
I originally came up with this miso sauce recipe to use in a pork stir fry.
Then I thought, why not try it on a Bagel Burger? The sauce is a yummy combination of salty and sweet flavors that would be fantastic on a burger!
Continuing the stir fry theme, I added a few veggies like sliced peppers and Romaine lettuce for crunch and sautéed red onions for additional sweetness.
Of course, since it's a burger, you have to add some cheese. But if cheese isn't your thing, you can leave it off.
Generously spoon some miso sauce to your bagel burger. Any leftover sauce can be used on fries, steamed veggies, or rice.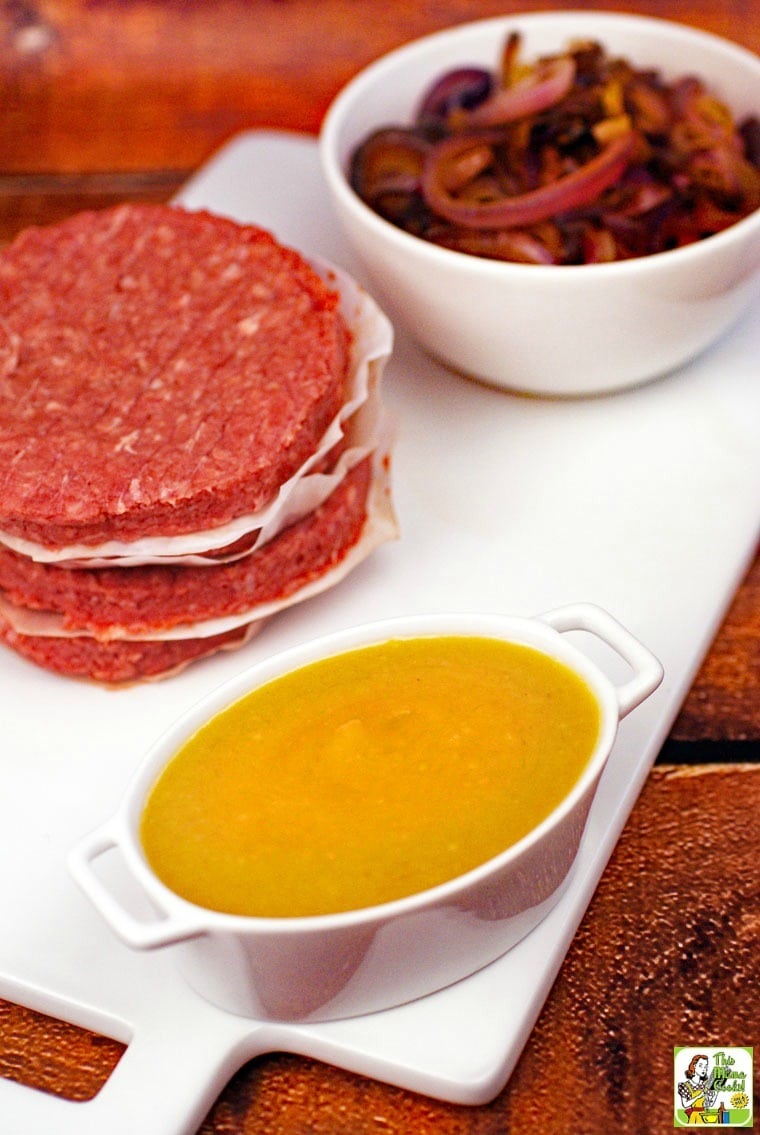 So what is miso?
You may be wondering what the heck is miso? Miso, also called soybean paste, is a thick paste-like substance that's usually made from fermented soybeans.
It's either tan, brown or reddish in color. It's salty and traditionally used to make Japanese miso soup.
It sort of tastes like soy sauce, but not as strong. The flavor is what they call "umami."
According to The Spruce Eats, "Umami describes foods with an inherent savoriness. It has been described as brothy or meaty."
You can find miso at health food stores, gourmet markets, and Asian markets. You can even buy miso paste on Amazon!
Miso is also a good source of B vitamins and has probiotic properties since it's a fermented food.
If you're new to using miso, buy one or two varieties in small quantities and experiment. Some varieties can be very salty, so add a small quantity at a time to your dish and taste.
Add miso to your stir-fries, soups, sautéed vegetables like Grilled Broccoli, and curries. Mix miso with some melted butter or olive oil and slather it on fish, chicken or beef steaks.
Miso stays good in your refrigerator for a very long time, so you'll have plenty of time to learn how to use it in your cooking!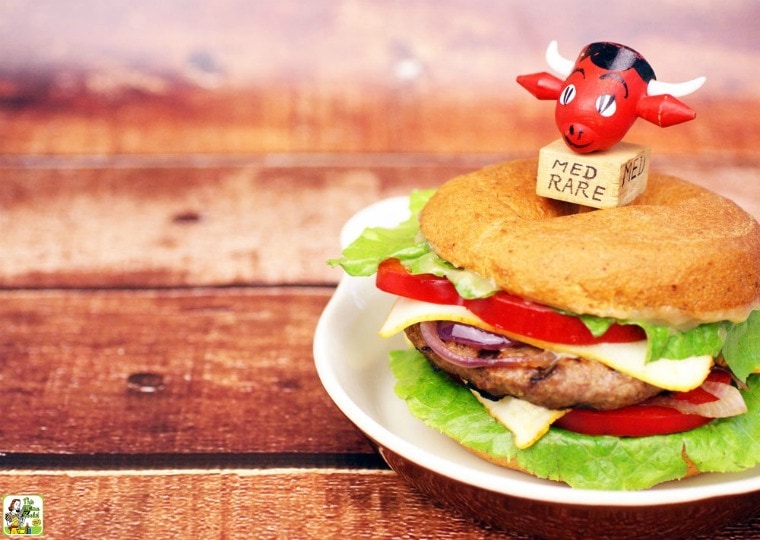 Bagel Burger with Miso Sauce
Ingredients
For Miso Sauce
1/4 cup

white miso

1/2 cup

apple cider vinegar

2 tablespoons

toasted sesame oil

2 tablespoons

agave nectar or maple syrup
For Bagel Burger
Miso Sauce, divided

4

hamburger patties

Vegetables for serving – lettuce leaves, thinly sliced peppers, sautéed onions, etc.

Thin cheese slices

4

Udi's Gluten Free Bagels, cut in half
Directions
For Miso Sauce
Combine all ingredients in a small saucepan.
Stir over medium heat until miso has dissolved and mixture starts to bubble.
Divide sauce in half. One half will be spread on to raw hamburger patties. The second half will be used a burger condiment on buns. (You are dividing the miso sauce so there's no cross-contamination between the glaze used on the raw hamburger.)
For Bagel Burger
Spread miso sauce on each side of the hamburger patty. (Throw out any unused miso sauce as it may have been contaminated with juices from raw hamburger meat.) Grill patties until cooked through.
While patties are cooking, toast the bagels and spread them with the miso sauce you saved to use as a burger condiment.
To assemble burgers, combine bagel buns with cooked burger patties and additions like cheese, sliced peppers, sautéed onions, and lettuce as desired. You can cut the bagel burger in half if you wish. Enjoy!
Serving size:

1 burger per person
Originally published on August 5, 2015. Updated with new pictures and information