Last Updated on October 9, 2021 by Anne-Marie
Make this mac & cheese casserole with peas, carrots & ham for dinner. This easy baked mac and cheese takes 30 minutes to make.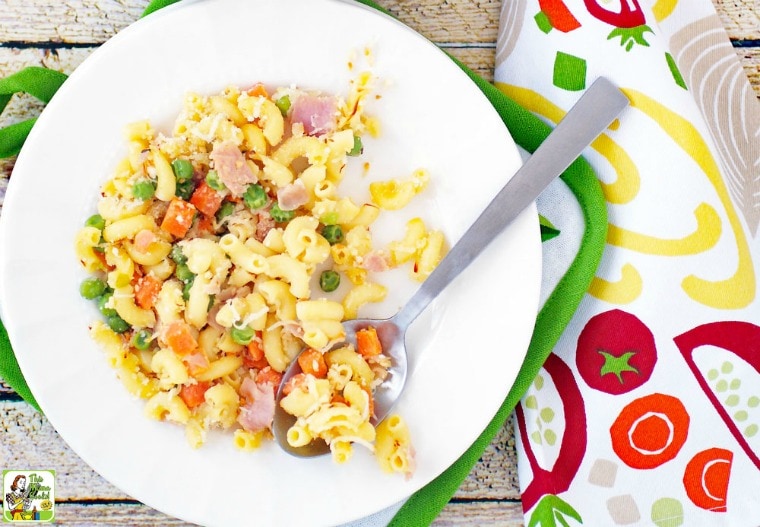 Why this recipe works
Mac & Cheese Casserole Recipe with Peas, Carrots & Ham is easy enough for your older kids to make on their own.
It's also tasty enough for the whole family to enjoy. 
Did I mention this easy baked mac and cheese only takes 30 minutes to cook up? 
Marvelous!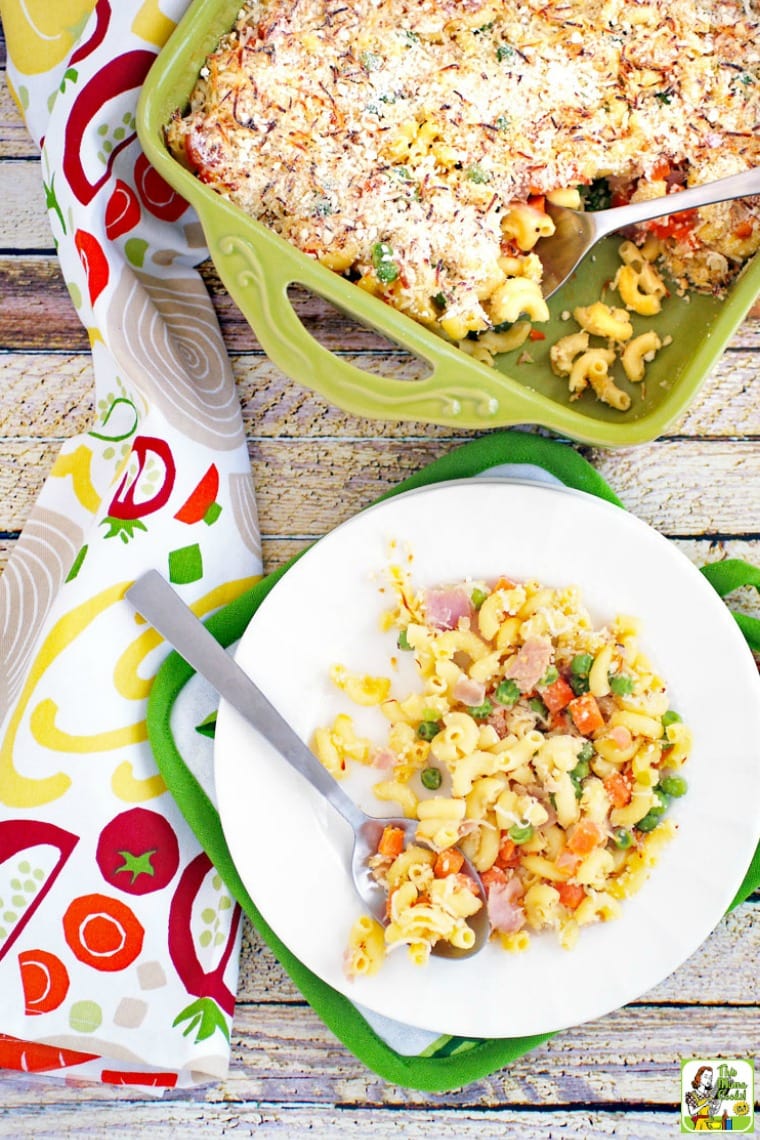 The simplest mac & cheese casserole ever!
Casserole recipes are a big favorite around here. Not only are they easy to make, there are usually enough leftovers so we don't have to worry about cooking dinner for a while.
(My kids also like to eat leftovers for breakfast. Is that weird?)
The trick to this recipe is that it's made from boxed mac & cheese.
Now I know you're thinking, that's cheating! Well, hold your horses.
My kids hate macaroni and cheese from scratch and prefer the stuff that comes in a box.
Frankly, I'm fine with that because I try to buy more wholesome brands. Thank goodness they like the health food mac over the generic store brands.
(I'm the weirdo that likes the cheapo stuff. Reminds me of college, I guess.)
I also like that my kids can prepare a box or two on their own when I'm when their dad is traveling and I'm taking the night off from cooking dinner.
So I don't feel too guilty (ha) about them eating the boxed stuff, I came up with this mac and cheese casserole recipe to sneak in some vegetables and make it a more wholesome meal.
I've also come up with ways to make this a gluten free recipe, so I could enjoy it, too!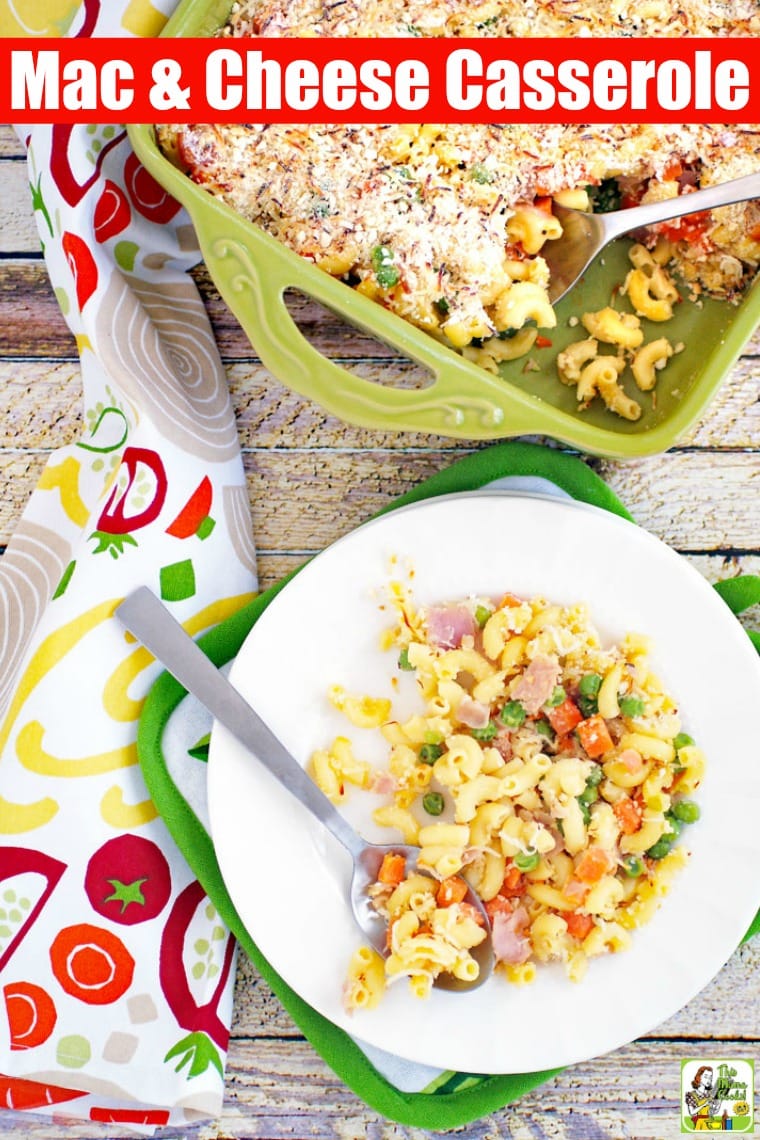 Making a gluten free mac and cheese
Since I'm gluten free as are many of you (my kids aren't), I wanted to make a gluten free mac and cheese that 's so tasty that everyone could could enjoy it.
All you need to do is use a boxed mac and cheese that's gluten free certified like Annie's Gluten Free Macaroni and Cheese, Rice Pasta & Cheddar.
Another choice is Annie's Macaroni & Cheese, Gluten Free Rice Shell Pasta & Creamy White Cheddar. (I also use it in my Gluten Free Mac & Cheese Casserole recipe.)
If you prefer another brand of gluten free mac and cheese, go ahead and use that instead.
Gluten free panko style bread crumbs: These can be found at health food stores and natural grocery stores. I've also found them at my grocery store. If you can't find them where you live, you can purchase gluten free bread crumbs online.
You can also make your own gluten free breadcrumbs by toasting GF bread, then grinding up the toast in a blender, and adding a bit of salt and Italian seasoning to it.
Is shredded cheese gluten free?
People who are gluten free may have concerns about store bought shredded cheese because of the anti-clumping agents.
According to this article at Very Well Fit, which is reviewed by a board-certified physician, both Kraft and Sargento consider their shredded cheeses to be gluten-free.
Sargento notes that the powdered cellulose it uses in its shredded cheese is not derived from a gluten grain.
In addition, if anti-clumping agents used by cheese manufacturers include powdered cellulose made from a gluten grain, the manufacturer should list it on the product's label.
So, if you have concerns or if you react to very low levels of gluten, you may want to shred your own cheese.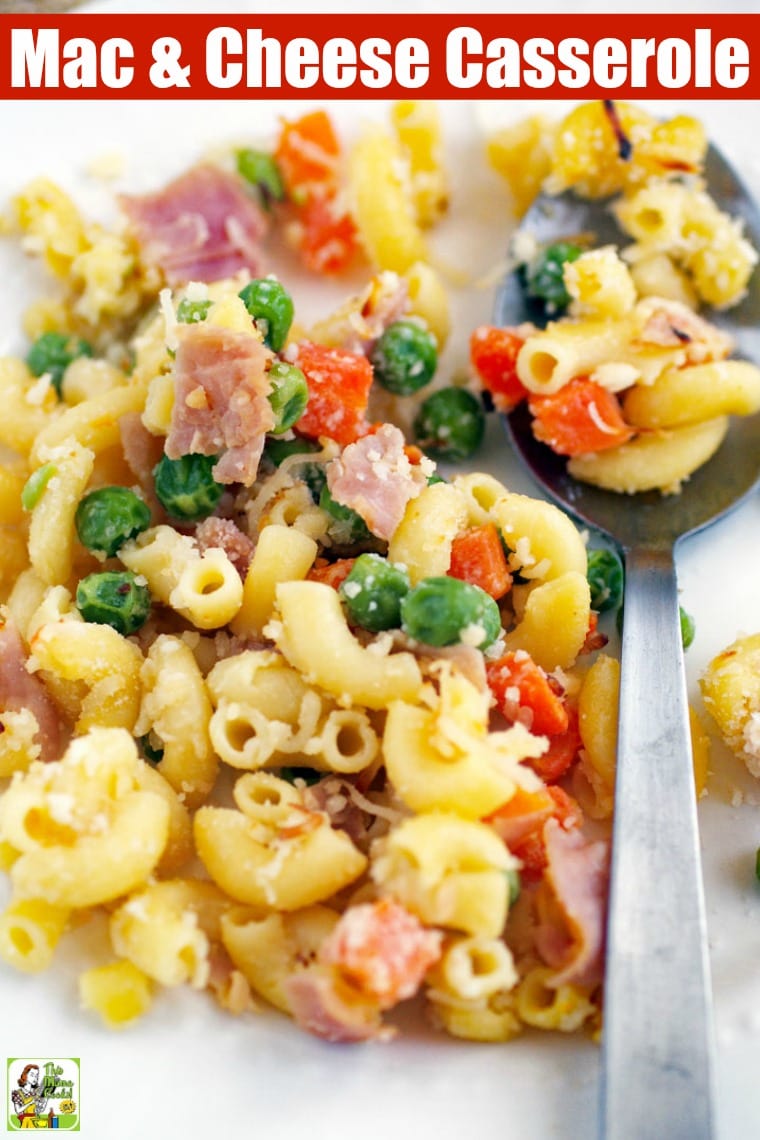 More tips for making this easy mac and cheese recipe
Do I really have to bake this? Um, well, it does make a nice crust on the top by baking the breadcrumbs. I'm sure you can spare the 15 minutes. Go clean up the kitchen, set the table, and take the dog out for a potty break.
Make a one pot meal: For a truly one pot meal, skip transferring the noodles, vegetables, and ham to a casserole dish. Instead, cook everything in an oven safe pot that can be transferred from stovetop straight to the oven.
Peas and carrots: What makes this recipe so quick is using frozen peas and carrots. Make sure to find the kind that you can defrost and heat up in the microwave right in the package.
Butter: Please use unsalted butter as salted butter would make this baked casserole a little too salty tasting.
You can also use a buttery spread like I Can't Believe It's Not Butter if that's what you normally cook with at home.
Ham: Please double check the label of the ham you're using to make sure it's gluten free. Never assume!

Holiday leftovers: This simple mac and cheese recipe is a terrific way to use Easter and Christmas ham and vegetable leftovers.
Potlucks and side dishes: This casserole makes a wonderful dish to bring to potluck parties. Keep it warm in your crock-pot.
Or serve it as a side dish at dinner, especially when you have fussy kids who won't eat anything but pasta!
Freestyle it: Can you add more ham, cheese, peas and carrots? Sure! What about other vegetables? Why not! How about hot sauce? Go for it and have fun!
Not just gluten free: This recipe also works just as well with any type of regular boxed mac and cheese for those non-gluten free folks out there.
If you're not gluten free, you can use regular bread crumbs.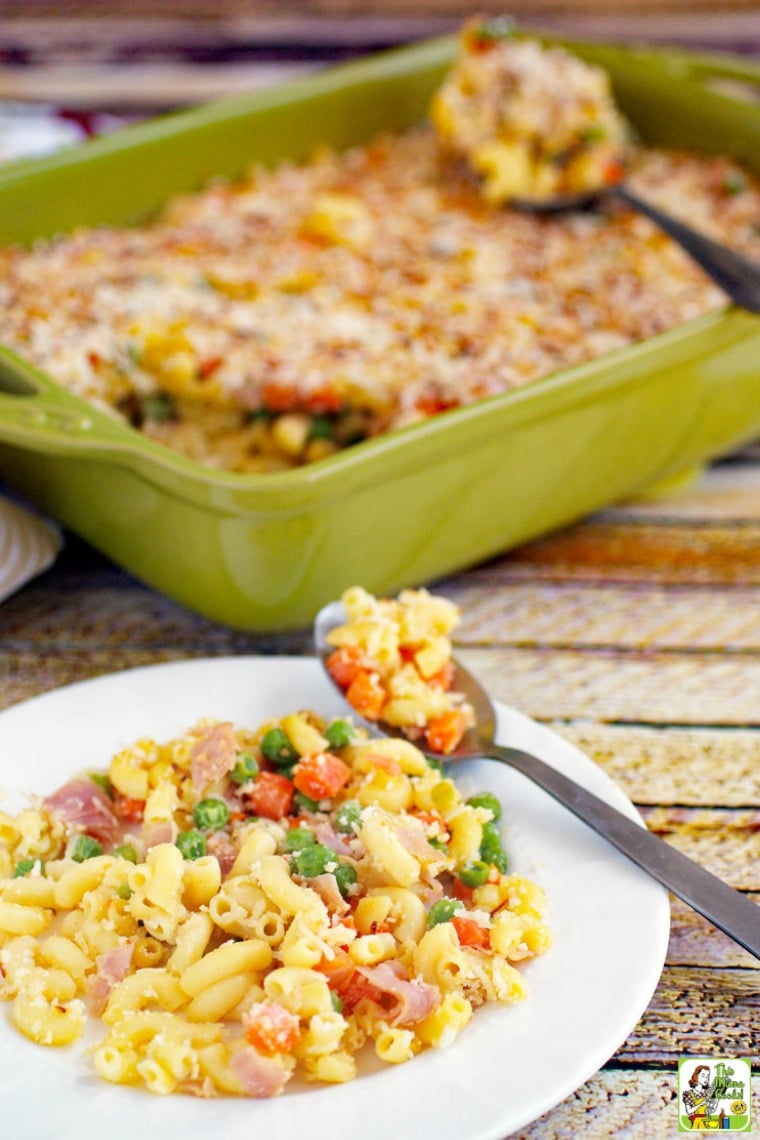 More gluten free pasta dishes
Who says you can't enjoy pasta if you're gluten free? Here are some wonderful gluten free pasta dishes:
Try this Best Smoked Mac and Cheese Recipe on your smoker.
Got too much cauliflower at the store? Make Spicy Pasta with Cauliflower!
Lemon Pasta can be made dairy free and vegan.
This Gluten Free Caprese Pasta Salad goes great with pizza for dinner.
Crab Pasta with Pesto, Mushrooms & Tomatoes is one of my family's favorite pasta dinners.
Crock-Pot Baked Ziti is a fun way to bake pasta in your crock-pot.
Yield: 6 SERVINGS
Mac & Cheese Casserole Recipe with Peas, Carrots & Ham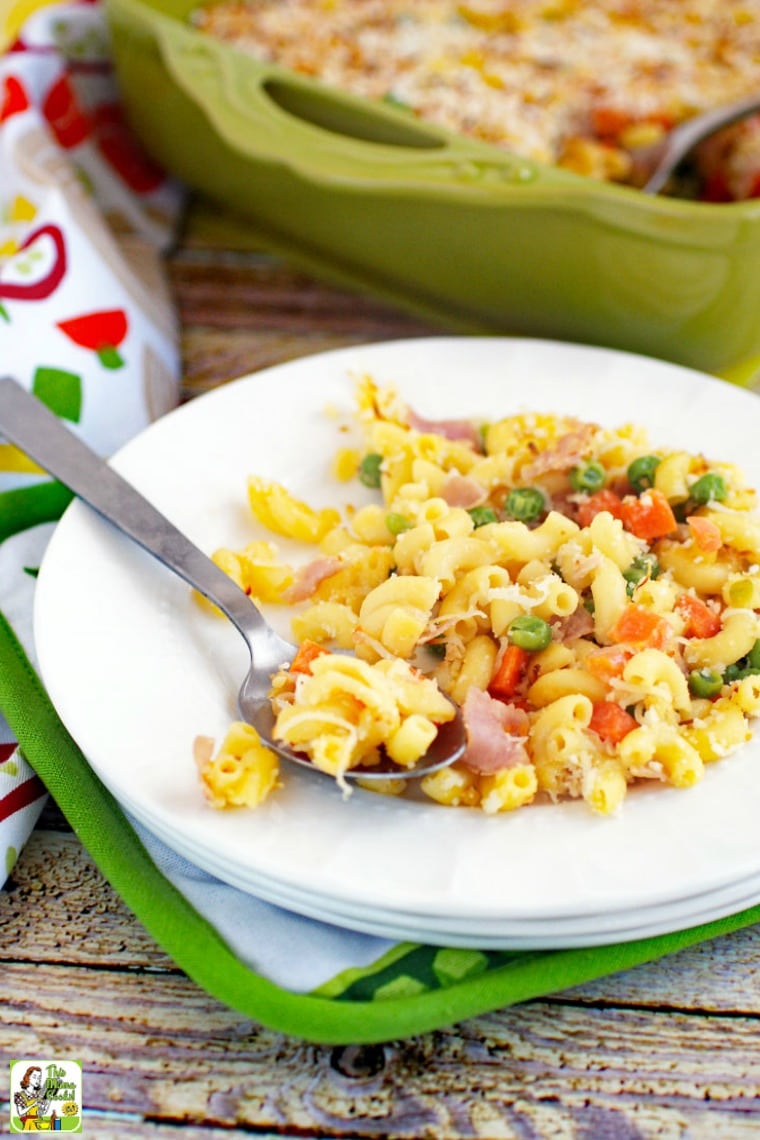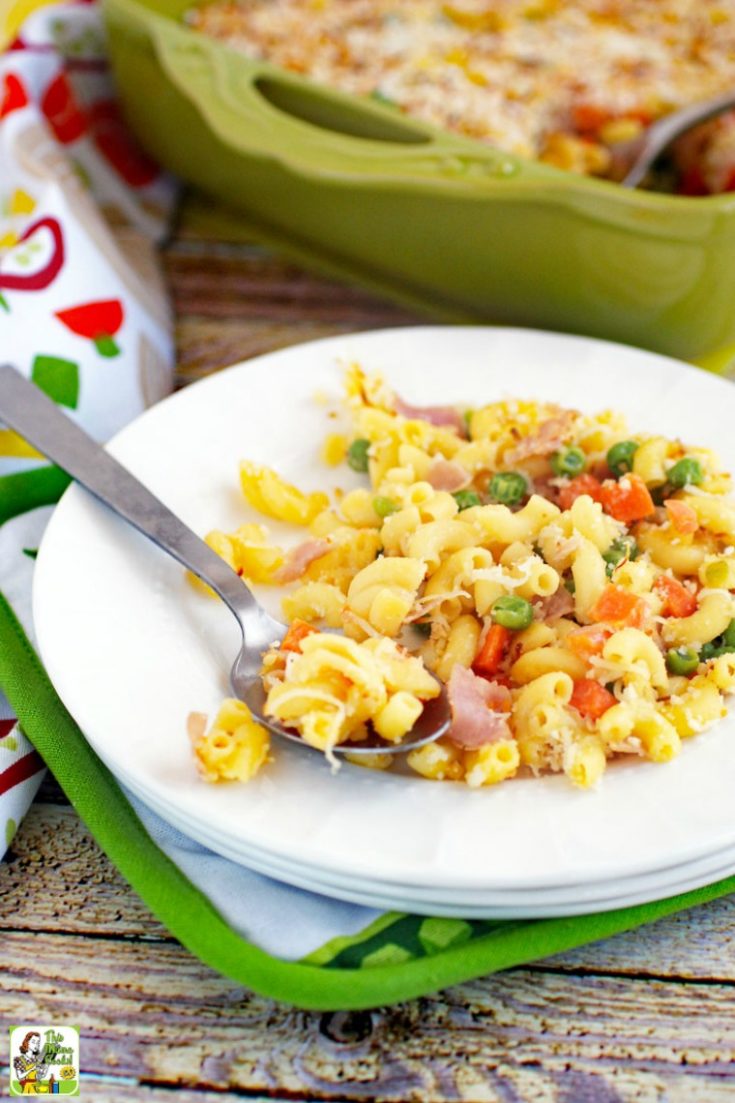 Make this mac & cheese casserole with peas, carrots & ham for dinner. This easy baked mac and cheese takes 30 minutes to make.
Ingredients
Cooking spray
2 boxes your favorite gluten free mac and cheese
1/2 cup reduced-fat milk
1/4 cup unsalted butter
1 12-ounce bag frozen peas and carrots
1/2 cup diced, thinly sliced honey ham sandwich meat
1/2 cup shredded mozzarella or cheddar cheese
1/4 cup gluten free panko style bread crumbs
Instructions
Preheat oven to 350 degrees F. Spray casserole dish with cooking spray and set aside.
Cook two boxes of macaroni and cheese according to the instructions on the side of the box. Cook pasta to the al dente (firm) stage. Do not overcook it!
While pasta is cooking, heat the frozen peas and carrots in the microwave. Set aside.
Dice the ham and set aside.
Combine cheese and panko in a small bowl. Stir ingredients thoroughly and set aside.
Once the mac & cheese is cooked, add peas and carrots and ham to the pot. Stir until all ingredients are thoroughly incorporated. Pour into the casserole dish and evenly distribute.
Sprinkle panko and cheese mixture evenly over mac and cheese. Place in the upper third of the oven. Cook for 10-15 minutes until panko and cheese starts to brown.
Remove and let sit for 5 minutes. Serve.
Nutrition Information:
Yield:
6
Serving Size:
1
Amount Per Serving:
Calories:

402
Total Fat:

21g
Saturated Fat:

9g
Trans Fat:

1g
Unsaturated Fat:

10g
Cholesterol:

41mg
Sodium:

781mg
Carbohydrates:

39g
Fiber:

3g
Sugar:

8g
Protein:

16g
Nutritional information is automatically calculated per the ingredients list. Serving size may not be accurate. Please double-check with your preferred nutritional app for the most accurate information.
Originally published on April 1, 2015. Updated with new pictures and information.