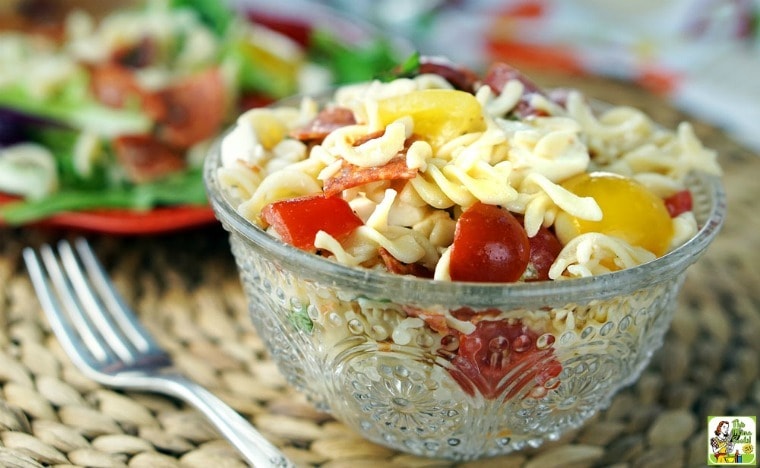 If you're looking for an easy to make side dish to go with your dinner pizza, try my Gluten Free Caprese Pasta Salad recipe! It's a family friendly, gluten free side that's perfect on those busy nights when you only have the time and energy to heat up a frozen Freschetta® Gluten Free Thin & Crispy Pizza in the oven.
What I love about this caprese pasta salad recipe is that you can make it one of two ways. The first way is to serve it as just a caprese pasta salad, which will appeal to your kids, believe me. (My son devoured it!) After all, what kind of kid doesn't love cherry tomatoes, fresh mozzarella cheese, pasta, and salami?
For the adults, add some baby salad greens to this Gluten Free Caprese Pasta Salad recipe to health it up a bit and add a little date night sophistication. Just serve a slice or two of your Freschetta gluten free pizza on the side!
With or without baby greens, this caprese pasta salad recipe is ideal for busy weeknight meals or for bringing to a potluck party. Leftovers (if you have any) make a terrific lunch the next day, too.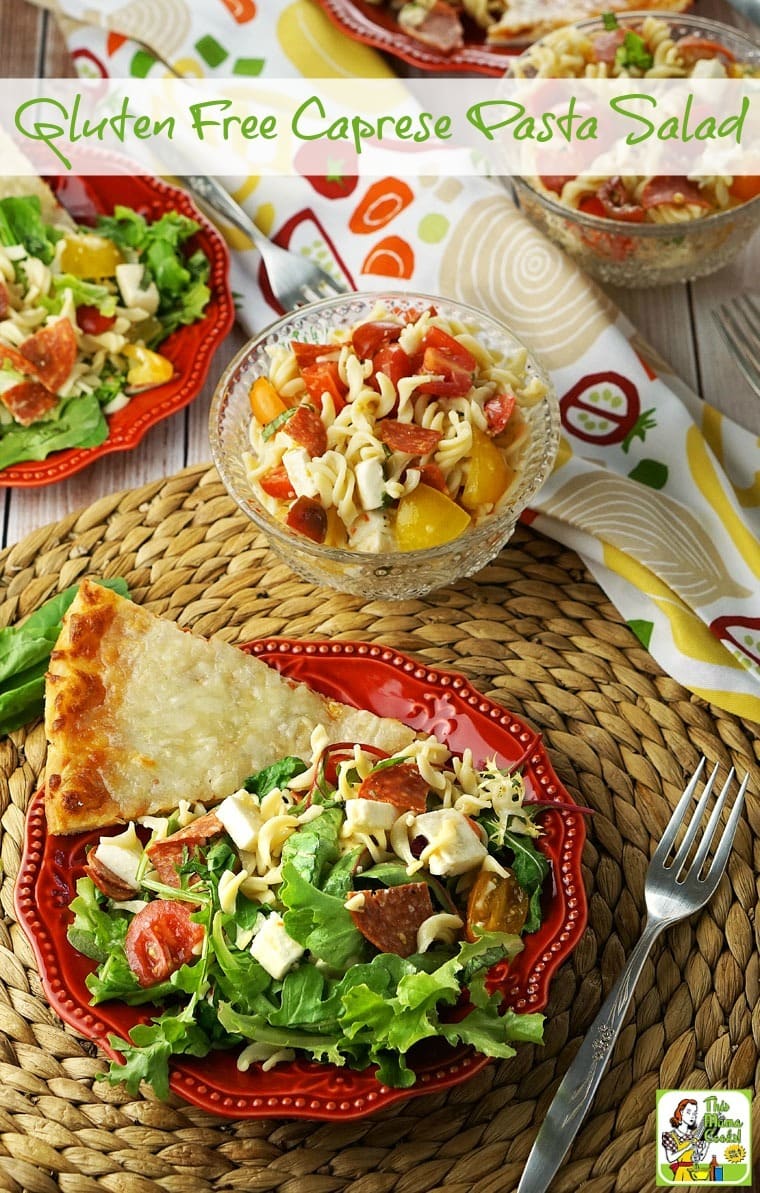 This Mama's tips for making Gluten Free Caprese Pasta Salad
With a little planning, you can save time when cooking up your recipe for caprese pasta salad. The night before, plan to have gluten free rotini pasta with spaghetti sauce. Then cook up a two boxes of rotini instead of two. (Use a big stock pot.) Put aside half in the refrigerator for the next day's Gluten Free Caprese Pasta Salad.
Make sure to heavily salt the pasta water. It makes gluten free rotini so much tastier. (If you can't find gluten free rotini, look for gluten free elbows or penne.)
After making the pasta, make sure that it cools before making the caprese pasta salad. If it sticks together, place the gluten free pasta in a colander and rinse with cold water. Make sure to shake the colander to remove any excess water.
To save time, buy the fresh mozzarella that breaks apart in small chunks – if you can find it. Otherwise, the presliced mozzarella rolls makes it easy to cut a few slices at a time into cubes.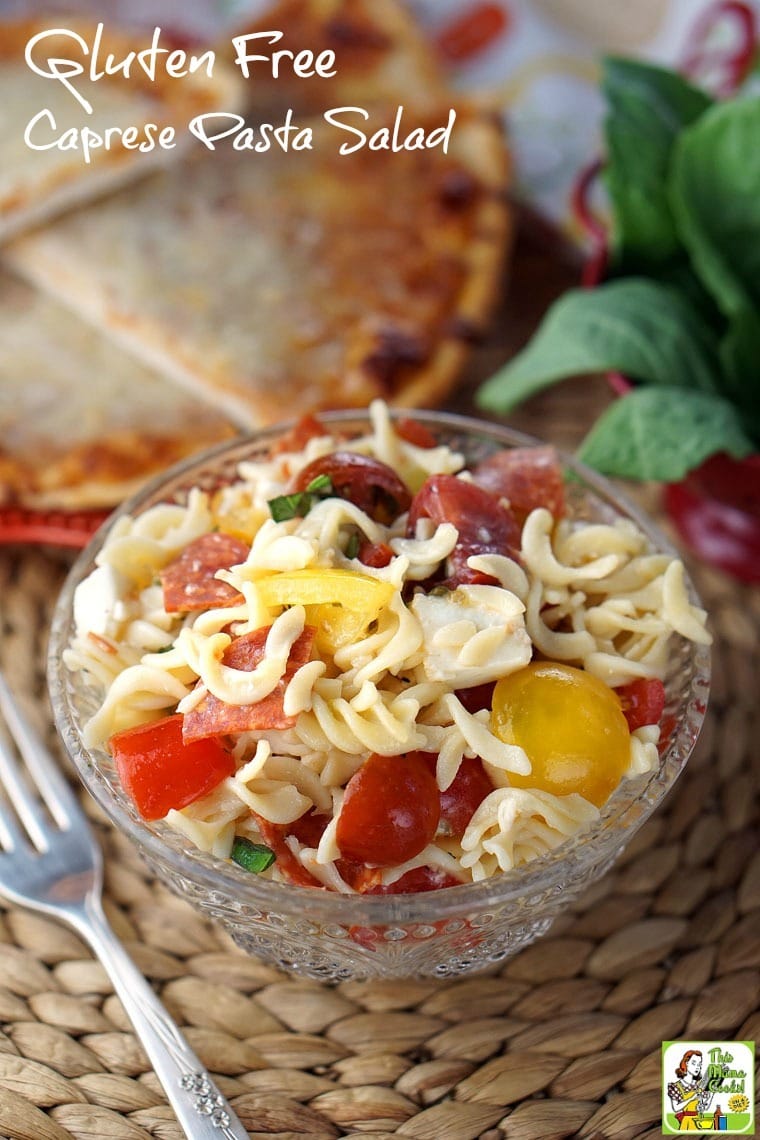 Do you know the trick to julienne basil (cut it into thin strips)? Stack several leaves of basil on a cutting board. Then roll them up from the tip to the stems. Remove the stems and cut into thin strips with a very sharp knife. Here's a video that shows you how.
You can find the deli sliced pepperoni in the refrigerated section. It seems fresher and of a better quality than the vacuum packed pepperoni they sell for making homemade pizza.
You can use your favorite bottled Italian style vinaigrette dressing. Just make sure to check the label for any allergens or gluten! If you're adding lettuce to the Gluten Free Caprese Pasta Salad, add a few tablespoons more of the vinaigrette to the bowl.
If you're adding lettuce, use prewashed baby greens. I feel the baby lettuces, especially the mixed variety with spinach, add terrific flavor to this gluten free Italian pasta salad recipe.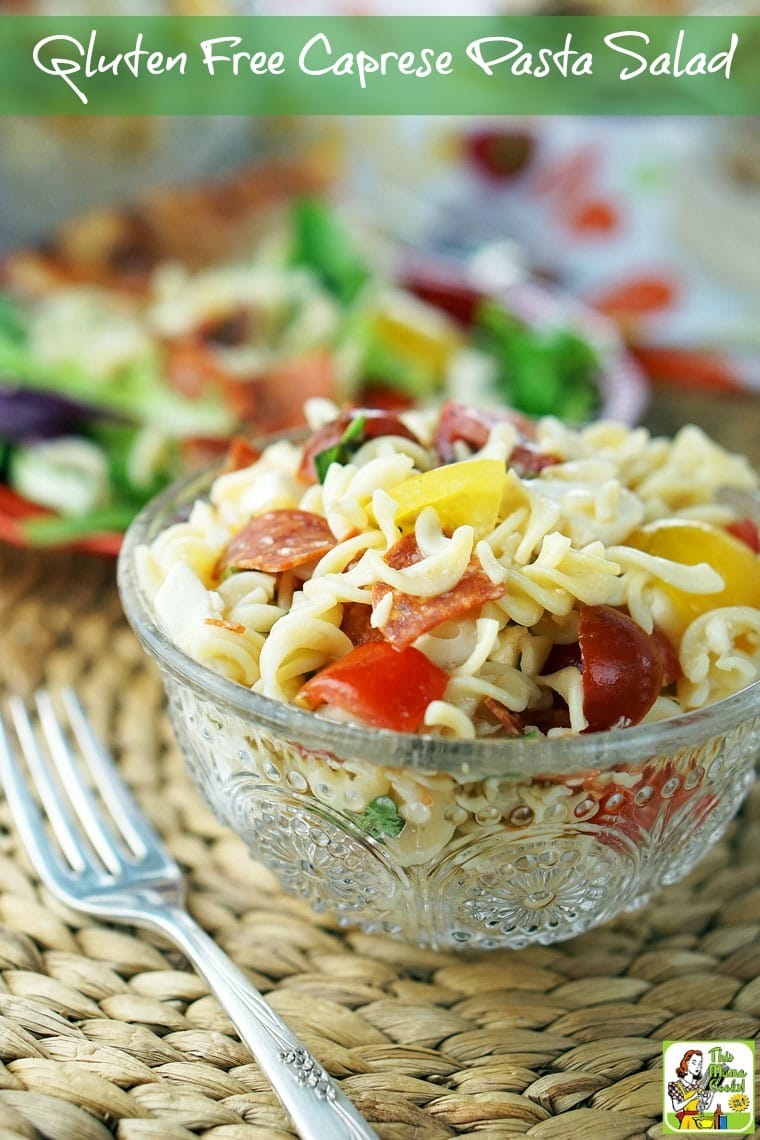 Serve Gluten Free Caprese Pasta Salad with Freschetta® Gluten Free Thin & Crispy Pizza!
I always keep my freezer stocked with Freschetta® Gluten Free Thin & Pizza. That way I always have something gluten free to heat up on those nights when I'm too busy to cook. (I also keep a supply of regular Freschetta pizzas for my kids who aren't gluten free. It makes a great "dad's not home so I'm not cooking" meal.) They're delicious and a nice treat for us gluten free folks who can't go out for pizza.
Even better, you don't have to go to the health food store to get them! If your grocery store sells regular Freschetta pizza in their freezer aisle, they also carry at least one of Freschetta's gluten free style pizzas.
Freschetta Gluten Free Thin & Crispy Pizza comes in two flavors – pepperoni and four cheese. There's a single serving size (perfect to take to work) as well as regular sized pizzas for the whole family.
Freschetta Gluten Free Thin & Crispy Pizzas are certified gluten free by the Celiac Support Association. The full sized pizzas sell for a suggested retail price of $9.99 and the single-serves sell for around $4.99.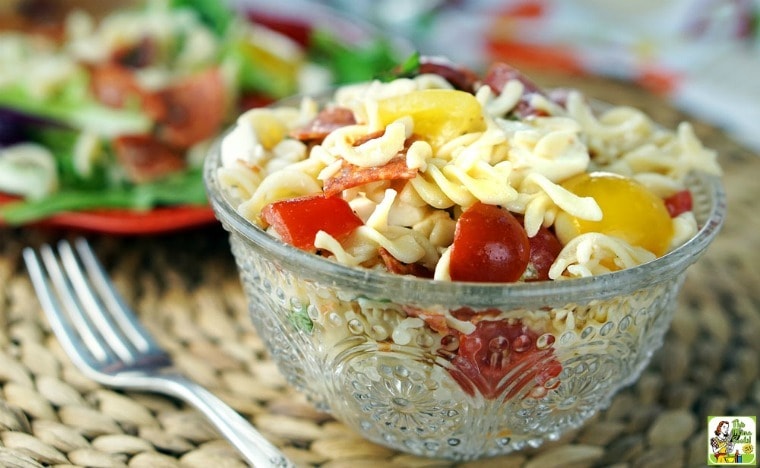 Gluten Free Caprese Pasta Salad
Ingredients
1 (12 ounce) box

gluten free rotini pasta, cooked (about 5 cups)

1 (16 ounce) package

fresh mozzarella, cubed

2 cups

cherry tomatoes, halved or quartered

1/2 cup

deli sliced pepperoni, quartered

2 tablespoons

julienned fresh basil

1/2 cup

Italian vinaigrette dressing (plus more if needed)

Baby salad greens (optional)
Directions
Cook gluten free pasta until it's al dente. Drain and rinse in cold water. Set aside to cool.
When pasta is cool add mozzarella, tomatoes, pepperoni, basil, and dressing. Toss gently to combine.
If desired, add several handfuls of baby greens to the pasta salad. Add 2-3 tablespoons of dressing. Toss to combine.
Serving size:

1/6 of recipe