Last Updated on February 16, 2022 by Anne-Marie
This Broccoli Bacon Salad Recipe makes a tasty side dish for a weeknight dinner or your next barbecue party. It's an ideal side dish for anyone on a low carb ketogenic diet, too.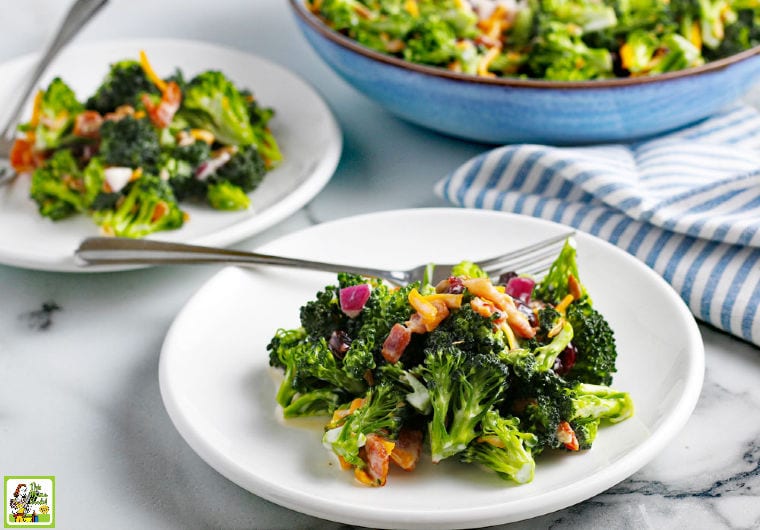 Why this recipe works
This broccoli cranberry salad is made with crispy pieces of bacon, crunchy sunflower seeds, shredded cheddar cheese, and a tasty homemade dressing.
Best of all, this eash to make side dish can be made in just 15 minutes!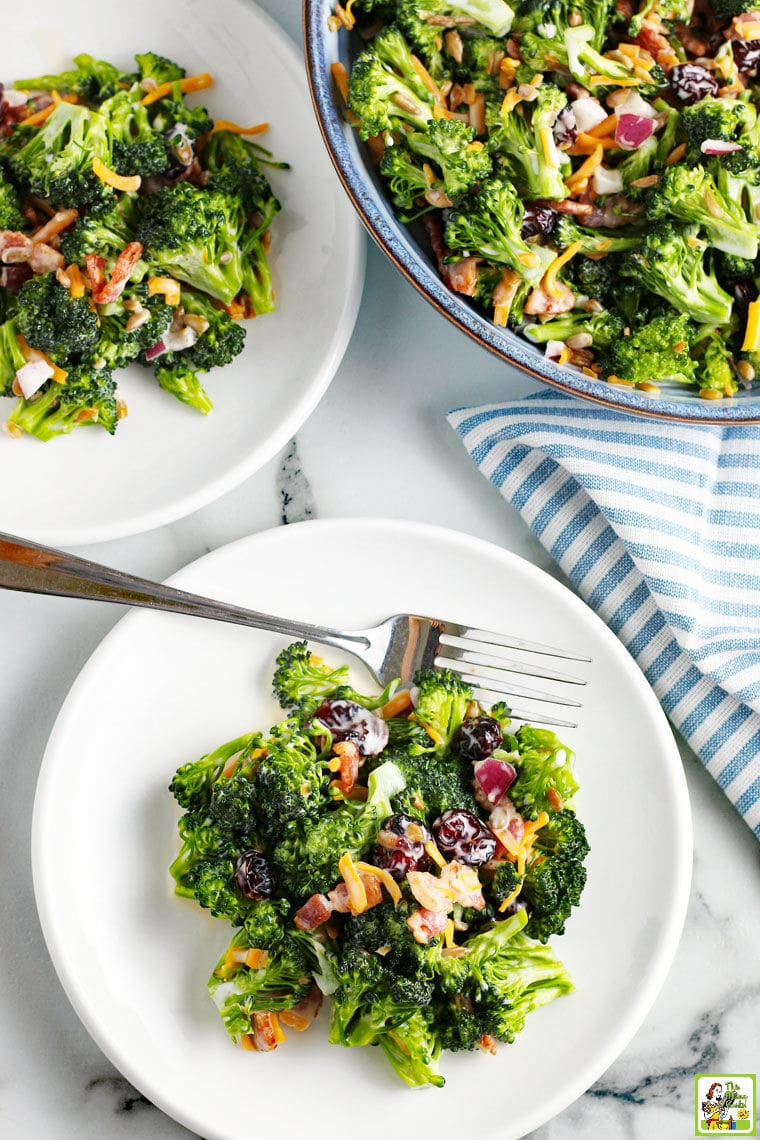 How to make the best broccoli salad recipe
Here are some tips on how to make the best broccoli bacon salad recipe:
Cooking the bacon and sausage: Cook up the bacon until cooked through. You'll want the bacon nice and crispy!
Make sure to drain the bacon and to blot it with paper towels to remove any extra grease.
Cheese: Make sure to use the thickly shredded cheese (or shred your own). The finely shredded cheese will clump and look unseemly.
If you don't feel like shredding the cheese, you can also cut it into small cubes.
You can use any type of cheddar cheese you like, mild, medium, or sharp. If you can find it, white cheddar is a tasty alternative.
Seeds: Make sure the shells are off the sunflower seeds!
(No, you cannot throw a bunch of leftover sunflower seeds with the shells on them from the kids' baseball game. Oh my goodness!)
Toasting the sunflower seeds would be a nice touch, too.
To do this, dry-roast the seeds in a skillet over medium heat for a couple of minutes or until they've browned in color.
Make sure to shake the skillet so the seeds don't get scorched. And don't take your eye off the skillet or those seeds will burn! (Been there, done that.)
Can I make this ahead of time?
Sure! It's best to let this cold broccoli salad sit in the fridge for a few hours for the flavors to blend.
But if you're pressed for time, an hour is just fine.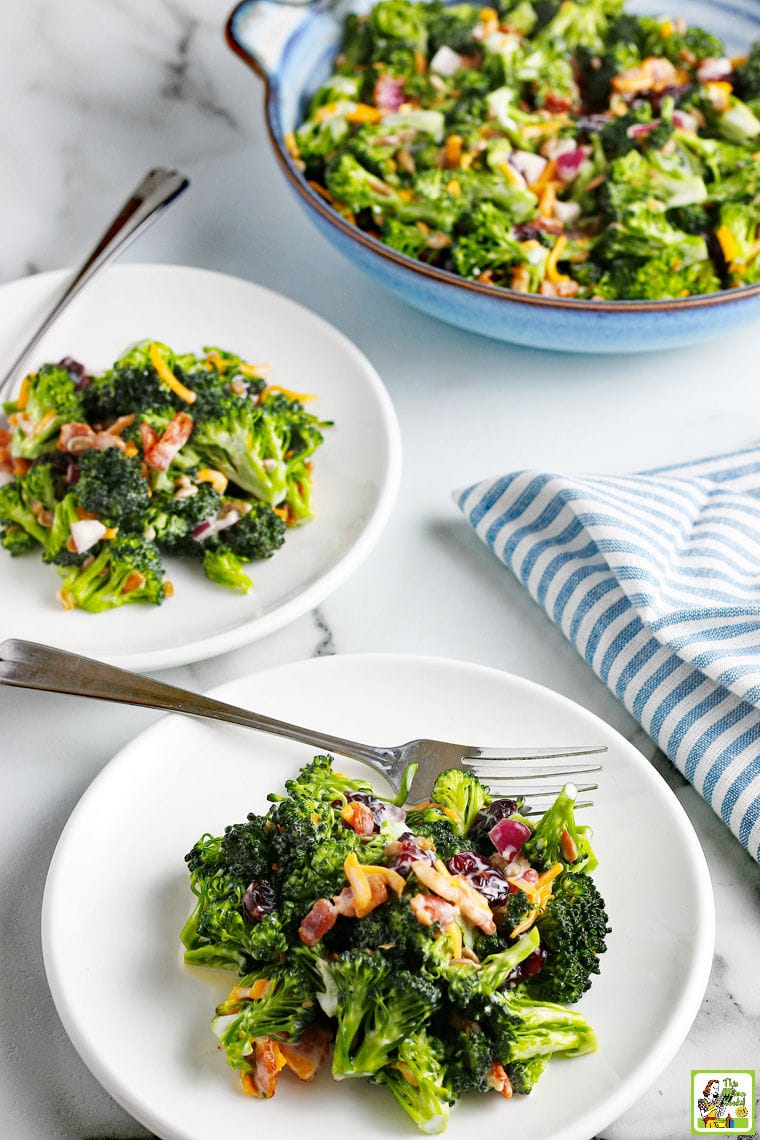 How to prepare broccoli
For this broccoli bacon salad, you'll be using fresh heads of broccoli. (Two heads of broccoli yield about 7 cups of florets.)
So, you'll need to cut the heads into small florets (florets are the flowery part of the head).
Here's how to prepare the broccoli:
Wash the head of broccoli. Do this before you cut the broccoli into pieces to avoid bringing contamination from the surface of the vegetable into to the cut pieces.
Pull off any leaves. Sometimes there are leaves on the stem of the broccoli. Just pull or cut them off and toss.
Cut through the stem. Do this below the florets with the tip of your knife.
Slice off the florets. First, cut off the outer layer of florets. Then cut off the remaining florets.
Cut the florets into smaller pieces. You want the florets to be bite sized.
Don't throw away the stalk! Instead, cut away the woody outer skin. Then chop up into small pieces to use in another dish, like a veggie stir fry or an omelet.
Time saver: Buy precut broccoli. Sure it costs more, but you'll save time. This is super helpful, especially when you're making broccoli salad for a party and don't have time to spare!
Even if the bag says it's prewashed, I think it's a good idea to give the broccoli a good rinse.
Then dry the broccoli before making the salad so it doesn't get watery. Use a salad spinner if you have one. They work great to get all the water off!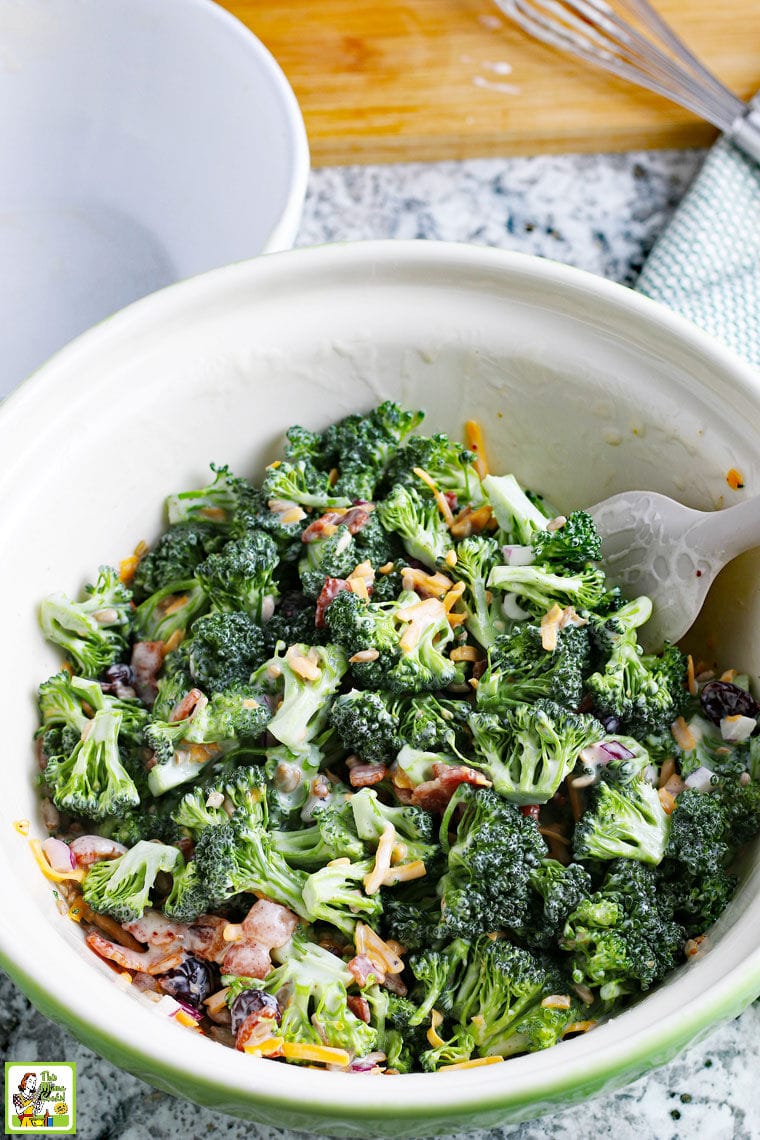 Blanch the broccoli or not?
You don't need to blanch the broccoli for this keto broccoli salad if you don't want to.
The salad is tasty as is. Plus, blanching adds extra time and effort.
However, blanching the broccoli does give the salad a nice vivid green color.
Plus, some people feel that blanching adds a nice texture and flavor to the broccoli.
Here's how to blanch the broccoli:
Bring a large pot of salted water to a boil.
Carefully lower the prepared broccoli florets into the boiling water for 1 to 2 minutes. You'll know the florets are done when they're bright green and just barely tender.
Immediately remove the broccoli from the hot water with a slotted spoon and plunge them into ice water. Or you can drain the broccoli and then rinse with cold water to stop the broccoli from over-cooking.
Dry the broccoli before making your easy broccoli salad. (Again, use a salad spinner if you have one.)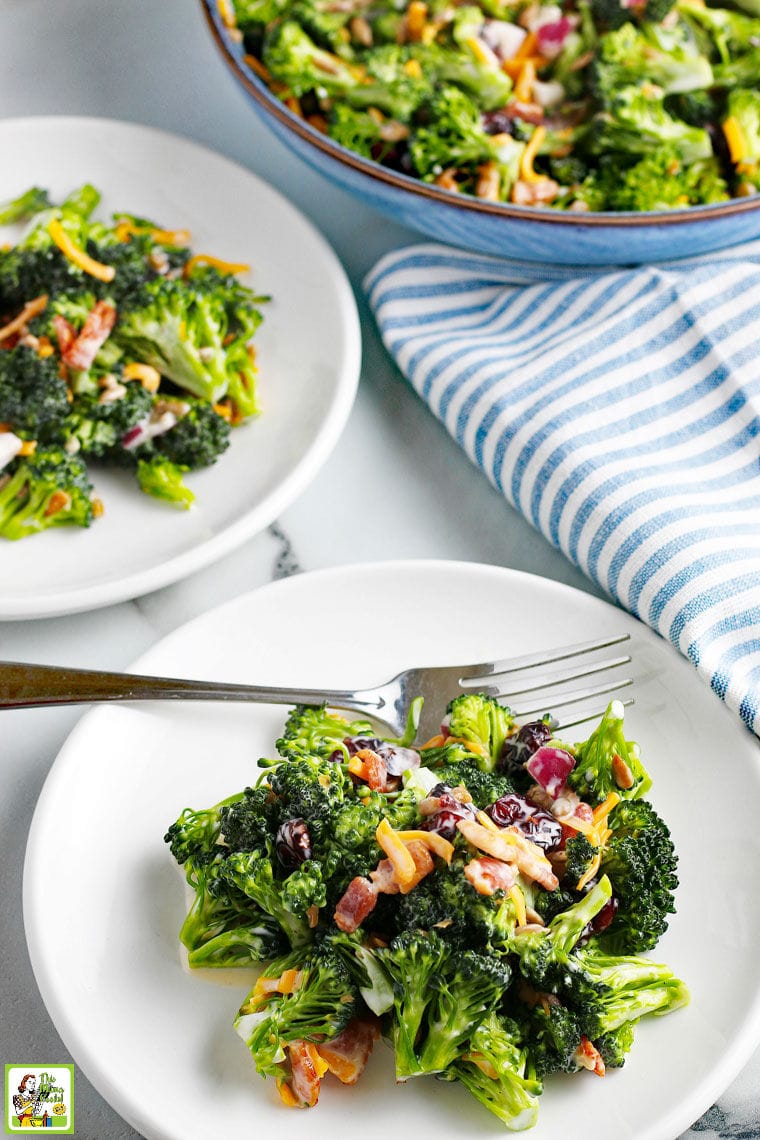 Recipe substitutions
Make a vegan broccoli salad: To make this healthy broccoli salad vegan and dairy free, use a vegan mayo and a vegan cheese.
Or omit the cheese altogether. (And leave out the bacon or use a vegan substitute.)
Onion: Red onions are best, since they're super pretty in this low carb broccoli salad. However, sweet onions would be just as tasty.
Cranberries or raisins? While this is a broccoli cranberry salad, you can use raisins instead of cranberries to make a broccoli raisin salad.
Get your crunch on: Use different nuts like pecans or almonds (chopped or sliced) or seeds like pine nuts (yes, they're seeds, not nuts). Try roasting them, too.
Try a different mayo: Instead of using regular mayonnaise, use one made with olive oil.
Don't like mayo? Use Greek yogurt instead of mayonnaise.
Go sugar free: Instead of sugar, use Swerve or powdered monk fruit sweetener, which makes this keto broccoli salad recipe low carb.
Vinegar: You can use rice, white or red wine vinegar in a pinch.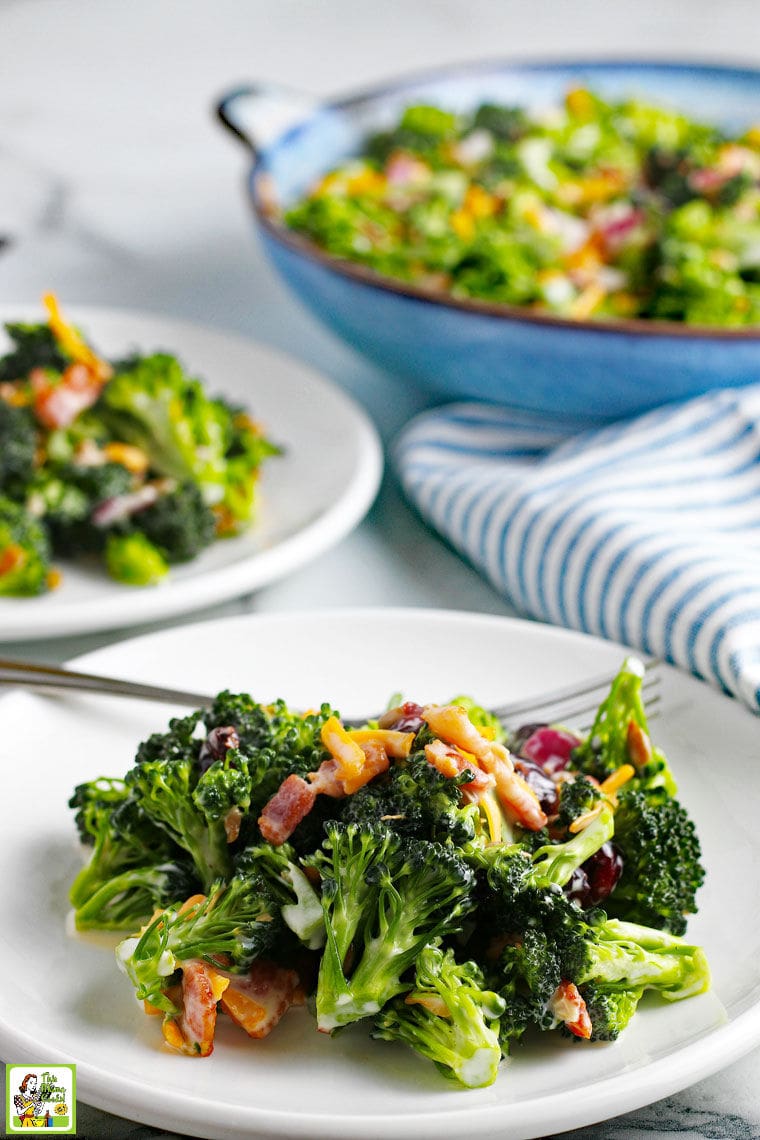 More healthy side dishes
If you're looking for healthy side dishes to serve with a grilled steak or Smoked Beer Can Chicken, check out this Cucumber Onion Salad or Easy Vegan Garbanzo Bean Salad.
You'll also love serving Seafood Pasta Salad or this Gluten Free Tabbouleh Recipe at your next barbecue or picnic.
Yield: 10 SERVINGS
Broccoli Bacon Salad Recipe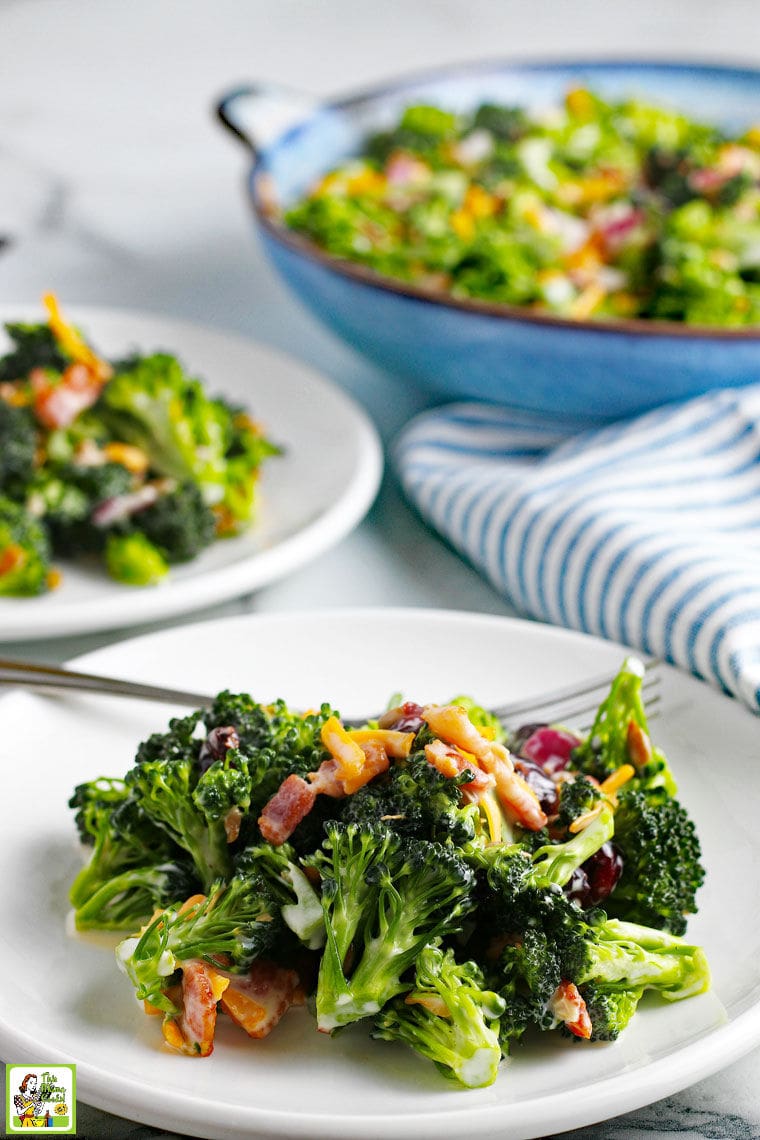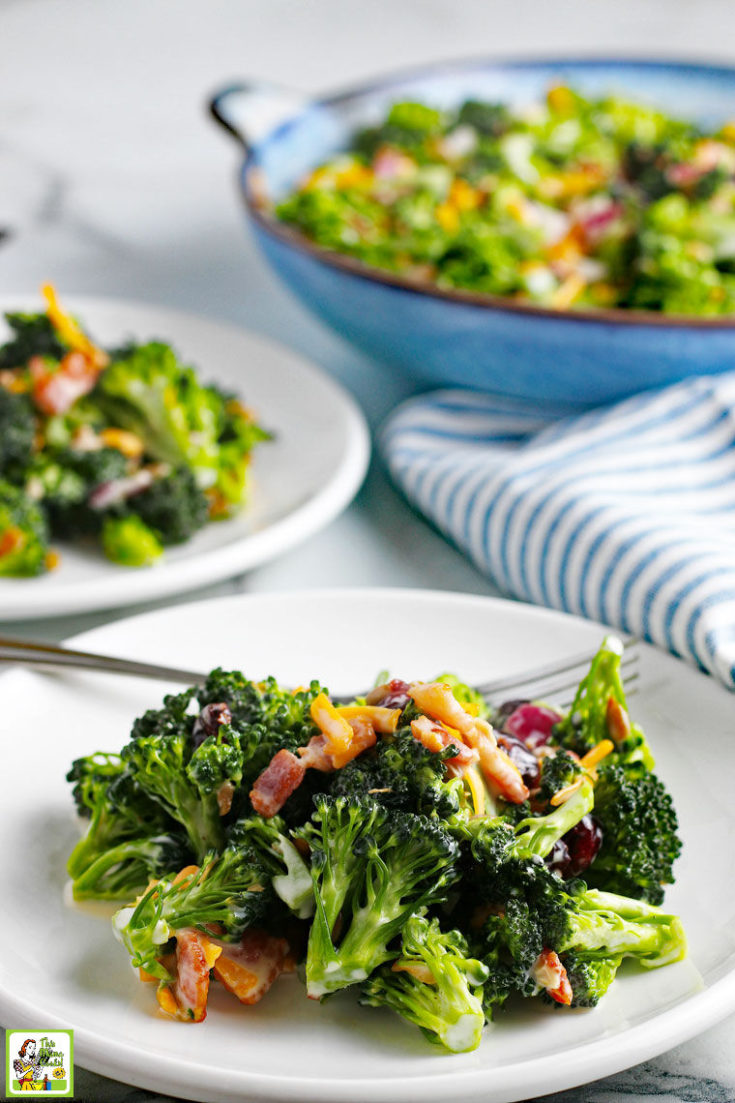 This Broccoli Bacon Salad Recipe makes a tasty side dish. Make this easy keto broccoli salad in 15 minutes.
Total Time
1 hour
15 minutes
Ingredients
6 cups broccoli florets, chopped
1/4 cup red onions, thinly sliced
1/2 cup chopped cooked bacon
1/2 cup dried cranberries
1/4 cup sunflower seeds (hulled)
1/2 cup shredded cheddar cheese
1 cup mayonnaise
3 tablespoons sugar, Swerve or powdered monk sweetener
2 tablespoons cider vinegar
Salt and pepper to taste
Instructions
In a large bowl combine the broccoli florets, dried cranberries, bacon, cheddar cheese, onion, and sunflower seeds.
In a small bowl whisk together mayo, vinegar, sugar, salt, and pepper until well combined.
Pour dressing over the broccoli salad mixture and toss together until well combined.
Place the Broccoli Bacon Salad in the refrigerator for 1 hour. Toss together once more before serving.
Nutrition Information:
Yield:
10
Serving Size:
1
Amount Per Serving:
Calories:

284
Total Fat:

22g
Saturated Fat:

4g
Trans Fat:

0g
Unsaturated Fat:

17g
Cholesterol:

19mg
Sodium:

505mg
Carbohydrates:

19g
Fiber:

4g
Sugar:

11g
Protein:

6g
Nutritional information is automatically calculated per the ingredients list. Serving size may not be accurate. Please double-check with your preferred nutritional app for the most accurate information.