Last Updated on January 28, 2023 by Anne-Marie
Enjoy this tasty easy vegan garbanzo bean salad year-round. This easy side dish goes well with dinners like grilled chicken, steak, fish, or pasta.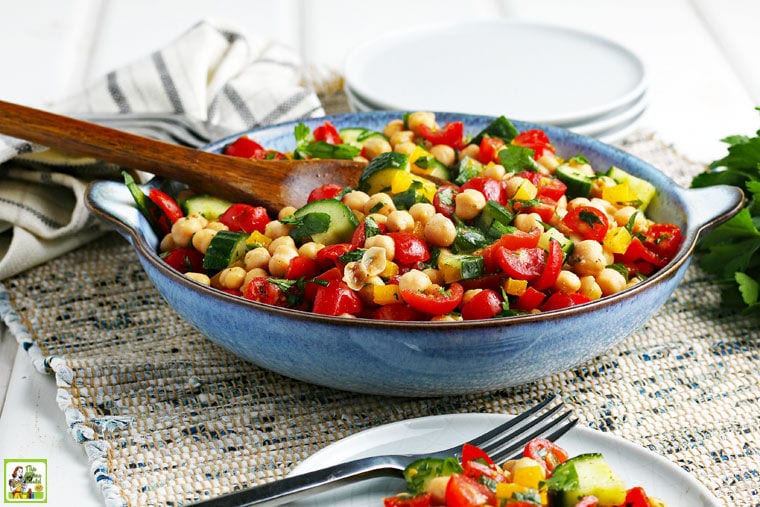 Why this recipe works
This side salad recipe is super versatile and easy to put together. Serve it as a side dish with soup or a sandwich for lunch.
You can also add it on top of salad greens or baby spinach for a more filling salad.
Best of all, this easy bean salad recipe is naturally vegan, vegetarian, gluten free, and dairy free.
And it goes great with all kind of dishes. See 35 Side Dishes to Serve with Chicken Cordon Bleu.
Salad ingredients
garbanzo beans
flat-leaf parsley
English cucumber
cherry tomatoes
bell pepper (you can use red bell pepper, yellow, or green)
extra-virgin olive oil
garlic
lemon juice
lemon zest
cumin
kosher salt
ground black pepper
How to make this easy vegan bean salad
It's super easy to make this classic bean salad. Serve with dinner or with sandwiches for lunch.
1. Place the prepared garbanzo beans, parsley, cucumber, tomatoes, and bell peppers in a large bowl.
2. Whisk the olive oil, lemon juice, lemon zest, cumin, garlic, salt, and pepper in a small bowl.
3. Pour the salad dressing into the large mixing bowl. Toss to coat.
4. Chill the side salad in the fridge for an hour or two before serving
5. Before serving, add more salt and pepper to taste.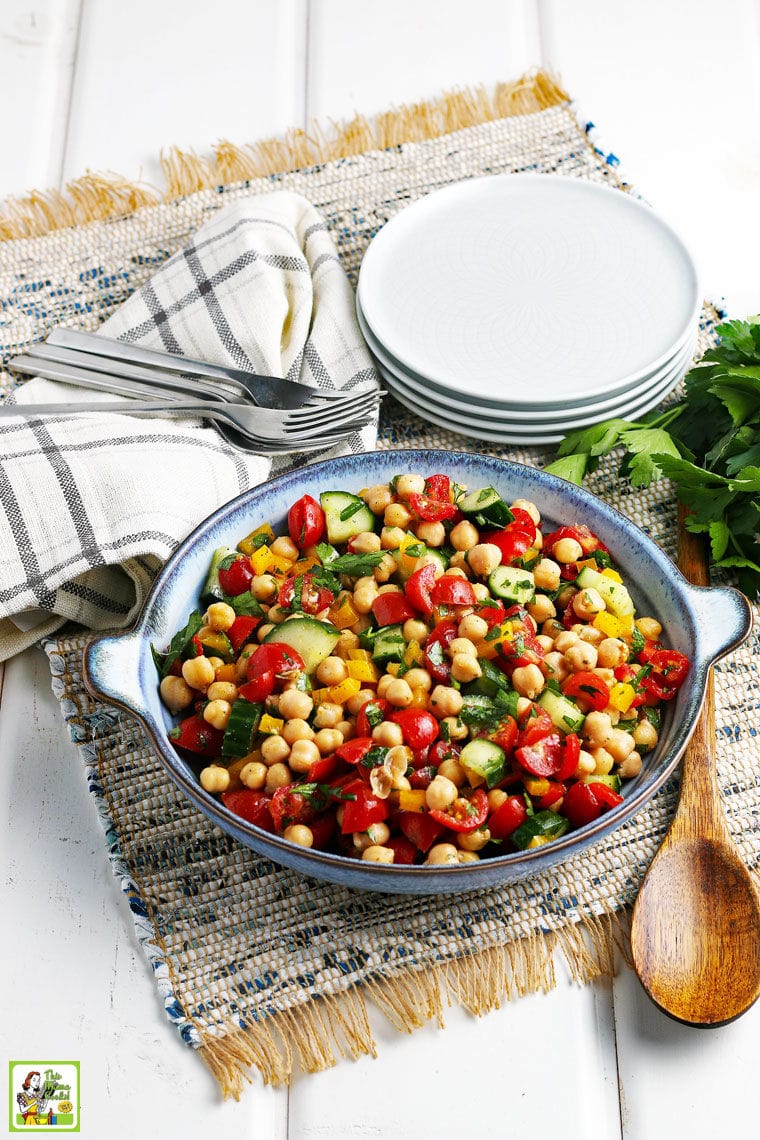 FAQ
Are they garbanzo beans or chickpeas?
Chickpeas and garbanzo beans are the same things. You can use either term interchangeably.
Garbanzo is the popular Spanish-derived name.
There are two types of chickpeas, the larger, round light-colored bean that's common in the United States.
Then there's a smaller, dark, irregularly shaped bean used in India and the Middle East.
You can buy garbanzo beans either canned or dried. Sometimes you can find them fresh in markets.
Beans are good sources of plant-based protein, fiber, folate, and iron.
Chickpeas are terrific in all kinds of dishes. I like using them in curries or making them into hummus.
What are some substitutes for garbanzo beans?
No canned chickpeas in the house?
You can use other types of beans like:
black beans,
wax beans,
pinto beans,
cannellini beans,
Northern,
white beans,
navy beans,
red kidney beans, or
lima beans in this chickpea salad.
Depending on the different kinds of beans you use, you can turn this into a
three bean salad
black bean salad
kidney bean salad
cannellini bean salad
a Mexican bean salad recipe with pinto, black, and red kidney beans (serve with tortilla chips)
and so on!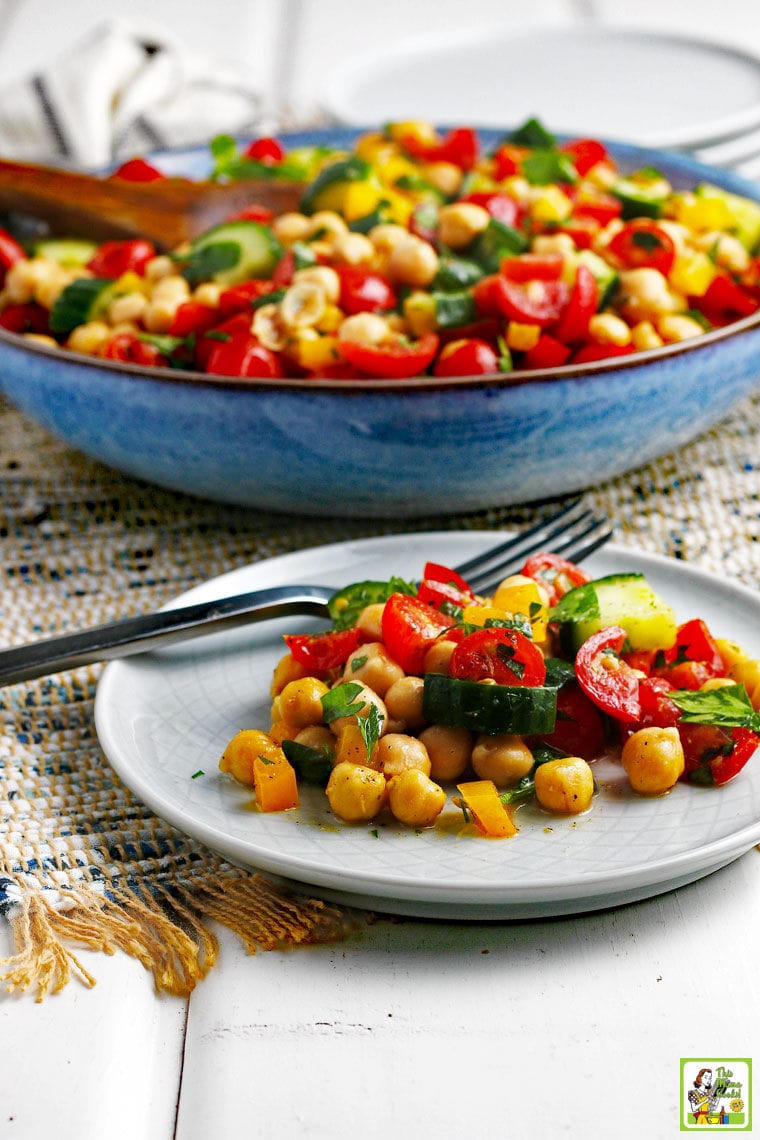 What to do with the aquafaba?
The liquid you drain off of the garbanzo beans is called aquafaba.
You can use it as a vegan egg white substitute for baking.
1 tablespoon of aquafaba = 1 egg yolk
2 tablespoons of aquafaba = 1 egg white
3 tablespoons of aquafaba = 1 whole egg
Can I use regular cucumbers?
The benefit of using English cucumbers in this side dish is that you don't have to peel them. Plus, they're practically seedless. (What seeds they do have are very small.)
Persian cucumbers are also seedless and have very thin skins. These are also a good substitute for English cucumbers if you can find them.
If you do choose to use regular cucumbers, peel them and remove any seeds.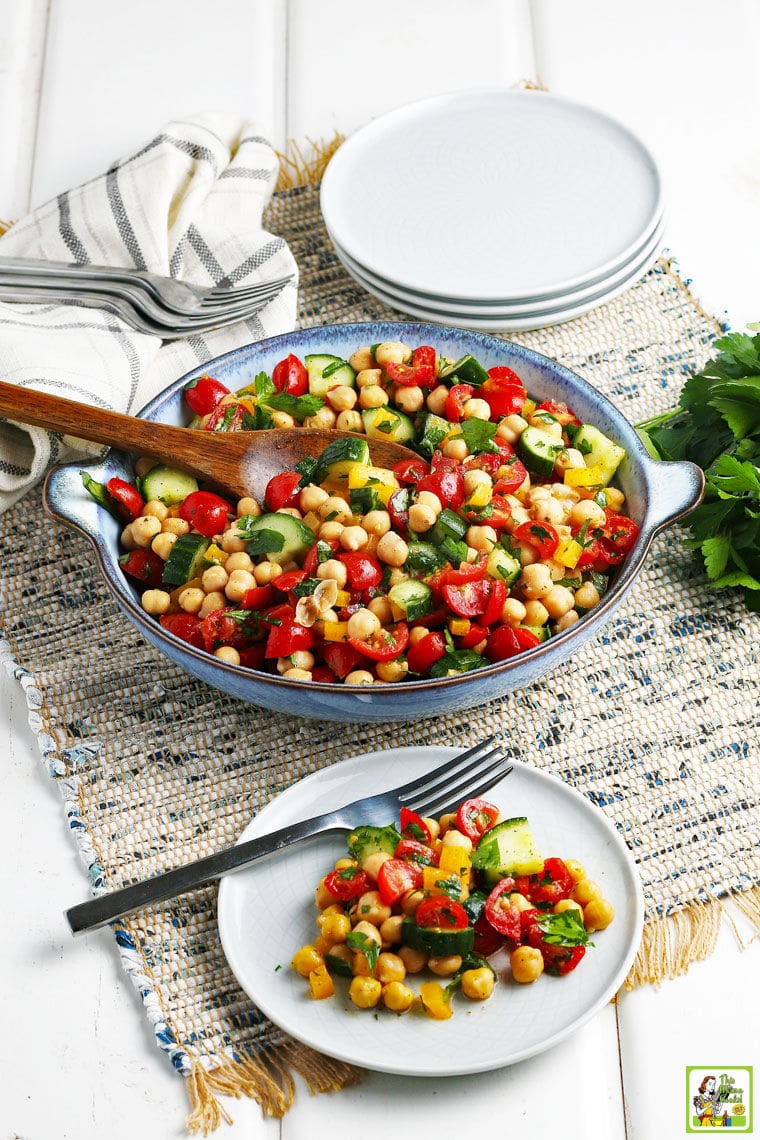 Can I add other ingredients to the salad?
You can add extra crunchy vegetables to this easy recipe like:
spears of asparagus (freshly steamed and cooled or pickled from a jar)
fresh sweet corn
black olives
shredded carrots
diced celery
serve on salad greens or baby spinach leaves
fresh green beans
You can also add other salad ingredients like:
feta cheese crumbles (turn this into a Greek garbanzo bean salad along with the olives!)
a couple cups pasta
quinoa (a terrific way to use up any leftovers)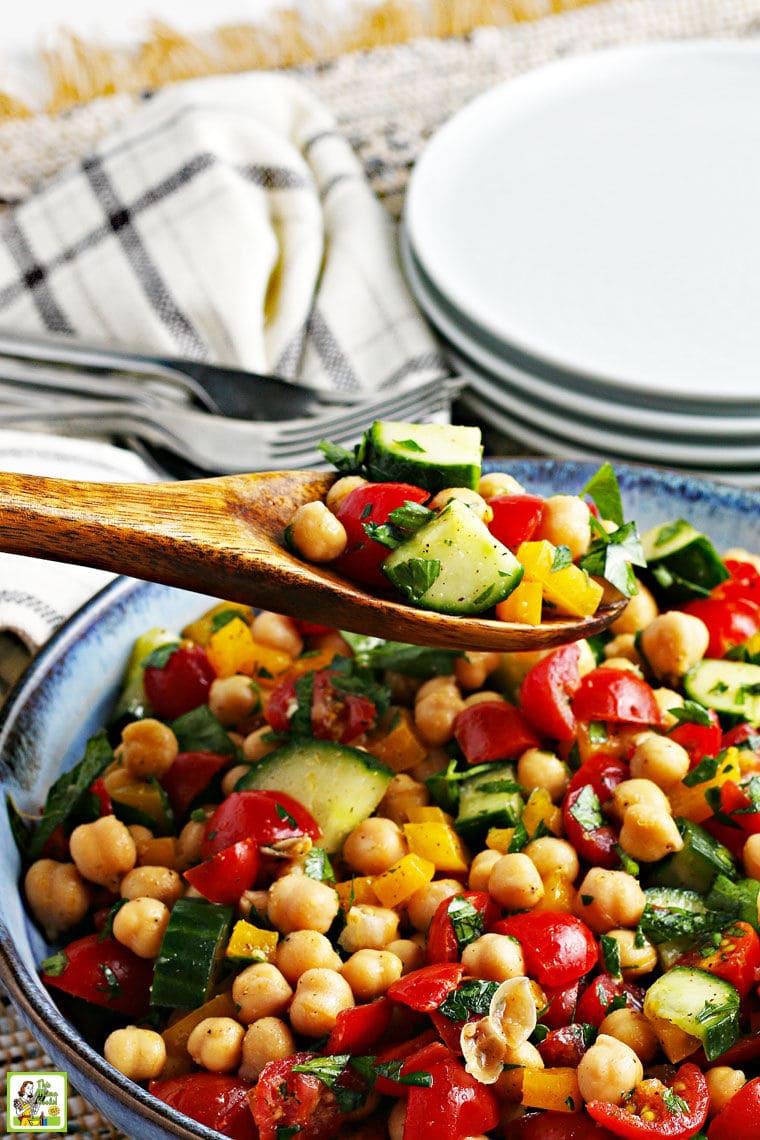 Jazz up the salad dressing
If you like spicy recipes like my son and husband, add some sriracha sauce or chili powder to the salad dressing. (You may want to serve this tangy dressing on the side.)
You can use lime juice and zest instead of lemon.
Got shallots? Use them instead of garlic. Or finely dice up some red onions instead.
Try cilantro. Or use regular fresh parsley instead of flat leaf.
The nice thing about this side salad recipe is that it's super versatile.
How long will the salad stay fresh?
This salad should stay good for up to four days in the refrigerator when stored in airtight containers.
That is if you and your family haven't gobbled it immediately. It's just that delicious!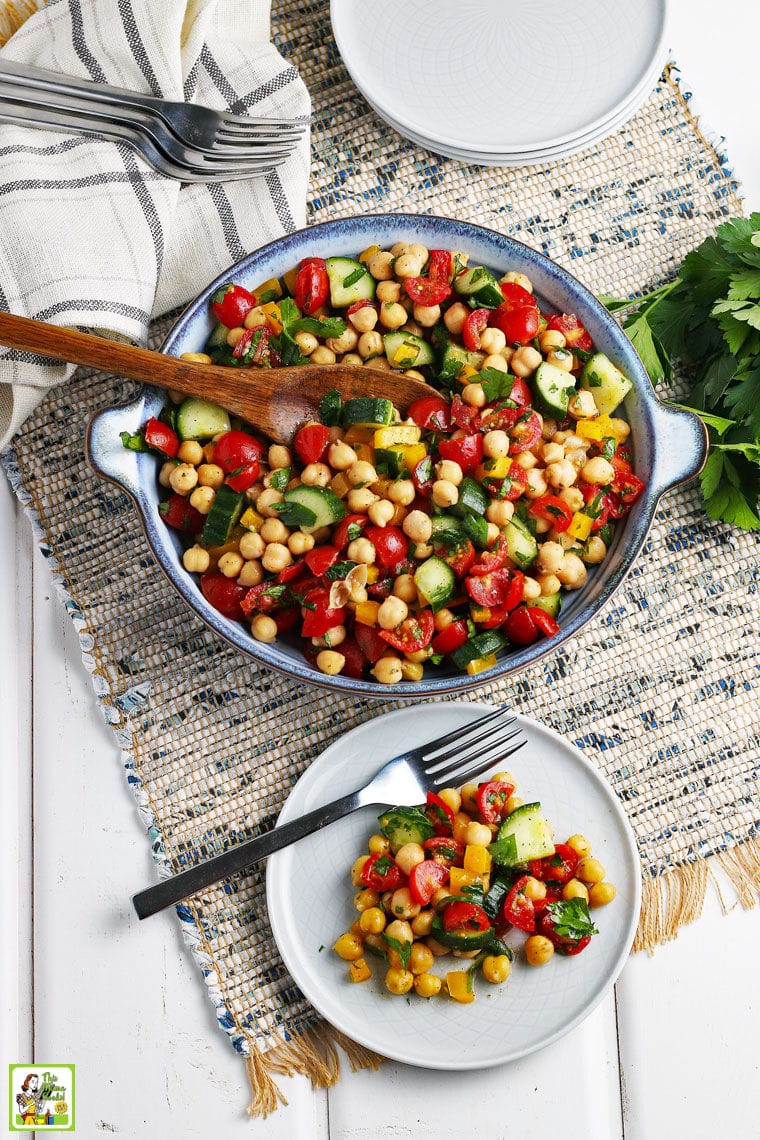 More easy-to-make salad recipes
If you're looking for more easy salad recipes, check these out:
This classic Seven Layer Salad is served in a glass trifle bowl. Super fun to serve at parties and potlucks.
Another good side dish recipe is Caprese Pasta Salad.
Serve this as a side dish with this Easy Rotisserie Chicken Salad Recipe.
If you love pasta salads, try Pasta Salad with Roasted Vegetables or Seafood Pasta Salad.
If you're a Brussels sprout fan, try this Brussel Sprouts Salad with Cranberries Recipe.
Finally, if you're buying English cucumbers for the garbanzo bean salad, buy more for this tasty Cucumber Onion Salad Recipe.
What's your favorite side salad recipe?
Yield: 4 SERVINGS
Easy Vegan Garbanzo Bean Salad Recipe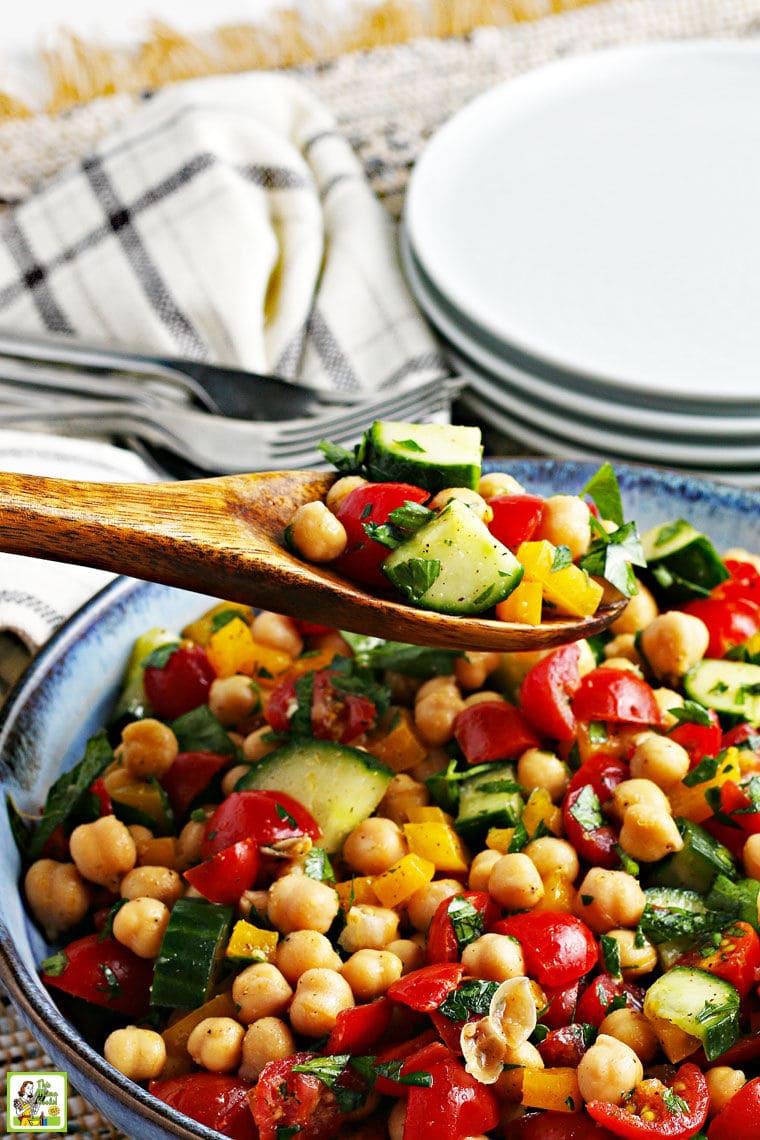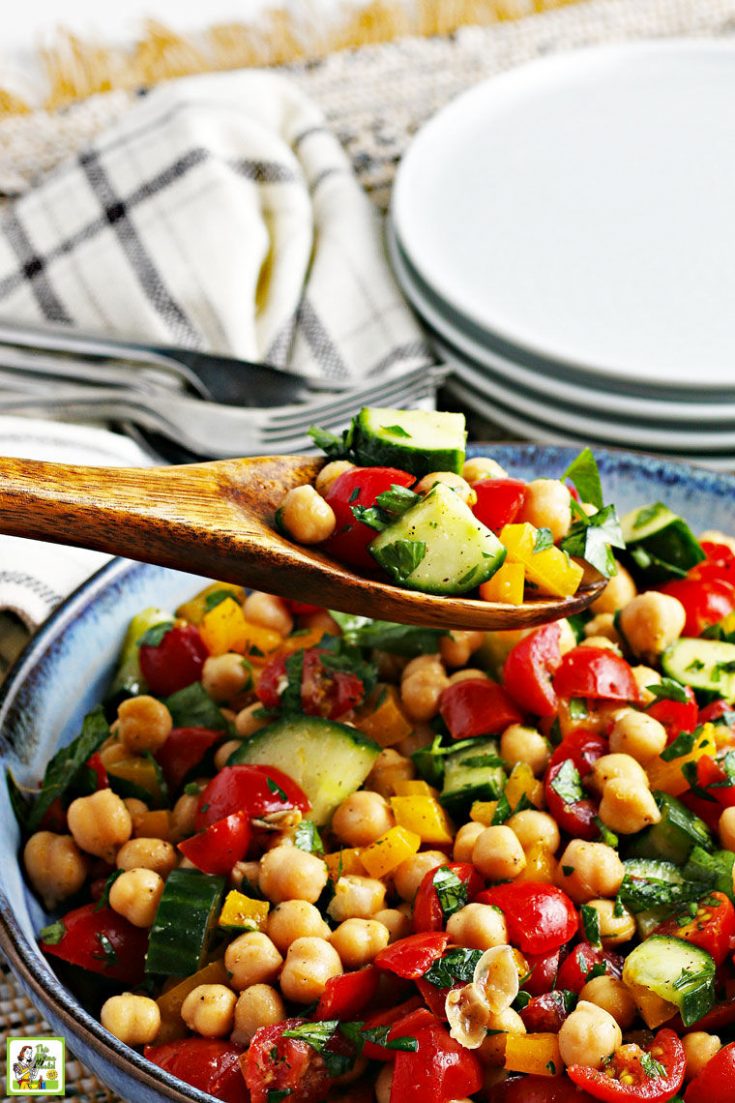 Serve this easy vegan garbanzo bean salad for dinner. This easy garbanzo bean salad is made with chickpeas, cucumbers, and more.
Total Time
2 hours
20 minutes
Ingredients
2 (15 ounce) cans garbanzo beans, rinsed and drained
1 cup flat-leaf parsley, chopped
1 cup English cucumber, quartered and sliced
2 cups cherry tomatoes, quartered
2/3 cup bell pepper, diced
3 tablespoons extra-virgin olive oil
2 cloves garlic, minced
2 tablespoons lemon juice
Zest of 1 lemon
1/4 teaspoon cumin
1/2 teaspoon kosher salt
1/2 teaspoon fresh ground black pepper
Instructions
Add to a large bowl the garbanzo beans, parsley, cucumber, tomatoes, and bell peppers.
In a small bowl whisk together the olive oil, lemon juice, lemon zest, cumin, garlic, salt, and pepper.
Add the two mixtures together and toss to coat.
Chill in the fridge for a couple of hours before serving.
Before serving, add more salt and pepper to taste.
Nutrition Information:
Yield:
4
Serving Size:
1
Amount Per Serving:
Calories:

196
Total Fat:

12g
Saturated Fat:

2g
Trans Fat:

0g
Unsaturated Fat:

9g
Cholesterol:

0mg
Sodium:

283mg
Carbohydrates:

21g
Fiber:

6g
Sugar:

6g
Protein:

6g
Nutritional information is automatically calculated per the ingredients list. Serving size may not be accurate. Please double-check with your preferred nutritional app for the most accurate information.