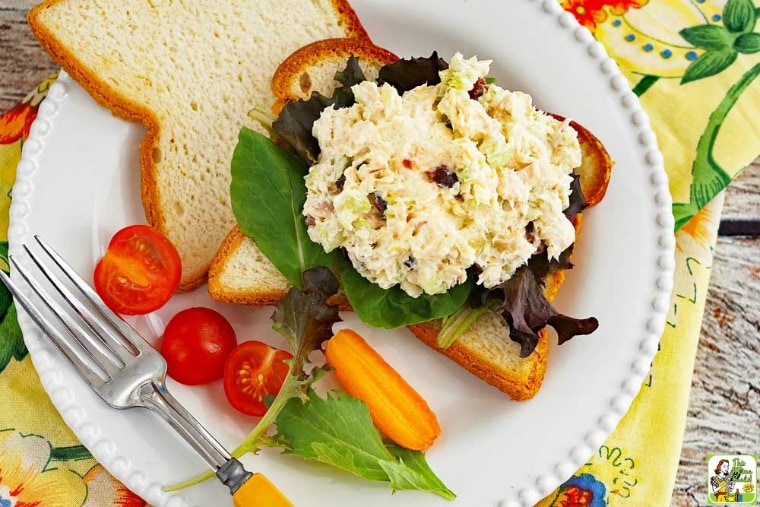 This Easy Chicken Salad Recipe is for those of you who love chicken salad from the deli counter.
Not only is this chicken salad recipe tastier, it's better for your pocketbook.
Don't think you have the time? Well, this chicken salad recipe takes only about 30 minutes to make.
Plus, you control the ingredients! That means, if you're gluten free, you know exactly what's in this basic chicken salad recipe.
You don't have to worry about gluten cross-contamination when you make your own!
Best of all, I'll show you how to make this into a gluten free chicken salad sandwich recipe using GF bread!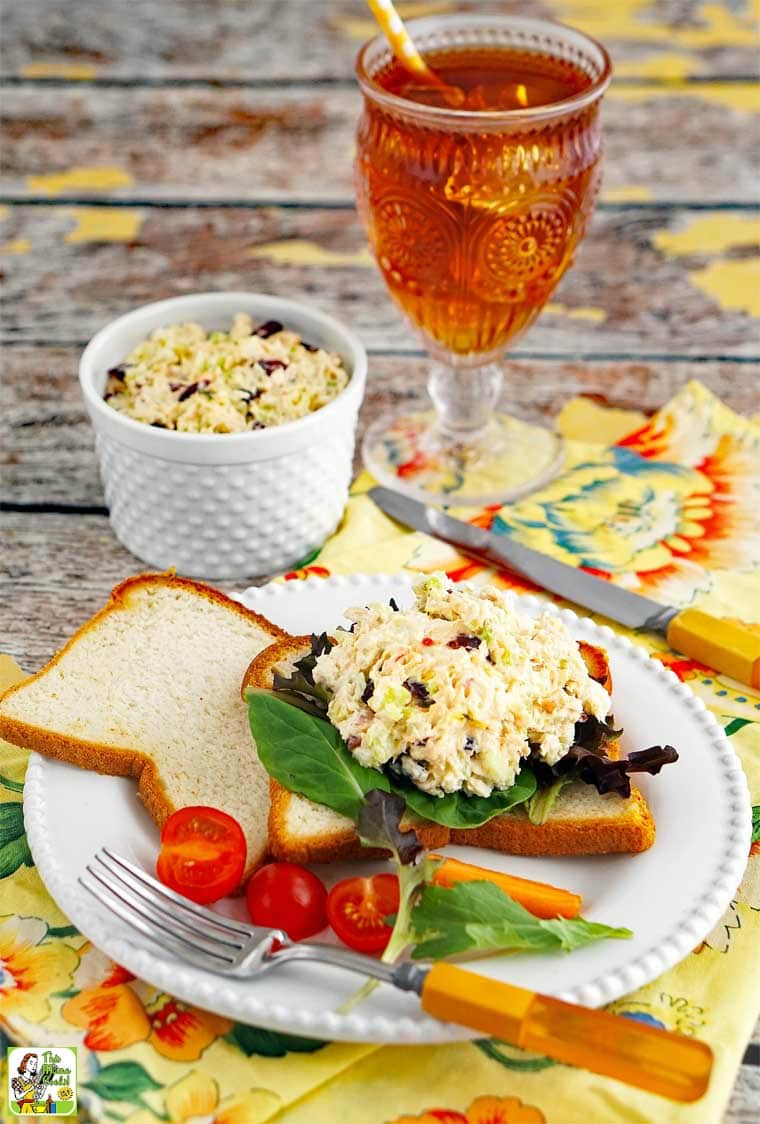 Your family will love this easy chicken salad
I had no idea my daughter, Lucie, liked chicken salad. So, when I asked her to be my taste taster and try this simple chicken salad sandwich recipe, I was thrilled to find that she loved it!
Not only did she finish the chicken salad sandwich I made her, she made herself another one!
And then she finished off the leftovers the next day before I had a chance to!
For me, the best part of this Easy Chicken Salad recipe – besides being so simple to make – is the combination of Greek yogurt and my favorite mayonnaise plus the addition of the dried cranberries.
I also like that I usually have most of the ingredients in my refrigerator or pantry.
It's just a matter of picking up a cup of plain Greek yogurt and a rotisserie chicken at my grocery store.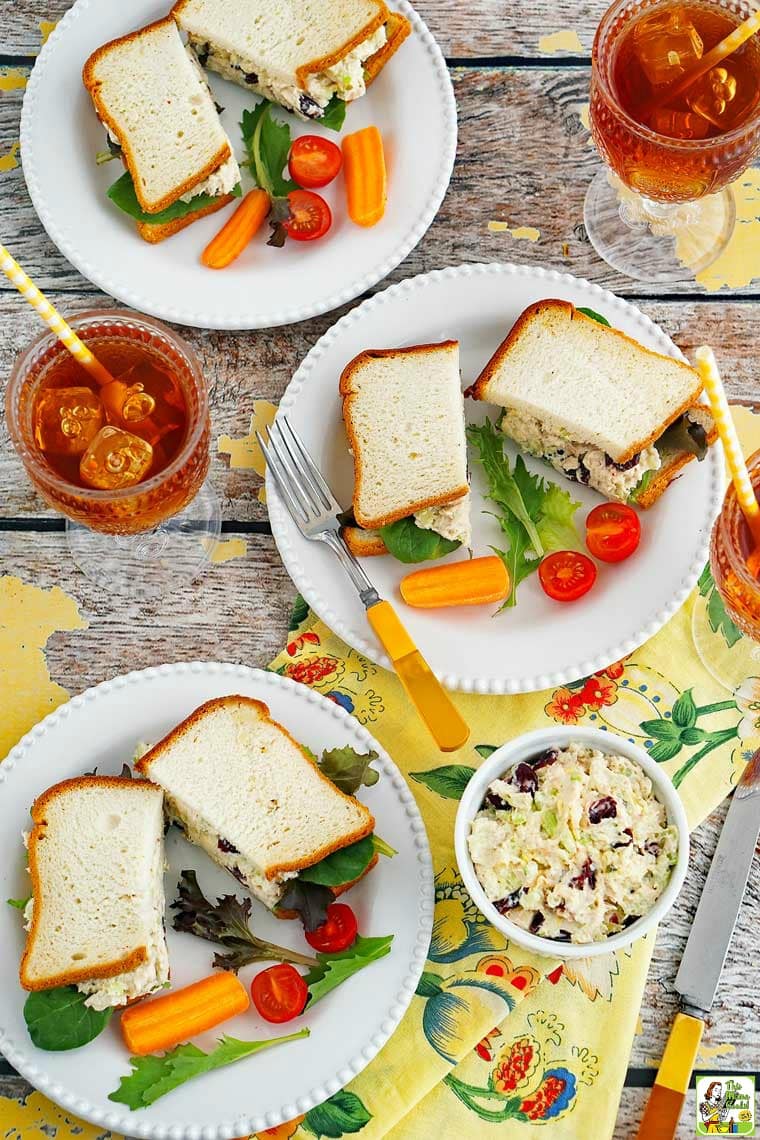 Tips for making simple chicken salad
One grocery store rotisserie chicken gave me just enough for this simple chicken salad.
So, if you're hoping for a leftover chicken leg, make sure to buy another chicken!
You can also grill and then chop up some chicken breasts or use canned chicken.
Make sure to finely chop your celery. My daughter said the celery was her favorite part of the chicken salad recipe.
I used a hand food chopper to finely chop the celery, which helped save time.
Sweet relish is just finely chopped up sweet pickles. So, if you don't want to buy a bottle of relish, but like sweet pickles, use them instead.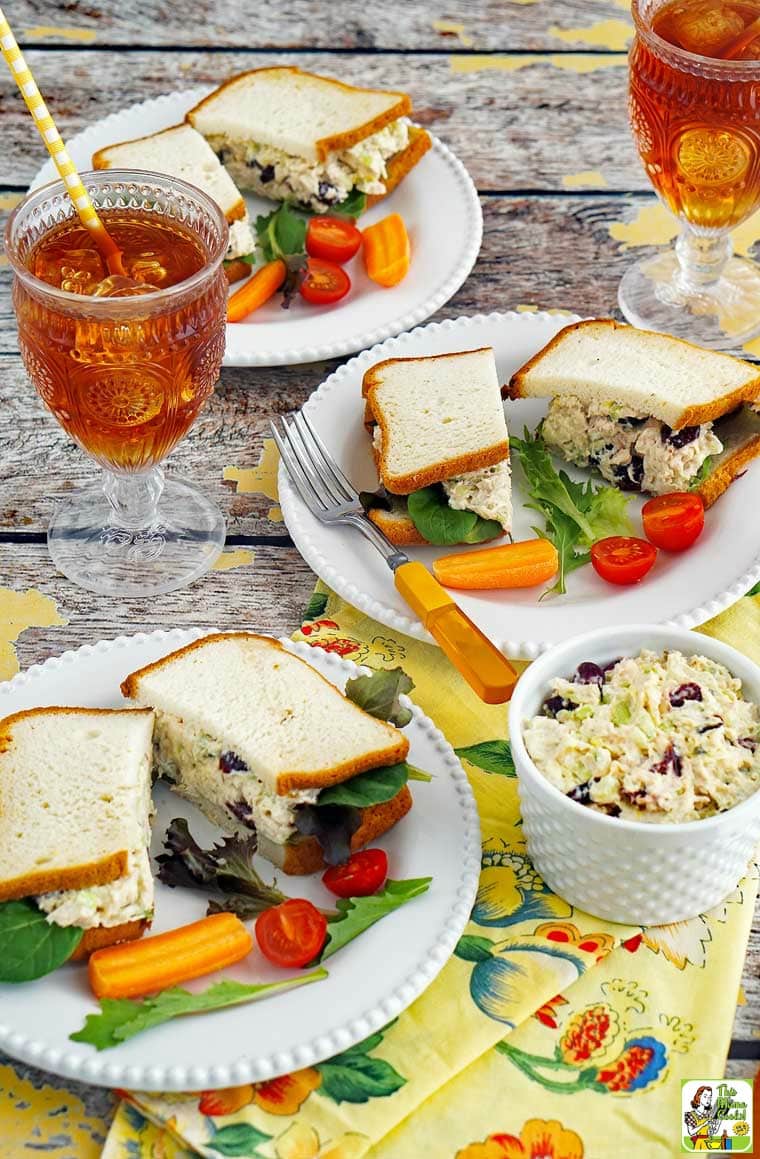 I used an olive-oil based mayonnaise for this recipe since the brand I like is very tangy and goes well with the Greek yogurt. But you can use whatever type of mayonnaise you prefer.
You can use any type of plain Greek yogurt – full fat, low fat or non-fat.
If you're dairy free, you can use my Vegan Sour Cream instead of yogurt.
Make sure to chill the chicken salad for at least an hour so the dried cranberries have time to soften. It does make a difference.
Don't like dried cranberries? You can leave them out or substitute raisins or sliced almonds.
Serve this chicken salad sandwich recipe with carrot sticks, cherry tomatoes, and lettuce leaves.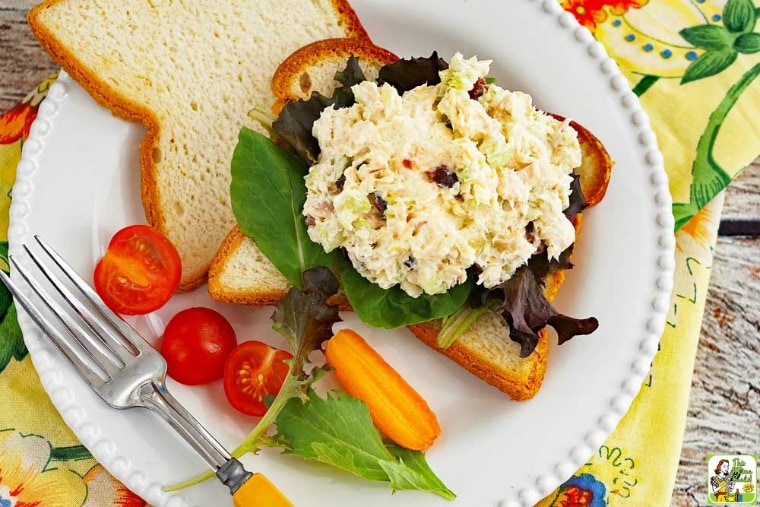 Easy Chicken Salad Recipe
Ingredients
2½ cups

chopped rotisserie chicken meat

1 cup

finely diced celery

1/2 cup

dried cranberries

1/2 cup

mayonnaise

1/2 cup

plain Greek yogurt

2 tablespoons

sweet relish

1/4 teaspoon

salt

Your favorite gluten free bread for serving

Lettuce leaves for serving
Directions
Combine all ingredients, except bread and lettuce, in a medium bowl. Mix well.
Chill the chicken salad for at least 60 minutes.
Serve on gluten free bread with lettuce.
Serving size:

Makes 4-6 Chicken Salad Sandwiches (3/4 to 1 cup per sandwich).