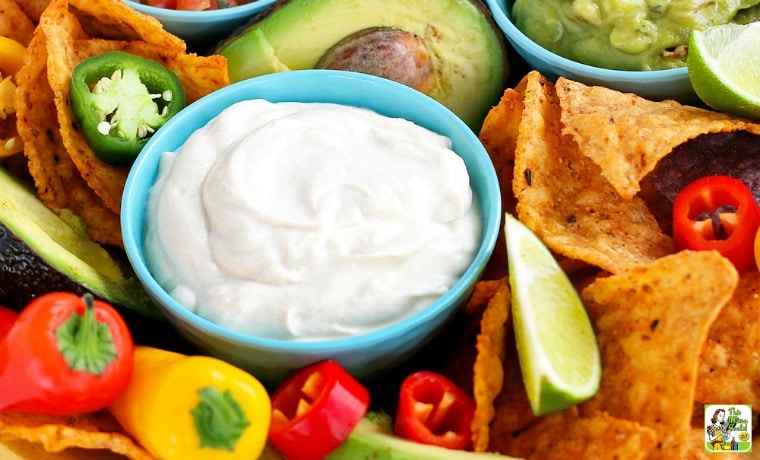 Use Vegan Sour Cream whenever a recipe calls for sour cream, so you can include it in all of your favorite vegan recipes.
It's sooooo yummy that no one will guess it that it's a tofu sour cream!
It's also super easy to make. There's just two steps to this process so you won't have to worry about adding a lot of extra work to your meal planning routine.
Not only is this sour cream recipe 100% vegan, it's also a dairy free sour cream.
I know that goes without saying, of course. But for non-vegans, it's a terrific sour cream substitute for anyone who needs to avoid dairy products.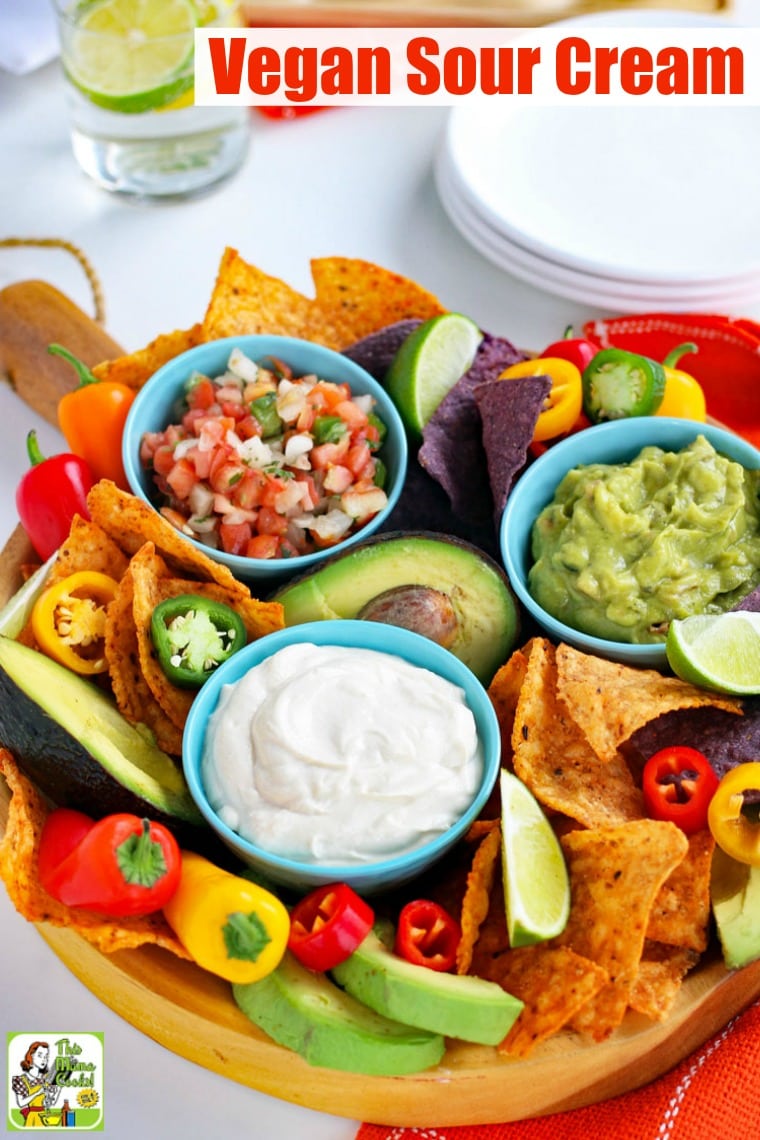 How is vegan sour cream different?
I made a few changes to my tofu sour cream recipe to suit my tastes. I think it sets this recipe apart from others you'll find on the internet or in cookbooks.
● Vinegar: I used rice vinegar, which I feel has a milder flavor than apple cider vinegar.
● Tofu: When I made this the first time I used a silken tofu, which was too soft. Using a firm or extra firm tofu gives you better results. (See more about this below.)
● Lemon Zest & Lemon Juice: I cut back the lemon zest and juice amounts because I felt the flavor of the lemon was overpowering the whole recipe! The result is a milder and realistically flavored dairy free sour cream.
You may want to cut back a little more if you find it a bit too lemony for your taste. (Or kick it up a notch if you love lemon!)
By the way, if you're looking for the perfect lemon zester, you have to check out the Citrus Lemon Zester & Cheese Grater by Zesty.
I've had mine for over four years now and use it for both lemon zesting and cheese grating. WORKS GREAT!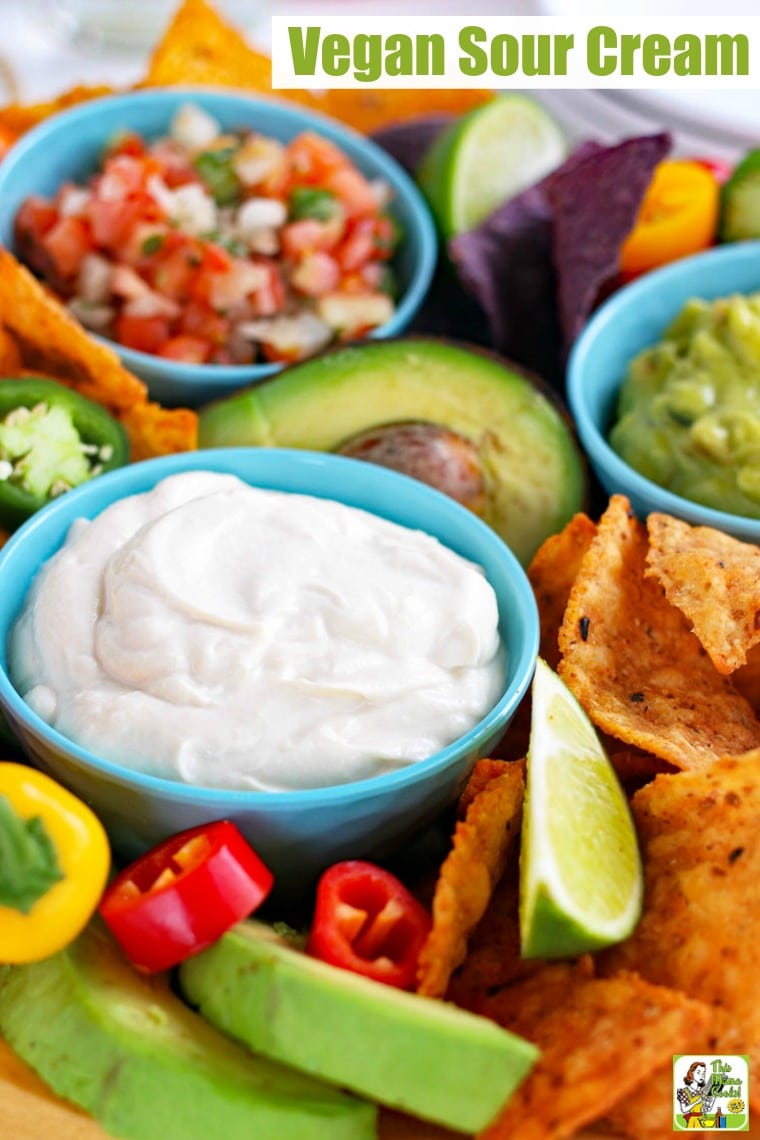 What kind of tofu do I use for this tofu sour cream?
I was confused by the different varieties of tofu when I originally made this recipe. So I wanted to share some tips on choosing the best kind of tofu for my vegan sour cream recipe!
All of the Mori Nu tofu varieties are silken, which usually means soft. But they offer their tofu soft, firm, and extra firm varieties. Confusing, right?
In most brands, silken tofu is soft and gelatin-like, which is great for tofu-based smoothies. But not so much for this recipe since you want your sour cream to be thicker.
You'll be using a food processor or high speed blender to prepare the ingredients, so using silken tofu will give you a very runny sour cream. Yuck!
Instead, choose a tofu that is firm or extra firm so that you get the best consistency. You can choose either a regular or organic tofu. Use whatever you like best and that fits into your budget.
One package of 14 to 16 ounces will be plenty for this entire recipe.
Use the whole block or package of tofu so you won't find the leftovers growing into a science experiment when you forget about it in the back of the refrigerator. Waste not, want not!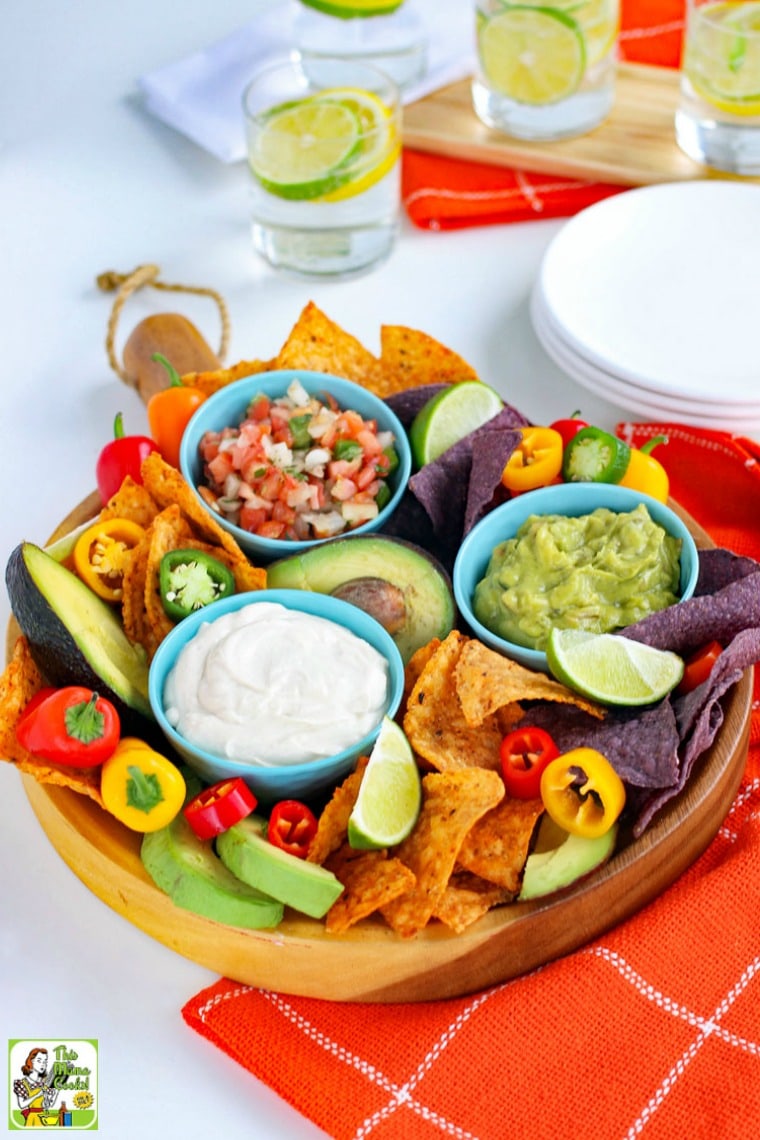 Is this is a dairy-free sour cream substitute?
Yes! My tofu sour cream is not only a vegan substitution, it's also a dairy-free one.
That's right, there's no dairy in tofu. So, it's a nice way to avoid those allergens if you need or want to do so.
Best of all, the recipe is creamy and tangy just like a regular sour cream so you won't have to sacrifice flavor in order to meet your dietary needs.
Plus, it's naturally gluten free. So it's safe to serve it to your anyone who has wheat allergies or gluten sensitivities.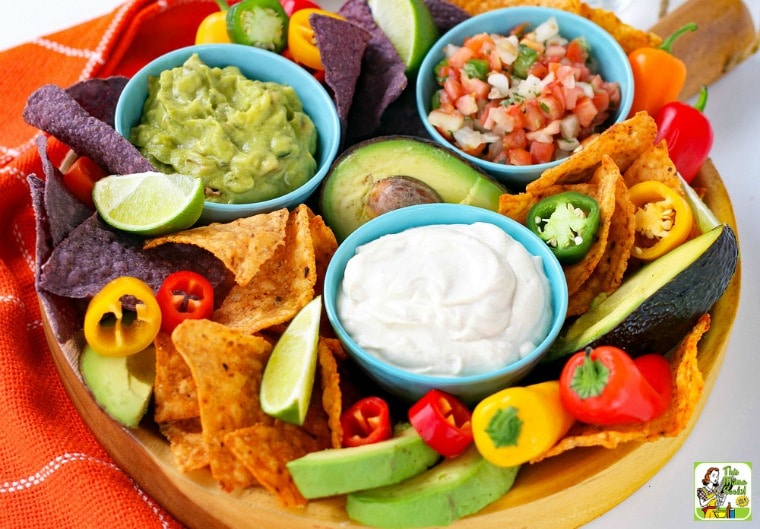 What can I use this tofu sour cream in place of?
There are a lot of great ways to use this vegan sour cream recipe. Here are a few ideas to get you started:
● Use it in place of regular sour cream in dips, on baked potatoes, on chili, etc.
● Replace Greek yogurt with tofu sour cream.
● Use it in place of crema Mexicana in your favorite Mexican dishes like tacos, burritos, or even nachos.
● You can use this tofu sour cream instead of crème fraîche, too!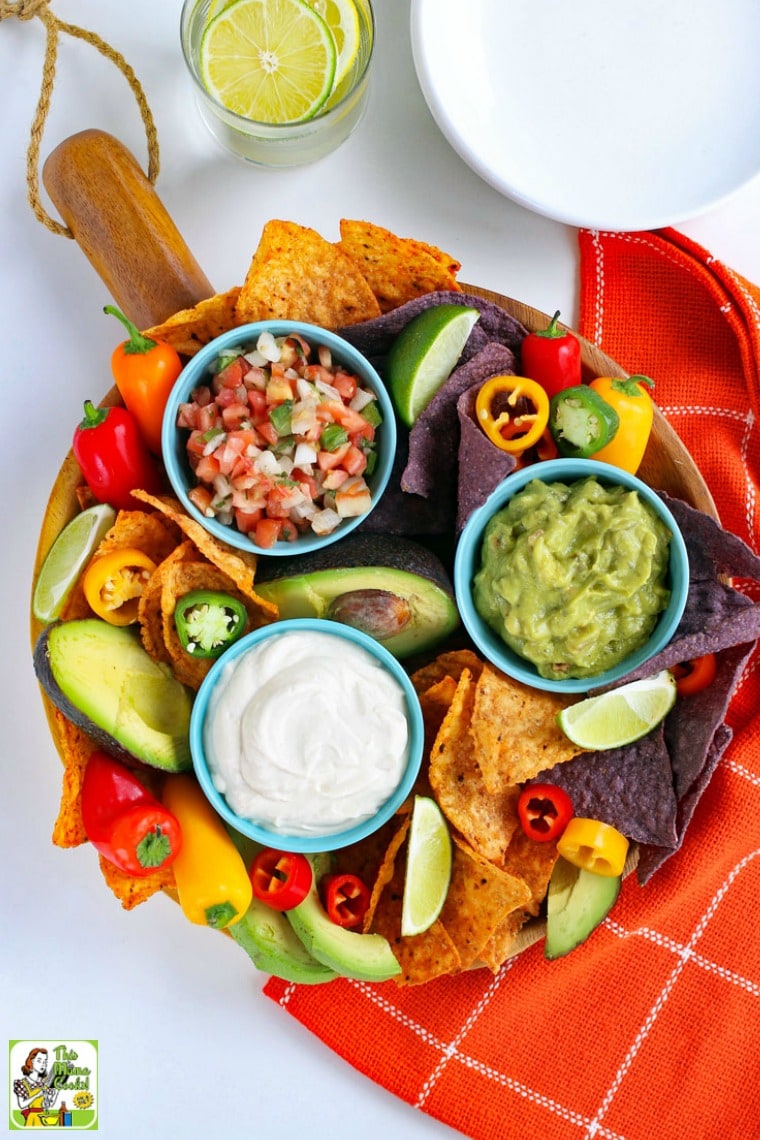 Tips for how to make vegan sour cream
You can use a variety of sweeteners in this recipe. I like agave or real maple syrup. Both taste great and blend well with the other ingredients.
You can use any variety of agave nectar syrup – blue, raw, golden, fair trade, dark, etc. It's all delicious and good to cook with.
The same goes with the different varieties of maple syrup. Choose whatever you like and can afford.
If you're watching calories, even the small amounts used in this recipe, you can use your favorite sugar substitute in this recipe.
Some of my favorite no calorie, natural sweeteners are:
● stevia
● powdered monk fruit sweetener
● Swerve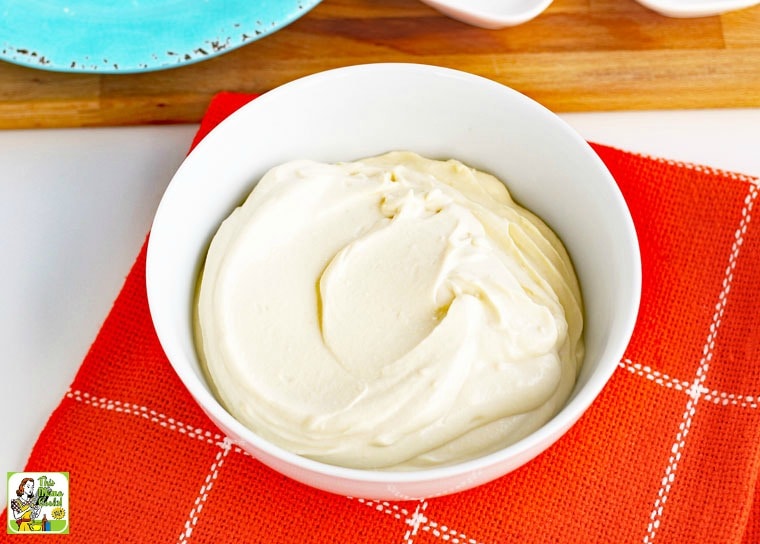 Use vegan sour cream in (or on) these recipes:
● Simple Lemon Pasta
● Instant Pot Chili with Pumpkin
● In Avocado Veggie Dip Shooters Recipe instead of Greek yogurt
● Slow Cooker Pumpkin Chili Recipe
Yield: 2 CUPS
Vegan Sour Cream Recipe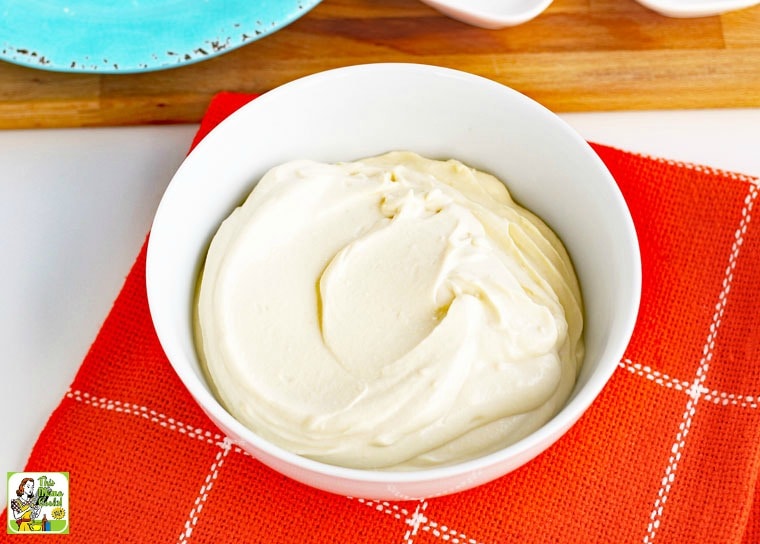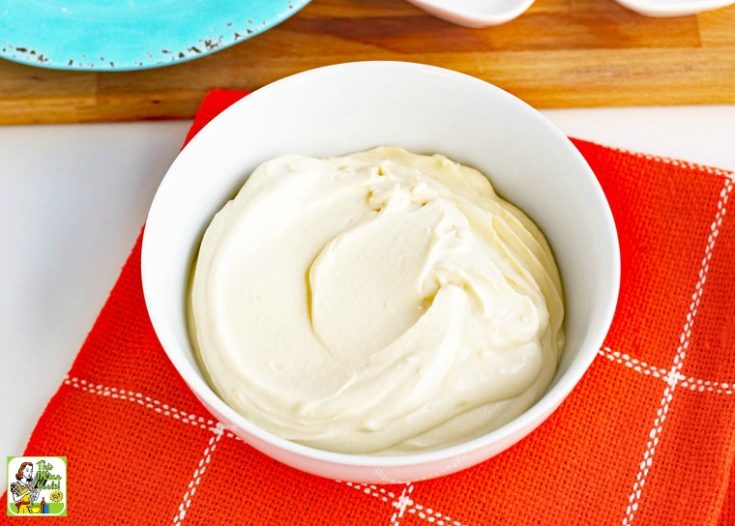 This creamy vegan sour cream is made with firm tofu. Use wherever you need a dairy-free sour cream substitute.
Ingredients
1 16-ounce package firm or extra firm tofu
2 tablespoons canola oil
1 teaspoon fresh lemon juice
2 teaspoons rice vinegar
1 teaspoon agave, maple syrup, stevia, monk fruit sweetener, or another sugar substitute
1/2 teaspoon sea salt
1/2-1 teaspoon finely grated lemon zest
Instructions
Place all ingredients in a food processor or high-speed blender. Process several minutes, until very creamy and smooth.
Vegan sour cream firms up when chilled. Refrigerate sour cream until it is ready to be used.
Recommended Products
As an Amazon Associate Affiliate and member of other affiliate programs, I earn from qualifying purchases.
Nutrition Information:
Yield:
16
Serving Size:
2 tablespoons
Amount Per Serving:
Calories:

51
Total Fat:

3g
Saturated Fat:

0g
Trans Fat:

0g
Unsaturated Fat:

3g
Cholesterol:

0mg
Sodium:

68mg
Carbohydrates:

4g
Fiber:

0g
Sugar:

3g
Protein:

3g
Nutritional information is automatically calculated per the ingredients list. Serving size may not be accurate. Please double-check with your preferred nutritional app for the most accurate information.
Originally published on September 11, 2012. Updated with new pictures and information.