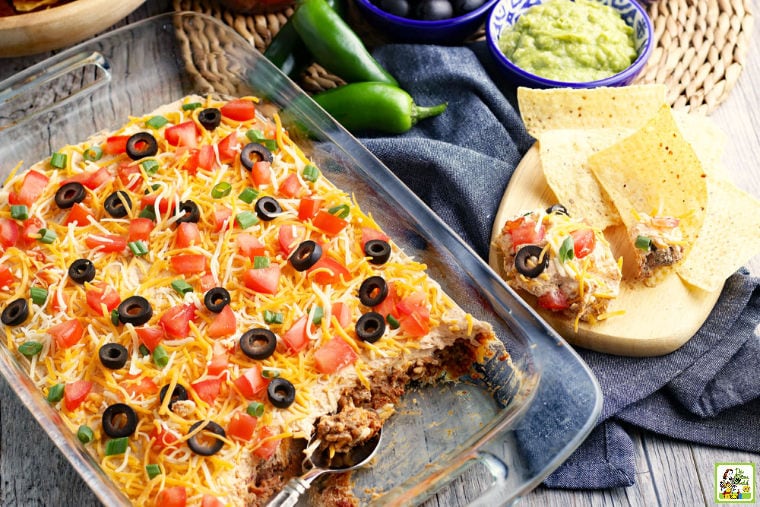 There's nothing better than Layered Taco Dip for a party.
This is a terrific appetizer for a crowd, whether you're getting together for a game day party or Cinco de Mayo celebration.
It's also easy go-to recipe for potlucks. You can either make this a 5 or 7 layer taco dip depending on what ingredients you have on hand or your personal preferences.
This taco dip with ground meat so hearty that you can practically serve it as dinner instead as an appetizer.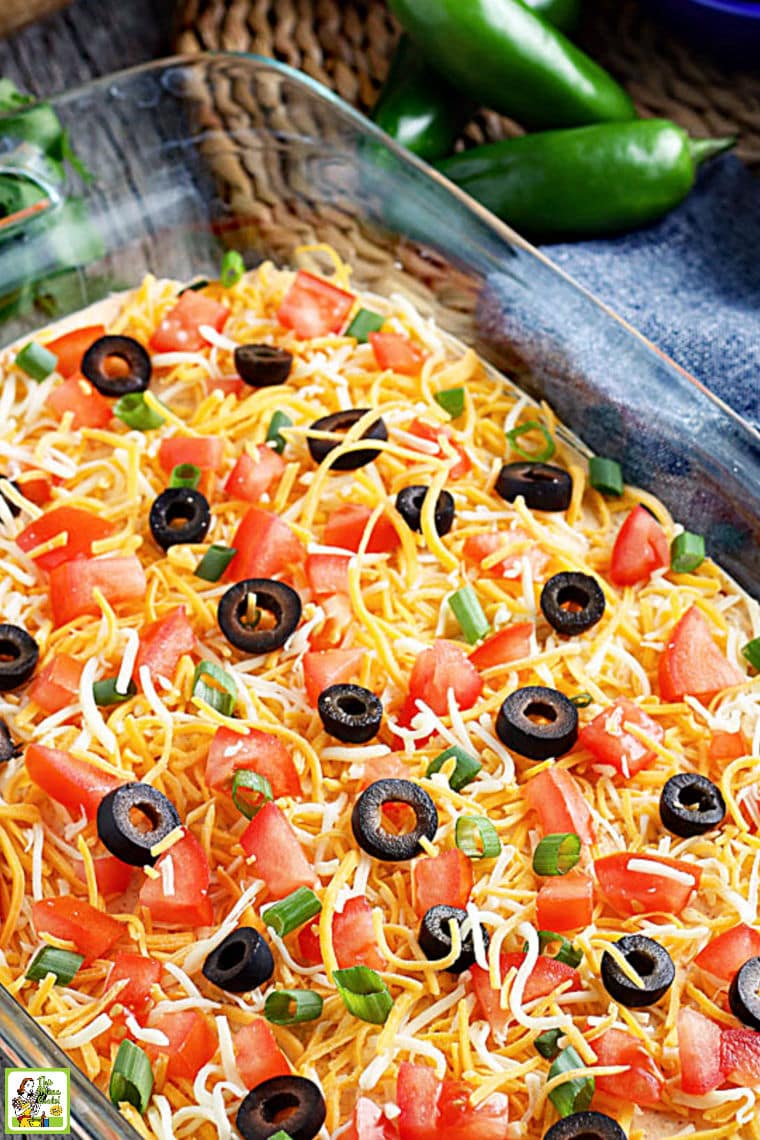 How to make layered taco dip even easier
I've given directions below to make this a 7 or 5 layer taco dip from scratch.
But one trick I like to do a few days in advance is make a double batch of Mexican style Crockpot Taco Meat.
Then I serve crockpot tacos for dinner one night and save the rest for the taco dip layer, omitting steps 1-3 below.
Other quick tips:
Buy already diced onions from the produce section and canned diced tomatoes. No need to spend extra time chopping when you're planning a party.
I have a jar of minced garlic in my refrigerator. Saves so much time. And I no longer throw out dried out or rotten garlic cloves. LOVE IT.
How much in advance can I make Layered Taco Dip?
Finally, while this dip can be made a few hours in advance, don't make it too much in advance or your avocado will turn brown.
Also, make sure that your avocado layer is completely covered by the other layers. That way not much air can get to it, so it should stay a lovely bright green.
See how easy it is to make this amazing layered taco dip recipe.
How to serve layer taco dip
Serve warm: Taco Dip can also be heated to melt the cheese and warm the filling. Place in 350 degree oven for 15-20 minutes BEFORE adding any additional toppings.
Serve your layer taco dip with a variety of tortilla chips, both sizes and styles as well as flavors. I like restaurant style as they hold up to a heavy dip.
I'm sure you seen blue and red tortilla chips as well as the usual corn chips. My new favorite are the quinoa corn chips. So delicious!
Make sure to serve the taco dip with plates and forks so guest can skip the chips and keep it low carb.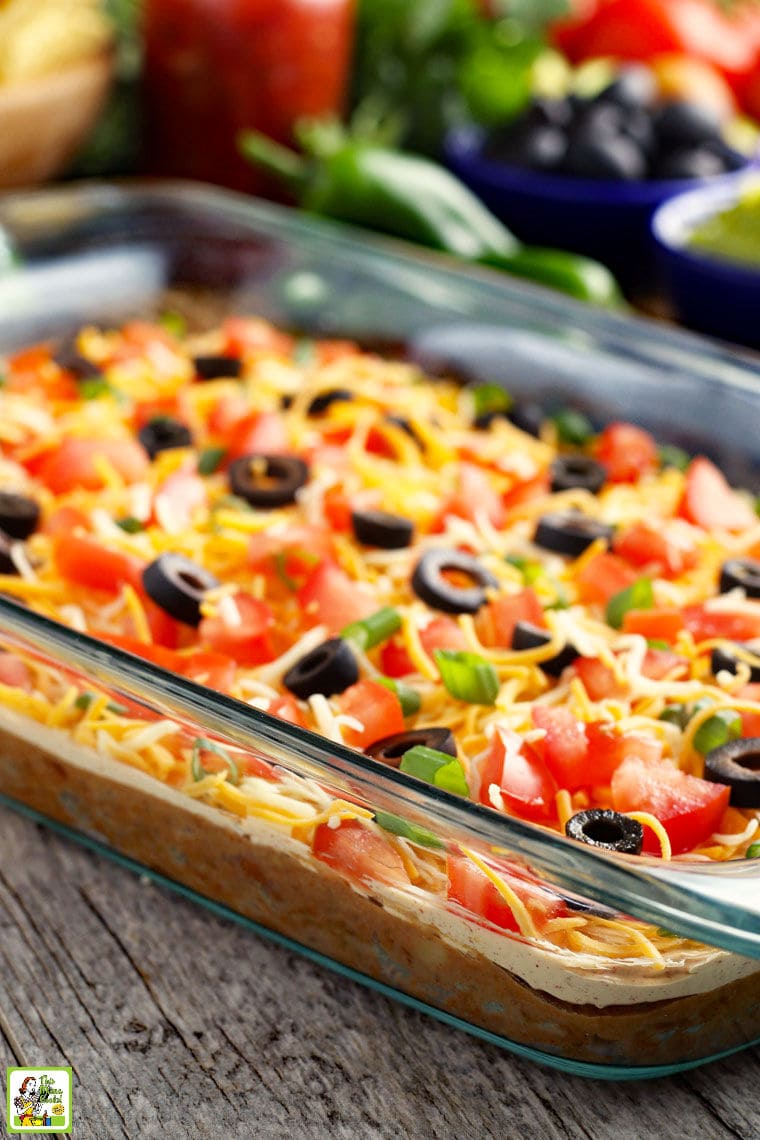 Making taco dip for special diets
Make this taco layer dip for a variety of special diets:
Keto: If you're doing keto, omit the refried beans and add a layer of sautéed onions and bell peppers.
Also, substitute Greek yogurt for the sour cream.
Gluten free: This taco layer dip recipe is naturally gluten free. Just make sure all the ingredients you're using from the taco seasoning to the refried beans are also gluten free.
If you're concerned about the taco seasoning, use my Homemade Taco Seasoning Mix recipe.
Most shredded cheeses are gluten free. If you're concerned about the powdered cellulose used to prevent clumping, shred your own cheese.
(Sargento says its shredded cheeses have no gluten. Again, always check labels.)
Vegetarian: The meat can be omitted for a vegetarian option. Or you could use veggie crumbles or a Beyond Beef-type product instead.
Also make sure the refried beans you use are vegetarian.
Dairy free: If you're dairy free, this recipe is going to be challenging because of all the cheese and sour cream. However, you could try the following substitutions:
Use my Vegan Sour Cream recipe as a substitute for the sour cream.
Find a vegan or dairy free cream cheese to use instead of the regular cream cheese.
Substitute vegan cheddar shredded cheese for the cheeses in the recipe below.
Also, make sure the taco seasoning you use doesn't have any dairy in it. (Check the label.) You can also use a Homemade Taco Seasoning Mix.
Vegan: While demanding, this layered taco dip recipe can be made vegan. See the tips I suggest for vegetarian and dairy free.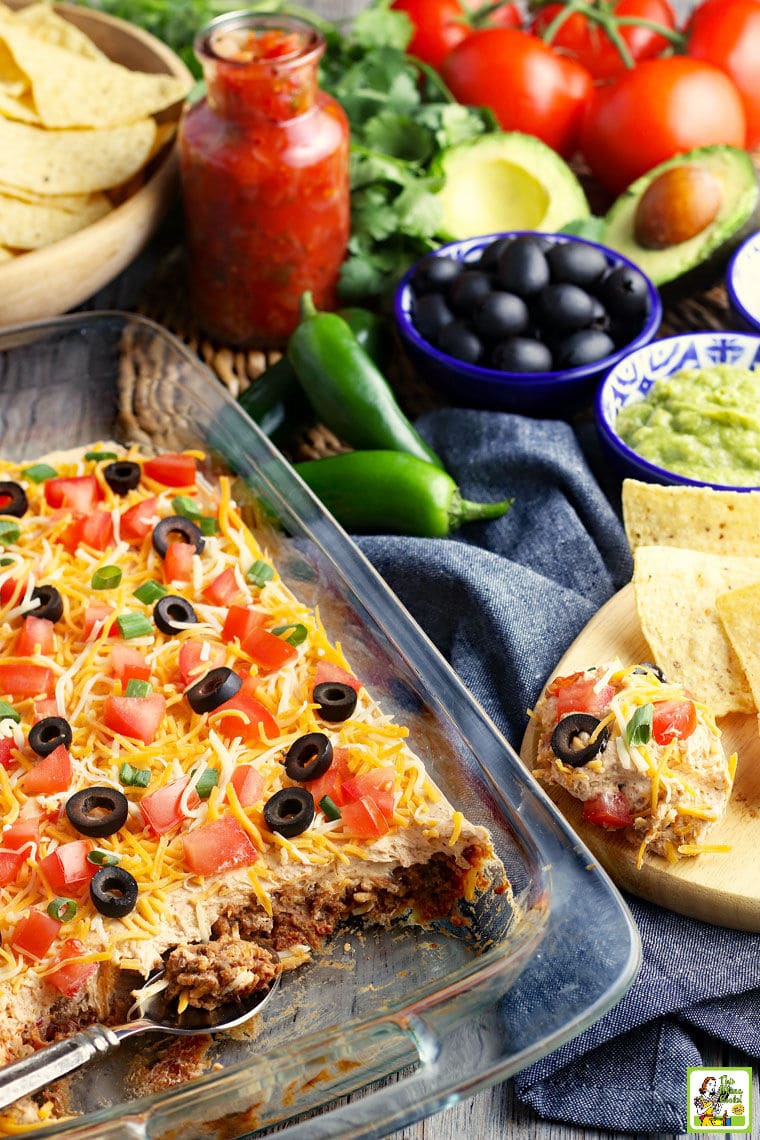 Layered taco dip substitutions and additions
Here are some ingredient suggestions to make the taco layer dip even more tasty!
● Guacamole – use instead of the avocado. This comes in handy if you can't find ripe avocados at your grocery store and don't want to deal with the frozen avocados.
● Cheese – use other varieties of shredded cheese like spicy pepper jack, Monterey Jack, crumbled queso fresco, or a combination of two or more.
● Ground meat – you can use ground venison or turkey instead of ground beef. See vegetarian suggestions above.
● Yogurt – Substitute a no fat Greek yogurt instead of sour cream.
● Corn – use canned (and drained) or thawed frozen corn.
● Salsa – a thick and chunky salsa would be a tasty substitution for the diced tomatoes. Drain the salsa in a fine mesh colander so your dip doesn't get soggy.
● Bell peppers – a layer of chopped red, yellow or green bell peppers adds a dash of color. Bell peppers can be served raw or sautéed (and cooled).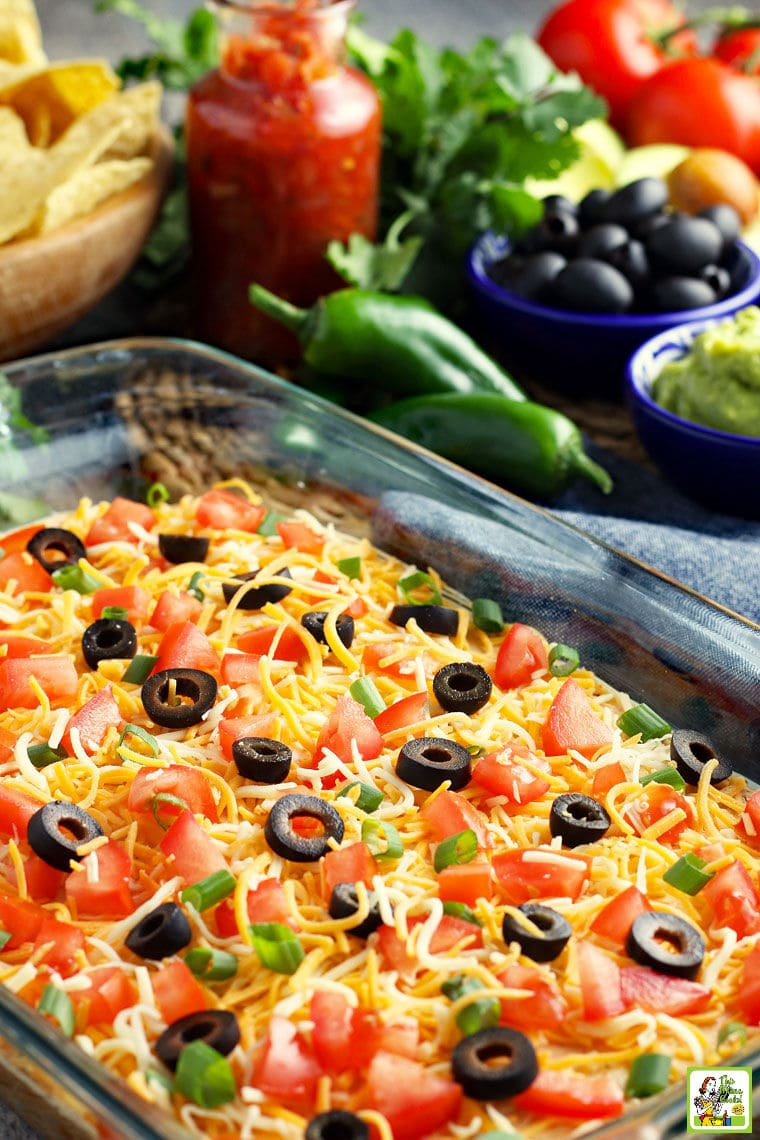 Making the ultimate Cinco de Mayo party
Having a Cinco de Mayo party? This taco layer dip makes a terrific appetizer that goes great with all kinds of Mexican recipes.
I love grilling up Carne Asada or preparing Slow Cooker Pulled Pork Tacos for a party. Both are delicious with a side of Easy Mexican Rice.
If you're looking for another Mexican style dip, try this Easy Nachos Recipe for Cinco de Mayo.
I also like serving Peach & Cherry Beer Margaritas for the adults and Quick & Healthy Horchata for the kids or non-imbibing grown ups.
Another tasty Cinco de Mayo party recipe is Chopped & Layered Taco Salad. It uses similar ingredients to the seven layer taco dip, making your grocery shopping a breeze.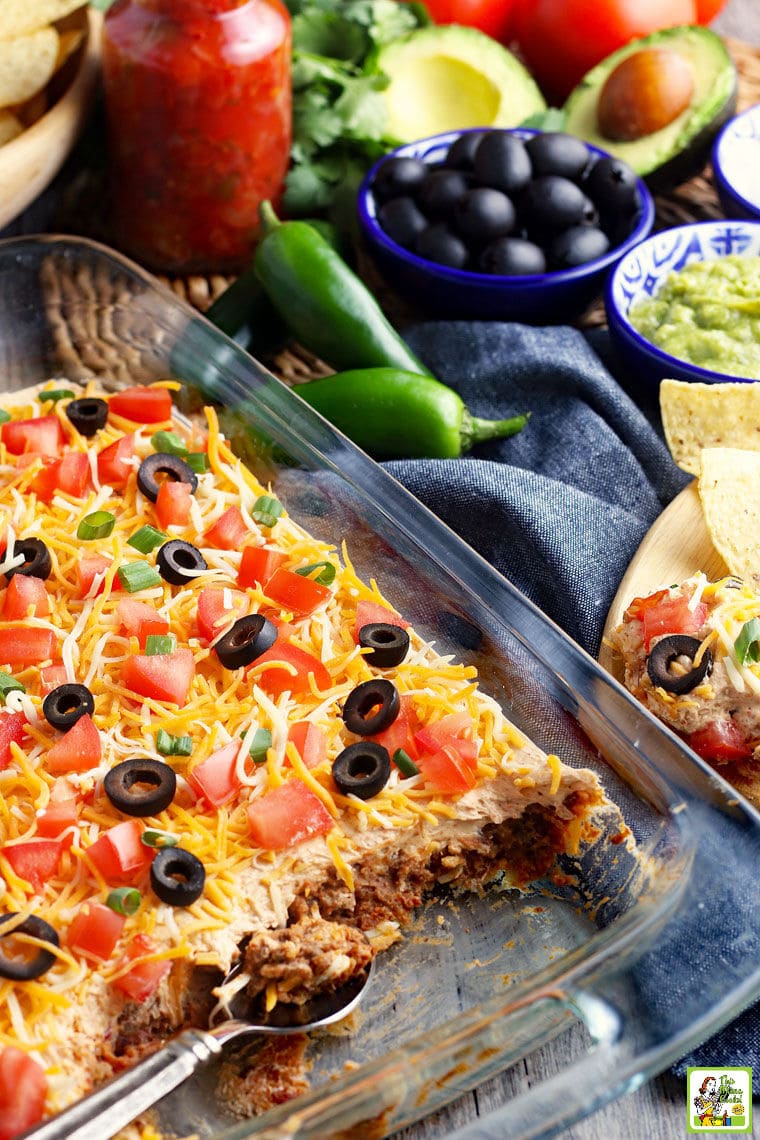 More party dip recipes
If you're looking for more easy to make party dips, you've come to the right place.
If you looking for protein packed dips, try Edamame Avocado Dip and Easy Edamame Hummus, which both use edamame (soybeans).
If you like green dips, check out Avocado Hummus and Avocado Dip Veggie Shooters with both use tasty avocado.
Vegan Spinach Artichoke Dip and Hot Crab Spinach Dip both feature spinach and are easy to make.
Yield: 12 SERVINGS
Layered Taco Dip Recipe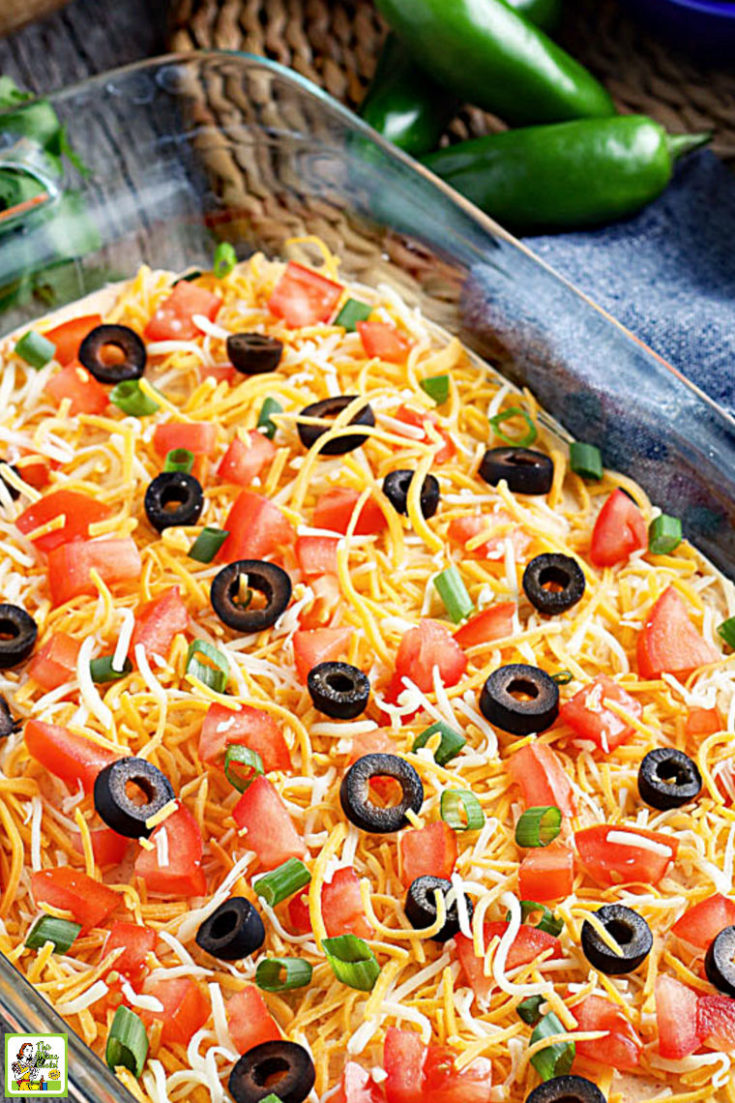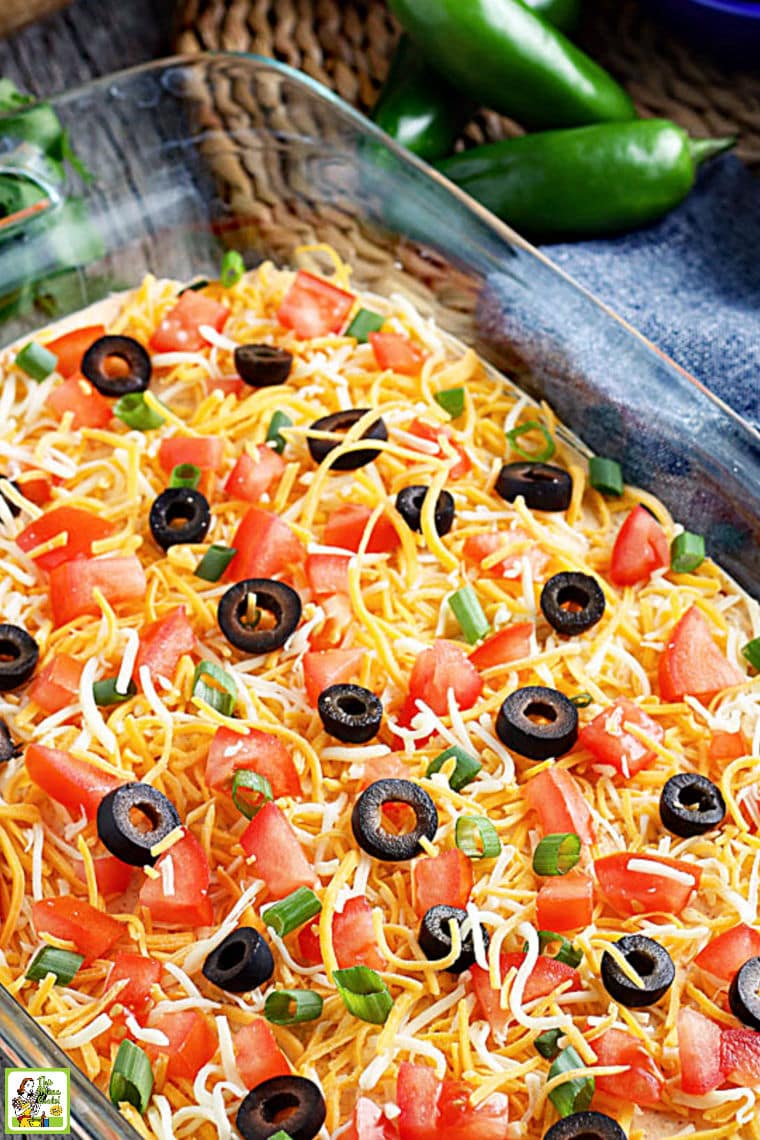 Make this 7 layered taco dip as a party appetizer recipe. Taco layer dip is and easy to make, crowd-pleasing hit that everyone will love.
Ingredients
1 pound ground beef
1 16-ounce can refried beans
1 8-ounce package cream cheese, softened
1 cup sour cream
2 garlic cloves, minced
Toppings for Layered Taco Dip
1 cup shredded mild cheddar cheese
1 cup shredded Mexican blend cheese - or your favorite cheese
2 tomatoes, diced - about 2 cups
3 greens onions with tops, diced finely
1 2.25-ounce can of sliced black olives, optional
2 tablespoons cilantro, snipped, optional
Jalapeno slices, optional
Avocado, diced, optional
Instructions
Brown ground beef until no pink remains, drain if necessary.
Return ground beef to pan and add 2 tablespoons (or 1 envelope) of taco seasoning and 1/2 cup water.
Cook until all liquid is absorbed.
In a medium bowl, combine taco meat and refried beans until well combined.
Transfer taco meat and refried beans to a 13x9 glass dish. This will serve as the base for your layered taco dip.
In a medium bowl, mix together cream cheese, sour cream, garlic, and 2 tablespoons (or 1 envelope) taco seasoning until smooth and creamy.
Spread cream cheese mixture evenly over taco meat and bean mixture.
Top with cheese, tomatoes, and any other toppings you like.
Place taco layered dip in the refrigerator to chill at least 1 hour before serving.
Serve 7 layer taco dip with additional sour cream and tortilla chips.
Nutrition Information:
Yield:
12
Serving Size:
1
Amount Per Serving:
Calories:

389
Total Fat:

27g
Saturated Fat:

13g
Trans Fat:

1g
Unsaturated Fat:

11g
Cholesterol:

85mg
Sodium:

586mg
Carbohydrates:

16g
Fiber:

5g
Sugar:

3g
Protein:

21g
Nutritional information is automatically calculated per the ingredients list. Serving size may not be accurate. Please double-check with your preferred nutritional app for the most accurate information.