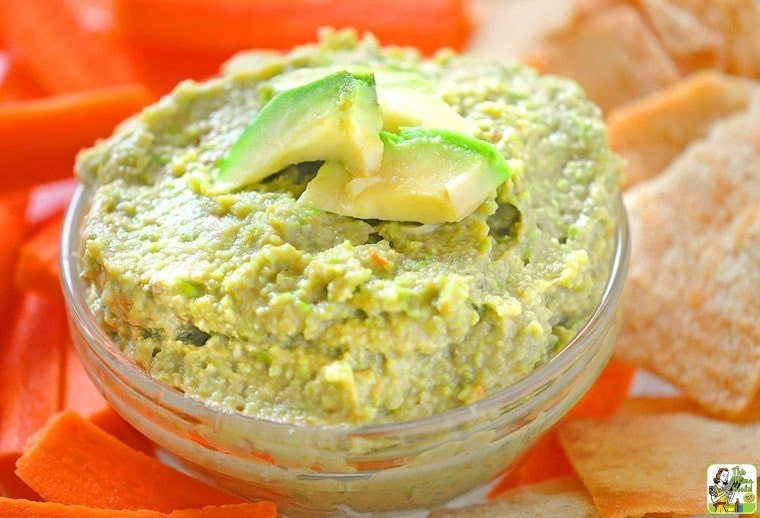 Try this Edamame Avocado Dip recipe, if you're bored with the same easy avocado dip recipes for your Cinco De Mayo party or Taco Tuesdays.
It's from Holly Clegg's Eating Well to Fight Arthritis cookbook. Of course, you don't need to have arthritis to enjoy the benefits of this homemade avocado dip recipe like fiber and protein.
This avocado dips recipe has so much going for it besides taste and its gorgeous green color. It also works well as a dip for St Patrick's Day parties!
First, what makes this avocado dip so unique is that it's made with edamame – soybeans – a terrific source of vegetarian protein.
In addition, this edamame dip recipe uses non-fat plain Greek yogurt, which is another terrific source of protein.
You can find more of Holly Clegg's trim& TERRIFIC® recipes at The Healthy Cooking Blog.
Check out Holly's trim & TERRIFIC™ cookbooks on Amazon, too!
This Edamame Avocado Dip is amazing!
I was amazed at the correlation between nutrition and inflammation! Did you know that arthritis is the second most frequently reported chronic condition with over 100 different types?
May is National Arthritis Awareness Month, so I decided to highlight a recipe from my trim&TERRIFIC® cookbook, Eating Well to Fight Arthritis.
We know eating healthy is good for us, but there are standout nutrients that are real power players in reducing inflammation.
In my Edamame Avocado Dip, soybeans (edamame) are a good source of fiber, Omega-3 fatty acids, and a terrific vegetarian source of protein.
From reducing the risk of heart disease and stroke, lowering cholesterol, to reducing joint pain from inflammation, research supports a long list of health benefits from eating foods rich in omega-3 fatty acids.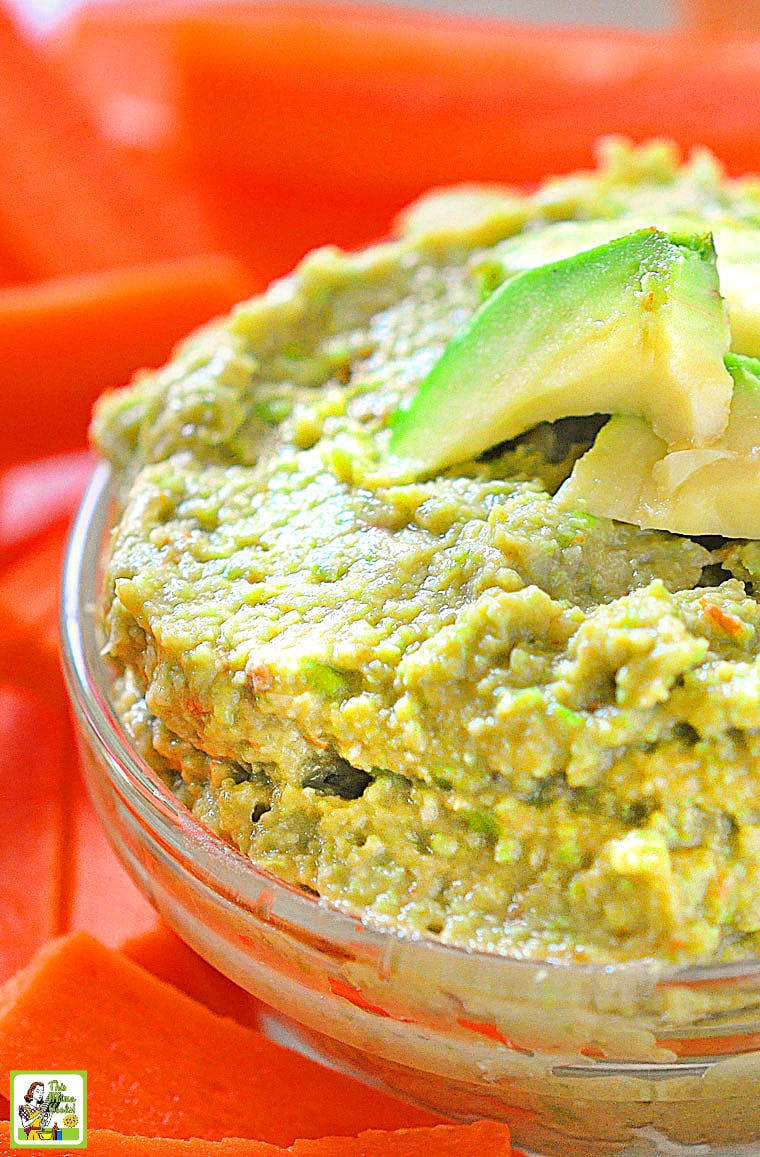 How to make a dip with edamame and avocados
If you love chips and dip, then this recipe is the best mix between guacamole and a plain edamame dip.
(If you love edamame dip, check out Easy Edamame Hummus. If you're an avocado dip purist, try Avocado Hummus.)
This healthy avocado dip is super quick and easy to make since all the ingredients go right into the food processor or high speed blender.
Where to get edamame: For this recipe for edamame hummus, you'll need 12 ounces – or 1 1/2 cups – of shelled edamame (soy) beans.
They might be labeled as mukimame, if they'll already shelled. (Go for the shelled – so much easier.)
You can find edamame or mukimame in the freezer section of your grocery store.
Can't find ripe avocados? Every time I go to the store, all I find are unripen avocados, which isn't helpful when I need to make a homemade dip in a couple of hours.
Luckily, I've had better luck in the organic section. You pay more, but you get results.
I haven't tried frozen avocados yet. But I may try them the next time I can't find any ripe avocados and want to make some avocado based dips.
What type of yogurt? Nonfat plain Greek yogurt is the best. Love the taste and the extra protein.
However, if you want to make a dairy free dip, you can substitute a plain coconut or soy yogurt.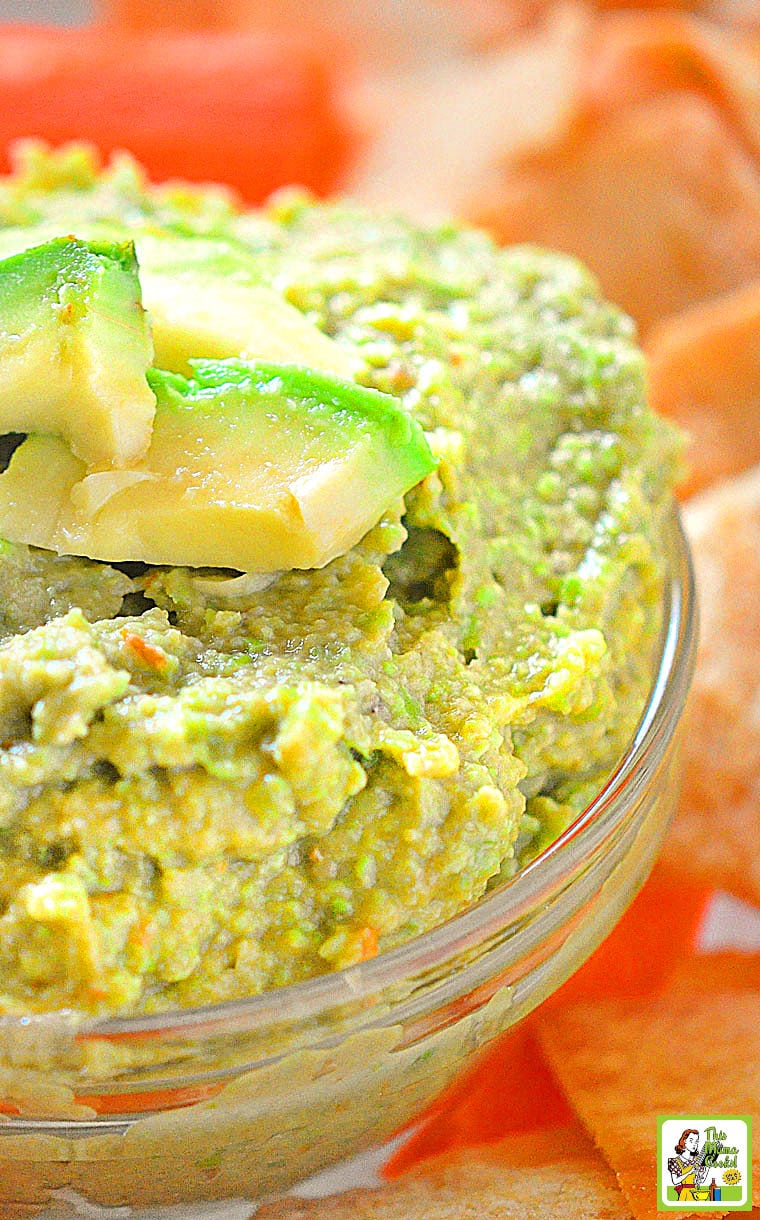 How to serve this edamame avocado dip recipe
This diabetic-friendly and naturally gluten free recipe for edamame avocado dip can be served with fresh veggies sticks for a low carb option.
You can also serve it with your favorite gluten free chips or crackers.
Or try it as a delicious sandwich spread!
Just remember to make this dip right before your party. Don't make it the night before!
Any dip containing avocado could turn dark green or gray in a matter of hours, even with the addition of lime juice.
More awesome recipes from Holly Clegg
● Easy Chicken Stew with Roasted Butternut Squash and Quinoa
● Blueberry Muffin Streusel Cake
● Berry Good Oatmeal Cookie Cake
Yield: 10 SERVINGS
Edamame Avocado Dip Recipe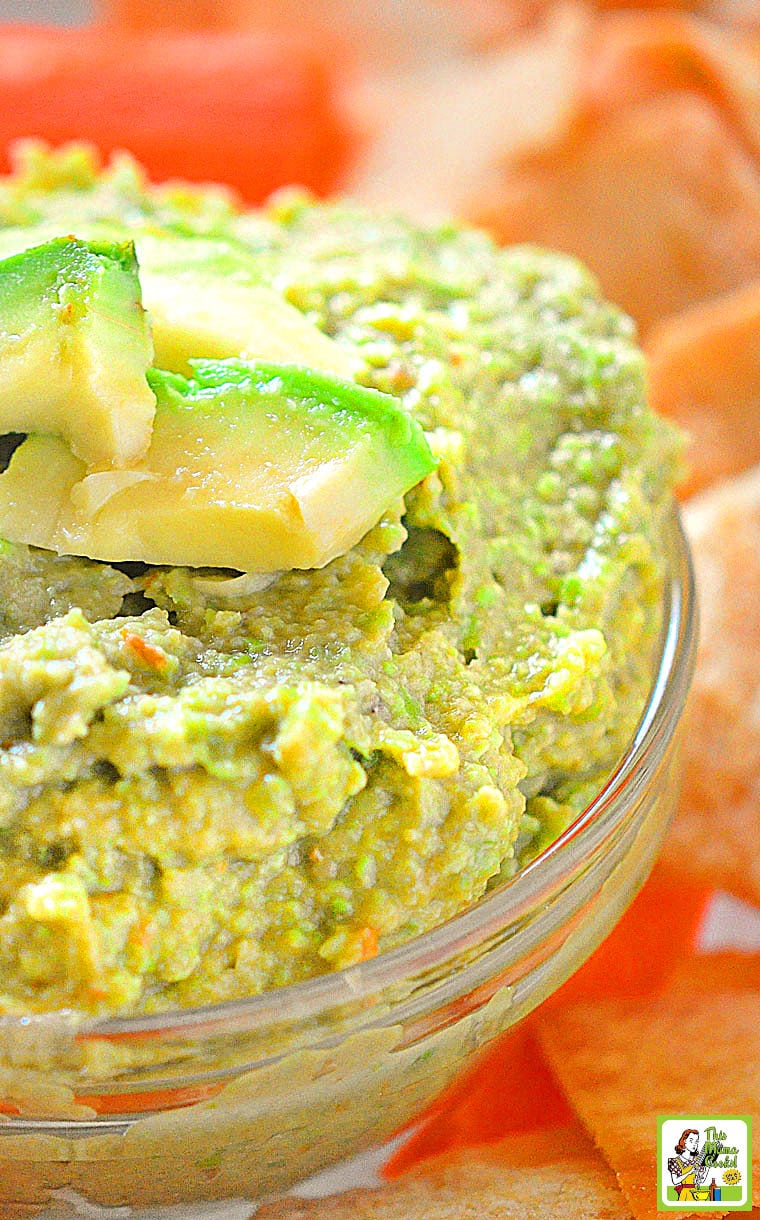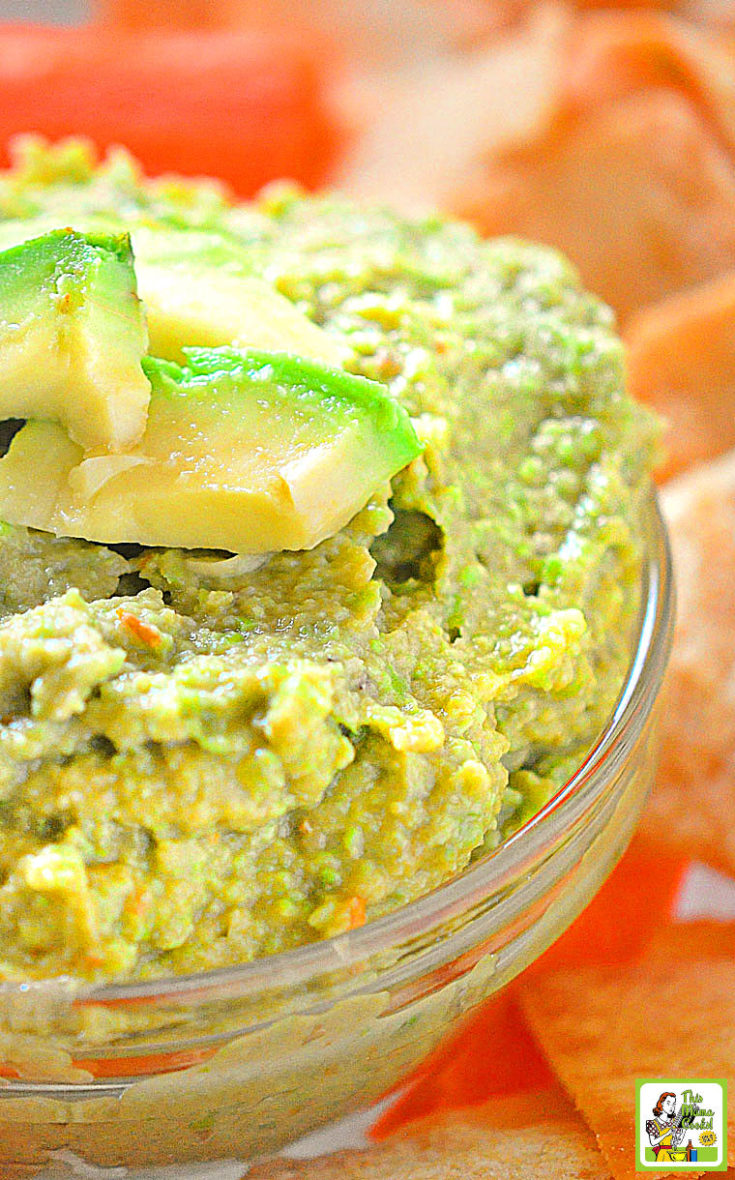 Looking for an avocado dip recipe? Try this homemade edamame avocado dip recipe that can be made in a few minutes and is naturally gluten free!
Ingredients
1 large ripe avocado (about 2/3 cup mashed)
1 1/2 cups shelled edamame, thawed
2 tablespoons lime juice
1/2 teaspoon minced garlic
1/2 cup salsa
3 tablespoons nonfat plain Greek yogurt
Salt and pepper to taste
Vegetable sticks, chips, or crackers for serving
Instructions
In a food processor or high-speed blender, combine all ingredients for the edamame and avocado dip. Blend on medium setting until the dip appetizer is nice and smooth.
Serve edamame and avocado dip with cut vegetables sticks, chips, or crackers. Also makes a terrific sandwich spread.
Nutrition Information:
Yield:
10
Serving Size:
1/4 cup
Amount Per Serving:
Calories:

62
Total Fat:

3g
Unsaturated Fat:

3g
Sodium:

50mg
Carbohydrates:

5g
Fiber:

2g
Protein:

4g
Dietary Exchanges: 1 vegetable, 1/2 fat
Picture and recipe used with permission of author.
Originally published on May 4, 2016. Updated with new pictures and information.