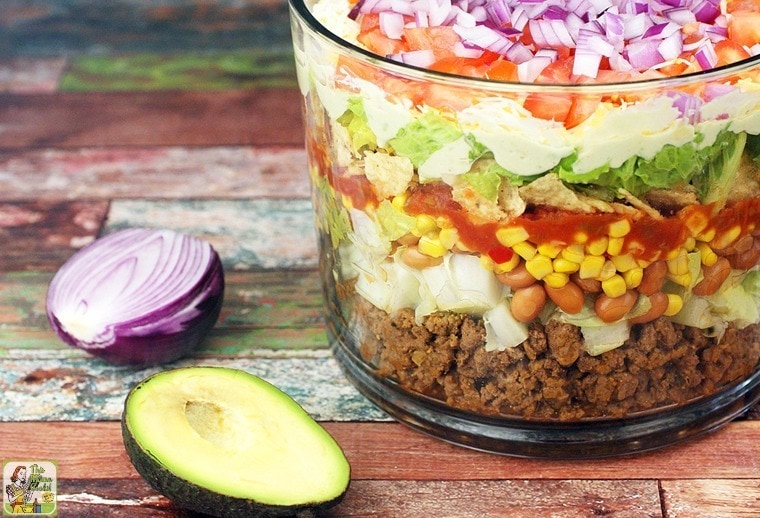 The story behind my Chopped & Layered Taco Salad comes from my childhood. It was something my mom made all the time when I was growing up.
This recipe was her friend, Elizabeth's, layered taco salad. It was one of those retro, faux-Mexican dishes that we kids loved.
It combined cooked ground beef, taco seasoning, many cups sour cream, crushed tortilla chips, shredded cheddar cheese, iceberg lettuce, green onions, and black olives.
I remember eating bowls of creamy taco salad we'd find in the refrigerator as an after school snack.
Recreating a layered taco salad
To recreate Elizabeth's salad as a chopped and layered taco salad, I did the following:
Made it pretty by serving it in a trifle bowl.
I also used more wholesome salad ingredients.
Inspired by recipes like my 7 Can Taco Soup and Slow Cooker Pulled Pork Tacos, I used ingredients like beans, corn, low-fat cheese, diced red onions, salsa, and avocados.
This healthy salad recipe turned into such a hit with my kids that I make it at least once a month. We rarely have leftovers.
It's a shame because I think Chopped & Layered Taco Salad tastes even better the second day.
So you have leftovers when you make it, double the recipe!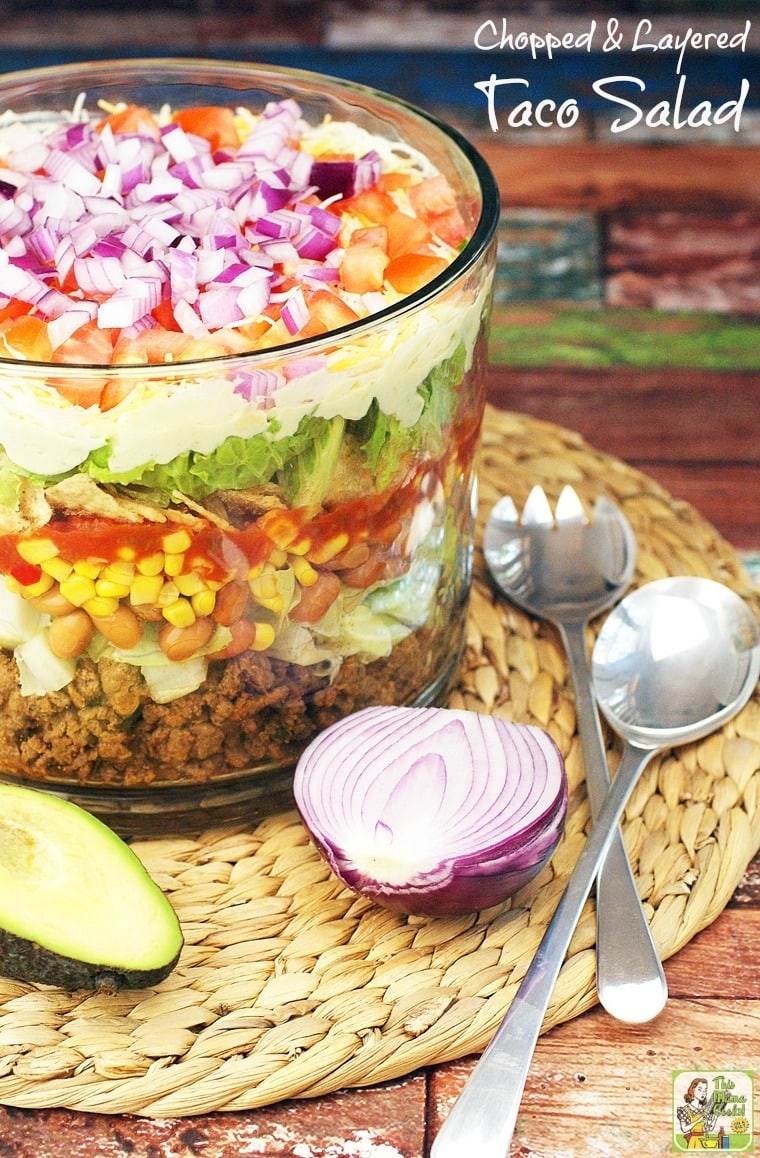 How to prepare the lean ground meat 
Along with canned beans and corn, I use one pound of lean ground beef or ground turkey
While you're browning the meat over medium-high heat, add your favorite taco seasoning, and 1/2 to 3/4 cup water.
(You can also use this easy Crockpot Taco Meat recipe.)
Remember to let the seasoned ground beef cool before using it in this layered taco salad recipe so you don't wilt the lettuce. You want it nice and crunchy!
What kind of taco seasoning?
I use 2 tablespoons of my Homemade Taco Seasoning Mix. I like making my own since I don't have to worry about hidden gluten, MSG, sugar, or weird fillers.
But you can also use your favorite store-bought packet taco seasoning mix if you wish
What kind of cheese?
I chose to use a shredded Mexican cheese blend. You can also use shredded Monterey jack or pepper jack.
What kind of beans?
I used pinto beans. You could also use black beans or red beans.
Save your broken tortilla chips
This easy taco salad recipes is a great way to use broken tortilla chips.
Keep them in a Ziploc bag in the freezer, so they don't get stale.
Why Greek yogurt?
I chose nonfat Greek yogurt as a healthy alternative to sour cream.
I like it better than non-fat sour cream, too. If you've looked at the ingredient list of a lower fat sour cream, it's full of fillers, which I'm not crazy about.
Plus, Greek yogurt tastes great!
What else can I add to this salad?
If you like, you can add the following optional salad ingredients to the salad bowl:
black olives
diced red or green peppers
a layer of vegetarian refried beans
chilies
jalapeno peppers
grape tomatoes (cut in half, they make a pretty layer)

How to serve up this easy taco salad recipe
It's time to dust off your trifle bowl and use it for something other than whipped cream, berries, and cake during the holidays!
This healthy taco salad recipe looks best when layered in a trifle dish or a punch bowl. However, any large bowl with high sides, like a mixing bowl, is good in a pinch, too!
This healthy salad recipe is easy to double, so it's ideal to feed a party crowd, too.
Can I make this layered taco salad in advance?
You probably shouldn't make this ground beef taco salad in advance.
Why? The chips will lose their crunch. (No fun!) And the lettuce will start to wilt. (Yuck.)
However, the salad is good the next day if you have leftovers. (Just keep any leftover salad in an airtight container in the fridge.)
It's so tasty that you'll put up with wilted lettuce and mushy chips until all the salad is gone.
Take this healthy taco salad on the go
If you're taking your layered taco salad to a potluck, make it in a large lasagna pan with a lid.
Carry it to the party in a Rachael Ray Lasagna Lugger.
I love the Rachael Ray Lugger Bag since it keeps this easy taco salad recipe cold and tidy.
If anything spills, it's kept inside the bag – and not all over your car. The straps make it easy to carry and it's super cute, too!
Don't forget those salad tongs, too! Nothing worse than asking your hostess for a serving spoon and all she has is a plastic fork!
I love these because they can grab big portions of this yummy layered taco salad.
Love Mexican food? Here are a few Mexican recipes you'll adore:
Check out these easy to make Mexican food recipes:
● Easy Mexican Rice can be made 10 minutes as a side for tacos or burritos.
● Mexican Christmas Salad is also served in a breakfast bowl.
● Easy Breakfast Chilaquiles is also terrific for dinner.
● Chicken Enchilada Casserole is a crowd pleasing casserole that can be made with leftover chicken.
● Make your own Quick & Healthy Horchata at home.
Yield: 8 SERVINGS
Chopped & Layered Taco Salad Recipe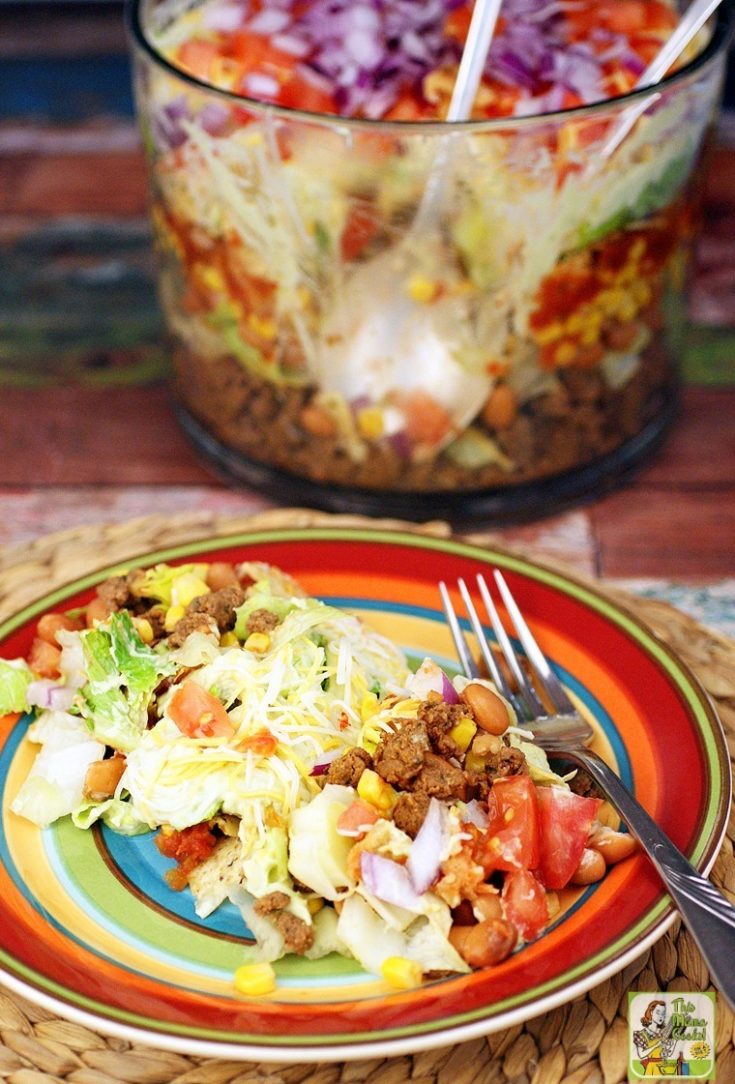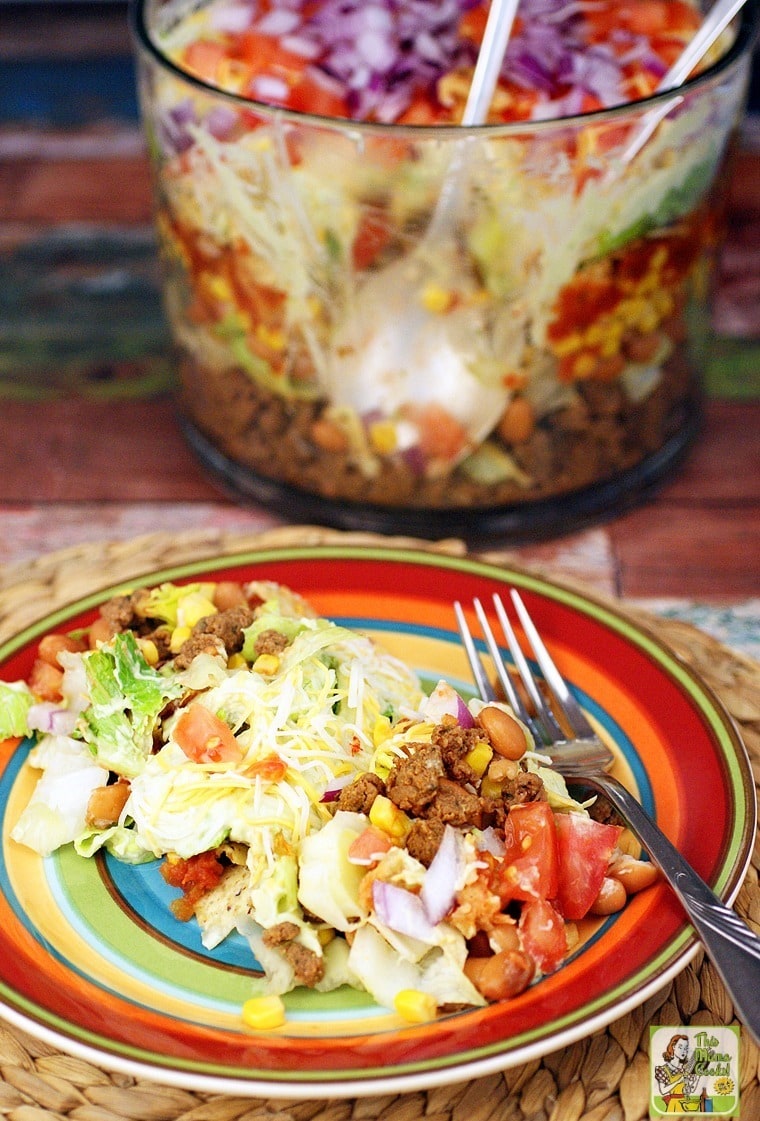 This Chopped & Layered Taco Salad Recipe is a family favorite. Serve this healthy layered taco salad at parties and potlucks.
Ingredients
2 whole ripe avocados
1/2 cup nonfat Greek yogurt
1 teaspoon fresh lime juice
1/2 teaspoon salt
Hot sauce, to taste
1 pound lean ground beef or ground turkey
4 cups chopped Romaine lettuce, divided
1 cup crumbled tortilla chips
1 cup salsa (your favorite style)
1 15-ounce can pinto beans, drained and rinsed
1 15-ounce can sweet corn with red and green peppers, drained and rinsed
1/2 cup low-fat shredded Mexican blend cheese
3/4 cup chopped tomato
1/3 cup diced red onion
Instructions
To make the guacamole layer, cut the avocado in half. Remove the avocado pit and scoop out the flesh with a spoon into a small bowl. Mash avocado with a fork to break it up.
Add the Greek yogurt, lime juice, salt, and hot sauce (to taste). Stir until ingredients are combined.
Cook seasoned taco meat in a heavy skillet. Let cool.
Assemble the taco salad in a glass trifle bowl in the following order. The cooked taco seasoned ground beef goes at the bottom. Follow with half the Romaine lettuce.
Then add the pinto beans, corn, salsa, tortilla chips, and remaining Romaine lettuce.
Finally, add the guacamole, shredded cheese, chopped tomato, and diced red onion.
Keep chilled until served.
Recommended Products
As an Amazon Associate and member of other affiliate programs, I earn from qualifying purchases.
Nutrition Information:
Yield:
8
Serving Size:
1
Amount Per Serving:
Calories:

593
Total Fat:

22g
Saturated Fat:

7g
Trans Fat:

0g
Unsaturated Fat:

13g
Cholesterol:

76mg
Sodium:

3685mg
Carbohydrates:

61g
Fiber:

12g
Sugar:

12g
Protein:

33g
Nutritional information is automatically calculated per the ingredients list. Serving size may not be accurate. Please double-check with your preferred nutritional app for the most accurate information.
Originally published on August 12, 2015. Updated with new pictures and information.