Last Updated on October 12, 2021 by Anne-Marie
This Espresso Chocolate No Bake Pie recipe is an easy vegan chocolate no-bake dessert recipe.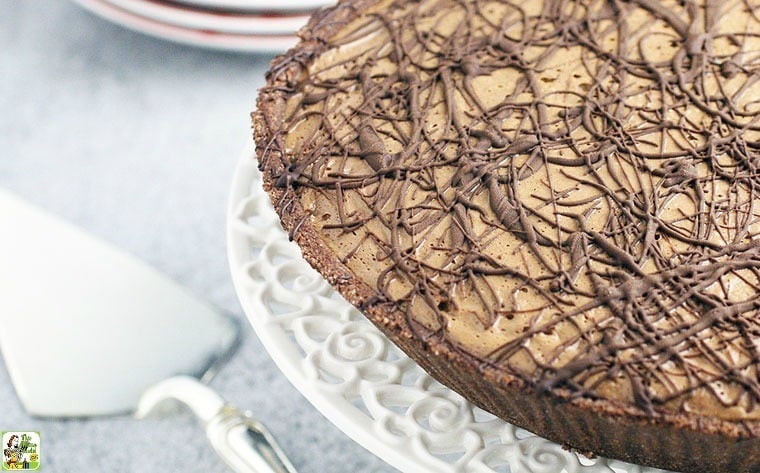 Why this recipe works
Now that it's warming up, it's the perfect time to make quick and easy no bake desserts like this easy Espresso Chocolate No Bake Pie recipe.

This yummy no bake dessert uses silken tofu and chocolate soymilk instead of ice cream and cow's milk. So not only will your vegan and vegetarian friends ask for the recipe, but so will anyone who can't tolerate dairy products.
That's right! This gorgeous and yummy chocolate no bake dessert has no dairy in it! Even folks who can tolerate dairy will rave how creamy and tasty this chocolate no bake pie is.
In addition, Espresso Chocolate No Bake Pie is packed with plant-based protein. A small slice goes a long way to filling you up satisfying your sweet tooth. That what makes this Chocolate Espresso No Bake Pie an especially satisfying dessert!
The benefits of cooking with soy
I thought I'd share why I like cooking with soy. First, soy-based foods like soymilk, soy yogurt, and silken tofu are a great substitute for dairy products.
This is a big help if you're dairy free or if you're vegan and wish to avoid animal food products.
Soy is also a lean protein and contains less saturated fat than most other protein sources and naturally has no cholesterol.
It's the only protein recognized by the U.S. Food and Drug Administration for its role in reducing cardiovascular disease.
Soy is also a very eco-friendly protein source, since it's 10 times more efficient than meat in terms of land usage. Soybeans offer 941 pounds of protein per acre of land.
Compare this to eggs, another efficient land user, that produce only 212 pounds of protein per acre.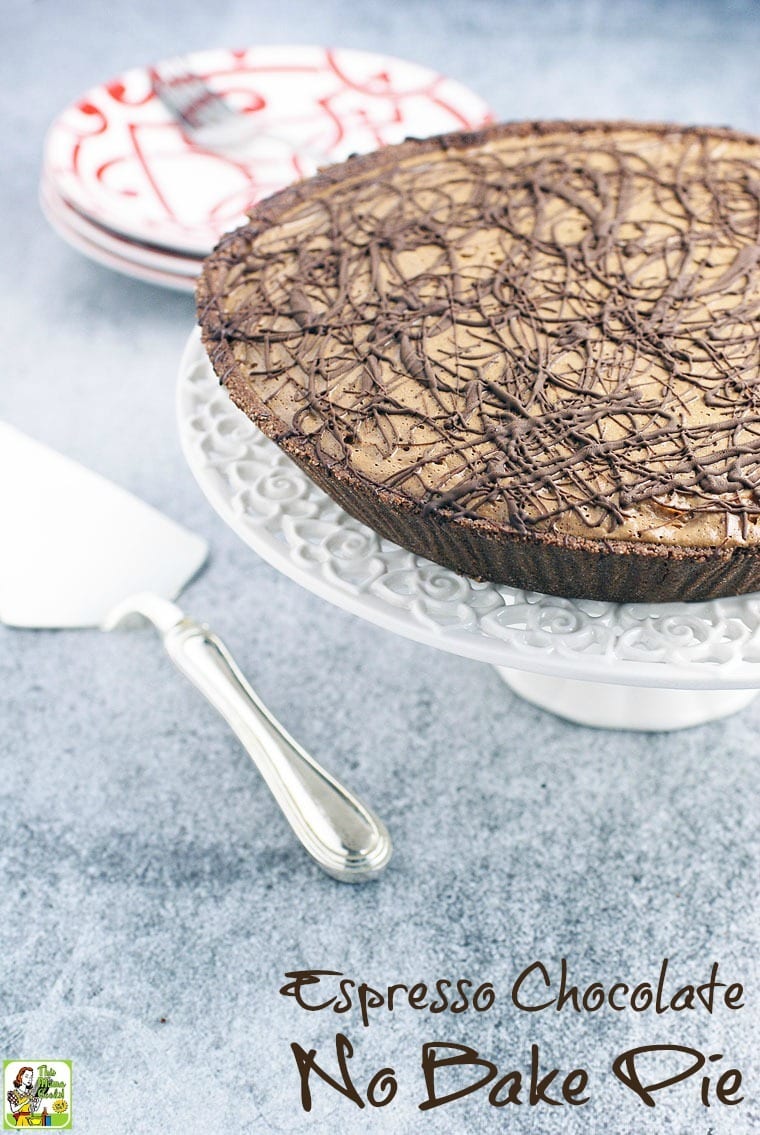 Tips for making Espresso Chocolate No Bake Pie
What kind of chocolate?
My grocery store carries Enjoy Life dairy free chocolate in the health food section. I've also found it at Target and online at Amazon. For the Espresso No Bake Pie recipe, use a double boiler to melt the chocolate chips.
How to melt the chocolate?
Stovetop:
I melted the chocolate chips with a Beka Bain Marie, which is a double boiler simmer pot. You pour water into the reservoir on the handle of the vessel which then heats up between the walls, and cooks food without burning or boiling over.
If you find yourself needing to use a double boiler for melting chocolate or making sauces on a frequent basis, you may want to invest in one of these because they're foolproof and you never scorch your chocolate!
(Unfortunately, the Beka isn't sold anymore. A regular double boiler should work just fine.)
Microwave:
You can also melt chocolate chips in a microwave. Place the chocolate chips in a microwave safe bowl. Place the bowl in the microwave. Heat the bowl on medium high for about 1 minute.
Remove the bowl from the microwave and stir. Repeat heating at shorter intervals, 15 to 20 seconds, stirring in between, until the chocolate is completely melted and has a smooth consistency.
What type of milk?
I used Silk's chocolate soymilk in the Espresso Chocolate No Bake Pie recipe.
If your store doesn't carry it (or doesn't have a chocolate soymilk store brand), buy the vanilla flavor and double the amount of chocolate chips.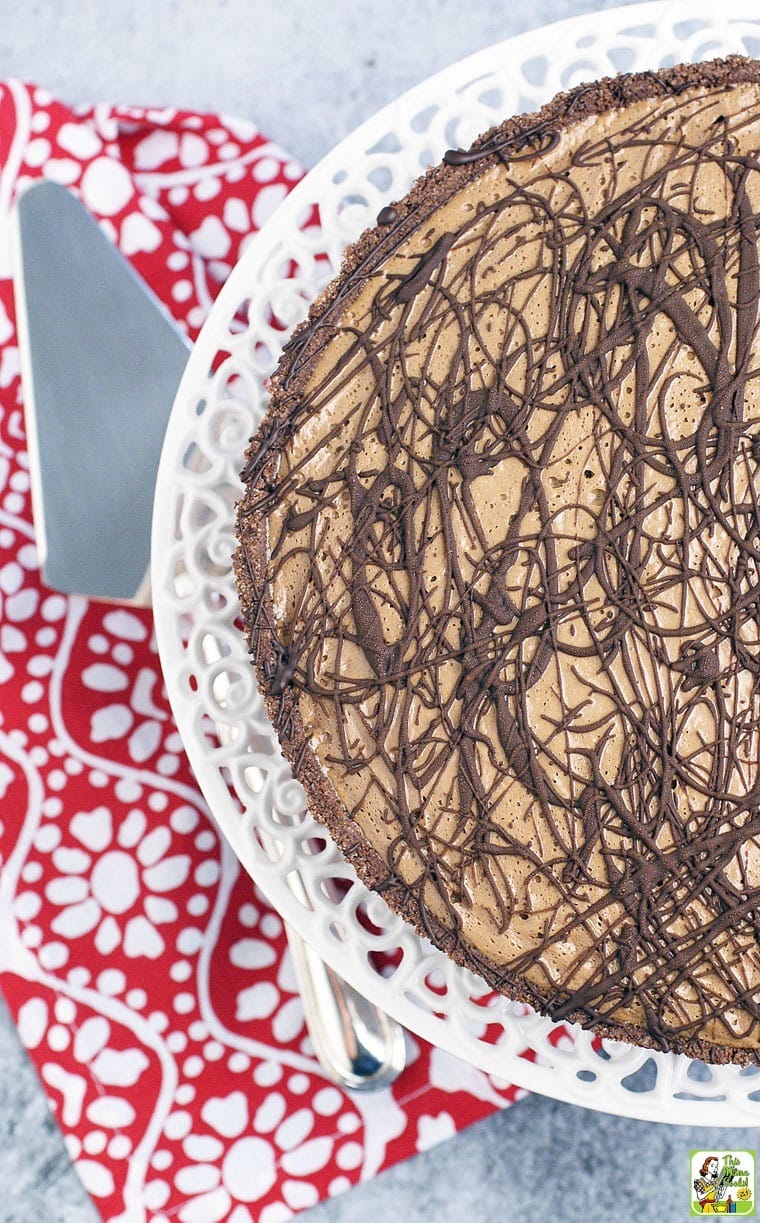 What kind of tofu?
For the Espresso Chocolate No Bake Pie recipe I chose House Foods soft tofu. Soft tofu is also called silken tofu. You can find tofu in two different places at your grocery store.
In the health food aisle, you may find shelf stable tofu in valpaks. (Great for keeping tofu in the pantry to use as needed!)
You'll also find tofu in one of the refrigerated sections. It's always interesting to find out where your store manager decides to stock the tofu!
What kind of sweetener?
To cut back a bit on the calories, I chose monk fruit sweetener as I find stevia has a bitter aftertaste when used with chocolate.
You could also use sugar, agave, honey or maple syrup instead in this chocolate no bake pie recipe.
What kind of espresso?
For the instant espresso, I used the Café Bustelo brand. I found this brand both at my grocery store and at Target. You can also purchase Café Bustelo instant espresso online. I've used it in smoothies, too!
How to make a gluten free pie
I used a premade gluten free pie crust made by Mi-Del, which makes truly makes this an easy chocolate no bake pie recipe. My grocery store just started carrying these in a variety of flavors. You can find these gluten and dairy free premade pie crusts online as well.
If you want to make your own pie crust for the Chocolate Espresso No Bake Pie, follow the crust directions in my Gluten Free Deep Dish Pumpkin & Coconut Cream Pie recipe.
Use gluten free chocolate cookies instead of plain gluten free sugar cookies.
More no bake dessert recipes
Get away from that hot oven! Try these no bake desserts:
● The Best No Bake Oreo Cheesecake
● No Bake Almond Butter Pie Recipe
● Tropical Ice Cream Sandwich Recipe 
● Avocado & Watermelon Ice Pops Recipe 
● Greek Yogurt Popsicles Recipe 
● Homemade Yogurt Bites Recipe
Yield: 8 SERVINGS
Espresso Chocolate No Bake Pie Recipe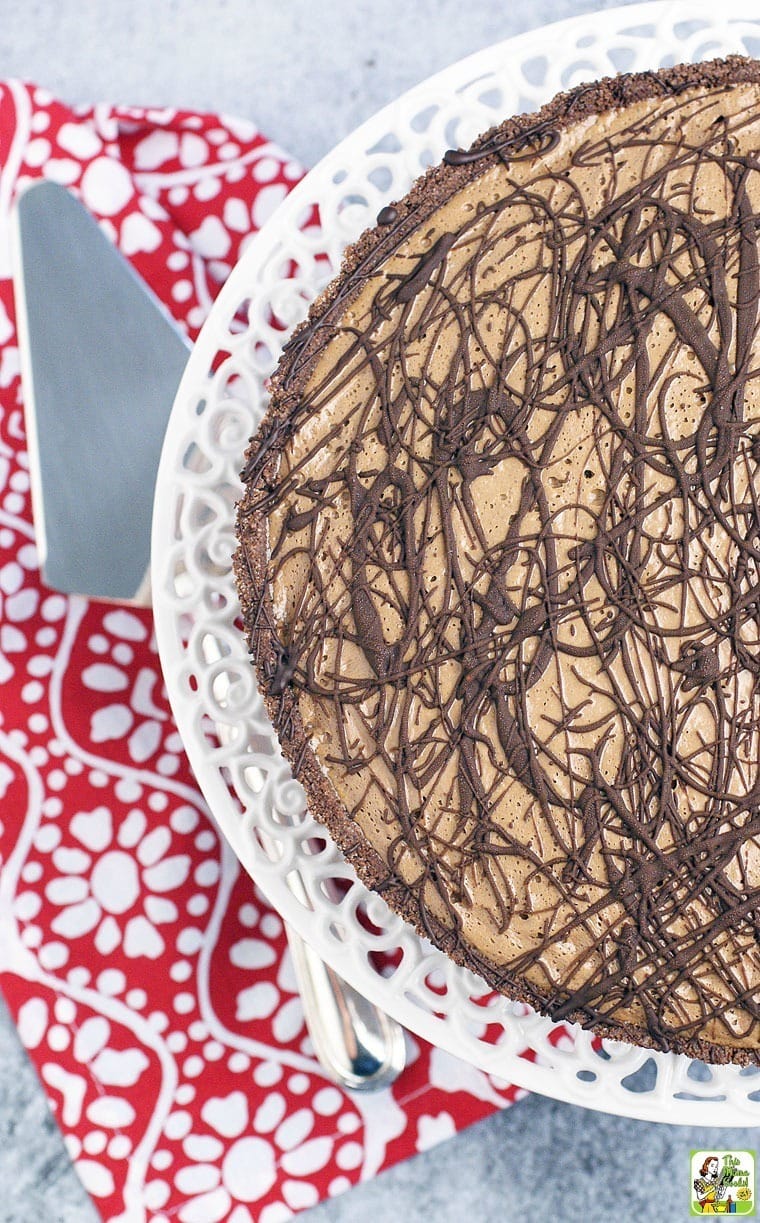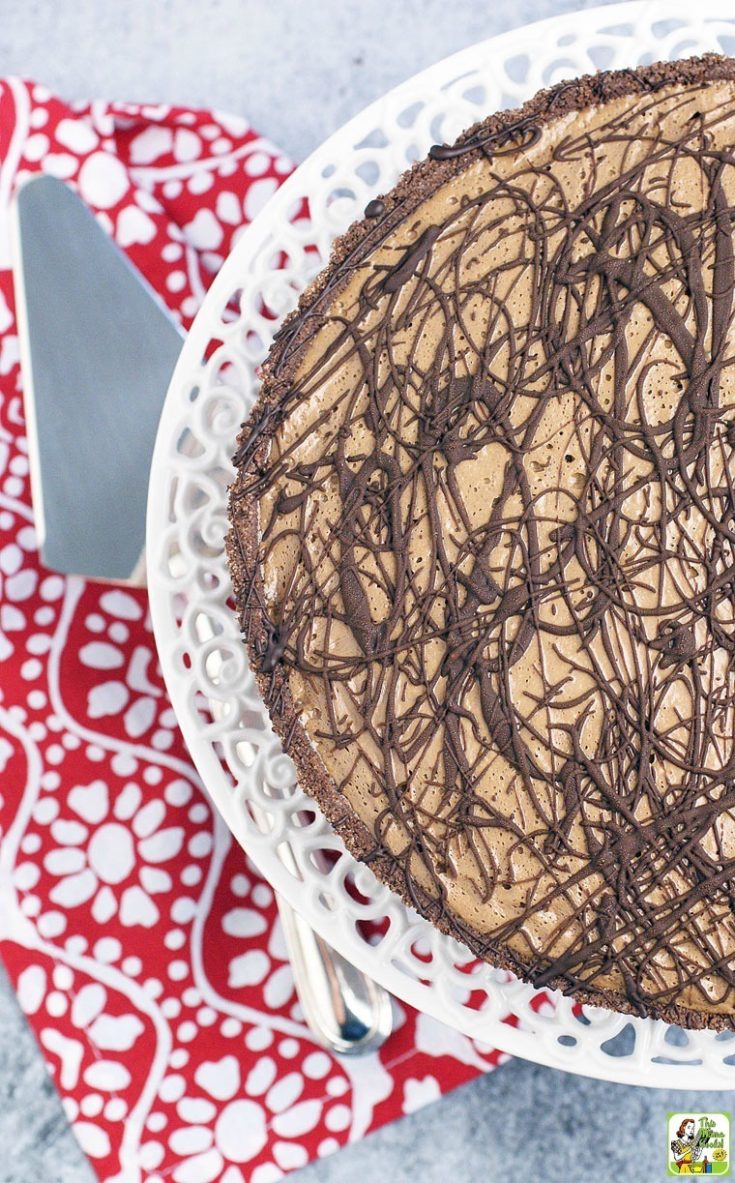 A vegan, easy, chocolate no-bake dessert recipe.
Total Time
4 hours
20 minutes
Ingredients
1/2 cup dairy free semi-sweet chocolate chips
1 14-ounce package House Foods Premium Soft (Silken) Tofu
1 cup Silk Chocolate Soymilk
1/4 cup monk fruit
2 tablespoons instant espresso powder
1/2 teaspoon vanilla
1/4 teaspoon sea salt
1 premade chocolate gluten free pie crust
1/4 cup dairy free dark chocolate chips, melted for drizzling
Instructions
Using a double boiler or a bain-marie, over low heat melt the chocolate chips until they're smooth and creamy. Remove from heat to allow chocolate to cool slightly.
Place the tofu, chocolate soymilk, monk fruit, instant espresso, vanilla, and salt in a blender. Using the pulse function, blend until very smooth. (You should not see any chunks of tofu in the mixture.) Add melted chocolate to the blender and process until smooth. If needed, stop and scrape down the sides of the jar and blend some more.
Place the pie crust on a tray or cookie sheet. Carefully pour the tofu mixture into the pie crust. Place the pie into the freezer for a minimum of four hours or overnight.
When the pie is completely frozen, remove from the freezer. Drizzle melted dark chocolate over the top of the pie with a spoon or spatula. To set drizzle, place pie back in the freezer for 5 minutes.
To serve, set at room temperature for about 10-15 minutes until pie is just soft enough to be cut. Slice and serve.
Nutrition Information:
Yield:
8
Serving Size:
1
Amount Per Serving:
Calories:

312
Total Fat:

17g
Saturated Fat:

9g
Trans Fat:

0g
Unsaturated Fat:

7g
Cholesterol:

5mg
Sodium:

191mg
Carbohydrates:

36g
Fiber:

3g
Sugar:

22g
Protein:

5g
Nutritional information is automatically calculated per the ingredients list. Serving size may not be accurate. Please double-check with your preferred nutritional app for the most accurate information.