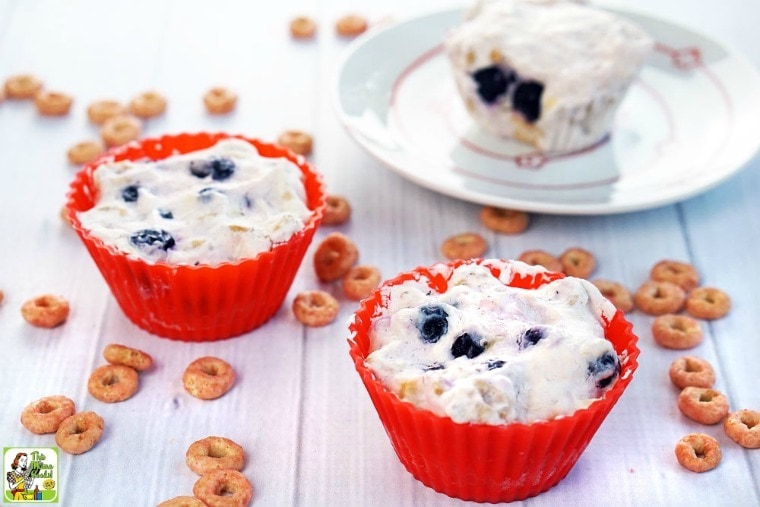 Make a batch of these Homemade Yogurt Bites for a quick, easy breakfast treat or an afternoon snack.
I love them because this yogurt bites recipe contains all the elements you want in a good-for-you breakfast – fruit and berries, non-fat Greek yogurt, and a gluten free whole grain cereal.
They're also a lovely frozen treat to have on hot summer afternoons and practically guilt-free!
Making homemade yogurt bites is super easy
I make each batch in colorful silicon baking cups. The cups are eco-friendly and easy-release.
The baking cups are also BPA, PVC and phthalate free, and are made from 100% pure, food-grade silicone meeting stringent U.S. FDA and European LFGB food safety standards.
It's so easy to pop the bites out of the cups and store them in the freezer for breakfast in a Ziploc bag.
That way you have a batch of wholesome breakfast or snack treats already waiting in your freezer when you don't have time to prepare a meal.
Or you can leave the yogurt bites in the baking cups for serving. They're easy to clean, too, and great for making cupcakes or Hash Brown Sausage Muffins.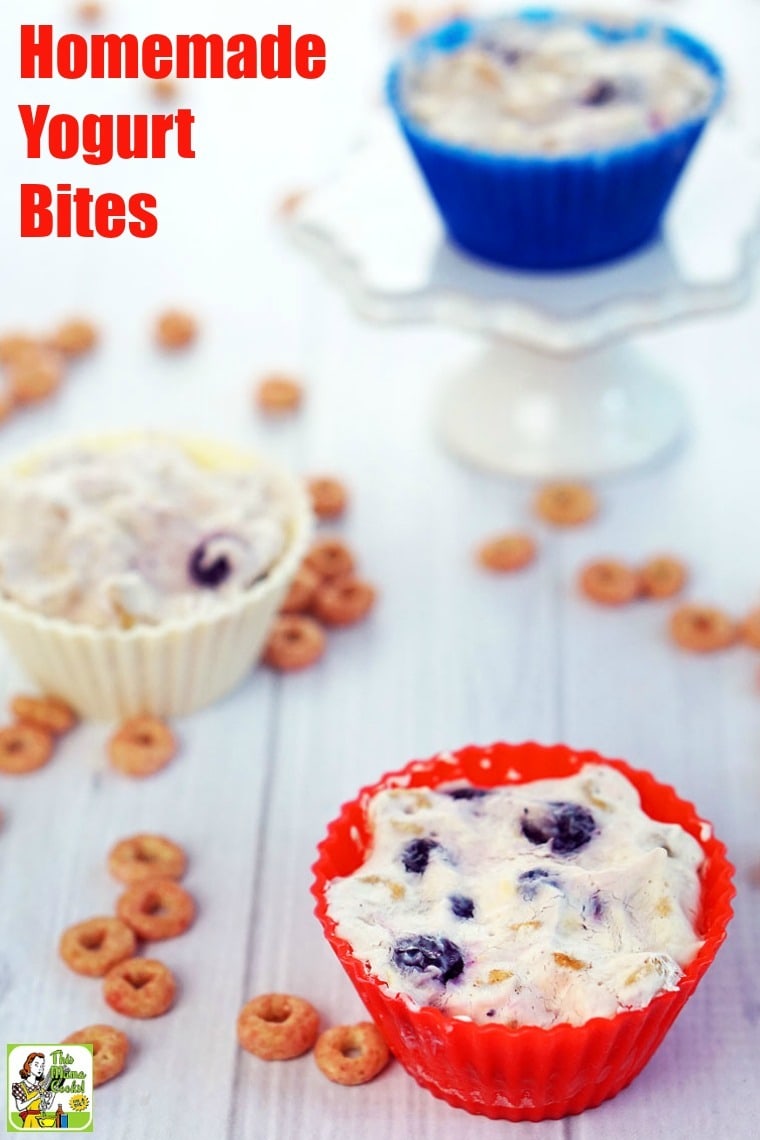 Yogurt bite recipe variations
How to make frozen yogurt bites depends on what you have on hand or your personal preferences.
If you don't have fresh or frozen blueberries, try strawberries. Just make sure to cut them up into small, bite sized pieces. You could also try other berries or small pieces of fruit, like peaches or cherries.
I originally made these with Strawberry Cheerios, which are discontinued. But you can use another variety of Cheerios, most of which are gluten free.
Any type of gluten free cereal will work in this yogurt bites recipe. You can also add a gluten free granola or coconut to the tops just before freezing.
Bored with vanilla Greek yogurt? Then use a different flavor! You can also make this recipe dairy free by using a soy or coconut yogurt.
Dried fruit like raisins or cranberries would also be delicious in this frozen Greek yogurt bite recipe.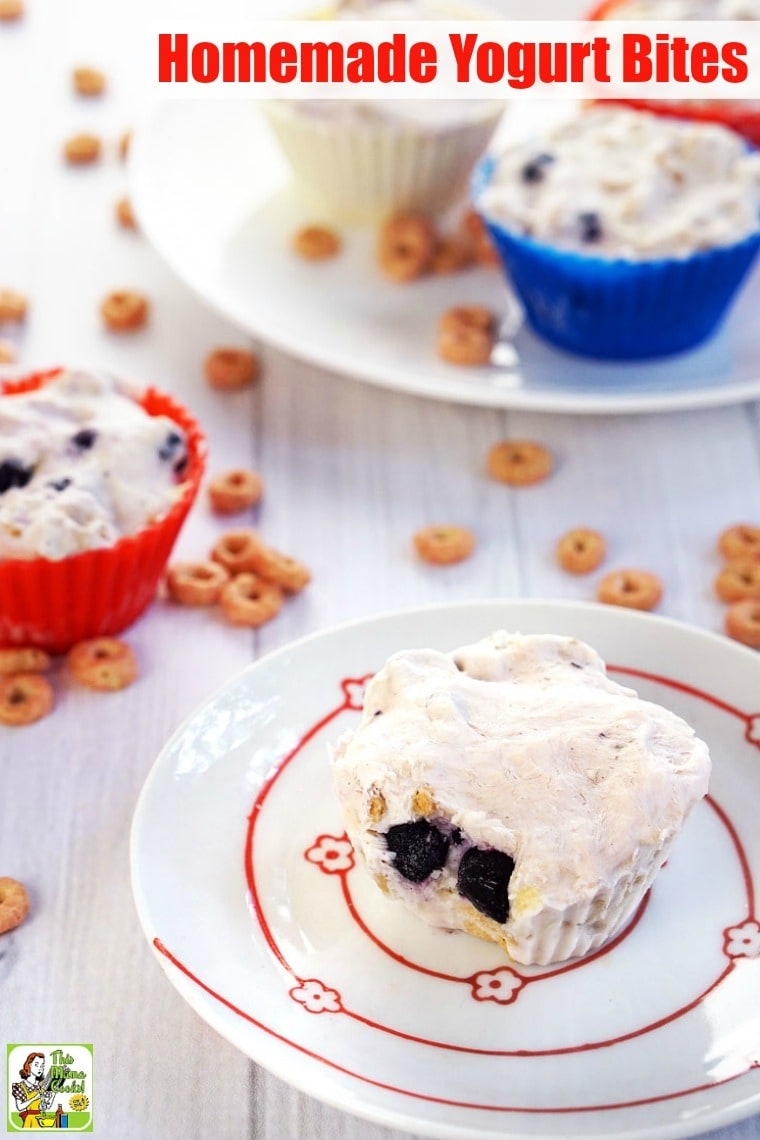 This Mama's yogurt bites recipe serving tips
When serving the yogurt bites, let them site out at room temperature for one to two minutes. Then eat them quickly while they still hold their cup-like shape.
If you're eating them out of the baking cups with a small spoon, you have a little more time to enjoy them while they melt.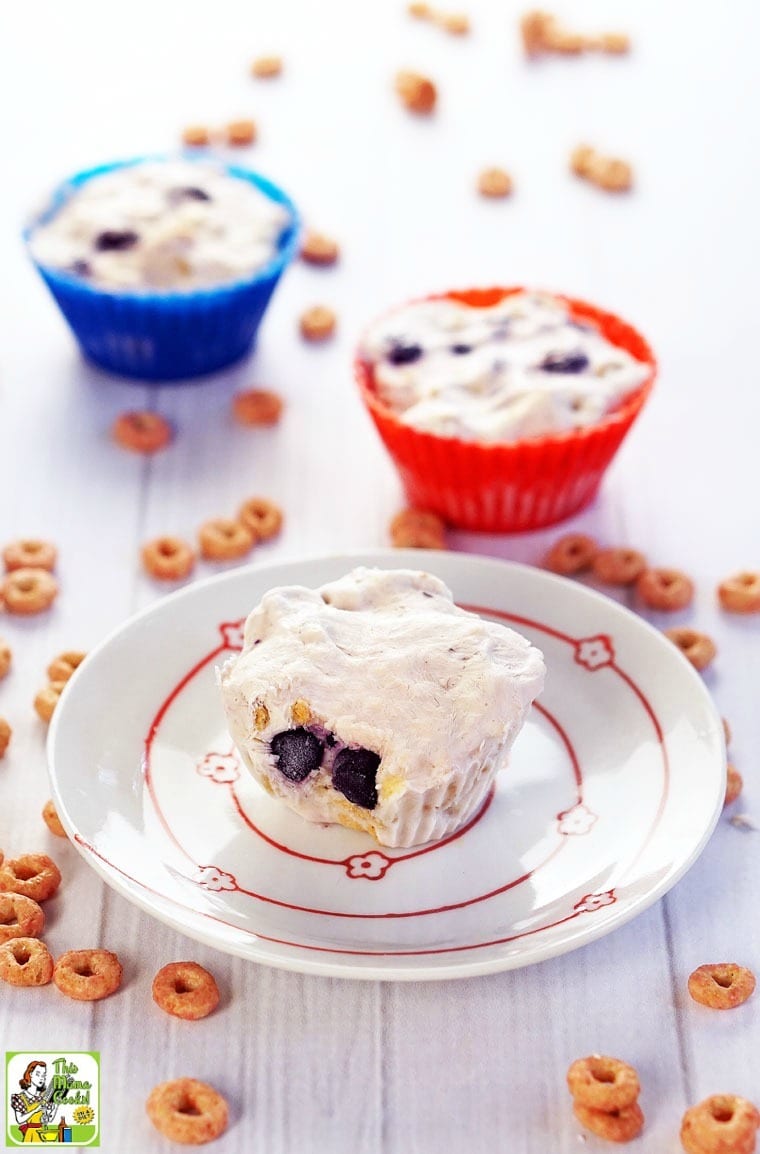 Looking for more Greek yogurt recipes?
● Check out my Healthy Frozen Greek Yogurt Bark recipe
● Zucchini and Roasted Corn Fritters with Cilantro Jalapeño Lime Greek Yogurt
● Southwestern Greek Yogurt Deviled Eggs
● Strawberry Greek Yogurt Cheesecake Bars
● Banana Chocolate Chip and Nutella Cake (with Gluten Free option)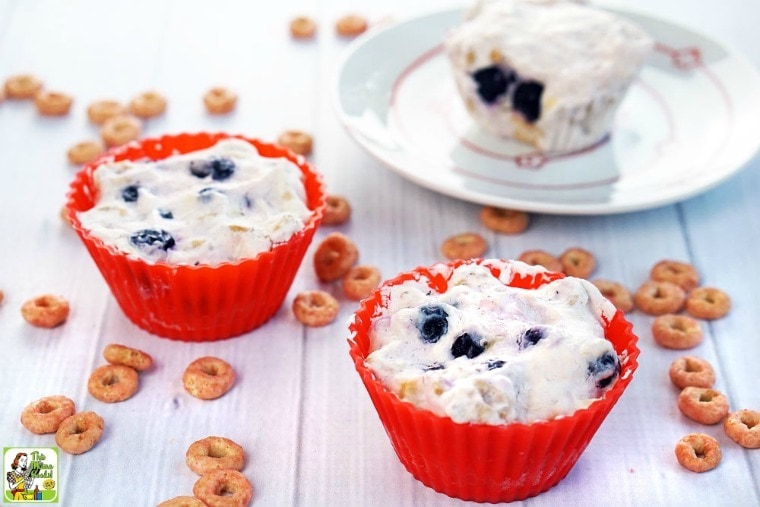 Ingredients
1 cup

sliced bananas

2 cups

vanilla non-fat Greek yogurt

1 cup

gluten free Strawberry Cheerios

1 cup

gluten free Cheerios (non-flavored)

1 cup

fresh or frozen blueberries
Servings
:
Makes 14 yogurt bites
Serving size:

2-3 yogurt bites
Originally published on August 29, 2016. Updated with new photos and information.