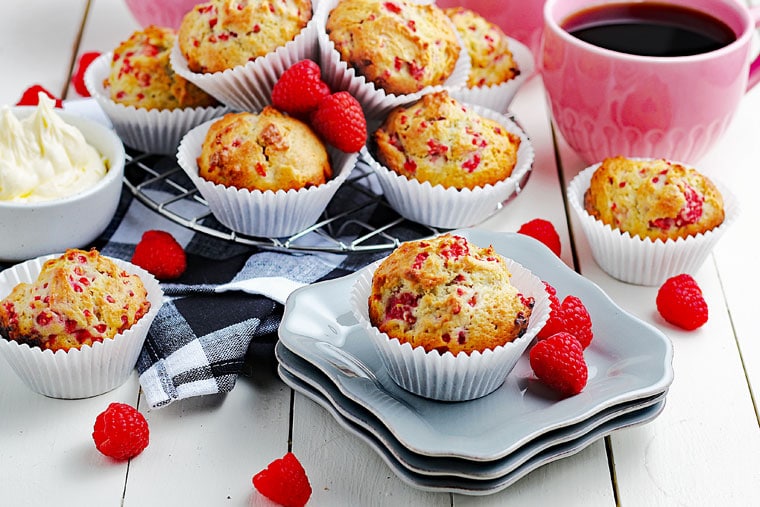 Bake a batch of these Raspberry Yogurt Muffins for breakfast. These are super easy to make.
That's because you can use frozen or fresh raspberries and raspberry yogurt in these healthy raspberry muffins
Best of all your family will love these homemade raspberry muffins as a tasty snack or breakfast treat.
Making healthy raspberry muffins
This healthy raspberry muffin recipe is courtesy of my friend, David Grotto. It's from his book, 101 Foods That Could Save Your Life.
He sent this recipe for these yummy healthy raspberry muffins along with his terrifically informative book.
Check out David's book for lots of terrific recipes including some guilt-free desserts!
See how easy it is to make these Raspberry Yogurt Muffins in this Google Web Story.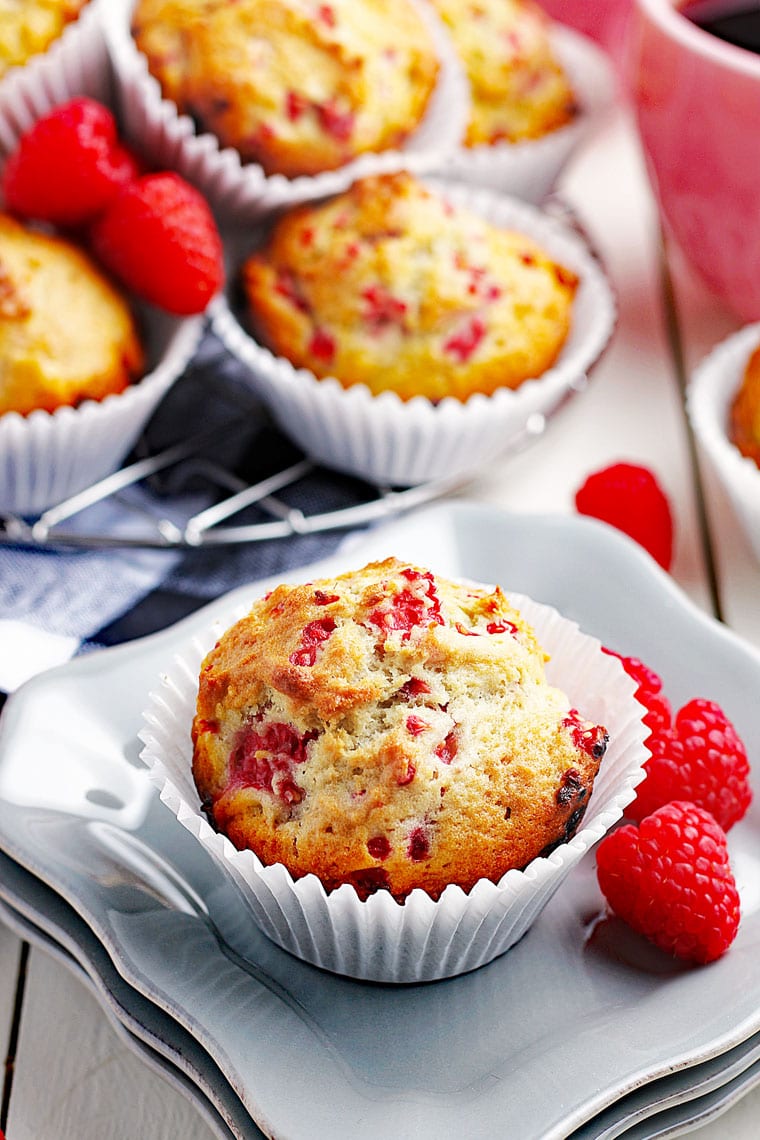 Baking up these raspberry yogurt muffins
Why raspberry yogurt? Using raspberry yogurt in the wet ingredients doubles the raspberry flavor and adds extra moisture to the batter.
Should you use fresh raspberries or frozen raspberries? Fresh raspberries or frozen raspberries will both work in this easy raspberry muffins recipe!
No need to thaw frozen raspberries to make these muffins.
Just add the frozen raspberries straight from the freezer and mix them into the muffin batters.
Can I make big muffins? Sure! If you prefer making giant muffins, use a jumbo muffin pan and jumbo muffin cup paper liners to make half a dozen homemade raspberry muffins.
You'll have to adjust the baking time if you make a larger batch of muffins, though.
Can I make mini muffins? You could try this as well by adjusting time, etc. I'd also be concerned that the juicy raspberries would be too wet for mini muffins.
Maybe if you would chop up the berries? Fresh fruit is a little tricky! I don't know and think going big would be easier.
Easier baking and cleanup: If you use a 12-count muffin pan or cupcake tin, don't forget to use cupcake liners for easier removal and cleanup!
(Cupcake liners are the same thing as muffin liners.)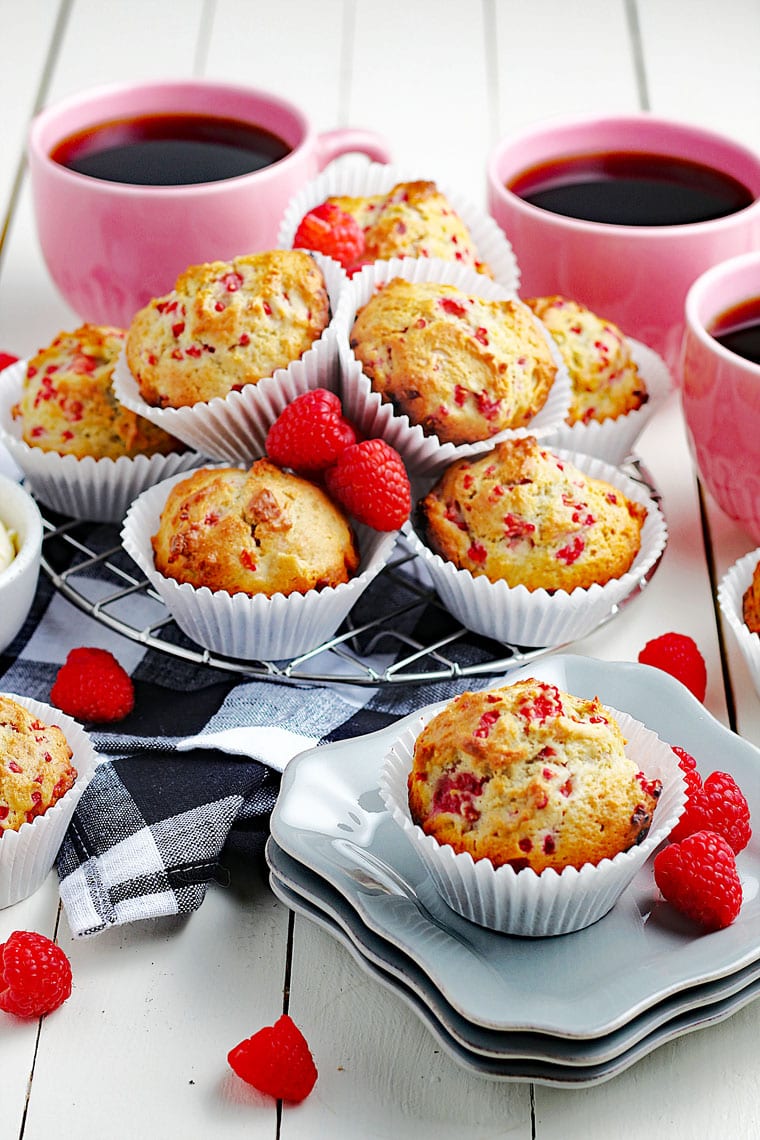 Can I use whole wheat flour in raspberry muffins with yogurt?
Substituting and changing ingredients will change baking times.
So does inaccurately measuring ingredients or having an oven that's not properly heating.
This recipe for healthy raspberry muffins is made with regular all-purpose flour. If you want to make it with whole wheat flour, you'll have to adjust the following:
Moisture: add more yogurt and/or low-fat milk or water. Whole wheat flour is drier and denser than regular flour and the batter will be thicker.
Baking time: baking time will be different, so set your timer for a few minutes less and keep checking. Use a cake tester and poke it in the center of the muffins to check if they're done.
White whole wheat flour: You could also use white whole wheat flour, which is finer and more like regular flour. Baking time will still be different, so keep checking!
Try a combination: Use a third or half whole wheat flour or white wheat flour, and the rest with regular flour in this recipe.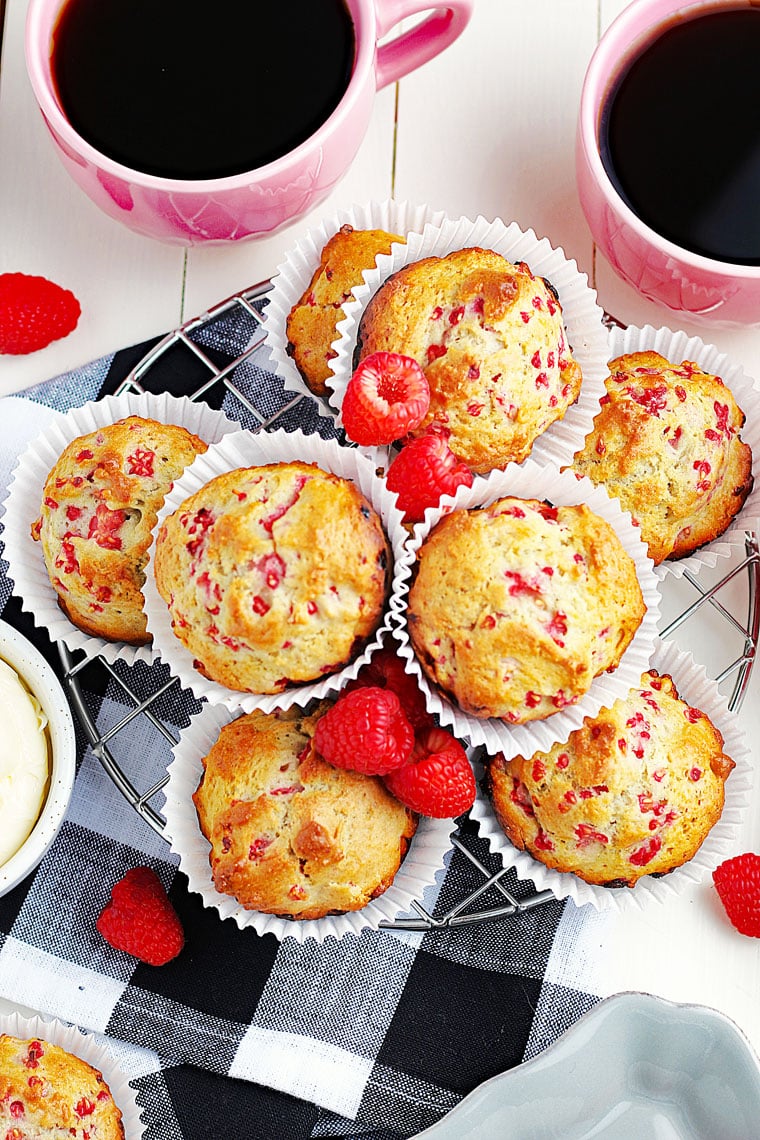 Tips when making raspberry muffins
Go sugar-free: Substitute monk fruit powder or Swerve Sweetener for the sugar.
Then use a sugar-free (no sugar added) raspberry yogurt.
Lower the calories: To lower calories, use a no-fat, no sugar raspberry yogurt.
Increase the protein: Greek yogurt is higher in calories than yogurt, but it's also higher in protein. A win-win in my book!
Dairy free? If you're dairy free, use coconut or soy yogurt.
Can I add other flavors? If you want, you can add a little vanilla extract or lemon zest to the wet ingredients or the muffin batter.
Making gluten free raspberry muffins
If you want to bake gluten free raspberry muffins, substitute the regular flour with an all-purpose gluten free flour like Bob's Red Mill Gluten-Free 1-to-1 Baking Flour.
Baked this way, these healthy raspberry muffins made with would make a tasty gluten free snack!
Check out my Best Gluten Free Products List to find more terrific gluten free baking products!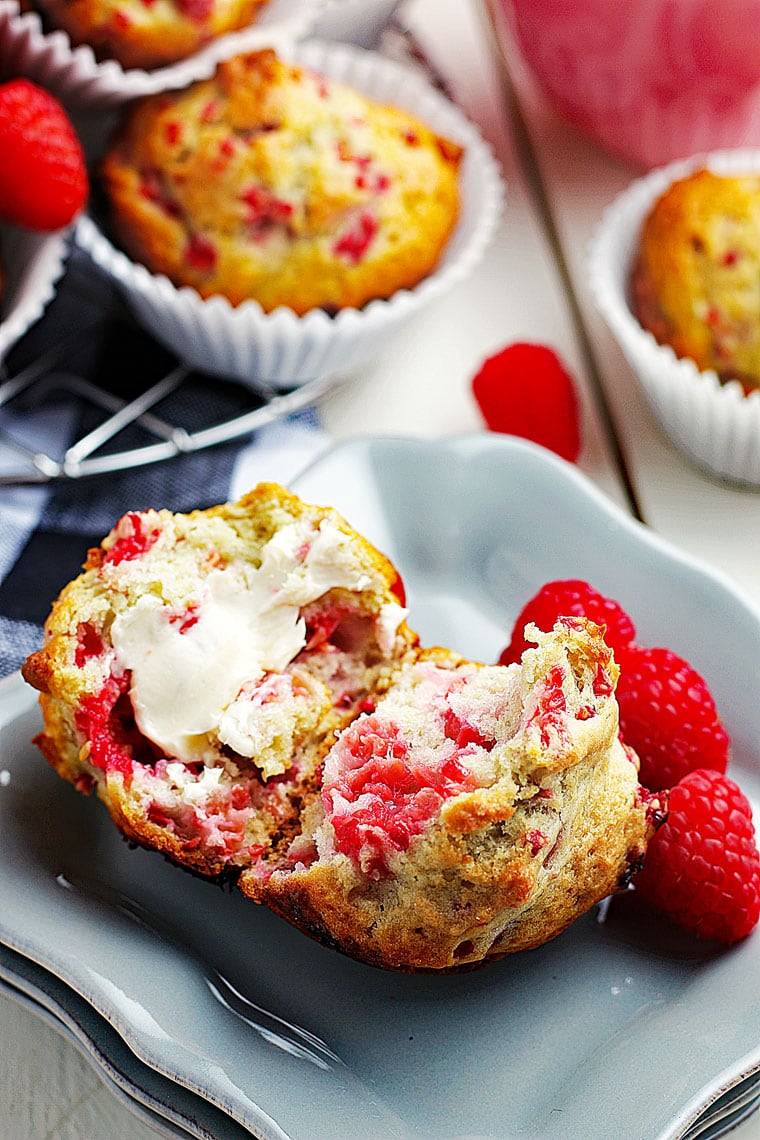 Looking for more muffin recipes?
If you're looking for more healthy muffin recipes, check these out:
These healthy Banana Oatmeal Muffins are gluten free and make a terrific breakfast or after school snack.
Got too much zucchini in your garden? Make this Zucchini Muffins Recipe! These contain raisins, but you can also add chocolate chips!
These savory Hash Brown Sausage Muffins are terrific for breakfast.
This Healthy Strawberry Yogurt Muffins recipe is made with strawberry yogurt.
Yield: 12 SERVINGS
Raspberry Yogurt Muffins Recipe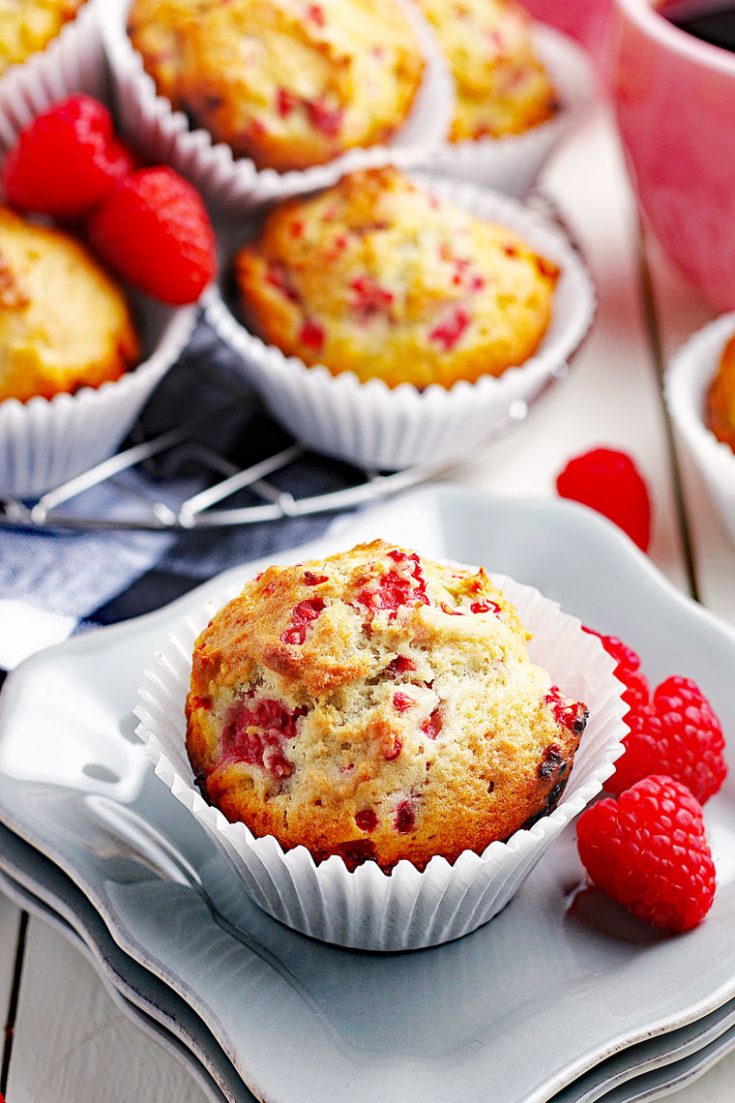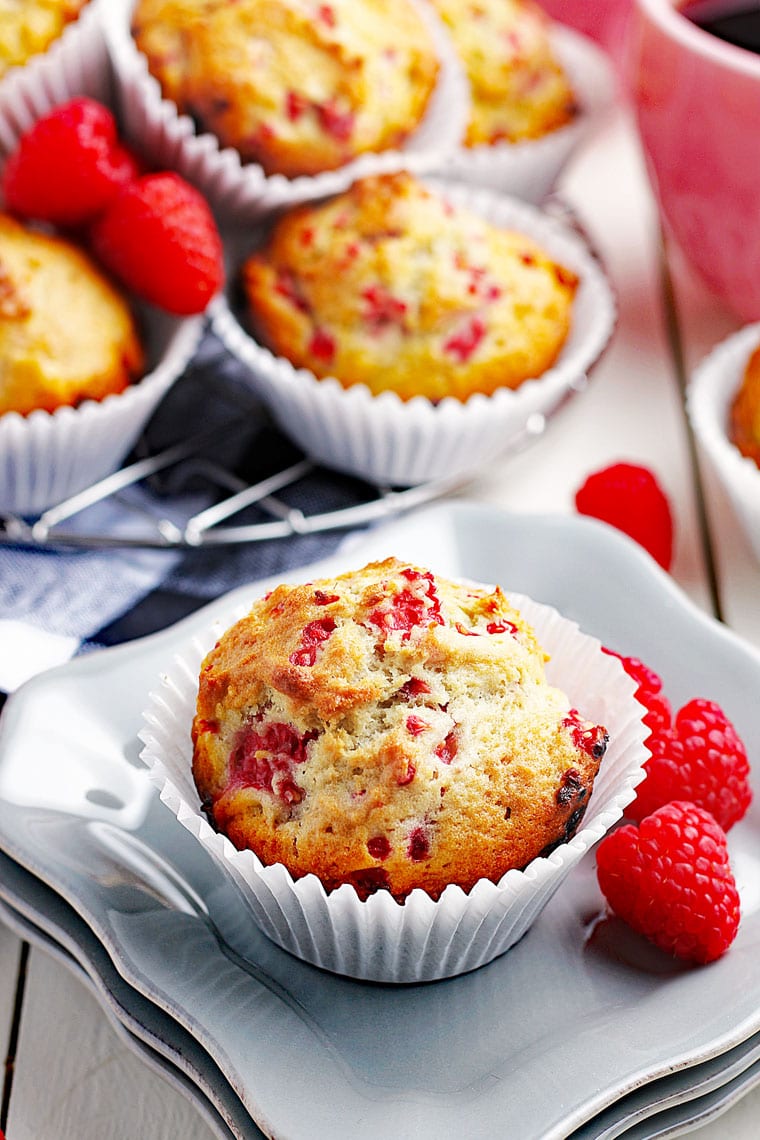 Bake up these raspberry muffins for breakfast. These healthy raspberry muffins with yogurt are easy to make with frozen or fresh raspberries.
Ingredients
1 3/4 cups all-purpose flour (or all-purpose gluten free flour)
1/3 cup sugar
1 teaspoon baking powder
1/2 teaspoon baking soda
1/2 teaspoon salt
1 6-ounce carton raspberry yogurt
1/3 cup canola oil
1 egg
1 cup fresh or frozen raspberries
Instructions
Preheat oven to 400 degrees F.
Spray, grease, or put paper liners in 12-cup muffin tin (2 3/4 inch).
In a medium mixing bowl, stir together dry ingredients.
In a small bowl, beat together yogurt, oil, and egg.
Stir yogurt mixture and raspberries into the dry mixture until almost blended. Do not over mix.
Spoon batter into the prepared muffin tin.
Bake raspberry muffins until nicely browned, about 20 minutes.
Recommended Products
As an Amazon Associate and member of other affiliate programs, I earn from qualifying purchases.
Nutrition Information:
Yield:
12
Serving Size:
1
Amount Per Serving:
Calories:

169
Total Fat:

7g
Saturated Fat:

1g
Trans Fat:

0g
Unsaturated Fat:

6g
Cholesterol:

16mg
Sodium:

195mg
Carbohydrates:

24g
Fiber:

2g
Sugar:

9g
Protein:

3g
Nutritional information is automatically calculated per the ingredients list. Serving size may not be accurate. Please double-check with your preferred nutritional app for the most accurate information.
Recipe used with permission.
Originally published April 22, 2010 and February 14, 2021. Updated with new info and pictures.