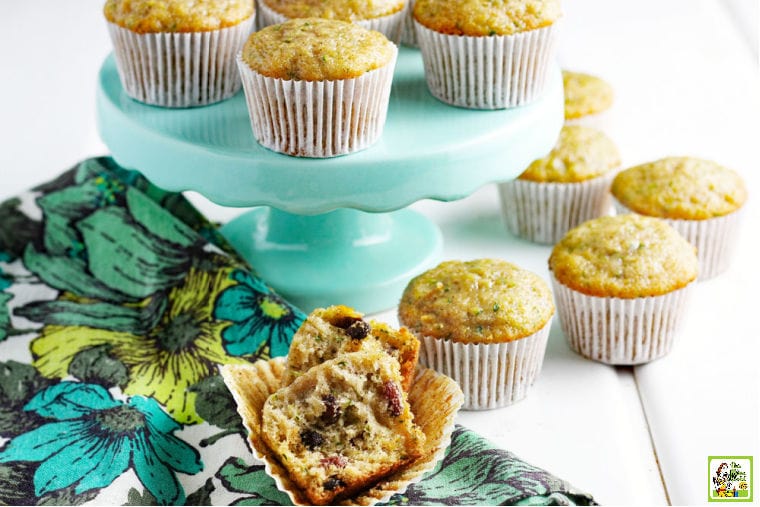 This is the best Zucchini Muffins recipe to make if you're overwhelmed with too much garden zucchini.
My kids LOVE these zucchini muffins. It's a nice way to sneak some veggies into their diets, too.
These are super moist thanks to all the grated zucchini. Plus, the cinnamon and spices make these muffins oh so delicious!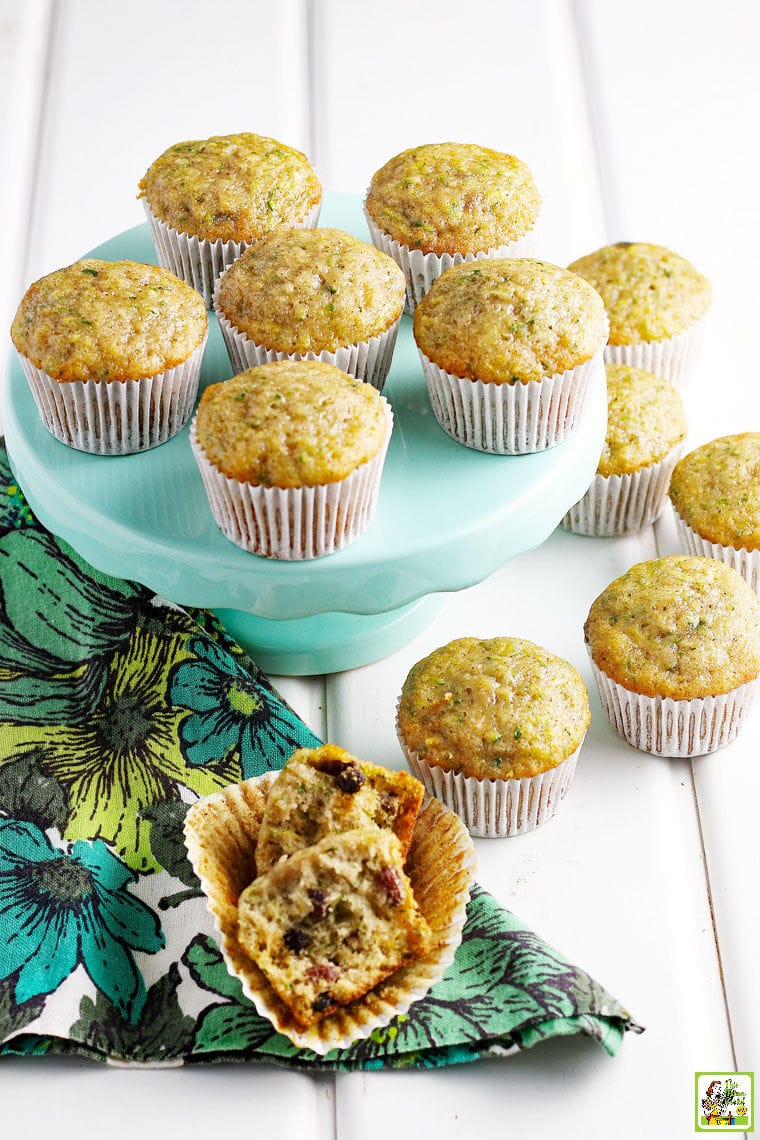 How to make zucchini muffins
First, preheat your oven. Super important!
Preparing the muffin tins: Line a couple of muffin tins with 12 to 18 paper liners. I use paper liners because they prevent the muffins from sticking. Plus they look nice.
Making the batter: In a large bowl, whisk together all the dry ingredients.
Place the raisins in a small bowl, and sprinkle them a bit of the dry mixture. This will prevent the raisins from sinking to the bottom of the muffins while they bake.
In another small bowl, whisk your wet ingredients together.
Now add the wet ingredients to the dry ingredients and mix until just combined. Don't over stir.
Finally, stir the shredded zucchini and raisins into the big bowl. Again, don't over stir. It's OK if there are a few streaks of flour left.
Making the muffins: Divide the muffin batter evenly among the 12 to 18 muffin cups.
Bake for 12 to 15 minutes or until a toothpick or cake tester inserted in the middle comes out clean.
Let the muffins cool for 5 minutes in the muffin tins before placing them on a baking rack to finish cooling.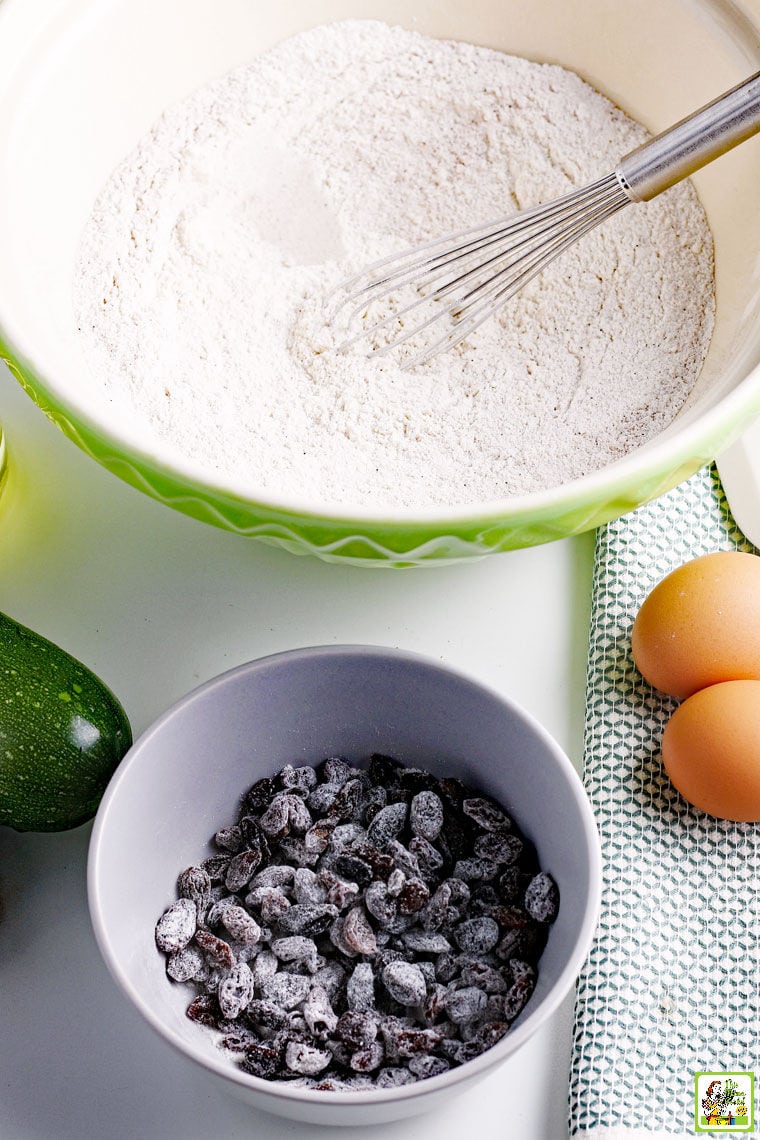 Tools needed to make zucchini bread muffins
● Muffin tins – there are traditional metal muffin tins and silicone muffin tins. The nice thing about silicone is that you don't need to use liners (just a little cooking spray).
Instead, you just pop out the muffins after they cool. (Just remember to place them on a baking sheet. They're kind of floppy.)
● Cupcake liners – You can use either cupcake paper liners or silicone cupcake liners for your muffins.
If you use paper liners and don't like the zucchini muffin showing through, bake the muffin in one liner. Then after it cools add another liner.
I like using a plain one to bake in and a colorful patterned one on the outside.
You can see how I use this effect in my Gluten Free Chocolate Bacon Cupcakes Recipe. So pretty!
● Mixing bowls – Do you have a favorite set of mixing bowls? I wish I still had my mom's vintage Pyrex bowls from the '60s!
● Shredding – Sure you can use a box shredder to grate the zucchini, but that's soooo much work and difficult if you have issues with your hands.
I prefer using a food processor since it's quick and easy, and captures all the moisture from the zucchini.
Here's a list of the best food processors on Amazon. (I have a Cuisinart food processor, which I love!)
● Wilton Batter Spoons – Now that I use these batter spoons my muffins and cupcakes come out more uniformly in size.
● Wilton Bake It Better Cake Tester – I prefer using a cake tester instead of toothpicks to determine if muffins are done. Toothpicks leave a bigger hole.
I love this cake tester to since it's stored in a case, which makes it easier to find in my gadget drawer.
● Baking rack – Invest in a few baking racks to cool your muffins on.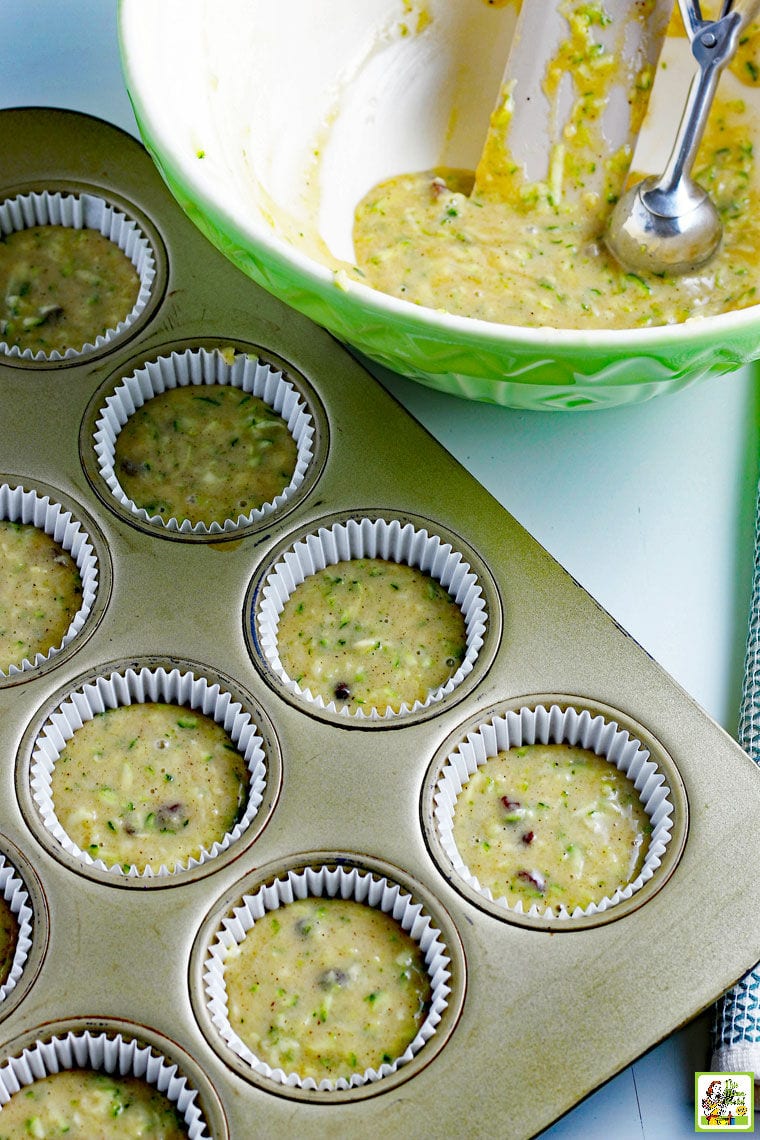 How to make gluten free zucchini muffins
If you want to make gluten free muffins, substitute your favorite gluten free all purpose flour for the regular all purpose flour.
I recommend using an all purpose gluten free flour like Bob's Red Mill Gluten-Free 1-to-1 Baking Flour. I love this product because it cooks up just like regular flour in my gluten free recipes.
Here's the best way to measure gluten free flour: Believe it or not, you shouldn't scoop gluten free flour directly out of the bag with a measuring cup.
It packs down the flour and you end up with a bit too much in your cup.
Too much flour means your muffins may come out too dry. Yuck.
Instead, spoon the flour from the bag (or the container you keep your flour in) into your measuring cup. Then use the back of a spatula or knife to level off the top of the cup.
That way the gluten free flour is given a mini-sift and isn't packed down.
Check out my Best Gluten Free Products List to find more terrific gluten free baking products!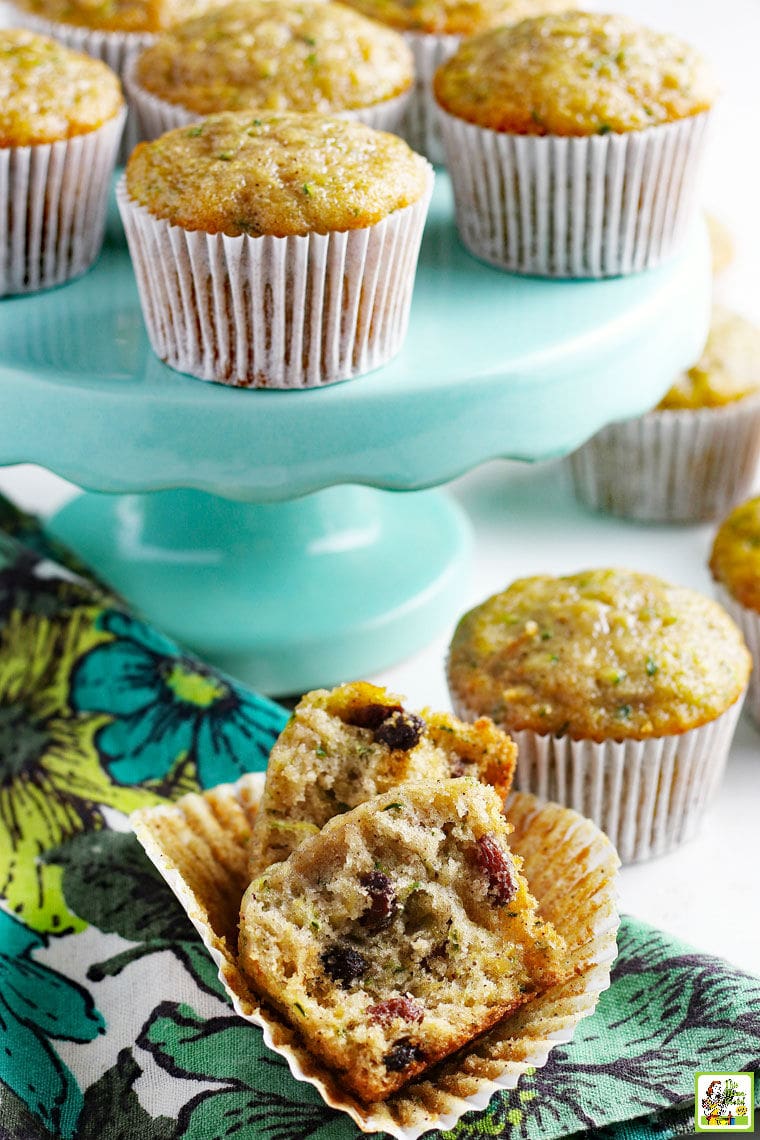 Tips for making easy zucchini muffins
Tips for preparing the zucchini: There's no need to peel the zucchini before shredding. Just wash and cut off the ends.
Also, don't pat the zucchini dry or squeeze out the liquid. You want all that precious moisture. Otherwise, you'll end up with dry muffins.
Make prettier muffins: If you wish, you can top the muffins with a little sprinkle of decorative sugar before baking for added sparkle just like they do at the bakery.
Using decorative sugar does add some extra calories, but I think it's worth it.
Can I freeze zucchini muffins? Make a double back and freeze half of the muffins for later.
Place muffins in a freezer safe bag or container, remove air, and label. Store for up to 2 months in the freezer.
To thaw, place on the counter for several hours.
Freeze the zucchini muffins in small batches for breakfasts, snacks or lunches.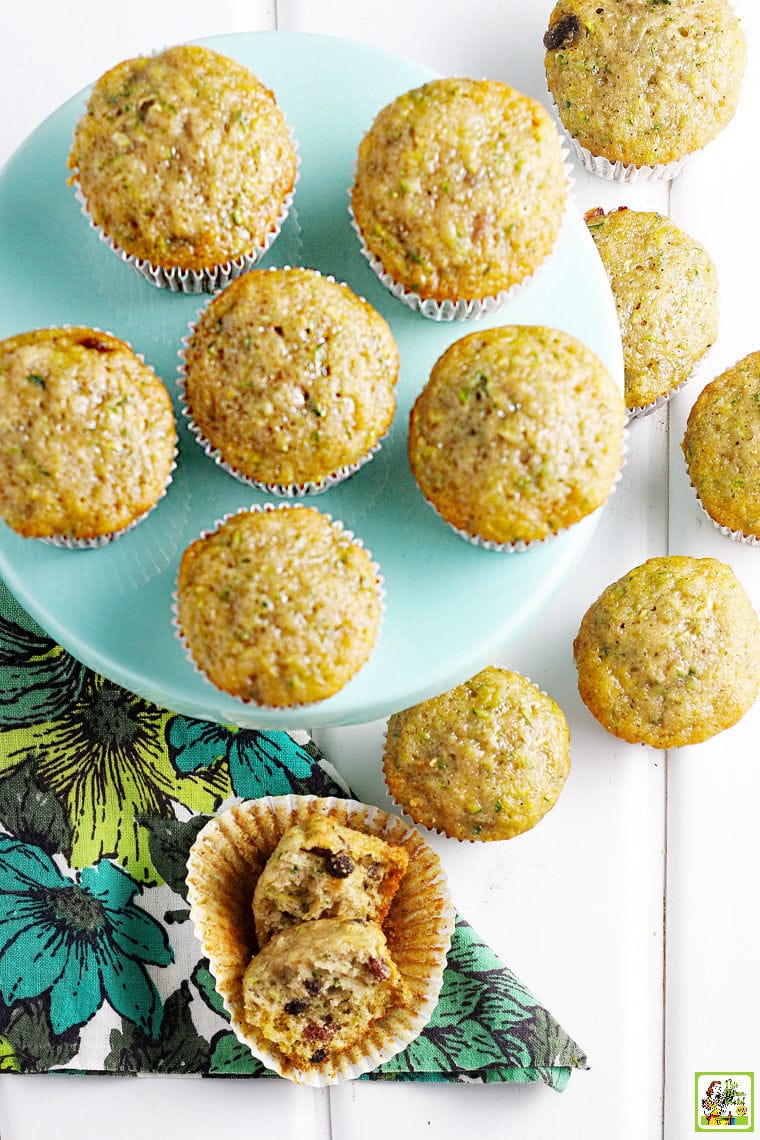 Make zucchini chocolate chip muffins
If you want, you can turn this recipe into one for chocolate zucchini muffins.
How? Just substitute chocolate chips for the raisins!
Or you can do half chocolate chips and half raisins to make healthy chocolate zucchini muffins.
What kind of chocolate? I like to use semi-sweet chocolate like Enjoy Life Semi-Sweet Chocolate Mini-Chips, which is gluten free, dairy free and vegan.
If you're not worried about allergies or food sensitivities, any type of chocolate chips – milk chocolate or semi-sweet – will do.
You can use regular or mini chocolate chips.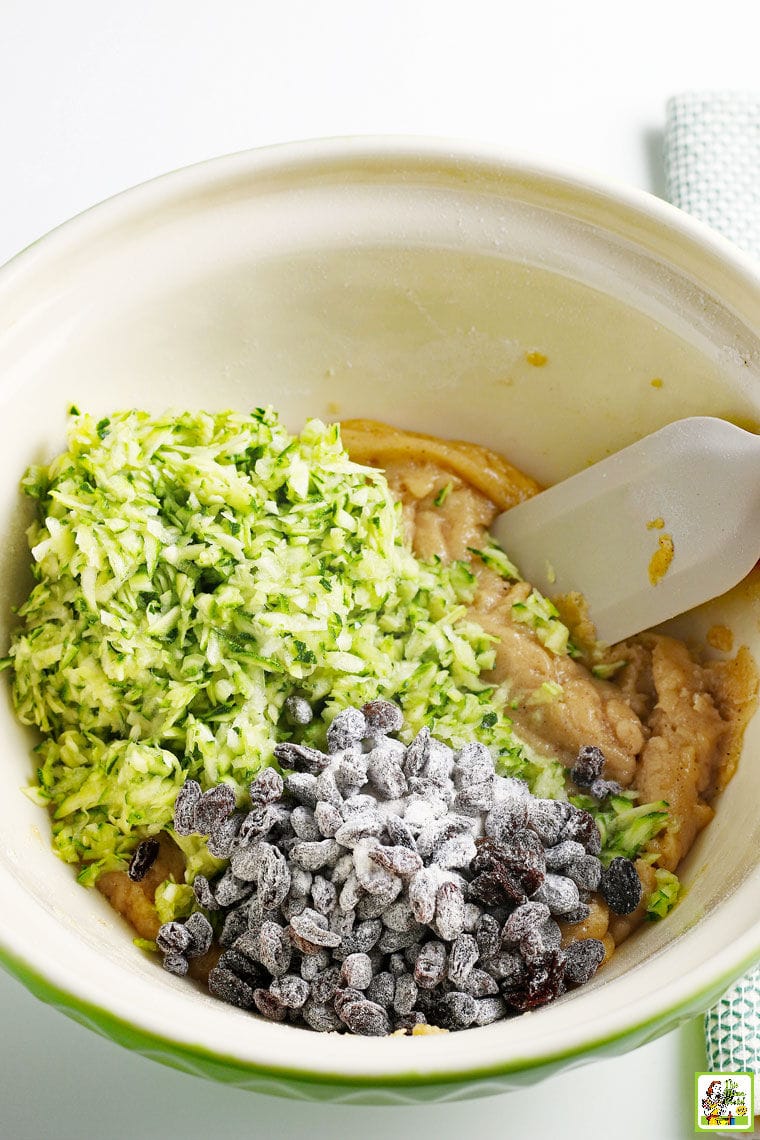 Make healthy zucchini muffins
Sugar substitutes: If you want, you can use Swerve Sweetener or powdered monk fruit sweetener instead of sugar.
Just use the equivalent (same) amount of Swerve or powdered monk fruit that you would sugar.
Go oil free: You can make pumpkin zucchini muffins by substituting 1/2 cup pumpkin puree (not pumpkin pie mix) for the oil.
You can also substitute unsweetened apple sauce to make apple zucchini muffins.
If you use pureed bananas instead of the oil, then you'll have banana zucchini muffins.
Vegan? If you're vegan and want to make vegan zucchini muffins, use an egg replacer like Bob's Red Mill Egg Replacer for the two eggs.
How much can I substitute? I would caution you about substituting both the oil and the eggs.
Maybe you could get away with all the oil and one egg and using more pumpkin/apple sauce/banana puree.
However, you may need to experiment with needing more/less flour, more/less baking powder or soda, or having to change baking temperature and times.
Baking temperature/time: I get a lot of feedback on my muffin recipes.
People find the batter is too thick or too thin. Or they find the baking time is too short or too long.
Please, please, please do the following:
1. Read the recipe carefully.
2. Measure carefully.
3. Read the section above on how to measure your flour. (You may be adding too much!)
4. Get a oven thermometer and make sure your oven temperature is accurate.
You'll be shocked to find that your oven is too hot or not hot enough.
Thanks!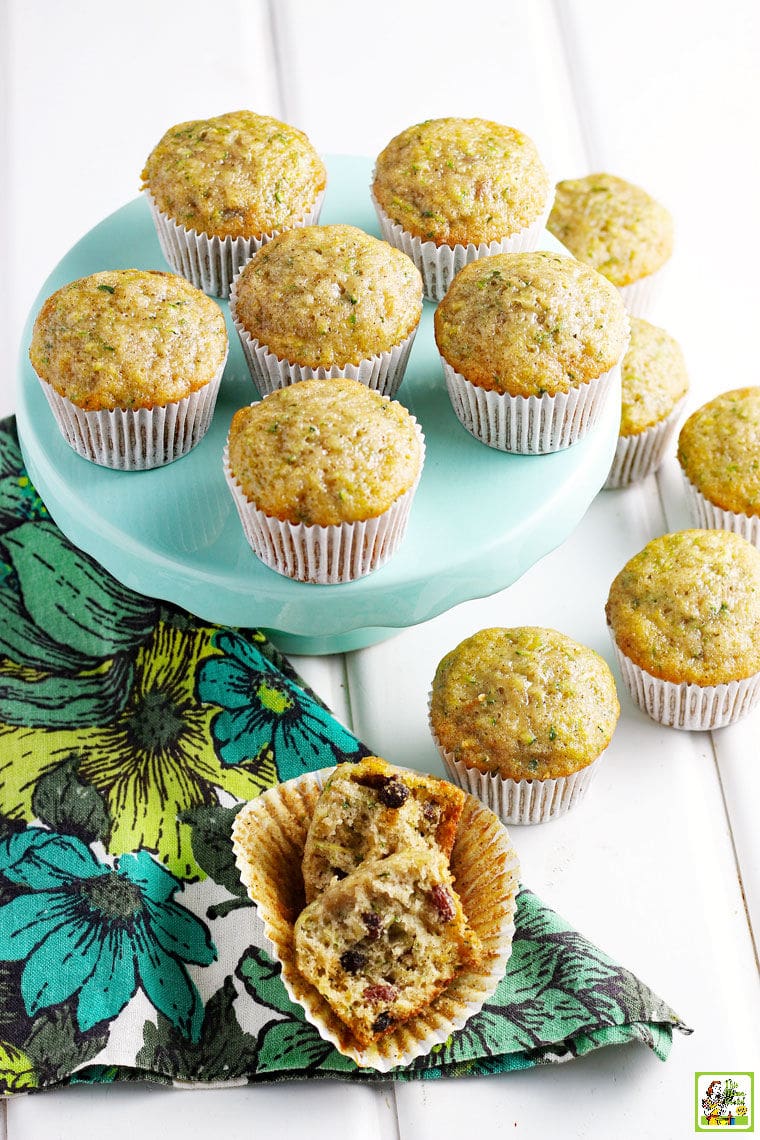 More healthy muffin recipes
If you love yogurt or raspberries, you're going to flip over this Raspberry Yogurt Muffins Recipe.
Got strawberries? Then make this Healthy Strawberry Muffins Recipe for breakfast.
These Banana Oatmeal Muffins makes a terrific afternoon snack with a cup of tea or mug of coffee.
These Hash Brown Sausage Muffins are a savory make ahead breakfast muffin.
Yield: MAKES 18 MUFFINS
Zucchini Muffins Recipe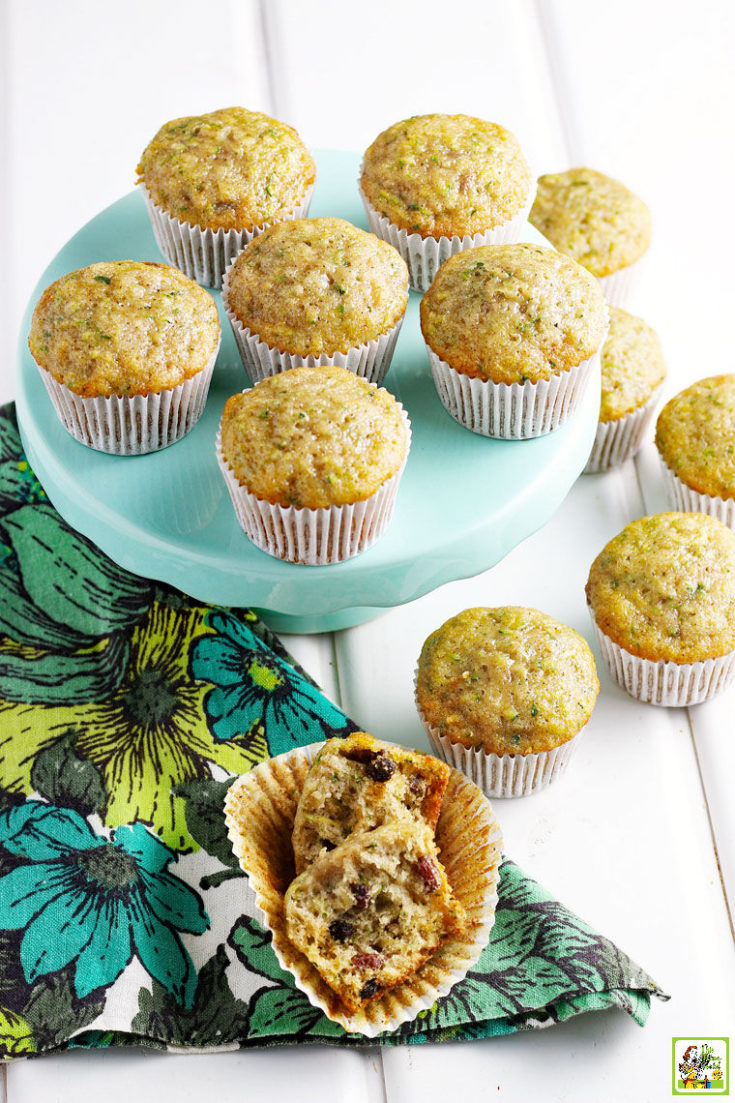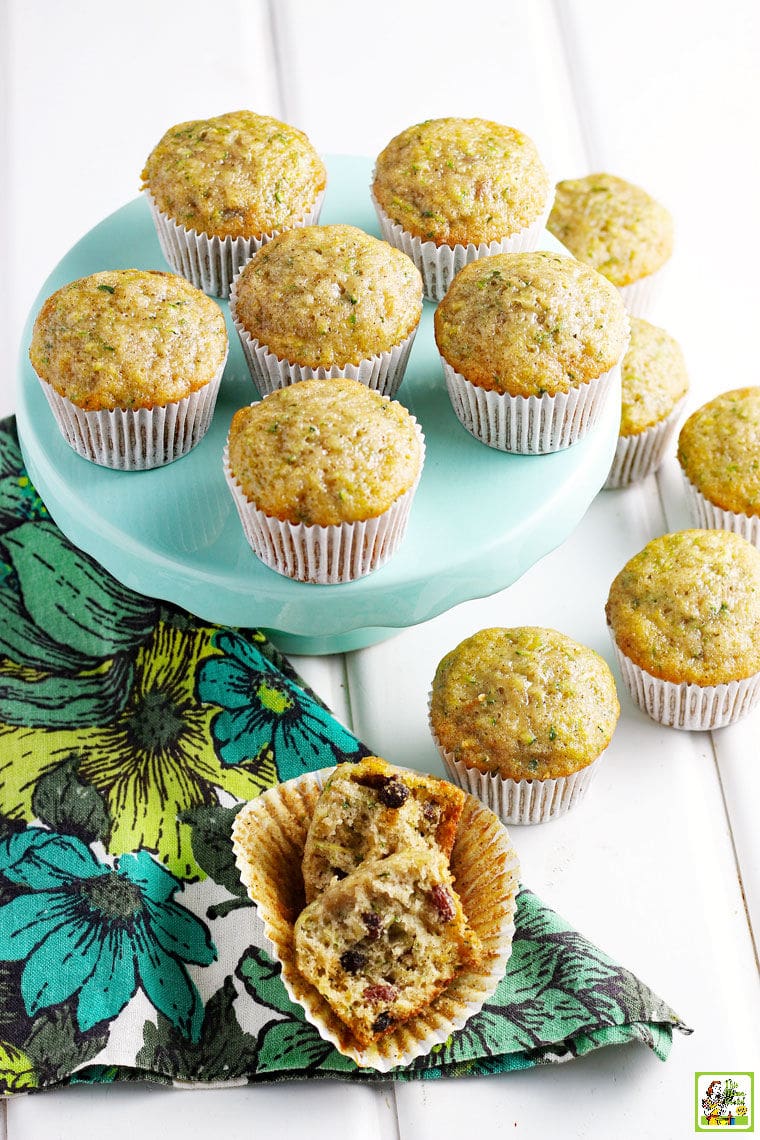 This is the best Zucchini Muffins recipe to make when you have too much garden zucchini. Kids love these delicious zucchini muffins.
Ingredients
1 1/2 cups all-purpose flour (regular or gluten free)
1 cup granulated sugar
1/2 teaspoon baking powder
1/2 teaspoon baking soda
1/2 teaspoon salt
2 teaspoons cinnamon
1/2 teaspoon ground ginger
1/4 teaspoon ground nutmeg
1/2 cup raisins
2 large eggs, room temperature
1/2 cup vegetable oil
2 cups fresh zucchini, shredded
Instructions
Preheat oven to 350 degrees F.
Fill muffin tin with paper or silicone liners.
In a large bowl, whisk together flour, sugar, baking powder, baking soda, salt, cinnamon, ginger, and nutmeg.
Add raisins to a small bowl and sprinkle with 1/2 teaspoon of the dry mixture. This will help the raisins from sinking to the bottom of the zucchini muffins.
In a small bowl, whisk together eggs and oil.
Add egg mixture to dry ingredients and blend just until combined.
Stir in shredded zucchini and raisins.
Stir until batter is blended. Do not over mix.
Spoon batter into prepared muffin cups.
Bake at 350 degrees F for 12-15 minutes or until a toothpick or cake tester inserted in a middle comes out clean.
Remove from the oven. Let cool for 5 minutes. Then remove zucchini muffins and let cool on a wire rack.
Nutrition Information:
Yield:
18
Serving Size:
1
Amount Per Serving:
Calories:

160
Total Fat:

7g
Saturated Fat:

1g
Trans Fat:

0g
Unsaturated Fat:

6g
Cholesterol:

21mg
Sodium:

117mg
Carbohydrates:

23g
Fiber:

1g
Sugar:

14g
Protein:

2g
Nutritional information is automatically calculated per the ingredients list. Serving size may not be accurate. Please double-check with your preferred nutritional app for the most accurate information.