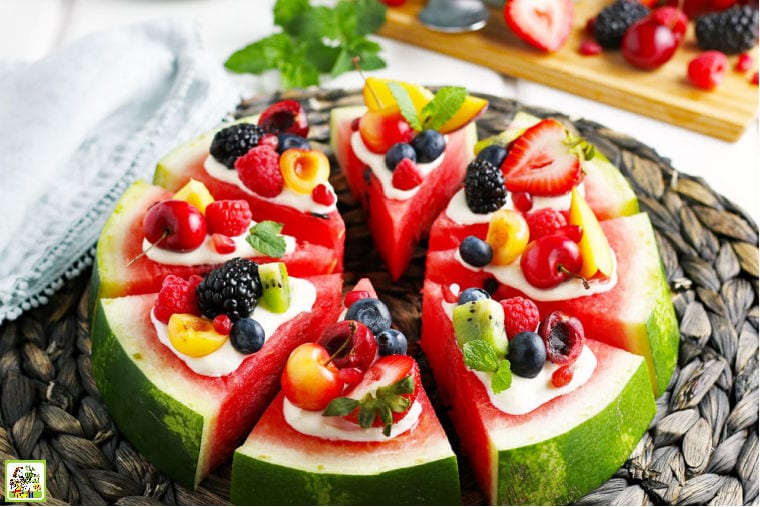 Watermelon Pizza is a fun, no-bake easy dessert that's a showstopper at summer cookouts.
It's bursting with fresh summer fruits, Greek yogurt, and cream cheese.
This watermelon dessert is fun for kids and party guests alike, because it's a joy to eat.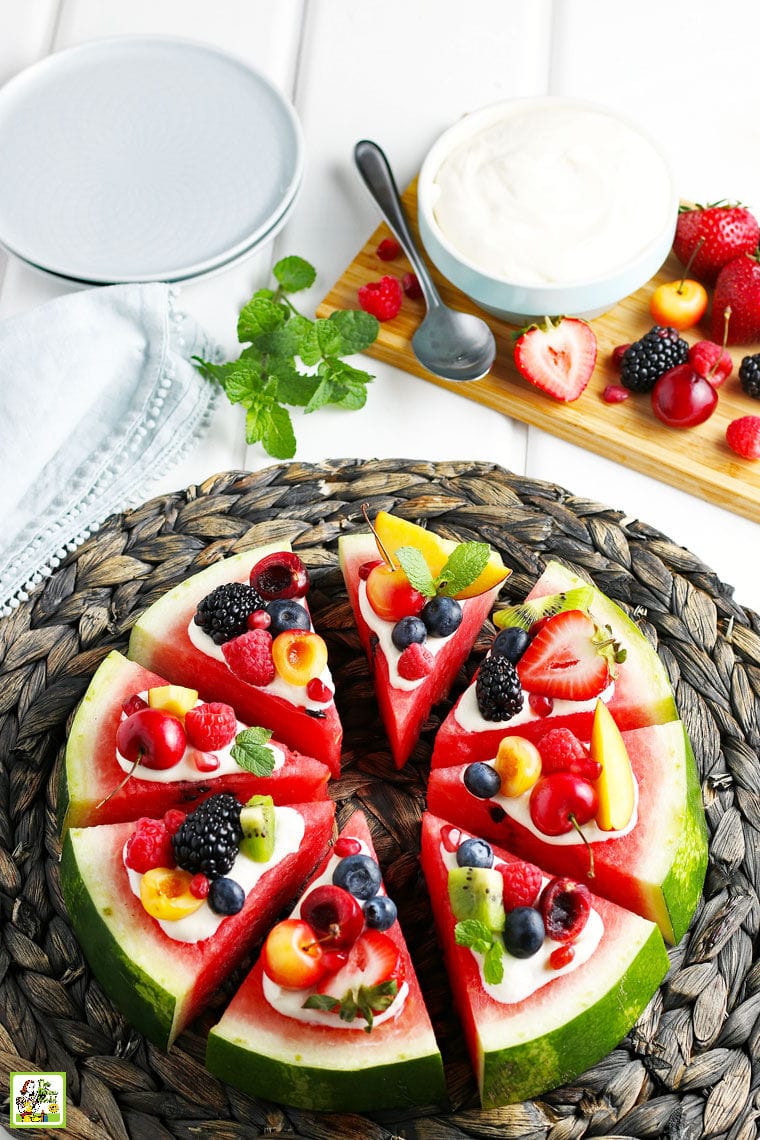 How to make watermelon pizza
Making this watermelon pizza recipe is super easy. You may want to have the kids help you!
They'll love spreading the cream cheese frosting and decorating the pizza with pieces of fruit and berries.
Older children can slice the fruit and help you mix up the frosting.
What fruit makes the best watermelon pizza toppings?
You can use just about any kind of fruit on this watermelon dessert.
Here are some ideas:
Strawberries slices

Peaches slices

Blueberries

Cherries (sliced or whole)

Kiwi slices

Blackberries

Red raspberries

Dragon fruit slices

Mandarin oranges
What else can I use on the watermelon fruit pizza?
You can add mint leaves or edible flowers like pansies.
Sweeten it up! Though I didn't include it in the recipe, you can also drizzle the pizza slices with honey or maple syrup.
Serve the syrups on the side for everyone to add their own.
Add some chocolate: For you chocolate fans, sprinkle some mini chocolate chips or drizzle a little melted chocolate on this fruit pizza.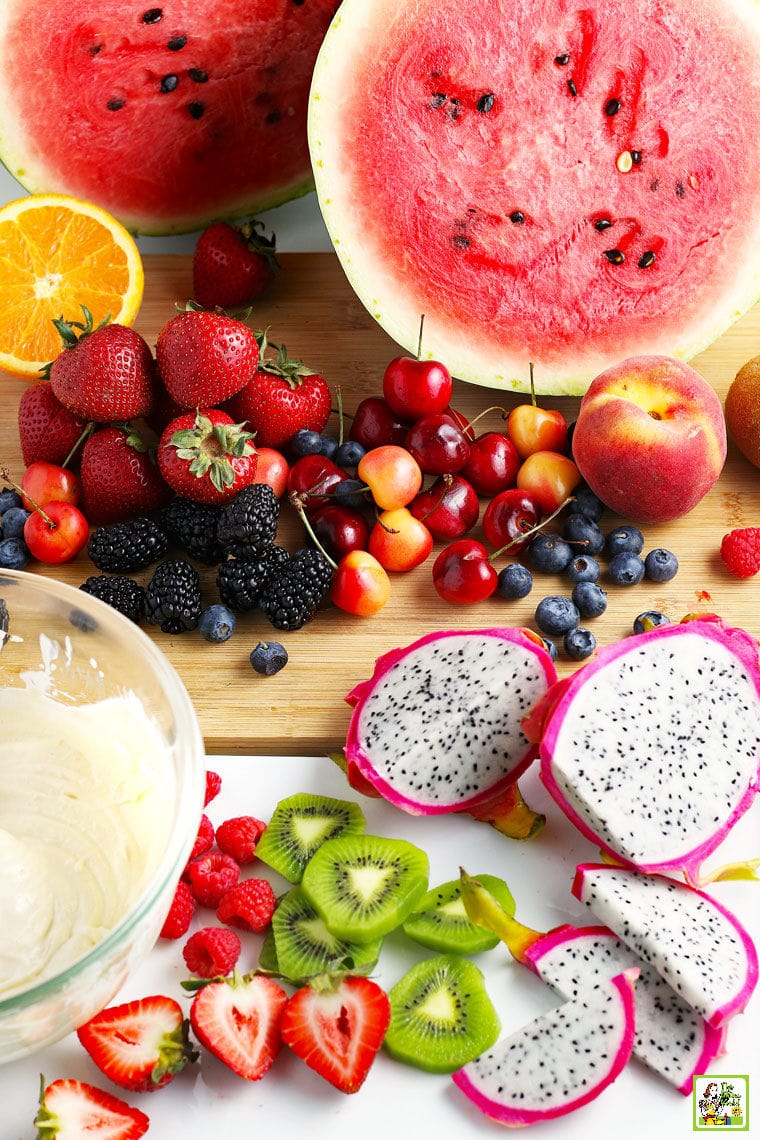 How to make the cream cheese frosting
In the watermelon pizza recipe, I didn't specify how you should blend up the cream cheese frosting.
I feel you can use any one of these trusty gadgets:
● High Powered Blender – I love using my blender for more than just smoothies. And because the blades are part of the bowl, I only have it and the lid to clean.
● Hand Mixer – I know these have sort of fallen out of fashion, but that's what I used when I made the frosting. Reminds me of using my mom's hand mixer when I was a kid.
● KitchenAid Mixer – The old stand by.
Just remember when adding the powdered sugar that you need to start the hand or KitchenAid Mixer sloooooowly. Or you'll be buried in a cloud of sugar!
More tools for making this watermelon pizza dessert:
8-Inch Chef's Knife – you'll need a good chef's knife to cut up the watermelon and all the fruit
Offset Spatula – makes spreading the cream cheese frosting so much easier than a regular spatula.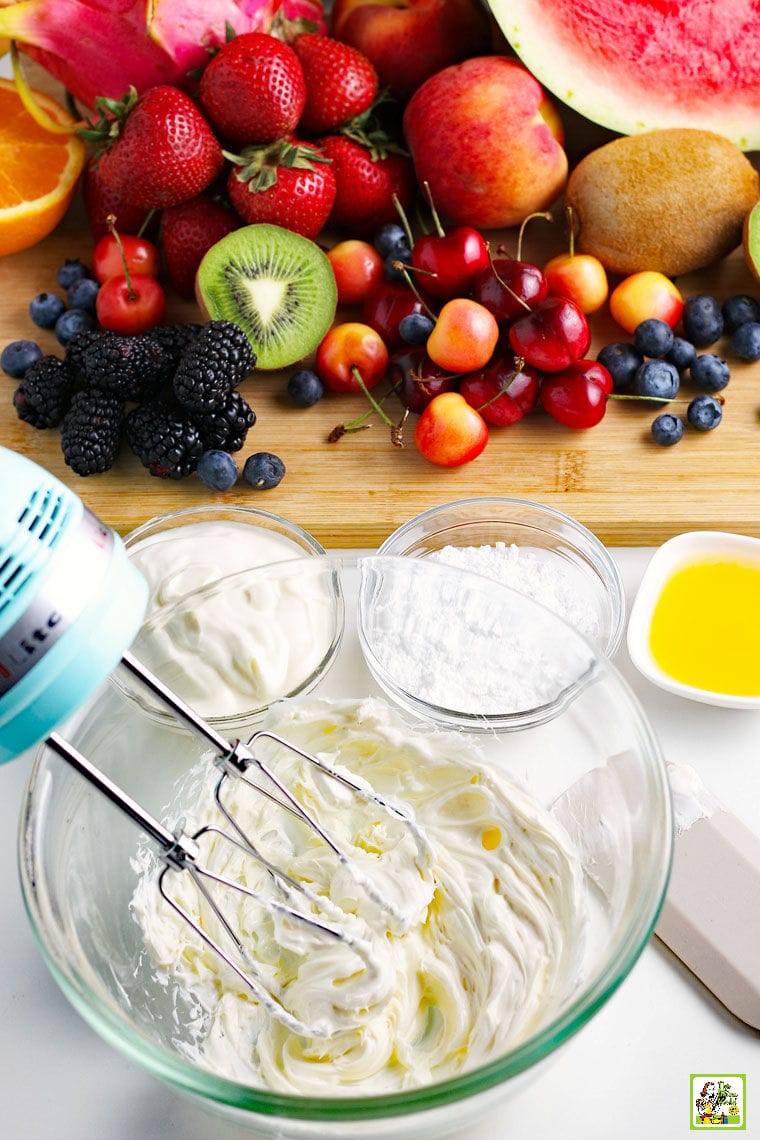 How to lighten up the cream cheese frosting
Looking to cut back on unnecessary sugar or calories? here are some tips on making this a healthier, low carb watermelon pizza recipe:
Lighten up the cream cheese: Instead of full fat cream cheese, use a low fat cream cheese.
Also called Neufchatel cheese, it provides one-third to one-half less fat than the traditional variety of cream cheese.
Some people prefer cooking with it over regular cream cheese.
You can also use non-fat cream cheese.
Use a low fat Greek yogurt: I prefer using low fat Greek yogurt over full fat when I cook. I honestly cannot tell the difference.
Go sugar free: You can substitute Swerve Confectioners Sweetener, which is a tasty no calorie, natural sweetener that you can use just like powdered sugar.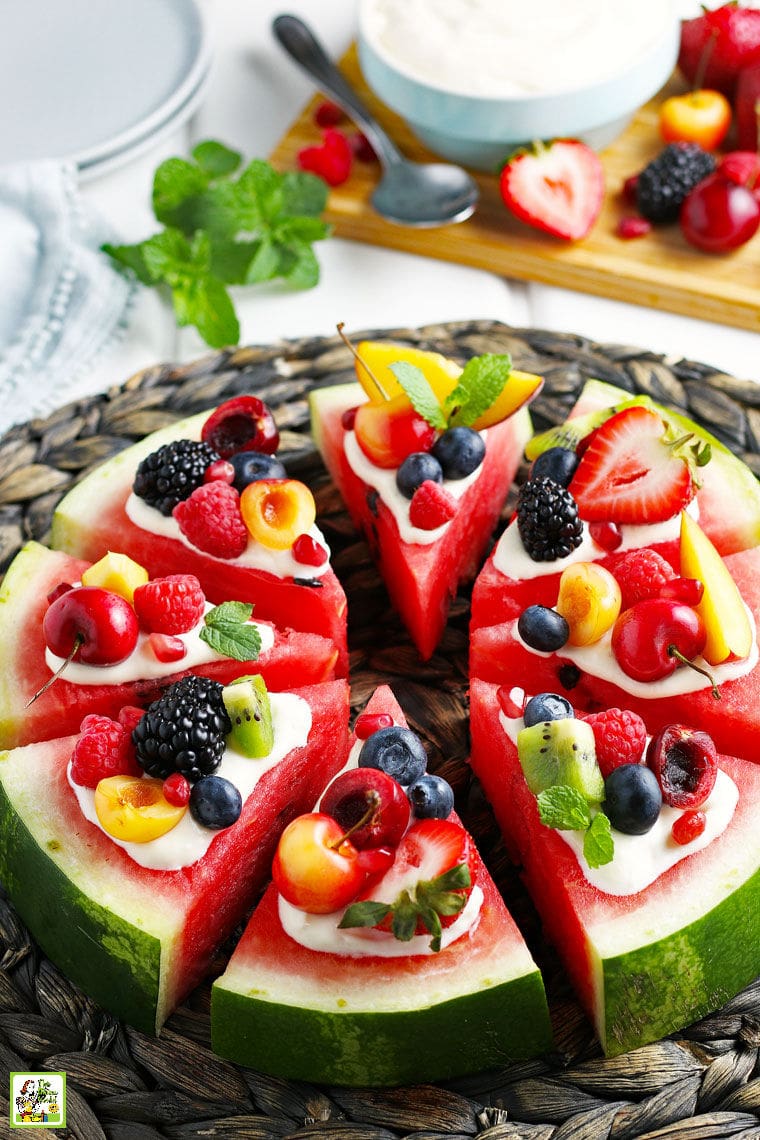 More tips on how to make watermelon fruit pizza
Can I make watermelon pizza ahead of time? If you're going to serve this at a party, you can prepare all the ingredients and frosting a day ahead of time.
1. Clean, prepare and slice the watermelon and fruit. Store in covered containers in the refrigerator.
2. Prepare the frosting. Store in a covered container in the refrigerator.
3. The day of the party, take the frosting out of the fridge for 30 minutes to make spreadable. (You may want to remix it your blender. Or remix it in a bowl with a hand mixer or in your KitchenAide mixer.)
4. Assemble the watermelon pizza just before the party. Keep it in the refrigerator or in a cool place before serving.
Go vegan: If you're vegan or are having vegan or dairy free guests at your cookout, use a vegan cream cheese.
Since I'm dairy free, I've tried several brands and they're all pretty good.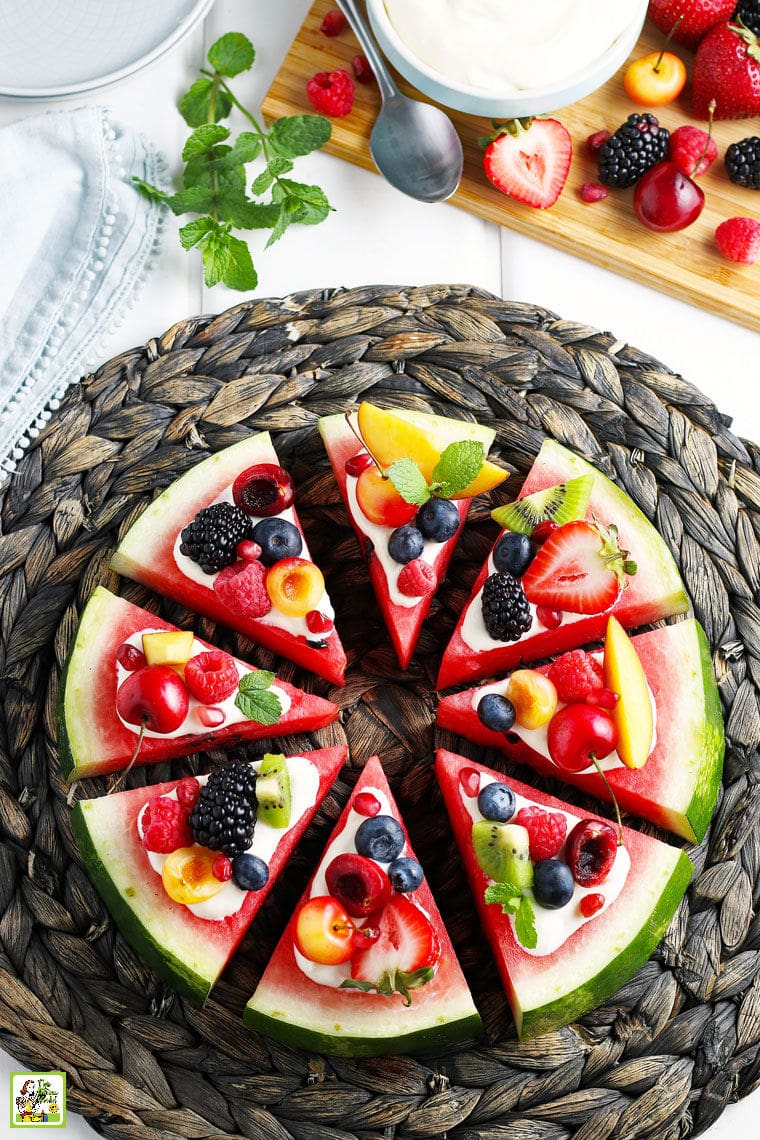 How to buy a watermelon
For this watermelon pizza recipe, you need to buy the best watermelon you can, whether it's at a fruit stand, a farmer's market, or at your local grocery store.
When buying it, make sure to look your watermelon over. You want a firm, symmetrical watermelon that has no cuts, bruises or dents in it.
Trying lifting the watermelon. It should be heavy since most of its weight is water.
When you turn it over, do you see a yellow spot? That's OK! The yellow spot is where the watermelon sat on the ground to ripened in the sun.
Finally, when you get your watermelon home, make sure to wash it before you cut into it.
Heck, it's been rolling around on the floor of your car or in your trunk. And before that, who knows where it's been?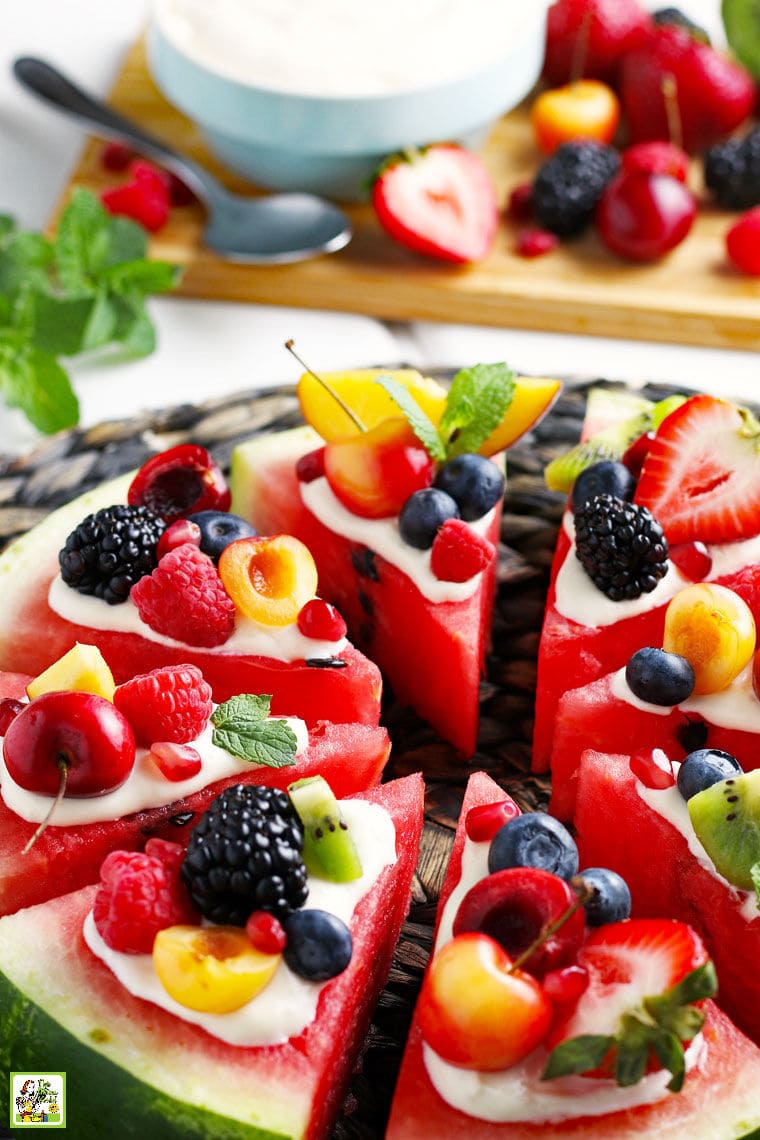 More watermelon desserts and drinks
I love eating my watermelon with a chile and lime seasoning. Tajín Clásico Chile Lime Seasoning is a popular brand.
You can also try these watermelon desserts and drinks.
Watermelon can be used in a Fruit Stand Watermelon Cocktail or Sparkling Savannah Vodka Watermelon Cocktail, two refreshing watermelon summer cocktails.
My kids love this Avocado & Watermelon Ice Pops recipe. A healthy snack to cool down during the warm weather.
If you love watermelon fruit salads, try this savory Asian Watermelon Fruit Salad.
Yield: SERVES 15-20
Watermelon Pizza Recipe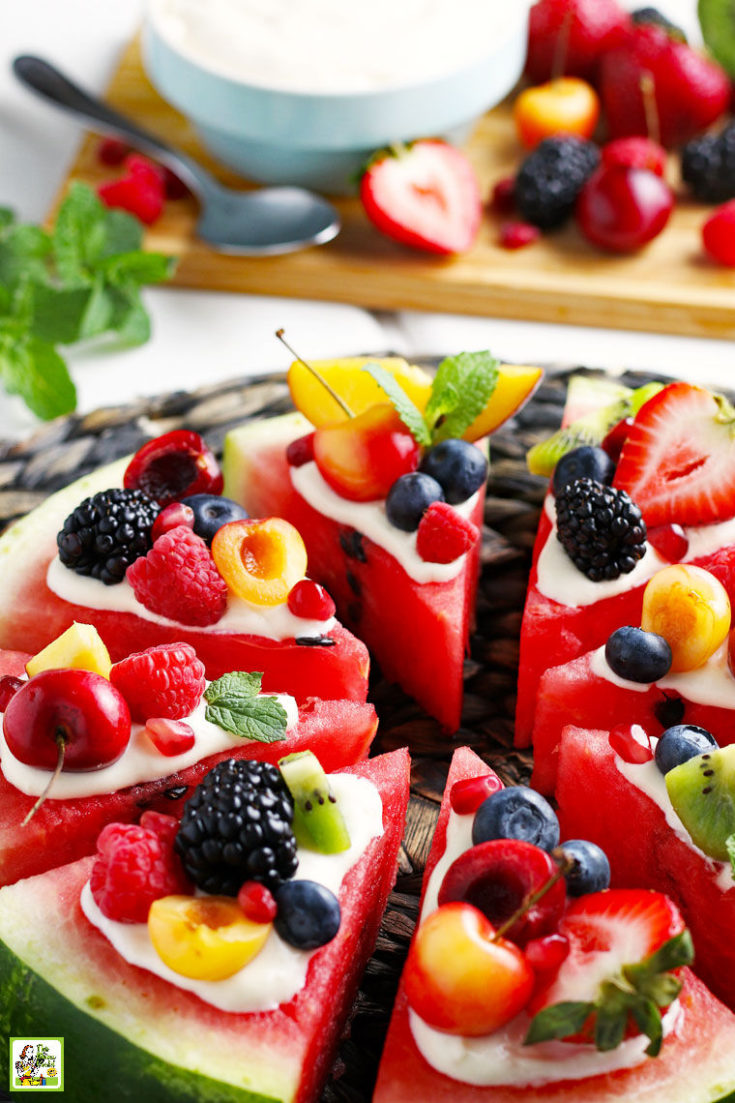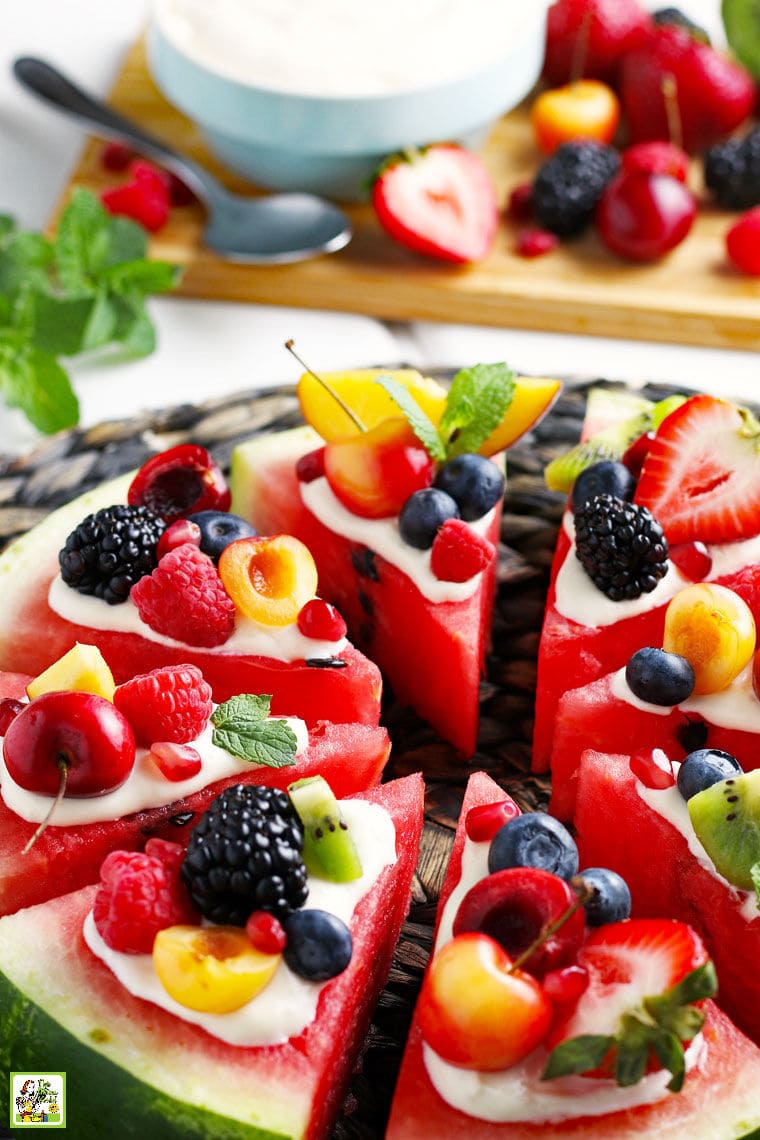 Watermelon Pizza is an easy, no-bake dessert. This watermelon dessert is colorful and fun to eat.
Ingredients
Cream Cheese Frosting
4 ounces cream cheese, softened
1/2 cup Greek yogurt
1/4 cup powdered sugar
2 tablespoons fresh orange juice (no pulp)
Watermelon Pizza and Toppings
Watermelon, medium to large
Strawberries, sliced
Peaches, sliced
Blueberries
Cherries, sliced and whole
Kiwi, sliced
Blackberries
Raspberries
Dragon fruit, sliced
Mint leaves, optional
Edible flowers like pansies, optional
Instructions
Cream Cheese Frosting
In a medium bowl, beat cream cheese until smooth.
Add yogurt and orange juice. Mix together until smooth.
Add powdered sugar or sweetener. Then mix on low until completely smooth.
Cover cream cheese frosting. Put aside in a cool place.
Watermelon Pizza
Prepare fruit and berries (wash, dry, and slice).
Slice watermelon about 2 to 3 inches thick. Then cut into pie shape sections.
Spread a couple of tablespoons of cream cheese frosting on each slice of watermelon with an offset spatula.
Add fruit of your choice.
Add mint leaves or edible flowers, if using.
Serve immediately.
Nutrition Information:
Yield:
15
Serving Size:
1
Amount Per Serving:
Calories:

59
Total Fat:

3g
Saturated Fat:

2g
Trans Fat:

0g
Unsaturated Fat:

1g
Cholesterol:

8mg
Sodium:

28mg
Carbohydrates:

8g
Fiber:

1g
Sugar:

6g
Protein:

2g
Nutritional information is automatically calculated per the ingredients list. Serving size may not be accurate. Please double-check with your preferred nutritional app for the most accurate information.