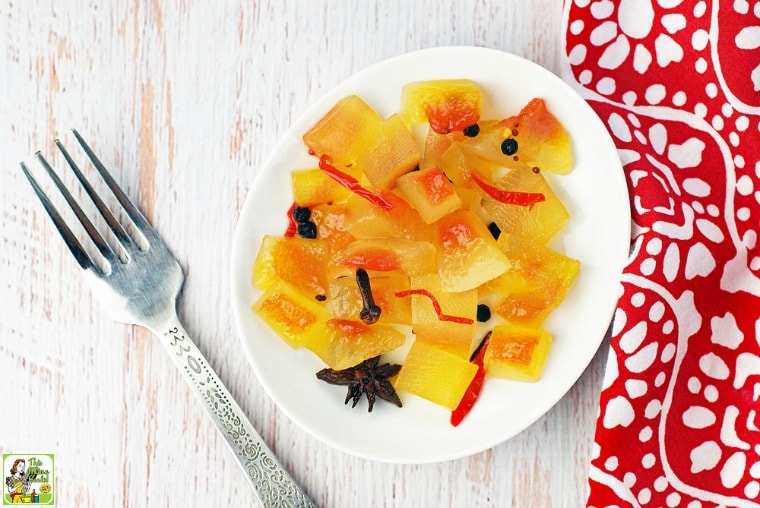 If you've ever wondered what to do with leftover watermelon rind, why not make this easy Watermelon Rind Pickles recipe?
I first tried watermelon pickles when we first moved to Georgia.
We spent the day in Atlanta and ended up at Pitty Pat's Porch, a touristy restaurant that served classic Southern fair like greens, black eyed peas, grits, and fried green tomatoes.
One thing that stood out were the watermelon rind pickles. I had no idea you could make pickles from watermelon rinds, something I'd normally throw out!
I went back to the salad bar for several helpings, and vowed that I would make them some day.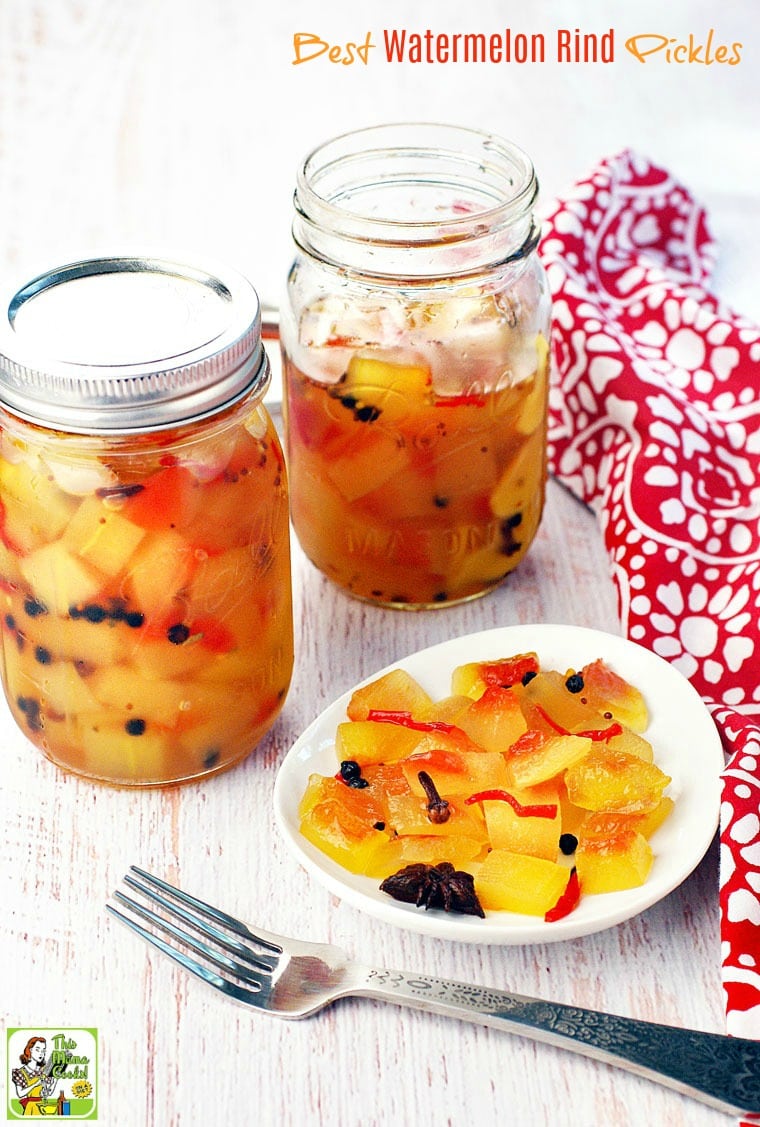 Making a watermelon rind pickles recipe is a easy way to preserve summer, especially since this recipe is so easy since it's not a traditional canning recipe.
You're just boiling the rinds to "pickle" them. No need for fancy equipment except for a few Mason jars to store the pickles in fridge.
Chop up the spicy watermelon pickles to make relish for burgers, hot dogs, and egg salad sandwiches.
Or turn the best watermelon pickles you've ever tried into a chutney for grilled chicken and Crock Pot Spiral Ham with Beer and Chutney Glaze.
A warning when making the best watermelon rind pickles recipe
I've found that many watermelon pickles recipes, including those that feature spicy ingredients like peppers and ginger, include pink peppercorns (or rainbow medley peppercorns which may have pink peppercorns in the mix).
If you are allergic to nuts or have a nut allergic child, you should avoid pink peppercorns.
Pink peppercorns are related to cashews and pistachios and can cause an anaphylactic reaction in those who are allergic to these nuts.
You can read about this in a synopsis of the paper,A Rare Case of Food-induced Anaphylaxis to Pink Peppercorns, here.
Since my daughter has a nut allergy, I only used black peppercorns.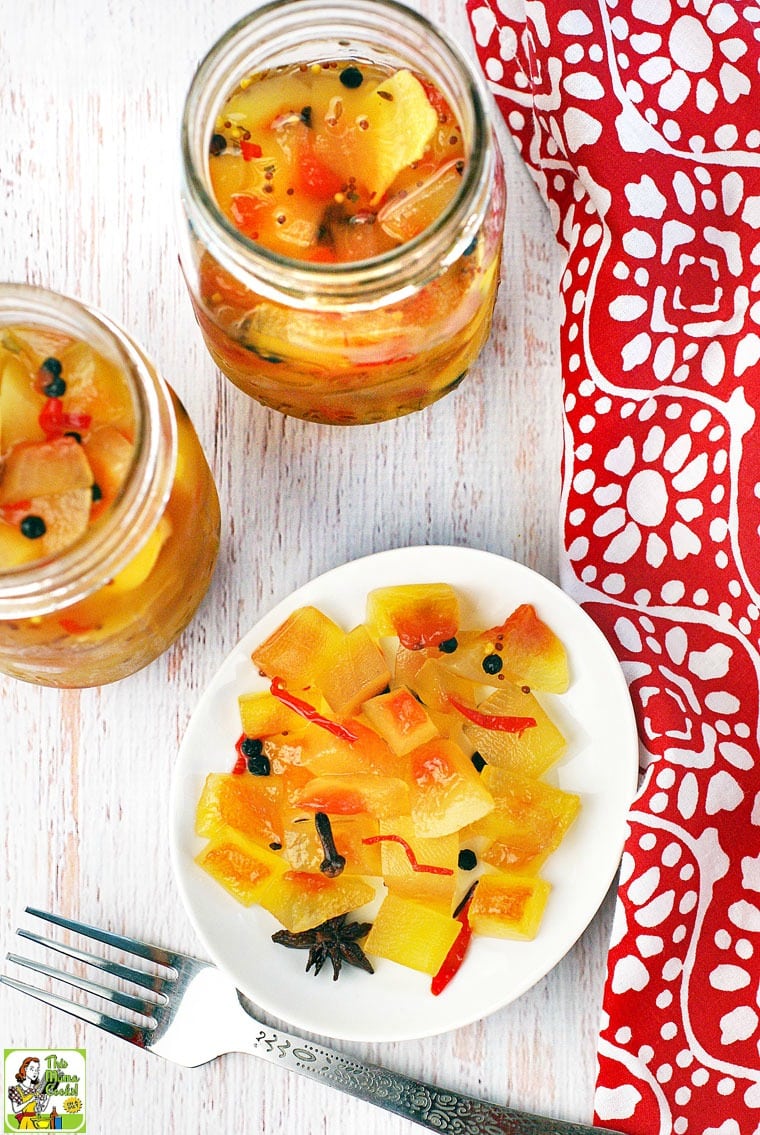 Tips to make spicy watermelon pickles
When peeling watermelon, I found that it's easiest to do it before cutting up the watermelon.
In addition, you may find that your vegetable peeler won't work depending on how it's shaped, the length of the blade, and how big your watermelon is.
The swivel peeler I normally use for carrots didn't work at all. Luckily, I this Y-shaped vegetable peeler I found in the back of a drawer worked great.
Of all the watermelon rind pickles recipes out there, the National Watermelon Promotion Board's method was the easiest to follow.
I simplified it further, used less sugar, and cooled the watermelon rind pickles on the counter top before placing it refrigerator to prevent crystallization.
Finally, when handling habanero peppers, be careful not to touch the seeds, and make sure wash the cutting board, knife and your hands thoroughly after handling the peppers!
Had fun making watermelon pickles? Make this Refrigerator Pickled Okra recipe.
More terrific watermelon recipes
If you love watermelon, then check out these recipes:
This Watermelon Pizza Recipe is a crowd pleaser! It's super pretty and fun to make.
Asian Watermelon Fruit Salad is a variation on the traditional basil and feta watermelon salad.
This Fruit Stand Watermelon Cocktail and Sparkling Savannah Vodka Watermelon Cocktail recipes are fun ways to drink your watermelon.
Yes, you can make ice pops with watermelon. Try this Avocado & Watermelon Ice Pops Recipe!
Yield: 16 SERVINGS
Best Watermelon Rind Pickles Recipe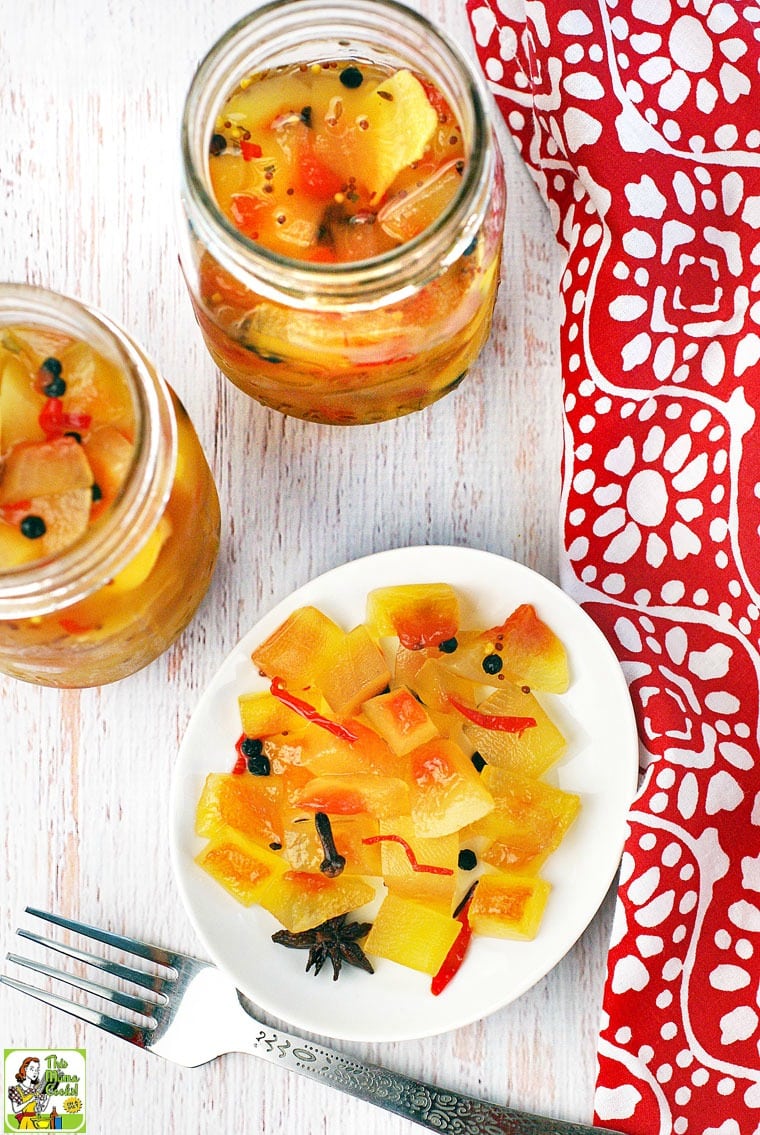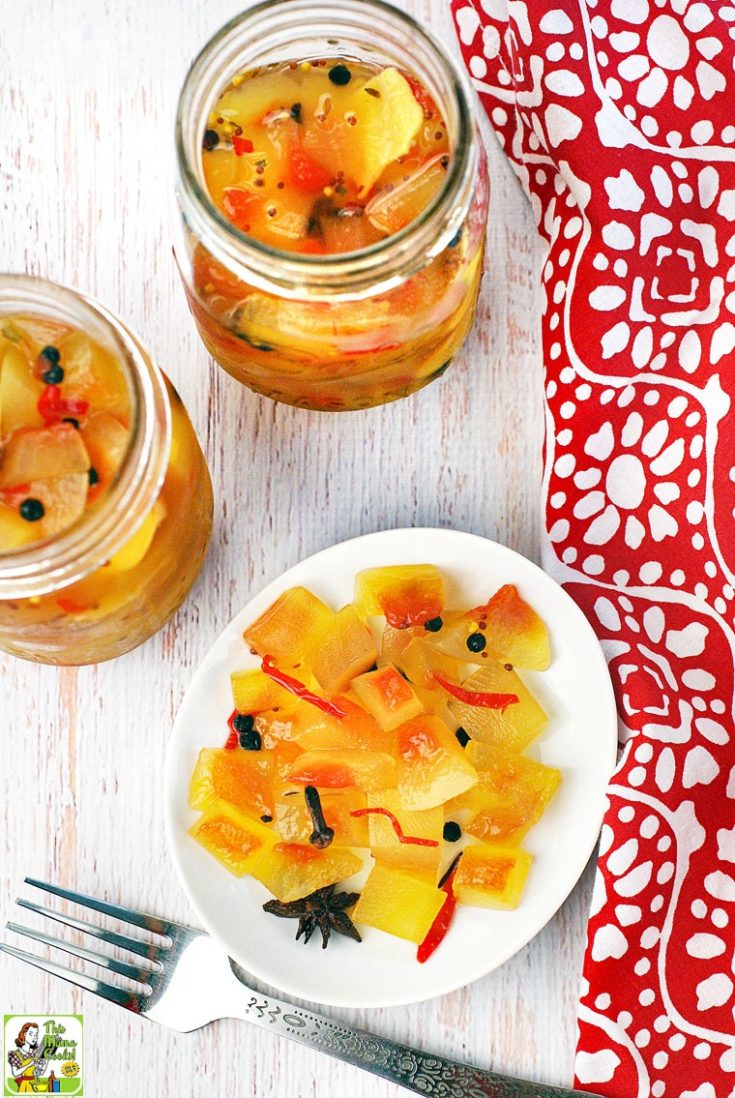 Looking for the best watermelon rind pickles recipe? Then you have to try this recipe for spicy watermelon rind pickles!
Total Time
1 hour
30 minutes
Ingredients
8 cups water
2 tablespoons pickling salt or Kosher salt
5 cups peeled watermelon rind (leave a thin layer of pink), cut into 1 x 1 inch pieces
1 cup organic sugar
1 cup rice vinegar
1 teaspoon black peppercorns
12 whole cloves
1/2 teaspoon pickling spice
1 1-inch piece fresh ginger, sliced thinly
2 star anise pods
1/4 to 1/2 habanero pepper, seeded and sliced into thin strips
Instructions
In a large pot over high heat, bring water and pickling salt to a boil. Add watermelon rind and boil for 5 minutes until tender.
Strain in a colander. Keep watermelon rind pieces in the colander so any remaining saltwater will drain off.
In a medium saucepan, combine sugar, rice vinegar, black peppercorns, cloves, pickling spice, sliced ginger, and star anise. Bring to a boil over medium-high heat. Stir until sugar dissolves. Simmer for 15 minutes, until slightly reduced.
Place watermelon rinds in a large mason jar (or two smaller mason jars if that's all you have). Pour liquid over rinds and let cool on countertop until liquid is at room temperature. (If you stick the hot pickles in the refrigerator, the sugar in the liquid may crystalize.)
After the liquid has cooled, screw on the lids and refrigerate. Pickles can be kept in the refrigerator for up to 2 weeks.
Notes
Method borrowed from the National Watermelon Promotion Board
Recommended Products
As an Amazon Associate and member of other affiliate programs, I earn from qualifying purchases.
Nutrition Information:
Yield:
16
Serving Size:
1
Amount Per Serving:
Calories:

67
Total Fat:

0g
Saturated Fat:

0g
Trans Fat:

0g
Unsaturated Fat:

0g
Cholesterol:

0mg
Sodium:

79mg
Carbohydrates:

17g
Fiber:

0g
Sugar:

16g
Protein:

0g
Nutritional information is automatically calculated per the ingredients list. Serving size may not be accurate. Please double-check with your preferred nutritional app for the most accurate information.
Originally posted on September 15, 2014. Updated with new pictures and information.