Last Updated on February 16, 2022 by Anne-Marie
This easy watermelon tomato salad recipe is ideal for summer cookouts and potlucks.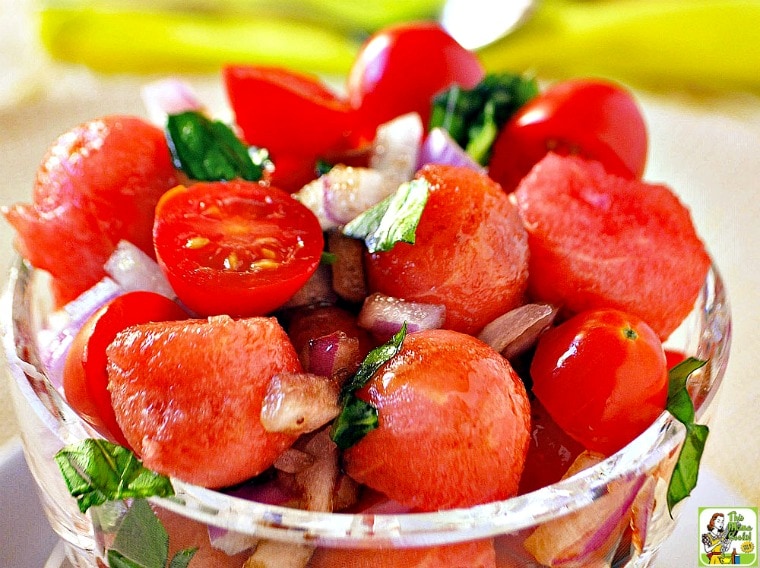 Why this recipe works
If you're looking for the best watermelon salad recipe, you have to try Holly Clegg's Easy Watermelon Tomato Basil Salad.
This watermelon salad recipe comes from her cookbook, trim&TERRIFIC Too Hot in the Kitchen.
This healthy and delicious salad uses an amazing flavor combination for summer – watermelon, tomato and basil with a hint of balsamic vinegar.
I love how this recipe for tomato basil salad is naturally gluten free, vegan, vegetarian, and dairy free.
Best of all, it can be made in 20 minutes. Perfect for busy summer evenings!
Not only does it check all the boxes for your guests on special diets, but even the kids will love a salad made with watermelon and cherry tomatoes!
You can find more of Holly Clegg's trim& TERRIFIC® recipes at The Healthy Cooking Blog.
Check out Holly's trim& TERRIFIC™ cookbooks on Amazon, too!
Tips when making Watermelon Tomato Basil Salad
This is such an easy watermelon salad recipe to make that you can get the kids cooking in the kitchen this summer by helping you cut the cherry tomatoes and scooping the watermelon into balls using a melon baller.
Make sure you buy cherry tomatoes and not grape tomatoes for this watermelon tomato salad recipe.
(Cherry tomatoes are much sweeter. The extra cost is worth it.)
While you could probably use any type of vinegar in this easy watermelon tomato salad recipe, balsamic vinegar adds a unique and special flavor.
Save the watermelon rinds to make Best Watermelon Rind Pickles.
Never had them? If you like sweet pickles or spicy pickles, you'll adore them!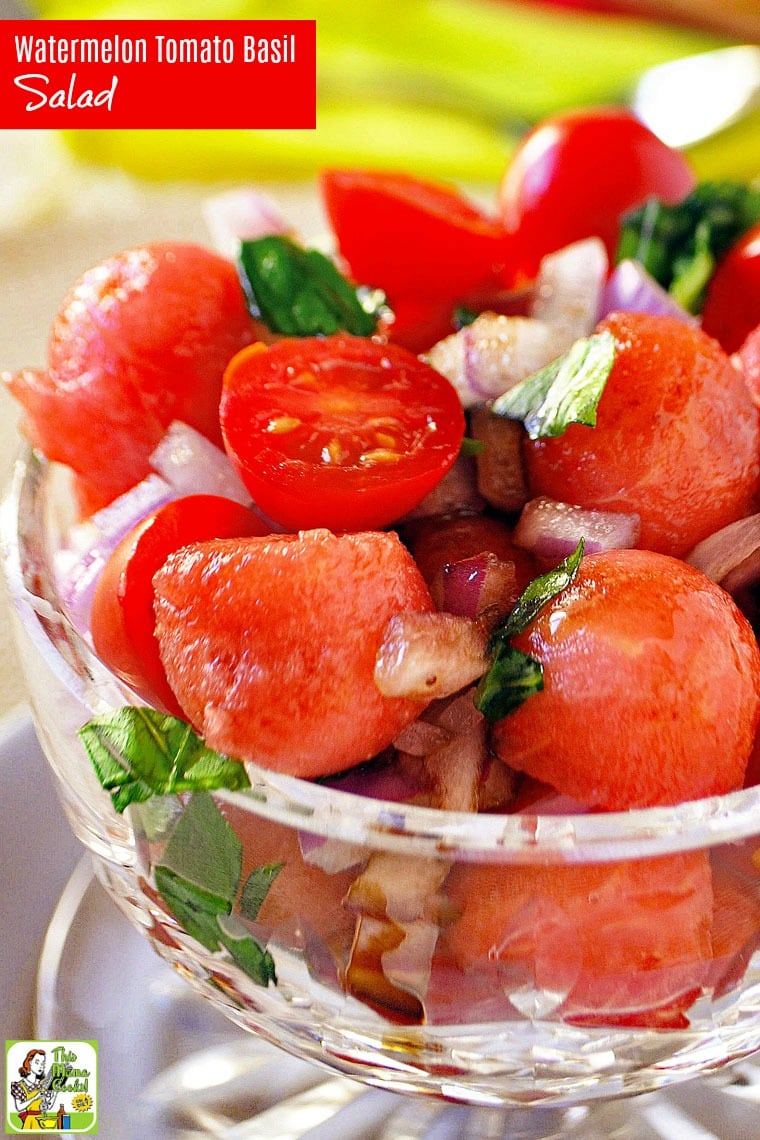 How to pick the right watermelon
Summer and fresh juicy watermelon go hand and hand.
Watermelon is usually available from early May to September but they are at their peak from mid-to late June.
I love to use watermelon in many of my recipes as it adds a sweet touch, and though water accounts for over 90% of it's weight, it's rich in potassium, and Vitamins A & C.
Here are some watermelon tips:
● Your watermelon should feel heavy for its size. Compare it to similar melons.
● Rind shouldn't have any soft spots, gashes and should be dull and barely yield to pressure.
● A good melon has a symmetrical shape. It shouldn't matter if it's round or oval.
● Look on the bottom of the melon and you'll find a discolored spot where the melon rested on the ground when it was growing.
If this spot is light green, the melon is not yet ripe. If the spot is a yellowish-white color, the melon is probably ripe.
● You can also test for ripeness by scratching the surface of a watermelon with your fingernail. A greenish-white color beneath the outermost layer of the rind indicates a ripe watermelon.
● If you are watermelon thumper-a ripe melon will sound as if the fruit is hollow. You don't want to hear a thud or a tone that is high in pitch.
More awesome recipes from Holly Clegg
● Copycat Popeyes Blackened Chicken Tenders Recipe (Keto)
● Easy Oven Baked Salmon Recipe
● Southwestern Sweet Potato Salad
● Hot Crab Spinach Dip Recipe Baked in French Bread Bowl
● Easy Mardi Gras King Cakes Recipe with Cream Cheese Cinnamon Filling
● Chicken and Sausage Gumbo Recipe
Yield: 10 SERVINGS
Easy Watermelon Tomato Basil Salad Recipe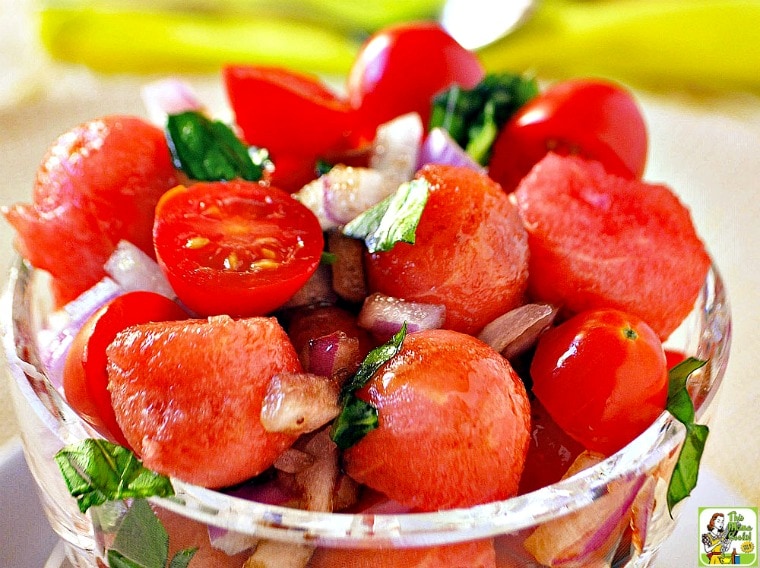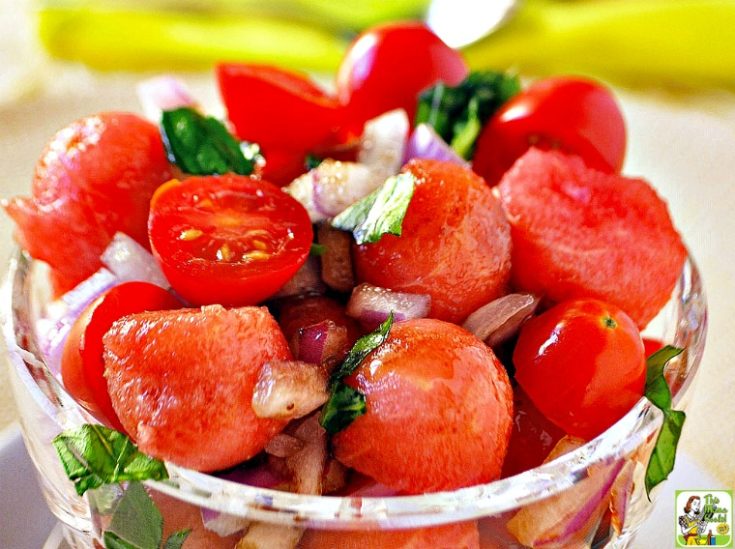 Searching for easy watermelon salad recipes? This easy watermelon tomato salad is ideal for summer cookouts and potlucks.
Ingredients
4 cups scooped out watermelon balls or chunks
1/2 cup chopped red onion
1 pint cherry tomatoes, halved
2 tablespoons fresh chopped basil
1 tablespoon olive oil
2 tablespoons balsamic vinegar
Salt to taste
Instructions
In a large bowl, combine watermelon, onion, tomatoes, and basil.
Whisk together oil and vinegar in a small bowl.
Pour over salad and toss. Season to taste with salt. Serve immediately or store in the refrigerator and serve later that day.
Recommended Products
As an Amazon Associate Affiliate and member of other affiliate programs, I earn from qualifying purchases.
Nutrition Information:
Yield:
10
Serving Size:
1/2 cup
Amount Per Serving:
Calories:

46
Total Fat:

2g
Unsaturated Fat:

2g
Sodium:

6mg
Carbohydrates:

8g
Fiber:

1g
Sugar:

6g
Protein:

1g
Dietary Exchanges: 1/2 fruit, 1/2 fat
Recipe and photograph used with permission.
Originally published on June 10, 2014. Updated with new pictures and information.