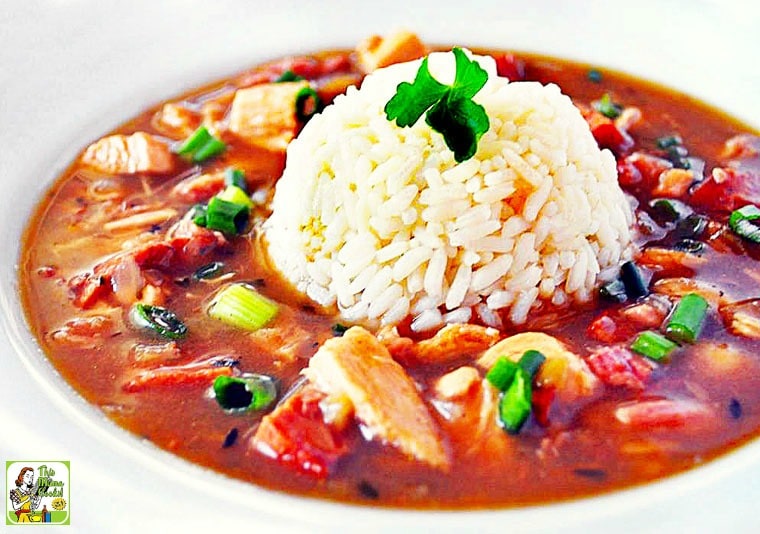 Nothing like a hot bowl of Chicken and Sausage Gumbo on a cold winter's night.
Or serve up this Cajun gumbo recipe at your next Mardi Gras celebration!
Luckily, my good friend and contributor, Holly Clegg has an easy gumbo recipe that's tasty and healthy, too.
This recipe comes from her cookbook, trim&TERRIFIC Gulf Coast Favorites.
If you love chicken and sausage gumbo, and are looking for healthy food to cook with a Southern twist, it's a cookbook you'll have to add to your collection.
Not only does it feature this Cajun gumbo , but other 30-minute Southern family style recipes, too.
You can find more of Holly Clegg's trim& TERRIFIC® recipes at The Healthy Cooking Blog.
Check out Holly's trim& TERRIFIC™ cookbooks on Amazon, too!
Easy gumbo recipe making tips
Go gluten free: If you want to make this easy chicken and sausage gumbo gluten free, you can substitute a gluten free all-purpose baking flour for the regular flour.
However, I'm not sure the gluten free flour will brown in the same amount of time, if at all.
So keep an eye on it and make sure it doesn't burn.
Time savers: Holly gives some suggestions for cutting down the gumbo cooking time by using already cooked rotisserie chicken instead of raw chicken breasts and precut vegetables.
You could also use canned chicken and frozen onions and green peppers.
You could also use a hand food chopper to chop the vegetables. I have a similar chopper (from Pampered Chef) and LOVE IT.
Not only does it save time, but my eyes don't water when chopping onions.
By using these shortcuts, you'll cut down the cooking time enough to make this a perfect weeknight dish.
Get the rice started first! Don't forget to get the brown rice started first thing in your rice cooker, too!

Making a healthy chicken and sausage gumbo recipe
Winter months have me reaching for something simmering on the stove to warm me up. So my trim and terrific Chicken and Sausage Gumbo is a favorite soup of the season.
In the South, seafood is a popular gumbo ingredient, but when seafood isn't readily available, this chicken and sausage version of traditional gumbo is your delicious answer.
Making the roux: Often a roux of oil and flour is used as the thickening agent in gumbo, but my secret is a dry roux – cutting down the fat but keeping all of the rich flavor.
Bake the flour at 400 degrees F on a baking sheet for about 20 minutes, stirring every 7 to 10 minutes until it gets a toasty pecan color, and add it to your sautéed ingredients.
This dry roux gives your easy gumbo that familiar flavor and color, but without all the extra calories.
Time savers: Keep it easy on yourself and buy prechopped onions and seasonings and use rotisserie chicken – no one will know the difference and it will only taste like you've been cooking all day!
Wholesome rice: Add a little brown rice to your chicken and sausage gumbo recipe and you have a tasty, nutritious, and diabetic friendly meal that's sure to have the whole family wanting seconds!
Leftovers: This recipe makes a big pot, so freeze leftover chicken gumbo recipe for a quick and easy weeknight meal for another time!
More awesome recipes from Holly Clegg
● Southwestern Sweet Potato Salad Recipe
● Easy Watermelon Tomato Basil Salad Recipe 
● Easy Oven Baked Salmon Recipe 
● Easy Mardi Gras King Cakes Recipe with Cream Cheese Cinnamon Filling
Yield: 12 SERVINGS
Chicken and Sausage Gumbo Recipe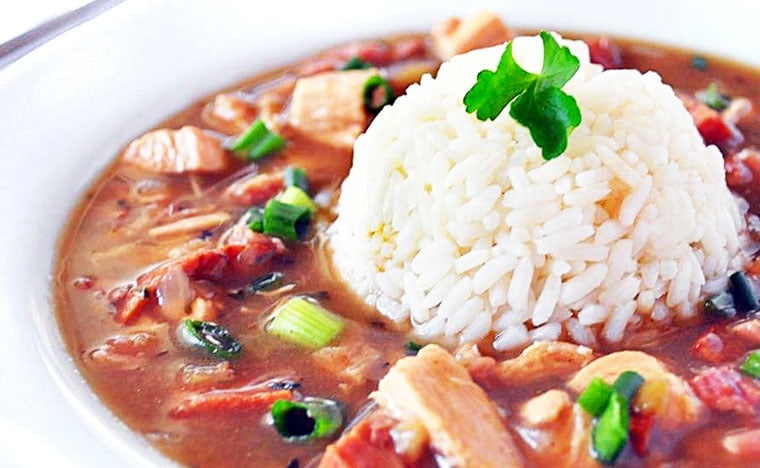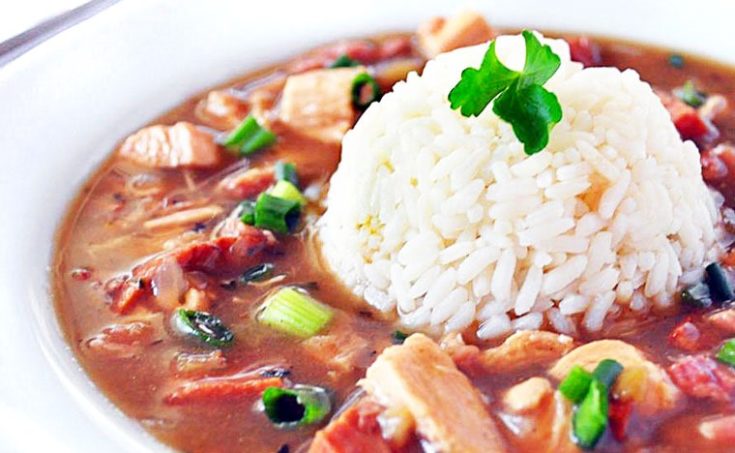 Try this Chicken and Sausage Gumbo recipe tonight! This easy gumbo recipe is perfect for dinner or Mardi Gras celebrations.
Cook Time
1 hour
30 minutes
Ingredients
2/3 cup all-purpose flour
2 onions, chopped
1 teaspoon minced garlic
2 green bell peppers, seeded and chopped
2 stalks celery, chopped
10 cups water
1 14.5-ounce can chopped tomatoes with their juice
4 pounds skinless, boneless chicken breasts, cut into pieces
1/2 teaspoon dried thyme leaves
1/4 teaspoon cayenne pepper
1 pound reduced-fat sausage (pork or chicken), sliced into 1/4-inch pieces
1 bunch green onions
1 tablespoon Worcestershire sauce
Cooked brown rice for serving
Instructions
Preheat oven 400 degrees F. Place flour on a baking sheet, bake 20-30 minutes, stirring every 7 minutes, or until the flour is brown (color of pecan shells). This process works well in the toaster oven. Set aside.
In large, heavy pot coated with nonstick cooking spray, sauté onion, garlic, green peppers, celery until tender. Add browned flour (the roux), stirring constantly.
Gradually add water, tomatoes, chicken, thyme, cayenne pepper. Bring the gumbo to boil, lower heat, and simmer 45 minutes to 1 hour, or until chicken is tender.
While gumbo is cooking, brown sausage in a skillet or in a microwave oven. Add sausage, green onions, Worcestershire sauce to chicken gumbo, cooking 10 more minutes. Skim any fat from the surface of the chicken and gumbo.
Serve the chicken and sausage gumbo over brown rice.
Nutrition Information:
Yield:
12
Serving Size:
1
Amount Per Serving:
Calories:

226
Total Fat:

3g
Saturated Fat:

1g
Unsaturated Fat:

2g
Cholesterol:

79mg
Sodium:

464mg
Carbohydrates:

16g
Fiber:

2g
Protein:

33g
Diabetic Exchanges: 4 very lean meat, 0.5 starch, 1.5 vegetable
Recipe and photo used with permission of the author.
Originally posted on January 12, 2016. Updated with new photos and information.