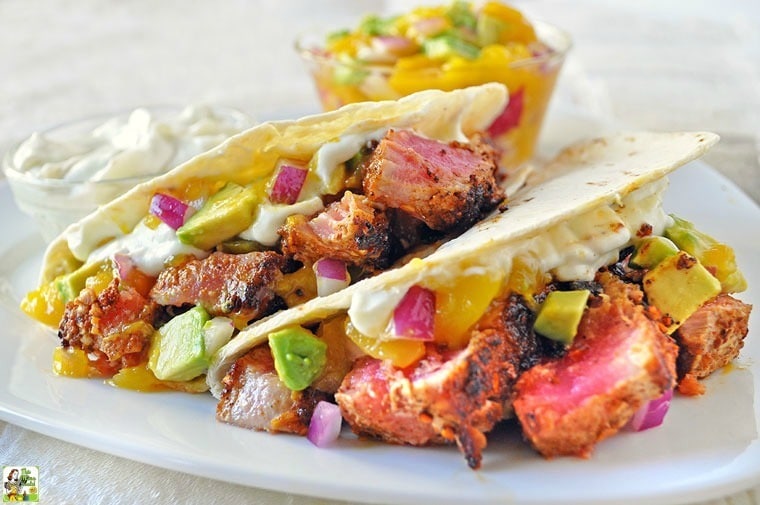 My frequent contributor Holly Clegg writes about her avocado addiction and how she loves to indulge it by making Ahi Tuna Tacos with Wasabi Cream and Mango Avocado Salsa.
However, I'm addicted to fish tacos – and pan seared ahi tuna recipes!
My family loves having tacos for dinner, whether we're having the Best Slow Cooker Spicy Pulled Pork Tacos or carne asada tacos.
So her recipe for Ahi Tuna Tacos with Wasabi Cream and Mango Avocado Salsa from her trim&TERRIFIC Too Hot in the Kitchen cookbook is perfect for both our addictions!
A healthy fish taco recipe would be a special treat for my husband and I, but not something the kids would want to try. (Ewww, fish!)
So I'd save this recipe for a romantic meal or maybe for when we're entertaining friends.
You can find more of Holly Clegg's trim& TERRIFIC® recipes at The Healthy Cooking Blog.
Check out Holly's trim& TERRIFIC™ cookbooks on Amazon, too!
Tips for making ahi tuna tacos
Holly likes to pan sear her tuna. Ahi Tuna Tacos with Wasabi Cream and Mango Avocado Salsa is also terrific if you like grilled ahi tuna recipes.
If the price of ahi tuna concerns you, try making Ahi Tuna Tacos with another type of fish.
Salmon would work well with the mango and avocado. Just cook it all the way through, as salmon shouldn't be served rare like ahi tuna.
Have you used a fabric pouch tortilla warmer for heating tortillas in the microwave? Such an awesome product!
You can heat up a bunch of tortillas and keep them warm in the pouch while you're making your Ahi Tuna Tacos. The tortillas stay warm and don't dry out.
I have a 12" Tortilla Warmer Pouch and use it all the time!
They also come in a variety of designs to match your kitchen décor. LOVE IT!!!
Another way of cooking tortillas is by heating them up quickly on the stovetop on a warm griddle or in a frying pan.
Use corn tortillas if you're gluten free. I prefer the taste of corn tortillas over flour, too.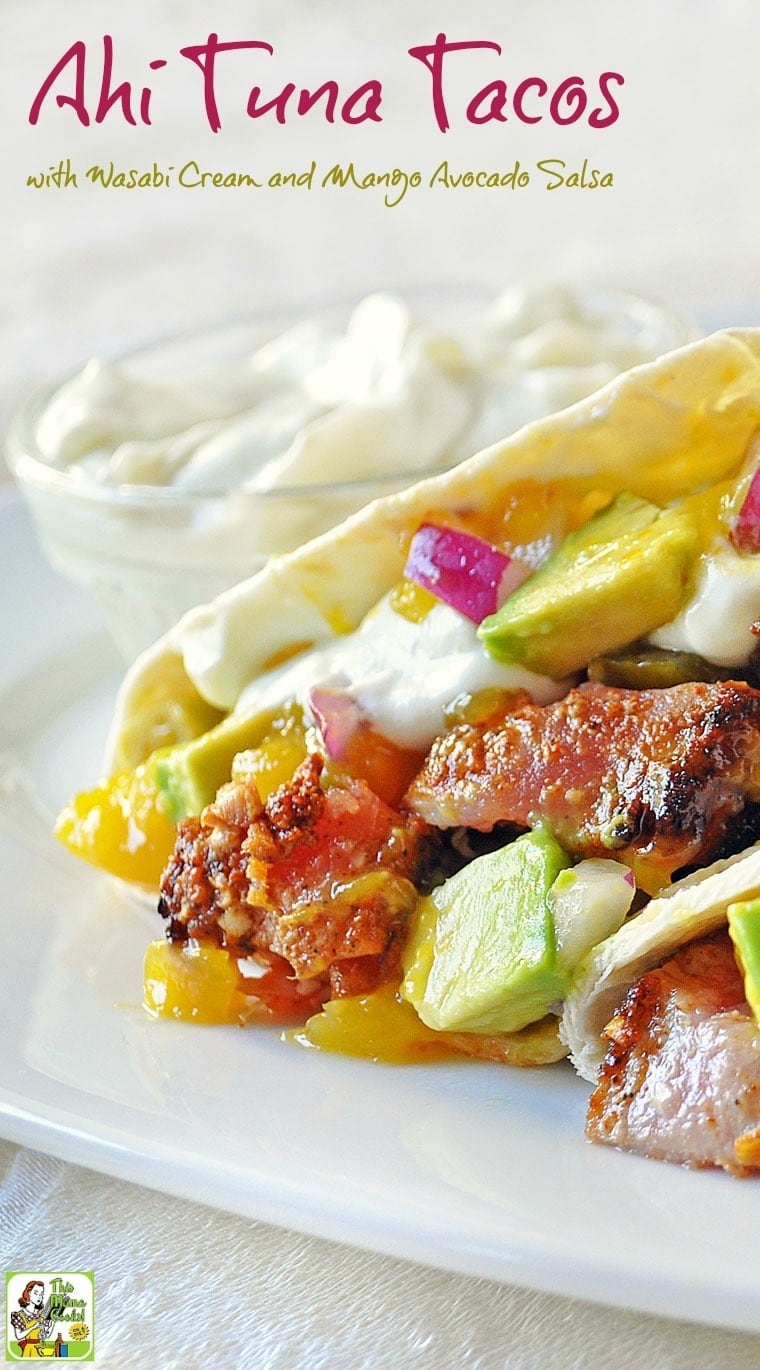 I love Ahi Tuna Tacos because I love avocados
I confess, I love avocados. I could eat them with just about any meal and couldn't be more excited to highlight my very favorite food!
Did you know buttery green avocados are actually considered a fruit? Rich in heart-healthy monounsaturated (good) fats, avocados are high in fiber and, ounce for ounce.
Avocados top the charts among all fruits for folate, potassium, vitamin E, and magnesium, making them one of the most nutrient-dense foods.
From salads to condiments, dips and even smoothies, in my opinion avocados are a nutrient dense mouth-watering ingredient worthy of celebration this month!
Are you looking for that wow summer dinner? Then this is a sure bet!
Ahi Tuna Tacos with Wasabi Cream and Mango Avocado Salsa sounds much more complicated than it actually is, and it's super delicious!
Don't be intimidated by ahi tuna – it's quick to make and really easy, especially paired with this fruity salsa with sweet mango, mild avocado, and spicy jalapenos making it the ultimate complement to ahi tuna tacos.
Look for wasabi paste in the Asian section of your supermarket.
A few chopped fruits and veggies, makes this fresh Mango Avocado Salsa, but for extra ease any fruit salsa would be great to contrast the Wasabi Cream.
Love tacos? Then check these recipes out!
● Crockpot Taco Meat Recipe – perfect for an easy taco night at home
● Serve with my super Easy 10 Minute Mexican Rice recipe!
● Slow Cooker Mexican Shredded Chicken Recipe
More awesome recipes from Holly Clegg
● Easy Mardi Gras King Cakes Recipe with Cream Cheese Cinnamon Filling
● Blackened Chicken Tenders Recipe
● Southwestern Sweet Potato Salad Recipe
● Cabbage Roll Casserole Crock-Pot Recipe
Yield: 4 SERVINGS
Ahi Tuna Tacos Recipe with Wasabi Cream and Mango Avocado Salsa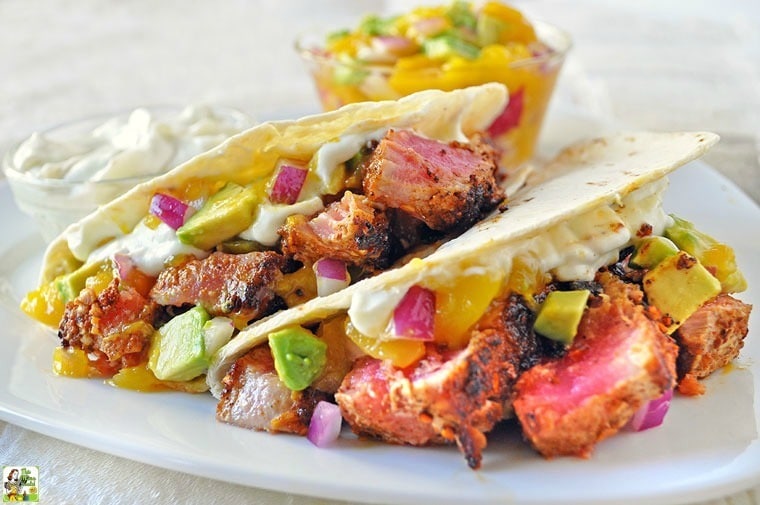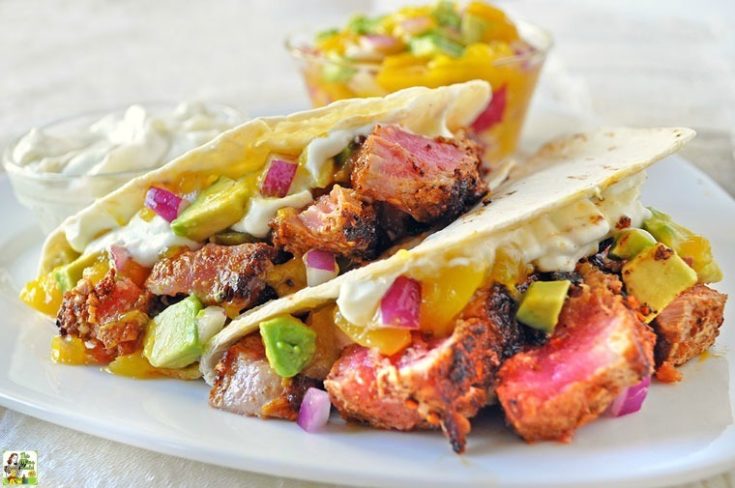 Looking for a wholesome fish tacos recipe? Try this ahi tuna taco recipe seasoned with wasabi cream and homemade mango avocado salsa!
Ingredients
For Ahi Tuna Tacos:
1 teaspoon olive oil
10-12 ounces ahi tuna (1-inch thick)
2 teaspoons taco seasoning mix
4 (8-inch) flour or corn tortillas
Wasabi Cream
Avocado Mango Salsa
For Wasabi Cream:
1/3 cup plain nonfat yogurt
1 teaspoon lime juice
1/8-1/4 teaspoon wasabi paste, depending on taste
For Mango Avocado Salsa:
1/3 cup chopped avocado
1/2 cup chopped mango
2 tablespoons chopped red onion
1 teaspoon chopped jarred jalapeno
1 tablespoon lime juice
Instructions
For Ahi Tuna Tacos:
In nonstick pan, heat olive oil until hot. Season tuna on both sides with taco seasoning and add to pan. Sear 1 minute per side or until tuna is cooked on the outside, but rare inside. Set aside.
Cover tortillas with a damp paper towel and microwave 30 seconds. Fill tortillas with tuna, top with Wasabi Cream (see recipe), and Mango Avocado Salsa (see recipe) or salsa of choice.
For Wasabi Cream:
In a small bowl, combine all ingredients.
For Mango Avocado Salsa:
In a small bowl, combine all ingredients.
Nutrition Information:
Yield:
4
Serving Size:
2 tacos
Amount Per Serving:
Calories:

445
Total Fat:

5g
Saturated Fat:

4g
Unsaturated Fat:

1g
Cholesterol:

65mg
Sodium:

921mg
Carbohydrates:

53g
Fiber:

4g
Sugar:

4g
Protein:

44g
Nutritional information per serving: (Ahi Tuna Tacos with Wasabi Cream only.) Dietary Exchanges: 3 1/2 starch, 5 very lean meat
Nutritional information per 1/4 cup serving of Mango Avocado Salsa only: Calories 37 Calories from fat 42% Fat 2g Saturated Fat 0g Cholesterol 0mg Sodium 18mg Carbohydrate 6g Dietary Fiber 1g Sugars 3g Protein 0g Dietary Exchanges: 1/2 fruit, 1/2 fat
Picture and recipe used with permission of author.
Originally published on June 24, 2015. Updated with new pictures.