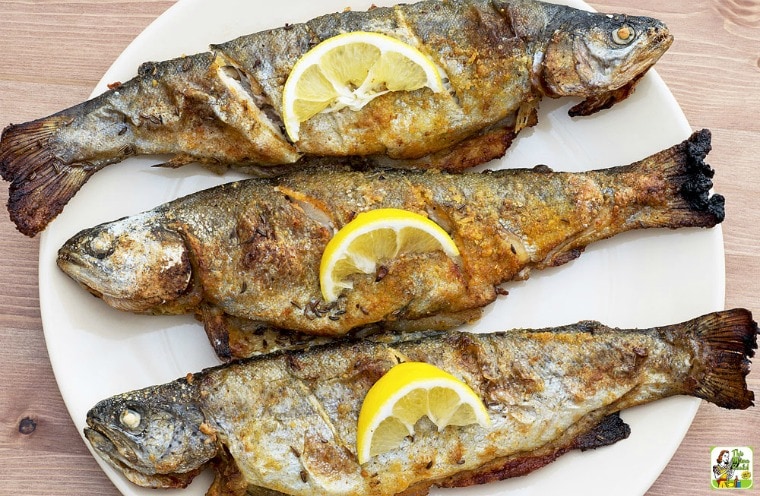 Not only is smoked trout delicious, but it's very easy to cook up if you have a smoker at home.
It's the only way to cook up all that trout after coming home with a cooler full of lake trout after camping.
You can also do a smoked trout recipe on a smoker grill like a Kamado Joe or a Big Green Egg.
We used to smoke our fish on a Masterbuilt Electric Smoker, which I loved.
When it died we bought a  Classic Kamado Joe. My husband loves smoking everything from ribs to steaks to fish on it even more!
This easy smoked trout recipe works with any type of mild tasting fresh water lake fish.
We've also done this with sea caught fish like tuna and whitetail that my husband brings back from Mexico.
This smoked trout recipe is guaranteed to leave your fish perfectly cooked and full of great smoky, flavor.
Once you've tried this smoked fish recipe, you'll never go back to grilling or baking your fresh fish catch again!
Marinade for smoking trout
You can use any type of premade bottled cooking sauces or marinade for smoking trout that you find at the grocery store.
I like San-J's gluten free cooking sauces because they're gluten free.
There are also packets of grilling spices that you can use for smoking trout in an electric smoker or for grilling.
What's even better and less expensive is a good vinaigrette salad dressing mixed with a few teaspoons of Old Bay seasoning.
Or try some fresh herbs from the garden along with some minced garlic for your smoked trout recipe.
Since the smoked lake trout is just sitting on the grill and not being flipped, add slices of onions, sprigs of herbs, and pats of butter on the inside of the fish for extra flavor. It's totally up to you!
Tips for smoking trout
Spray your grill with a grilling cooking spray so the skin of the lake trout doesn't stick to the grill.
I use pecan or apple wood pellets in my electric smoker when smoking fish.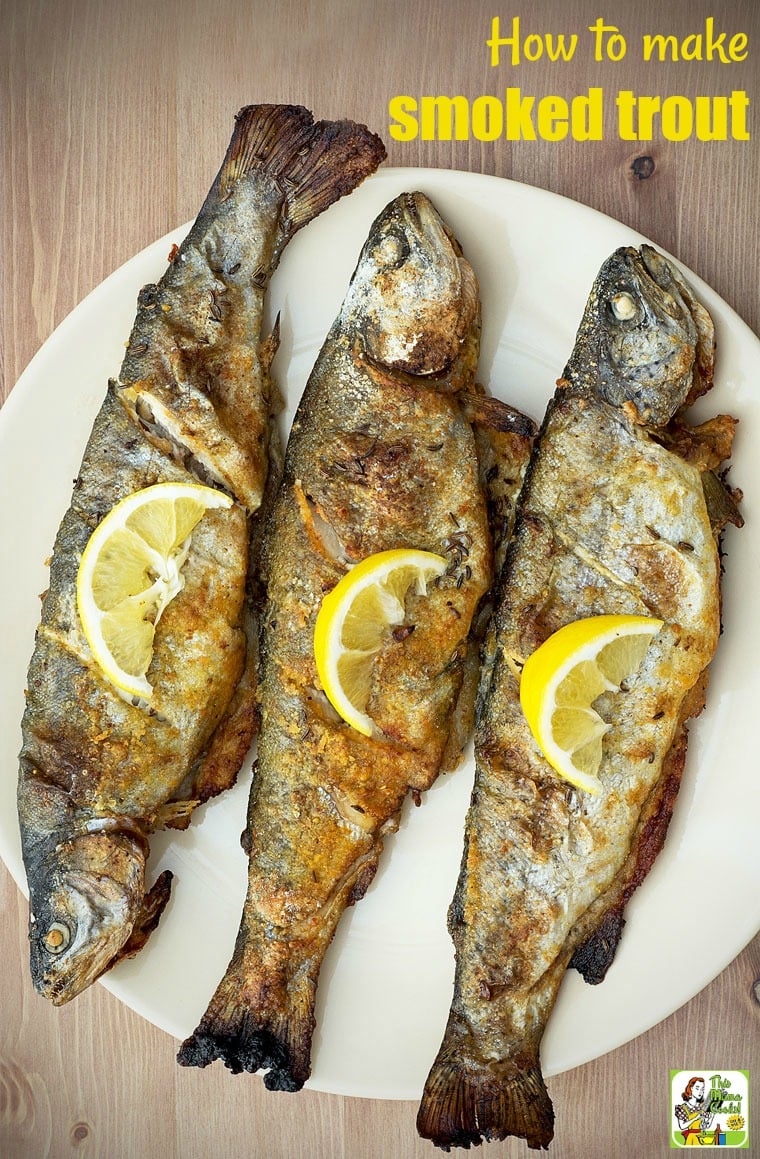 How to serve smoked trout
Serve smoked lake trout with plenty of sliced lemon wedges and some Homemade Tartar Sauce.
An easy side dish to serve with your easy smoked trout recipe is steamed brown rice or quinoa with butter or buttery spread.
I like mixing the pieces of fish and the juices from the marinade or butter along with the rice or quinoa so nothing is wasted.
Do you skin and debone your fish first or remove them as you go? I remove the spine and bones first since it seems easier to get the bones out and skin off when the fish is warm.
Don't forget to have a couple of extra plates on the table for everyone to deposit the trout bones and skin.
If you have leftover smoked lake trout, skin and debone it. Then use the smoked fish in a salad the next day.
Or combine the smoked lake trout with some lite mayonnaise, a little chopped celery, some relish, and a dash of salt and pepper for a fancy fish salad sandwich or wrap for lunch. Yum!
Awesome drinks to serve with smoked trout
Looking for refreshing drinks to serve with your fish?
Try these:
● Peach Whiskey Cocktail
● Fruit Stand Watermelon Cocktail
Looking for more easy seafood and fish recipes?
If you love fish, you should try these delicious, easy to make seafood recipes:
Yield: 4 SERVINGS
Smoked Trout Recipe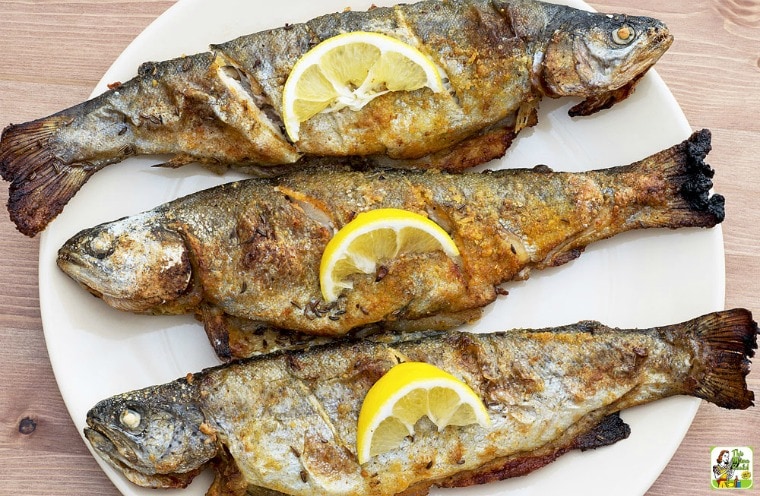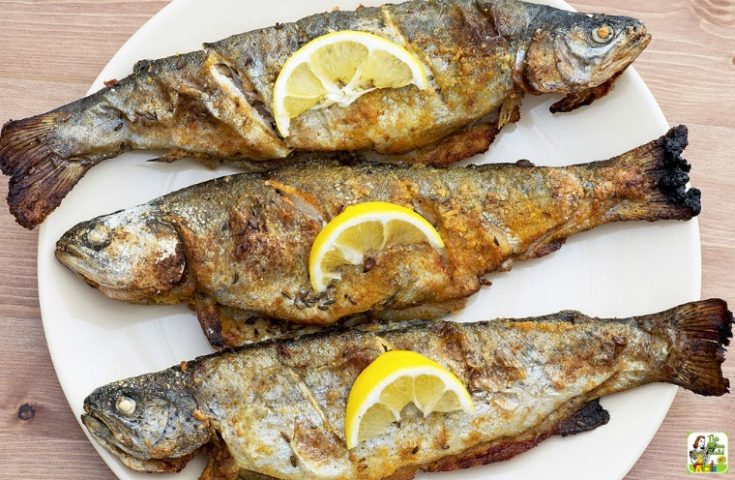 Learn how to make smoked trout in your smoker with this easy smoked trout recipe.
Ingredients
4 medium to large trout, cleaned (leave head and tail on or remove)
1 bottle your favorite marinade or salad dressing
Sliced onions
Herb sprigs
Pats of butter or dairy free buttery spread
Lemon for serving
Instructions
Marinating Trout
Place cleaned trout in a large sealable plastic bag.
Empty the entire bottle of the marinade over the fish into the bag.
Seal the bag and place fish in the refrigerator for 8 to 10 hours up to 2 days.
Smoking Trout
Set your smoker to 150 degrees and use a mild wood such as pecan, apple, oak, or alder.
When the grill reaches temperature, spray the smoker grate with a high-temperature cooking spray.
Place onion, herbs, and pats of butter (or buttery spread) inside the fish cavity. Then lay the trout directly on the smoker grate. There should be enough space between your trout so the smoke can reach all parts of the fish.
Let the fish smoke for 30 minutes at 150 degrees to dry the outside of the fish so that it can be firmer in the later stages of smoking.
After 30 minutes raise the temperature to 225 degrees to finish the smoking process.
Smoke until the fish reaches 145 degrees. If you go higher than this the fish will start to turn into fish jerky. Total cooking time usually takes 1 to 2 hours depending on the size of your fish and how many you're smoking at one time.
Nutrition Information:
Yield:
4
Serving Size:
1 fish
Amount Per Serving:
Calories:

268
Total Fat:

22g
Saturated Fat:

5g
Trans Fat:

0g
Unsaturated Fat:

16g
Cholesterol:

21mg
Sodium:

1369mg
Carbohydrates:

11g
Fiber:

1g
Sugar:

6g
Protein:

7g
Nutritional information is automatically calculated per the ingredients list. Serving size may not be accurate. Please double-check with your preferred nutritional app for the most accurate information.
Originally posted on July 29, 2011. Updated with new pictures.