Last Updated on October 9, 2021 by Anne-Marie
Shrimp puttanesca with quinoa can be made in 30 minutes. Based on spaghetti alla puttanesca, it's made with olives, tomatoes, garlic, capers, and onions.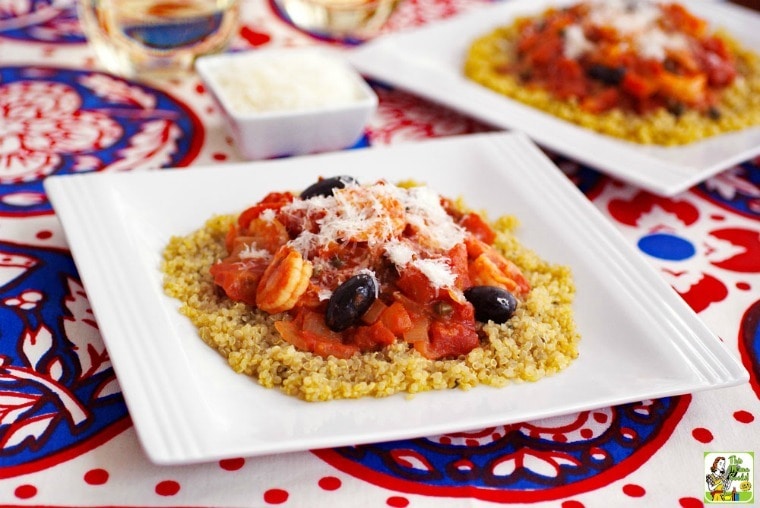 Why this recipe works
After having shrimp puttanesca at a local Italian restaurant one night with my family, I thought that recreating that night's dinner would be a fun challenge.
It's based on spaghetti alla puttanesca, which is an Italian pasta dish that was invented in the Campania region of Italy.
What I like about this dish is that it only takes 30 minutes to make. Perfect for busy weekends when you don't have much energy to cook.
Plus, shrimp puttanesca is the embodiment of the wholesome Mediterranean diet – olives, seafood, tomatoes, garlic, capers, wine, and onions.
In addition, I love puttanesca for its combination of spicy and salty. So goooooood!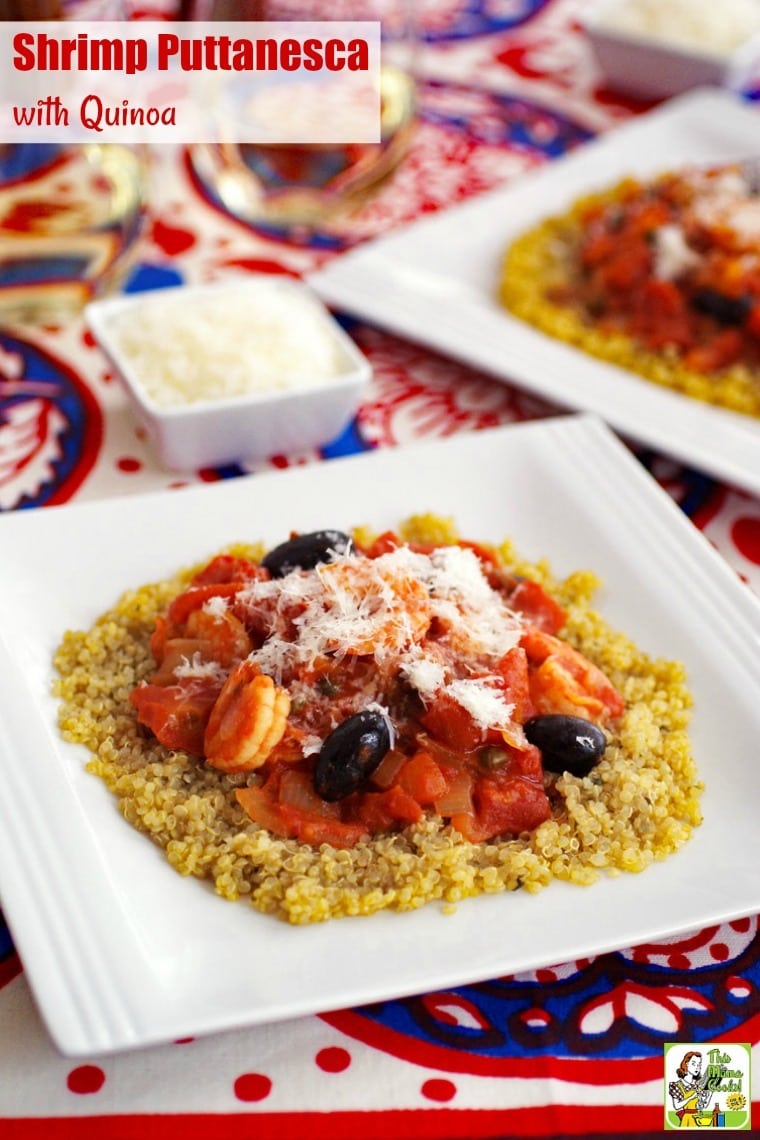 The origins of alla puttanesca
According to one story, sugo alla puttanesca was invented in the 1950s by Sandro Petti, co-owner of Rancio Fellone, a famous restaurant. Petti's moment of inspiration came when he was low on ingredients and told his late night customers he didn't have enough to make a meal.
They complained that they were hungry and he should throw something together. All Petti had on hand was four tomatoes, two olives and some capers. So he used this to make the sugo, or sauce for spaghetti.
He later called it spaghetti alla puttanesca, which alluded that it can be made quickly, in between other obligations (wink, wink, say no more!). Thus the allusion to prostitution. (Puttana in Italian means prostitute.)
However, it's more likely called that due to the Italian saying, una puttanata qualsiasi meaning "any old garbage," since he threw together a bunch of stuff from the kitchen.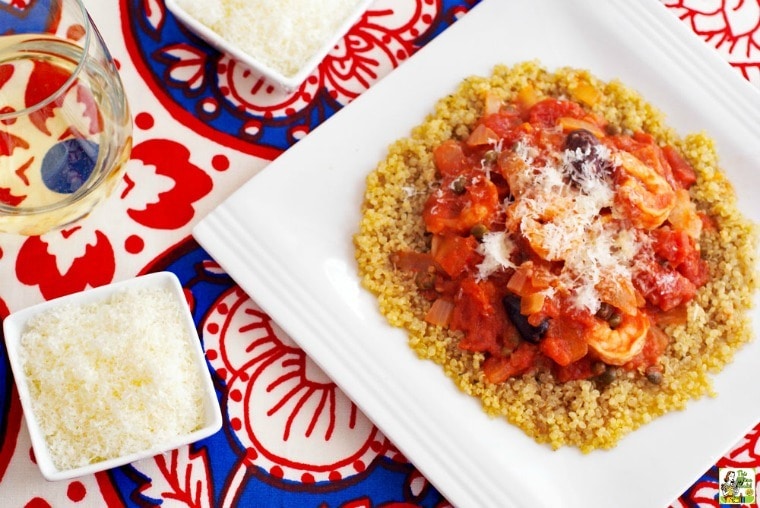 Making shrimp puttanesca gluten free
While a puttanesca sauce is usually served on pasta, I decided to do something different by serving it on quinoa. This way it's naturally gluten free plus the quinoa adds more protein.
Of course, you can serve the puttanesca on your favorite gluten free pasta if you like. Totally up to you.
If you're not gluten free, use a regular or whole wheat spaghetti instead. Or make both and leave the serving choice up to your family or guests.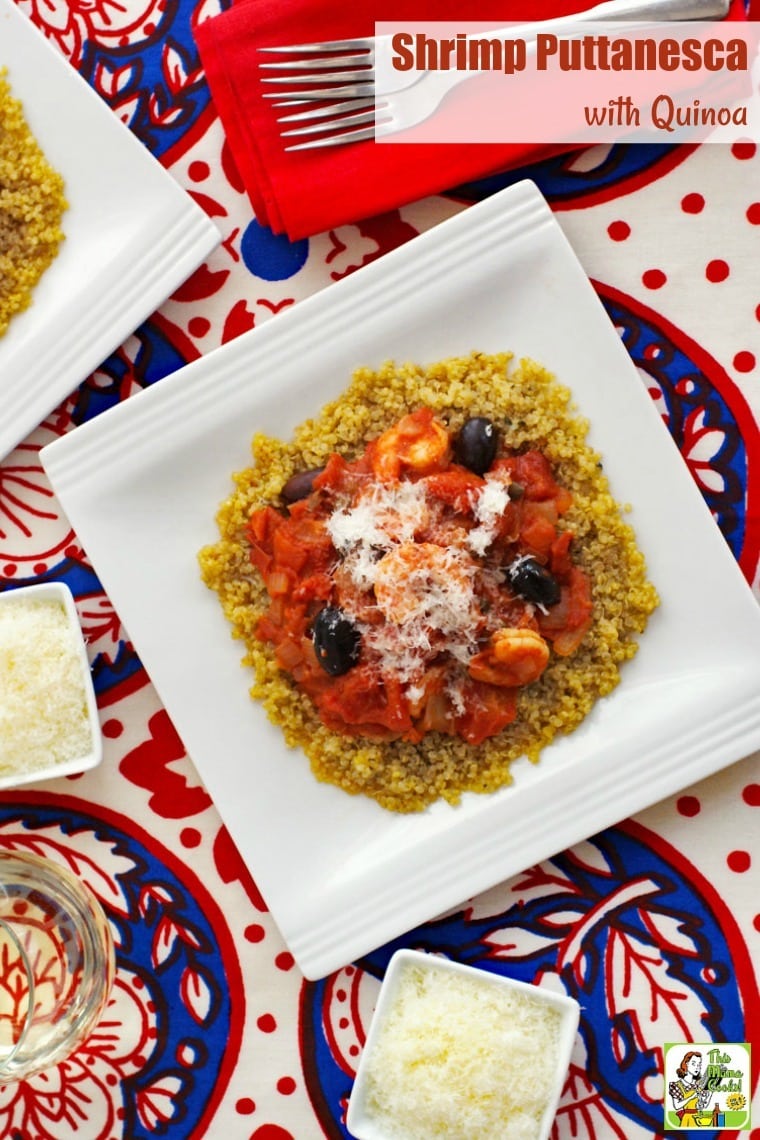 How to make the puttanesca sauce
Now, about the anchovies. I adore them, but feel free to leave them out the recipe if they're not your thing. Though you're missing something quite special if you do, just sayin'.
With the shrimp, you can use precooked, shelled, deveined, tail off shrimp from the freezer aisle at your favorite grocery or warehouse store. which is much more convenient and so much less work for you.
You can use Kalamata olives from the olive bar of your supermarket or jarred olives. Both are terrific. Use whatever is cheapest or more convenient. Leftover olives are terrific in salads or for snacking.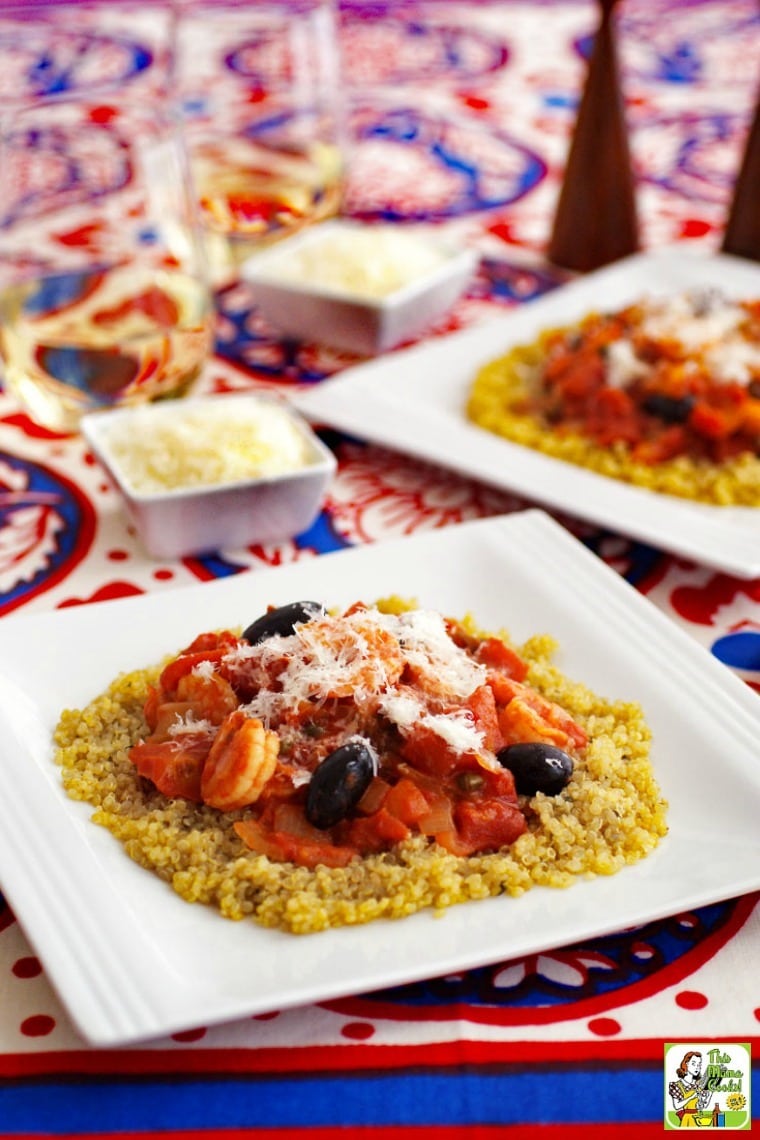 Wondering what to do with capers besides putting them on bagels and lox? Add them to salads or sprinkle over your breakfast eggs.
As for the grated cheese, even though I specify Pecorino Romano, you can use any type of Romano style cheese you like. (I like using this Zester & Cheese Grater to grate my cheese.)
But please, none of that "sprinkle cheese" from the green can! As Liz Lemon from 30 Rock would say, "Blaarg!"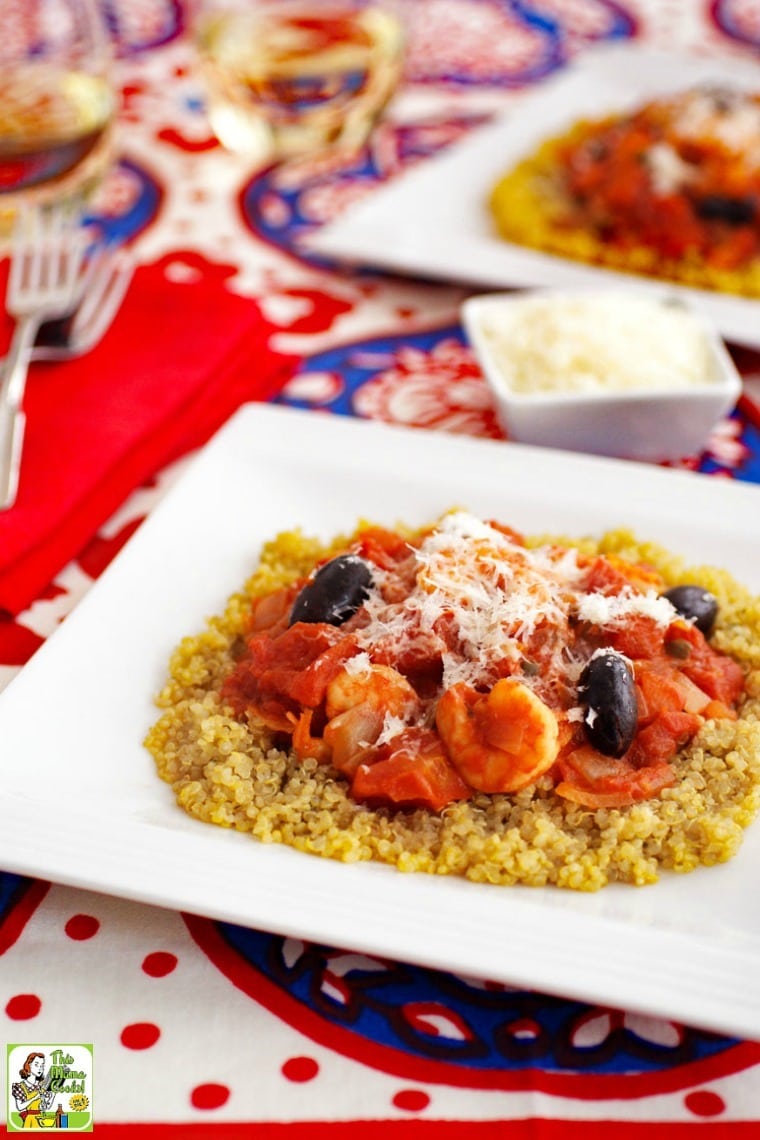 Tips for making the best quinoa for alla puttanesca
Make sure to rinse your quinoa in a fine-mesh strainer under cold water for 2 minutes. Rinsing helps removes quinoa's natural coating (called saponin) which can make it taste bitter.
I recommend cooking quinoa in vegetable or chicken broth. You can also use water and bouillon, such as Massel stock and bouillon products, which are gluten free and salt reduced.
Adding fresh or dried herbs to your quinoa during the cooking process is an easy way to add more flavor, too.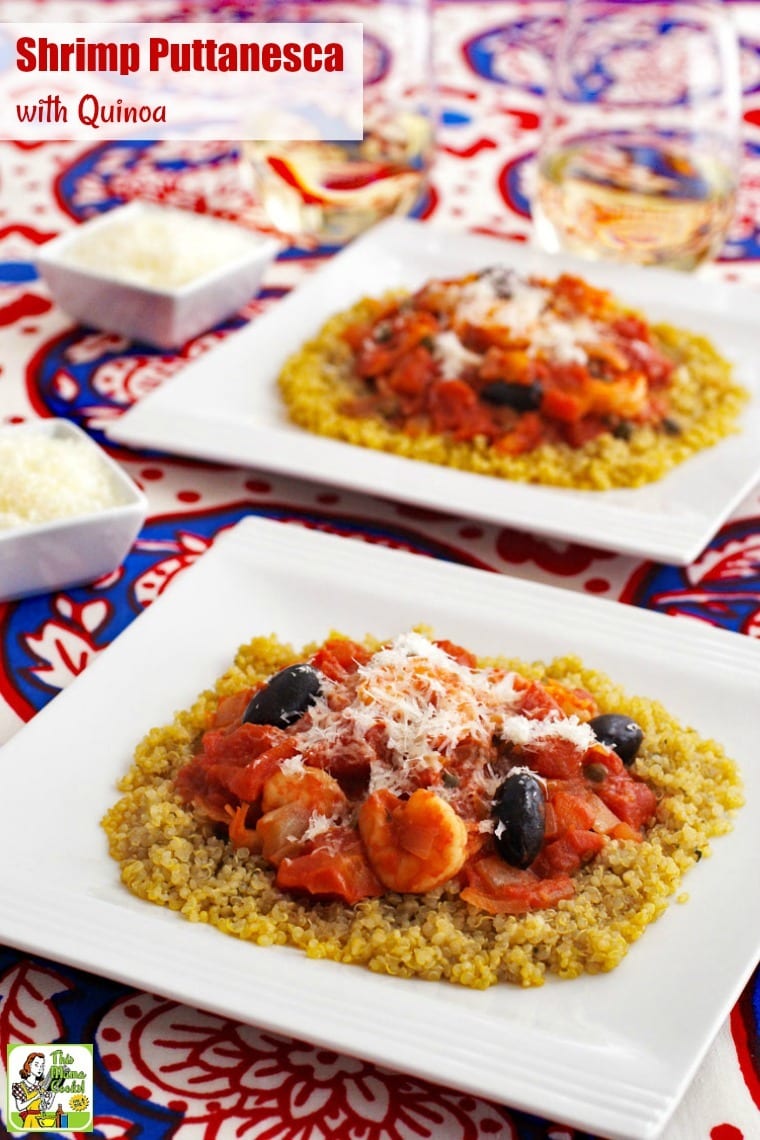 Desserts to serve with puttanesca
When I eat something spicy or salty, I like having something sweet and/or cooling afterwards. Here are some dessert suggestions:
● Lemon Flavored Meringue Cookies
Yield: 6 SERVINGS
Shrimp Puttanesca with Quinoa Recipe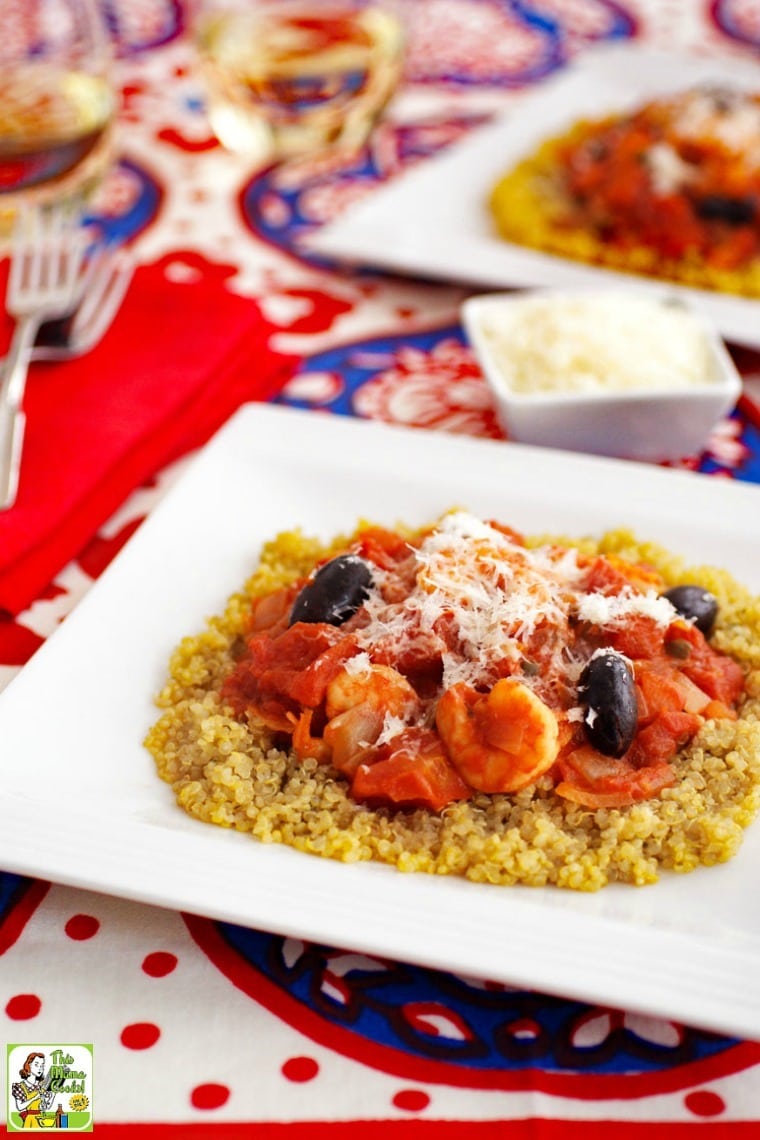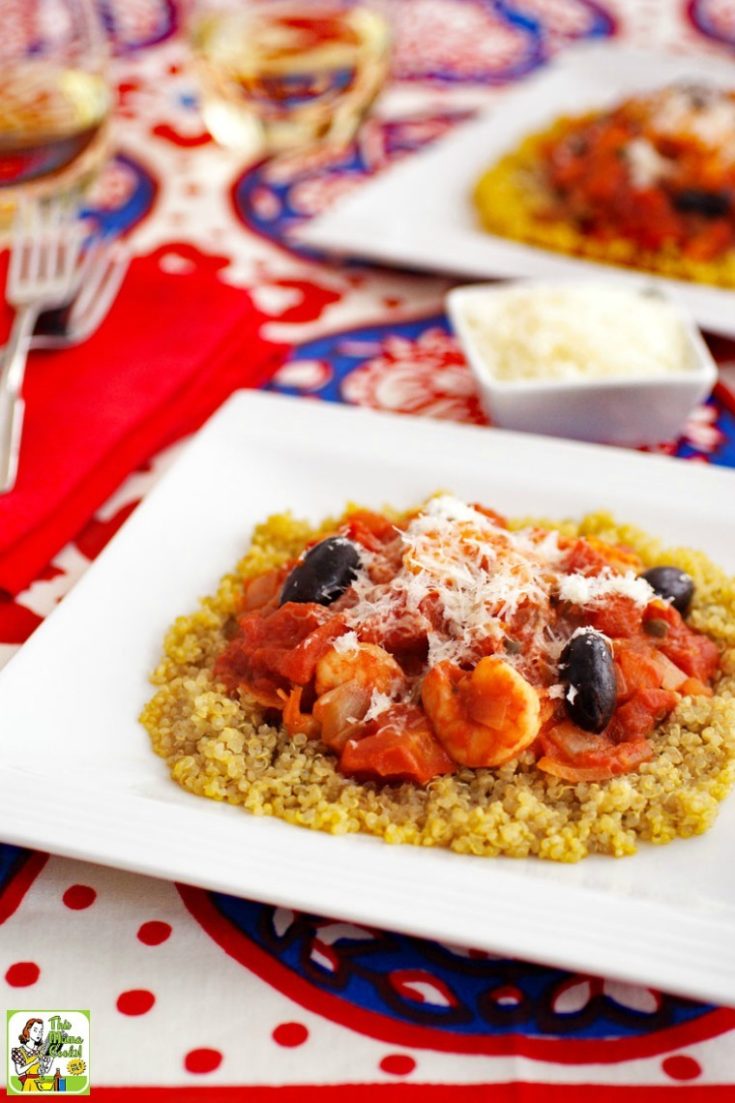 Shrimp Puttanesca can be made in 30 minutes. Based on spaghetti alla puttanesca, it's made with olives, tomatoes, garlic, capers, and onions.
Ingredients
For the puttanesca:
1 tablespoon olive oil
1 teaspoon minced garlic (about 2 large cloves)
1 medium yellow onion, finely chopped
1/2 teaspoon oregano
1/2 teaspoon chili pepper paste or 1/4 teaspoon chili pepper flakes
1/2 cup white wine
2 14.5-ounce cans diced tomatoes with juice reserved
2 tablespoons tomato paste
25 Kalmata olives
3 tablespoons capers
Salt and pepper
1 pound shrimp, shelled, deveined with tails removed (if using frozen shrimp, defrost before cooking)
4 anchovies, finely chopped (optional)
1/2 cup grated Pecorino Romano cheese
For the quinoa:
2 cups vegetable broth
1 cup quinoa
1 teaspoon finely chopped basil
1 teaspoon finely chopped parsley
Instructions
For the shrimp puttanesca:
Heat the olive oil in a large skillet over medium heat.
Add the garlic and cook for about 2 minutes or until golden. (If your garlic starts to turn brown, lower the heat!)
Add the onion, oregano, pepper paste (or flakes), and wine and simmer until the wine has almost evaporated about 5 minutes.
Stir in the tomatoes along with their juice, olives, and capers. Bring to a boil over medium-high heat, then lower to maintain a simmer. Cook until the sauce thickens, about 15 minutes. Stir occasionally.
Meanwhile, cook the quinoa. (See below.)
After the sauce has thickened, add the shrimp and (optional) anchovies. Stirring occasionally, cook shrimp until they start to turn pink, about 3 to 4 minutes. (If using precooked shrimp, cook until heated through, about 2 to 3 minutes.) Do not overcook the shrimp or they'll get rubbery!
To serve, place quinoa on plates and spoon sauce and shrimp on top. Sprinkle with cheese.
For a more casual serving style, add quinoa and 1/4 cup of grated cheese to the skillet. Stir well to blend with the sauce. Serve in bowls with the rest of the grated cheese on the side.
For the quinoa:
Place all ingredients in a medium saucepan.
Bring to a boil over high heat.
Reduce temperature to low and cover with the lid.
Simmer for 10 to 12 minutes until quinoa is cooked and liquid is absorbed.
Fluff with a fork and serve.
Recommended Products
As an Amazon Associate Affiliate and member of other affiliate programs, I earn from qualifying purchases.
Nutrition Information:
Yield:
6
Serving Size:
1
Amount Per Serving:
Calories:

266
Total Fat:

8g
Saturated Fat:

2g
Trans Fat:

0g
Unsaturated Fat:

5g
Cholesterol:

169mg
Sodium:

1544mg
Carbohydrates:

22g
Fiber:

4g
Sugar:

9g
Protein:

23g
Nutritional information is automatically calculated per the ingredients list. Serving size may not be accurate. Please double-check with your preferred nutritional app for the most accurate information.
Originally published on March 25, 2013. Updated with new pictures and information.