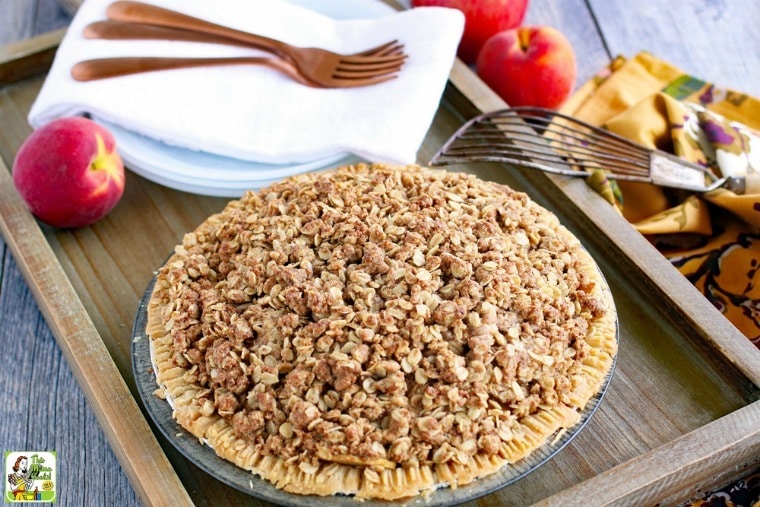 This Apple Peach Pie with Oatmeal Crumb Topping is a terrific dessert for using up seasonal peaches and apples.
With a simple crumb topping and store-bought crust, it comes together in no time and goes great with almost any meal.
This recipe was inspired by a crumb apple pie from Flavors by Four. I came across it during a recipe challenge where we recreate other blogger's recipes. (With permission, of course.)
I like that her fruit pie with crumb topping was very easy and quick to make because you could use a store bought frozen pie crust, a frozen gluten free crust, or one from a mix.
Of course, there's nothing stopping you from making a gluten free pie crust from scratch. This Apple Peach Pie recipe is versatile!
Apple Peach Pie with Oatmeal Crumb Topping goes gluten free
I knew I could easily adapt the original recipe to my dietary needs with just a few changes like using an all purpose gluten free flour like Bob's Red Mill Gluten-Free 1-to-1 Baking Flour. I love this product because it cooks up just like regular flour.
Check out my Best Gluten Free Products List to find more of my favorite gluten free baking products!

I also made sure to use certified gluten free old fashioned oatmeal and not regular old fashioned oatmeal. It's important if you're gluten free that you buy certified gluten free oatmeal.
While oatmeal is naturally gluten free, if it's not certified as GF, it can be exposed to gluten in the fields where it's grown, to the processing plant, to the containers in which its shipped.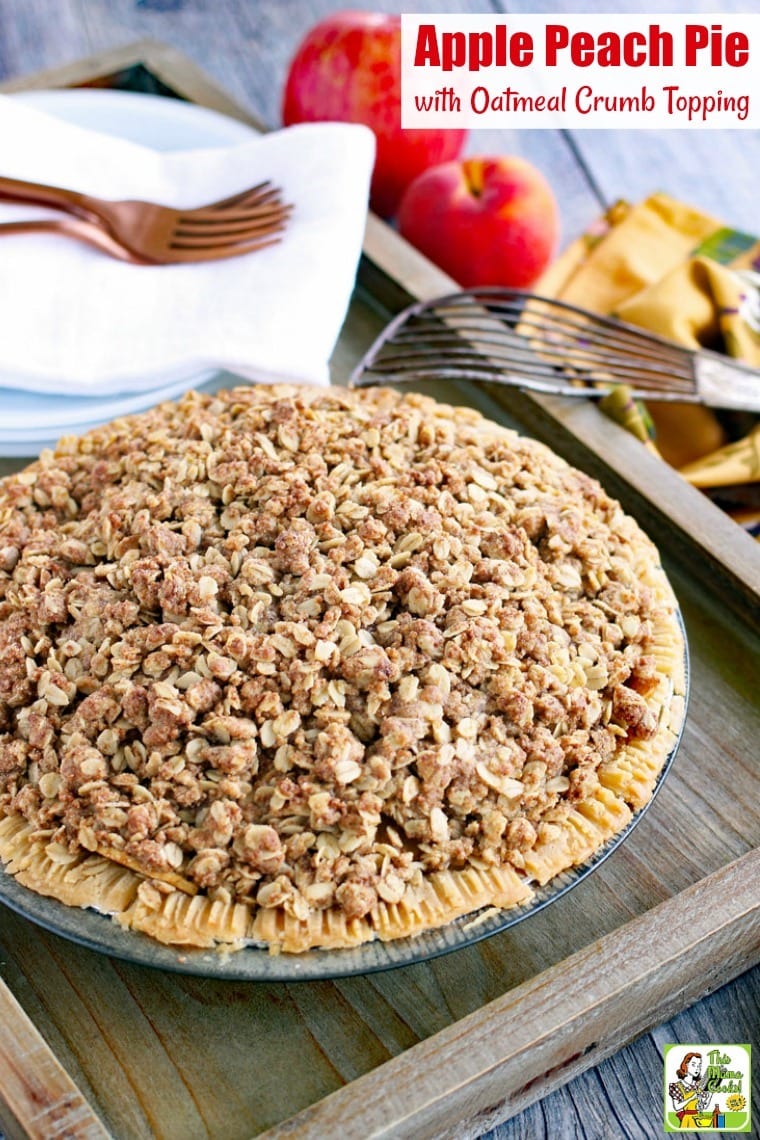 Make this apple peach pie dairy-free or vegan
When using most all purpose gluten free flours, you'll find they are naturally vegan and dairy free.
You can make a homemade pie crust with no milk or butter and use milk substitutes (coconut, soy or rice milk) and a vegan buttery spread like Earth Balance.
The crumb topping can be made with the same vegan spread or even coconut oil.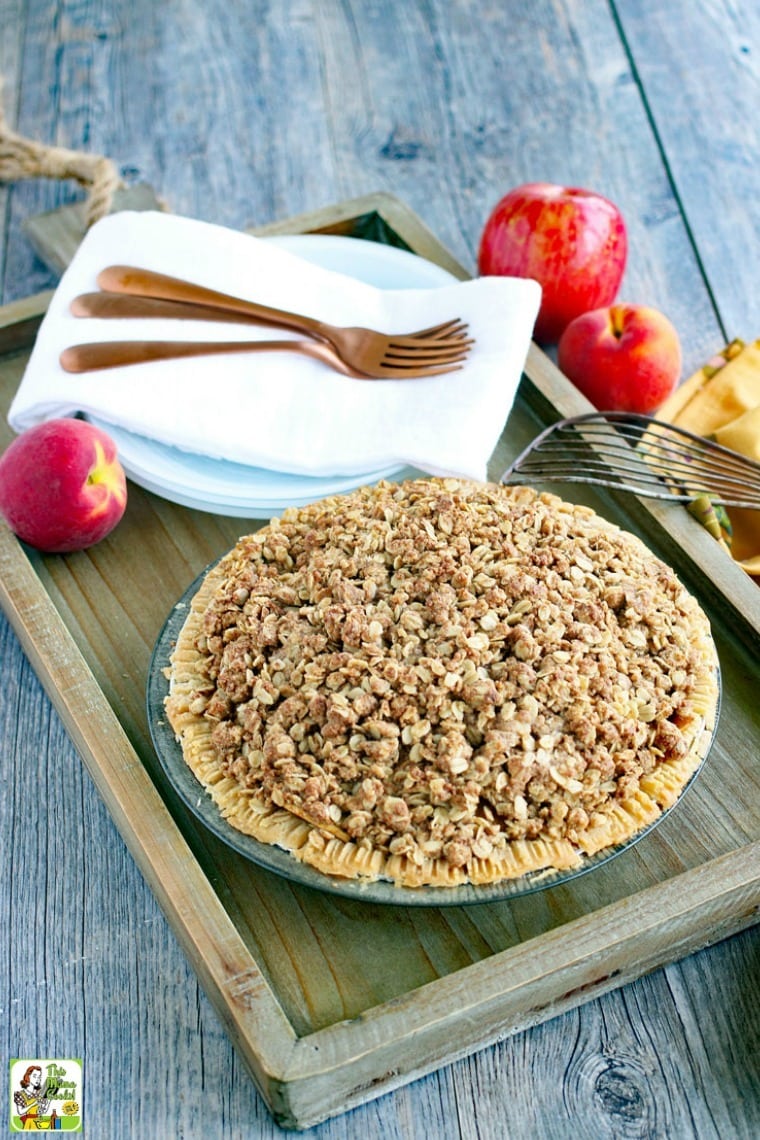 Tips for making a gluten free peach pie with crumble topping
I love that this recipe can easily be made gluten-free and still remain delicious. Here's how:
● Use a ready-made gluten-free crust. I recommend the 9" Wholly Wholesome Gluten Free Pie Shell, which you can probably find in your grocery store's freezer section.
I don't bake the pie crust before filling, since I find prebaking dries out the crust. Buy a couple since they're also terrific to use for a quick quiche dinner.
● Make a gluten-free pie crust from scratch using almond flour or coconut flour. Here are two gluten free pie crust recipes that I like: Extra Flaky Gluten Free Pie Crust and The Best Gluten Free Pie Crust Recipe.
● Buy a gluten free pie crust mix to make a fast and easy crust.
● Out of gluten free flour? Skip it in the crumb topping and use just oats and sugar. If a thickener is needed, add in cornstarch, almond flour, or coconut flour.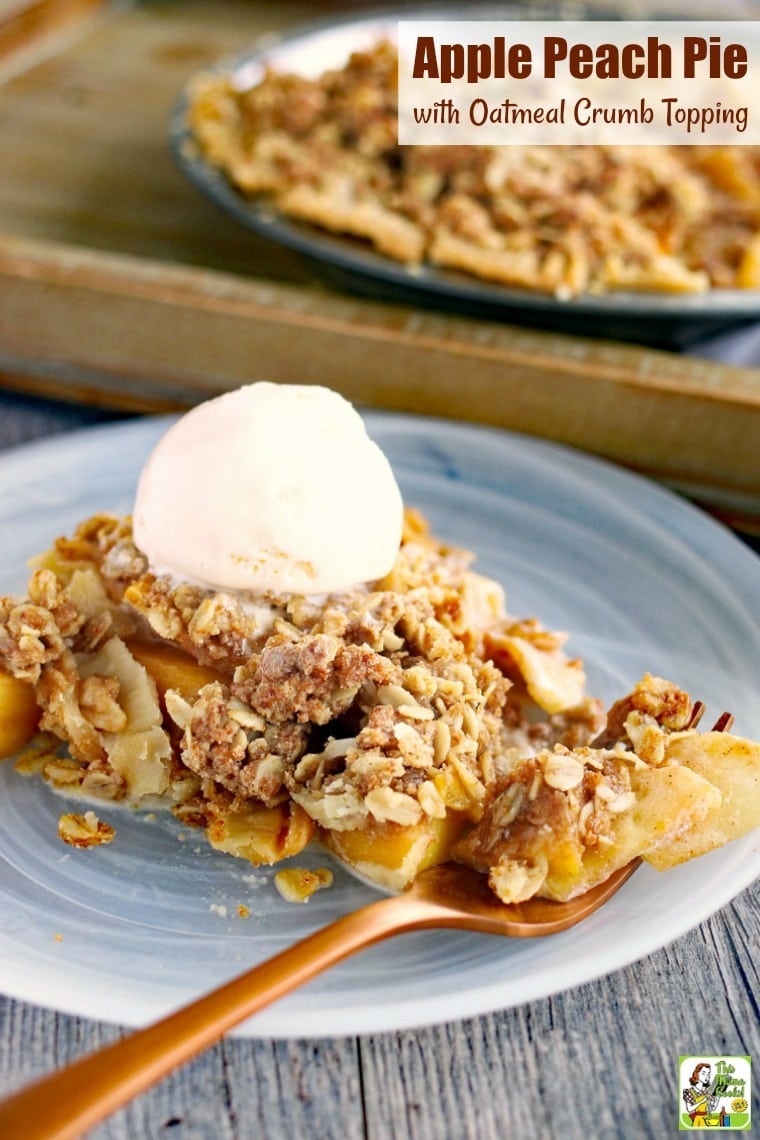 How to make a better-for-you apple and peach pie
We're all trying to find ways to eat in a more wholesome fashion. Baking up desserts featuring fruits like peaches and apples is one way to do that.
Fruit is lower in calories, high in fiber, and full of good for you vitamins and minerals. Plus, apples and peaches are delicious and naturally sweet.
In addition, to lower the calories in this dessert, instead of using coconut palm sugar, you can use stevia, Swerve Sweetener, or monk fruit powder.
More tips for baking your apple and peach pie
I used Fuji apples in my pie. The apples baked up OK, but I would have preferred them to be a little softer. Next time, I'll use Granny Smith apples, as they're perfect for baking, easy to find, and inexpensive.
If peaches aren't in season, or you can only find unripe ones at the store, frozen peaches are a terrific option. They're also a wonderful time saver since frozen peaches are already peeled, chopped, and ready to go!
Gluten free crusts can be a bit difficult and may not hold together for slicing. Mine sometimes do and other times don't depending on the weather, the recipe, and my horoscope (kidding).
If your pie falls apart during slicing, don't panic. Just push it together as best as you can and serve with a bit of whip cream or dairy-free ice cream, and some berries.
It'll look like one of those messy picture straight out of Instagram.
If you can't find coconut palm sugar, you can substitute light brown sugar or turbinado sugar.
Instead of rice starch, which you can pick up at Asian and ethnic markets, you can use corn starch.
Check the pie half way and three-quarters of the way through the baking process. If the crust starts to get too brown, loosely cover the pie with foil.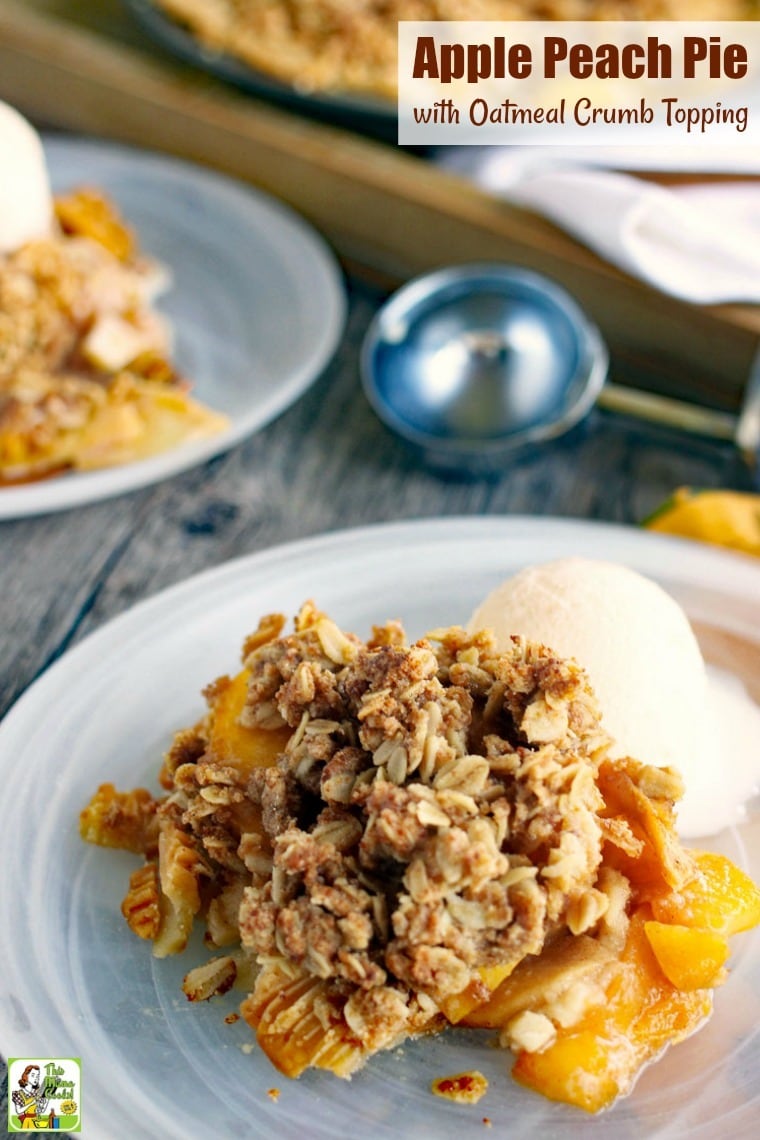 More delicious gluten free pies
If you love easy pie recipes as much as I do, then you'll also like:
● Gluten Free Raspberry Pecan Pie
● Espresso Chocolate No Bake Pie
● The Best Keto Sugar-Free Pecan Pie Recipe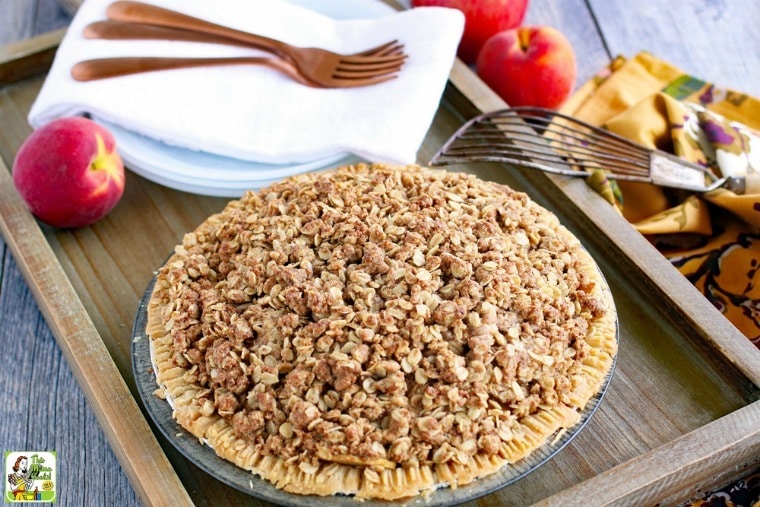 Apple Peach Pie with Oatmeal Crumb Topping
Ingredients
1

gluten free pie crust - frozen, store bought or from your favorite recipe (I used Pillsbury Gluten Free Dough.)

4 cups

cored, peeled, thinly sliced apples

2 cups

thinly sliced peaches

1/2 teaspoon

cinnamon

1/4 cup

coconut palm sugar

1 tablespoon

rice starch

1/2 cup

gluten free old fashioned oatmeal

1/3 cup

gluten free all purpose baking mix

3 tablespoons

coconut palm sugar

3 tablespoons

buttery spread, melted
Directions
Preheat your oven to 375 F. Take your premade pie crust and set it aside.
Wash, peel, core and slice your apples. Wash, pit, and thinly slice peaches. Set aside in a large bowl.
In a small mixing bowl add the 1/4 cup of coconut palm sugar, cinnamon and rice starch. Mix well. Add the sugar mixture to the bowl with the apples and peaches. Toss to coat the fruit and set aside for now.
To make the crumble, combine the flour, oatmeal and remaining coconut palm sugar in a bowl. Then melt the buttery spread on a low power in your microwave for 15 seconds at a time until totally melted. Pour the melted spread into the bowl of dry ingredients and mix until combined.
Put the fruit in the pie crust and spread evenly. Then top the fruit with the crumb mixture making sure to spread it out over the entire pie.
Bake the pie until the apples and peaches are tender and the crumb topping is golden brown, about 30-40 minutes. Depending on your oven, you may want to bake for 30 minutes, then loosely cover the pie with foil so the crust and topping don't get too brown. Then cook the pie for 10 minutes longer. If you feel the pie isn't quite done, then lower the heat to 350 degrees and bake for 10 more minutes.
Total Time:
1 Hour 10 Minutes
Serving size:

1 slice (1/8 of pie)
Originally published on September 16, 2013. Updated with new pictures and information.