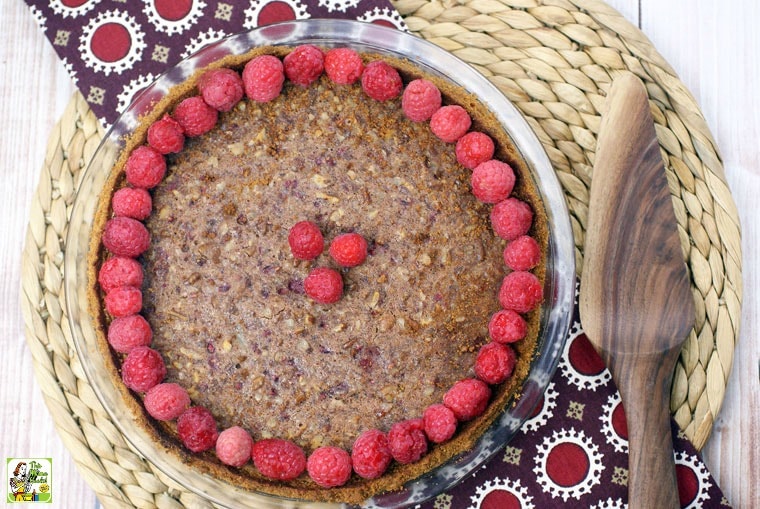 This easy raspberry gluten free pecan pie recipe is a unique take on the traditional pecan pie.
There's no corn syrup. Instead, I use brown sugar and pure maple syrup.
You'll also love how the fresh raspberries add a unique flavor to this easy Thanksgiving dessert. It'll soon become your favorite pie for any special occasion.
Plus, garnishing the pecan pie with raspberries gives this delicious dessert an elegant touch.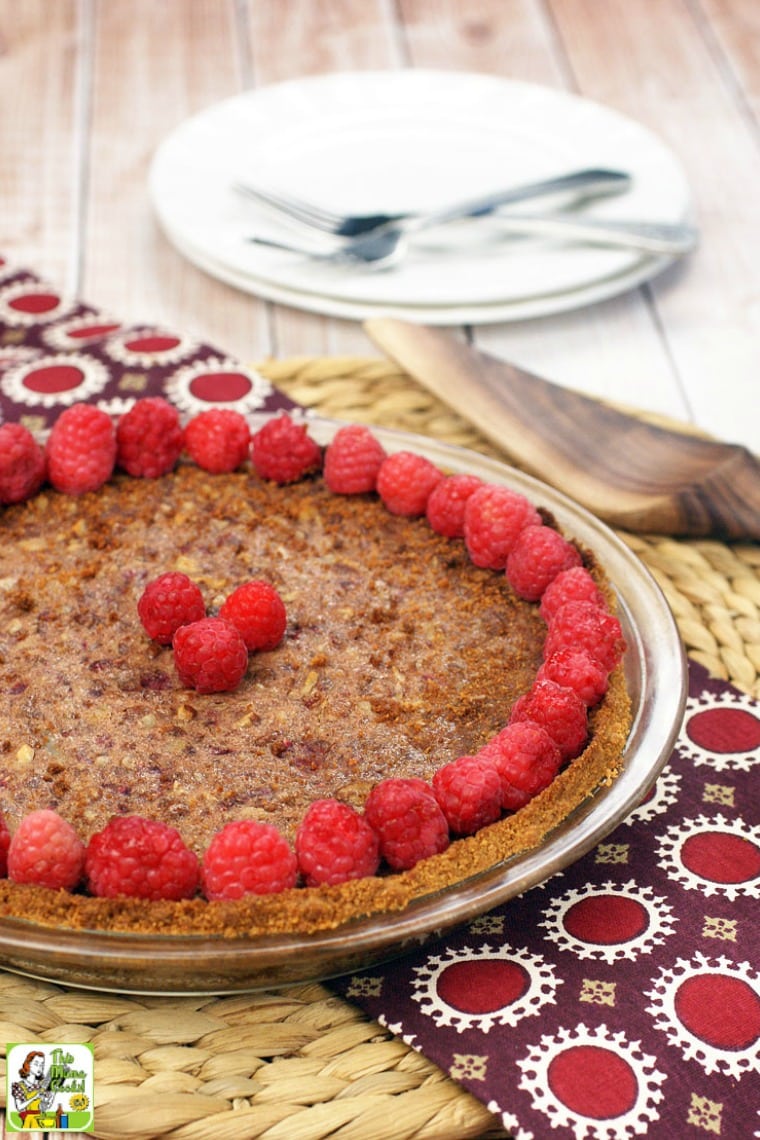 Two ways to make a raspberry gluten-free pecan pie crust
This gluten free pecan pie needs to be made ahead of time. That way it has time to cool down to room temperature and chills overnight in the refrigerator.
The first thing you need to do is come up with a crust for your gluten-free pecan pie.
Homemade gluten-free pie crust: The recipe below gives ingredients and instructions on how to make a homemade gluten-free crust for this gluten-free pecan pie recipe.
Premade: To save time during the busy holiday baking season, I often use store bought gluten-free crusts. I use a premade gluten-free crust in my Easy Chocolate Gluten Free Pecan Pie Recipe.
I like the crusts made by Wholly Wholesome since they're dairy-free, gluten-free, and vegan. I usually can find these in the freezer section.
Note: Don't prebake the crust because it'll be too hard to cut after baking this easy pecan pie recipe.
How to make an easy dairy-free gluten-free pie crust
You can also make an easy pie crust for pecan pie. It's so simple that it will soon become your go-to gluten-free pie crust recipe.
The best way is to use gluten-free and dairy-free cookies, either store bought or homemade. Find something that you think would go with a raspberry pecan pie like:
graham cracker (traditional for anyone who is a a pecan pie lover)
vanilla cookies
chocolate cookies
ginger snap cookies
sugar cookies
You'll need enough cookies to make 1 1/2 cups of crumbs, about 8 ounces.
What kind of sweetener?
I used brown sugar in the pie crust since I was also using that for the pie. Why more sugar, since the cookies are already sweet?
Well, when the pie bakes, the crystals of the sugar melt and then crystalize as the pie cools, giving the crust a little more stability. Sort of like pie crust cement.
Another alternative is coconut sugar, which also has a nice flavor.
But if you want to cut back on the sugar, try Swerve Sweetener, Brown a natural, no-calorie alternative to real brown sugar. It'll work just as well as brown sugar or white sugar.
Use a non-dairy buttery spread in the crust
To keep this a gluten-free, dairy-free pie crust, use a dairy-free, vegan butter spread like Earth Balance.
You can also use coconut oil, the kind that's solid at room temperature.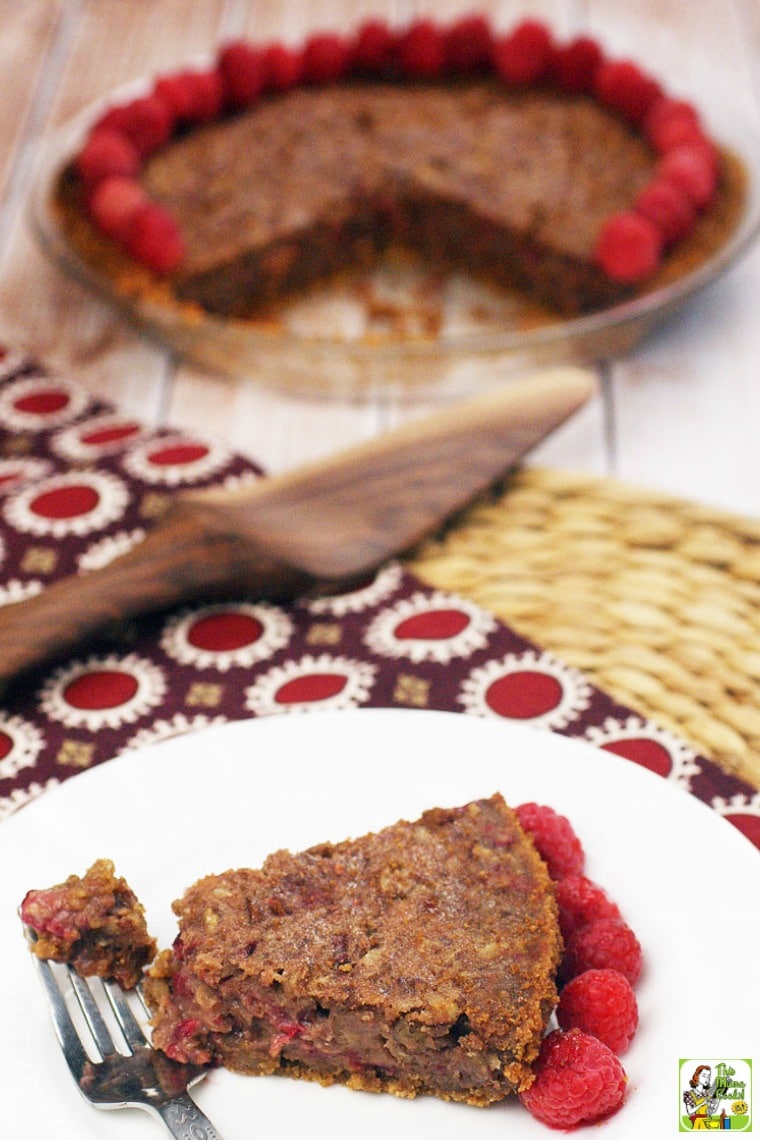 How to make the gluten free pecan pie filling
How to toast pecans
1. Spray a skillet with a little cooking spray, then add the chopped pecans. (You can chop them by hand or in a food processor.)
2. Toast over medium-heat until browned and fragrant. (The pecans should be a shade darker than they originally were.)
3. Remove the toasted pecans from the skillet to cool.
Pro Tip: Buy more pecans than you need. That way you can snack on them and use them in recipes like Blueberry Muffin Cake.
Buying a big bag also is a good insurance policy in case you burn the pecans when toasting them.
I can't tell you how many times I've done that because I've walked away to do something else and then forgot they were on the stove. Then I had to run to the store to buy more.
So, DON'T WALK AWAY.
What kind of gluten-free flour?
Use a quality gluten-free all-purpose flour like Bob's Red Mill Gluten-Free 1-to-1 Baking Flour. This is my favorite gluten-free all-purpose flour and cooks up exactly like regular flour.
This type of gluten-free flour blend has white rice flour, xanthan gum, potato starch, etc. so it bakes up just right and you don't have to buy extra specialty ingredients.
Check out my Best Gluten Free Products List to find more of my favorite gluten free baking products!
How to measure flour
Don't scoop the flour directly out of the bag with a measuring cup. It packs down the flour and you end up over measuring. Too much flour means your baking will come out too dry.
Instead, spoon the flour from the bag (or the container you keep your flour in) into your measuring cup. Then use the back of a spatula or knife to level off the top of the cup.
That way the flour is given a mini-sift and isn't packed down.
Measure any type of flour this way – regular flour, whole wheat flour, oat flour, almond flour, gluten free all-purpose flour, etc. 
How do you know the pecan pie is properly baked?
Make sure to bake the pie long enough that the pecan pie filling is completely set. It should NOT jiggle at all.
If it's jiggling in the middle, put it back in and bake the gluten free pecan pie recipe some more.
Otherwise, after it cools, you'll have a soupy raspberry pecan pie.
How to serve the pecan pie
Serve your gluten free raspberry pecan pie with more raspberries and some dairy free coconut ice cream.
Reddi-Wip makes non-dairy almond and coconut milk whipped cream that you can add on top of the pie slices.
Try whipping up some chilled coconut cream on your own if you can't find dairy free whipped cream at the store.
Cover the leftover pie with plastic wrap and store in the refrigerator.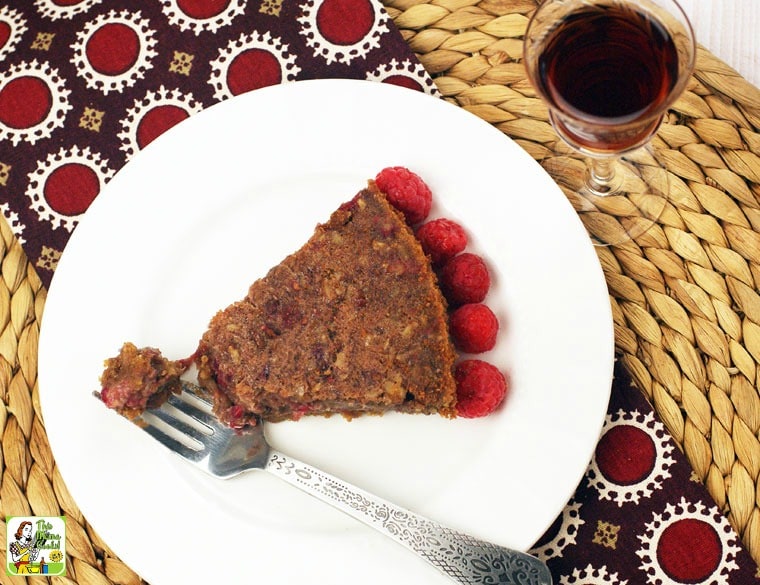 Making a dairy free gluten free pecan pie
It's simple to turn this into an easy dairy-free pecan pie.
Make a dairy free cookie crust: Use a vegan, dairy-free, and gluten-free cookie like those from Enjoy Life or Nana's Gluten Free Snickerdoodle Cookies.
Use a vegan buttery spread: You're probably already using dairy-free spreads like Earth Balance. You can also use coconut oil, the kind that's solid at room temperature.
Can you make this into a vegan pecan pie?
I haven't tried making this into a pecan pie recipe without eggs. Eggs are super important into baking this into a delicious, gooey pie. So, I'd be worried that an egg substitute like The Neat Egg or Bob's Red Mill Egg Replacer wouldn't work.
However, feel free to give it a try! Leave a comment below and let us know if it worked out for you (or not).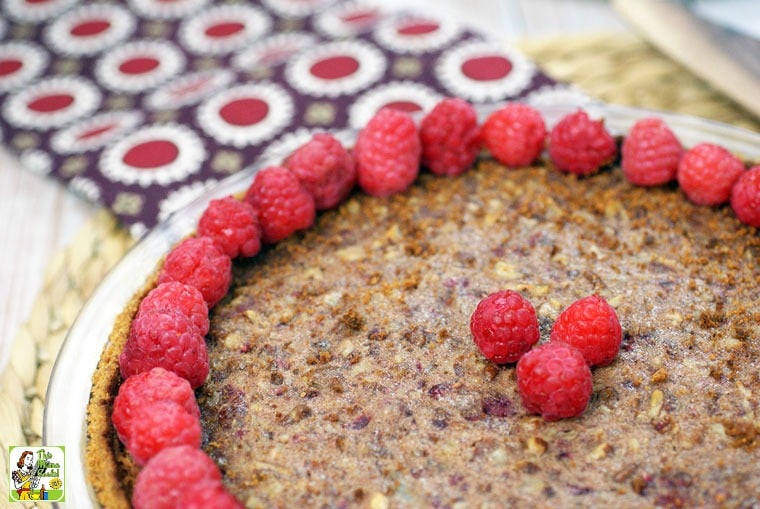 More gluten free Thanksgiving desserts
More dairy free and gluten free desserts for Thanksgiving:
● Gluten Free Dairy Free Pumpkin Pie (gluten free, dairy free)
● Crockpot Pumpkin Dump Cake (gluten free, dairy free)
● Dairy Free Pumpkin Fudge (dairy free, gluten free, vegan)
● Pumpkin Bread Pudding (dairy free, gluten free)
● Keto Pumpkin Mousse (dairy free, gluten free, keto)
Yield: 8 SERVINGS
Easy Raspberry Gluten Free Pecan Pie Recipe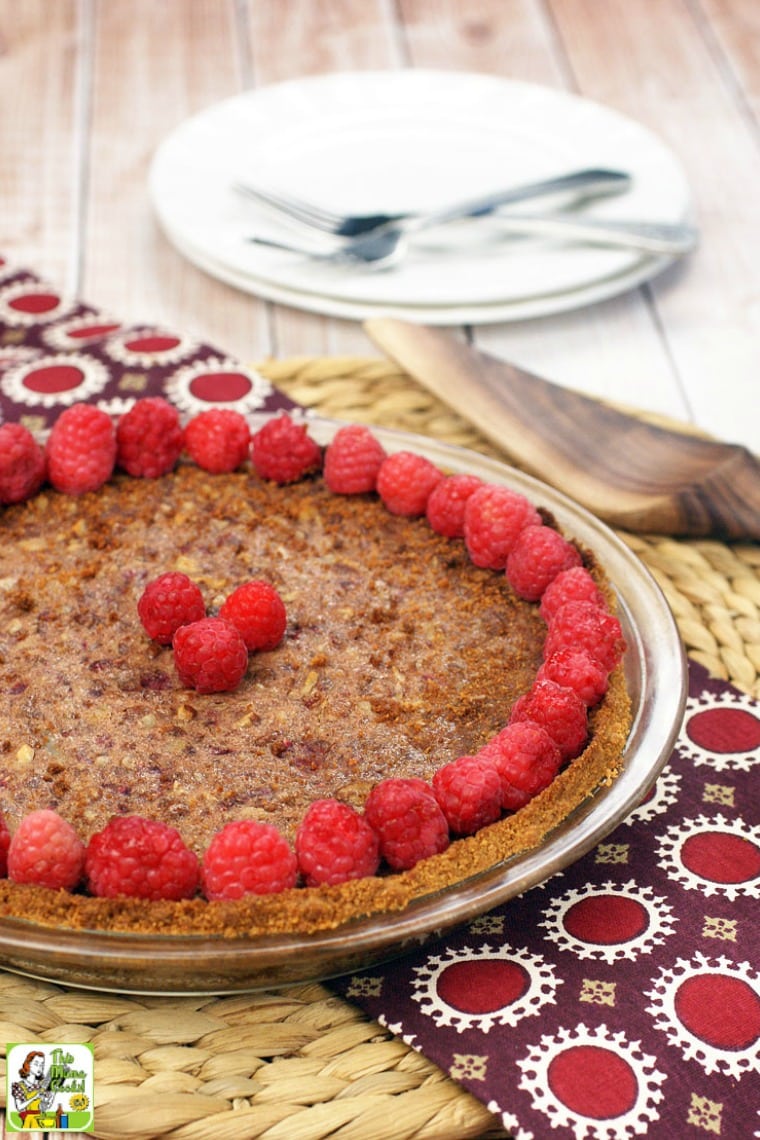 Raspberry gluten-free pecan pie recipe is better than the classic dessert. This gluten and dairy-free pecan pie recipe is made without corn syrup.
Total Time
1 hour
20 minutes
Ingredients
For gluten-free pie crust:
1 8-ounce) bag gluten-free cookies
1/2 cup brown sugar or Swerve Sweetener, Brown
1/2 cup dairy-free buttery spread, melted
For gluten-free pecan pie filling:
1 cup pecans, toasted and roughly chopped
1 pat dairy-free buttery spread (enough to coat the pan when melted)
1/3 cup all-purpose gluten-free flour
1 pinch sea salt
1/2 cup brown sugar
2 eggs, lightly beaten
1 cup raspberries
1/4 cup real maple syrup
1/2 cup dairy-free buttery spread, melted
3 tablespoons raspberry liqueur (optional)
1 cup raspberries for garnishing
Instructions
For the gluten-free pecan pie crust:
Preheat oven to 350 degrees F.
Put cookies in blender or food processor and pulse until the cookies are crushed into fine crumbs. Put the crumbs into a medium-sized bowl.
Add brown sugar and whisk until combined and there are no lumps.
Add butter. Stir until the mixture is crumbly.
Place the cookie crumb mixture into a Pyrex glass pie pan. (I feel these bake up the best.) Using the flat bottom of a glass or a Pyrex custard cup, pack down the crumbs and smooth out the surface. You can use your fingers, but the glass or custard cups make a tighter and smoother surface. Put the pie crust aside.
For the gluten-free pecan pie filling:
In a large bowl, whisk together the gluten-free baking mix, salt, and brown sugar until there are no lumps. Add pecans and mix until combined.
In a medium bowl, mash raspberries with a potato masher. Add eggs, maple syrup, melted butter (or buttery spread), and raspberry liqueur, if using. Stir until combined.
Pour liquid mixture into dry mixture and mix until thoroughly combined.
Place pie shell on a baking sheet.
Pour pie filling into the shell and immediately bake for 40-45 minutes. The top should be completely set. The center should not jiggle at all.
Remove from oven and cool completely on a wire rack. Once cool, refrigerate until serving time. Garnish with raspberries before serving.
Recommended Products
As an Amazon Associate Affiliate and member of other affiliate programs, I earn from qualifying purchases.
Nutrition Information:
Yield:
8
Serving Size:
1 slice
Amount Per Serving:
Calories:

550
Total Fat:

33g
Saturated Fat:

7g
Trans Fat:

0g
Unsaturated Fat:

23g
Cholesterol:

47mg
Sodium:

275mg
Carbohydrates:

60g
Fiber:

4g
Sugar:

39g
Protein:

5g
Nutritional information is automatically calculated per the ingredients list. Serving size may not be accurate. Please double-check with your preferred nutritional app for the most accurate information.