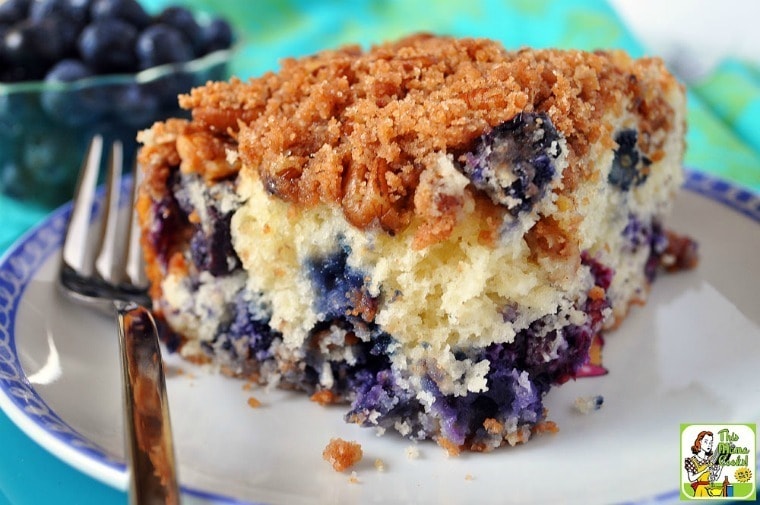 Who doesn't love streusel cake or blueberry muffins? That's why Holly Clegg's Blueberry Muffin Streusel Cake recipe is so amazing.
Not only that, but it's perfect for a weekend brunch, morning breakfast meetings, teacher appreciation breakfasts, or play dates with the neighborhood moms.
Blueberry Muffin Streusel Cake is so easy to make that your kids can bake up this blueberry muffin streusel recipe for Mother's Day or Father's Day, too.
You can find more of Holly Clegg's trim& TERRIFIC® recipes at The Healthy Cooking Blog.
Check out Holly's trim & TERRIFIC™ cookbooks on Amazon, too!
Tips for making blueberry muffin streusel cake
Make this sugar free: Reduce the calorie and carb count in this blueberry muffin cake recipe by using powdered stevia, monk fruit sweetener, or Swerve Sweetener instead of sugar.
What I especially love about Swerve is that they make a brown sugar substitute that's just like the real thing and perfect for baking.
Fresh or frozen blueberries? You can make this easy brunch recipe with frozen blueberries, too. Thaw the berries and pour off any juice before mixing them into the batter.
Go gluten free: You can make Blueberry Muffin Streusel Cake gluten free by using a gluten free all purpose flour.
My favorite is Bob's Red Mill Gluten-Free 1-to-1 Baking Flour because you can use it just like regular flour.
Check out my Best Gluten Free Products List to find more of my favorite gluten free baking products!
Go dairy free: You can make this a dairy free dish by using an alternative milk like unsweetened coconut milk, oat milk, or soy milk and substituting a vegan buttery spread for the butter.
Nut free? It's OK to leave out the pecans from the streusel topping. You can make a little more topping if you want to make up for not adding the nuts. But it's not necessary.
On the go easy blueberry muffin streusel cake
This streusel cake is perfect for potlucks, work meetings, or bringing to friend's homes for  weekday play dates.
If you're bringing a pan of blueberry streusel cake to an event, you'll want to use an insulated potluck carrier to transport it safely and keep it warm.
I love the Rachel Ray Expandable Lasagna Lugger since it can be used to transport hot and cold foods.
You can also use the Lugger to carry two dishes to the party or just use it for one dish. Super versatile!
Don't forget to bring a cake server with you to the party. Nothing worse than trying to serve up the streusel cake with a dull plastic knife.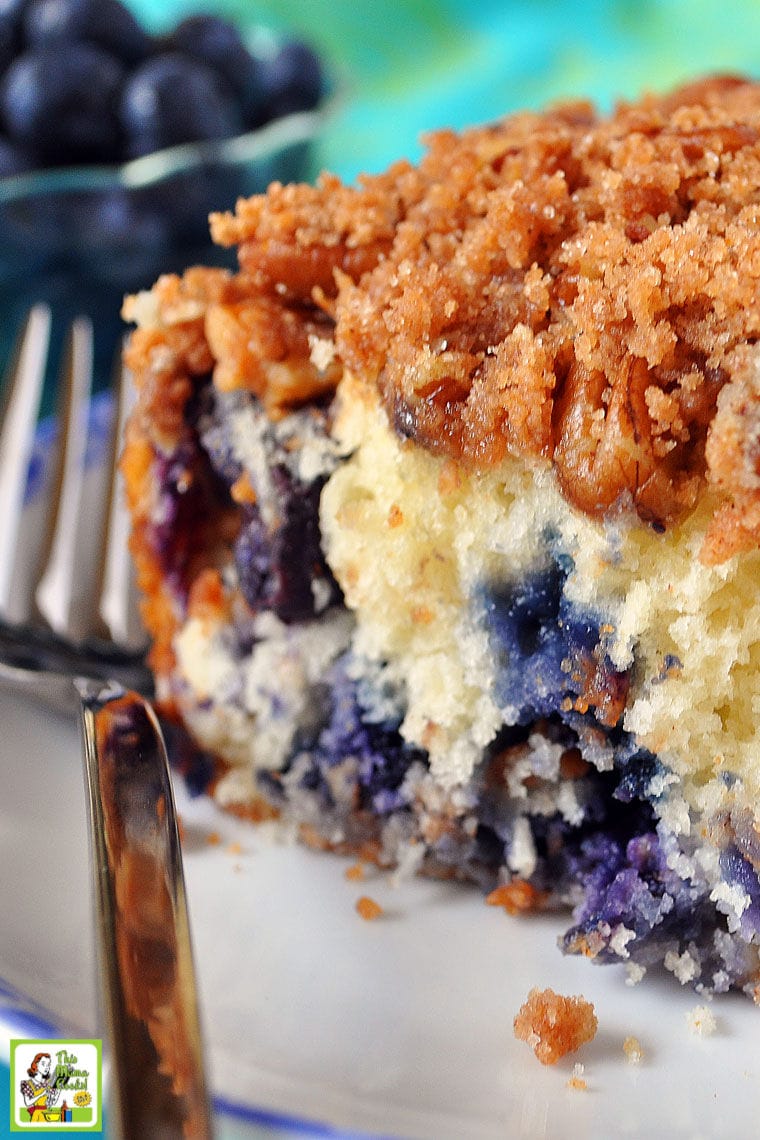 Easy dessert blueberry muffin streusel cake for brunch
Looking for a nice way to show anyone how much you care and appreciate all of the hard, tireless work they do?
Or maybe you just want together with friends for brunch? Then serve this delicious Blueberry Muffin Streusel Cake recipe!
My friend, Teresa, gave me this recipe that has been in her family for years. A cross between a muffin and cake.
My version of Blueberry Muffin Streusel Cake is my absolute favorite brunch dish as I can eat it all day long.
It's also easy to bake up a pan of Blueberry Muffin Streusel Cake the night before a breakfast meeting or brunch with friends. The kids will have fun mixing the batter and sprinkling the topping.
You may want to keep these ingredients on hand to whip up a pan of blueberry muffin streusel when the cravings hit, too!
More awesome recipes from Holly Clegg
● Southwestern Sweet Potato Salad
● Ultimate Double Chocolate Brownies Recipe
● Watermelon and Cantaloupe Salad
Yield: 12 SERVINGS
Blueberry Muffin Streusel Cake Recipe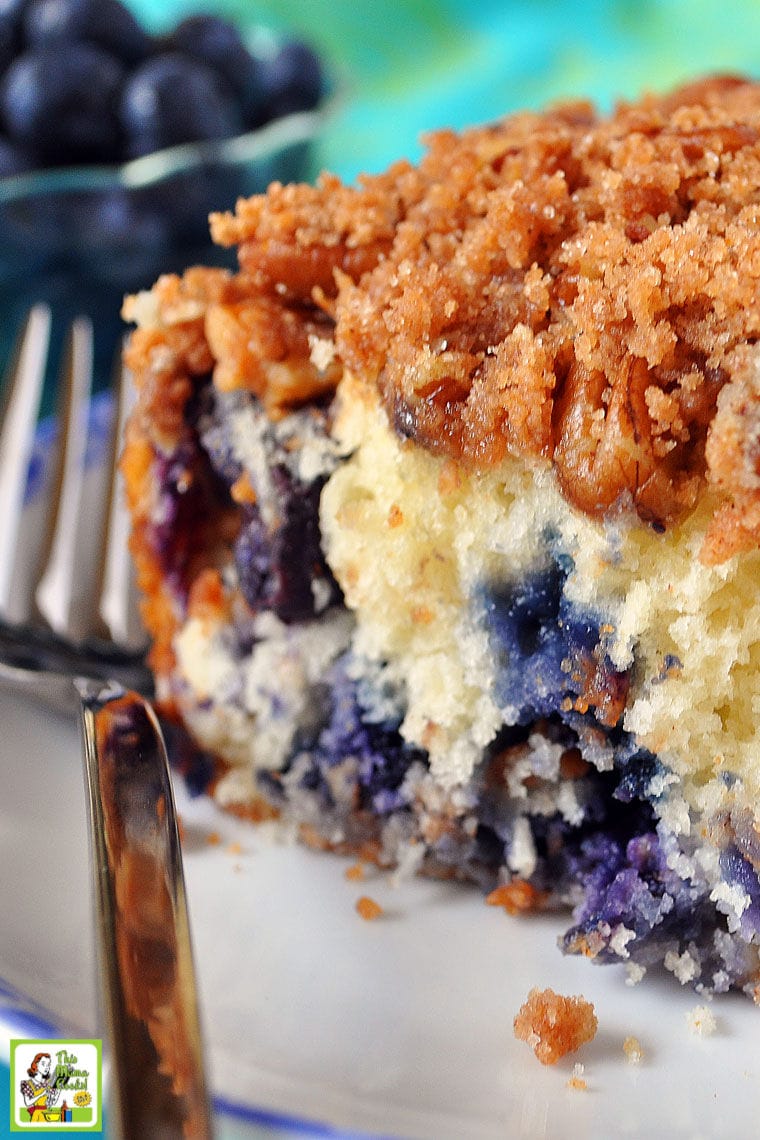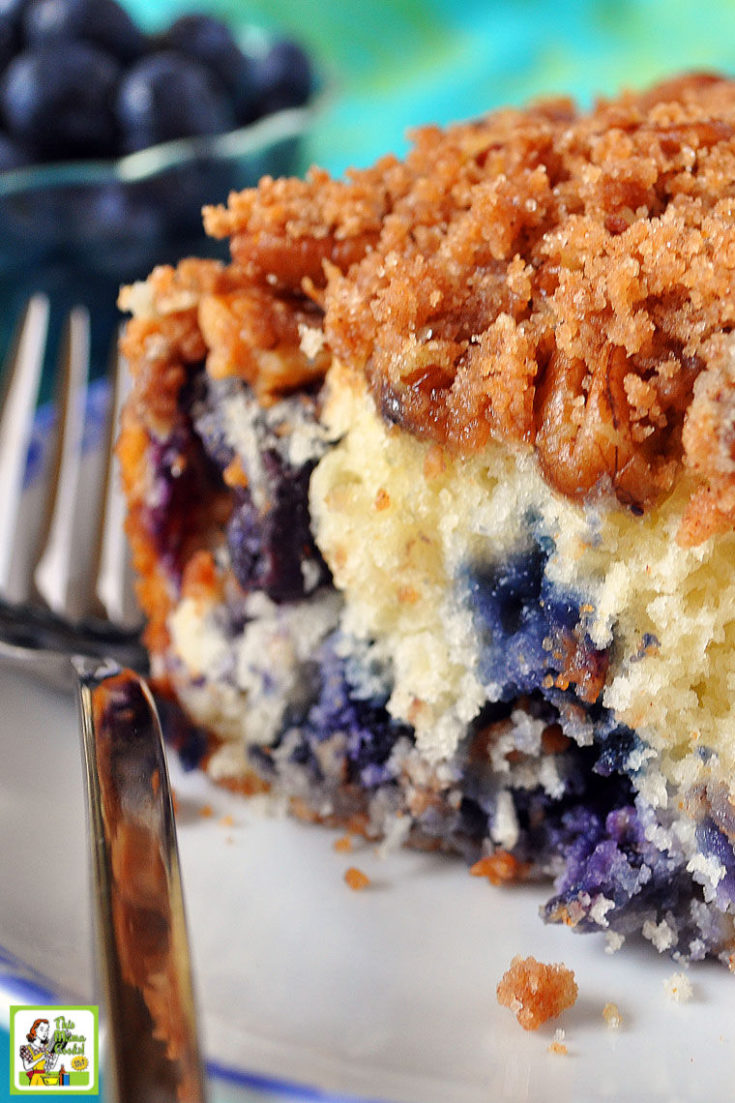 An easy Blueberry Muffin Streusel Cake recipe. Make this blueberry muffin streusel recipe for brunch or a potluck.
Ingredients
For the cake:
1 cup all-purpose flour or gluten free flour
1 1/2 teaspoons baking powder
1/2 cup sugar
1/2 cup skim milk or alternative milk
1 egg
2 tablespoons canola oil
1 cup fresh blueberries
Streusel Topping (recipe follows)
For the streusel topping:
1/3 cup sugar or sugar substitute
1/3 cup light brown sugar or Swerve Sweetener, Brown
1/2 cup all-purpose flour or gluten free flour
2 teaspoons ground cinnamon
1 teaspoon vanilla extract
3 tablespoons butter, softened
1/2 cup chopped pecans
Instructions
For the cake:
Preheat oven 375°F. Coat 9x9x2-inch square pan with nonstick cooking spray
In a bowl, mix together flour, baking powder, sugar, milk, and egg.
Stir in oil and blueberries, only until mixed.
Sprinkle 1/2 cup reserved Streusel Topping (see recipe) on bottom of pan. Carefully spread cake mixture on top. Cover with remaining reserved Streusel Pecan Topping.
Bake 20-25 minutes or until a toothpick inserted in middle comes out dry.
For the streusel topping:
In a small bowl, mix together sugar, brown sugar, flour, and cinnamon.
Cut in vanilla and butter using pastry blender or fork.
Reserve 1/2 cup topping and add pecans to remaining topping.
Recommended Products
As an Amazon Associate and member of other affiliate programs, I earn from qualifying purchases.
Nutrition Information:
Yield:
12
Serving Size:
1
Amount Per Serving:
Calories:

231
Total Fat:

9g
Saturated Fat:

2g
Unsaturated Fat:

7g
Cholesterol:

25mg
Sodium:

83mg
Carbohydrates:

36g
Fiber:

1g
Sugar:

22g
Protein:

3g
Dietary Exchanges: 2 1/2 other carbohydrate, 2 fat
Photo and recipe courtesy of Holly Clegg.
Originally published on May 7, 2012 and Aug 19, 2016. Updated with new pictures and information.