Last Updated on October 12, 2021 by Anne-Marie
This recipe for pinata cake also called a surprise inside cake recipe, is filled with gluten free jelly beans!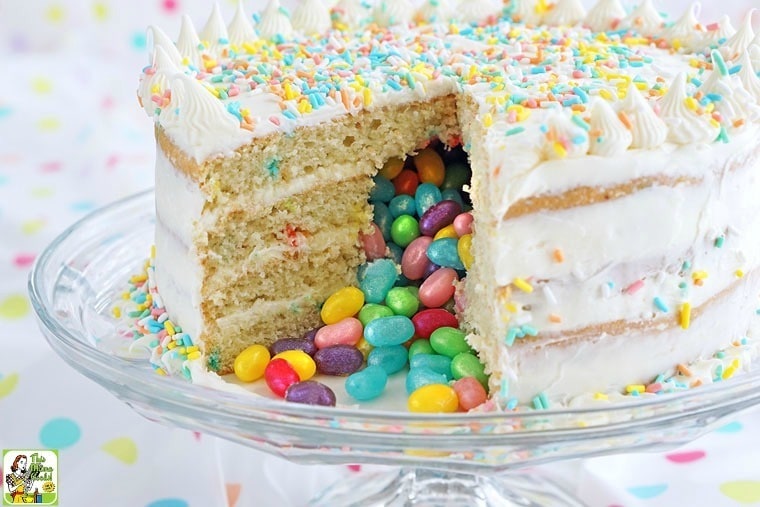 Why this recipe works
This Surprise Inside Cake Jelly Bean Cake recipe is pure fun for Easter or any springtime celebration – baby showers, school celebrations, outdoor birthday parties, and spring cookouts.
But if you're gluten free, that probably means missing out on baked treats. Luckily, Pillsbury makes awesome gluten free premium cake mixes, brownie mix, cookie mixes, and frostings.
So gluten free treats like this Gluten Free Surprise Inside Jelly Bean Cake are easy enough for anyone to make – and all to enjoy, not just the gluten free folks!
Why make surprise inside cake for spring?
Inspired by all the gorgeous colors of spring, I wanted to create a surprise inside cake recipe – also called a piñata cake – using Pillsbury Funfetti Gluten Free Cake & Cupcake Mix and Pillsbury Funfetti Vanilla Flavored Frosting.
In addition, I thought a rainbow of colorful jelly beans would go well with the sprinkles included with the Funfetti frosting.
Plus, jelly beans would be delicious and easy to eat along with a moist, gluten free cake unlike hard candy or big pieces of chocolate.
So now that I wanted to do a jelly bean cake recipe, I wondered, are jelly beans gluten free? I consulted the General Candy List at the Celiac Disease Foundation's website and found out they recommended Jelly Belly Jelly Beans!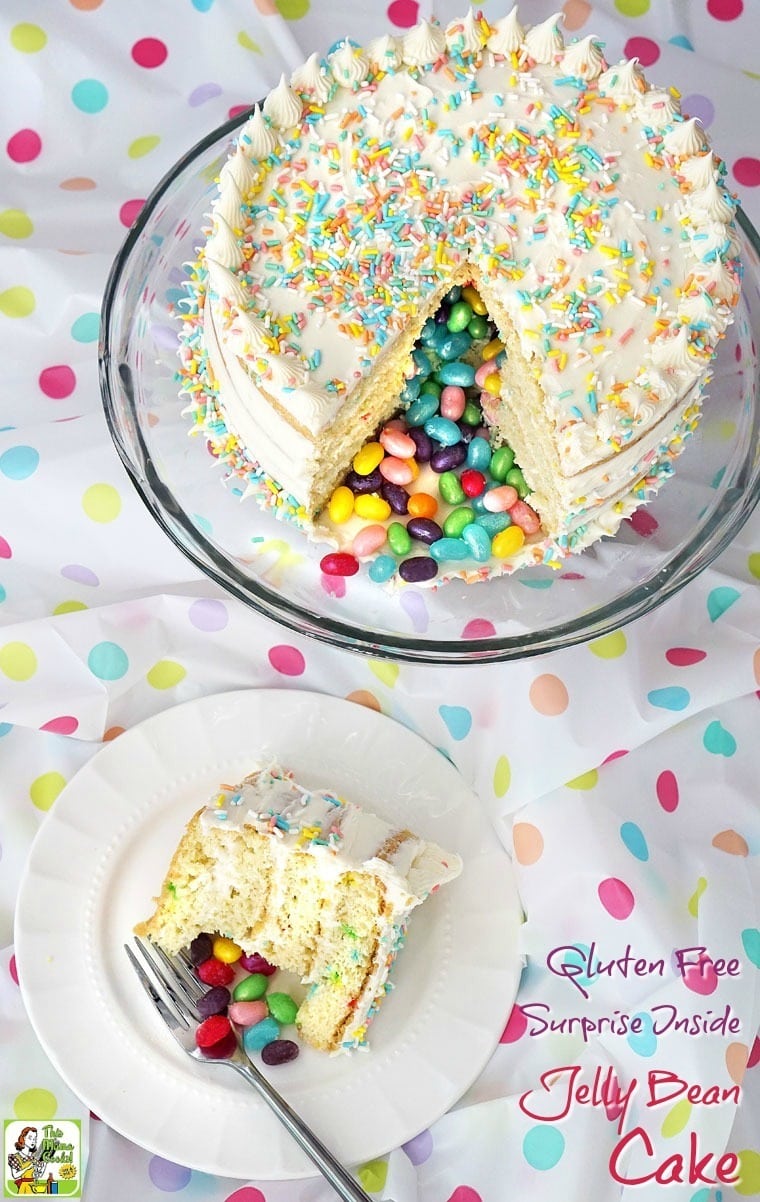 Ideas for surprise inside cake recipes
Gluten Free Surprise Inside Cakes are versatile! Here are some more fun hidden surprise cakes decorating ideas: 
You can decorate surprise inside cake recipes using whatever flavor or color of Pillsbury frosting or Pillsbury Gluten Free Cake Mix you like. Have fun with the frosting.
A big trend is showing the cake layers like I did in the Gluten Free Surprise Inside Jelly Bean Cake.
If you're going to make a surprise inside cake for a baby shower as a gender reveal cake, use a neutral frosting on the outside and either pink or blue Jelly Belly Jelly Beans on the inside.
You can use other types of gluten free candies in your piñata cake recipes such as gummy bears, chocolate kisses, M&Ms, or chocolate chips. Make sure to double check the labels for gluten!
Are you making a surprise inside cake recipe for a school function, like after prom or a team banquet? Use candies in the school colors!
Experiment with the piping on the bottom and top edges by using different types of Wilton piping tips. A Surprise Inside Cake is a whimsical cake – have fun with it!
Don't forget to choose a cool cake stand to present your jelly bean cake on. I've found beautiful ones at antique stores, home good stores and online. Amazon has a terrific and affordable selection for any birthday party or celebration: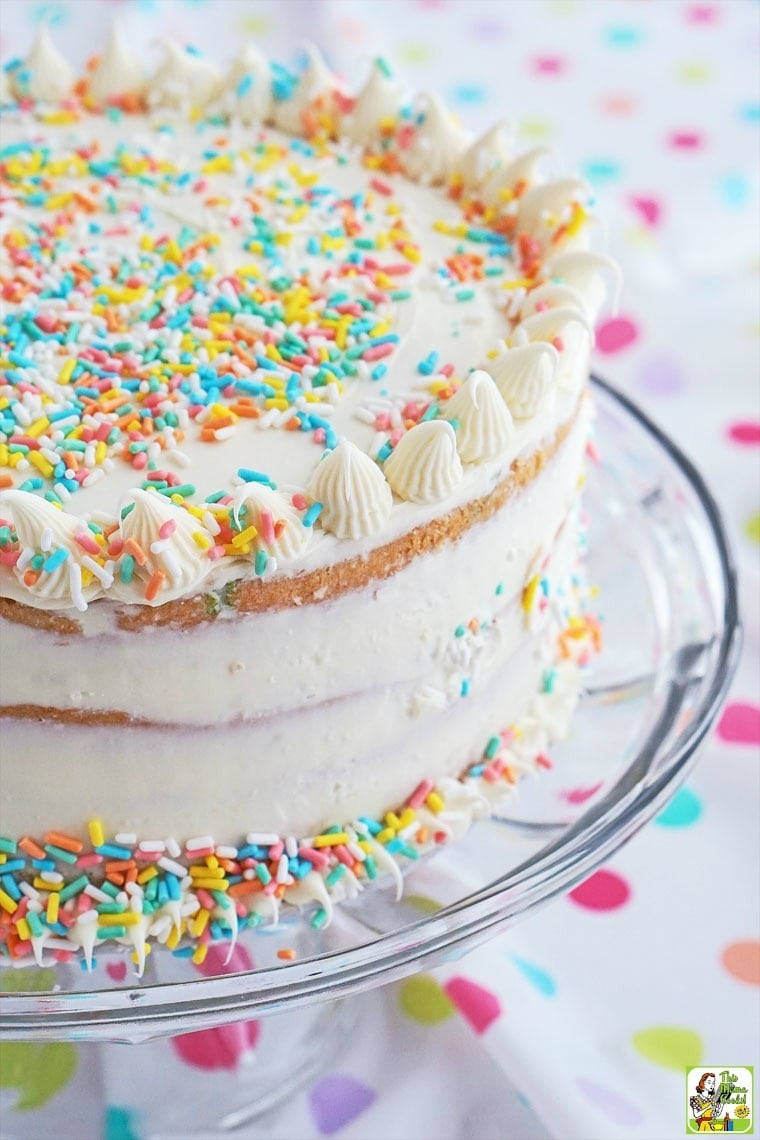 Tips to make a surprise inside cake tutorial
Now that Pillsbury makes wonderful gluten free cake mixes and frostings, you may find that you enjoy cake decorating. I took the entire Wilton cake decorating class series many years ago and still use those skills in my cooking and baking.
Recommended baking supplies
I recommend Wilton baking supplies for all your baking and cooking needs.
Baking pans: If you want to start making more gluten free cakes for parties, invest in two cake decorating 8-inch professional baking pans.
Regular cake pans are slanted. Professional cake decorating pans have straight sides, so the cake layers stack perfectly and are easier to frost.
Since you're baking the batter in two pans, you will need to cut them in half to make four cake layers to make a surprise inside cake. Experienced bakers will use a bread knife to cut them in half.
Cake Leveler: This makes me nervous, so I use a cake leveler instead. So much easier and worth the price!
Cake Pan: If you want to skip slicing the layers, another option for a four-layer surprise inside cake recipe is using a Wilton 4 Piece Easy Layers Round Cake Pan Set (8-inch). I haven't used this set, but the reviews say it's very easy to use.
Wilton Cake Release: Another product I swear by is Wilton Cake Release. Some people grease then flour their cake pans. Others line their cake pan with parchment.
Wilton Cake Release works perfectly every time and I've never had a cake stick to the pan when I've used it.
Crumb Sealing Spray: A new product I came across when I was in the cake decorating aisle at Walmart was Crumb Sealing Spray. If you're worried about getting crumbs in your frosting, spray Crumb Coat Spray on the cake, place the cake in the refrigerator for 3 minutes, then frost the cake.
It's coconut oil in spray form. Very clever and it works well.
Cooking Ring Mold: Cutting the hole for the candy, I used a cooking ring mold to cut the hole in my two cake layers. Or you can use a large round cookie cutter. Another option is place something something round on the cake layers and then carefully use a knife to cut around it.
Also the hole can be as big – or as large – as you want. Just think about how much candy you want versus how much cake and frosting per slice.
Offset Spatula: I love my Wilton small offset spatula so much that I have two! Plus a large Wilton offset spatula as well, because sometimes you need help lifting cakes to cake stands.
Cake Round Boards: Speaking of lifting, you need to purchase some 8" cake round boards. They're heavy circles of cardboard that you place your cake on.
If you cover the board with parchment, wax or freezer paper or foil, you can reuse it. Since a dinner plate isn't exactly flat and that darn cake stand is a bit large to fit in the refrigerator.
Looking for more gluten free dessert recipes?
Check out these gluten free cupcake recipes!
Yield: 10 SERVINGS
Gluten Free Surprise Inside Jelly Bean Cake Recipe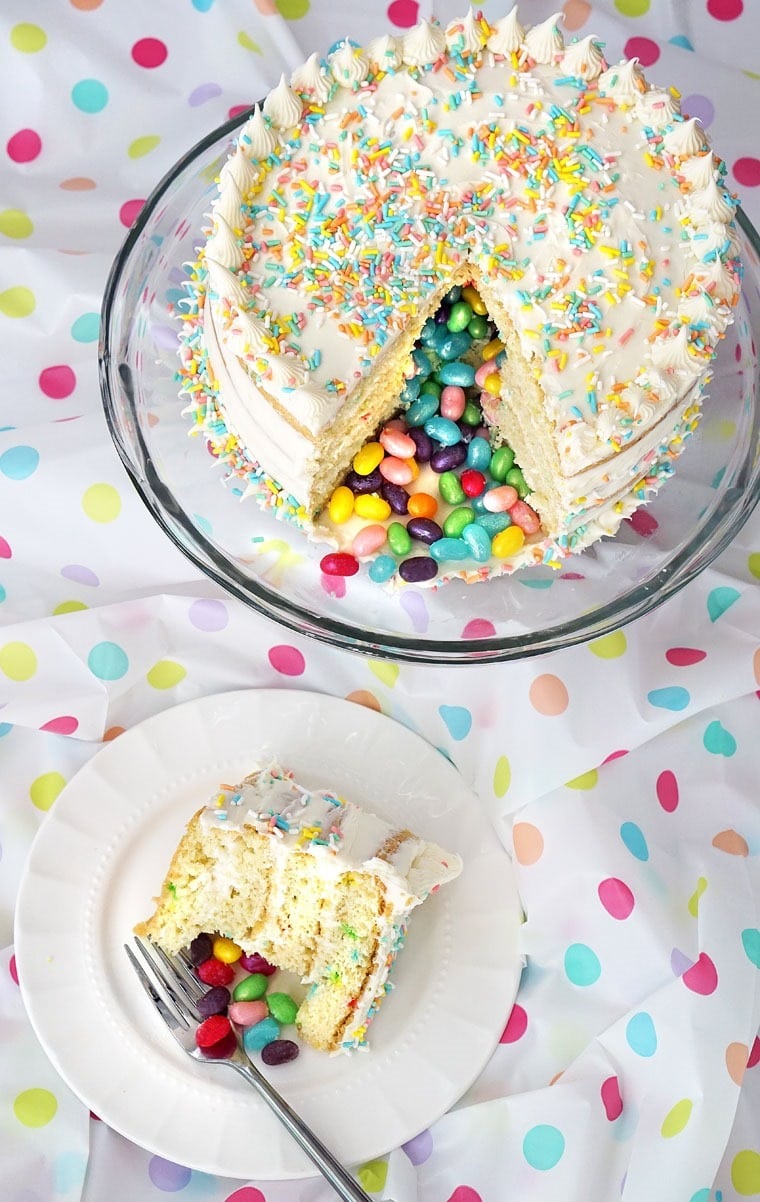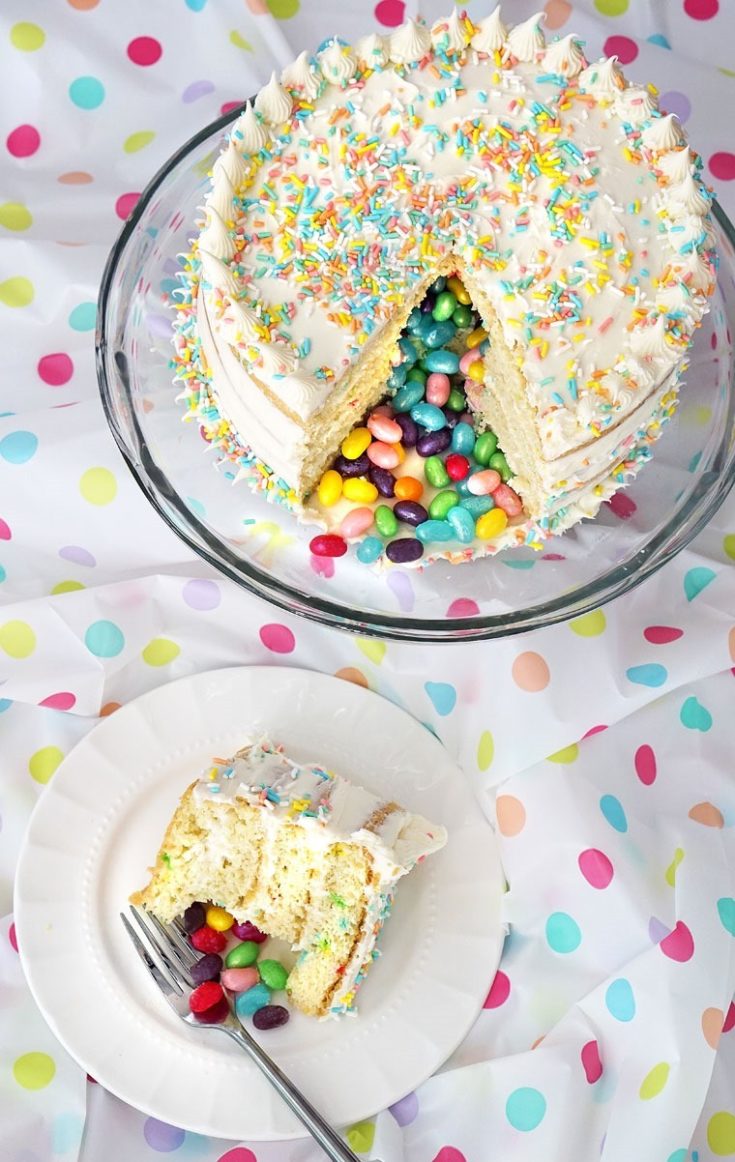 Love to make cakes? This recipe for pinata cake also called a surprise inside cake recipe, is filled with gluten free jelly beans!
Total Time
1 hour
38 minutes
Ingredients
Wilton Cake Release
1 box Pillsbury Funfetti Gluten Free Cake & Cupcake Mix
1 cup water
1/2 cup oil
3 eggs
1 7.5-ounce bag Jelly Belly Jelly Beans
Wilton Crumb Coat Spray
2 cans Pillsbury Funfetti Vanilla Flavored Frosting
Instructions
Set oven to 350 degrees F. Spread cake release on bottom and insides of two 8-inch professional cake decorating pans with a pastry brush.
Combine cake mix, water, oil, and eggs in a large bowl. Mix until moistened. Beat with mixer on low speed for 1 minute. Increase speed to medium for 2 minutes. Pour half of the batter into one pan and the other half into the other pan.
Bake at 350 degrees F for 34 to 38 minutes. When the toothpick inserted into the center comes out clean, the cake is done.
Remove cake from the oven and place it on a cake rack. Cool for 10 to 15 minutes before removing from pan. Cool completely before frosting.
Cut cake layers horizontally with a bread knife or a cake leveler so you have four cake layers. Place one cake layer on covered 8-inch cake board.
Place two layers on top of each other on a cutting board. Taking a round cookie cutter or large round cookie cutter, cut a hole through each cake layer. This will be the hole where the jelly beans will be. Put the extra cake aside. Don't eat it for a snack yet as you'll need one round piece during the frosting process.
Frost the first cake layer on the cake board with a third of the can of Funfetti Vanilla frosting.
Carefully place the first ring layer on top of that layer. Use a spatula to carefully remove the frosting from the hole so the candy does not get covered in frosting. You want it to spill out when the cake is cut.
Frost the first ring layer with the second third of the can of Funfetti Vanilla frosting.
Carefully place the first ring layer on top of that layer. Frost the first ring layer with the remaining Funfetti Vanilla frosting.
Now fill up the hole with the jelly beans. It's OK to pat down the candy a bit as you want to pack in as much candy as possible.
Using the second can of Pillsbury Funfetti Vanilla Flavored Frosting, frost the second ring being careful not to get frosting on the candy. Place the cutout circle of cake on top of the candy to protect it from getting frosted.
Place the last cake layer on top of the cake being careful to center it.
Coat cake with Crumb Coat Spray and refrigerate for 3 minutes per can directions.
Remove cake from the refrigerator. Frost cake sides and top as you wish. Refrigerate cake until serving time.
Recommended Products
As an Amazon Associate Affiliate and member of other affiliate programs, I earn from qualifying purchases.
Nutrition Information:
Yield:
10
Serving Size:
1
Amount Per Serving:
Calories:

310
Total Fat:

17g
Saturated Fat:

2g
Trans Fat:

0g
Unsaturated Fat:

14g
Cholesterol:

68mg
Sodium:

104mg
Carbohydrates:

37g
Fiber:

0g
Sugar:

28g
Protein:

3g
Nutritional information is automatically calculated per the ingredients list. Serving size may not be accurate. Please double-check with your preferred nutritional app for the most accurate information.
Originally posted on April 7, 2016. Updated with new pictures and information.