Last Updated on March 26, 2022 by Anne-Marie
You'll love this Gluten Free Chocolate Cupcakes Recipe with Dulce de Leche Frosting even if you're not gluten free.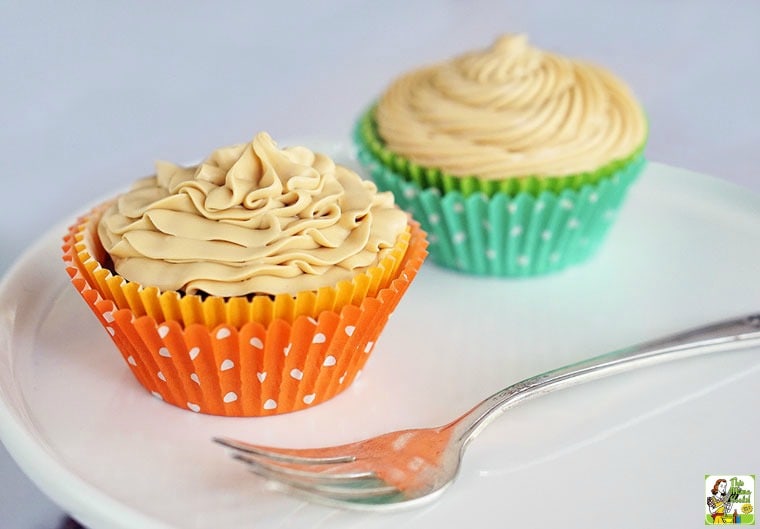 Why this recipe works
This recipe is easy enough for anyone to make. And delicious for all to enjoy.
That's because this gluten free chocolate cupcakes recipe is made with Pillsbury gluten free brownie mix.
And the dulce de leche frosting? It's made from vanilla Pillsbury frosting!
All you need are a few more ingredients to add to these gluten free cupcakes and you have fancy bakery style cupcakes to bring to a cookout, picnic or party.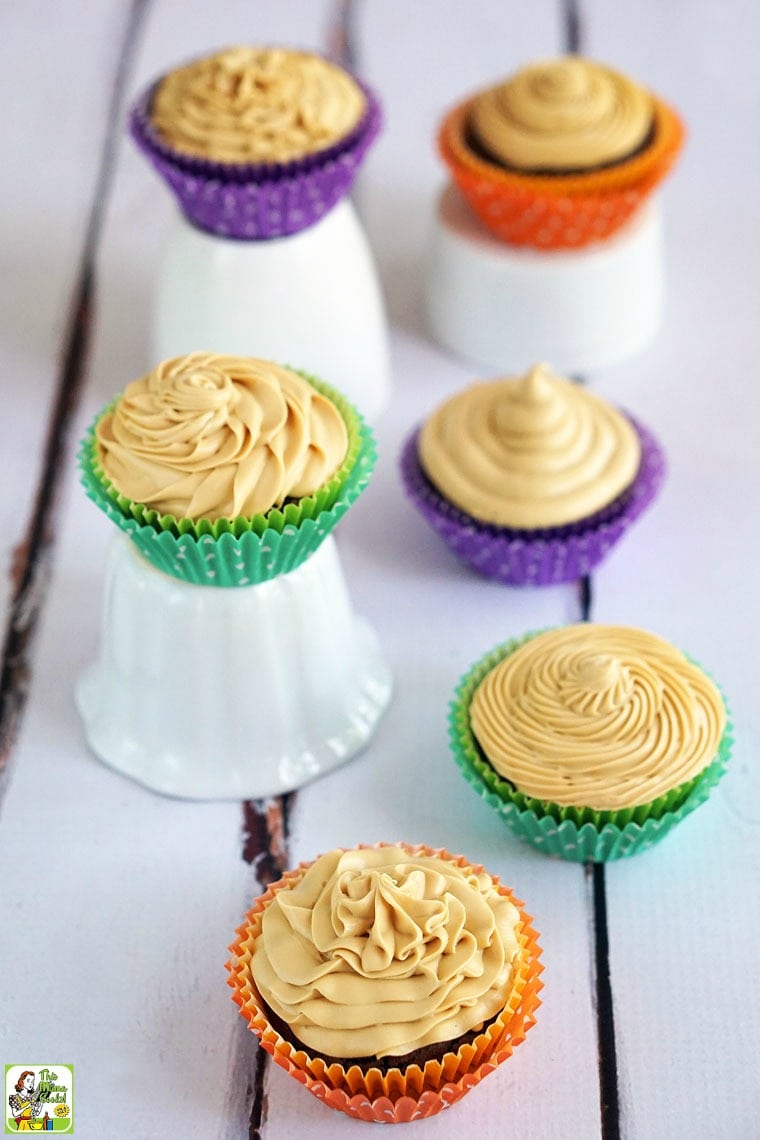 These chocolate brownie cupcakes are ideal for school bake sales and brining into work to share with coworkers. Remember these are for grownups as they're not caffeine free since they're flavored with instant espresso powder .
I also like these gluten free chocolate cupcakes for cookouts and potlucks since they're self-serve. There's no need to hunt around for a knife for cutting the brownies!
(Doesn't it drive you crazy when someone scratches up your non-stick baking pan with a knife?)
Once your guests taste these amazing Gluten Free Chocolate Cupcakes with Dulce de Leche Frosting, they won't believe they're gluten free let alone not made from scratch!
What ingredients you need to make gluten free chocolate cupcakes
Like my Gluten Free Surprise Inside Jelly Bean Cake, you don't need anything weird or "health foodie" for this brownies cupcake recipe.
Most supplies can be bought at your local supermarket, crafts store, or online for straight to your door convenience!
Gluten Free Cake Mix: To make chocolate brownie cupcakes, you'll need Pillsbury Gluten Free Premium Chocolate Fudge Brownie Mix with Chocolate Chips.
I love that it already has chocolate chips in the mix so you don't have to add any yourself. This makes the Gluten Free Chocolate Cupcakes even yummier!
Espresso Powder: You can find instant espresso powder in the coffee aisle. You'll also love using it in other recipes.
I love to add a few teaspoons of Café Bustelo Espresso Style Instant Coffee to a smoothie for a quick morning pick me up!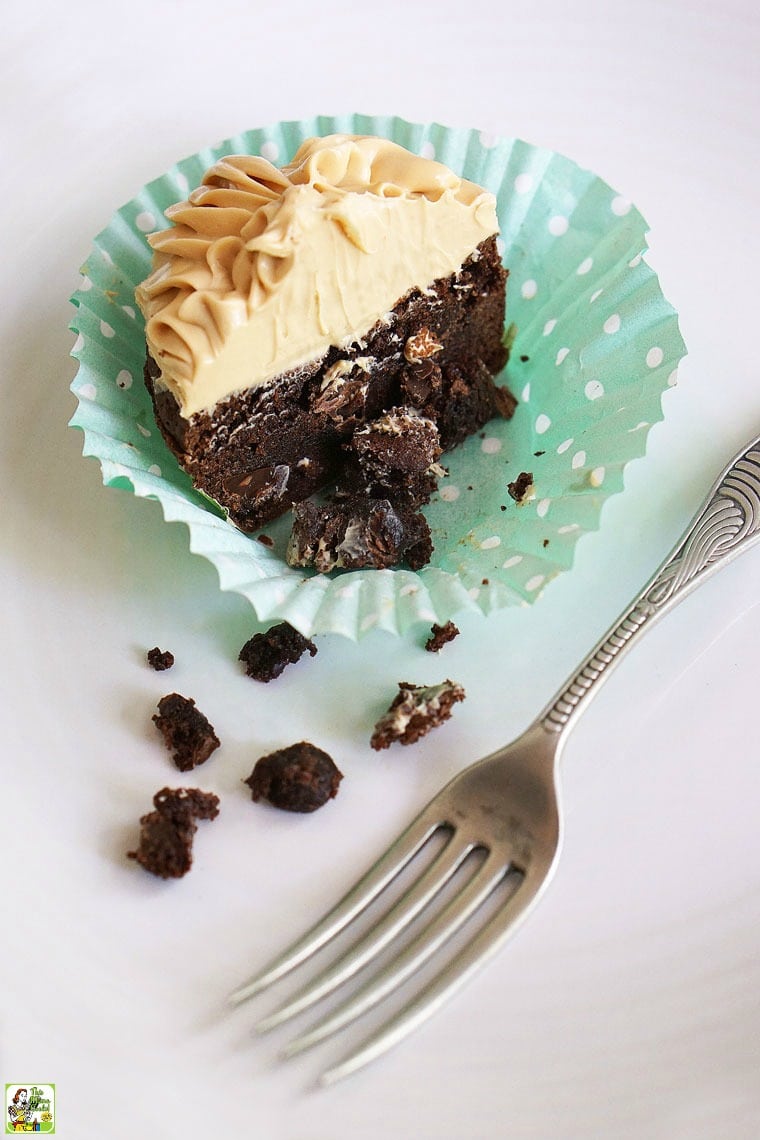 More recipe for gluten free chocolate cupcakes ingredients
Frosting: Make sure to use either Pillsbury Funfetti Vanilla Flavored Frosting or Pillsbury Creamy Supreme Vanilla Frosting. Both are gluten free like all of Pillsbury's frostings and taste great.
If you use the Pillsbury Funfetti Vanilla Flavored Frosting save the sprinkles for Ice Cream Cones Cupcakes Recipe.
Don't use Pillsbury's Whipped Supreme Vanilla Frosting as it's very thin and doesn't pipe well.
I also don't like Duncan Hines frosting as I feel they're not as thick as the Pillsbury frostings.
Adding Dulce de Leche: To jazz up the frosting, I added dulce de leche syrup. So tasty!
You can find all sorts of recipes online to make your own dulce, but using store bought syrup makes this gluten free chocolate cupcake recipe even easier!
Make sure to find a thick syrup, like a thick caramel sauce, and not a coffee syrup that will thin out your frosting.
Also, double check your dulce de leche syrup label for gluten. Don't ever assume!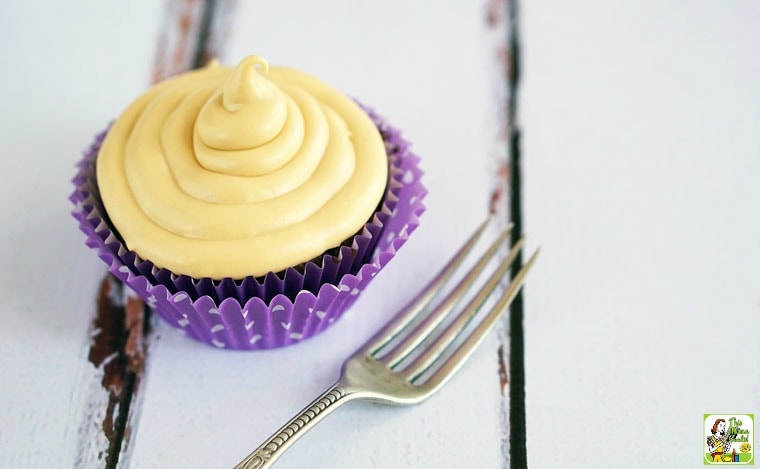 Baking up your easy gluten free chocolate cupcakes
Part of the fun of making gluten free cupcakes is using pretty cupcake liners. Match them to your party theme when entertaining.
Another option is colorful silicon baking cups, which are more eco-friendly since you can wash them out and reuse them.
I use them in my Hash Brown Sausage Muffin Cups and Homemade Yogurt Bites.
Double up the liners: Don't like the dark brownie cupcakes showing through your cupcake liner? Bake them in one cupcake liner or a plain white cupcake liner.
Then after your chocolate brownie cupcakes cool, place them in a second pretty cupcake liner before frosting.
That way the outer liner is fresh looking and perfect for bake sales or serving to guests.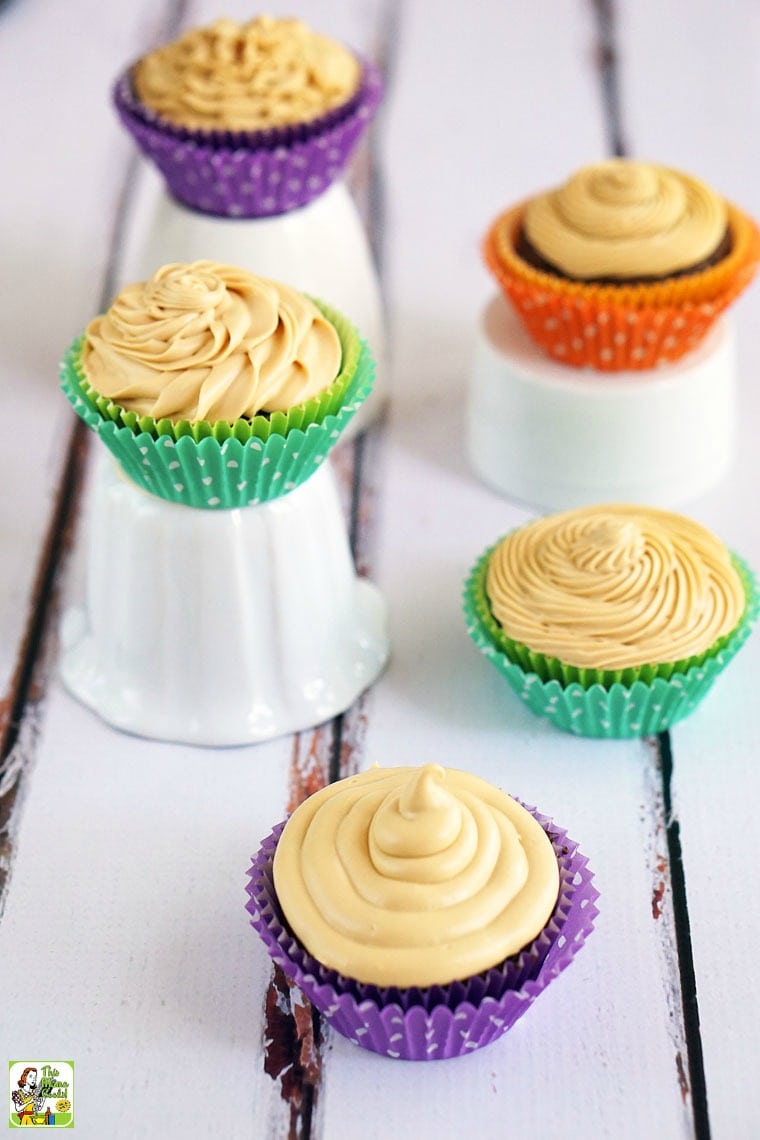 More tips on how to make the best gluten free chocolate brownie cupcakes
Piping the frosting: To make piping easy, make sure to refrigerate the frosting for at least 30 minutes after mixing in the dulce de leche syrup.
This way the frosting will stiffen up a bit and will be easier to handle.
I used a large cake decorating tips to pipe the frosting. It's super easy to make all sorts of fun frosting effects with these tips.
More coffee: Want to dial up the coffee flavor and caffeine even more? Use strong coffee instead of water in these brownie mix cupcakes!
Try another flavor! Try instant chai mix instead of instant espresso powder. YUM!
Bringing these to an outdoor party? The frosting will melt in the hot weather. Boooooo!
So you may want to pop these in the freezer for a hour or two so they stand up to the heat.
Or keep the cupcakes indoors so they stay pretty.
More terrific gluten free cupcakes
If you like serving gluten free cupcakes at parties or just like having some for dessert after dinner, you'll love these treats:
● Gluten Free Chocolate Bacon Cupcakes Recipe – if you love bacon, maple and chocolate, you'll dig these!
● Ice Cream Cones Cupcakes Recipe – serve these "ice cream cones" at your next cookout because they won't melt!
● St. Patrick's Day Pot of Gold Filled Cupcakes Recipe – not just for St. Patrick's Day, these cupcakes are stuffed with healthy apple pie filling. 
● Gluten Free Cookie Dough Stuffed Cupcakes – these chocolate cupcakes are stuffed with cookie dough – yummy!
● Mini Blueberry Cheesecake Cupcakes Recipe – these mini cheesecakes are served like cupcakes. So fun!
The best cupcake baking equipment
Here are some of my must have kitchen gadgets that help making cupcake recipes so much easier:
● Wilton Batter Spoons makes it easier to measure out and pour the batter into the cupcake pan.
● Silicon Pastry Brushes are much easier to clean than a traditional pastry brush. Just pop it into the dishwasher.
● Wilton cupcake liners – so pretty!
● Wilton cupcake baking pans are terrific. They don't warp or scratch. Worth replacing your old beat up ones for, too.
● Wilton X-large icing tips are what I use to frost my cupcakes.
● Wilton Disposable Decorating Bags – don't let "disposable" throw you. You can wash and reuse these dozens of times.
● Wilton Bake It Better Cake Tester – I love this cake tester since it's stored in a case making it easy to find in your gadget drawer.
Yield: 8 CUPCAKES
Gluten Free Chocolate Cupcakes Recipe with Dulce de Leche Frosting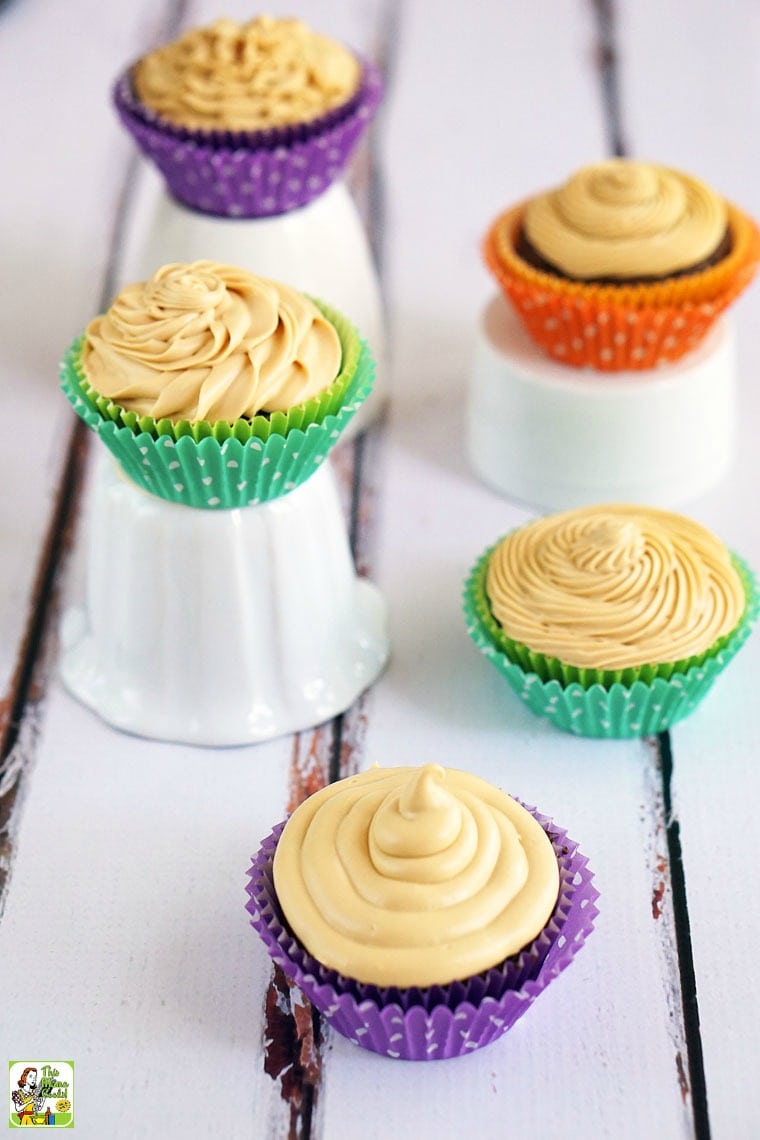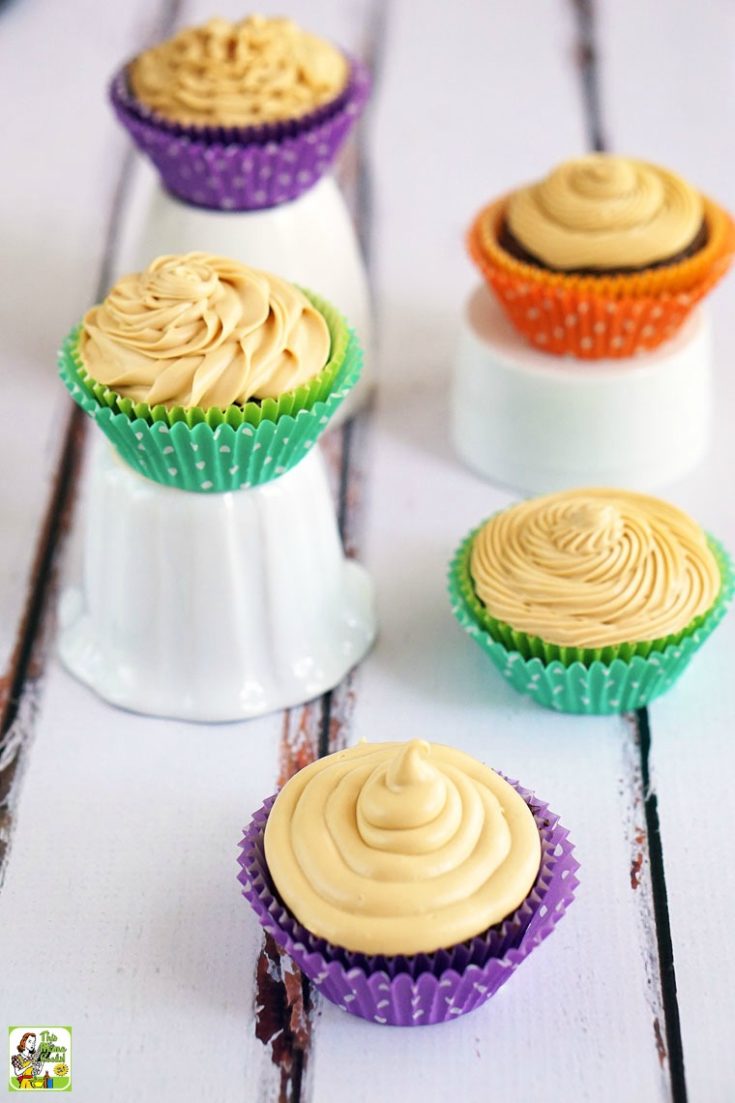 This Gluten-Free Chocolate Cupcakes Recipe with Dulce de Leche Frosting is easy to make with gluten-free brownie mix.
Ingredients
1 box Pillsbury Gluten Free Premium Chocolate Fudge Brownie Mix with Chocolate Chips
2 tablespoons instant espresso powder
1/3 cup oil
3 tablespoons water
1 egg
1 can Pillsbury Creamy Supreme Vanilla Frosting
3 tablespoons dulce de leche syrup
Instructions
Set oven to 350 degrees F.
Line muffin tin with paper baking cup liners to make 8 regular-size cupcakes.
Combine brownie mix, espresso powder, oil, water, and egg in a large bowl. Stir 50 strokes with a spoon.
Fill each muffin cup 2/3 full with brownie mix.
Bake at 350 degrees F for 25 minutes or until a toothpick inserted in the center comes out clean. Cool the gluten-free chocolate cupcakes in pans 10 minutes. Then transfer cupcakes to a cooling rack to cool for 30 minutes.
While the gluten-free chocolate cupcakes are cooking, spoon the frosting into a medium-sized bowl. Add the dulce de leche syrup. Stir with a rubber spatula until the syrup is thoroughly mixed into the frosting.
Spoon frosting back into the original container. Place lid back on. Refrigerate until brownie cupcakes have cooled.
Transfer the frosting to frosting piping bag fitted with a large star tip. Pipe the frosting in a circular pattern on tops of cupcakes. Or you can frost the gluten-free chocolate cupcakes with an offset spatula instead.
Store cupcakes at room temperature or in the refrigerator before serving.
Nutrition Information:
Yield:
8
Serving Size:
1 cupcake
Amount Per Serving:
Calories:

215
Total Fat:

15g
Saturated Fat:

3g
Trans Fat:

0g
Unsaturated Fat:

11g
Cholesterol:

30mg
Sodium:

56mg
Carbohydrates:

21g
Fiber:

0g
Sugar:

14g
Protein:

2g
Nutritional information is automatically calculated per the ingredients list. Serving size may not be accurate. Please double-check with your preferred nutritional app for the most accurate information.
Originally published on April 21, 2016 and August 20, 2017. Updated with new pictures and information.