Last Updated on October 12, 2021 by Anne-Marie
A cookie dough stuffed cupcake recipe that's made with gluten free cookie and cake mixes. Easy to make with a little advance planning!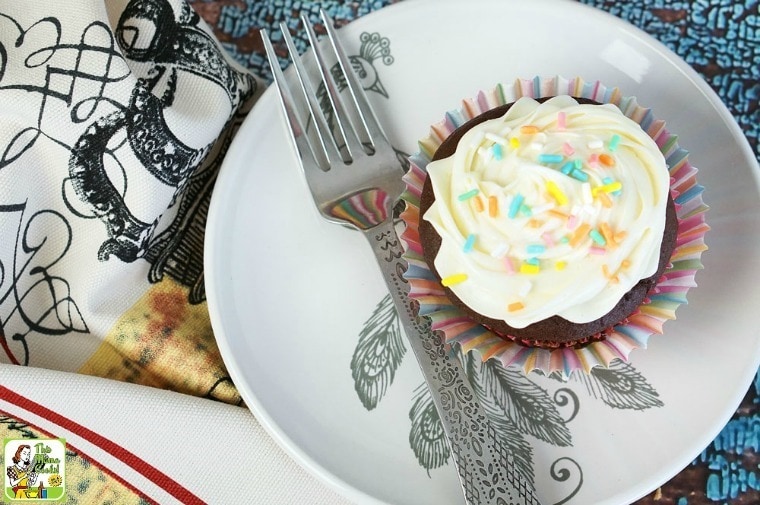 Why this recipe works
When I decided to make up a batch of Gluten Free Cookie Dough Stuffed Cupcakes for a party, I wanted to make a yummy cookie dough stuffed cupcake recipe that was so tempting that people wouldn't care that it was gluten free.
Don't you just hate it when you make a gluten free dessert for someone and no one else will touch it but you?
Most people think that gluten free means "tasteless, dry and gritty." However, these Gluten Free Cookie Dough Stuffed Cupcakes were moist and delicious.
The kids at our party couldn't wait to finish their meals to have a cookie dough cupcake – all they saw was chocolate cupcakes with yummy frosting and sprinkles!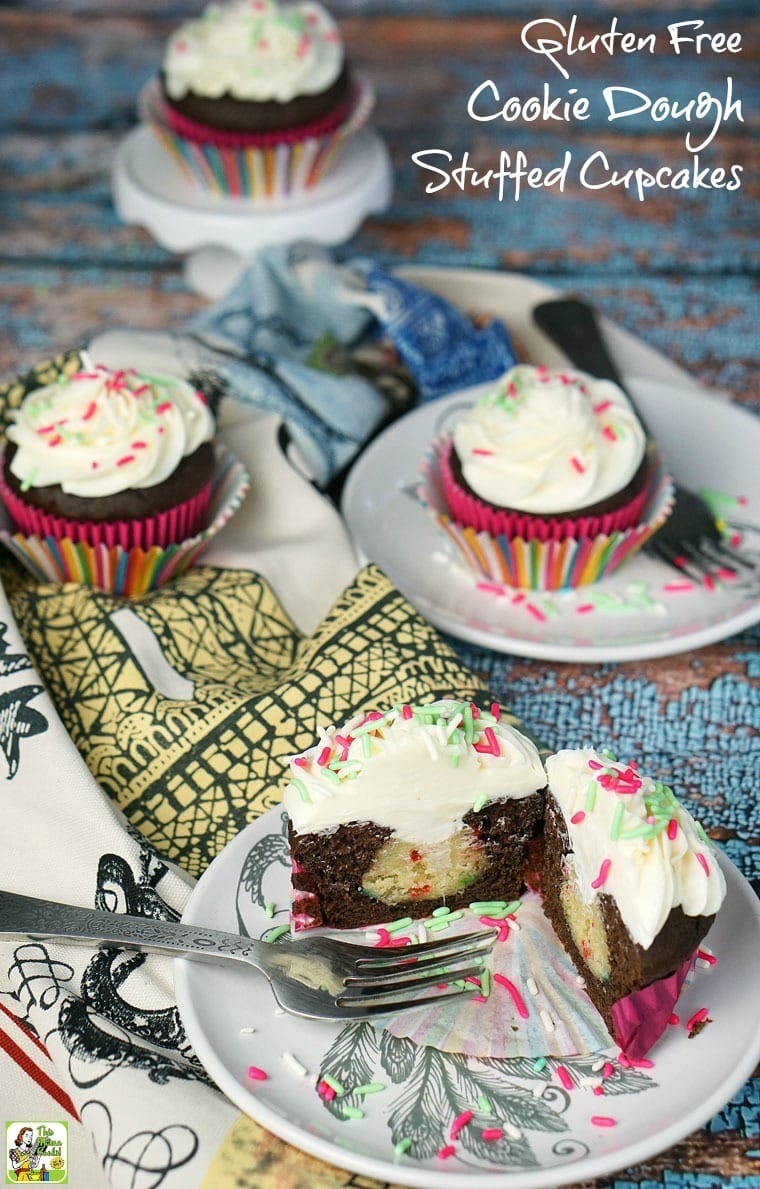 I didn't tell most of our guests that the cookie dough stuffed cupcakes were gluten free. The only exception was when I saw one of our friends drinking a gluten free beer.
I took her aside and told her she could eat as many Gluten Free Cookie Dough Stuffed Cupcakes as she wanted. She was so happy that she told her husband that I made them just for her!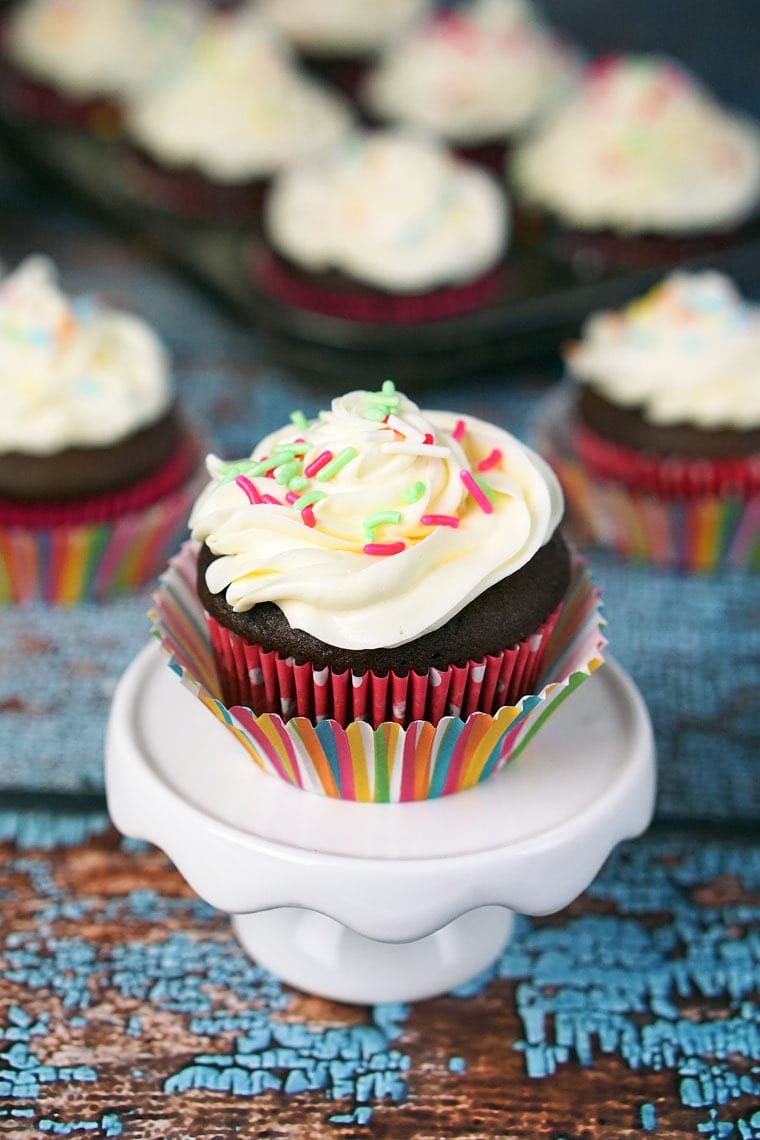 Plan ahead when making your gluten free cookie dough stuffed cupcakes
First you need to find your gluten free cookie and cake mix supplies.
After shopping around, I've noticed that Walmart is the only place that carries all the Pillsbury Gluten Free Baking Mixes and all the colors and flavors of Pillsbury's (naturally gluten free) Frostings, too.
I also find that Walmart is the first to have the special holiday frostings and (unfortunately not gluten free) cake mixes.
While you're at Walmart, you can also pick up your cupcake liners in the baking and cake decorating aisles. You can also find a wide variety of awesome cupcake liners online.
Then there is one trick to making Gluten Free Cookie Dough Stuffed Cupcakes – you have to make the cookie dough balls one day ahead so they can freeze overnight.
That's it! The rest is as easy as making a regular batch of gluten free cupcakes.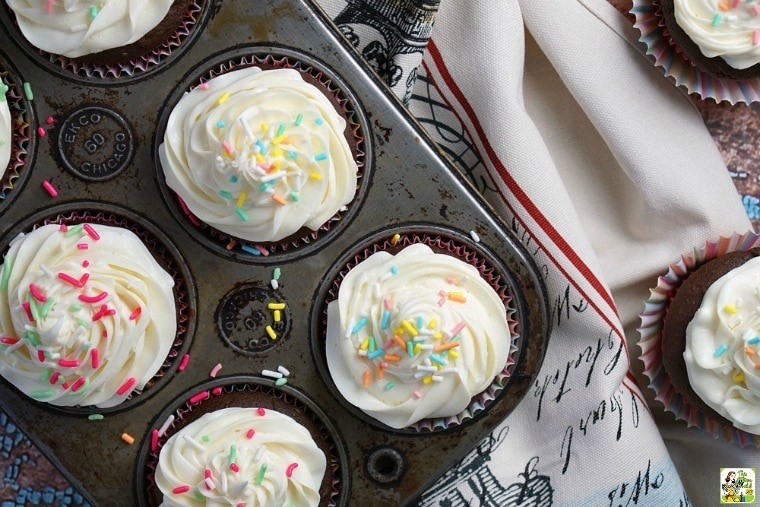 How to make cookie dough stuffed cupcakes
Make a few batches of cookie dough balls ahead of time. That way you always have some ready to go in the freezer when you need to make this easy cookie dough cupcakes recipe for a party, bake sale, or a girls night in get together.
It's good to have a batch on hand in case you need a quick rainy day baking project with the kids, too!
Speaking of which, when you're at Walmart, stock up on gluten free Pillsbury mixes and frosting.
Not only will you have the fixings ready to go to make up a batch of easy gluten free cookie cupcakes, but baking is a great way to keep the kids busy during the upcoming summer break!
I found using a medium cookie dough scoop and Wilton batter spoons were essential to the success of this stuffed cupcake recipe. I also like using Wilton batter spoons when I make pancakes!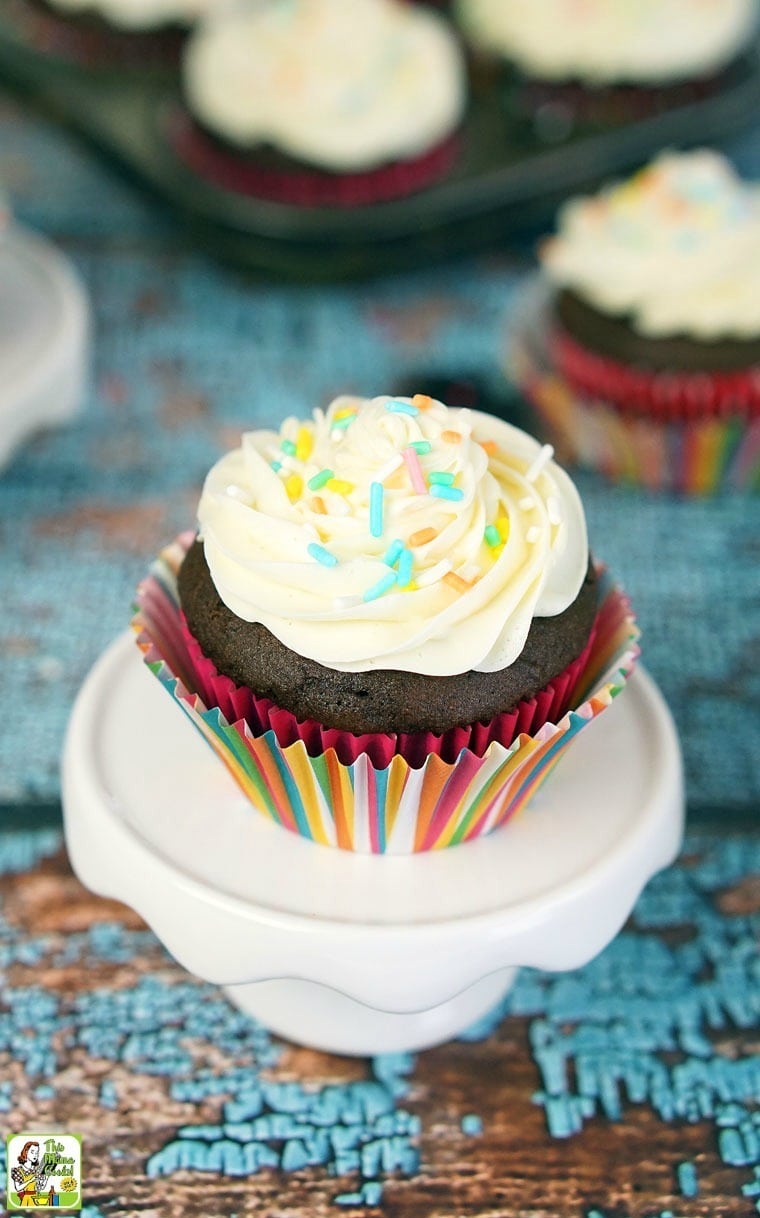 While I used Funfetti cookie dough and devil's food cake in this cookie dough stuffed cookie recipe, you can use any combination of gluten free cookie dough and cake mix. Same goes with frosting flavors and colors!
For more fun, mix in chocolate chips to a sugar cookie mix to make a chocolate chip cookie dough stuffed cupcakes recipe!
You can also add flavorings to plain vanilla icing.
I find Pillsbury's Fluffy style frostings too thin for piping. (I would recommend it for whoopie pies, though.) Pillsbury's regular frostings are ideal for Gluten Free Cookie Dough Stuffed Cupcakes.
However, if you find it a bit thin when it's hot and humid in your kitchen this summer, place the can in the refrigerator for an hour.
More terrific gluten free cupcakes
If you like serving gluten free cupcakes at parties or just like having some for dessert after dinner, you'll love these treats:
● Gluten Free Chocolate Cupcakes Recipe with Dulce de Leche Frosting – these cupcakes have espresso powder in the cupcake and an amazing dulce de leche frosting.
● Gluten Free Chocolate Bacon Cupcakes Recipe – if you love bacon, maple and chocolate, you'll dig these!
● Ice Cream Cones Cupcakes Recipe – serve these "ice cream cones" at your next cookout because they won't melt!
● St. Patrick's Day Pot of Gold Filled Cupcakes Recipe – not just for St. Patrick's Day, these cupcakes are stuffed with healthy apple pie filling.
● Mini Blueberry Cheesecake Cupcakes Recipe – these mini cheesecakes are served like cupcakes. So fun!
Yield: 24 CUPCAKES
Gluten Free Cookie Dough Stuffed Cupcakes Recipe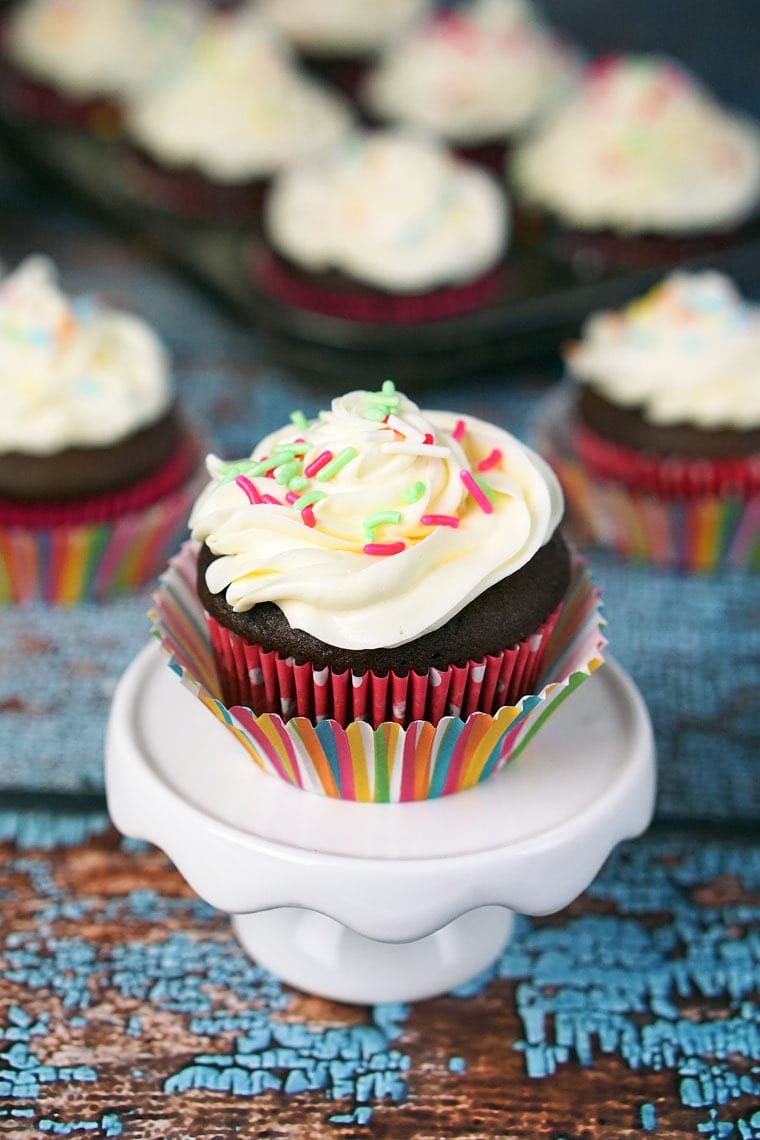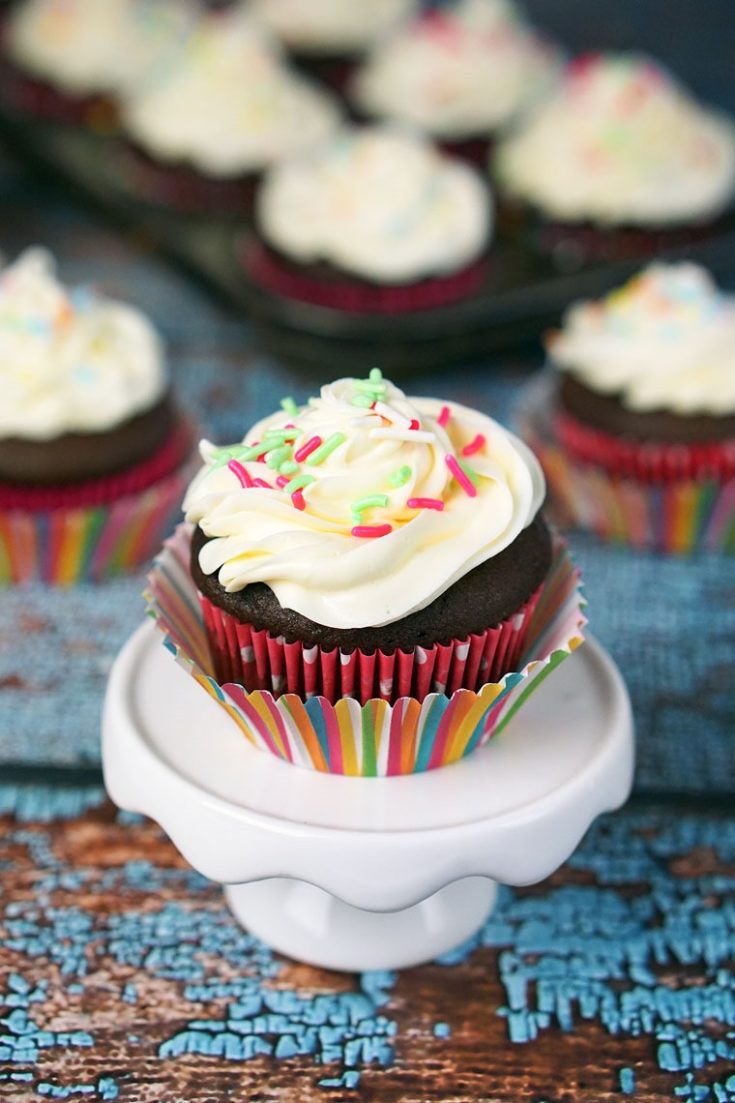 A cookie dough stuffed cupcake recipe that's made with gluten free cookie and cake mixes. Easy to make with a little advance planning!
Total Time
3 hours
20 minutes
Ingredients
1 box Pillsbury Funfetti Gluten Free Cookie Mix
1/2 cup butter or buttery spread, softened
1 egg
1 box Pillsbury Gluten Free Devil's Food Premium Cake Mix
1 1/4 cups water
1/3 cup oil
3 eggs
1 to 2 cans Pillsbury Funfetti Vanilla Flavored Frosting (including sprinkles for decorating)
Instructions
To make the cookie dough balls:
Combine cookie mix, softened butter (or buttery spread), and 1 egg in a medium bowl. Mix until a soft dough is formed.
Using a medium cookie dough scoop, scoop about 1 1/2 tablespoons of cookie dough. Shape into balls and place on a lined baking sheet and place in the freezer.
Freeze for 12-24 hours.
When frozen, remove cookie dough balls from the baking sheet and store them in a ziplock baggie.
To make cookie dough stuffed cupcakes:
Set oven to 350 degrees F.
Line cupcake pan with paper baking liners.
Combine cake mix, water, oil, and 3 eggs in a large bowl. Mix until moistened. Beat with mixer on low speed for 1 minute. Increase speed to medium for 2 minutes.
Fill the cupcake liners about 2/3 full with the cupcake batter. Place the frozen cookie dough ball into the center of each cupcake. Press the frozen cookie dough ball all the way down into the batter.
Place the cupcakes into the oven and bake at 350 for 19-23 minutes. When a toothpick inserted into the cake (not the cookie dough) comes out clean, the cupcake is done.
Remove the pans from the oven and let cool for 15 minutes before removing the cupcakes from the pan. Let the cupcakes cool completely before frosting.
Transfer the frosting from the can to a frosting piping bag fitted with a large star tip. Pipe the frosting in a circular pattern on tops of cupcakes. If you want to use less frosting, ice the cupcakes with an offset spatula instead.
Store cupcakes at room temperature or in the refrigerator before serving.
Recommended Products
As an Amazon Associate Affiliate and member of other affiliate programs, I earn from qualifying purchases.
Nutrition Information:
Yield:
24
Serving Size:
1 cupcake
Amount Per Serving:
Calories:

174
Total Fat:

9g
Saturated Fat:

4g
Trans Fat:

0g
Unsaturated Fat:

5g
Cholesterol:

41mg
Sodium:

214mg
Carbohydrates:

20g
Fiber:

0g
Sugar:

11g
Protein:

2g
Nutritional information is automatically calculated per the ingredients list. Serving size may not be accurate. Please double-check with your preferred nutritional app for the most accurate information.