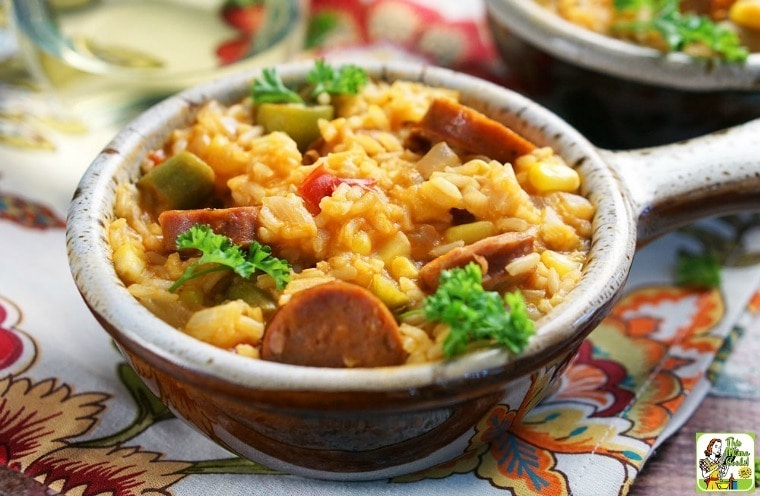 A one pot recipe like Andouille Sausage Jambalaya is one of my favorite to make for dinner since it's a snap to clean up.
Besides a few bowls and spoons, all I have to wash are a some measuring cups and spoons, a couple of knives, and a cutting board. (Any leftover sausage jambalaya is kept in the pot for lunch the next day.)
One pot cooking is ideal during the summer, so I can enjoy the longer evenings with my family and sip the Sauvignon Blanc wine that's leftover from making this easy sausage jambalaya recipe.
I usually make jambalaya with chicken broth.  Now that I've made One Pot Andouille Sausage Jambalaya with a dry white wine, like a Sauvignon Blanc, I'll never use broth again!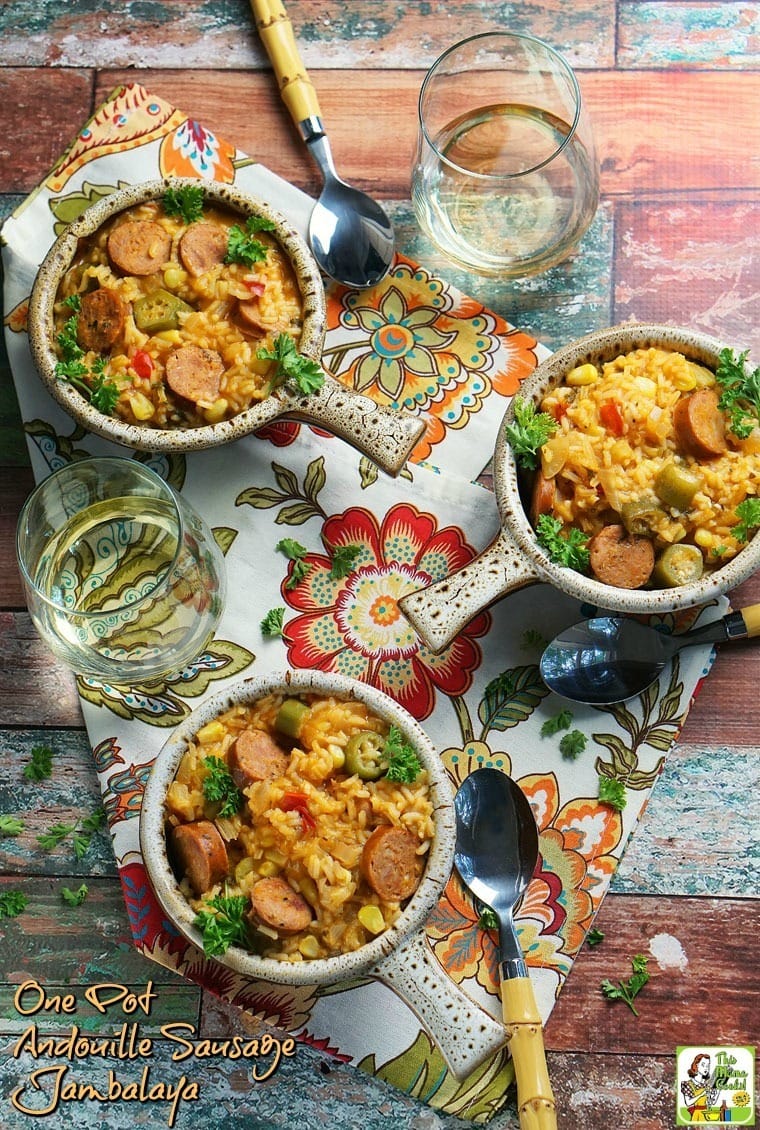 Making One Pot Andouille Sausage Jambalaya
I used Aidells Andouille sausge in this one pot recipe. I'm so glad I found out that Aidells makes a tasty Cajun Style Andouille sausage since it's gluten free.
Before I made this Andouille Sausage Jambalaya recipe, I hadn't tried their Andouille sausage before. I was pleasantly surprised by the sausage's smoky, spicy flavor. Truly excellent.
What I like about all Aidells sausages is that the Andouille comes fully cooked. I love this since you just heat and serve the sausage.
That way you don't have to worry about fully cooking the inside and accidentally burning the outside when grilling.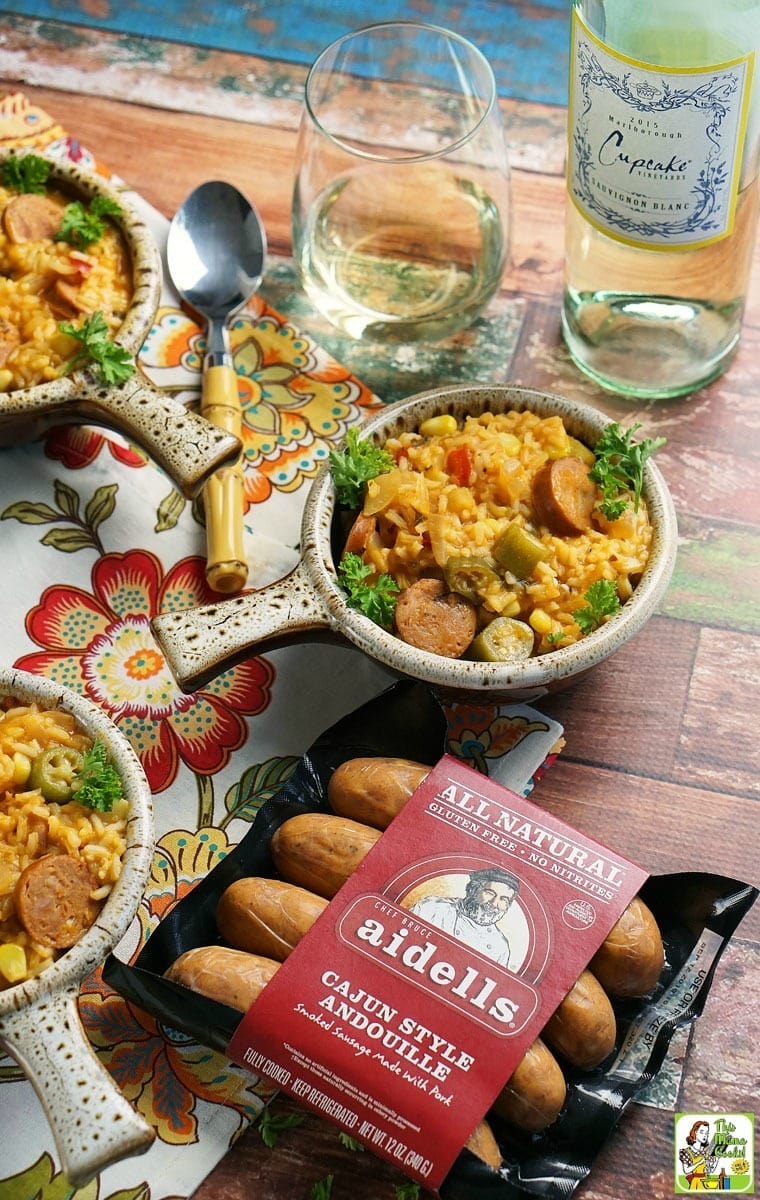 I chose a Sauvignon Blanc wine to cook with as well to enjoy while I cooked and ate.
It's the perfect wine for summer sipping on the deck, too!
Tips for making One Pot Andouille Sausage Jambalaya
You'll need a very large pot to make this Andouille sausage jambalaya recipe. I used a 9 quart Dutch oven.
The recipe below is what I consider a double batch.
However, my two teenagers ate four medium bowls each and my husband ate two large bowls. Oh my goodness!
By the next day, very little was left for lunch since my son decided to have some for breakfast. So I'm leaving the recipe as is.
If my jambalaya recipe looks like too much food for your family, feel free to cut it in half. Or eat half for dinner and freeze the rest for another night!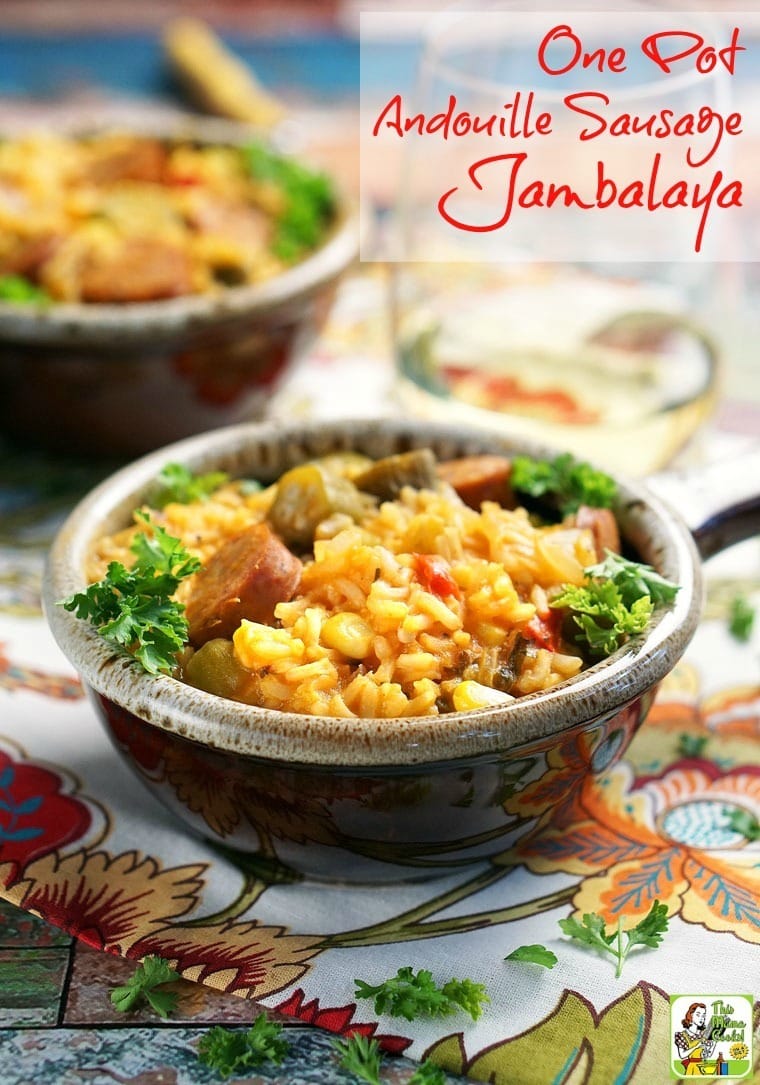 I'd love to see if I could make this same recipe with instant rice. Next time I make this, I'll use 3 cups of instant rice, 2 cups of wine, and just 1 cup of water.
I'm kind of kicking myself for not doing this time, as it would have saved on cooking time.
Plus, with instant rice there's no guessing if the rice is done or not. If you try One Pot Andouille Sausage Jambalaya with instant rice, let me know!
I only used 2 teaspoons of Louisiana style hot sauce. I thought this was just the right amount of spiciness. My daughter, Lucie agreed with me, too.
However, my son, Nathan, who puts hot sauce on everything said it wasn't hot enough.
So if you like your jambalaya even spicier, add more Louisiana style hot sauce!
Tossing a few bags of frozen vegetables into something like jambalaya is a great way to get your family to eat more vegetables. Plus, it adds some nice color, don't you think?
Yes, I know gumbo mix is used in, uh, gumbo and not jambalaya. Duh!
But I wanted to add some more veggies to the one pot jambalaya recipe than just peppers.
Yield: 8 SERVINGS
One Pot Andouille Sausage Jambalaya Recipe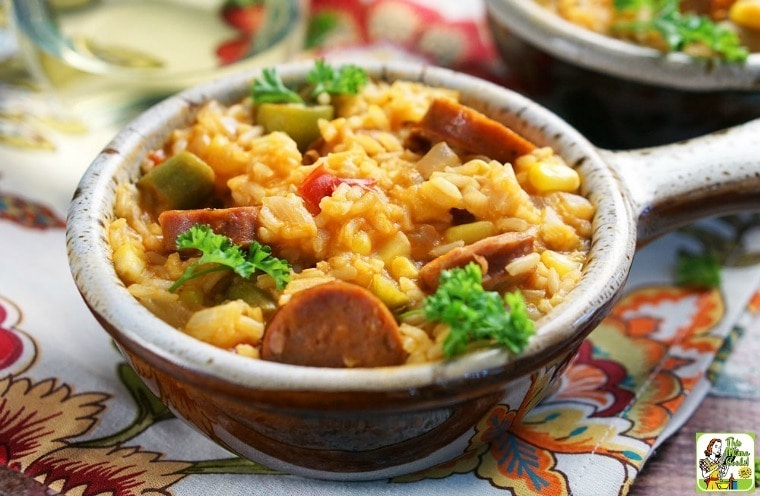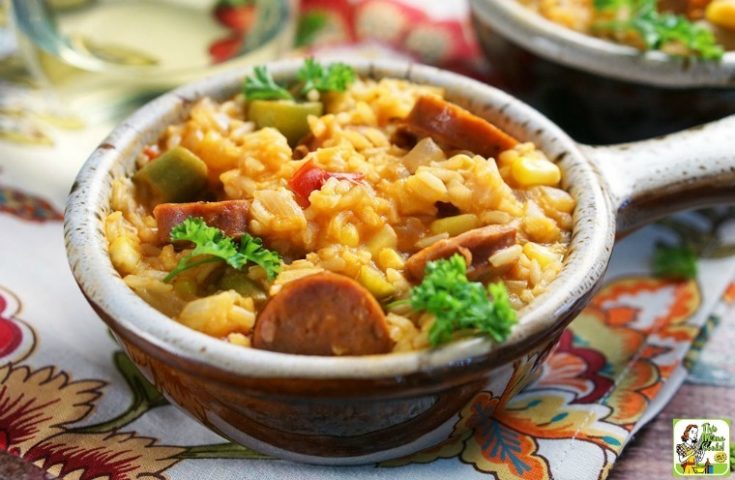 An easy one-pot andouille sausage jambalaya recipe made with white wine.
Total Time
1 hour
15 minutes
Ingredients
4 tablespoons olive oil
3 cups chopped sweet yellow onions
1/2 cup chopped fresh parsley
3 tablespoons chopped fresh chives
2 cups tomato sauce
2 teaspoons minced garlic
2 cups Sauvignon Blanc white wine
3 cups uncooked long-grain rice
1/2 teaspoon sea salt
2 teaspoons Louisiana style hot sauce
2 1-pound packages Cajun-style andouille sausage, cut into 1-inch pieces
6 cups water
2 15-ounce packages frozen gumbo vegetable mix
Instructions
Heat the olive oil in a large pot on medium-high heat. Add the onions, parsley, and chives to the pot. Sauté until the onions start to turn clear.
While stirring, add the tomato sauce, garlic, and wine. Then still stirring, add the rice, salt, hot sauce, sliced sausage, frozen gumbo vegetable mix, and 6 cups of water.
Keep stirring and bring to a boil. Then turn down the heat to medium, but keep the jambalaya simmering. You should frequently stir the jambalaya to prevent the rice at the bottom of the pot from sticking and potentially burning.
Cook until most of the liquid is gone. Then reduce the heat to low, cover, and simmer the jambalaya for 20 to 30 minutes. Test the rice after 20 minutes. If it's still very hard, and the rice is dry, add more water or half wine and water. Cook until the rice is cooked through.
Recommended Products
As an Amazon Associate and member of other affiliate programs, I earn from qualifying purchases.
Nutrition Information:
Yield:
8
Serving Size:
1
Amount Per Serving:
Calories:

501
Total Fat:

27g
Saturated Fat:

7g
Trans Fat:

0g
Unsaturated Fat:

17g
Cholesterol:

81mg
Sodium:

1328mg
Carbohydrates:

35g
Fiber:

3g
Sugar:

8g
Protein:

17g
Nutritional information is automatically calculated per the ingredients list. Serving size may not be accurate. Please double-check with your preferred nutritional app for the most accurate information.