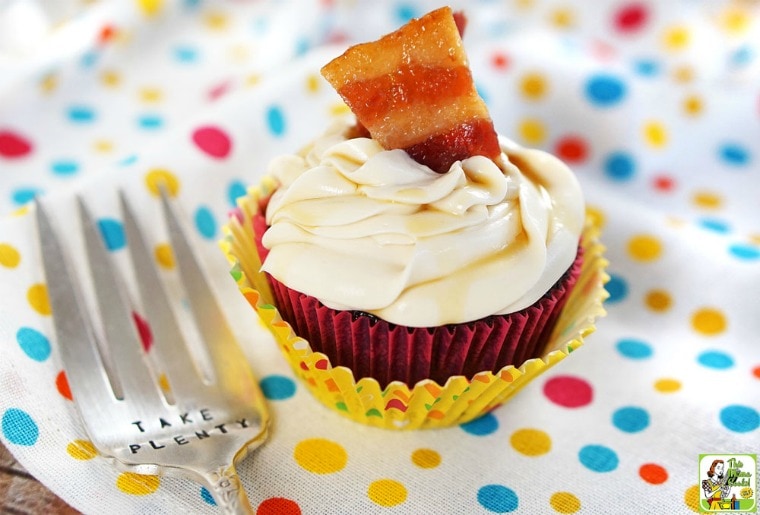 Make these Chocolate Bacon Cupcakes if you want to make a batch of special gluten free cupcakes for a party.
They're so delicious that your guests won't know they're gluten free!
The first time I made these gluten free bacon cupcakes was at a bacon themed party. Everyone – including my kids – loved how the cupcakes turned out.
No one thought these cupcakes was too weird or greasy. In fact, people had seconds.
They loved the flavor combinations I used in the bacon cupcake recipe, too – maple, bacon, brown sugar, and peach whiskey.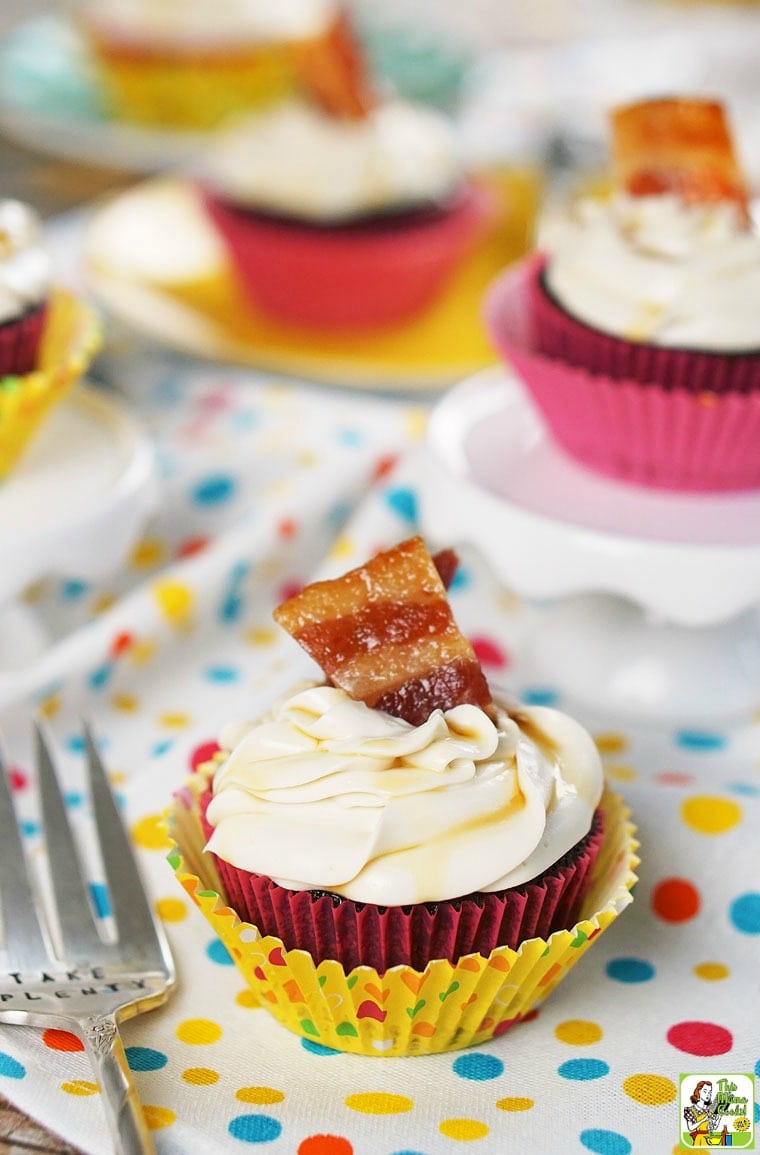 It's easy to make these bacon cupcakes
Candied bacon: The first thing you'll need to do for these gluten free cupcakes is to make a batch of candied bacon to mix into the batter and to use as a garnish.
I made candied bacon using Kevin at Closet Cooking's method. The only thing I changed was using twice as much maple syrup and brown sugar, because I wanted those flavors to come through.
Gluten free cake mix: Since these bacon cupcakes are made with a gluten free chocolate cake mix and canned frosting, they're practically fuss free.
So much easier than making cupcakes from scratch, too!
Customize your cupcakes: The way you "cake doctor" the cupcake mix is by adding peach whiskey, bacon grease, and chopped up pieces of candied bacon to it. (Trust me, it'll be amazing.)
If using bacon grease sounds too weird, feel free to use butter or a buttery spread instead.
Frosting: The vanilla frosting is customized with the addition of maple syrup and peach whiskey. Yum!
(It's hard not to sneak a few fingerfuls before frosting your gluten free cupcakes!)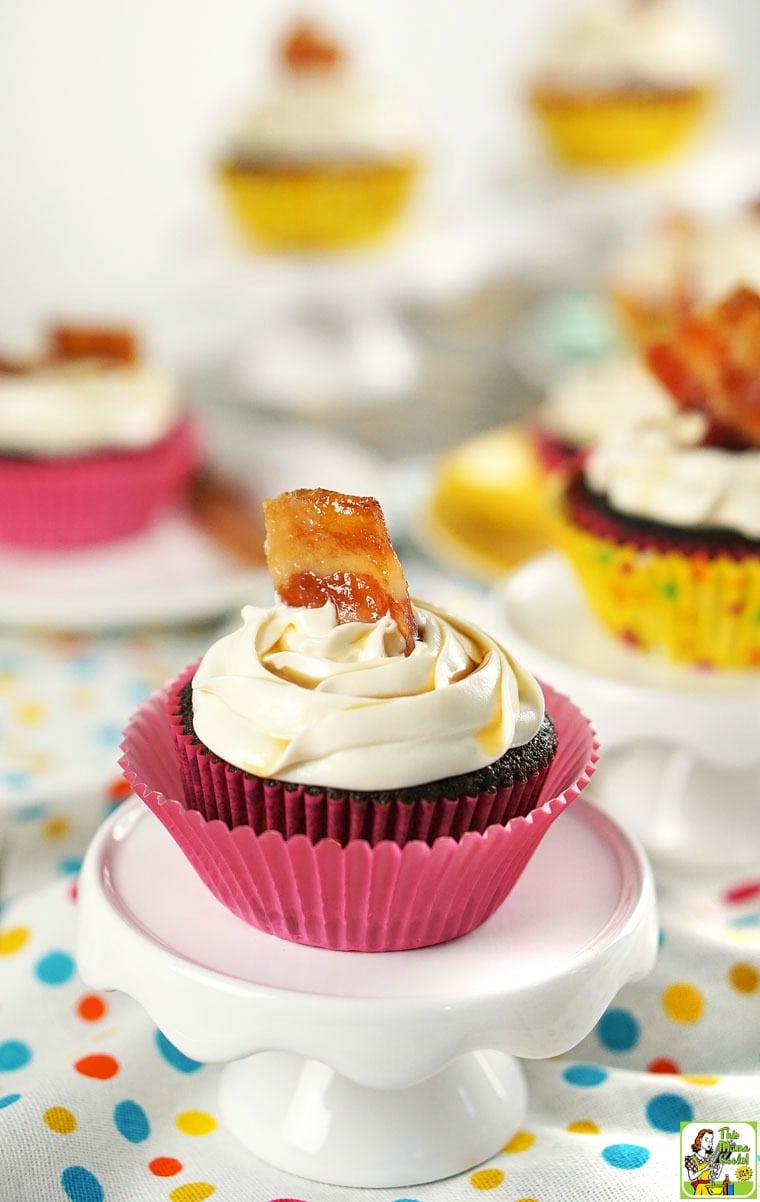 How to make bacon cupcakes
Substitutes for peach whiskey: If you don't have peach whiskey, bourbon is a good substitute.
If you don't drink alcohol, you can omit it. Just add another ounce of water or maple syrup when making the batter.
When making the frosting, you can just leave the whiskey or bourbon out if you don't want to use any alcohol.
Or you can add more maple syrup to the frosting. Just don't add too much or your frosting will get too runny and will be hard to pipe.
If that happens, add some confectioners (powdered) sugar to stiffen it up.
Maple syrup: I prefer real maple syrup over pancake syrup for this bacon cupcake recipe. I feel you'll get more maple flavor from the real stuff.
I don't have a preference of the type or "grade" of maple syrup to use. Use what you can afford, can find at your store or online.
Grade A is probably the best to use in recipes, since it's the darkest, most robust in flavor, and works best in recipes.
Candied bacon tips: Make sure the candied bacon you use for the garnish is crispy. I found mine wasn't crispy enough.
It eventually folded over and was kind of sad looking.
(The candied bacon that goes into the Chocolate Bacon Cupcakes batter doesn't need to be as crispy.)
To get extra crispy bacon for the garnish, put five or so bacon strips back in the oven to cook a bit longer. Make sure to keep on eye on the candied bacon so it doesn't burn!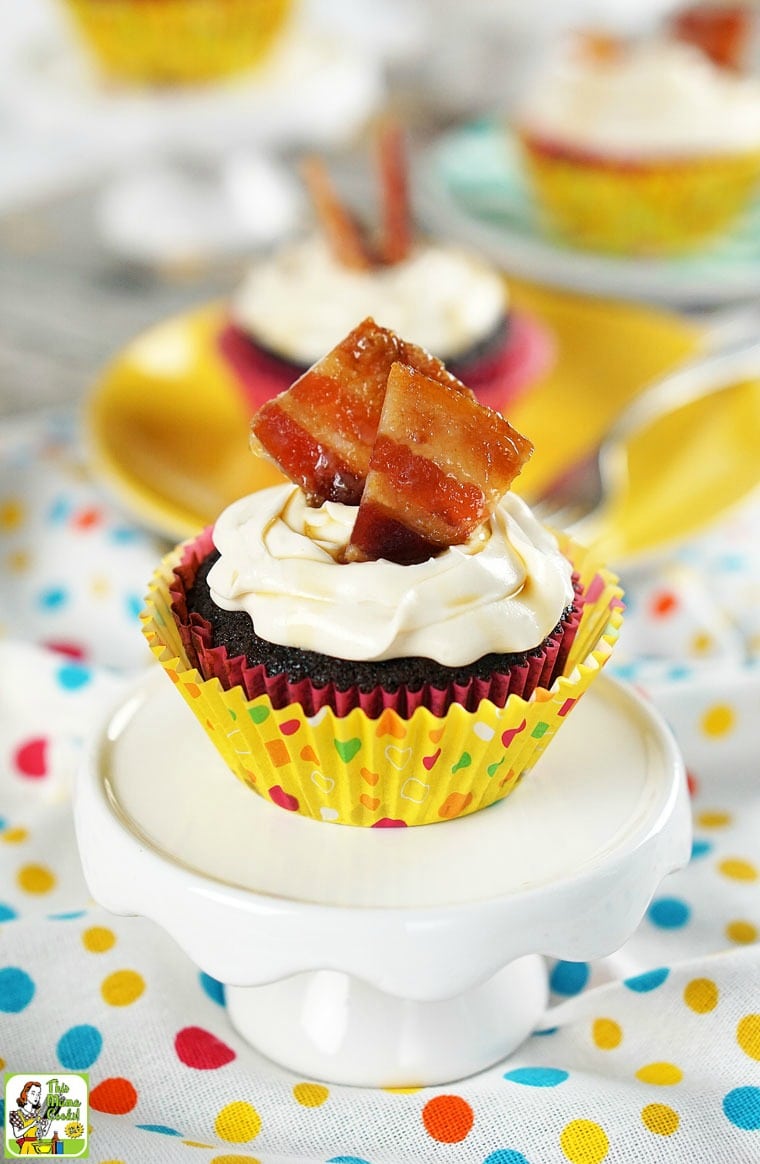 Double up the cupcake liners: Don't like the chocolate cupcakes showing through your cupcake liner? Bake them in one cupcake liner or a plain white cupcake liner.
Then after your chocolate cupcakes cool, place them in a second pretty cupcake liner before frosting.
That way the outer liner is fresh looking and perfect for bake sales or serving to guests.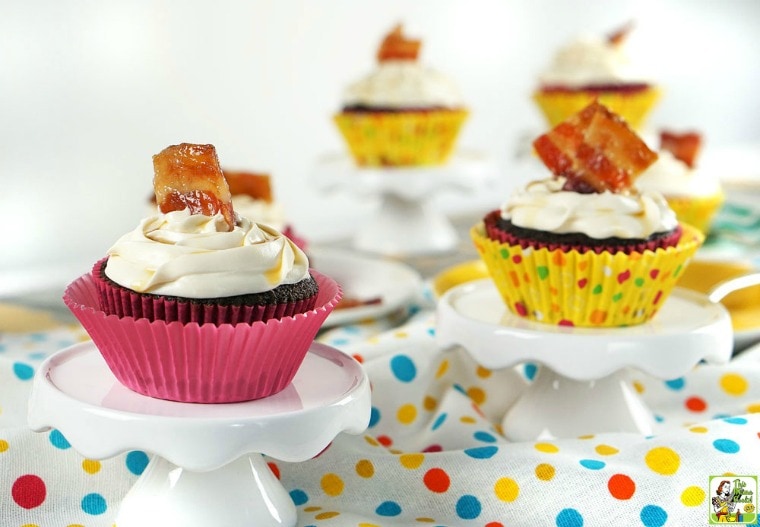 Serving tips: If it's hot out and you're taking your gluten free cupcakes to a party, place the Chocolate Bacon Cupcakes in the freezer for 30-45 minutes.
This will help set the frosting and stop it from "melting" and losing its stiffness in the heat and humidity.
I also like cold cupcakes vs. room temperature cupcakes. I think the cold temperature makes these bacon cupcakes taste better.
Keep GF a secret: Finally, don't tell anyone that these bacon cupcakes are gluten free – unless they're on a gluten free diet.
For some reason people think gluten free means yucky and tastes like cardboard. (NOT!)
They won't try something that's gluten free even if you swear that it's delicious. Oh well, more for me and my gluten free friends.
More terrific gluten free cupcakes
If you like serving gluten free cupcakes at parties or just like having some for dessert after dinner, you'll love these treats:
● Gluten Free Chocolate Cupcakes Recipe with Dulce de Leche Frosting – these cupcakes have espresso powder in the cupcake and an amazing dulce de leche frosting.
● Ice Cream Cones Cupcakes Recipe – serve these "ice cream cones" at your next cookout because they won't melt!
● St. Patrick's Day Pot of Gold Filled Cupcakes Recipe – not just for St. Patrick's Day, these cupcakes are stuffed with apple cobbler.
● Gluten Free Cookie Dough Stuffed Cupcakes – these chocolate cupcakes are stuffed with cookie dough – yummy!
● Gluten Free Mini Cheesecake with Blueberry Swirl – these mini cheesecakes are served like cupcakes. So fun!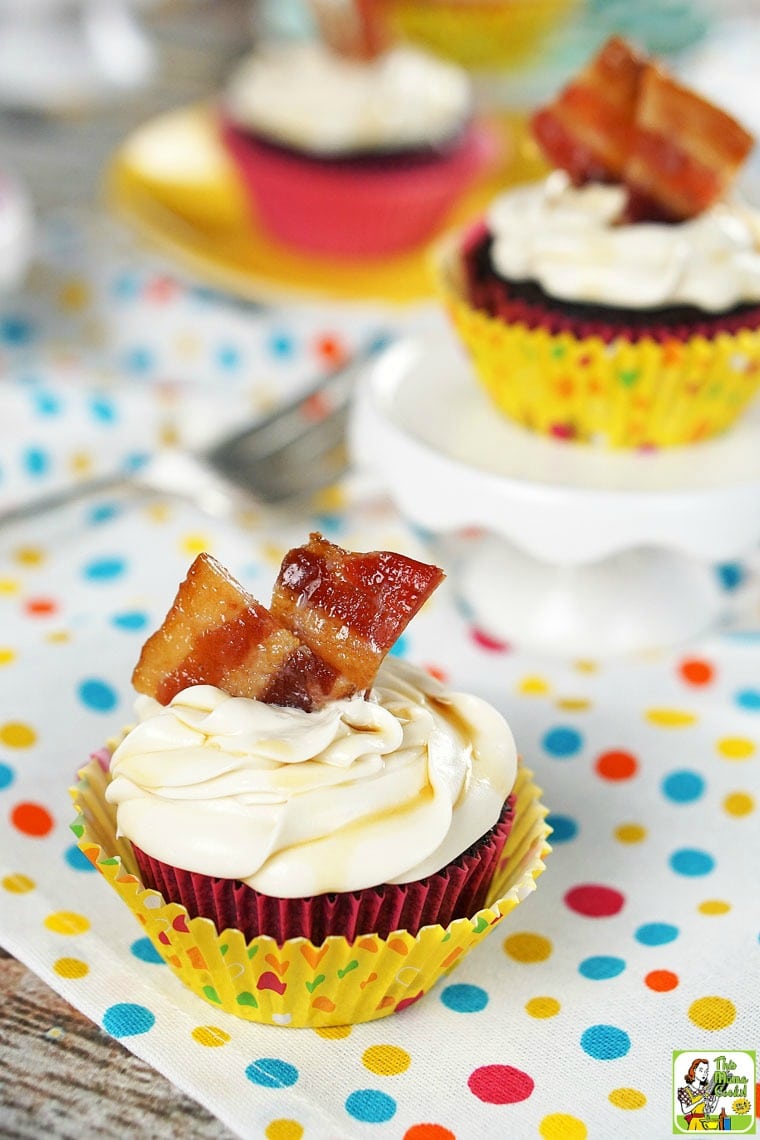 This Mama's favorite gluten free cupcake baking equipment
Here are some of my must have kitchen gadgets that help making cupcake recipes so much easier:
● Wilton Batter Spoons makes it easier to measure out and pour the batter into the cupcake pan.
● Silicon Pastry Brushes are much easier to clean than a traditional pastry brush. Just pop it into the dishwasher.
● Wilton cupcake liners – so pretty! I love the colors and you have a selection on hand for every holiday or occasion.
● Wilton cupcake baking pans are terrific. They don't warp or scratch. Worth replacing your old beat up ones for, too.
● Wilton X-large icing tips are what I use to frost my cupcakes.
● Wilton Disposable Decorating Bags – don't let "disposable" throw you. You can wash these in hot soapy water and reuse these dozens of times.
● Wilton Bake It Better Cake Tester – I love this cake tester since it's stored in a case making it easy to find in your gadget drawer.
Yield: 18 CUPCAKES
Gluten Free Chocolate Bacon Cupcakes Recipe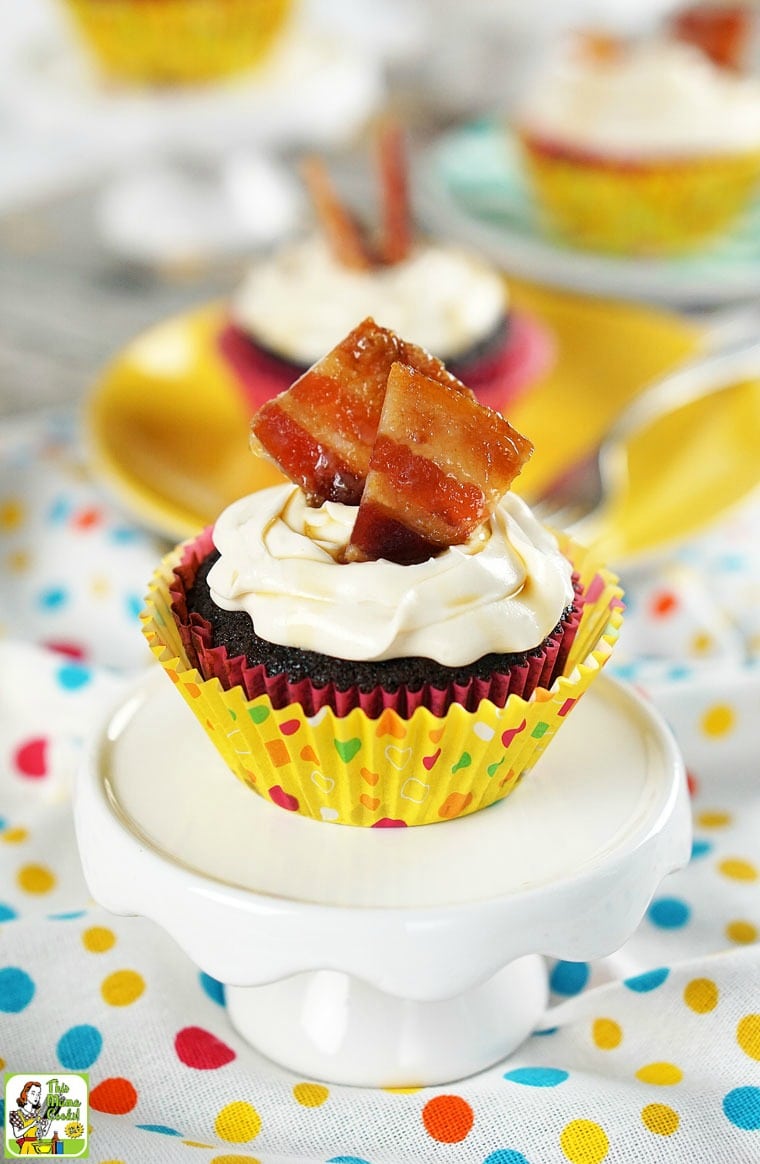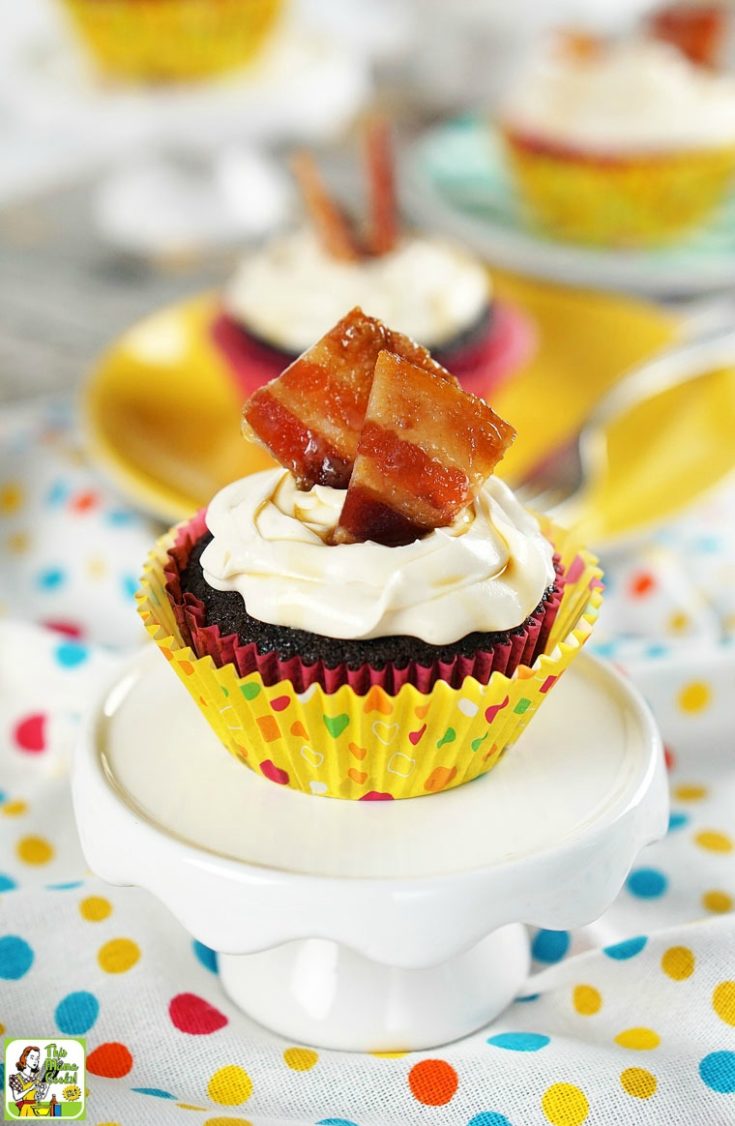 Love bacon? This bacon-flavored gluten free chocolate cupcakes recipe is easy to make!
Ingredients
1 package Betty Crocker Gluten Free Devil's Food Cake Mix
1/2 cup bacon grease from making candied bacon (Note: if you don't have enough bacon grease, add softened butter to make 1/2 cup)
1 ounce peach whiskey
2 ounces real maple syrup plus extra for drizzling
5 ounces water
1/2 cup chopped candied bacon plus more for garnishing
Instructions
To make candied bacon:
Heat oven to 400 degrees F.
Line a cookie sheet with foil. Place a wire rack on top of the lined cookie sheet. Place bacon on the wire rack on and using a silicone pastry brush, brush the top of each strip with maple syrup. Then sprinkle 1/2 cup of brown sugar over the bacon.
Bake in the oven for 15 minutes. Flip strips of bacon, brush with remaining maple syrup, and then sprinkle with the rest of brown sugar.
Bake for another 20 minutes. If you want crispier bacon, cook for longer but checking every couple of minutes so the bacon doesn't burn.
Remove from the oven and let cool on a rack.
Pour bacon grease from baking sheets into a small bowl. Place in refrigerator to solidify into a butter-like consistency.
To make the flavored frosting:
Spoon frosting into a medium-size bowl. Add maple syrup and bourbon and stir until combined.
If frosting is too thin for piping, add confectioners (powdered) sugar 1/2 cup at a time to frosting until desired stiffness is reached.
Spoon frosting back into containers and refrigerate until cupcakes are ready to be frosted.
To make bacon cupcakes:
Heat oven to 350 degrees F.
Place in cupcake baking pans.
Beat cake mix, bacon grease, bourbon, maple syrup, and water on low for 30 seconds. Then beat on medium for 2 minutes. Scrape bowl down, add chopped candied bacon and beat for 10 seconds until thoroughly mixed.
Pour mix into cupcake liners using a medium batter spoon, filling them 2/3 of the way.
Place in oven and at 350 degrees F for 20-22 minutes. Cupcakes are done when a toothpick inserted in the center comes out clean.
When done, remove from oven and let cool in pan until the pan cools enough to pick up. Then remove cupcakes and place them on a wire rack until cool.
Decorate bacon cupcakes with flavored frosting. Place pieces of candied bacon on top of the cupcake and drizzle with a little maple syrup before serving.
Nutrition Information:
Yield:
18
Serving Size:
1
Amount Per Serving:
Calories:

206
Total Fat:

8g
Saturated Fat:

3g
Trans Fat:

0g
Unsaturated Fat:

5g
Cholesterol:

10mg
Sodium:

302mg
Carbohydrates:

29g
Fiber:

0g
Sugar:

17g
Protein:

3g
Nutritional information is automatically calculated per the ingredients list. Serving size may not be accurate. Please double-check with your preferred nutritional app for the most accurate information.
Originally published on July 25, 2016 and September 26, 2018. Updated with new photos and information.