Last Updated on March 26, 2022 by Anne-Marie
Bake up this ice cream cones cupcakes recipe for your next cookout. No worry about them melting since the "ice cream" is really frosting!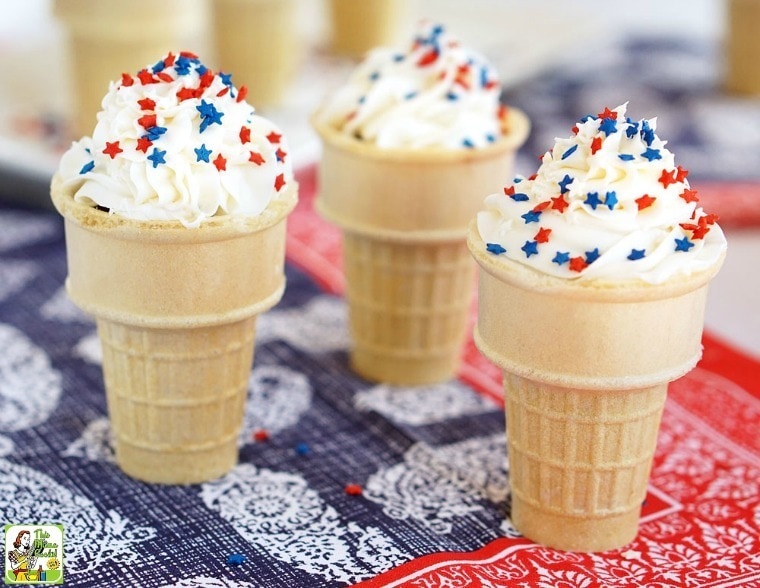 Why this recipe works
Everyone can enjoy ice cream cone cupcakes since they're gluten free.
But no one needs to know that except your gluten free guests. That's because they're delicious and super fun to eat!
Would you like to learn how to make ice cream cone cupcakes for your next BBQ or Fourth of July party? It's easier than you think!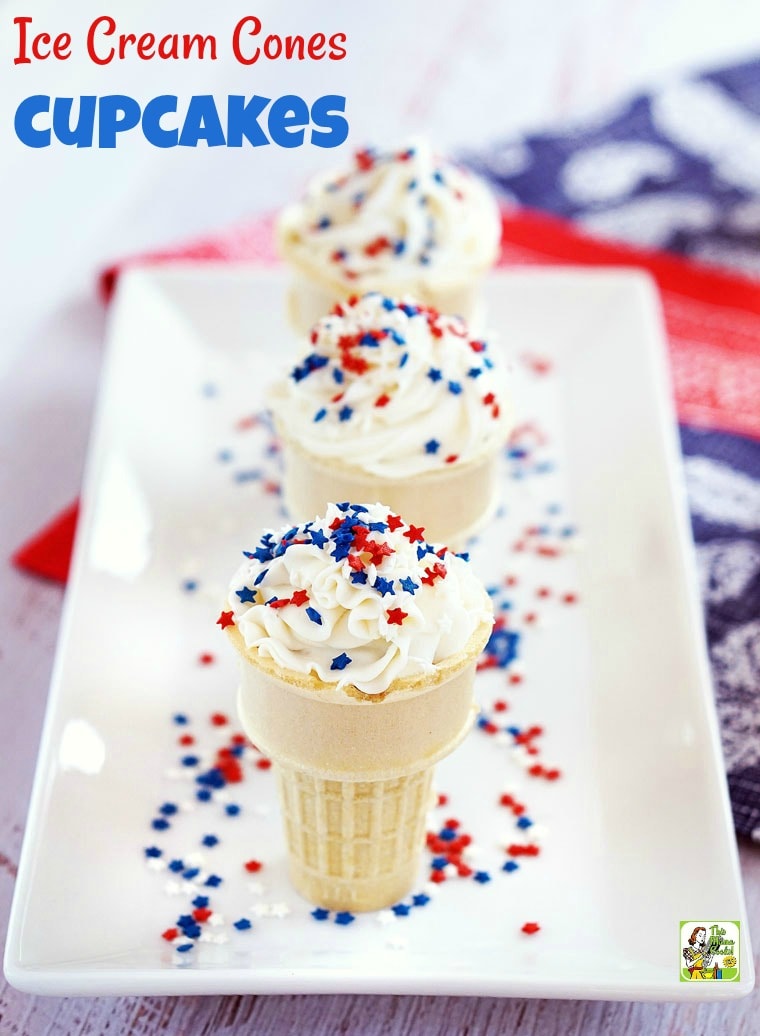 Making ice cream cones cupcakes that are gluten free
Wondering how to make ice cream cone cupcakes that are gluten free – and that still taste yummy? Luckily, Joy Cone Co. makes gluten free ice cream cones!
(If you love gluten free cupcakes, then try this Gluten Free Chocolate Cupcakes Recipe with Dulce de Leche Frosting.)
Gluten Free Cones: There make two types of gluten free ice cream cones that you can bake cupcakes in: gluten free sugar cones (the hard kind with the pointy end) and gluten free ice cream cup cones (the softer cone with the flat bottom).
Joy Cone Co brand cones were the gluten free ice cream cones I used. They taste just like regular ice cream cones.
If organic food is your thing, check out Let's Do Organic Gluten Free Ice Cream Cup Cones. It's wonderful to see so many gluten free ice cream cone choices out there!
Gluten Free Cake Mix: For the cupcake in the ice cream cones, use your favorite gluten free cake mix and frostings. I like Betty Crocker Gluten Free Devil's Food Cake Mix and Pillsbury's version.
I like the contrast of chocolate cake with the yellow cones and white frosting.
However, you can use Pillsbury Funfetti Gluten Free Premium Cake & Cupcake Mix with Candy Bits or Betty Crocker Gluten Free Yellow Cake Mix instead.
If you have another brand of gluten free cake mix, feel free to use it. It's totally up to you!
Gluten Free Frosting: I used Pillsbury Creamy Supreme Vanilla Frosting. It's my favorite store bought frosting as it's easy to pipe and tasty.
(I find Duncan Hines frostings are too thin and prefer how thick Pillsbury frostings are.)
Also, all Pillsbury frostings are gluten free, so you certainly can use a different color or flavor in your ice cream cone cupcakes.
Gluten Free Sprinkles: Finally, check the ingredients list on the type of sprinkles you use, to make sure they're gluten free, too!
I used Dress My Cupcake Decorating Edible Cake and Cookie Confetti Sprinkles, which are adorable! You can use any color combination you like.
I like red, white and blue for Memorial and Labor Day and Fourth of July. During the fall, use your team's colors for tailgate parties.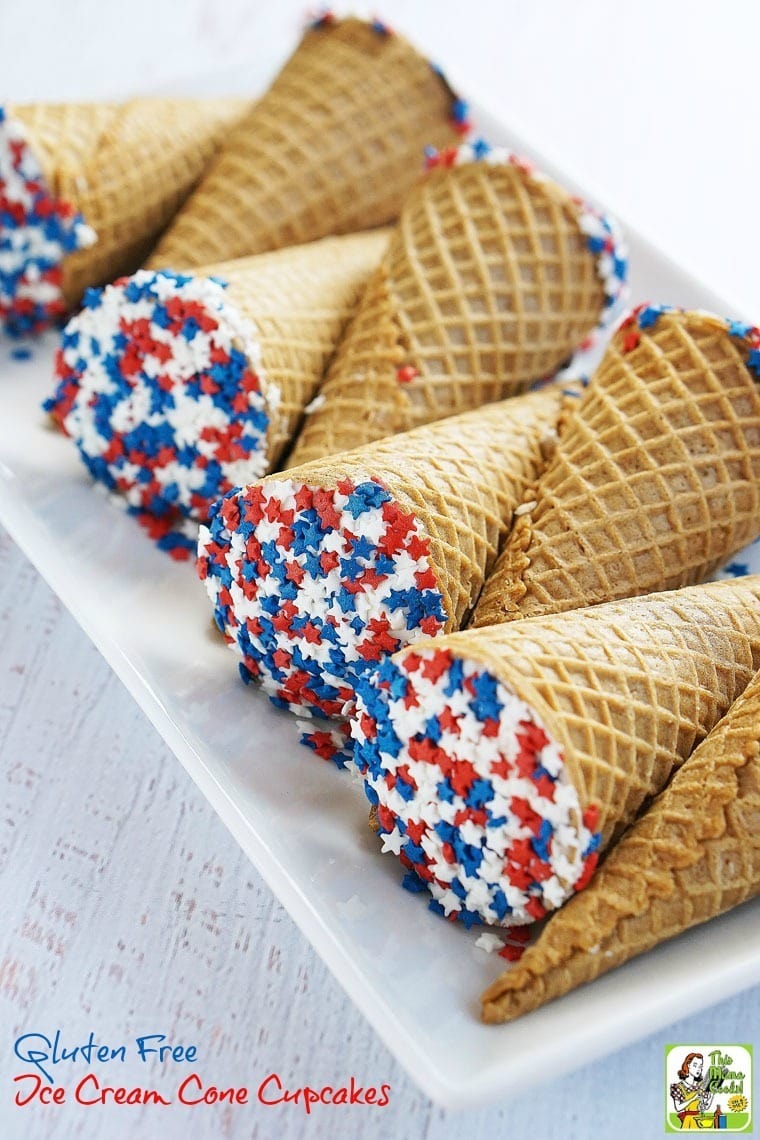 How to make cupcakes in a ice cream cone
Think you'll make ice cream cones cupcakes often? Then get an ice cream cone cupcake holder!
I bought the Betty Crocker Ice Cream Cone Cupcake Baking Rack. It worked great for the gluten free ice cream cup cones.
Unfortunately, the gluten free ice cream sugar cones were too long for this rack. I had to prop the sides of the ice cream cone cupcake holder over a baking casserole pan to get enough height when baking.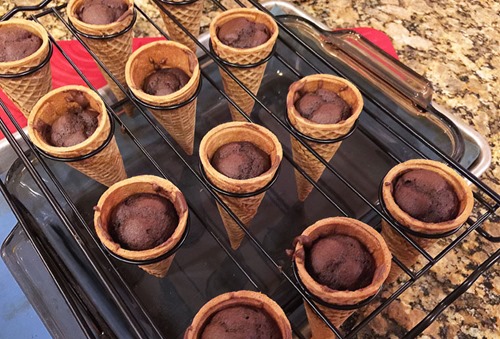 So, I recommend getting a Wilton Cupcake Cone Baking Rack as it can be used with both gluten free sugar cones and gluten free ice cream cup cones.
It's also a more attractive ice cream cone cupcake holder for serving your cupcakes.
Adding the batter: When putting the batter in the cones, fill up the cup cones 2/3 of the way and the sugar cones 1/2 of the way.
Since I chose to serve my sugar cones flat and not in a rack, this gave me enough room inside the ice cream cone for plenty of frosting and sprinkles!
If you like, place a real maraschino cherry on top. If you're bringing these ice cream cone cupcakes to a potluck, add the cherries just before serving.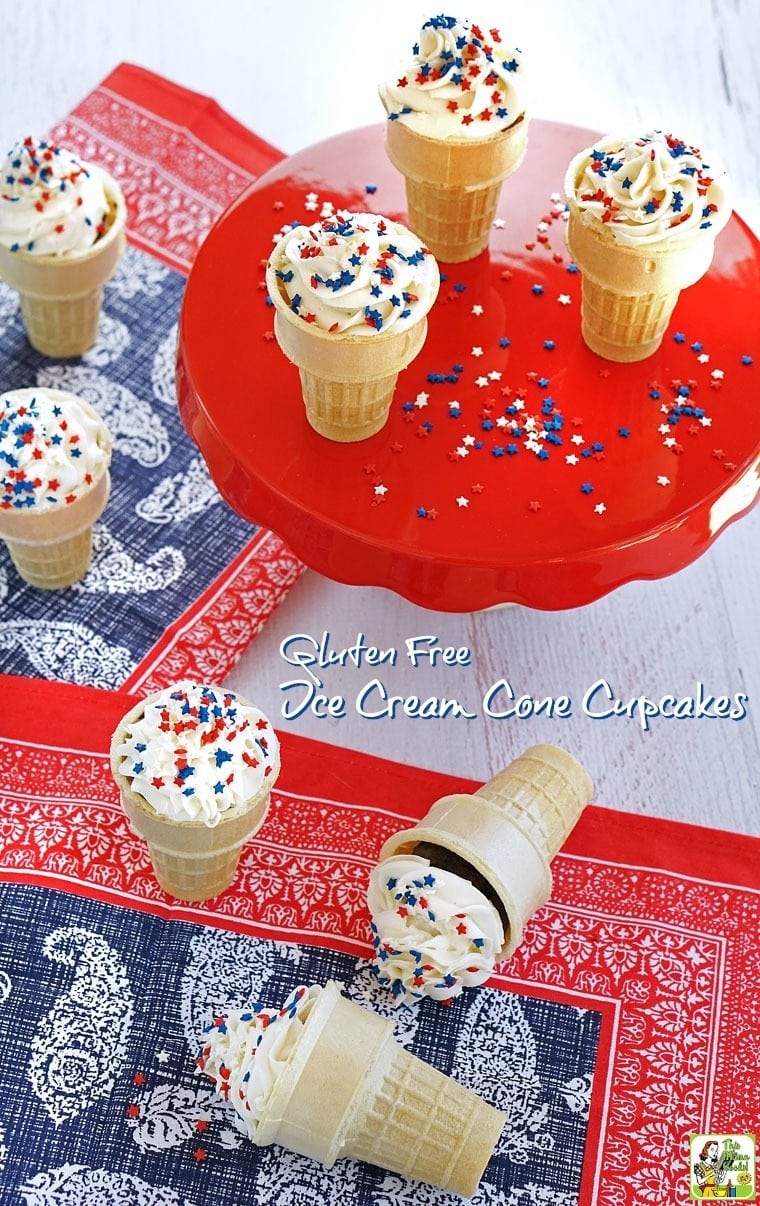 How many cupcakes will you make? One box of cupcake mix made 24 cones and 5 extra cupcakes. Make sure you have enough sprinkles, frosting, and cherries, if you're using them!
Bake ahead! You may notice that your ice cream cones are soggy after baking. To avoid this, bake the cupcakes the night before.
Then place them in a 350 degree oven for 4-5 minutes. Let cool, then decorate.
How to get icing swirl: To make the ice cream frosting swirl, use extra large cupcake tips.
More terrific gluten free cupcakes
If you like serving gluten free cupcakes at parties or just like having some for dessert after dinner, you'll love these treats:
● Gluten Free Chocolate Cupcakes Recipe with Dulce de Leche Frosting – these cupcakes have espresso powder in the cupcake and an amazing dulce de leche frosting.
● Gluten Free Chocolate Bacon Cupcakes Recipe – if you love bacon, maple and chocolate, you'll dig these!
● St. Patrick's Day Pot of Gold Filled Cupcakes Recipe – not just for St. Patrick's Day, these cupcakes are stuffed with healthy apple pie filling. 
● Gluten Free Cookie Dough Stuffed Cupcakes – these chocolate cupcakes are stuffed with cookie dough – yummy!
● Mini Blueberry Cheesecake Cupcakes Recipe – these mini cheesecakes are served like cupcakes. So fun!
Yield: 24 CONES
Ice Cream Cones Cupcakes Recipe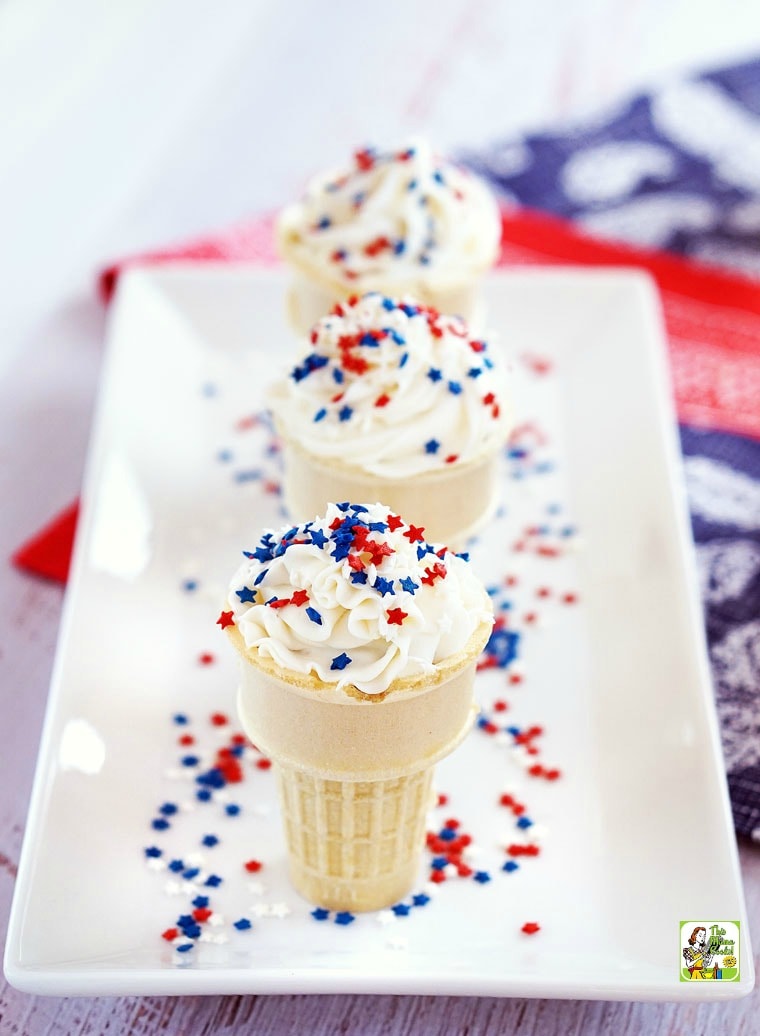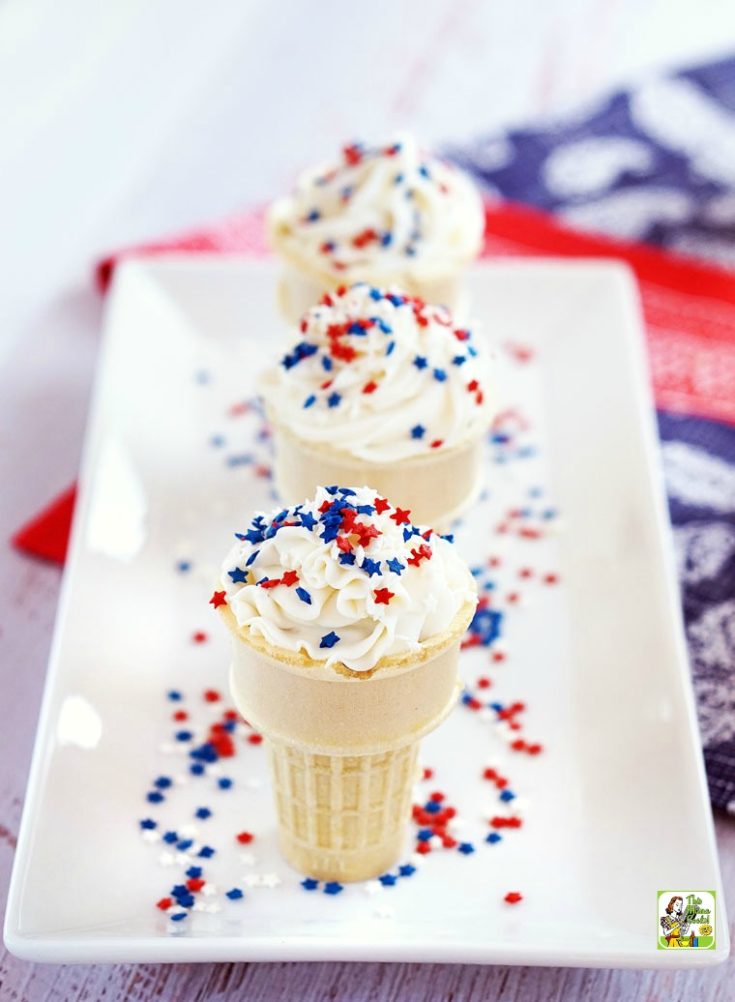 Bake up some ice cream cones cupcakes for your next cookout. These ice cream cone cupcakes are so yummy you'd never guess they're gluten-free!
Ingredients
1 package gluten free cake mix
2 boxes gluten free ice cream cones
2 cans gluten free frosting
Gluten free candy sprinkles
Instructions
Turn oven on to temperature recommended on your cake mix box.
Prepare cake mix batter according to package directions.
Place cones in an oven-safe ice cream cone cupcake holder. Fill each cone from 1/2 to 2/3 full of cake batter.
Bake at the time and temperature recommended for cupcakes on your box mix.
After ice cream cone cupcakes have cooled, frost with your gluten free canned frosting using a large piping tip. Decorate with sprinkles.
For sugar cones, if you don't have a rack for serving them upright, use a small amount of frosting to fill the cone. Then gently pat the top of cone into sprinkles. That way they can be placed flat easily.
Leftover batter can be baked in regular cupcake liners. Decorate them with leftover frosting and sprinkles as a special treat for the chef and his or her helpers!
Nutrition Information:
Yield:
24
Serving Size:
1 cone
Amount Per Serving:
Calories:

102
Total Fat:

2g
Saturated Fat:

1g
Trans Fat:

0g
Unsaturated Fat:

1g
Cholesterol:

2mg
Sodium:

167mg
Carbohydrates:

21g
Fiber:

0g
Sugar:

12g
Protein:

1g
Nutritional information is automatically calculated per the ingredients list. Serving size may not be accurate. Please double-check with your preferred nutritional app for the most accurate information.
Originally published on June 29, 2016. Updated with new pictures and information.