Last Updated on May 24, 2022 by Anne-Marie
You'll love this Easy Chicken Marinade recipe. Super flavorful and it makes the chicken oh so tender!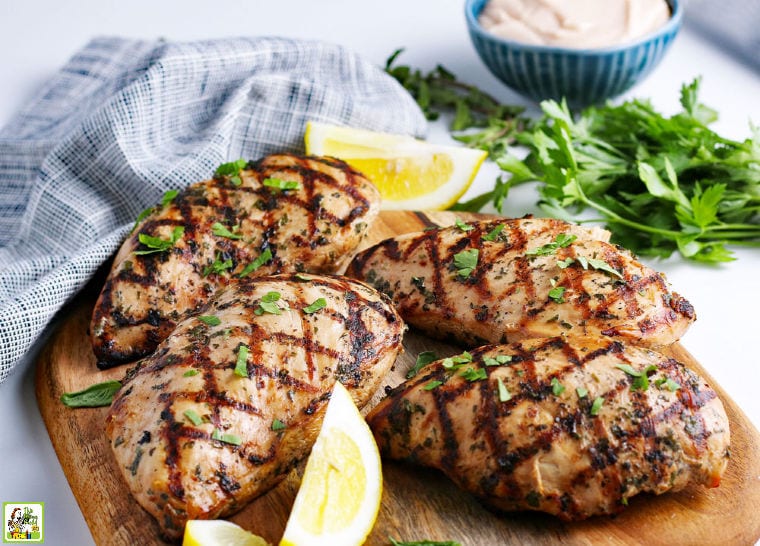 Why this recipe works
Use this simple chicken marinade for cooking up big batches of chicken at your next cookout.
This healthy chicken marinade recipe also works great whenever you need grilled chicken to use in a Cobb salad recipe or in sandwich wraps.
It's an amazing recipe when you want some tasty chicken and Oven Roasted Vegetables for a quick and easy dinner.
And it's naturally gluten free and keto friendly!
Tips for making chicken marinade
This simple chicken marinade recipe is a snap to make.
Just combine the ingredients and marinate for a couple of hours or overnight.
But to make the best chicken marinade ever, here are a few tips:
Tenderize the chicken:
To get the marinade flavor into the chicken, use a meat tenderizer tool.
(I use a Jaccard 48-Blade Meat Tenderizer tool in my Mexican carne asada marinade recipe. My readers LOVE this tool!)
It's best to run it over both sides of the chicken breast before adding it to the marinade for maximum flavor enhancement.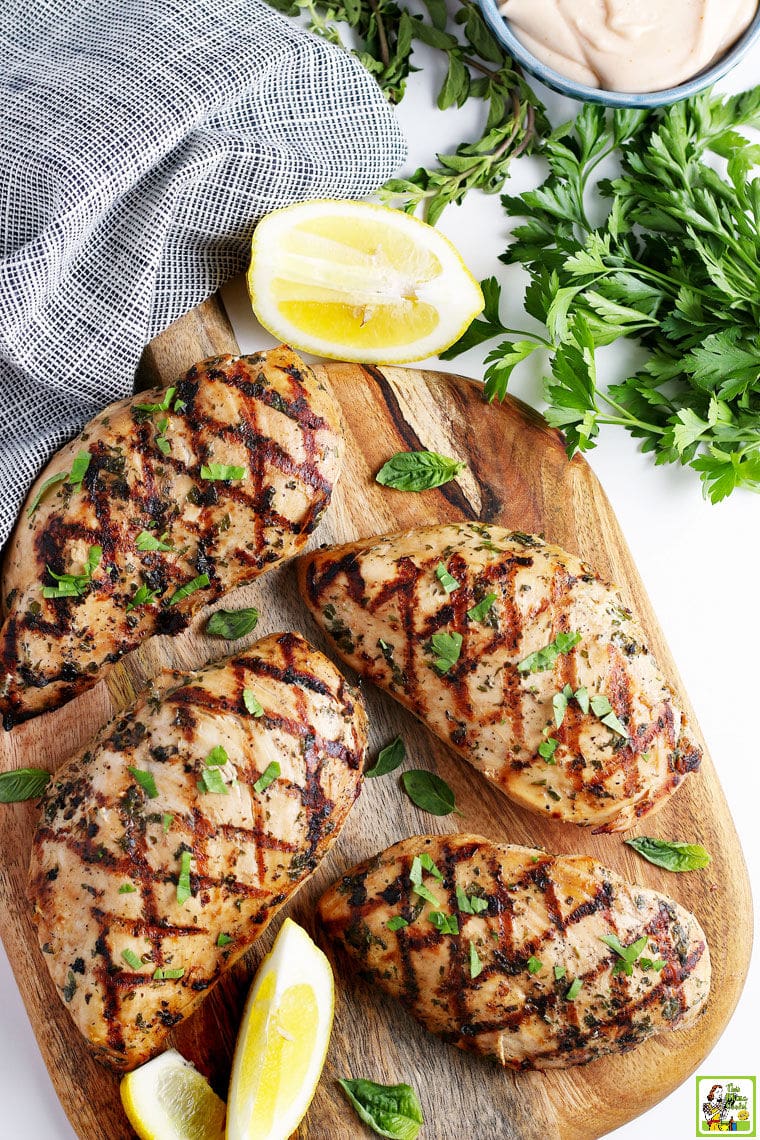 Use a Ziploc bag:
Instead of a bowl, you can put all the ingredients into a Ziploc bag. Then shake to blend.
Add the chicken and marinate for a couple of hours or overnight. (Place the baggie on a platter or baking sheet in case it leaks or there's condensation.)
Time saver:
Use already minced garlic from a jar instead of mincing your own. 1/2 teaspoon equals one clove.
Don't have fresh herbs?
If you can find fresh herbs, use 2 teaspoons dried oregano instead of 2 tablespoons fresh.
Or use 4 teaspoons dried parsley or basil instead of 1/4 cup fresh parsley or basil.
What can I do with the leftover marinade?
Toss it! Remember, it's had raw chicken sitting in it for hours. Yuck! It's bacteria soup at this point.
However, if you're a "waste not, want not" type of person, pour the marinade in a saucepan.
Then bring it up to boil and boil the heck out of the marinade for five minutes to destroy any harmful bacteria.
Then you can safely use it as a serving sauce.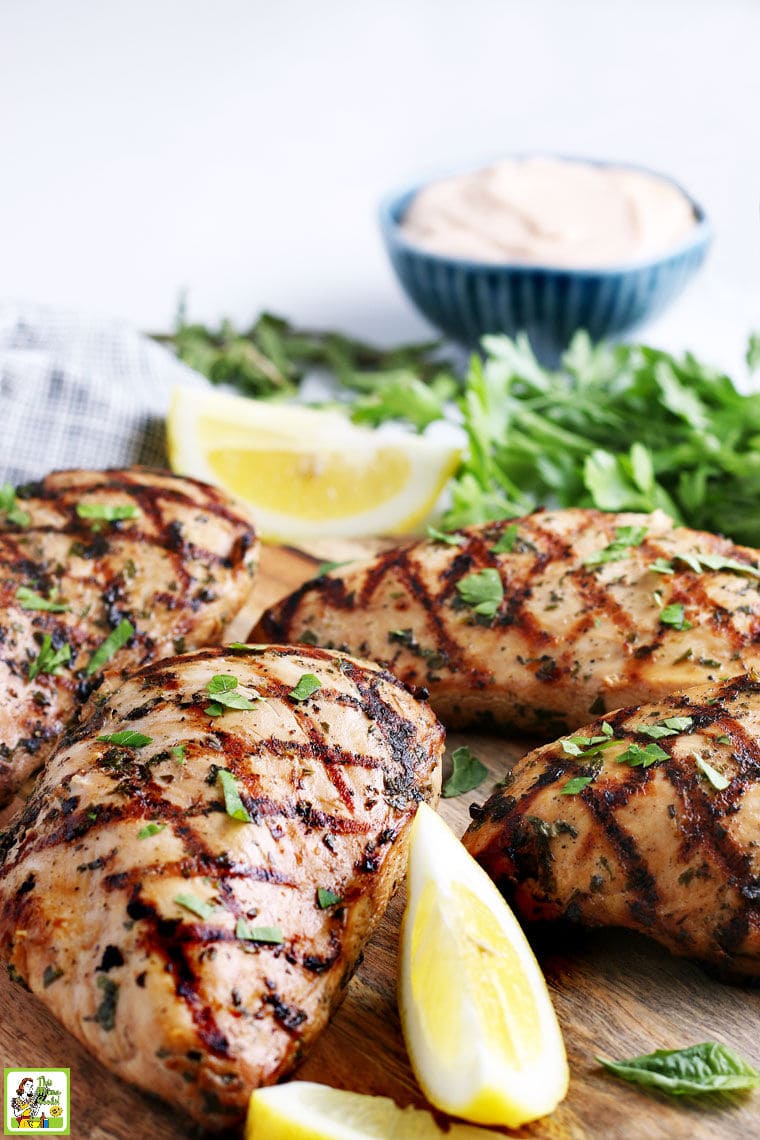 How to store this simple chicken marinade
Refrigerator: A small batch will keep well for a week because of the fresh herbs and garlic.
The olive oil will solidify, but you bring it back to liquid at room temperature (or zap it for 10-20 seconds in the microwave). Then give it a stir to use it.
Freezer: Make a double or triple batch of the marinade. Then freeze it in small containers for several months.
Each portion is enough for about two pounds of meat, which makes the perfect dinner for most families. Super convenient!
You can also add the chicken to the marinade in a gallon Ziploc Freezer bag and freeze it that way, too.
Then thaw the bag in the fridge overnight and grill the next day!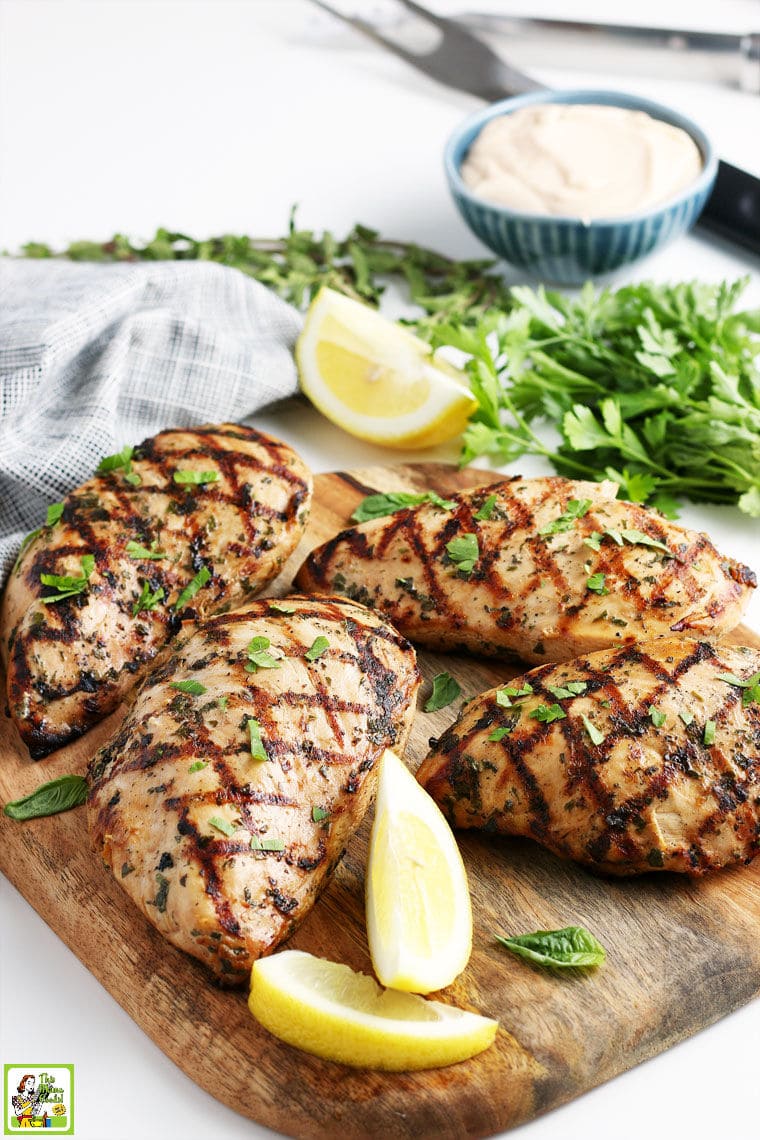 How to cook the marinated chicken
After the chicken has been seasoned in the healthy chicken marinade for a few hours or overnight, you can cook it several ways – grilling, baking in the oven, or cooking on the stovetop.
Here's how:
Grilling: Turn the heat to medium, then place the chicken breasts on the grill.
Cover the grill. Cook the chicken for 5-7 minutes.
Flip the breasts over. Grill for 5-7 minutes longer until the chicken reaches a temperature of 165°.
Baking the chicken: Preheat the oven to 400°F.
Spray a shallow baking pan with cooking spray. Then place the marinated breasts in the pan, and place it in the oven.
Bake 22-25 minutes or until chicken reaches 165°F on a meat thermometer.
Stovetop cooking: Heat 2 tablespoons olive oil over medium heat in a large skillet. Add chicken and cook for 5-7 minutes.
Flip the chicken breasts. Cook for 5-7 minutes more until they reach 165°F.
You can also use an electric stovetop grill, like a George Foreman grill, which combines two of these methods!
Serve it with a sauce: Even though the chicken is plenty tasty, you may want to serve it with a homemade sugar free barbecue sauce or this 5-minute Alabama White BBQ Sauce recipe.
How to serve marinated chicken
While this chicken makes a terrific dinner on its on, you can shred it for tacos or use it in Chicken Vegetable Soup.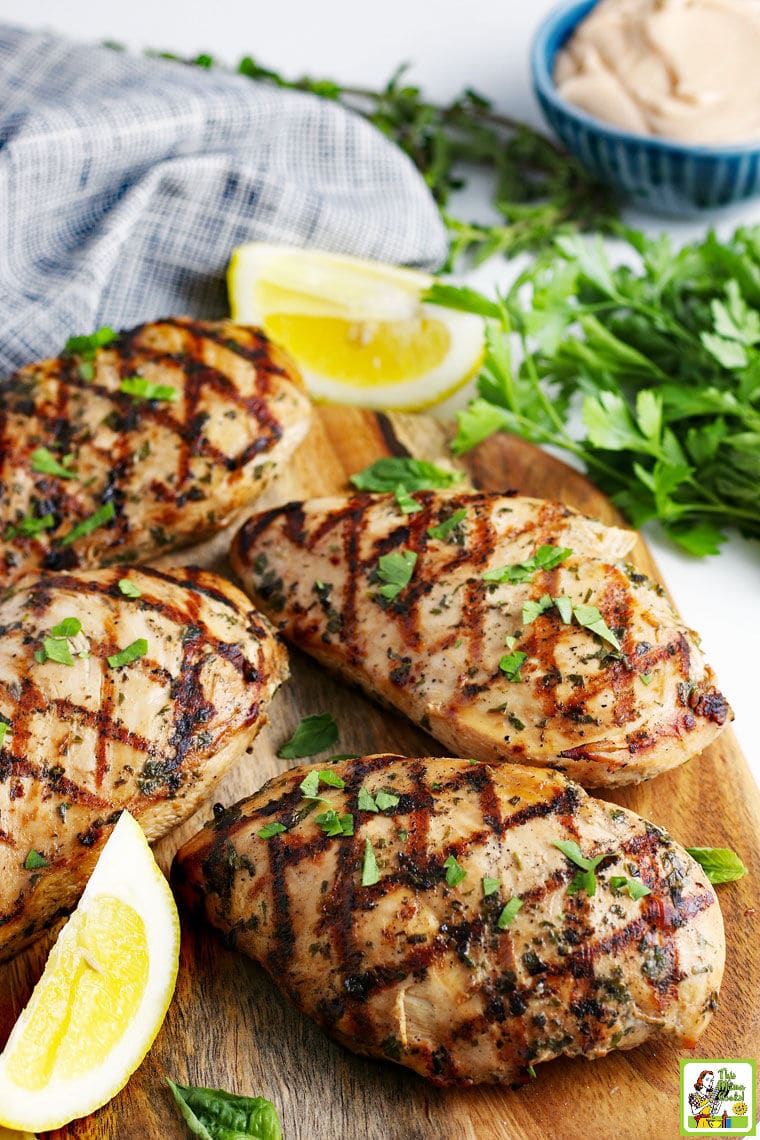 Perfect sides and desserts for grilled chicken
Add some of these tasty side dishes to your quick chicken marinade dinner.
● Serve this with a healthy Easy Vegan Garbanzo Bean Salad. It's a wonderful side dish that goes well with grilled chicken.
● If you love pasta, try Caprese Pasta Salad Recipe or Pasta Salad with Roasted Vegetables Recipe.
● If you feel like a salad, try Broccoli Bacon Salad Recipe or Cucumber Onion Salad Recipe.
● Love coleslaw? Try this Easy Coleslaw Recipe or Brussel Sprouts Salad with Cranberries Recipe.
● For dessert, try Gluten Free Chocolate Cupcakes with Dulce de Leche Frosting or some Ice Cream Cones Cupcakes.
Yield: 4 SERVINGS
Easy Chicken Marinade Recipe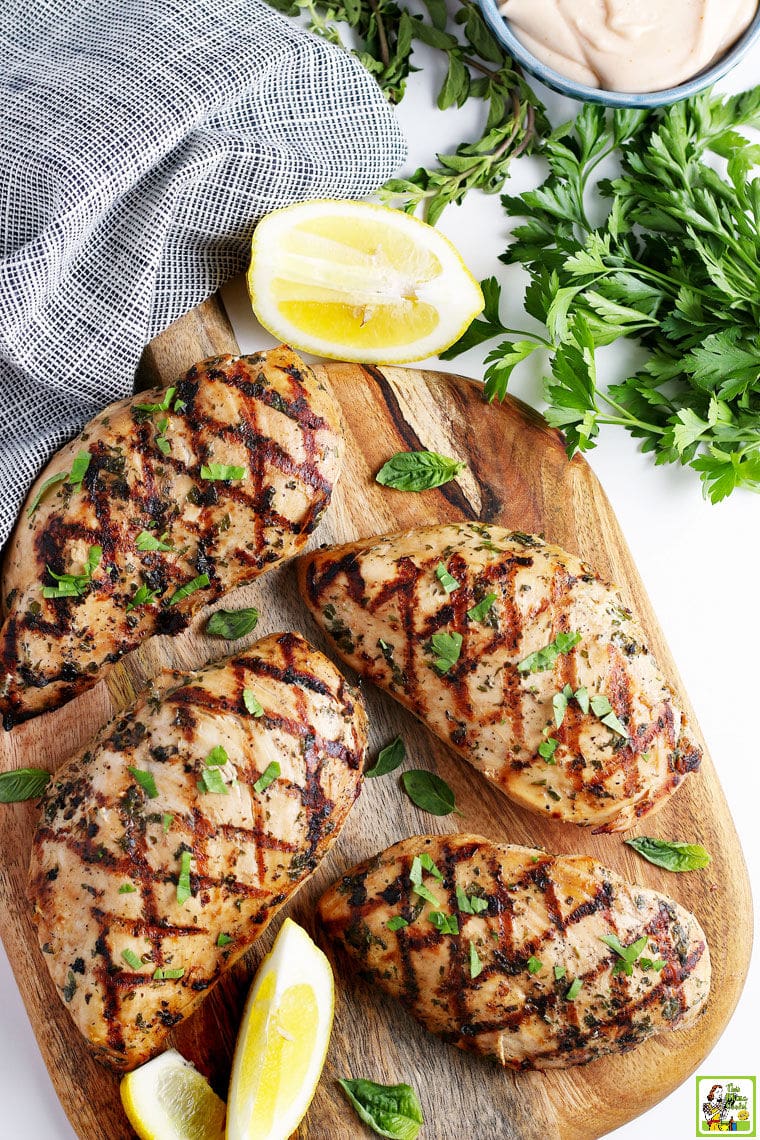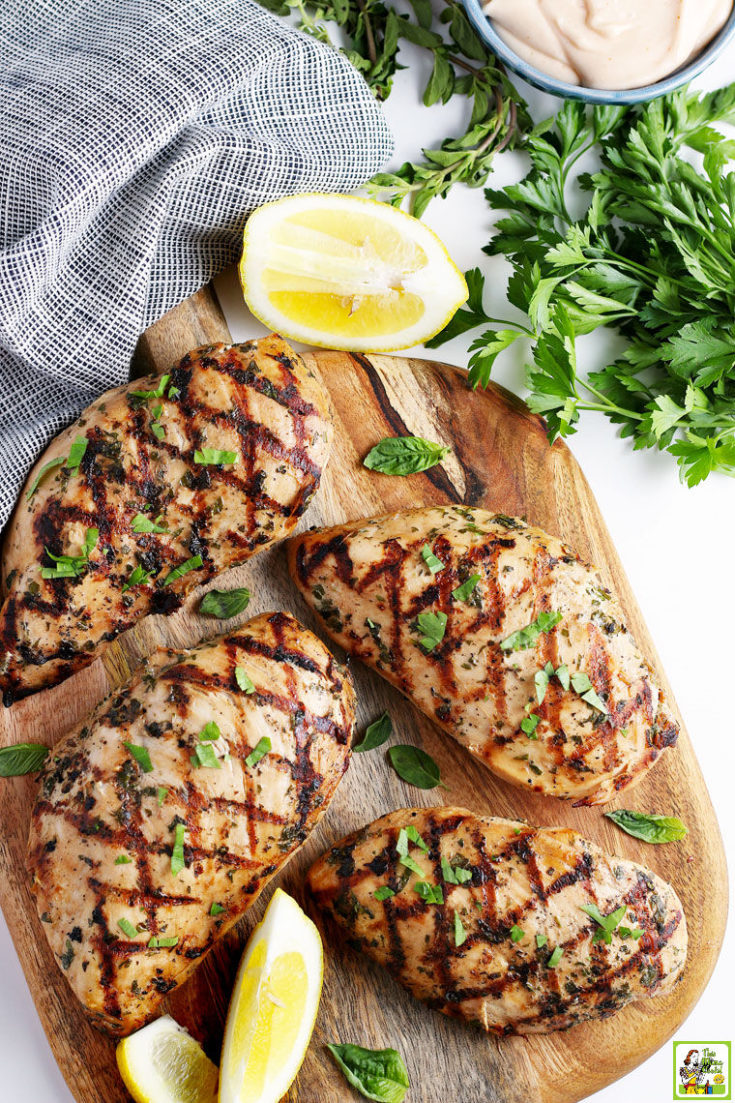 Make this Easy Chicken Marinade recipe for dinner. Or use this healthy chicken marinade at your next cookout.
Total Time
2 hours
25 minutes
Ingredients
1/4 cup fresh lemon juice
3 tablespoons Worcestershire Sauce
1/4 cup olive oil
3 cloves garlic, minced
1/2 teaspoon salt
1/2 teaspoon black pepper
2 tablespoons fresh oregano, minced
1/4 cup fresh parsley, minced and lightly packed
1/4 cup fresh basil, minced and lightly packed
4 skinless, boneless chicken breasts (about 2-3 pounds)
Instructions
In a medium bowl, add lemon juice and Worcestershire sauce.
Whisk in olive oil.
Add minced garlic, salt, pepper, and herbs to bowl. Mixed until well combined.
Place chicken breasts in a large bowl or shallow baking dish. Pour marinade over chicken. Cover.
Refrigerate at least 2 hours or overnight.
Remove chicken from marinade and grill.
Nutrition Information:
Yield:
4
Serving Size:
1
Amount Per Serving:
Calories:

342
Total Fat:

18g
Saturated Fat:

3g
Trans Fat:

0g
Unsaturated Fat:

14g
Cholesterol:

102mg
Sodium:

482mg
Carbohydrates:

6g
Fiber:

1g
Sugar:

2g
Protein:

38g
Nutritional information is automatically calculated per the ingredients list. Serving size may not be accurate. Please double-check with your preferred nutritional app for the most accurate information.