Last Updated on November 5, 2021 by Anne-Marie
This brussel sprouts salad with cranberries recipe is easy to make ahead of time. Make brussels sprout slaw for holiday meals or weeknight dinners.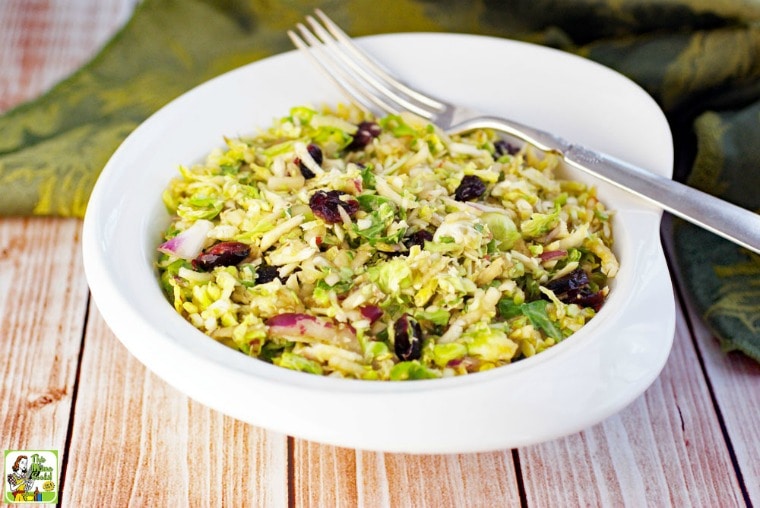 Why this recipe works
My brussel sprouts salad with cranberries recipe got rave reviews when I brought it to a friend's house.
I was surprised how many folks told me they never had a Brussel sprout cranberry salad before.
My friends claim to only have tried roasted Brussel sprouts. And only ate those during the holidays.
Well, they don't know what they've been missing!
The wonderful thing about this Brussel sprout coleslaw is that you can make it any time during the year, even though most of us think that Brussel sprouts are only for the fall or winter months.
It's a terrific salad to serve at barbecues and tailgate get togethers in the summer or fall.
Or serve this easy to make Brussels sprouts salad at your holiday table with turkey or a roast.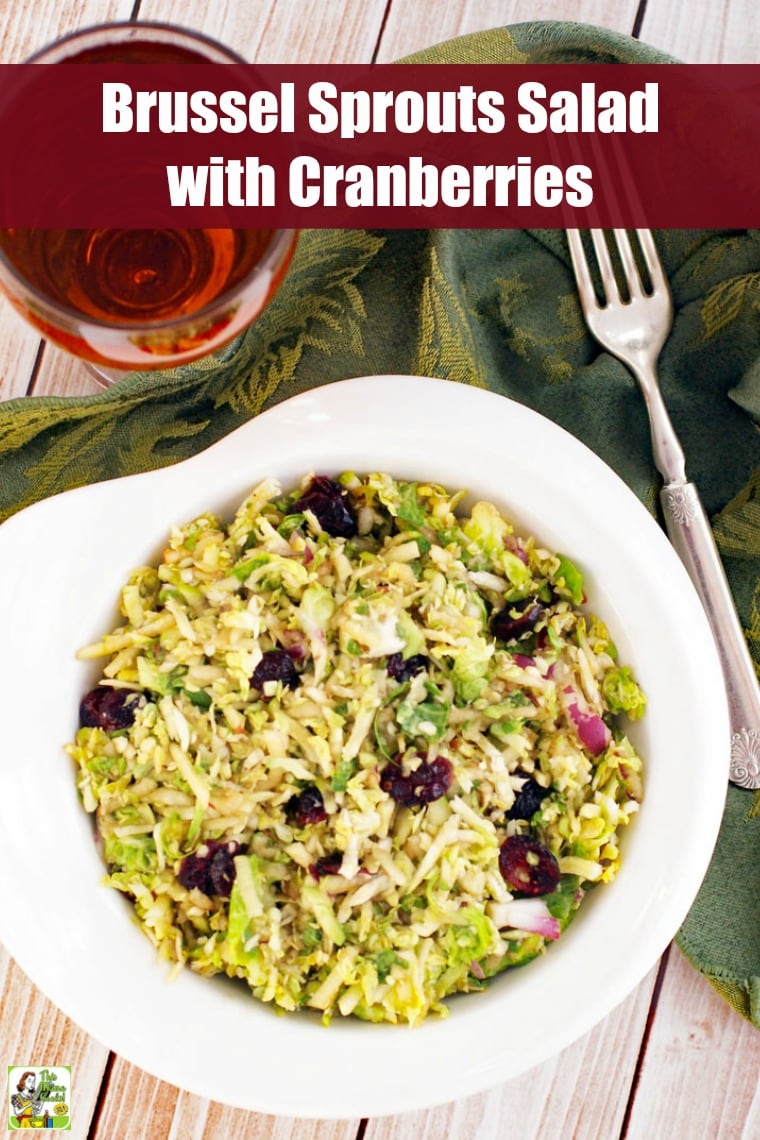 Why you'll love making Brussel sprout and cranberry salad
First, it's so easy to put together, especially when you're super busy with work, school, or running the kids around to all their activities.
You can also make this ahead of time when you're entertaining or need a dish to bring to a potluck.
Salads like this Brussel sprout slaw recipe are a great way to keep on track and fill up on good for you dried fruits and vegetables.
It's also a nice spin on slaw and a different way to serve up Brussels sprouts.
If you know someone who says, "Ewwwww, Brussels sprouts!" don't tell them it's in the slaw until after they try it. They'll just think it's a crunchy, sweet slaw with cranberries.
Finally, if you're serving up leftover turkey or ham sandwiches during the holidays, sneak in a layer of Brussel sprout coleslaw in your sandwich.
It's sort of like "pig pile Elvis style," but much better for you! (I also do this with my more traditional Easy Coleslaw Recipe.)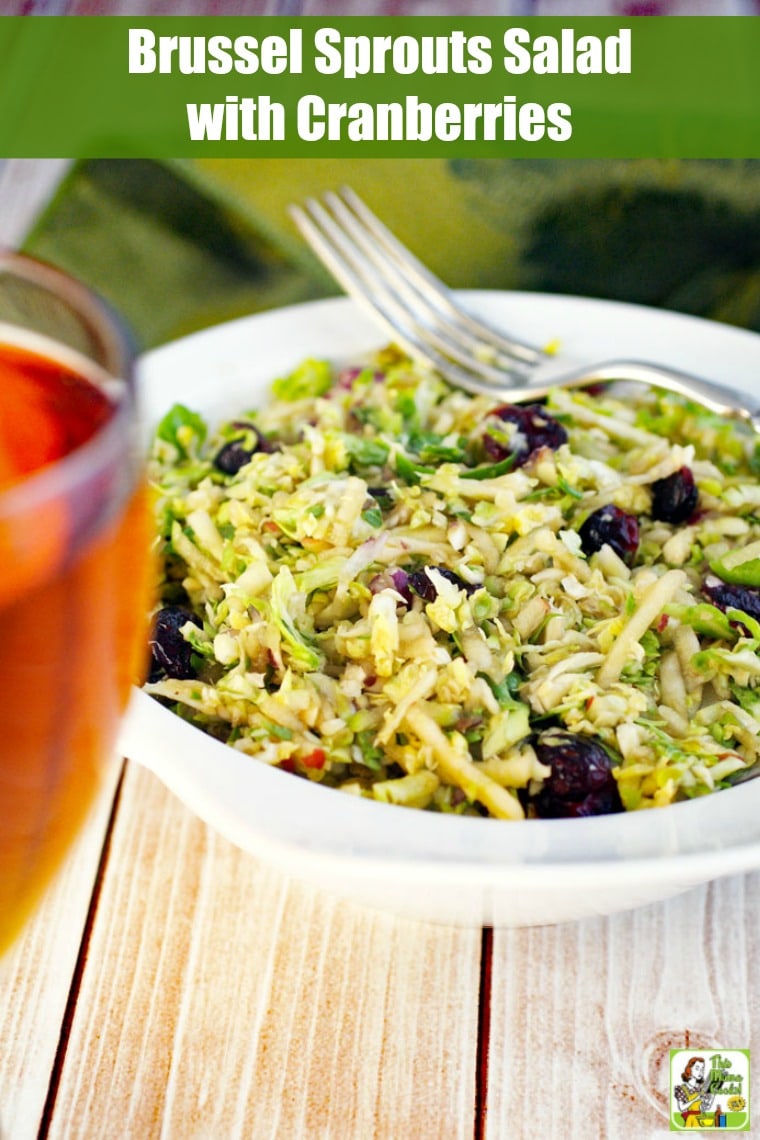 Why are Brussels sprouts so awesome?
According to Medical News Today,
Brussels sprouts are:
● high in protein compared to other green vegetables
● offer health benefits like eye and bone protection and may lower your risk of cancer
Brussels sprouts provide 75 milligrams per cup of vitamin C along with vitamin A, both of which are crucial for healthy looking skin.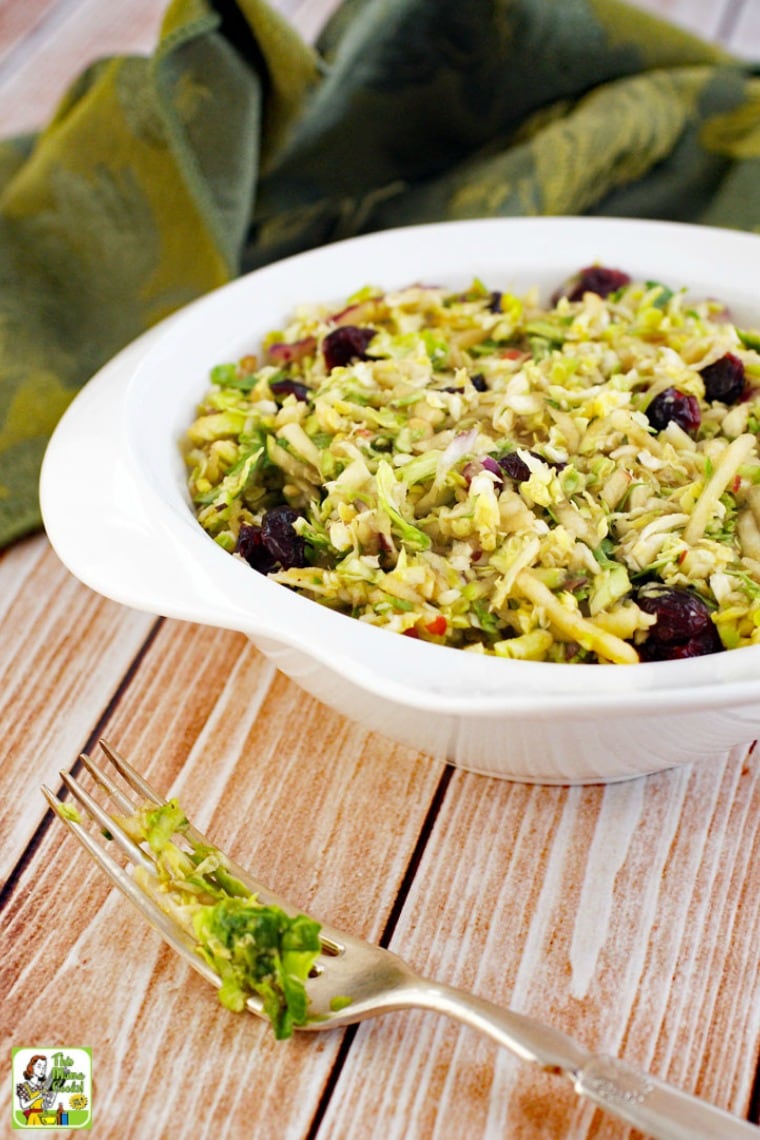 How do I make Brussels sprout slaw?
This salad takes no time at all to make if you have a food processor.
First wash your sprouts in a colander. Then before shredding the sprouts, cut off the root end, which is usually a bit brown and dried out. Then cut each sprout lengthwise.
Use the food processor's shredding blade to finely cut up your Brussels sprouts into a nice slaw.
You can also use the food processor to slice up the onion and apple, too.
If you don't have a food processor, your alternatives are to cut the Brussels sprouts, onion and apples thinly, which is a bit of a chore.
Or you can use a mandolin slicer.
I'm not a big fan of mandolin slicers as I find them hard to use and always think I'm going to cut off a couple of finger tips. Eeeek!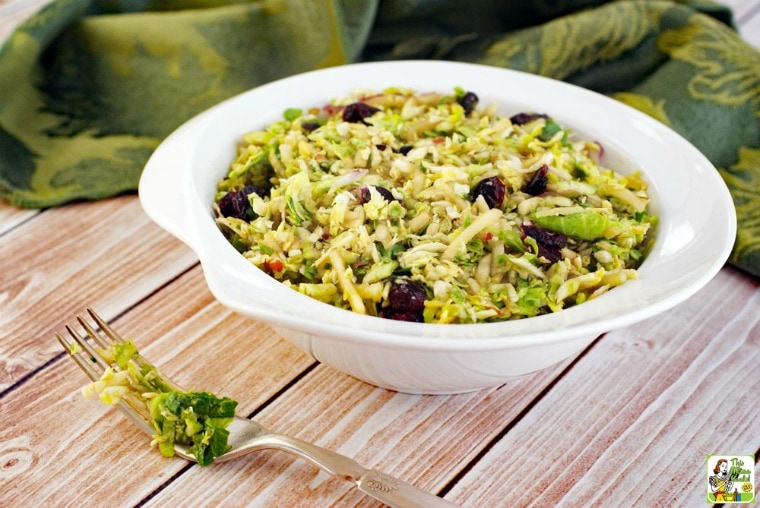 Tips for making Brussels sprouts slaw
Some stores sell pre-shredded Brussels sprouts, so check the produce aisle. While this is a bit pricier than buying whole sprouts and shredding them yourself, it does save time and effort. So you decide what works for your money and time budget.
If you do decide to go with the pre-shredded sprouts, all you have to do is finely slice the red onion and apples. This can be done by hand without too much work.
While many shredded Brussel sprouts and apple salad recipes call for homemade dressings, why not use your favorite bottled vinaigrette? This makes things so much easier and saves time without too much extra cost.
Just remember to check the dressing bottle for any no-no ingredients like gluten or dairy if you're feeding anyone who's gluten free, dairy free or vegan.
Most vinaigrettes shouldn't have any gluten or dairy, but you could get one with some Parmesan in it by accident, so double check!
You can make the Brussels sprouts coleslaw a day ahead of time. Don't worry about dressing the salad early, either. The shredded sprouts won't wilt like regular salad.
Plus, the slaw will get more flavorful if it's dressed overnight in the refrigerator.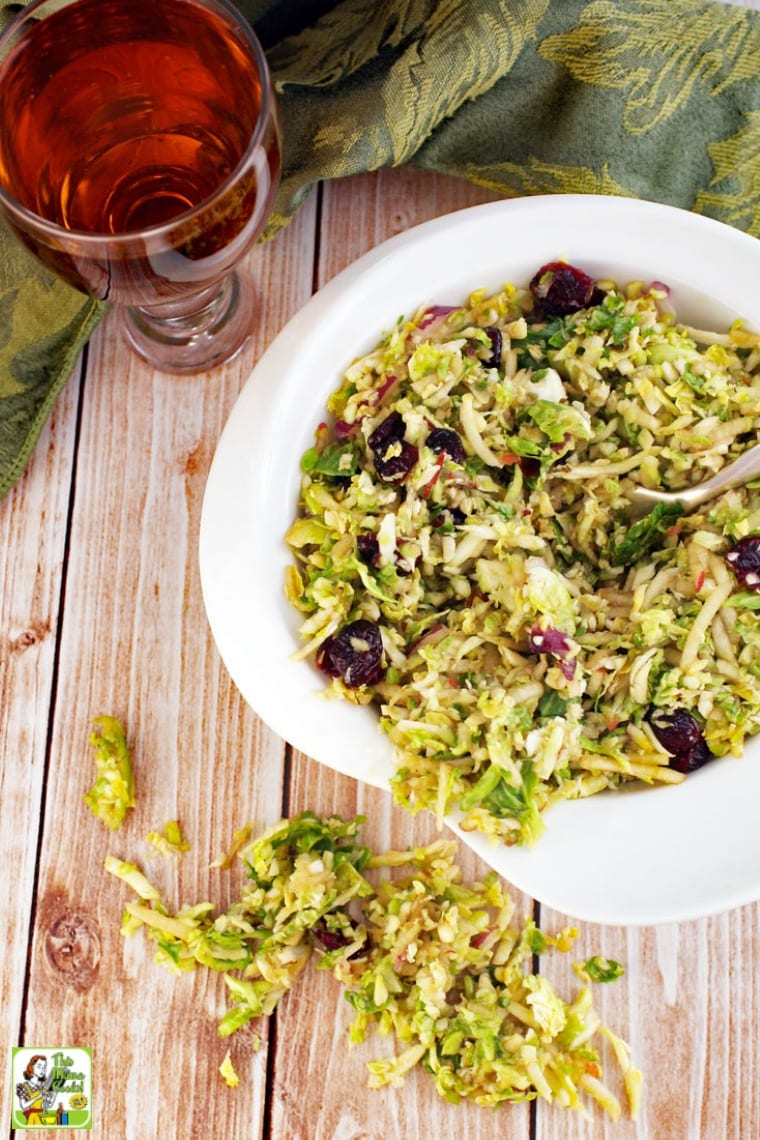 Optional ingredients for your Brussels Sprout Salad
While this recipe for Brussel sprout slaw has few ingredients to keep it simple, you can add extra ingredients to make it even more delicious.
Here are some suggestions:
● Pecans
● Walnuts
● Toasted Pine Nuts
● Sliced Almonds
● Diced Pears
● Goat Cheese
● Blue Cheese
● Dried Cherries
Remember, this Brussel sprout slaw recipe is naturally dairy free and vegan unless you add some cheese! (I guess you could add some vegan cheese for your vegan guests.)
It's also vegetarian, gluten free, and nut free unless you add nuts.
Cranberries: On the allergen front, Brussel sprout slaw with cranberries may be a problem for anyone who has allergies to sunflower oil.
That type of oil is used in processing by many dried cranberry brands. (My daughter is allergic to sunflower seeds, so I have to check for that sort of thing.)
I'm not sure rinsing the cranberries would suffice since the dried cranberries are coated in the oil. (That's what makes them shiny and pretty looking.)
How to make a keto Brussels sprouts salad
Are you doing keto? Brussels sprouts are super low in carbs making this is a terrific keto salad recipe except for the store bought dried cranberries.
What to do? Well, you can make your own low carb cranberries with your favorite sugar substitute. Make a big batch for snacking or holiday cooking!
Or you can substitute something more keto friendly for the dried cranberries like nuts or cheese.
This is a terrific side dish for the holidays! Check out the Best Gluten Free Thanksgiving Desserts Recipes and the Best Keto Thanksgiving Recipes for more delicious recipes for your holiday table.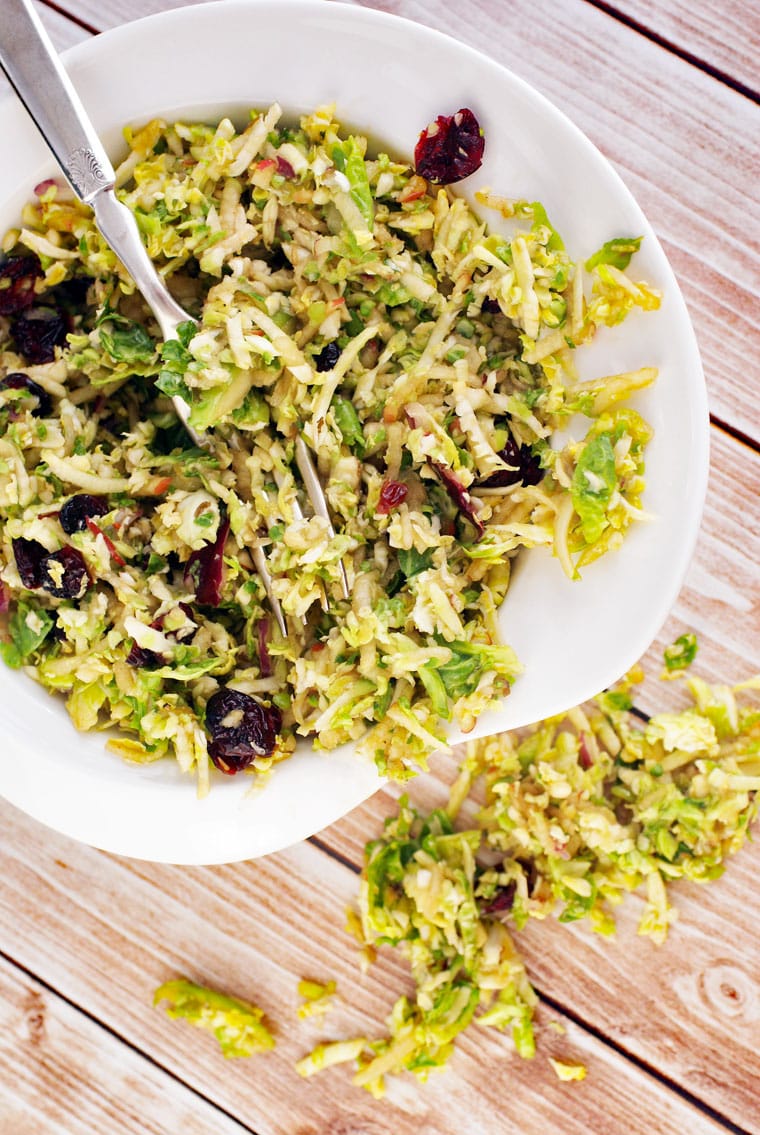 More wholesome coleslaw recipes
If you loved Brussel Sprouts Salad, you'll like these coleslaw recipes:
● Easy Coleslaw Recipe goes great with BBQ recipes like Crockpot BBQ Chicken and Instant Pot Pulled Pork.
Yield: 10 SERVINGS
Brussel Sprouts Salad with Cranberries Recipe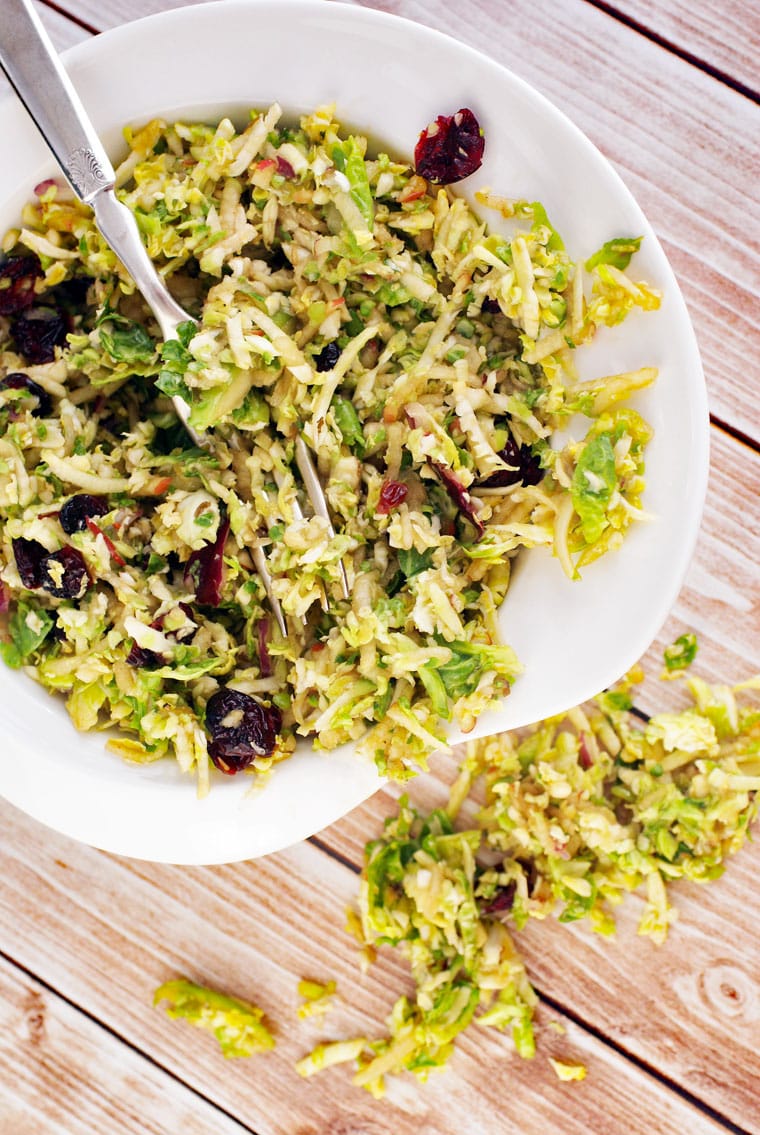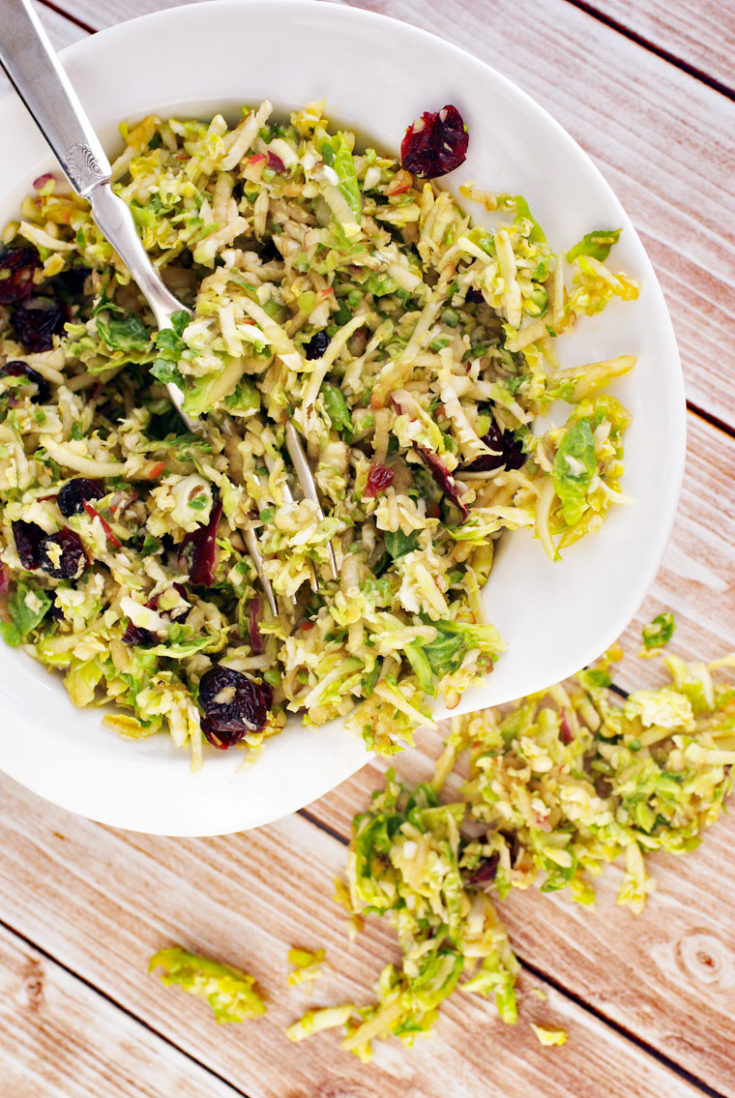 This Brussel Sprouts Salad with Cranberries is easy to make ahead of time. Make Brussels sprout slaw for holiday meals or weeknight dinners.
Ingredients
1 1/2 pounds Brussels sprouts
1 Granny Smith apple, cored and cut into quarters
1 Fuji apple, cored and cut into quarters
1/2 medium red onion
3/4 cup dried cranberries
1/2 cup vinaigrette salad dressing
Instructions
Using a food processor, shred the Brussels sprouts, apples, and red onion.
Place the shredded sprouts, apples, and onion in a large bowl. Add the cranberries.
Pour the vinaigrette over the salad and toss to coat evenly.
Nutrition Information:
Yield:
10
Serving Size:
1
Amount Per Serving:
Calories:

123
Total Fat:

4g
Saturated Fat:

1g
Trans Fat:

0g
Unsaturated Fat:

3g
Cholesterol:

1mg
Sodium:

159mg
Carbohydrates:

21g
Fiber:

3g
Sugar:

15g
Protein:

2g
Nutritional information is automatically calculated per the ingredients list. Serving size may not be accurate. Please double-check with your preferred nutritional app for the most accurate information.
Originally posted on December 23, 2013. Updated with new pictures and information.