These leftover meatloaf sandwiches made with gluten-free crackers and green beans are the best meatloaf sandwich recipe you'll ever try!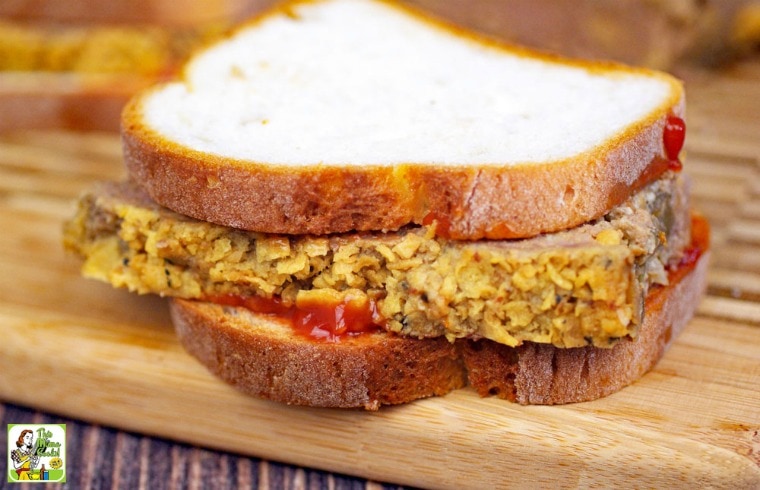 Why this recipe works
You'll find that leftover meatloaf sandwiches are a terrific way to use up leftover meatloaf.
The best thing about this meatloaf sandwich is that it tastes great cold on your favorite bread – whole wheat, white, gluten free, rye, etc.
And there's no need to heat it up, so it's perfect to take to work, school, to picnics, or anywhere you're on the go.
You'll soon find yourself doubling up your favorite meatloaf recipe just so you can make these leftover meatloaf sandwiches.
Make a leftover meatloaf sandwich for lunch
If you have picky kids or spouses, it's a challenge come up with something for their lunchbox when they get tired of PB&J and turkey sandwiches.
There's no need to heat up your sandwiches in the microwave (unless you want to) to get maximum flavor.
However, if you want to make a hot meatloaf sandwich and grill the slice of meatloaf in a pan for a few minutes and toast the bread, more power to you.
You can even add some cheese and make it more like a grilled cheese meatloaf sandwich, which would be amazing! (Save that idea for the weekend.)
Both ways – cold or hot – will make this the best meatloaf sandwich you've ever tasted!
Check out the 27 Best Side Dishes to Serve with Meatloaf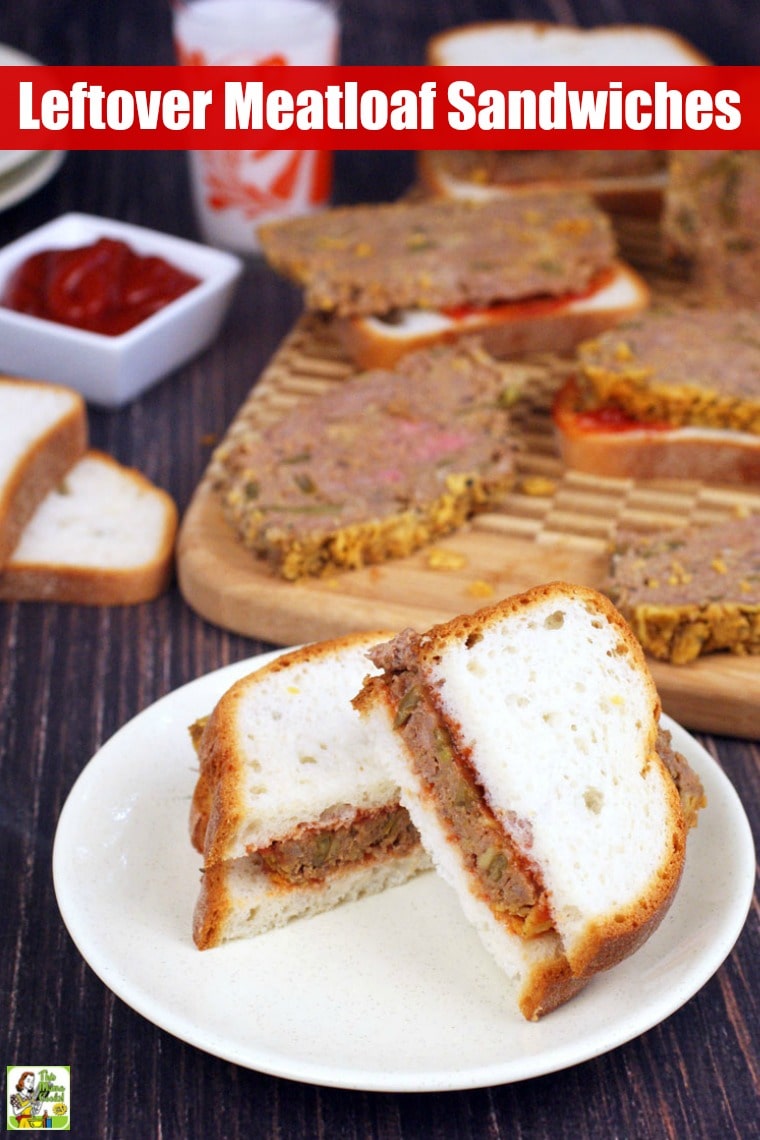 Leftover meatloaf recipes that do double duty
Leftover meatloaf recipes do double duty. First, it's a delicious and wholesome a gluten free meatloaf that can be served as a weeknight dinner. Then it's a quick lunch or dinner the next day.
Usually, I serve my meatloaf with mashed potatoes and a side of veggies. However, my kids usually ignore the vegetables, so this time I put the vegetables in the meatloaf recipe!
I used green beans, but you could try broccoli, carrots or mixed vegetables, too.
Like in my Layered and Chopped Taco Salad, I find if you put the vegetables in with all the other food, the kids will eat it up!
Plus, if it's a school night, you don't have to mess with cooking up side dishes since the veggies are already in the main course.
The next day, this leftover meatloaf recipe can be made into gluten free meatloaf sandwiches.
We all know that once school starts we're all busy with homework and don't have much time for cooking. So any recipes that are 2-for-1, all the better!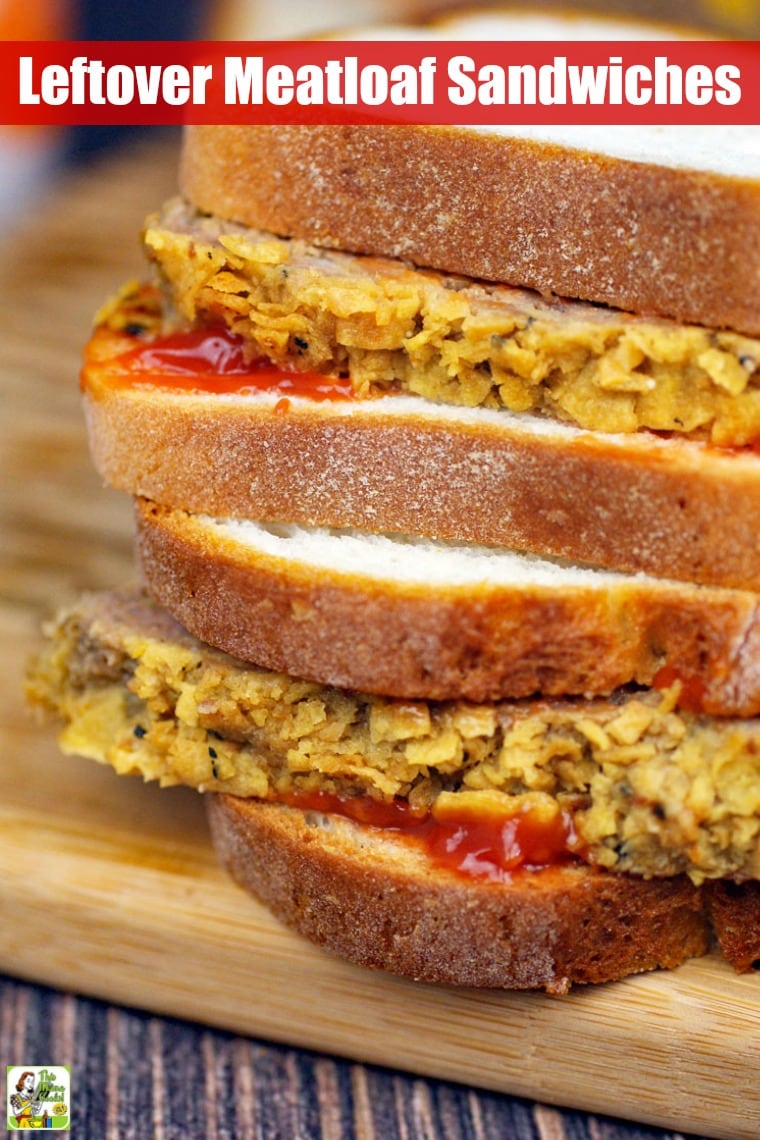 Meatloaf sandwich ideas
What's in the meatloaf? My meatloaf sandwich recipe uses gluten free crackers instead of breadcrumbs. I would choose a cracker with sea salt, herb, veggie, or even cheddar flavoring. But not something crazy like peanut butter. That would be too funky!
Make sure you buy two boxes or bags of crackers because you'll want extra to pack along with your meatloaf sandwiches for lunch.
The best bread for a meatloaf sandwich? If you're gluten free, I recommend a slice of Udi's Gluten Free Sandwich Bread. You want 2 slices of either white or multigrain bread.
Look in the freezer section of your store if you can't find it with the bread or in the bakery.
If you're not gluten free, you can make this recipe with other kinds of breads – white, Hawaiian, brioche, rye, wheat, egg – sky's the limit!
What to put on a meatloaf sandwich? Traditionally, everyone loves ketchup. That's what used in the pictures.
But how about changing it up and trying some barbecue sauce? I like Stubb's BBQ Sauce since it's gluten free and they use cane sugar instead of corn syrup. It's my favorite meatloaf sandwich sauce.
However, I've seen people try everything from apple butter to crispy onions as well as more traditional condiments like mustard as meatloaf sandwich toppings. To each their own!
I use a sriracha-ketchup sauce in my Mashed Potato Stuffed Meatloaf.
You can also add a slice of cheese, lettuce, onions and even tomatoes and sliced pickles. Have fun and experiment when you make this recipe.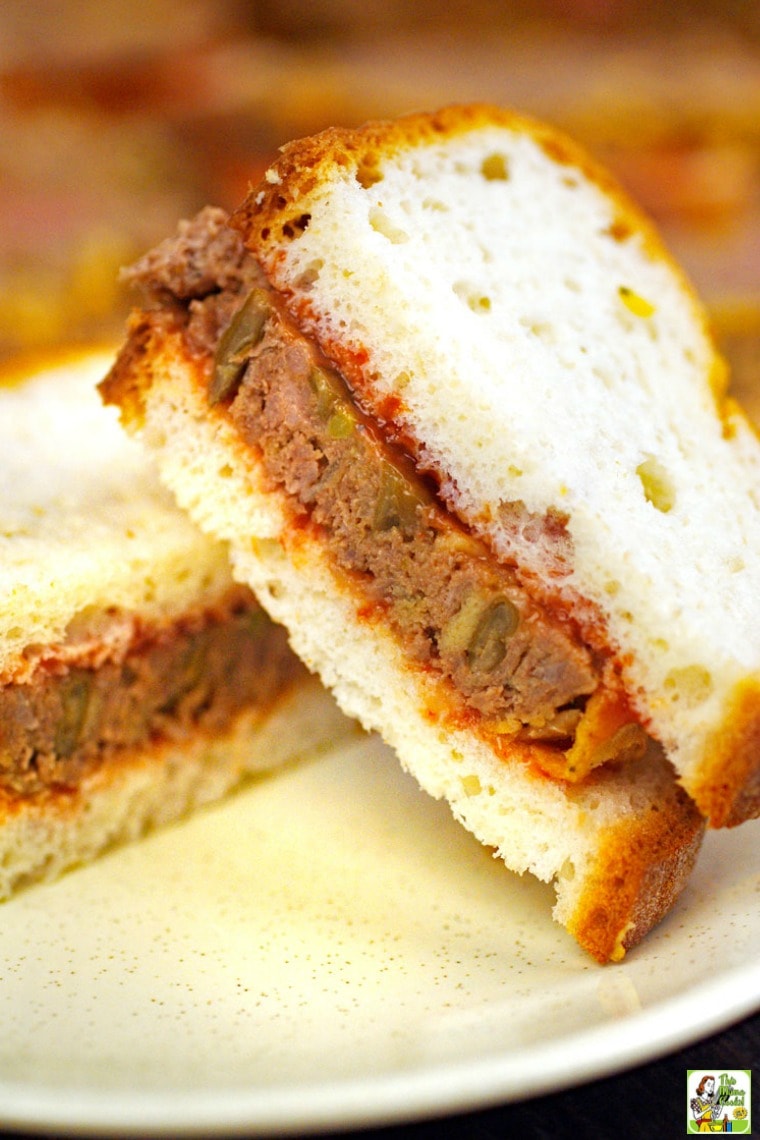 Why does my meatloaf recipe fall apart?
You need a firm meatloaf for meatloaf sandwiches. Refrigerating the loaf after cooking helps quite a bit. But you need to start with a good solid meatloaf recipe.
Meatloaf recipes can fall apart for a few reasons.
Not enough fat in the meat. Now I know we're all trying to eat in a more wholesome way, but you can't go too lean on the ground beef or ground turkey. Or you'll end up with a soggy meatloaf hash. Yummy but not good for meatloaf sandwiches!
For beef, use a meat-to-fat ratio of use at least 80/20, though some people like 70/30 instead.
If you only buy super lean beef, try adding ground pork to the mixture. Since pork is fattier than beef, use a 90/10 ratio of beef to pork.
You could also make this a gluten free turkey meatloaf. Use the same ratio of lean to fat.
Not enough other binders. What are binders? Ingredients like eggs and egg whites, shredded or chopped vegetables, gluten free crackers, or gluten free bread like in my Smoked Meatloaf recipe.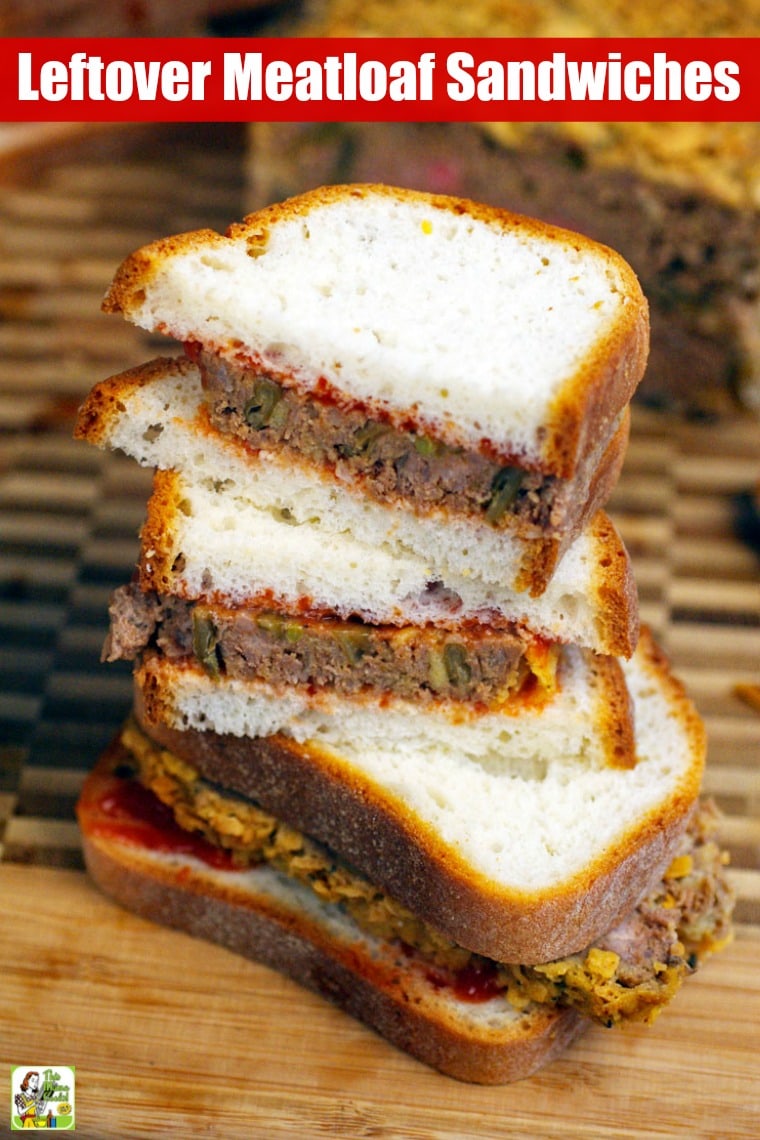 How to make a meatloaf sandwich that doesn't get soggy
To avoid having soggy meatloaf sandwiches in your kids' school lunch, put their condiments (ketchup, barbecue sauce, etc.) in a separate container.
Then they can add the sauce just before eating their leftover meatloaf sandwich. (Obviously, this is for the older kids who can handle that sort of thing on their own at school.)
Another way to avoid a soggy meatloaf sandwich is to add the condiment directly to the meatloaf. Then place a layer of cheese and/or lettuce between the meatloaf and bread.
This stops the ketchup (or other meatloaf sauce) from making the bread all squishy and gross.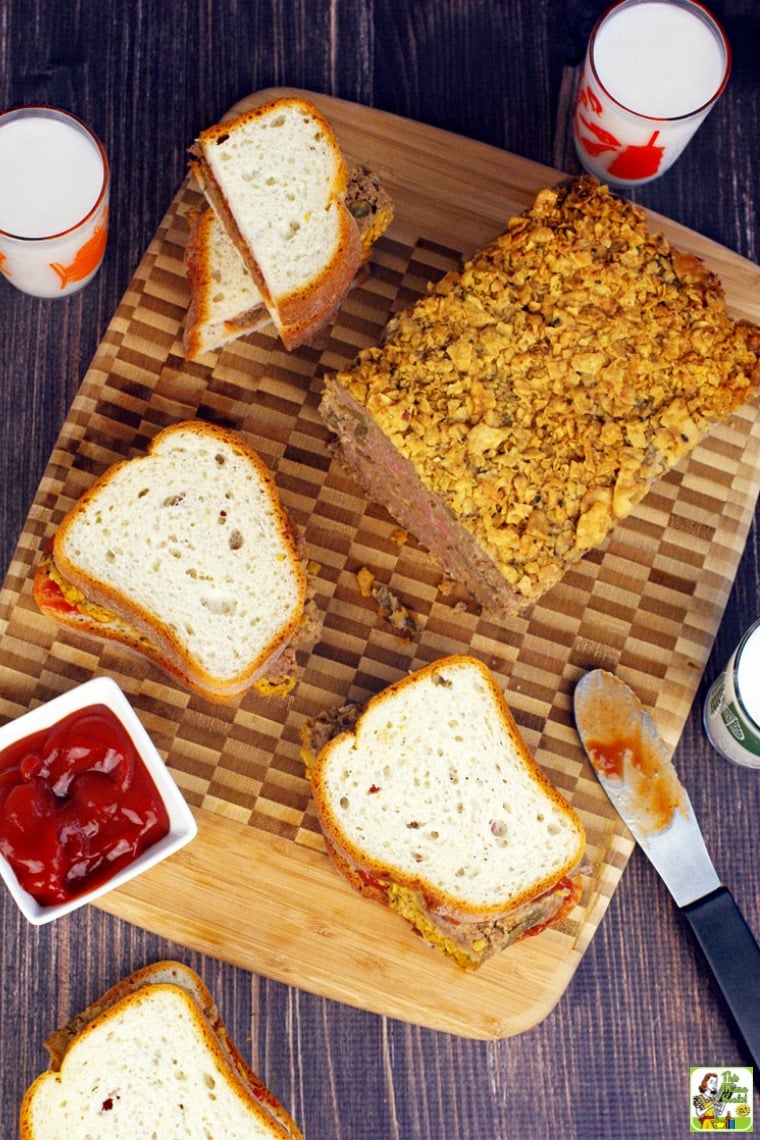 Tips on how to make the best meatloaf
If you're allergic to anchovies or shellfish, omit the Worcestershire sauce and substitute tamari sauce, which is a type of gluten free soy sauce.
To easily remove the gluten free meatloaf from your bread pan, line it with aluminum foil and have plenty of it hanging over the edge to serve as handles so you can lift the meatloaf out of the pan.
So your meatloaf drains as it cooks, use a Wilton Perfect Results 2 Piece Meatloaf Pan. I love how this set works to drain off the grease. You can still line the pan with aluminum foil. Just cut a few slits in it.
Double the recipe and make two meatloaves at a time. Freeze one for later!
If you and your family liked this leftover meatloaf sandwich recipe, make sure to try my Gluten Free Meatloaf with Potato Chips & Carrots and Smoked Meatloaf.
Yield: 8 SERVINGS
Leftover Meatloaf Sandwiches Recipe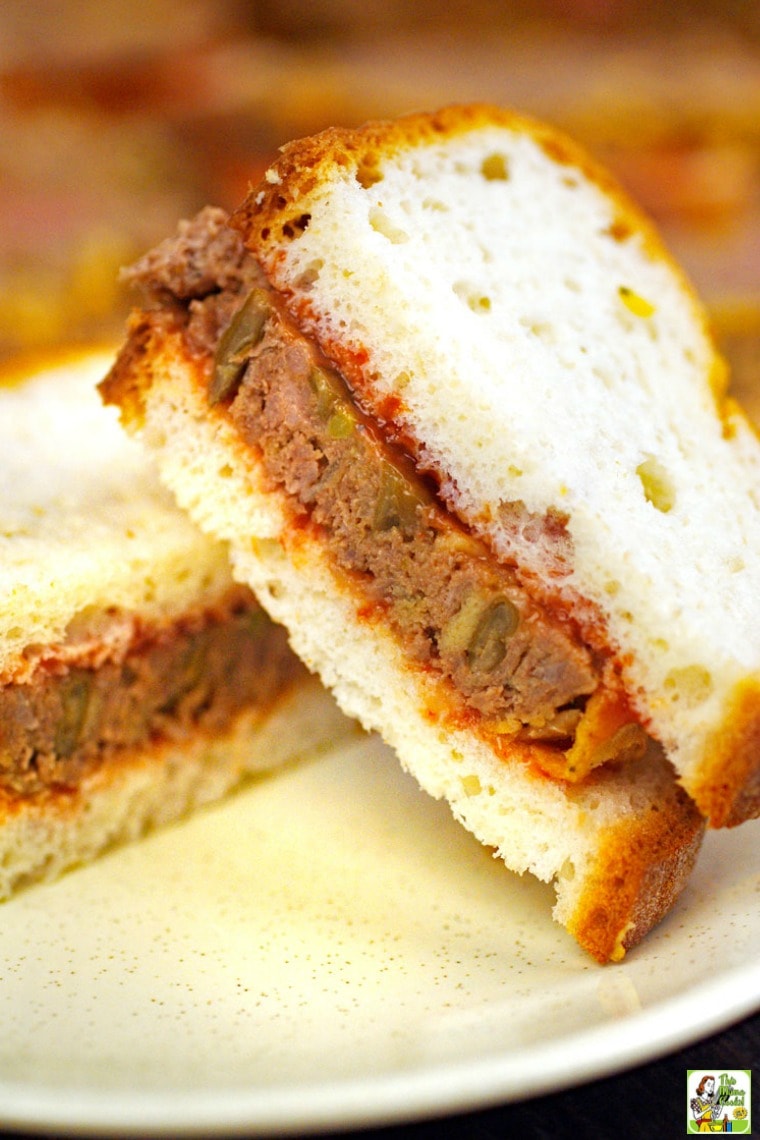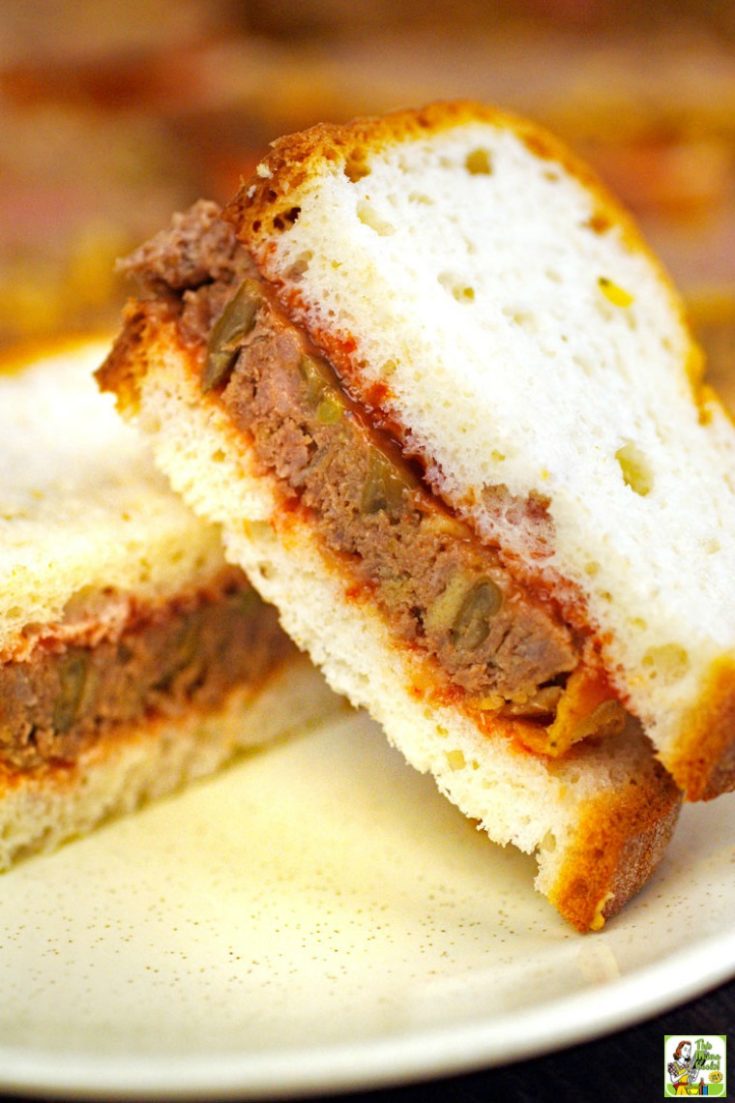 These Leftover Meatloaf Sandwiches made with gluten-free crackers and green beans are the best meatloaf sandwich recipe you'll ever try!
Total Time
1 hour
15 minutes
Ingredients
For the meatloaf:
2 pounds ground chuck (80% lean, 20% fat)
1 1/2 cups gluten free crackers
1 cup frozen green beans, defrosted
1 cup minced red onion
2 garlic cloves, minced
2 eggs
1/2 cup ketchup
1 teaspoon Worcestershire sauce
For the sandwiches:
Slices gluten free bread
Ketchup or barbecue sauce
Instructions
For the meatloaf:
Preheat oven to 375 degrees F.
Line a 9" x 5" meatloaf pan with foil. Set aside.
Combine all ingredients – except 1/2 cup of the crushed gluten-free crackers – in a bowl. Mix with hands or a potato masher until all ingredients are well combined.
Place meatloaf ingredients into the pan. Pat down evenly.
Spread the 1/2 cup of crushed gluten-free crackers evenly on top of the meatloaf and press down into the loaf.
Place a meatloaf pan on top of a baking sheet and place into the oven.
Bake at 375 degrees F for 45 to 50 minutes.
Remove from the oven. If eating hot, let sit for 10 to 15 minutes. Gently remove the meatloaf by lifting up on the aluminum foil. Peel foil off of meatloaf, cut into slices, and serve.
For the sandwiches:
If serving meatloaf for sandwiches, remove the pan from the oven and let the meatloaf cool in the pan for a while before placing it in the refrigerator for several hours or overnight.
Remove pan from refrigerator. Gently remove the meatloaf by lifting up on the aluminum foil. Peel foil off of meatloaf, cut into slices.
Spread ketchup or barbecue sauce on slices of gluten-free bread. Place meatloaf between two slices. Cut in half and serve.
Nutrition Information:
Yield:
8
Serving Size:
1 sandwich
Amount Per Serving:
Calories:

431
Total Fat:

24g
Saturated Fat:

8g
Trans Fat:

1g
Unsaturated Fat:

12g
Cholesterol:

147mg
Sodium:

417mg
Carbohydrates:

19g
Fiber:

1g
Sugar:

8g
Protein:

34g
Nutritional information is automatically calculated per the ingredients list. Serving size may not be accurate. Please double-check with your preferred nutritional app for the most accurate information.
Originally published on August 26, 2015. Updated with new pictures and information.