Last Updated on January 25, 2023 by Anne-Marie
Have you ever tried to cook meatloaf in your smoker? Then you've gotta try this smoked meatloaf recipe!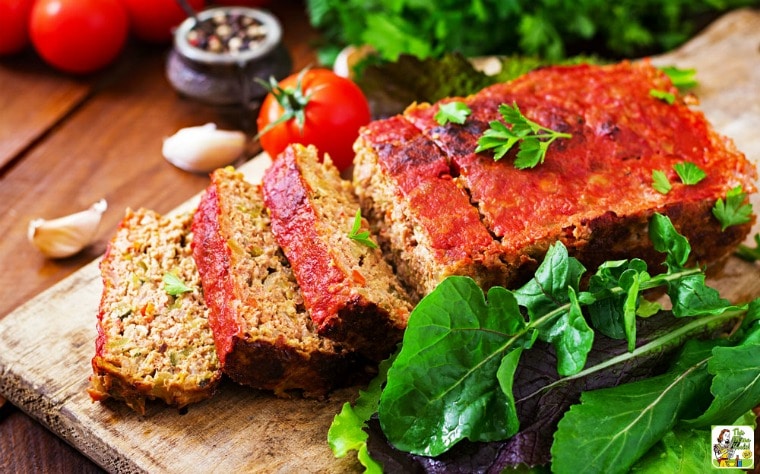 Why this recipe works
I first heard about smoked meatloaf when my husband came home raving about the taste after sampling it at a local restaurant.
It sounded so good that I had to try it at home and share a new gluten free meatloaf recipe with you!
If you're a seasoned smoker enthusiast, you'll love adding meatloaf to your smoking repertoire.
If you're new to grilling and smoking, smoked meatloaf is easy to do.
Once you try it, you'll never to back to cooking it any other way.
Check out the 27 Best Side Dishes to Serve with Meatloaf
Equipment for making Smoked Meatloaf
First you're going to need a smoker to make this Smoked Meatloaf recipe.
My favorite is still the electric smoker we used to have since it was the easiest to use. Since then, my husband has graduated to a Kamado Joe. 
(Not sure what smoker to buy? Check out my The Best Smoker Grill Combo Guide article.)
You'll also need a specially prepared loaf pan (see below), wood chips (or pellets), and a grilling thermometer.

How to smoke meatloaf in a loaf pan
When we first made this recipe, I didn't use a loaf pan and ended with a flat, squishy meatloaf that completely fell apart. Yummy but a bit of a disaster.
The next time I made it, I knew I would have to smoke it in a loaf pan. But how?
You can't just use a regular bread pan because:
1. The meatloaf won't get exposed to the smoke.
2. It will cook in its juices and get mushy.
After discussing it with my husband, he came up with an idea of taking a metal loaf pan and drilling holes in it. He drilled two holes on the ends, three on the sides, and seven on the bottom. Then he sanded off the burs.
If you don't want to do this with one of your metal loaf pans, you could do this with a disposable aluminum loaf pan.
Then I found out that there are already meatloaf pans that drain off fat with predrilled holes. However, use only the inner loaf pan so the meat is exposed to the smoke.
Smoking your meatloaf
Now that I had a loaf pan that drained, I needed something to catch the juices. Hmmmm...
I decided the easiest method would be to place the meatloaf pan on the bottom rack of the smoker so it would drain directly into the water dish at the bottom. Easy!
This worked pretty well until we realized that as the ground meat cooked, it would expand and block the holes.
About half way into the cooking process, I had to tip to the pan and empty out some of the juices from the top and sides.
Maybe we needed to more drill more holes in the pan. Or maybe just emptying the juices a few times will do the trick.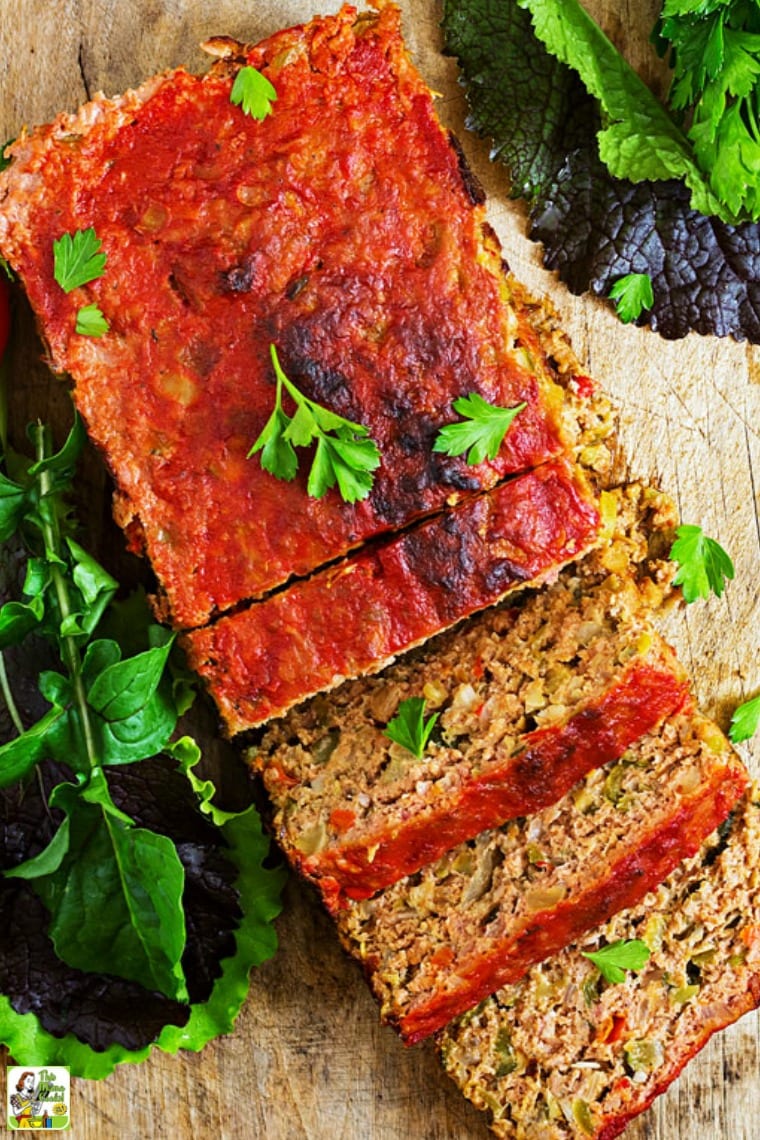 Best wood for smoked meatloaf recipes
You can use your favorite wood chips (or pellets) to smoke meatloaf. I love any wood that goes well with beef.
Cherry wood has a fruity flavor that's a good match for all meats. Hickory adds a sweet, bacon-like flavor.
Oak is smoky and works well with any type of meat as well.
Why does my meatloaf fall apart?
Meatloaf recipes can fall apart for a few reasons.
Not enough fat in the meat. Now I know we're all trying to eat in a more wholesome way, but you can't go too lean on the ground beef or turkey. If you're using 100% venison, you have to add a little bit of ground pork to the mixture.
For beef, use a meat-to-fat ratio of use at least 80/20 beef, though some people like 70/30 instead. (Same for ground turkey.)
If you only buy super lean ground turkey or beef, add ground pork to the mixture. Since pork is fattier than beef or turkey, so you can use a 90/10 ratio.
Not enough other binders. What are binders? Ingredients like eggs and egg whites or bread and bread crumbs.
You can also use potato chips in my Gluten Free Meatloaf Recipe with Potato Chips and Carrots.
This Easy Homemade Gyros Recipe is a meatloaf-like recipe that uses no binder or breadcrumbs.
Keeping your meatloaf moist
Making sure you have plenty of fat in your meat is the best way. You can do this by buying a higher fat ratio ground meat. Or by adding fat through binders like eggs or a little milk.
Another way is to finish the top with ketchup or barbeque sauce about 30 minutes before the meatloaf is finished smoking. This adds great flavor, too.
Finally, some people swear by bacon wrapped smoked meatloaf. For this recipe, you can just drape bacon on top of the loaf.
Or you can add both ketchup (or barbecue sauce) and bacon for pure grilling awesomeness!
Do you have a favorite barbecue sauce? I love Stubb's Barbecue Sauces since all the flavors are gluten free and use cane sugar rather than corn syrup.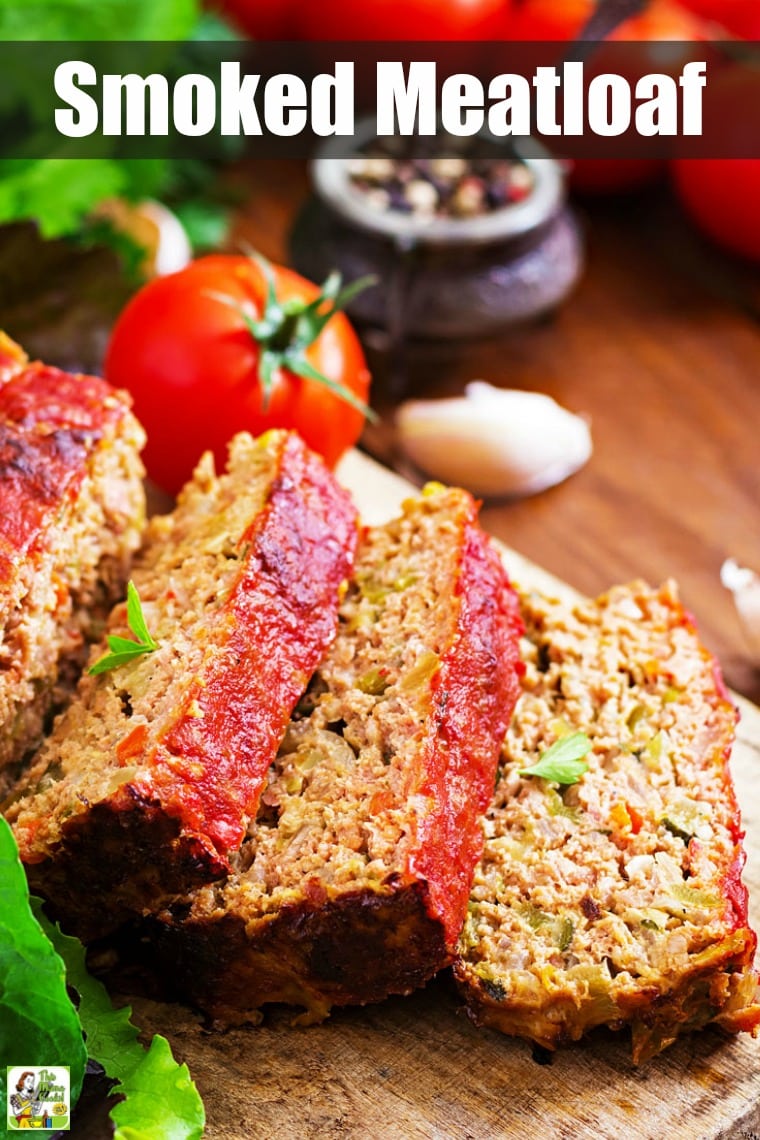 Making a gluten free meatloaf
It's super easy to make this a gluten free meatloaf recipe. Just make sure all your ingredients are gluten free!
The only two ingredients you have to worry about are the bread and the barbecue sauce.
Use your favorite gluten free bread to make gluten free meatloaf.
Also, make sure to check the label of the barbecue sauce to look for any sources of gluten.
Make more gluten free meatloaf recipes
If you're looking for more gluten free meatloaf recipes, check out my  Mashed Potato Stuffed Meatloaf Recipe. It's a terrific way to use up leftover mashed potatoes.
Speaking of leftovers, you'll love this Leftover Meatloaf Sandwiches Recipe for lunch!
These meatloaf like Healthy Homemade Gyros are a great way to make your own gyros at home.
Desserts to serve with meatloaf
After dinner, serve up these delicious gluten free desserts:
This Easy Buttermilk Pie is a gluten free take on a southern classic.
This Vegan Key Lime Mousse is dairy free and gluten free.
Serve this gluten free Apple Peach Pie with Oatmeal Crumb Topping with a scoop of dairy free vanilla ice cream and some caramel sauce.
Love Oreos? Try these Oreo Balls or No Bake Oreo Cheesecake. Both desserts can be made gluten free!
Yield: 8 SERVINGS
Smoked Meatloaf Recipe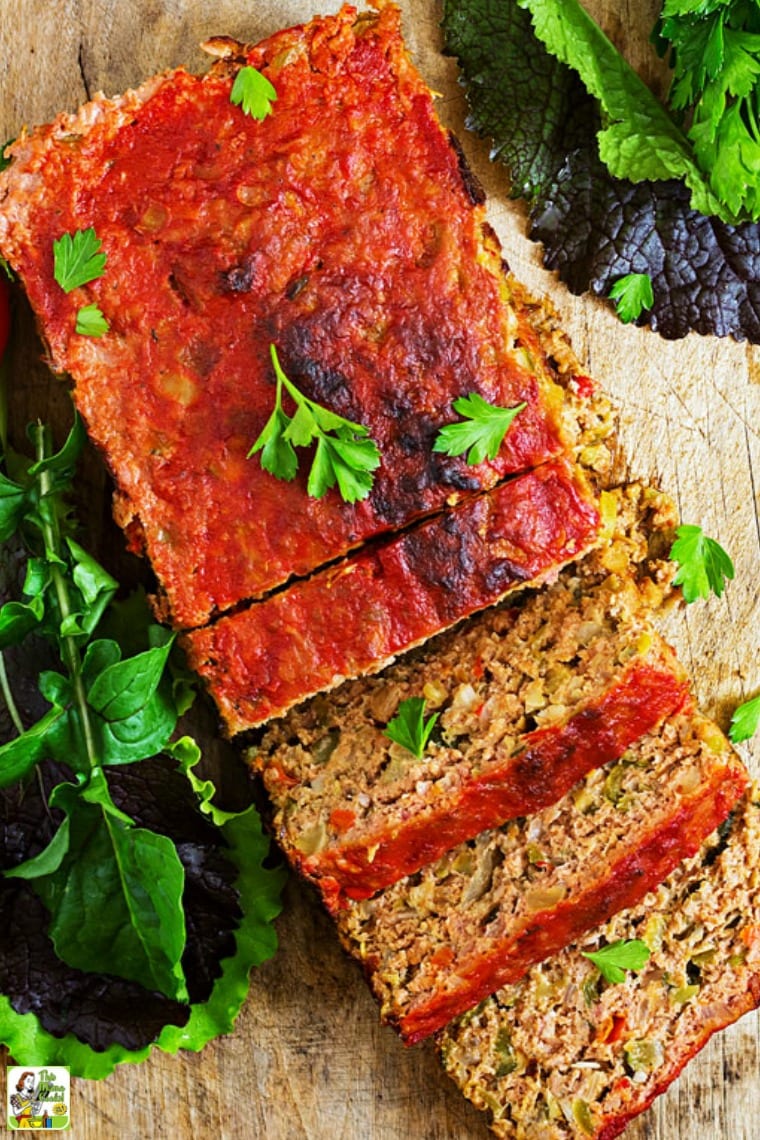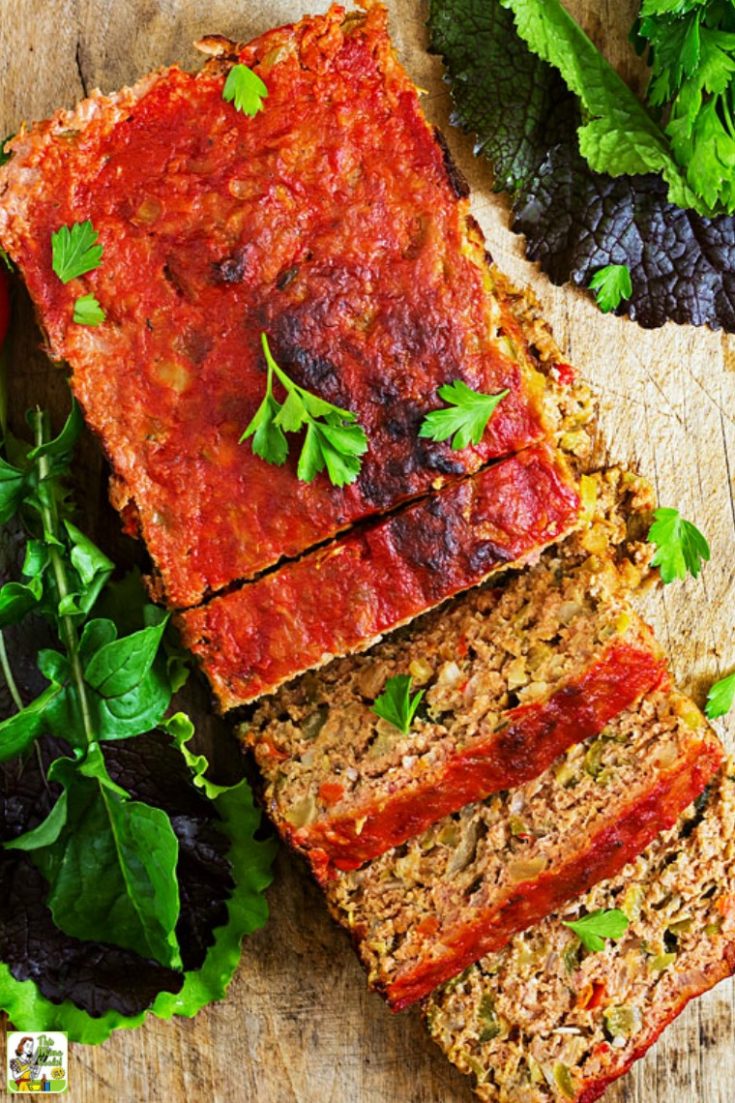 Have you ever tried to smoke meatloaf in your smoker? Then try this Smoked Meatloaf recipe!
Total Time
3 hours
15 minutes
Ingredients
2 pieces gluten free bread
2 pounds ground venison, beef or turkey (80/20 or 70/30)
1 onion, finely chopped
1/2 cup carrots, grated
2 cloves garlic, minced
1 egg
1/4 cup egg whites
3/4 cup ketchup
1/4 cup ketchup or barbeque sauce
Instructions
Set your smoker for 250 degrees.
Soak the bread in warm water in a small bowl – enough to moisten the bread but not too much so it turns into mush
Place the ground meat in a large bowl.
Add softened bread, onion, carrots, garlic, egg, egg whites, and ketchup. Mix with your hands until all the ingredients are incorporated.
Put meat mixture into a specially prepared loaf pan (see above).
Place loaf pan on the lower rack, just above the water pan.
Add mesquite wood chips and smoke for 3 to 4 hours until the center registered 160 degrees.
If necessary, pour off extra juice that gathers on top of the loaf pan every hour.
You can finish the top of the meatloaf with ketchup or barbeque sauce about 30 minutes before the meatloaf is finished smoking. Some people like to use bacon instead.
Nutrition Information:
Yield:
8
Serving Size:
1
Amount Per Serving:
Calories:

351
Total Fat:

14g
Saturated Fat:

6g
Trans Fat:

0g
Unsaturated Fat:

5g
Cholesterol:

159mg
Sodium:

489mg
Carbohydrates:

16g
Fiber:

1g
Sugar:

10g
Protein:

39g
Nutritional information is automatically calculated per the ingredients list. Serving size may not be accurate. Please double-check with your preferred nutritional app for the most accurate information.
Originally published on Sep 2, 2011. Updated with new photos and information.