Last Updated on January 25, 2023 by Anne-Marie
A stuffed meatloaf recipe everyone will love. It's so delicious you won't believe it's a gluten-free meatloaf.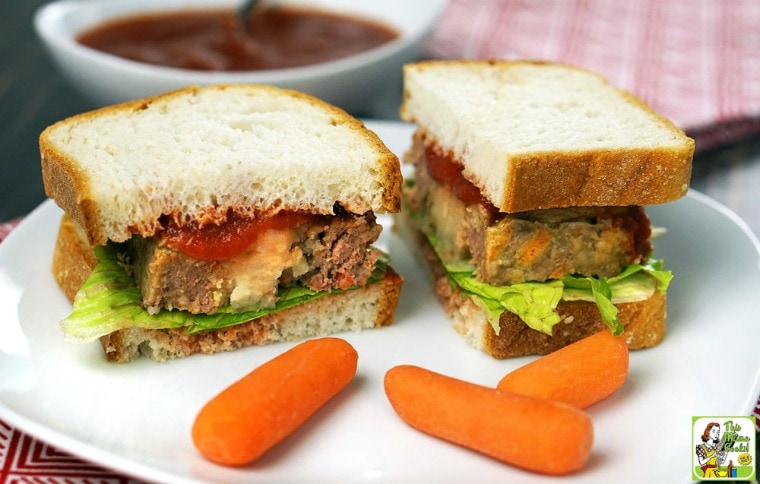 Why this recipe works
This mashed potato stuffed meatloaf recipe is going to become a family dinner favorite the minute you make it.
Of course, it's delicious. If you're looking for an easy meatloaf recipe that can do double duty as a lunch or afterschool snack, this one fits the bill!
Here's why stuffed meatloaf recipes are so terrific
First, they're frugal.
This gluten free meatloaf is super thrifty. That's because you can use leftover mashed potatoes.
(How often do you make too much mashed and find it going bad in the back of the fridge? I do!)
This way, you can take those leftover potatoes, and make a loaf or two of this gluten free meatloaf recipe for dinner.
It's also a dish you can feel good about serving your family since it's filled with the wholesome goodness of shredded carrots and Bob's Red Mill oats.
Second, they're convenient.
This recipe also comes with it's own side dish – mashed potatoes – right inside the meatloaf.
Not only does this make life easier, but a versatile recipe like this comes in handy when you're super busy with work or afterschool activities.
If you make two loaves, you'll have leftovers for school (and work) lunch and afterschool snacks the next day.
My kids also love dinner leftovers for breakfast, to take to school as lunch, or to snack on when they get home from school.
They can reheat slices of meatloaf or make meatloaf sandwiches. (Don't forget to serve leftover spicy topping sauce, too!)
If you like meatloaf sandwiches, check out Leftover Meatloaf Sandwiches Recipe.
Making one big batch of this mashed potato stuffed meatloaf is like having (at least) three meals ready to go. That's why this soon-to-be classic meatloaf recipe is ideal.
Check out the 27 Best Side Dishes to Serve with Meatloaf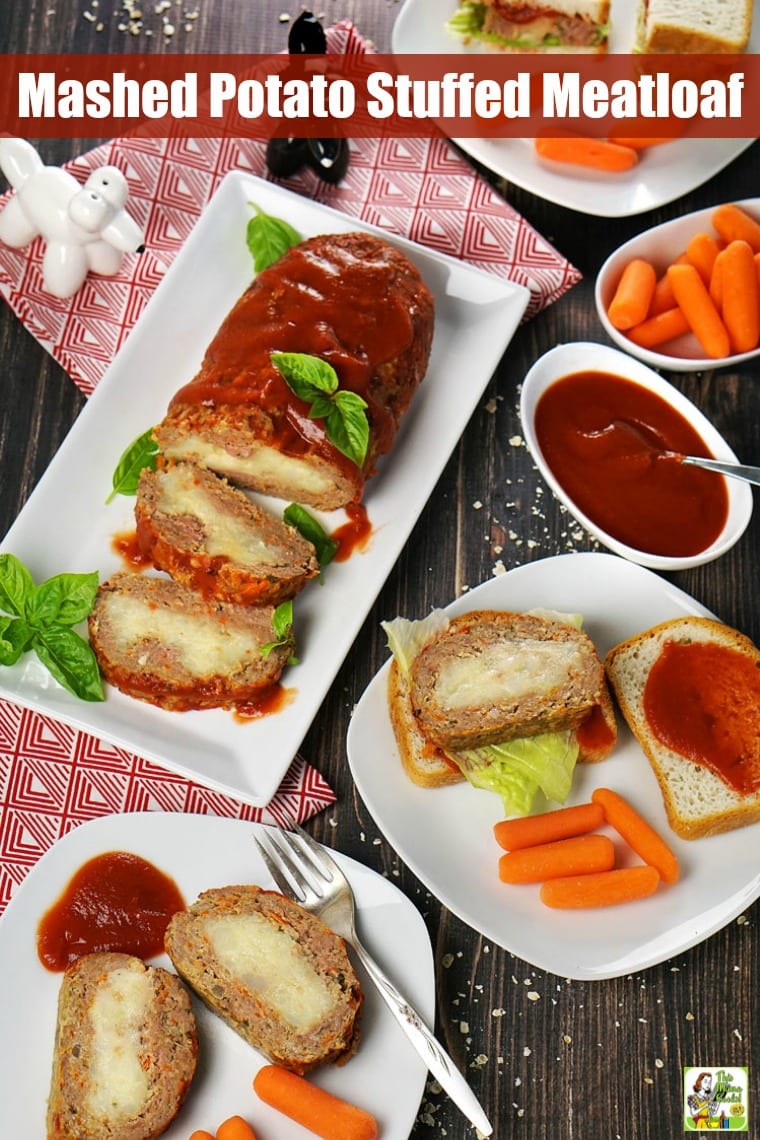 How to make a gluten free stuffed meatloaf recipe
Make sure your gluten free meatloaf with oats is made with certified gluten free oatmeal.
That's why I specify using Bob's Red Mill Gluten Free Quick Cooking Rolled Oats.
That's because while oatmeal is naturally gluten free, not all brands of oats are certified gluten free. That's because many brands process their oats on the same machines as wheat and barley.
Bob's Red Mill Gluten Free Oats are sourced gluten free, packaged in Bob's Red Mill's 100% gluten free facility, and tested every step of the way to ensure their gluten free status.
So there's no need to worry about gluten contamination in your gluten free meatloaf with oatmeal!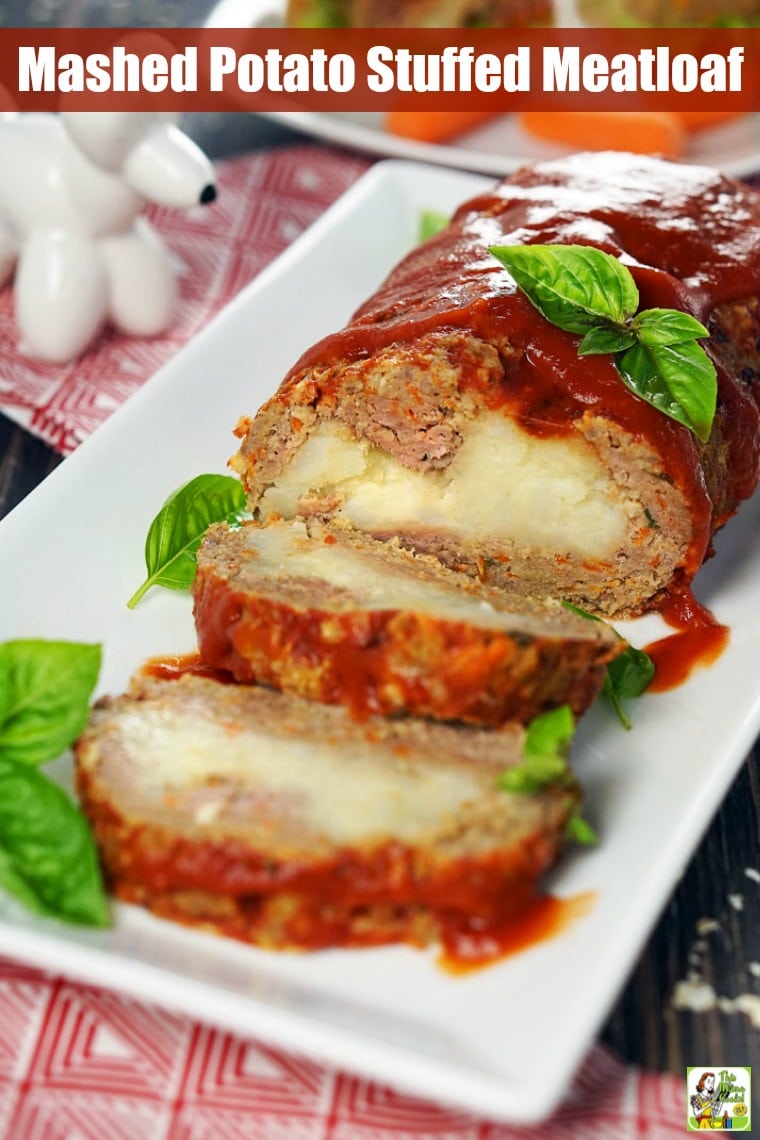 Making meatloaf without breadcrumbs
Your typical old fashioned meatloaf recipe uses bread crumbs. However, I love uses oatmeal in gluten free meatloaf recipes even though you can make your own gluten free bread crumbs.
Why? That's because oats provide dietary fiber and can help reduce cholesterol. I especially like Bob's Red Mill oats since they're kiln roasted and add terrific flavor to any basic meatloaf recipe.
I used Bob's Red Mill Gluten Free Quick Cooking Rolled Oats even though many people think that old fashioned rolled oats or steel cut oats are healthier than quick cooking oats.
However, the only difference in any type of oatmeal is the way they're processed.
Rolled oats are rolled flat to produce those flakes you know and love. Steel cut oats are chopped into several pieces for a chewier oatmeal.
Quick cooking oats are flattened and cut more finely than old fashioned oats.
Bottom line, it's all the same oats with all the same wonderful taste and nutrition.
This Easy Homemade Gyros Recipe is a meatloaf-like recipe that uses no binder or breadcrumbs.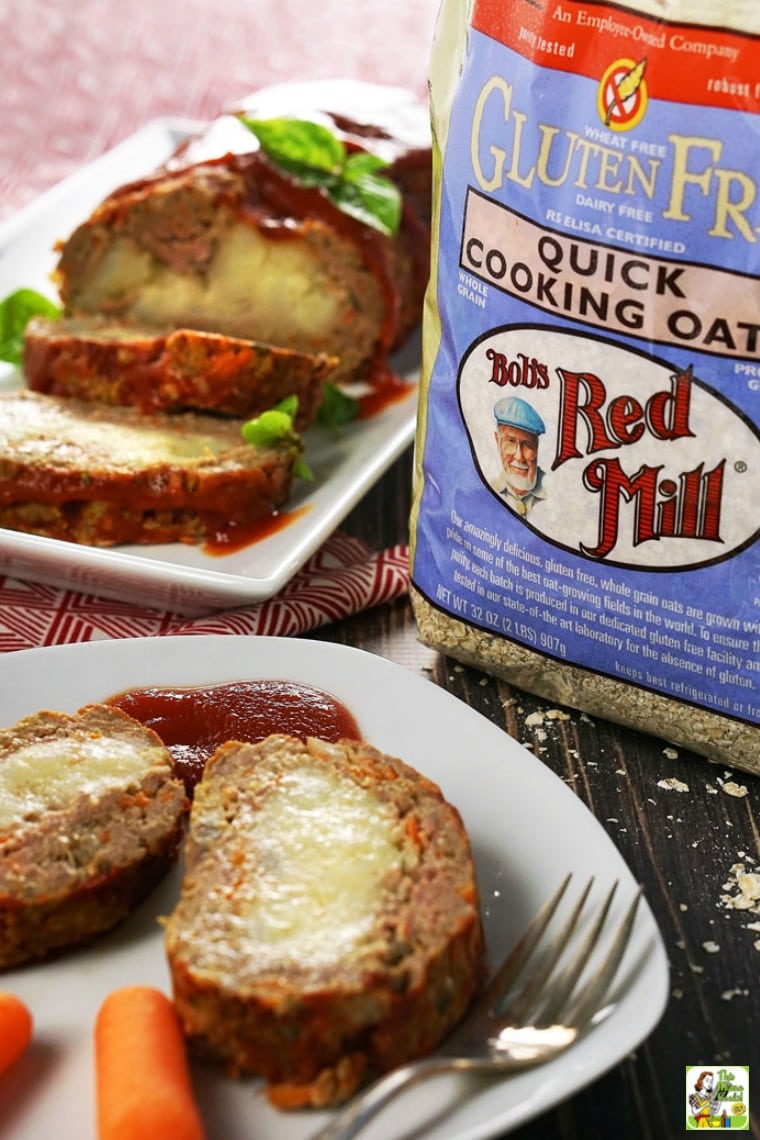 Why does my simple meatloaf recipe fall apart?
Meatloaf recipes can fall apart for a few reasons:
Not enough fat in the meat. Now I know we're all trying to eat in a more wholesome way, but you can't go too lean on the ground beef.
For beef, use a meat-to-fat ratio of use at least 80/20, though some people like 70/30 instead.
If you only buy super lean beef, try adding ground pork to the mixture. Since pork is fattier than beef, use a 90/10 ratio of beef to pork.
You could also make this a gluten free turkey meatloaf. Use the same ratio of lean to fat.
Not enough other binders. What are binders? Ingredients like eggs and egg whites, shredded or chopped vegetables, and even cheese.
I also use potato chips in my Gluten Free Meatloaf with Potato Chips & Carrots and gluten free bread in my Smoked Meatloaf recipe.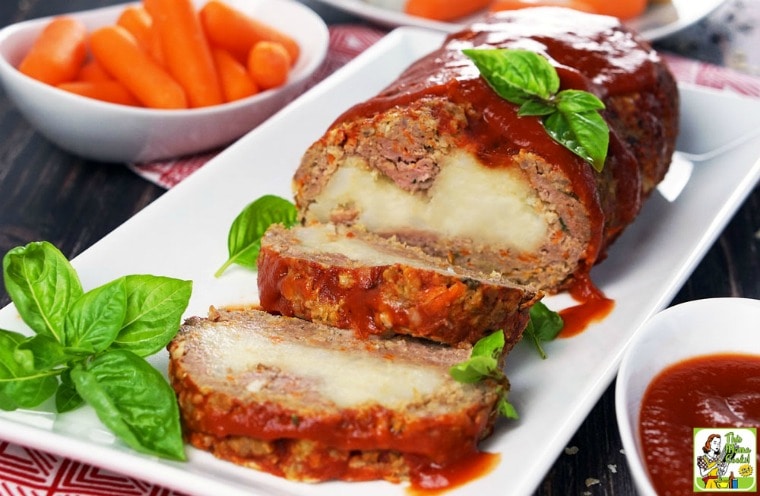 How to make meatloaf stuffed with mashed potatoes
Mashed Potatoes: You can make your mashed potatoes any way you see fit. (If you use instant mashed potatoes make sure they're gluten free!)
I make mine from scratch using Russet potatoes. Since I want to make a gluten free dairy free meatloaf recipe, I use unsweetened coconut milk and a dairy free vegan spread to my mashed potatoes.
Another dairy free trick is using gluten free vegetable or chicken broth instead of milk.
Carrots: To save time, buy shredded carrots at the grocery store. Use any leftover carrots on a salad.
Basil: If you don't have fresh basil in the garden, use 1/3 teaspoon dried basil instead.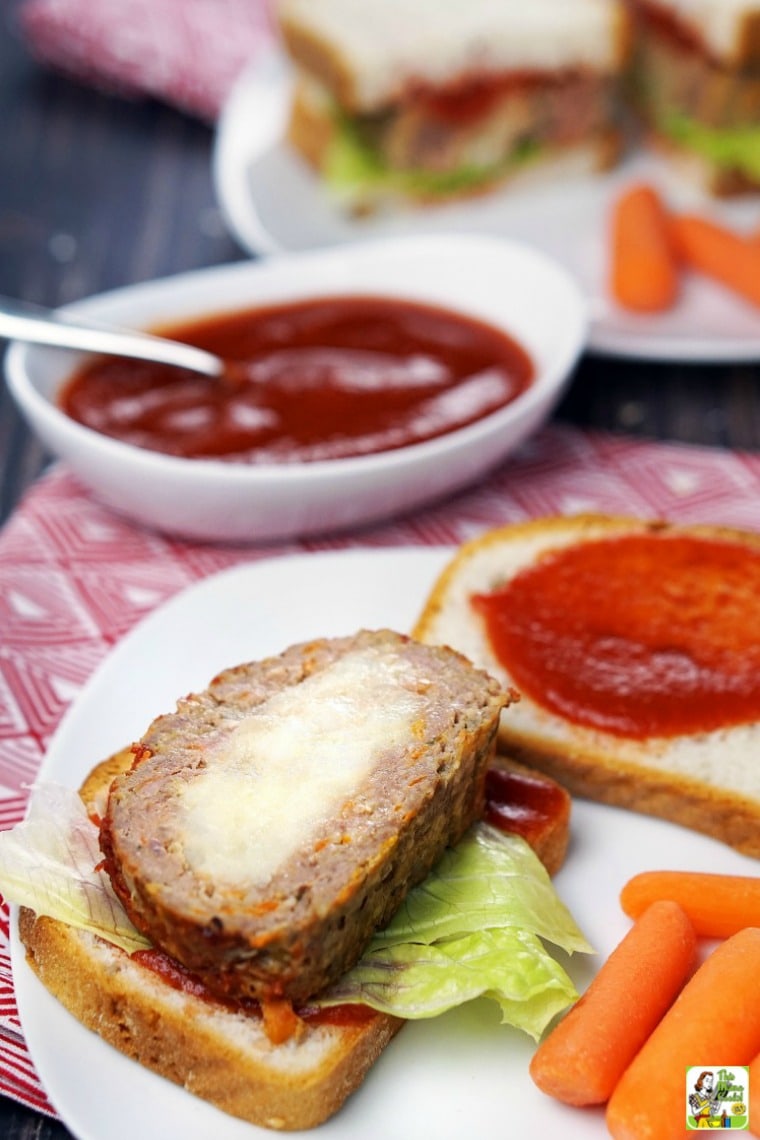 Tripe the recipe: While I think making up a loaf of two is enough for dinner and lunch or afterschool snacks the next day (depending on how your family eats), why not make three stuffed meatloaves so you can freeze one for later?
Sriracha: My family loves spicy food, so the more sriracha the better. You can leave the sriracha out of the topping sauce if you wish, add only 1 teaspoon, or add a full tablespoon to this easy meatloaf recipe!
Using parchment paper: It's important to use parchment paper (and not waxed paper or aluminum foil) underneath the rectangle of meatloaf mixture.
First, parchment paper prevents the meatloaf mixture from sticking to the pan. Then you can use parchment paper to help you lift the sides of the mixture to meet in the middle. (Aluminum foil may tear.)
You can cook the stuffed meatloaf right on the parchment paper, which makes cleanup easier. (You can't cook on waxed paper as it'll melt and ruin your stuffed meatloaf.)
Finally, after cooking you can lift the meatloaf by the ends of the parchment paper on to a serving platter for a prettier presentation. (Just slide the paper out from under the cooked stuffed meatloaf before serving.)
If you find that your easy meatloaf splits after cooking, no biggie. Just cover it with a little extra tomato-sriracha sauce before serving. No one will notice – or care – because it's so scrumptious!
Yield: 6 SERVINGS
Mashed Potato Stuffed Meatloaf Recipe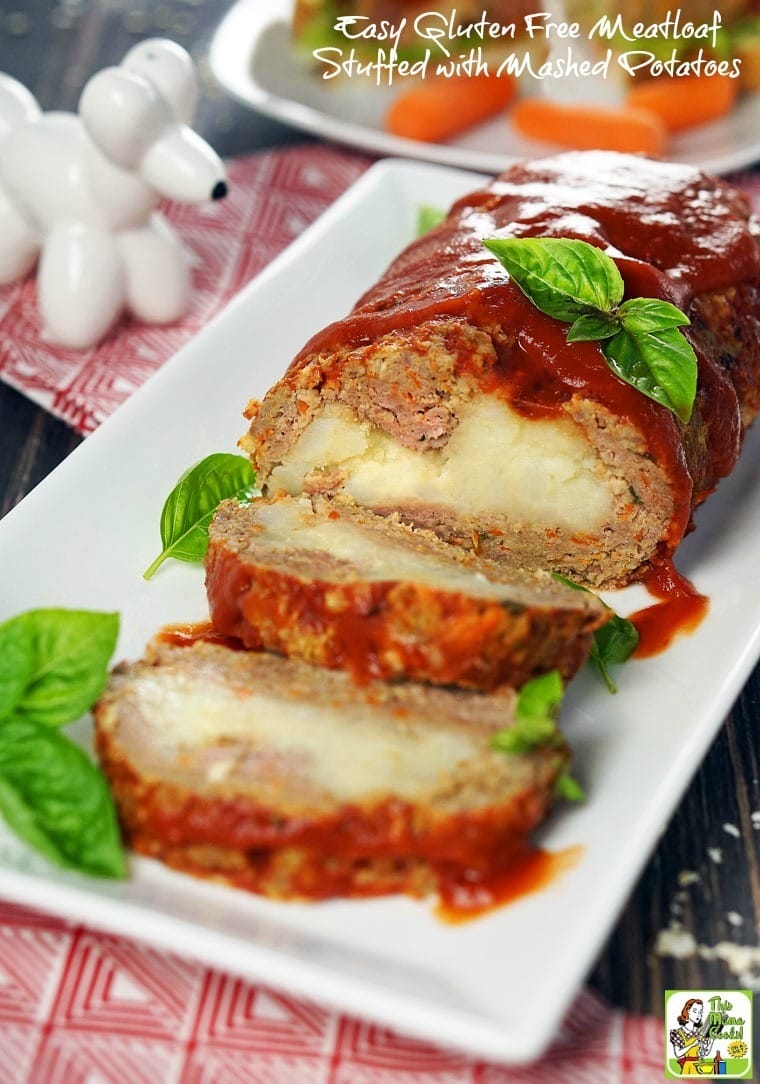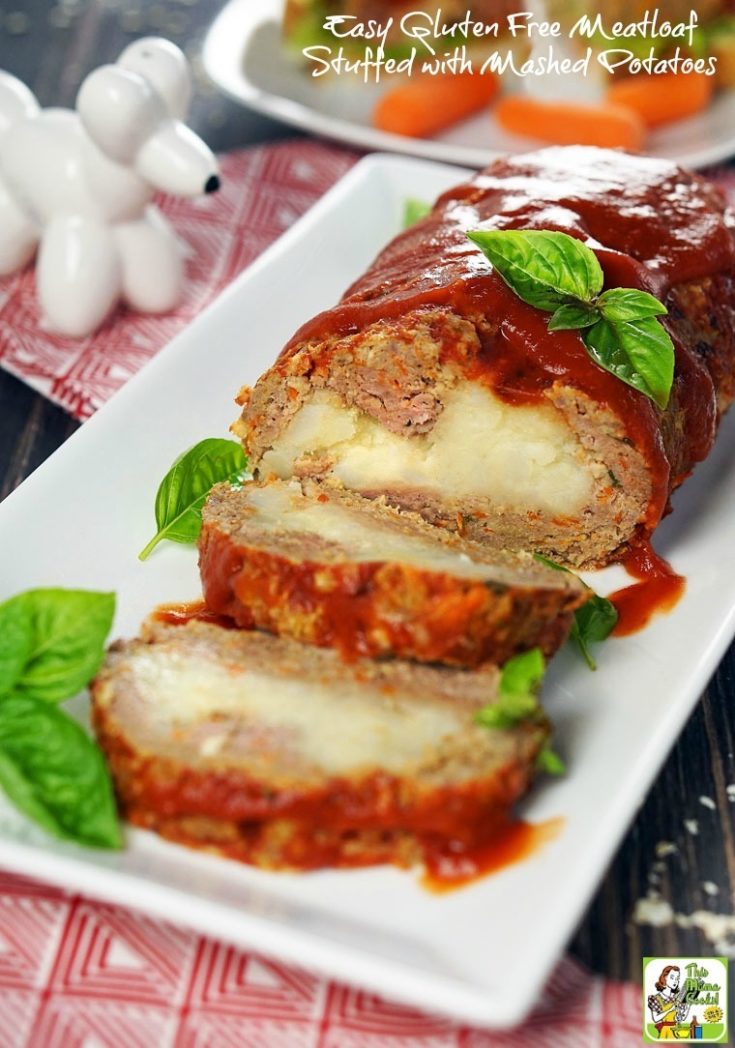 A stuffed meatloaf recipe everyone will love. It's so delicious you won't believe it's a gluten-free meatloaf.
Total Time
1 hour
10 minutes
Ingredients
For the stuffed meatloaf:
1 1/2 to 1 3/4 cups leftover mashed potatoes
1 egg
1/2 cup Bob's Red Mill Gluten Free Quick Cooking Rolled Oats
1/2 cup shredded carrots
1/3 cup finely diced onions
1/2 teaspoon sea salt
1 teaspoon minced fresh basil
1 pound ground beef
For the spicy topping sauce:
1 cup tomato sauce
1/2 cup ketchup
2 teaspoons sriracha (to taste)
For the gluten free meatloaf sandwiches:
Gluten free bread
Lettuce
Instructions
For the meatloaf:
Preheat the oven at 350 degrees F.
In a large bowl, add the egg, quick rolled oats, shredded carrots, diced onions, salt, minced basil, and ground beef. Using a potato masher or your hands mix together the ingredients until thoroughly combined.
Place a piece of parchment paper on a baking sheet. Pat meatloaf mixture into a 12-inch x 8-inch rectangle.
Spoon mashed potatoes down the length of the meatloaf mixture. Spread the mashed potatoes with the back of the spoon or a spatula within 1 inch of the meatloaf mixture edge.
Bring long sides of the meatloaf mixture over the mashed potatoes to meet in the center. Seal the center seam and ends so the seams disappear. (The better job you do with the seams, the less likely the meatloaf will split.)
Spoon or pour half of the spicy topping sauce over the entire meatloaf. (Leave the mashed potato stuffed meatloaf seam side up.)
Place the stuffed meatloaf baking sheet in the oven at 350 degrees F for 45-50 minutes or until a meat thermometer reads 160 degrees F.
Remove from the oven and let the stuffed meatloaf sit for 15 minutes. Slice and serve with more spicy topping sauce.
For the spicy topping sauce:
In a small bowl combine the tomato sauce, ketchup, and sriracha. Stir until combined.
For the meatloaf sandwiches:
Chill the cooked meatloaf for several hours. Then cut the stuffed meatloaf into slices.
Spread spicy topping sauce on two slices of gluten free bread. Place meatloaf (and some lettuce if you wish) between the bread. Cut in half and serve.
Recommended Products
As an Amazon Associate Affiliate and member of other affiliate programs, I earn from qualifying purchases.
Nutrition Information:
Yield:
6
Serving Size:
1
Amount Per Serving:
Calories:

431
Total Fat:

19g
Saturated Fat:

6g
Trans Fat:

1g
Unsaturated Fat:

10g
Cholesterol:

99mg
Sodium:

1017mg
Carbohydrates:

38g
Fiber:

4g
Sugar:

9g
Protein:

26g
Nutritional information is automatically calculated per the ingredients list. Serving size may not be accurate. Please double-check with your preferred nutritional app for the most accurate information.
Originally published on August 22, 2016. Updated with new photos and information.